This shop has been compensated by Collective Bias, Inc. and its advertiser. All opinions are mine alone.  #GiveABox  #CollectiveBias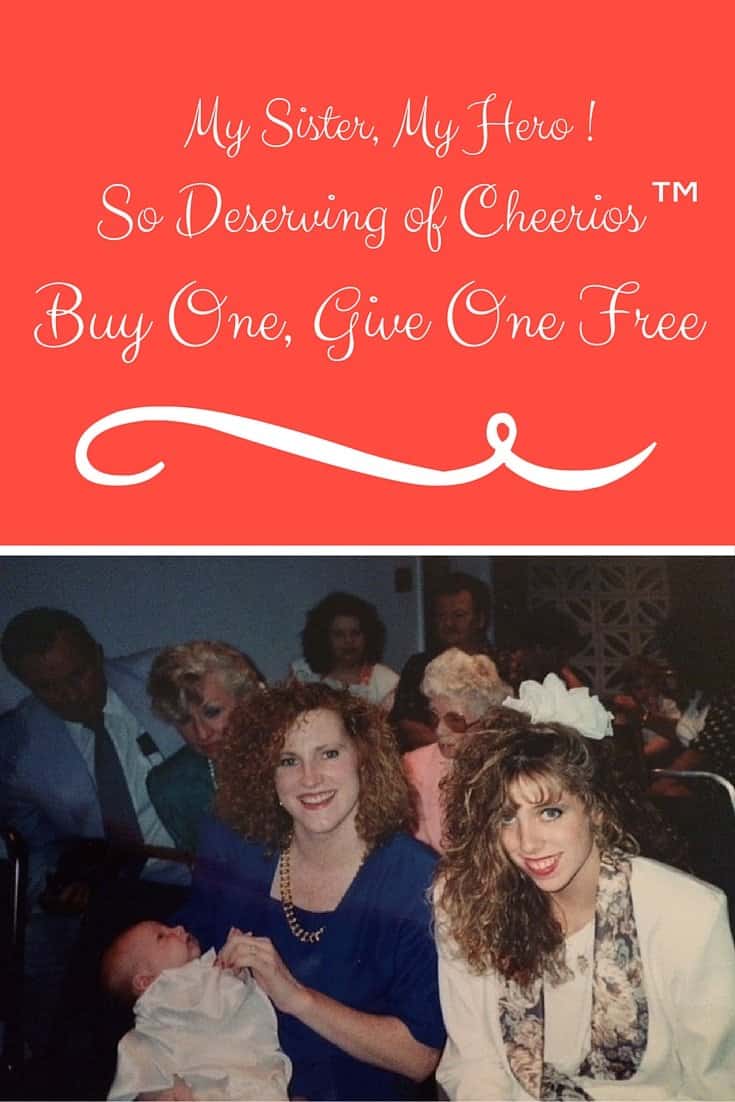 I have been blessed with a BFF who is hilarious and I am proud to call her my sister! We have a joke that I have known her "most" of my life! I was 9 years old when my sister was born and we are inseparable! As you can tell by our picture above, we went through a lot of hair products in the early 90's! Erin is my son's Godmother and this photo was taken at his Christening. Right behind us is my Mom, Dad, and Great-Granny Annie, adorable! Erin was also my Made of Honor, 27 years ago! She was a baby at fourteen, but the most perfect choice for me! Wow, that was a long time ago!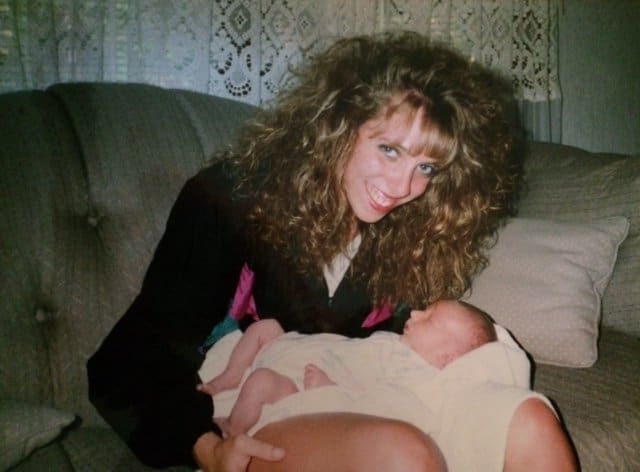 My kids are so lucky to have the cool Aunt who always was helping out when they were young!
Here we are in Bermuda! I know what you all are thinking! What was I thinking, buying and then actually wearing those plaid shorts! Me too! haha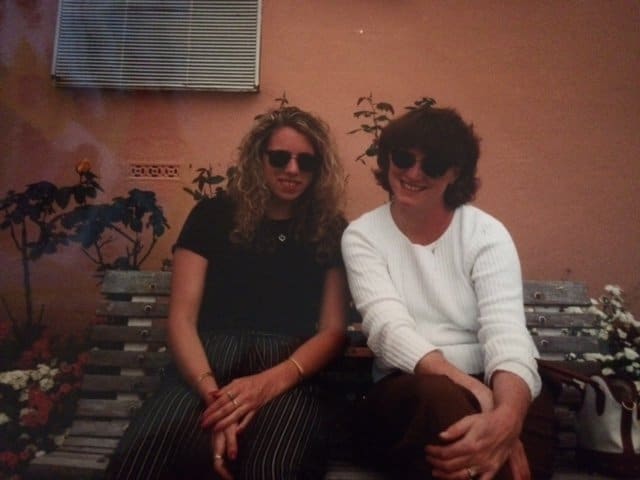 I love this picture of us! Sort of shows our personalities! My Dad always calls us Day and Night because our personalities are so different but it works for us! BFF's!
Growing up was a lot of fun, especially in the mornings! We would sit around the kitchen table and talk about our plans for the day ahead!  Every morning, Erin and I ate a bowl of Cheerios™  and milk for breakfast! Even today, my sister and I still love to sit around the kitchen table, eating our Cheerios™ , talking about old and news times.  Things have really changed since these pictures were taken. I'm a Mom with four kids and my sister is a Mom to a beautiful 3-year-old daughter. Guess what, my kids and niece love Cheerios™  too!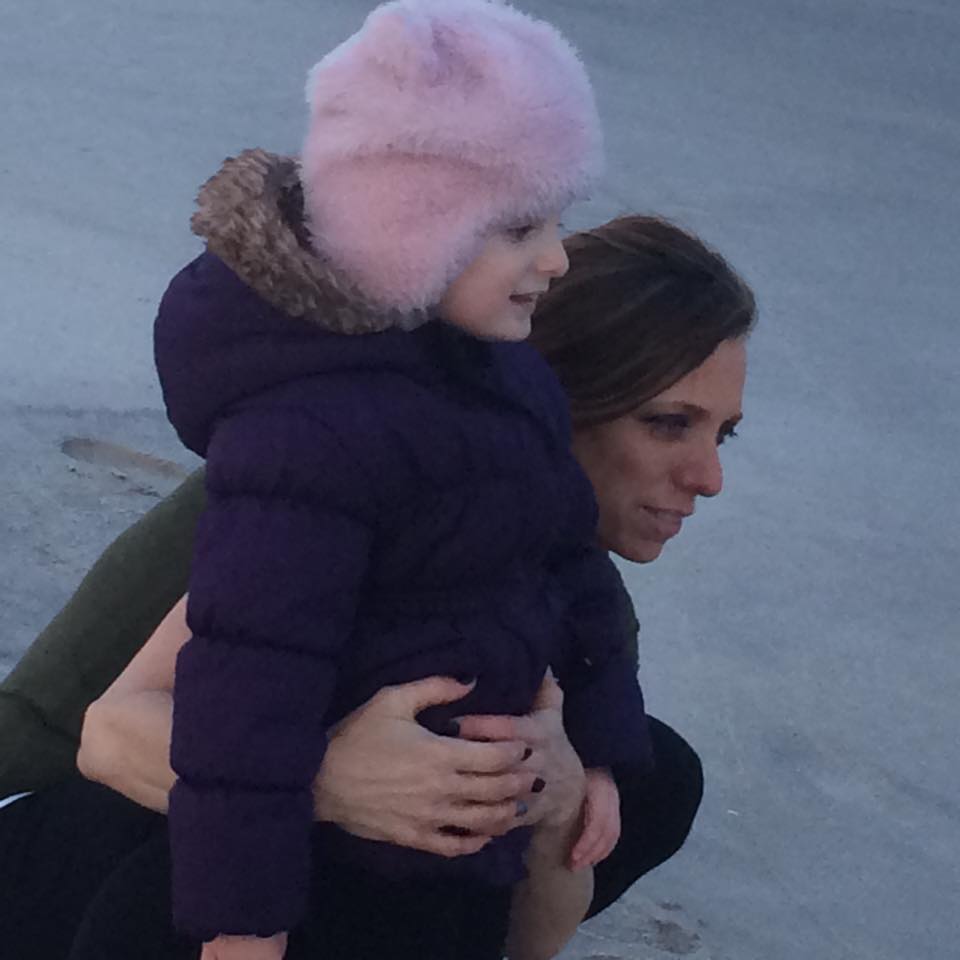 Here are our two munchkins together! They have the same beautiful relationship that we do and their age difference is quite similar.  If you couldn't already tell, Erin was at work and I was in charge, thus the reason my niece is wearing both a floatie and swimmies( those are my very technical terms for flotation devices) and I had her barricaded in the shallow end of the pool,where she can actually stand.   When your Auntie is in charge, one can never have on enough flotation devices.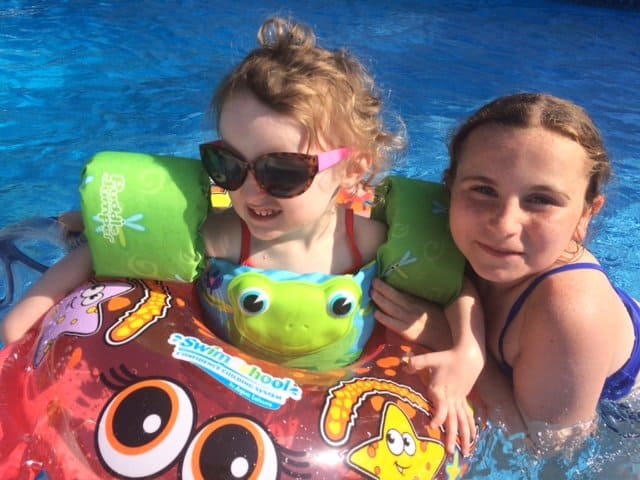 Erin works long hours as a nurse and I am super proud of her and all of her accomplishments! I respect her work ethic and despite working 13 hour shifts, she comes home and jumps right in to being a great Mom! That is why I was so excited to discover something wonderful at Walmart ! I was shopping for cereal and I saw a unique message on boxes of Cheerios™ !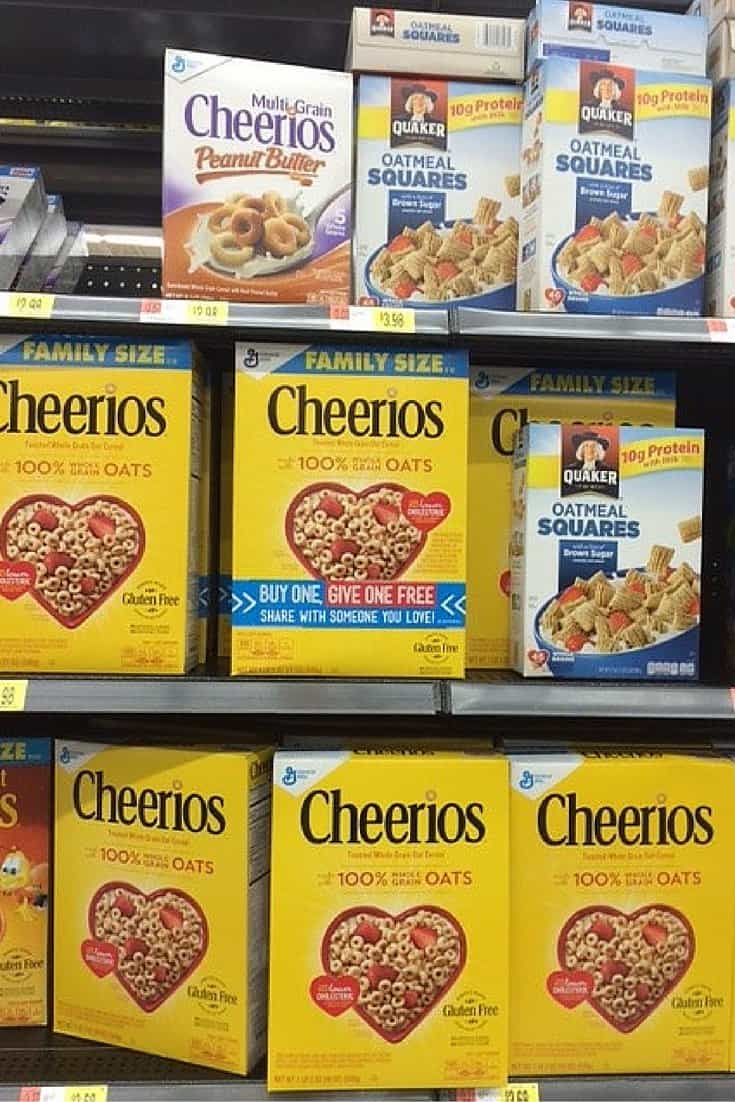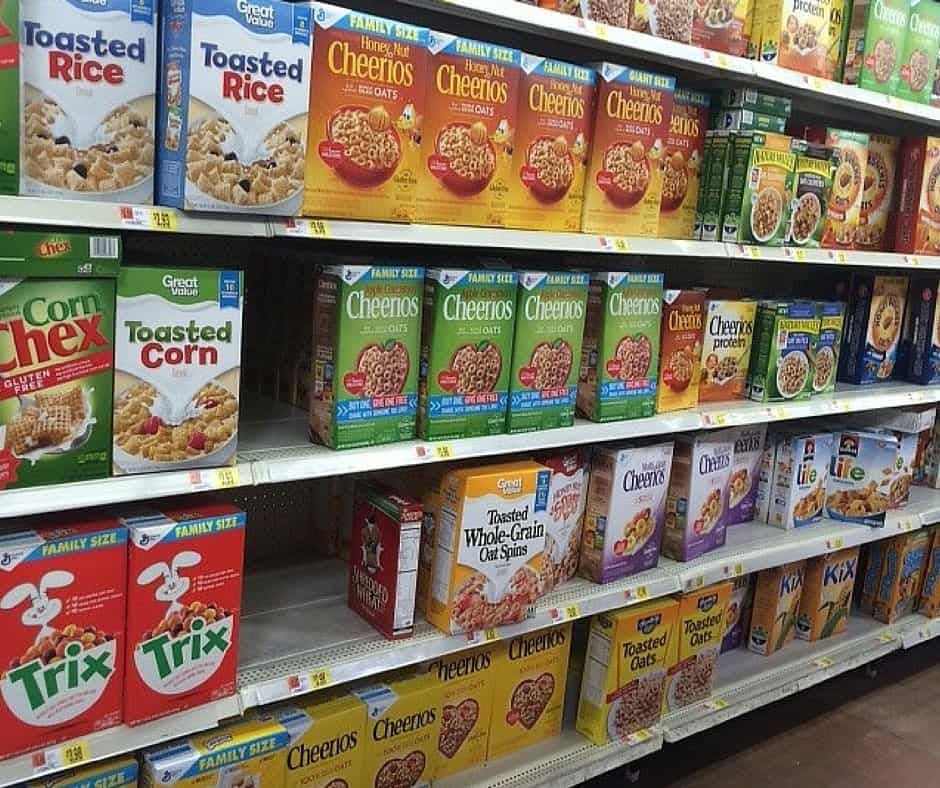 On the box, it said,  Buy One, Give One Free, Share With Someone You Love and I had to check it out! I found out that there are specially marked boxes of Cheerios™ being sold only at Walmart. Inside those specially marked boxes is a code. Enter that code online and send an e-card to a special someone so they can get a free box of Cheerios™ at Walmart!  So I immediately thought of Erin! I just had to do this for her! Its fun and super easy to do! I decided to also make her a batch of Cheerios™ No-Bake Cereal Bars that we have made since we were kids!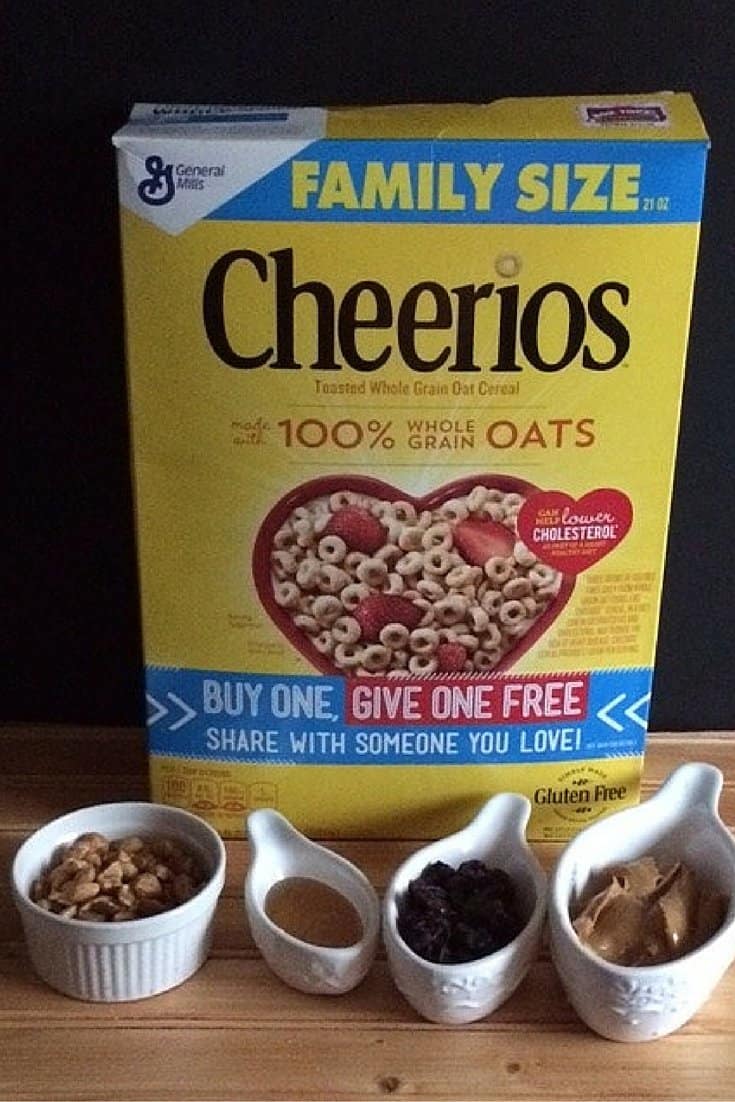 I made these with Erin when she was younger. I still make them for us, my kids and my niece. They are very easy to put together and just set in the refrigerator for an hour or two and you have a delicious cereal bar! We make these with Cheerios™, peanut butter, dried cherries, roasted nuts, agave, and light butter.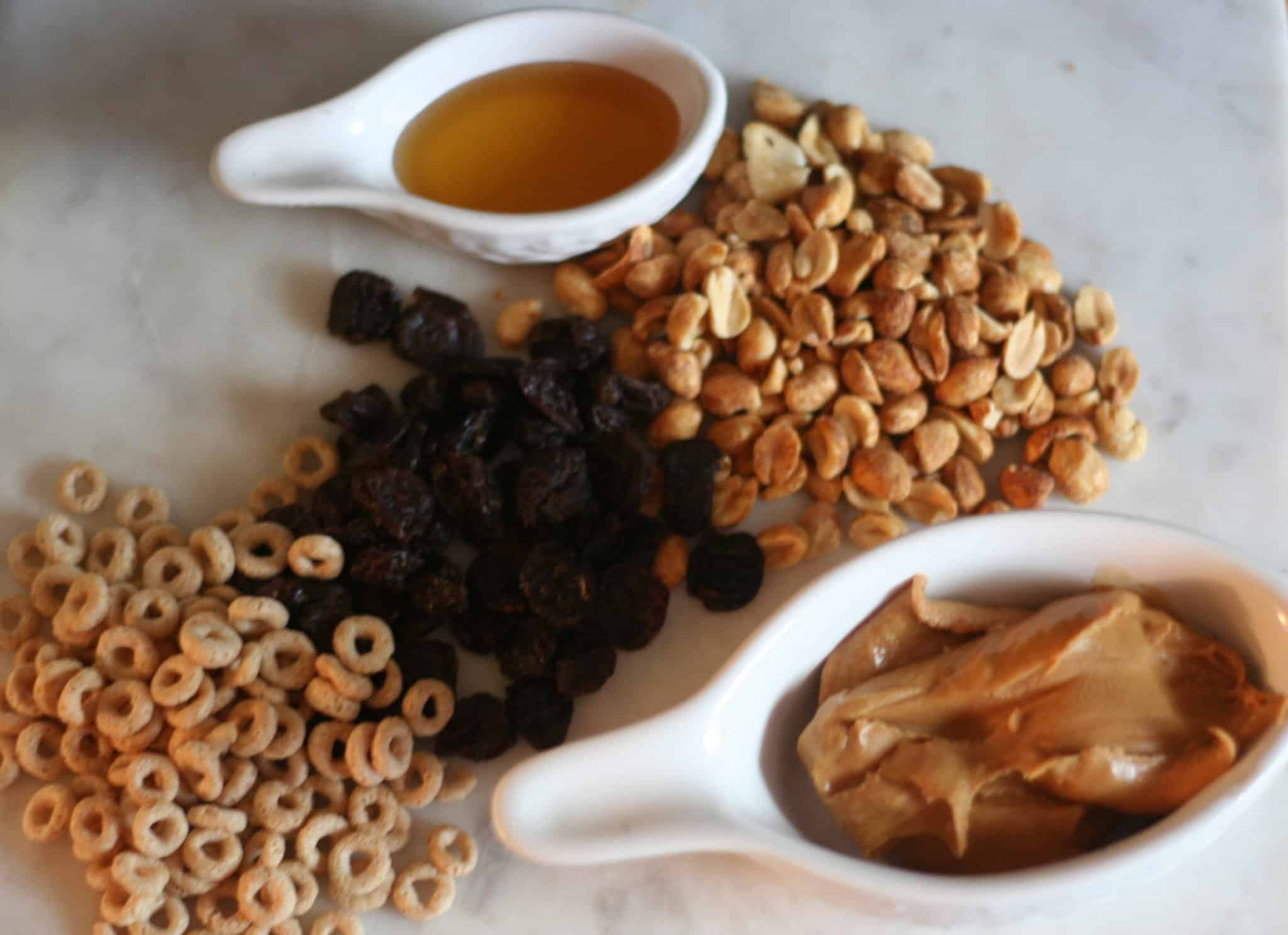 Spray an 8 x 8 square pan with nonstick cooking spray. Add in the cereal, dried cherries and honey roasted nuts, stir to combine. Add the peanut butter mixture.I microwave the butter, agave, and peanut butter for one minute and then stir. I check after another 30 seconds to see if the mixture is combined.
I place the pan in the refrigerator for at least one hour and the Cheerios™  No-Bake Cereal Bars are ready to eat! How easy-peasy is that and everyone is happy!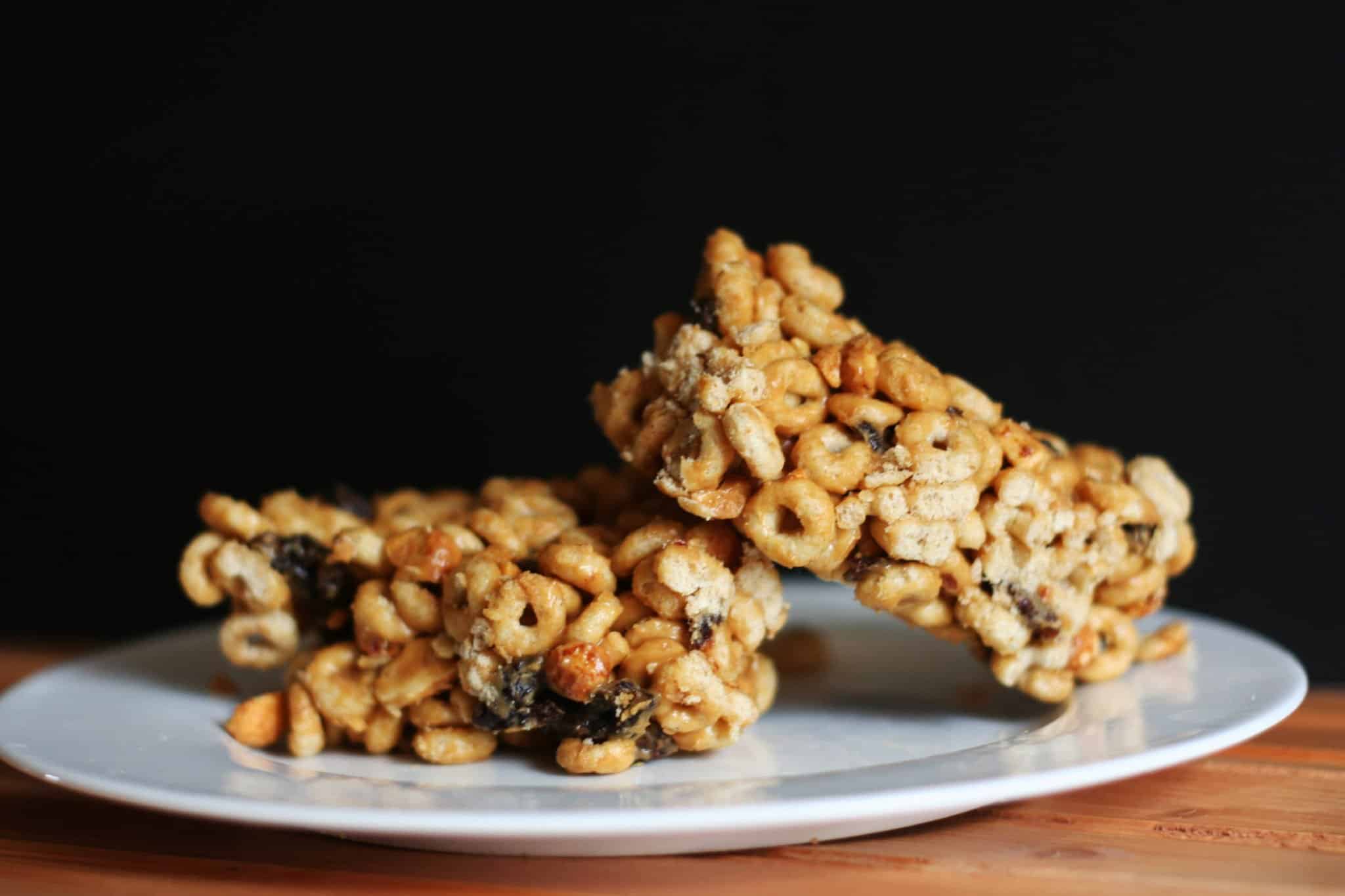 I really hope you enjoy this recipe and everything I shared about Cheerios™ ! It would be awesome if you would please share with your family and friends!  Please continue connecting with me on Instagram, Pinterest, Twitter, Bloglovin, Google Plus 
Thank you for always sharing my passion and love for food, family, and fun!
With whom would you share a Buy One, Give One Free, box of Cheerios™?
Eileen xoxo!
Cheerios™ No-Bake Cereal Bar
An easy no-bake cereal bar to prepare without needing to bake. Only a microwave to warm the ingredients.
Print
Pin
Rate
Equipment Needed:
Ingredients
4

cups

Cheerios™

1

cup

dried cherries

chopped or dried fruit of choice

1

cup

honey roasted nuts

chopped

1 1/4

cups

creamy peanut butter

1/4

cup

agave

2

teaspoons

light butter

cooking spray
Instructions
Spray an 8-inch square pan with cooking spray.

To the pan add and combine the Cheerios™, dried cherries, and honey roasted nuts,

In a microwavable bowl, combine the creamy peanut butter, agave, and light butter. Microwave on medium heat for 1 minute. Stir the mixture. Microwave another 30 seconds if necessary. The mixture should be melted.

Pour the melted peanut butter mixture over the Cheerios™. Combine the ingredients to fully cover the cereal mix. Press into the pan with the back of a spoon.

Place in the refrigerator for at least an hour.

Cut into squares.

Keep them covered in the refrigerator.
Notes
Any nutritional data I provide is an approximation and actual dietary information can vary based on ingredients and portion sizes.
Nutrition
Serving:
1
serving
|
Calories:
234
kcal
|
Carbohydrates:
18
g
|
Protein:
8
g
|
Fat:
15
g
|
Saturated Fat:
3
g
|
Cholesterol:
0
mg
|
Sodium:
168
mg
|
Potassium:
246
mg
|
Fiber:
3
g
|
Sugar:
8
g
|
Vitamin A:
405
IU
|
Vitamin C:
1.5
mg
|
Calcium:
50
mg
|
Iron:
2.7
mg