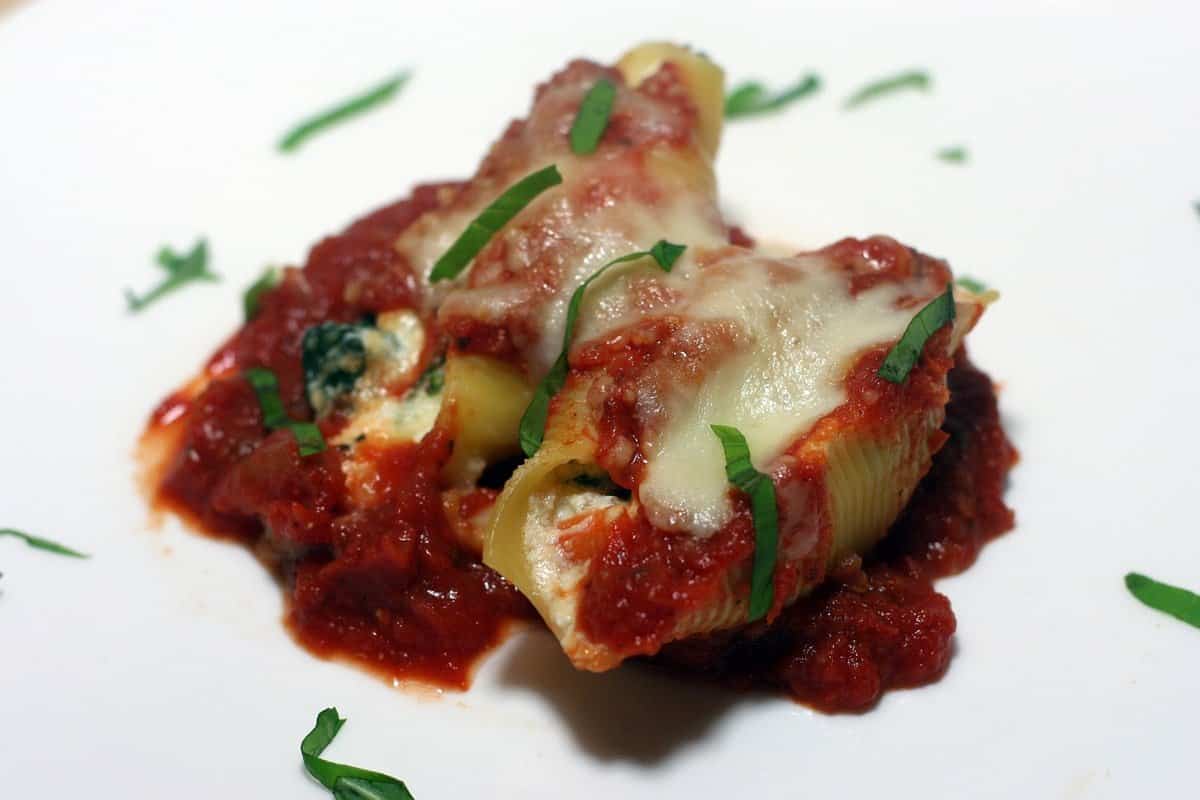 You know what I love, food!
More importantly, if I can have great food that tastes delicious and isn't going to put me over my maximum calorie intake for the day, I am even happier!
That is this veggie stuffed shells dish! They are loaded with flavor and you guessed it, veggies!!  This is a great combination of fresh zucchini, spinach, and carrots.  The veggies are diced and lightly sautéed and then added into the low-fat cheese combination. Oh my gosh, I am getting hungry just thinking about this one!  The veggie cheese filling is so good and even my non-veggie family members have no idea they are eating vegetables!  SSSHHH, I won't tell, if you won't tell, and they will never know!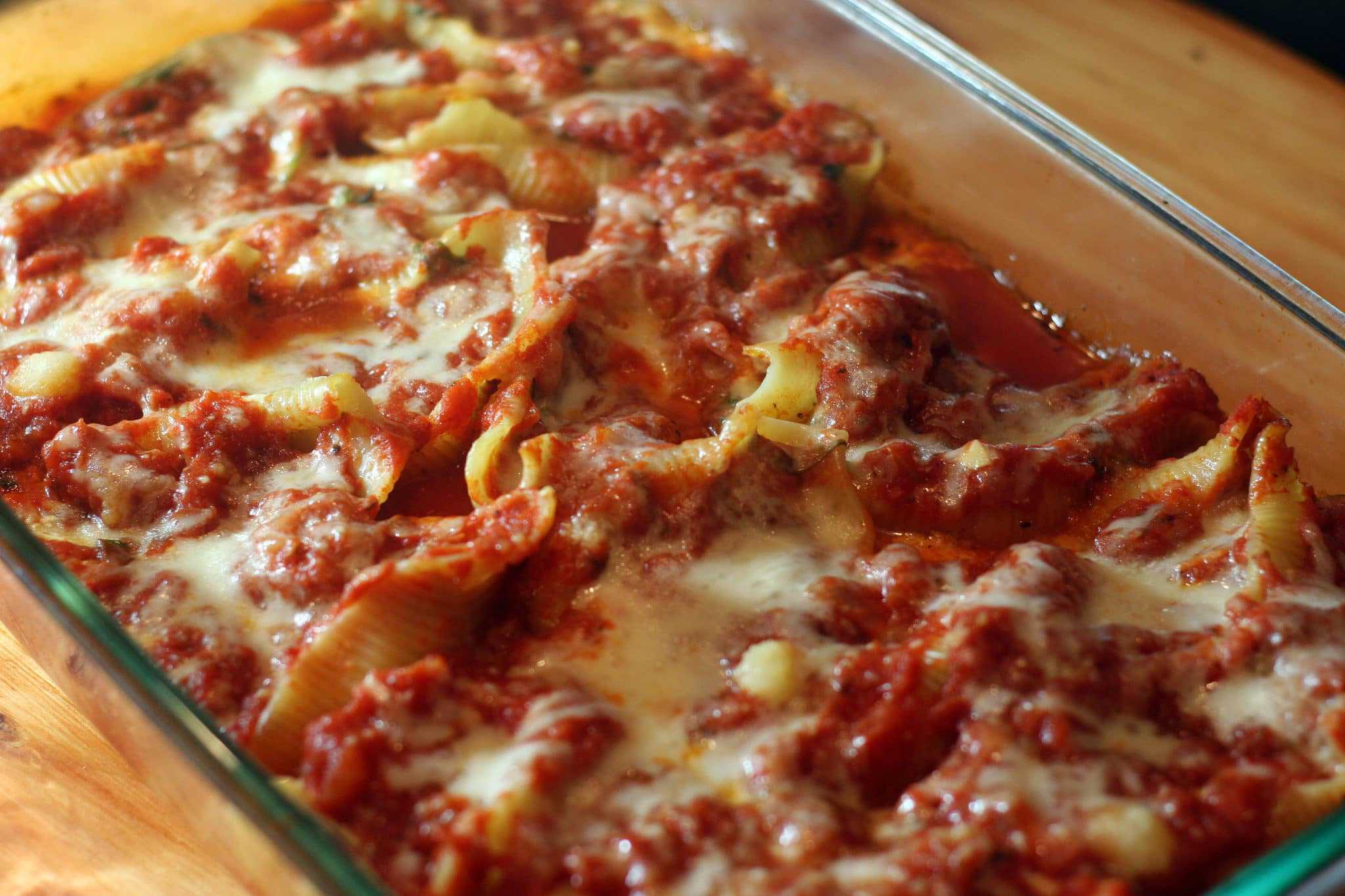 Everyday tip: This is a great dish to make as a double batch because both the veggie stuffed shells and the marinara sauce freeze really well. So we have a stuffed shells dish for dinner and another in the freezer ready for one of those many crazy days when we don't have time to make dinner!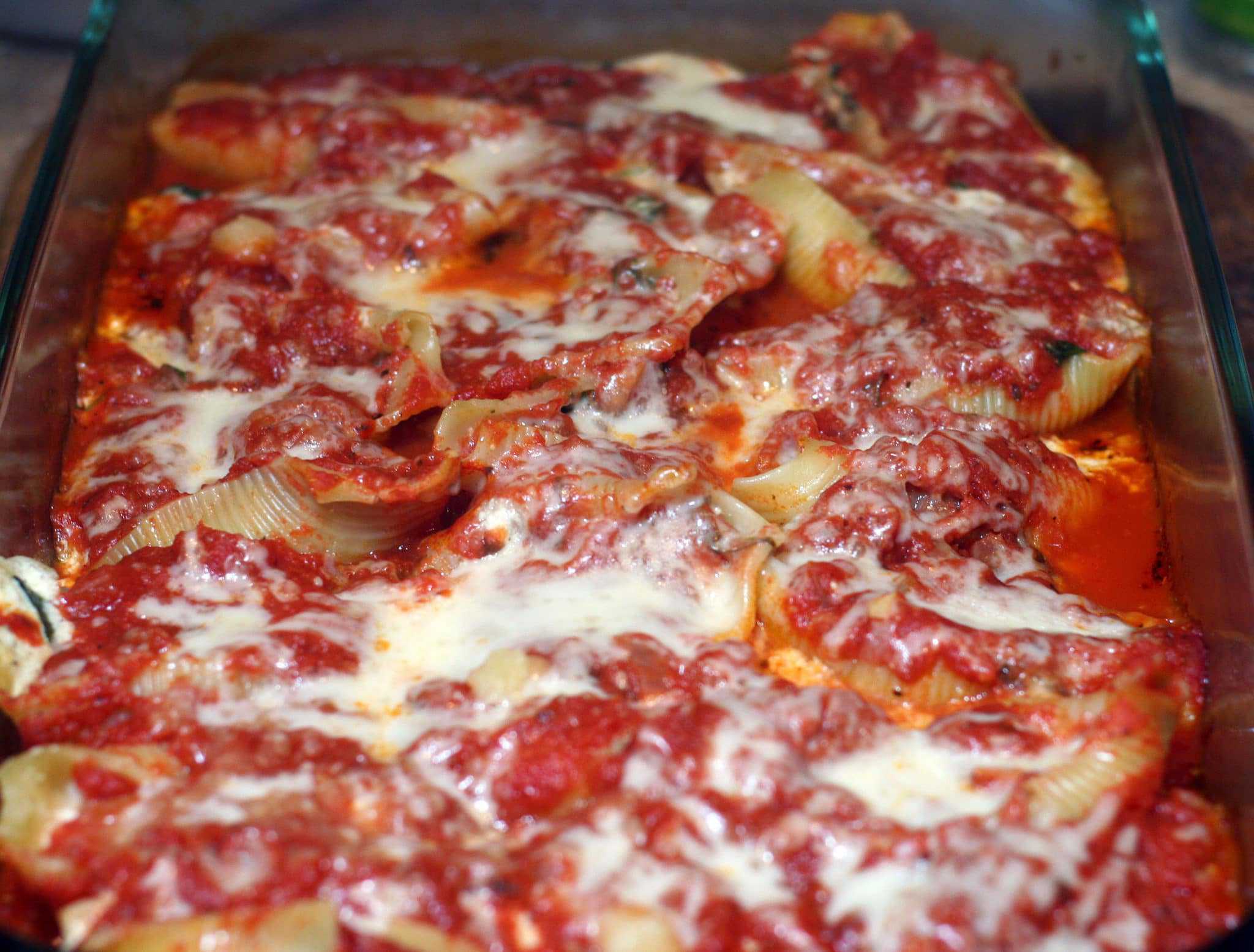 I literally could live on cheese, of any variety, but there is something wonderful about ricotta, mozzarella and parmesan! I know you are thinking, holy fattening, but my motto always is, everything in moderation! I use low-fat ricotta cheese and mozzarella,  so we are still eating a delicious and tasty meal but reducing fat and calories by using the low-fat cheeses!  Then adding in parmesan cheese and the veggies, which really round out the dish and makes this a yummo meal! I find one veggie stuffed shell and a salad will fill me up, and I am content and ready for a nap when I am finished :)! My family, a different story, my boys can eat at least 3 each!
I hope you like this recipe, and if so, please share the love on Facebook, Pinterest, or your favorite way of relating to your friends and family, and please continue connecting with me on Instagram, Pinterest, Twitter, Bloglovin, Google Plus !
Thank you for always sharing my passion and love for food and family!
xo!
Veggie Stuffed Shells
Veggie stuffed shells full of veggies and flavor while remaining a lighter stuffed shell. The filling is a delicious blend of low-fat ricotta, mozzarella and parmesan cheese combined with a vegetable blend of zucchini, spinach, and carrots in a marinara sauce. A great dish to make ahead and also freezes well!
Print
Rate
Equipment Needed:
Ingredients
Stuffed Veggie Shells
28

oz

marinara sauce

see below

½

box

jumbo pasta shells

about 24 shells

1

Tbls

olive oil

1

small

minced shallot

2

cloves

minced garlic

1

large

zucchini, diced

1

large

carrot, diced

4

cups

fresh spinach

15

oz

low-fat ricotta cheese

8

oz

low-fat grated mozzarella cheese,divided

¼

cup

grated parmesan cheese

1

large

egg

1

teaspoon

dried parsley

salt and pepper to taste
Marinara Sauce
1

teaspoon

olive oil

1

small

onion,diced

2

cloves

finely minced garlic

28

oz

can of crushed tomatoes

½

teaspoon

dried oregano

½

teaspoon

dried parsley

¼

teaspoon

ground fennel seed

1

bay leaf

¼

cup

fresh basil

salt and pepper to taste
Instructions
Veggie Stuffed Shells
Preheat oven to 375 degrees

Cook the pasta shells according to package. I generally deduct 3 minutes from cook time, because the shells cook further in the oven.

While pasta is cooking, heat the oil in a pan over medium heat, add the shallots for about 2 minutes, stirring occasionally, add in garlic for a few seconds.

Add the diced zucchini and carrot, stirring occasionally for about 5 minutes.

Add the spinach and cook down for about a minute. Set the veggie mixture aside to cool while preparing the cheese mixture.

In a bowl, combine the ricotta, 4 oz. grated mozzarella, parmesan cheese, egg, dried parsley, salt and pepper to taste. Add in the veggie mix, combine well.

To assemble, in a 9x12 casserole dish, spread ½ the marinara sauce in bottom of casserole dish.

Spoon the cheese mixture into each shell and place open side up in the casserole dish.

Cover shells with remaining Marinara Sauce. Sprinkle the remaining 4 oz. of grated mozzarella cheese over the shells.

Cover the casserole dish with foil and bake for 30 minutes. Sauce should be bubbling and cheese all melted. Serve immediately.
Marinara Sauce
Heat the oil in a saucepan, over medium heat. Add the diced onion and stir occasionally for about 2 minutes, add the minced garlic. Stir together until garlic is golden, careful not to burn garlic. Only a few seconds is necessary.

Add the crushed tomatoes, dried oregano, dried parsley, ground fennel seed, bay leaf, fresh chopped basil, and salt and pepper. Let simmer for about 35 minutes. Remove and discard the bay leaf. Use for Veggie Stuffed Shells.