This grilled pineapple recipe is absolutely delicious! The pineapple slices are marinated in dark rum and a coconut sugar combination for about 30 minutes.
When the pineapple slices are grilled, the rum-sugar combination caramelizes on the pineapple.
The results are the most tender and delicious pineapple you will ever taste. You are going to love the flavor.
Serve with the coconut rum sauce and fresh vanilla ice cream, mouthwatering! This tasty grilled pineapple recipe is one of my most requested by family and friends. It soon will be a favorite of yours as well!
First Published: May 25,2018… Last Updated: June 14, 2019
This post is sponsored in conjunction with #BBQWeek. I received product samples from sponsors to use in creating recipes. However, all opinions are mine alone.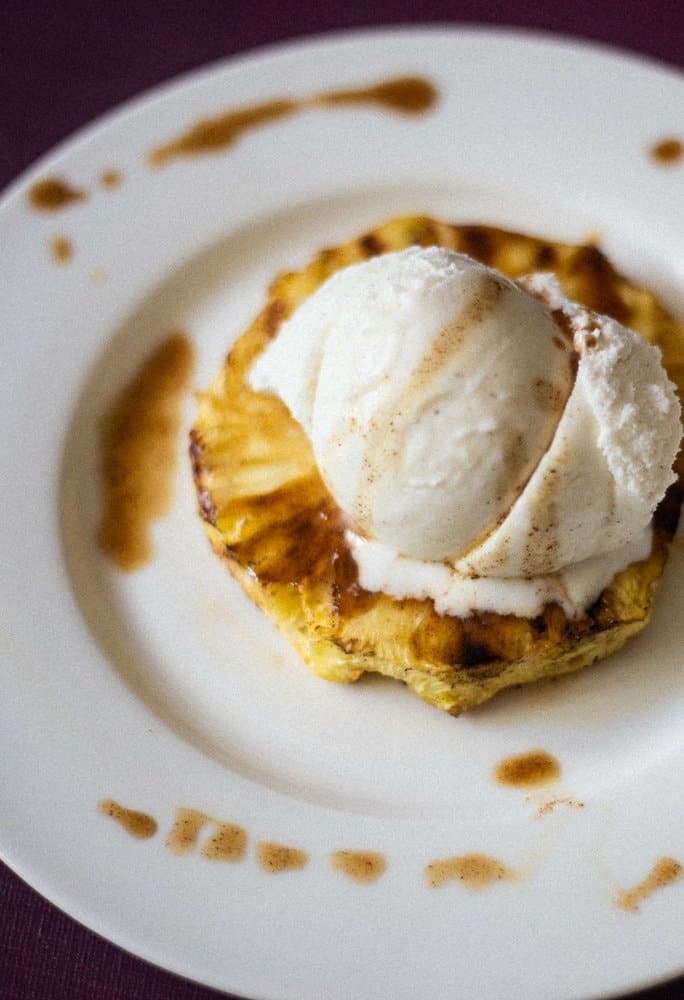 This boozy grilled pineapple recipe is an unbelievable flavorful dessert I have been making for a few years. Grilled pineapple has alway been a part of our grilling menu.
The hubs is not a dessert guy. I made this for him years ago and he went wild for this grilled pineapple recipe! I have been making it ever since and he requests it often. It is light and refreshing!
The rest of the family loves dessert and sometimes a good old fashioned piece of pie is needed. Other times, a flavorful low-fat and delicious dessert like this boozy pineapple recipe hits the spot!
If you are really watching the calories, skip the ice cream topping and just have the boozy grilled pineapple! A low-fat sweet treat.
…