Ready to learn How to Make the Best Italian Rainbow Cookies, you have come to the right place. Easy and delicious with tips I have learned from many years of making these delicious Italian Rainbow Cookies.
Perfect year-round and always a hit at a Holiday Cookie Exchange! #ChristmasCookies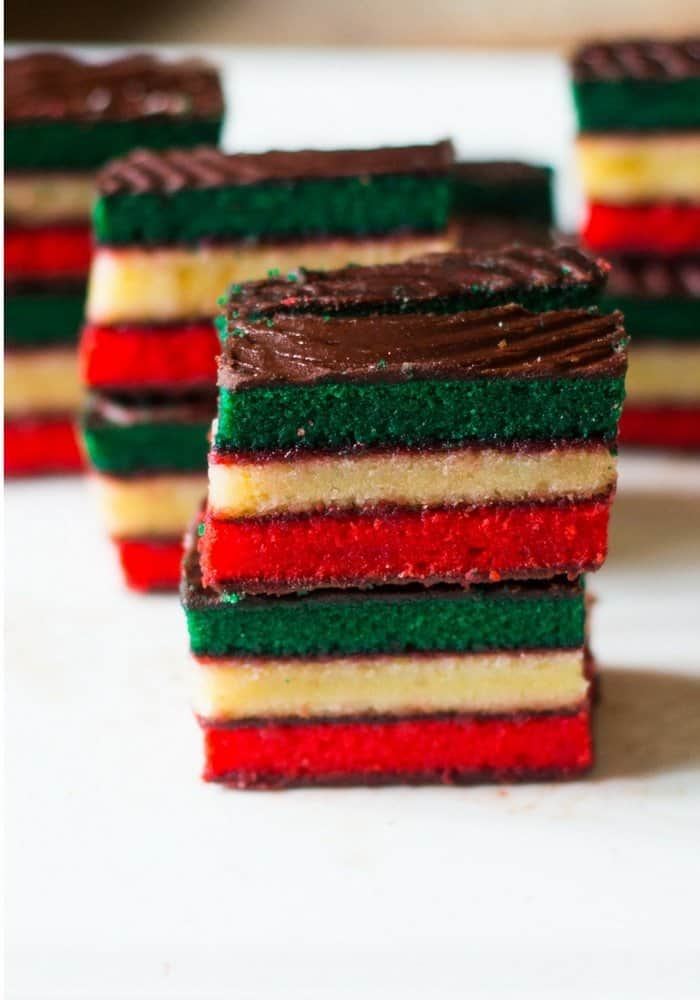 Italian Rainbow Cookies, are so popular and quite expensive in the bakeries in my area! As a child, I didn't love these cookies! I think because they were always store-bought!
I am no cookie snob but sometimes a cookie just has to be home-made! Many years ago, I was given an amazing batch of Homemade Italian Rainbow Cookies!
No joke, I heard Angels singing because I was in heaven over these cookies! Trust me, people, this is the perfect way to learn How To Make the Best Italian Rainbow Cookies!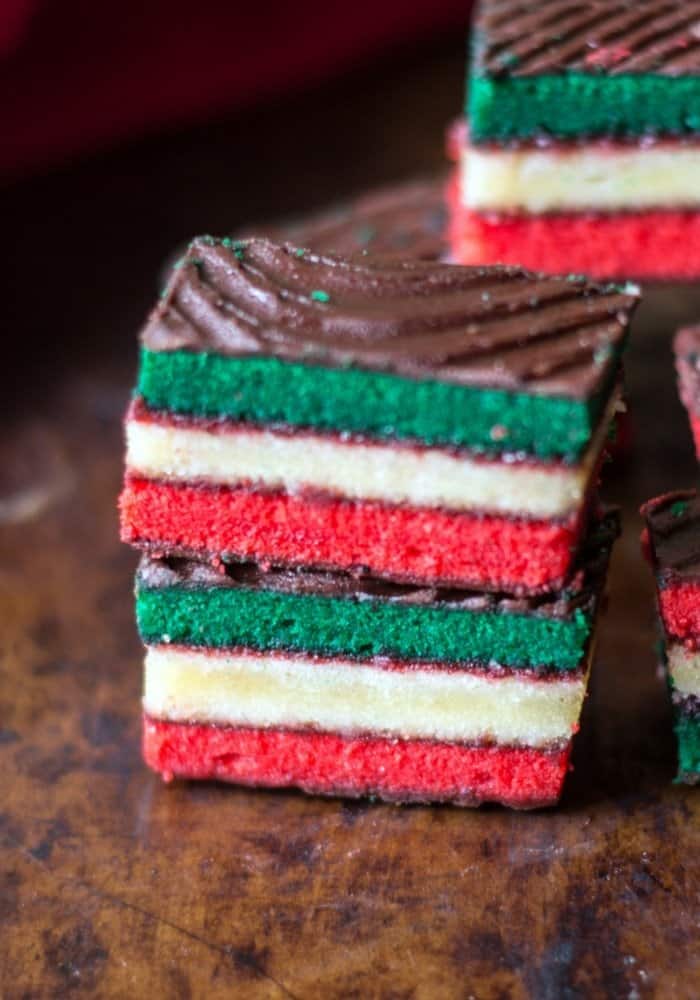 FAQs about Italian Rainbow Cookies:
Where did the Italian Rainbow Cookies originate?
Italian Rainbow Cookies originated in the United States. Many say in a bakery on Long Island. The cookies represent the colors in the Italian flag.
What are other names these Italian Rainbow Cookies are called?
These Italian Rainbow cookies some call seven-layer cookies because jam is in between each layer. Others call these cookies Neapolitan cookies.
How long can Italian Rainbow Cookies be kept after they are baked?
Once the cookies are baked they can keep well covered in the fridge for 1 week.
Can Italian Rainbow Cookies be frozen?
Yes, I use my food saver to freeze them. I make these cookies to step three in the full recipe. Then freeze until ready to assemble to Italian Rainbow Cookies ahead. Defrost the layers and continue assembling the cookies.
This post contains affiliate links for your convenience (which means if you make a purchase after clicking a link I will earn a small commission which helps keep my blog up and running but it won't cost you a penny more!) We are a participant in the Amazon Services LLC Associates Program, an affiliate advertising program designed to provide a means for us to earn fees by linking to Amazon.com
I also have a store where I am always updating great finds for not just cooking, I hope you check it out here, Everyday Eileen I will continue to update it regularly! Click here to read my full disclosure policy.
Thank you so very much for being apart of Everyday Eileen!
Tools you may need to Make the Best Italian Rainbow
Food Scale: I highly recommend using a food scale to measure your dough in step 3 in the recipe card. Ensures equal portions.
Almond Paste: This is the brand I use. If you cannot find it in the baking section of your grocer, you can order via Amazon.
Tips on How to Make the Best Italian Rainbow Cookies:
Many recipes call for separating the eggs. I find it unnecessary, the batter gets worked enough when adding the food coloring.
The cookies need to be weighed down for a bit, I use a cutting board to keep the cookies together.
In between each layer, press down on each layer to help seal the layers.
If you have extra time, swirl the chocolate coating with a fork. This makes a great design.
When slicing the ends to make an even side, freeze the extra pieces...a great addition to ice cream.
I like to use an all natural food dye for these cookies, healthier option
How to Make Italian Rainbow Cookies:
How to Make the Italian Rainbow Cookies:
Preheat oven to 350 degrees. Spray 3 9x13 inch pans with non-stick spray. Place parchment in each pan and spray with non-stick spray. Set aside.
Use a stand mixer if possible, add in the almond paste, mix for a minute to break apart.
Add in butter and sugar, cream together. Can take 4-5 minutes.
Blend in eggs, separately. Mix well in between adding next egg.
Add in almond extract and salt. Mix another 30 seconds.
Mix in flour with wooden spoon. Blend well, do not overmix.
Split dough into 3 equal portions, I use a food scale to measure the dough.
Use red food coloring in one bowl, green in the second bowl, and leave the third bowl as is.
Blend in the food coloring
Spread each dough into prepared pans. Bake 10-12 minutes.
Once baked, let cookie layers cool completely.
How to Assemble to Italian Rainbow Cookie:
Use a large sheet pan, lay a large piece of plastic wrap down. (Large enough to cover the three layer cookie)'
Place a large piece of wax paper on the plastic wrap. Ensures cake won't stick to plastic.
Invert the green layer onto the wax paper.
Cover with apricot jelly.
Invert the plain layer on top of the apricot jelly.
Top the plain layer with raspberry jam.
Invert the red layer on the raspberry jam.
Press down on the layers
Wrap the cookie with the plastic wrap and place a large cutting board or something heavy to seal the layers together.
Refrigerate for at least 4 hours or overnight with the heavy item on the cookie.
Remove from the fridge and remove the wrapping. Trim edges to make them straight. ( eat those extra pieces: delicious)
Make the chocolate glaze:
Microwave or use a double boiler to melt the chocolate.
Carefully cover the cookie with the chocolate. You can use a fork to make swirls in the chocolate for a design.
Place in the fridge until the chocolate is solid, about 30 minutes.
Carefully flip cookie over and cover this side with the chocolate. You may need to melt chocolate again.
Place large cookie back in the fridge to harden the second side of chocolate.
Use a serrated knife to slice the cookies into one-inch pieces.

Other Favorite Holiday Cookies are Classic Holiday Spritz Cookies
The Best Pecan Crescent Cookies
Holiday Chocolate Rudolph Cookies
📖 Recipe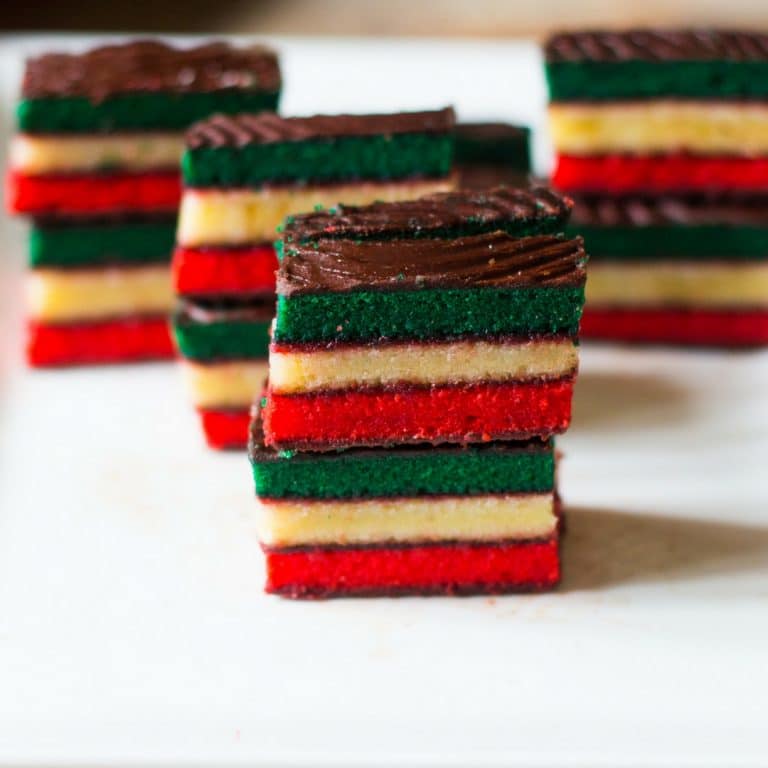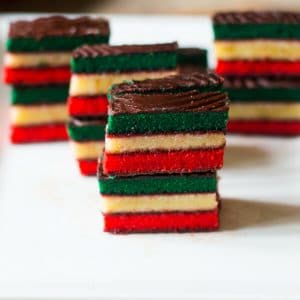 Italian Rainbow Cookies
Italian Rainbow Cookies are the popular bakery cookie is a perfect bake at home cookie. Great for Holiday cookie exchange or any day. Always a party favorite!
Print
Rate
Servings:
7
dozen cookies
Equipment Needed:
Ingredients
7-8

ounces

almond paste

*see note

1

cup

unsalted butter

1

cup

sugar

4

large

eggs

1

teaspoon

almond extract

¼

teaspoon

salt

2

cups

all-purpose flour

15- 20

drops

red food coloring

15-20

drops

green food coloring

¼

cup

apricot preserves

¼

cup

raspberry preserves

12

ounces

semi-sweet chocolate chips

non-stick butter spray
Instructions
To make the Italian Rainbow Cookies
Preheat oven to 350 degrees. Spray 3 9x13 baking pans with non-stick butter spray. Line bottom of each pan with parchment paper and spray parchment paper with spray.

In a stand mixer using the paddle (or a large bowl using a hand-held mixer) add in the almond paste and break apart into pieces. Add in the butter and sugar to cream ingredients together, About 4-5 minutes. Add in the eggs one at a time. Mix briefly after adding each egg. Add in the almond extract and salt. Mix another 30 seconds. Add in the flour and use a wooden spoon to combine flour into the batter.

The dough needs to be split into 3 equal portions. I weigh the dough and then split 3 even ways. This can be done by the eye as well. Add red food coloring to the first bowl of batter and combine well. Add the green to the second bowl, again a well. Leave the third bowl as is.

Spread each portion into the prepared baking pans. Bake about 10-12 minutes. The sides will be slightly brown and a toothpick should be inserted into the cookie and come out clean.

Remove from oven, place on cooling rack for about 10 minutes. Remove from pan and place the cakes on the rack to cool completely.
Assemble the cookies
On a large sheet pan, place a large piece of plastic wrap (large enough to cover all three layers of cake. On top of that place a slice of wax paper to place the large cookie on so they do not stick to plastic wrap.

Invert green layer cookie onto the wax paper and cover with apricot jelly. Top with the plain cookie. Cover plain cookie with raspberry jelly. Invert and top with the red cookie layer.

Wrap the large cookie with the plastic wrap and place a cutting board on top of the huge cookie. Refrigerate from 4-8 hours or overnight. Remove from fridge, remove the cutting board, plastic wrap and wax paper. Trim the sides all around to make straight edges. Set cookie aside.
Make the glaze
Microwave the chocolate pieces about 1 minute. Stir to melt and smooth the chocolate. Or, use a double boiler. Fill bottom pan three fourths full of water and place chocolate pieces in the double boiler. Heat over medium heat, stirring often.

Once the chocolate is melted, use a knife to spread half the chocolate on top of the cake. If desired, use a fork to make swirls in the chocolate. Place cake back in the fridge for about 30 minutes to harden chocolate. Remove from fridge and carefully turn cake over. Top with remaining chocolate and if wish, make the swirls with a fork or leave solid chocolate. Place back in the fridge for about 30 minutes to harden chocolate.

To slice the Rainbow Cookies, use a serrated knife to cut the cake. Have warm water in a large cup ready to dip knife in for easy slicing.

I prefer 1-inch slices.
Notes
The almond paste, Odense comes in 8-ounce paste and others brands are in 7-ounce packaging. I have used both. If using 7 ounces. feel free to up the almond extract to 2 teaspoons.
The cookie layers can be frozen after step 3 to Assemble the Cookie.
When ready to eat, place frozen cookie layers the in fridge to defrost. Usually takes a few hours. continue with chocolate glaze step.
Any nutritional data I provide is an approximation and actual dietary information can vary based on ingredients and portion sizes.
Nutrition
Serving:
1
cookie
|
Calories:
78
kcal
|
Protein:
1
g
|
Fat:
4
g
|
Saturated Fat:
2
g
|
Monounsaturated Fat:
1
g
|
Cholesterol:
15
mg
|
Sodium:
123
mg
|
Potassium:
5
mg
|
Fiber:
1
g
|
Sugar:
7
g
|
Vitamin A:
100
IU
PIN ITALIAN RAINBOW COOKIES TO MAKE LATER HERE: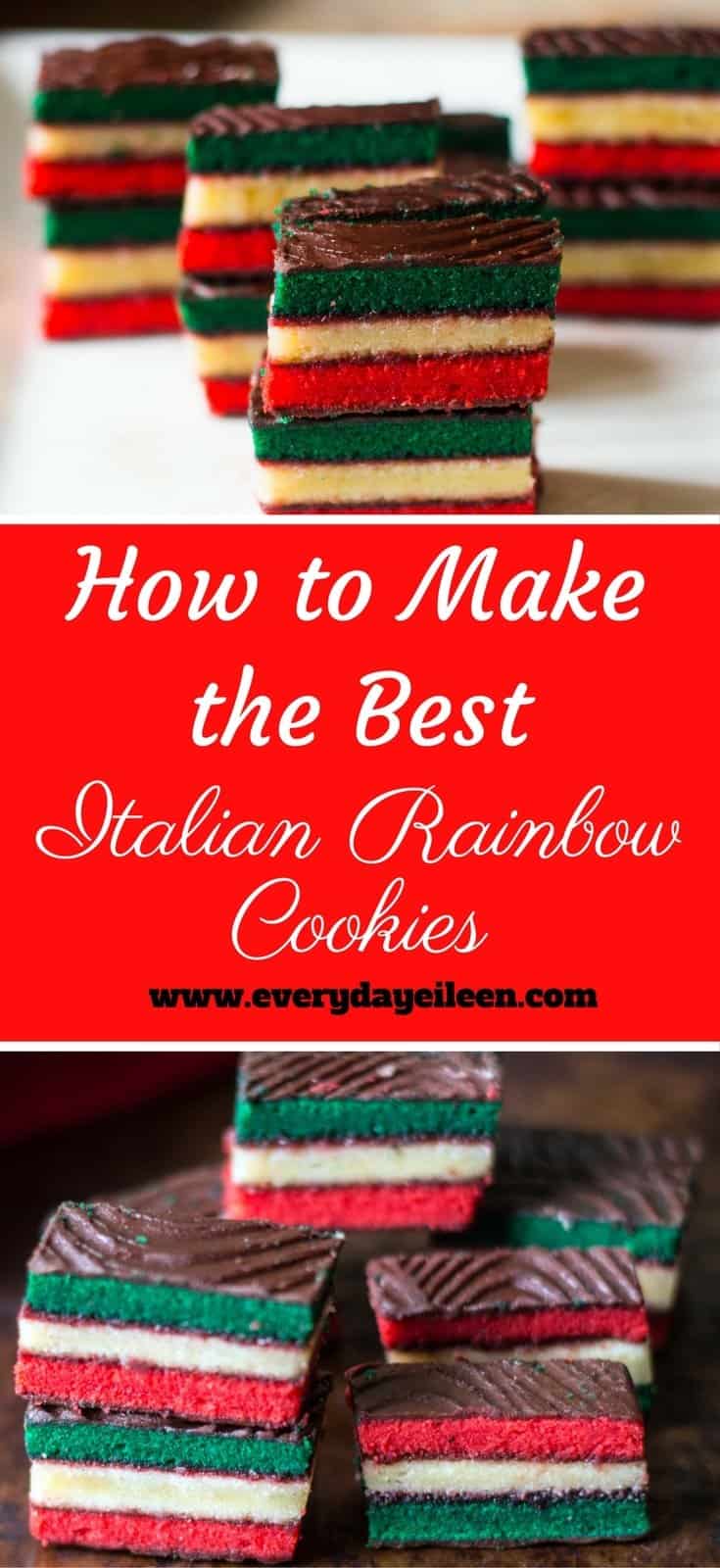 MAKE THIS RECIPE, TAG #EVERDAYEILEEN ON INSTAGRAM WITH YOUR PICS!
I LOVE TO SEE AND SHARE YOUR CREATIONS!
If you make these tasty treats, I'd love you to leave me a
comment!
Let me know what you think or any questions about the recipe in the comment section below!
I hope you continue connecting with me on:
Thank you for always sharing my passion and love for food and family!
It is my favorite week, it's Christmas Cookie Week for myself and a fantastic group of bloggers. This amazing week was organized by the very wonderful Ellen who runs Family Around the Table We are sharing amazing cookie recipes every day this week. Click through to check out all these amazing recipes!