My Sausage and Egg Casserole is packed with flavor that's a low-carb delight. Crumbled sweet breakfast sausage combined with ooey-gooey cheesy goodness from cheddar cheese is a fabulous base. Then add in broccoli and peppers for a veggie combo to bring amazing flavor which makes a hearty breakfast.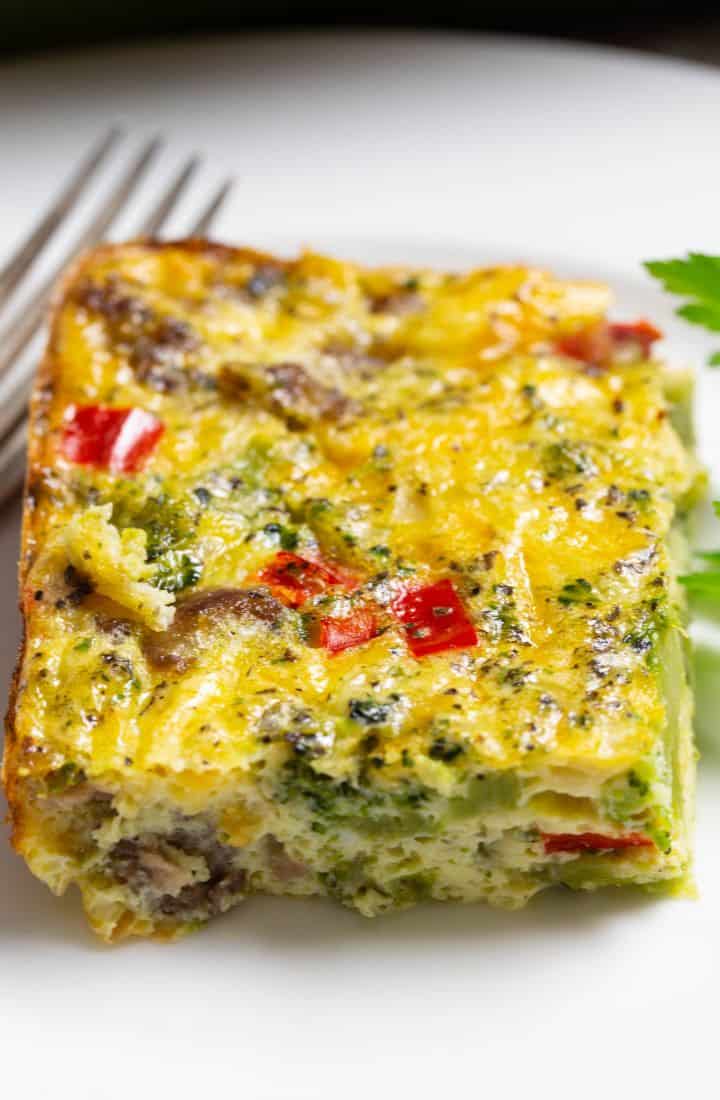 When hosting a brunch or feeding the family, everyone wants make-ahead meals that just need to be popped in the oven to heat quickly. Nothing is worse than running around the kitchen cooking last-minute recipes.
You know I have been preaching make-ahead recipes lately like, Breakfast Burritos and Veggie Egg Muffin Cups.
This flavor-packed Sausage and Egg Casserole is the solution. A must make for all your brunch and lunch parties. Full of cheesy goodness and loaded with crumbled sausage and veggies makes this a winner for everyone.
My friends, this breakfast casserole is ah-mazing! It's a low-carb breakfast casserole made without potatoes or bread and jam-packed with flavor from the sausage and veggies!
A great way to feed a family or a large crowd quickly too! Perfect for any Holiday!
Sausage Egg Casserole:
When my kids were small I quickly realized I needed to have a slew of easy recipes that I could prepare quickly. I love breakfast but I don't love getting up in the morning! Having recipes on the ready that can pop in the oven or reheated is a big plus for me!
Whether you are having everyone in for a holiday brunch or want an egg dish that can be made ahead and used throughout the week, this is your recipe!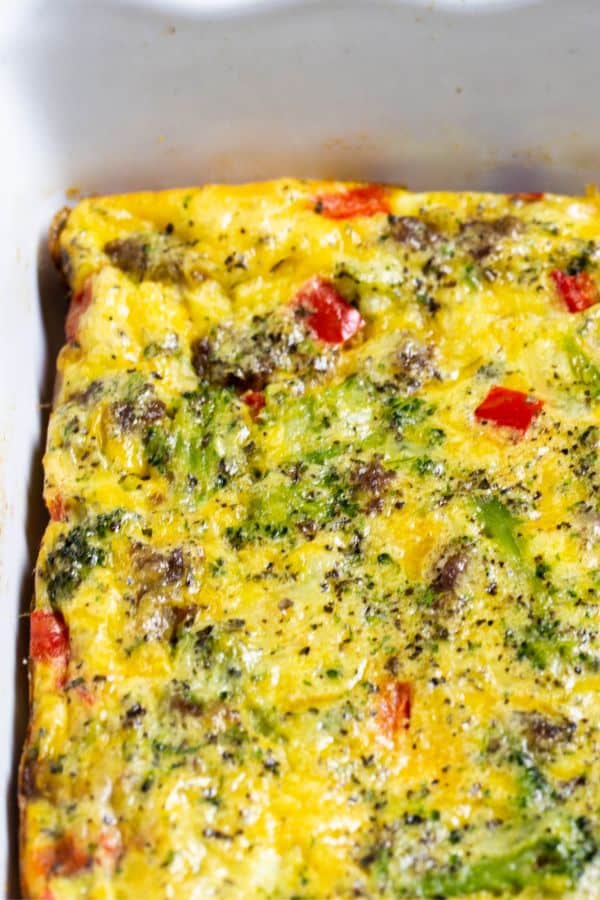 Sausage and Egg Casserole FAQs:
Can

I swap out ingredients in the recipe?
I love the versatility of this casserole. Follow the recipe exactly or sub out any veggies! My Mom doesn't like broccoli, so I substitute spinach, zucchini, or mushrooms when I make her this recipe.
Feel free to swap out the sausage and use either cooked crumbled bacon or ham, delicious.
What cheese is best to make this Sausage and Egg Casserole?
Cheddar is generally what I use as that is what my family enjoys. Colby Jack, Swiss, Mozzarella, and Gruyere cheese all work! Any combo your family enjoys will work.
The recipe uses frozen broccoli florets, can fresh broccoli be used?
After making this breakfast casserole many times, frozen broccoli florets are the easiest! If using fresh broccoli florets, add them in with the red pepper. You may need to saute about 5-6 minutes to ensure the broccoli is cooked through.
How far in advance can I make this breakfast bake?
You can make the recipe a day ahead and keep it in the fridge until you are ready to reheat it. Reheat at 350F for about 10 minutes.
Can I freeze this recipe?
Yes. After baking, you can freeze the extra pieces individually, well wrapped and defrost overnight as needed. Reheat at 350 degrees for about 10 minutes.
How long can the finished casserole sit on the buffet table?
You can keep the sausage and eggs on the table for about one to two hours. For details on egg safety, I refer to the FDA, food and safety website.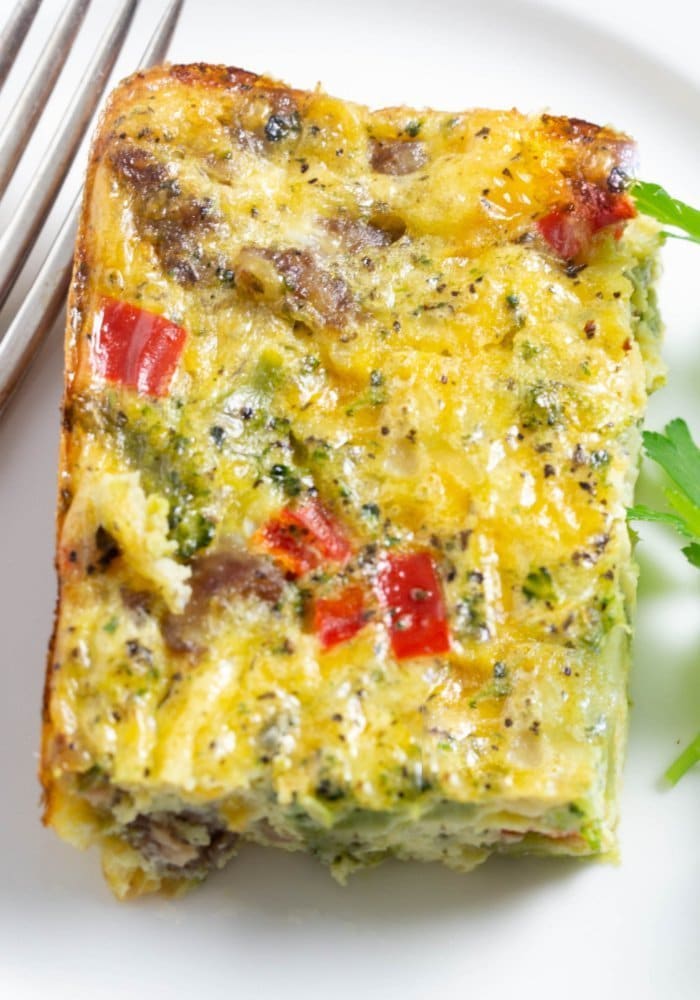 Are you having a brunch? A must add is my family famous Bloody Mary, you just need to make it and enjoy it. For a non-alcohol refresher, try Blueberry Lemon Ginger Iced Tea, just delicious.
Add my easy Blueberry Scones and Apricot Glazed Ham to the buffet table.
Try out some of my favorite recipes such as Hash Brown Cups from Joanna at Everyday Made Fresh. They would be great on any brunch table.
I also love Cindy's plant-based recipe Pumpkin Bundt Cake with Caramel Sauce. Her website is Veggie Fun Kitchen, such delicious food.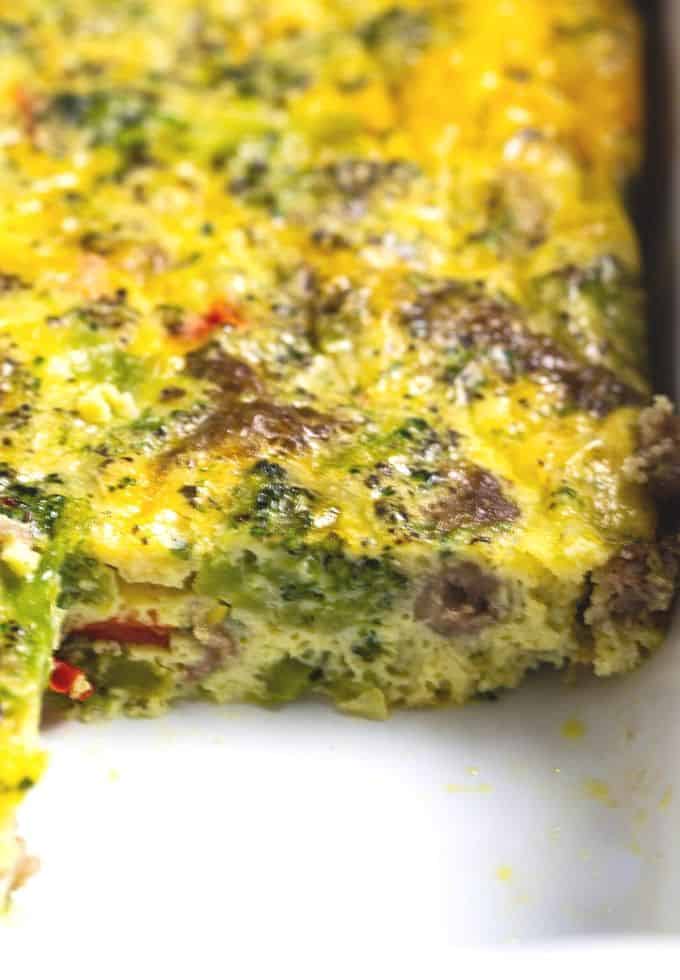 Pro tips for making a great Sausage and Egg Casserole:
Use fresh breakfast sausage and remove from casing.
Saute the sausage, drain and discard excess fat so your casserole is not greasy.
After trying both fresh and frozen broccoli florets. Frozen broccoli is easier to use for this recipe.
Semi-defrost the broccoli and chop it up for the casserole.
Pre-shredded cheese can be used as a shortcut in this recipe.
Shop this Recipe
This post contains affiliate links for your convenience. As an Amazon Associate, I earn from qualifying purchases.
I also have a store where I am always updating great finds for not just cooking, I hope you check it out here, Everyday Eileen I will continue to update it regularly!
How to make Sausage and Egg Casserole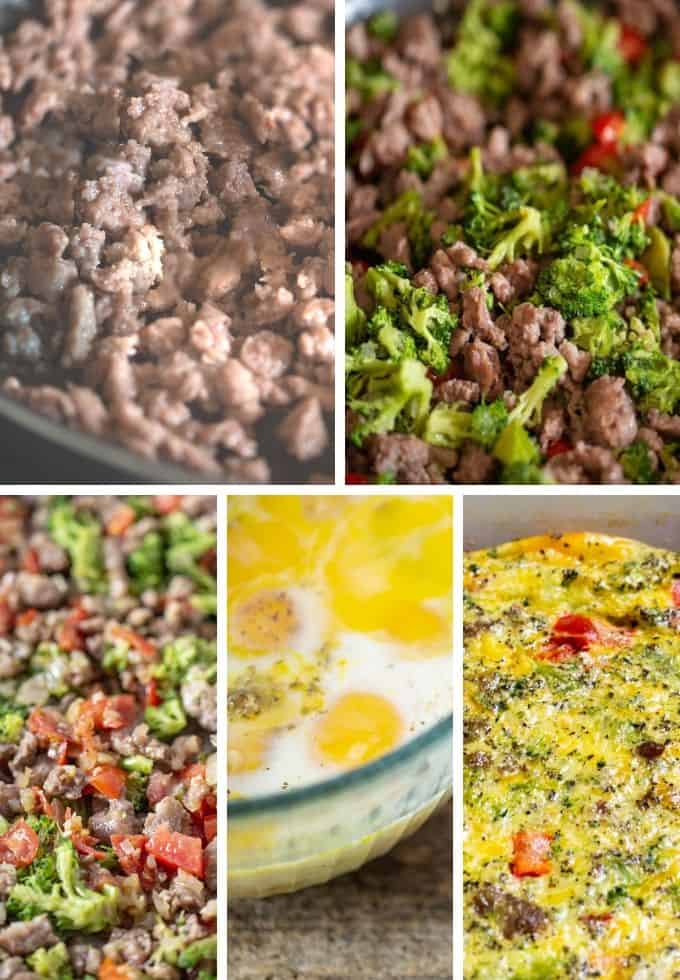 Preheat oven 375 degrees.
Spray a 9 by 13-inch casserole dish with non-stick spray. Set aside.
Saute the sausage meat until all browned. Remove sausage and set aside. Drain off any excess fat from the pan
Saute shallot and red pepper for about 4 minutes. Add in and saute the broccoli for another minute.
Stir in the cooked crumbled sausage.
Pour the sausage mixture evenly into the prepared casserole dish.
Sprinkle shredded cheese over the mixture.
In a large bowl, whisk the eggs, milk, parsley, basil, garlic powder, black pepper, and salt to combine well.
Pour over the sausage mix.
Bake uncovered for 30 minutes. The center of the casserole should not be jiggly! (jiggly being my very technical cooking term)
Remove the casserole from the oven. Let it sit a few minutes. Slice and enjoy!
Give us a like on FACEBOOK
For great recipes and tips, follow along on Pinterest
Thank you for always sharing my passion and love for food and family!
xo! Eileen
First Published: April 08,2019... Last Updated: December 09,2019
Are you loving this recipe, giving it a 5-star rating and any comments are super helpful for me and very much appreciated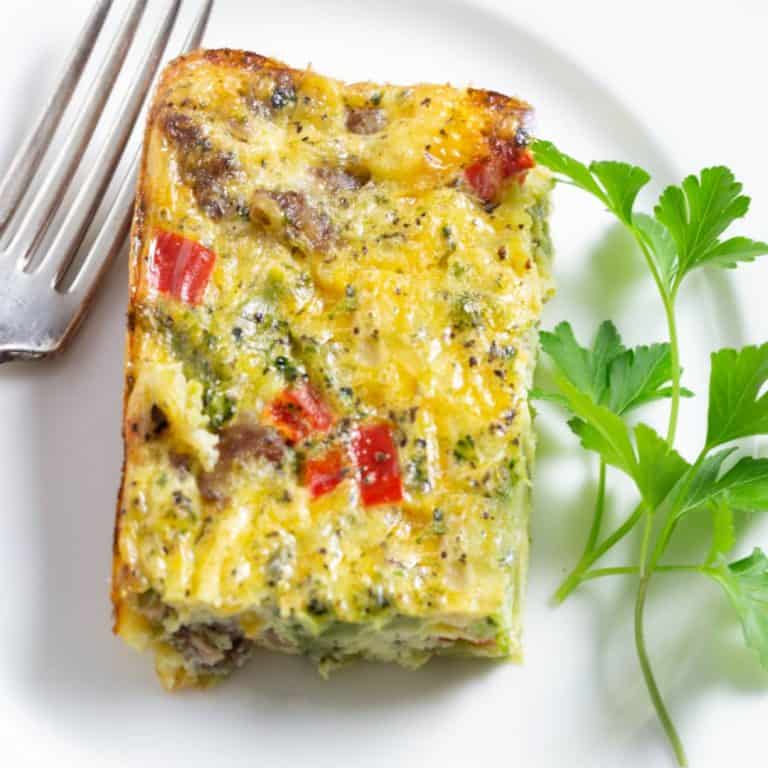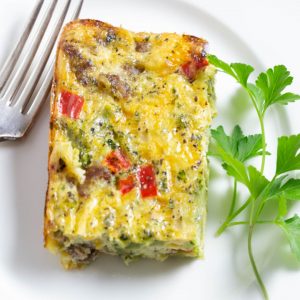 Sausage and Egg Casserole
A tasty combo of sausage, eggs, red pepper, shallot, broccoli, and cheese makes a delicious Egg Casserole! perfect for Easter Brunch, Mothers Day, Christmas, and New Years! Easy to prepare, bake and serve! A low-carb breakfast recipe!
Print
Pin
Rate
Equipment Needed:
Ingredients
1

pound

breakfast sausage, removed from casing

1

medium

shallot, peeled and diced

1

large

red pepper, seeded and diced

2

cups

broccoli florets, semi defrosted and chopped

10

large

eggs

⅓

cup

2% milk

whole milk can be used

½

teaspoon

dried parsley

½

teaspoon

dried basil

½

teaspoon

garlic powder

½

teaspoon

black pepper

salt, to taste

1

cup

shredded cheddar cheese, or another of your favorite cheese
Instructions
Preheat oven to 350‡F. Spray a 9x13 baking pan with non-stick spray.

In a large saucepan over medium heat, spray saucepan with non-stick spray.

Saute breakfast sausage, shallot, red pepper, and broccoli until sausage is brown and veggies are soft. Set aside.

In a medium bowl whisk the eggs, milk, parsley, basil, garlic powder, black pepper, and salt.

Pour egg mixture into the casserole dish.

Add the sausage, veggies, shredded cheese to the casserole dish. Stir to blend ingredients.

Bake 25 covered with aluminum foil.

Remove foil. Let bake another 5 minutes or until the casserole is cooked through.
Notes
Note 1: Frozen broccoli florets are easy to use in this recipe. Take them out of the freezer. Let them begin to defrost. Chop into bite-size pieces. 
Note 2: If using fresh broccoli florets, saute with the red peppers so the broccoli cooks through.
Note 3: When the casserole is cooked through, a toothpick can be inserted in center and come out clean. 
Note 4: After you saute the sausage, drain and discard excess fat so your casserole is not greasy. 
Note 5: Pre-shredded cheese can be used as a shortcut in this recipe.
I am not a nutritionist. Any nutritional data I provide is an approximation and actual dietary information can vary based on ingredients and proportion sizes.
Nutrition
Serving:
1
piece
|
Calories:
315
kcal
|
Carbohydrates:
4
g
|
Protein:
21
g
|
Fat:
22
g
|
Saturated Fat:
7
g
|
Cholesterol:
307
mg
|
Sodium:
556
mg
|
Potassium:
373
mg
|
Fiber:
1
g
|
Sugar:
1
g
|
Vitamin A:
1240
IU
|
Vitamin C:
47.1
mg
|
Calcium:
117
mg
|
Iron:
2.3
mg