Make Ahead Breakfast Burritos Recipe are a fabulous freezer friendly meal! They're a great recipe to add into your weekly or monthly meal planning! Use this recipe as your base breakfast wrap and feel free to adjust flavors to your family favorites.
We often sub bacon and sausage and other veggies in the fridge that we need to cook! A great way to have a variety of breakfast burritos in the freezer!
When there are veggies and proteins in the fridge that need to be used up, these burritos are a great way to utilize those veggies and make some delicious make ahead, freezer ready breakfasts!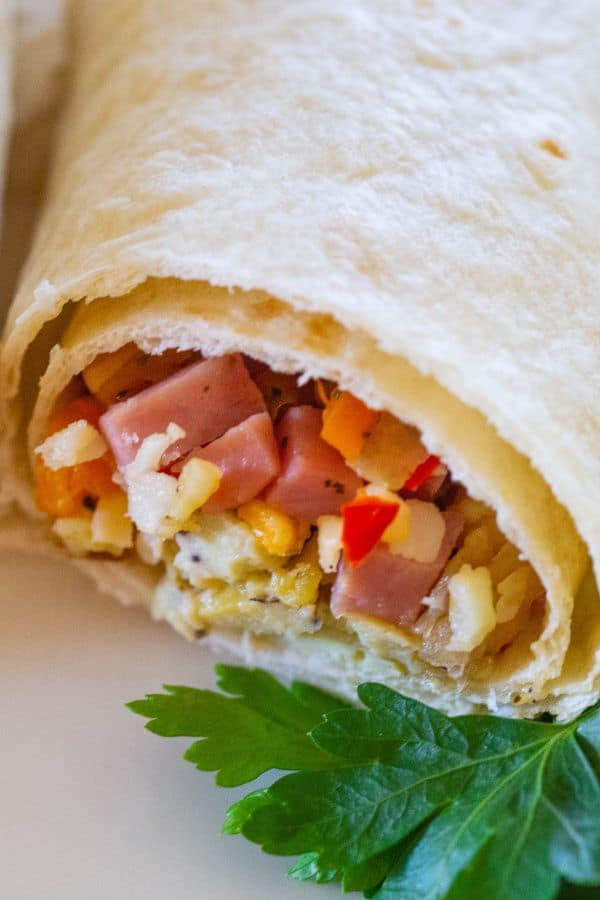 I have always been a meal planner/make ahead freezer meal person! As a busy Mom whether my kids were young or when I was working full-time, last thing I needed to do was worry about everyone eating healthy meals. Make ahead meals makes it easier, especially for hectic mornings!
My make ahead egg muffins are a hit. Today I want to share another easy recipe for Make-ahead Breakfast Burritos! These are great for everyone to enjoy for breakfast! I love heating these up for lunch too!
Why I love Make Ahead Breakfast Burritos:
I am on this make ahead frenzy lately because the family is out of control busy! Spring lacrosse for my daughter has been crazy and everyone else is running on crazy schedules!
If we are crazy, I figure you must be as well! So I thought sharing one of my families favorite freezer friendly burritos was in order!
My family loves a local place in our town that makes killer burritos and they are not cheap! I started making these because the kids loved the burritos from the taco place and my money was burning out of my pockets!
These burritos are so cost effective. We make them every week. I cannot keep them in the freezer and I am not complaining, kids are enjoying them! Hubs and I are enjoying the savings!
Easy Make Ahead Breakfast Burritos
Whether you have a family, live alone, or a couple, breakfast is so important! A good breakfast void of too much sugar, even better! Another reason I love making these burritos!
These burritos are made using ham, peppers, eggs, potatoes, shallots, and cheese! Once you make these, feel free to substitute your favorites to make your favorite breakfast burritos!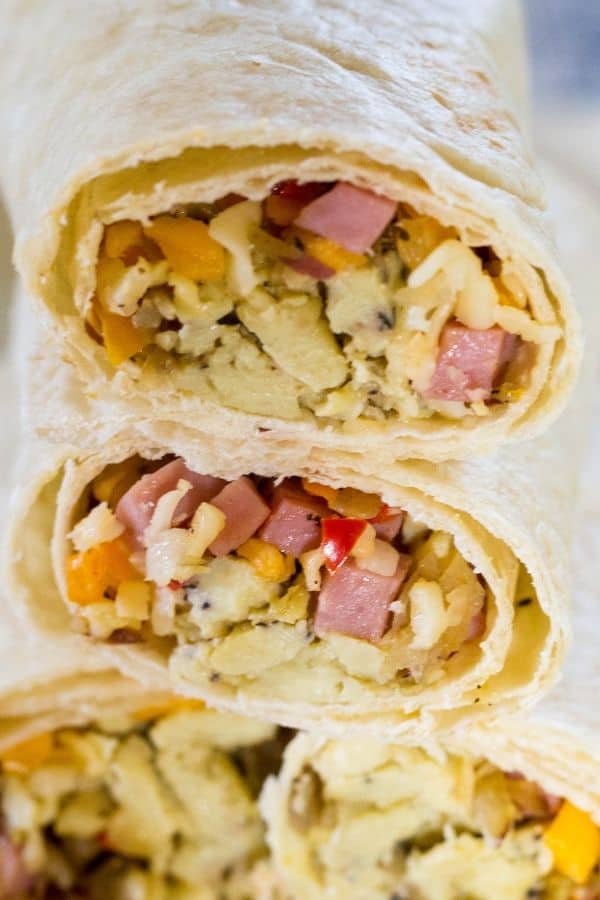 Make ahead Breakfast Burritos Ingredients:
low-carb or regular tortillas
potatoes- Russet or Yukon work best
diced ham
red pepper - or orange for color
shallot
eggs
milk
shredded cheese - colby jack/cheddar mix is a favorite.
The recipe calls for grated potatoes, are they already cooked?
No! It takes just a few minutes to grate raw potatoes. I don't even peel them. After grating potatoes, squeeze out excess water. Use a cotton cloth or thick paper towel to squeeze out the water from potato.
Can breakfast burritos be frozen?
Absolutely! Make your burritos and wrap in foil. Place in freezer friendly storage bags, labeled with the date and what is in the bag! Refer to the experts at the USDA for any questions regarding freezing food!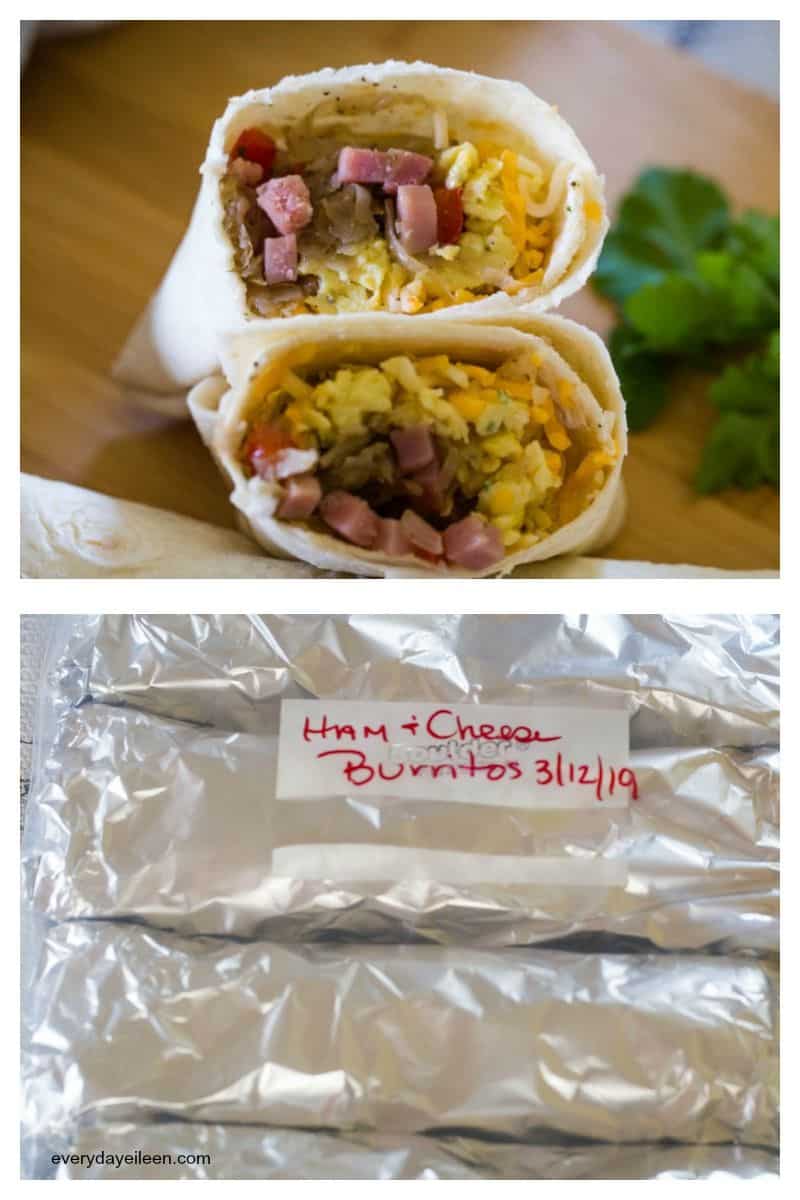 How do you reheat the breakfast sandwich in the oven?
When reheating in the oven, take them from freezer to fridge the night before. Reheat at 350 for about 10-15 minutes.
Placing from freezer to love will take longer, about 20-25 minutes.
How to reheat breakfast burritos in the microwave?
Remove the tortillas from the foil.
Wrap in parchment paper or a damp towel to keep the tortilla soft, microwave for about 2 minutes.
This recipe uses low-carb tortillas, can regular tortillas be used?
Yes, use the tortillas that your family enjoys!
Can a mixture of eggs and egg whites be used to make the egg burritos?
Yes, I switch these up all the time! For the kids, I use whole eggs because I want them getting all protein. For health reasons, I use half eggs and half egg whites for mine.
Can the ingredients be varied for the burritos?
Absolutely! For variety, swap bacon or sausage and your favorite veggies and cheese. Label your burritos so you know what is in each breakfast sandwich!
The following are affiliate links. We are a participant in the Amazon Services LLC Associates Program, an affiliate advertising program designed to provide a means for us to earn fees by linking to Amazon.com and affiliated sites.
Shop this recipe:
Cooks 11-inch Non-Stick Saute Pan This is a great non-stick pan, affordable and holds up to every day cooking!

Don't forget to shop the Everyday Eileen store on Amazon!
Some other breakfast recipes to enjoy are:
Veggie Egg Scramble: An easy egg recipe filled with veggies!
Make Ahead Egg Muffins: Easy to make and these egg muffins are delicious!
Spinach Mushroom Frittata: Another tasty egg dish that takes little effort to make and has amazing flavor!
Peanut Butter Baked Oatmeal from Lauren Kelly Nutrition, this oatmeal is so flavorful!
Pro Tips to make The Best Breakfast Burritos:
Be sure to squeeze out excess water from the shredded potatoes. Ensures potatoes won't be soggy when cooked.
Let the potato filling cool to room temperature before building burritos. Tortillas won't get soggy.
Burritos can be kept in fridge for about 3-4 days.
The breakfast burritos can be kept in the freezer for about 3 months.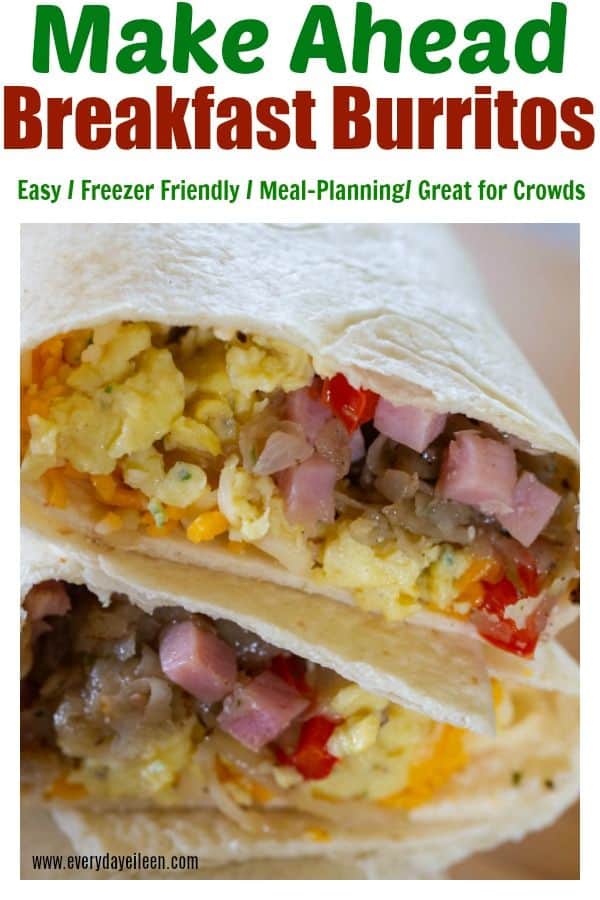 Prepare the ham and egg filling for Breakfast Burritos: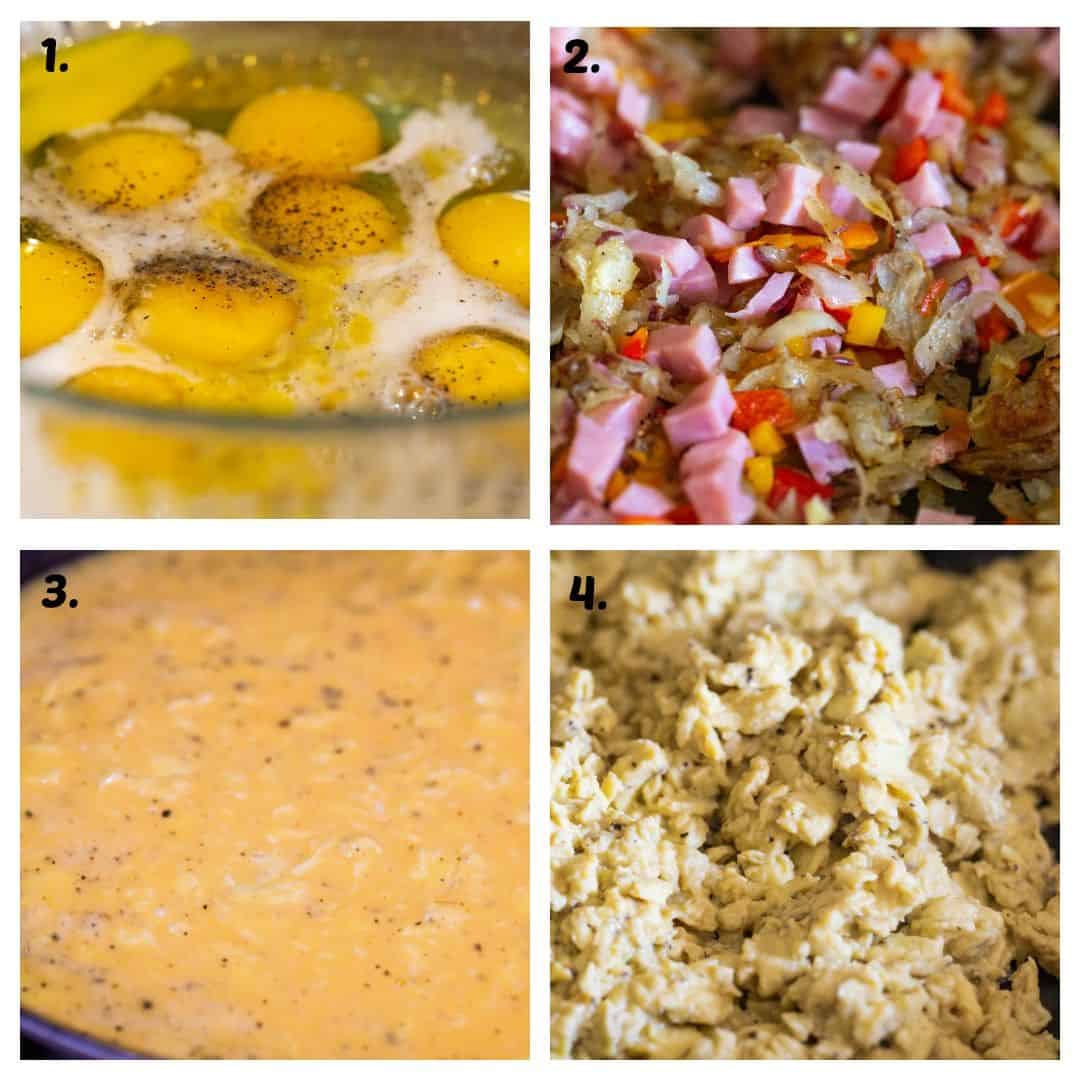 In a large bowl whisk the eggs, milk, parley, salt, and pepper. Set aside.
Heat a skillet over medium heat, spray with non-stick cooking spray, saute shallots, peppers, diced ham, and shredded potatoes. Season with salt and pepper, to taste. Saute until veggies are soft and cooked through. Remove filling and set aside.
Wipe clean the saute pan and add a little unsalted butter to pan,
add in the eggs and scramble till cooked through. Remove from heat.
How to Assemble Freezer Breakfast Burritos:

Place foil down for each burrito. Put a tortilla in the center of each piece of foil
Divide the eggs, potatoes, scrambled egg and shredded cheese on each tortilla.
Fold burritos
Wrap them up.
Label and place in freezer bags
How to fold a Breakfast Burrito:

Step 1 - 4 tutorial "How to fold a Burrito"
Place the filling in center of burrito.
Fold bottom of tortilla up over center.
Bring both side in towards center.
Fold burrito over.
Wrap in aluminum foil.
When you make my Make Ahead Breakfast Burritos, please take a pic and tag me on Instagram @everyday_eileen or #everydayeileen
I love any comments or questions, please feel free to leave them below!
Keep up to date with recipes by following me on:
FACEBOOK INSTAGRAM, PINTEREST, TWITTER
Love this recipe, it would be awesome if you give it a 5-star rating and share comments below!
📖 Recipe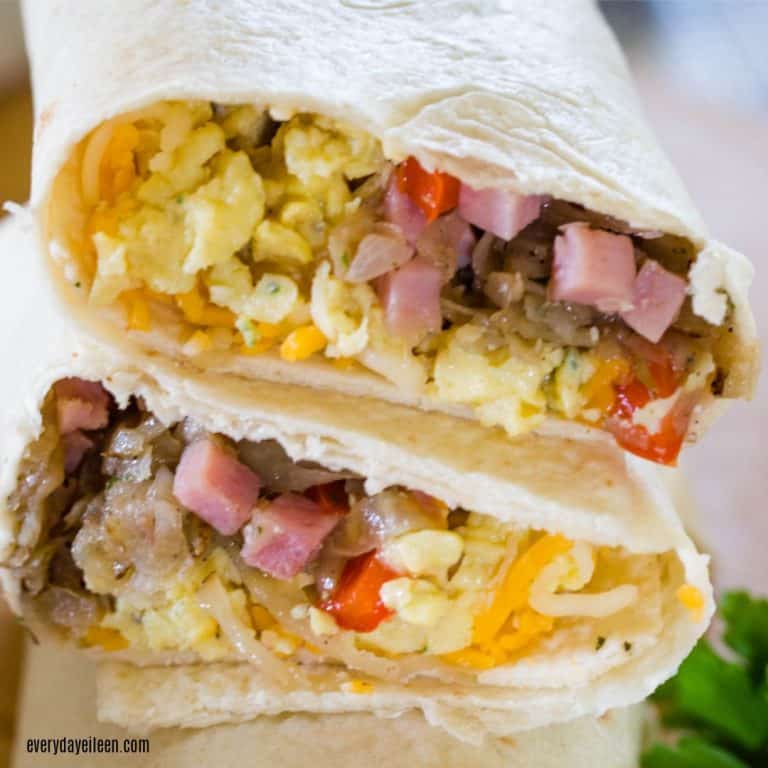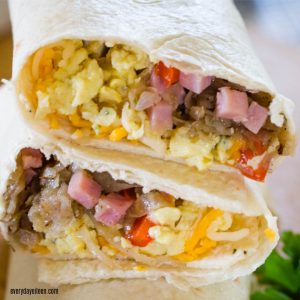 Make Ahead Breakfast Burritos
Delicious make ahead breakfast burritos are a great freezer friendly meal. These are easy to prepare and you can change up the ingredients to your favorites. A great way to use up veggies in the fridge! Great for a crowd! Going camping, bring these along to reheat quickly!
Print
Rate
Equipment Needed:
Ingredients
Breakfast Burrito Filling
1-2

teaspoons

olive oil

2

medium

Russet potatoes, grated and drained of excess water

Note 1

1

large

Red pepper, seeded and diced

1

medium

shallot, peeled and diced

8

ounces

diced ham

½

teaspoon

unsalted butter or butter spray

salt and pepper, to taste
Scrambled Eggs
8

large

eggs

⅓ cup

low-fat milk

½

teaspoon

dried parsley

½

teaspoon

dried basil

¼

teaspoon

garlic powder

salt and pepper, to taste

1

cup

shredded colby jack cheese or favorite cheese

8

large

low-carb flour tortilla
Instructions
Breakfast Burrito Potato Filling
Into a heated large skillet, over medium heat add olive oil. Add in the grated potatoes, red pepper, and shallot. Season with salt and pepper. Saute for about 5 minutes, stir in the diced ham. Saute another 3-5 minutes. Potatoes should be cooked and veggies soft. Remove the filling and place in a bowl until ready to make burritos. Wipe pan clean.
Make the Scrambled Eggs
While burrito filling is cooking, in a medium bowl whisk the eggs, milk, parsley, basil, garlic powder, salt, and pepper.

Return pan to the stove, over medium heat, add ½ teaspoon of butter or use butter spray. Add in the egg mixture and scramble the eggs .
Make the Breakfast Burritos
Lay out the flour tortillas. evenly divide the potato filling, eggs, and cheese on the tortillas.

Fold tortillas into burritos. If freezing, wrap with foil and place in freezer safe gallon bags, labeled with date and description of the sandwich. For keeping in the fridge, wrap in plastic wrap.

Reheating Burritos
Reheating in the oven, wrapped in foil for about 5-6 minutes. Frozen burritos in the microwave, remove foil, wrap in a paper towel and reheat for about 1-2 minutes.
Notes
Note 1: No need to peel potatoes before grating. Drain excess water from the potatoes by either squeezing them in your hands. The potatoes can also be squeezed in a cotton towel over the sink. Ensures the potatoes won't sweat too much liquid into the filling.
Note 2: Nutritional values are using low-carb tortillas.
Any nutritional data I provide is an approximation. Actual dietary information can vary based on ingredients and portion sizes
Nutrition
Serving:
1
burrito
|
Calories:
234
kcal
|
Carbohydrates:
13
g
|
Protein:
17
g
|
Fat:
12
g
|
Saturated Fat:
5
g
|
Cholesterol:
241
mg
|
Sodium:
560
mg
|
Potassium:
374
mg
|
Fiber:
1
g
|
Sugar:
2
g
|
Vitamin A:
1110
IU
|
Vitamin C:
29.5
mg
|
Calcium:
156
mg
|
Iron:
1.9
mg