Crispy oven-roasted potatoes are crunchy, delicious, and full of flavor. The potatoes are seasoned with simple seasonings to give you super flavorful recipes.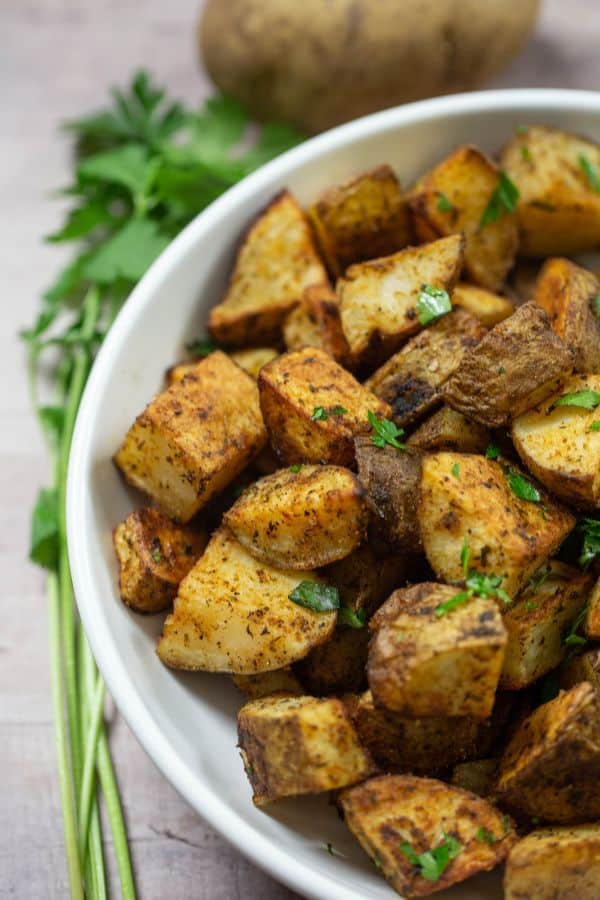 As an Irish girl, I grew up on potatoes with just about every meal! My Granny would boil them which don't get me wrong, with a little salt, pepper, and butter is delicious! However, a little variety is always good!
My Grandfather enjoyed a boiled potato, so, um, boiled potatoes were had by all! Trust me, there are only so many boiled potatoes one can eat.
I was determined to make a variety of potato recipes he'd enjoy. Thus we have my super crunchy and Grandpa approved crispy roasted potatoes.
What I love about these crispy potatoes, besides the fact that they taste amazing is that they can pair with so many main dishes! With just a few sprinkling of seasonings and a few hits of olive oil and these potatoes are amazing!
Ingredients you need to make Oven Roasted Potatoes:
potatoes
olive oil
onion powder
garlic powder
smoked paprika
salt/black pepper

Oven Roasted Potatoes FAQs:
What are the best potatoes to use to make Crispy Oven Roasted Potatoes?
My favorite potatoes for roasting are Idaho, Yukon, red, or fingerling potatoes.
Can any other oil besides olive oil used for Roasting Potatoes?
Sure, I alternate between olive, avocado, grapeseed oil. I have even used coconut oil with this recipe and it's delicious!
What is the best temperature to roast potatoes?
A high heat gives a crispy outside and a soft interior for a great potato. I recommend 425-degree oven temperature for roasting potatoes.
Can  I use soft potatoes that have some green on them?
Unfortunately, if potatoes are soft and are green, throw those potatoes out or place in your compost.
What is the best place to store potatoes before using them?
Store potatoes in a cool dry place but not in the fridge. A pantry shelf is good.
Can other herbs be added

used

 

these potatoes?
Absolutely!  Feel free to experiment! Here are a few options:
Greek flavor –  add some oregano and marjoram for variety.
Homemade Cajun Seasonings: a delicious homemade blend that enhances the flavors of roasted potatoes.
Herbes de Provence: a great blend of flavors for potatoes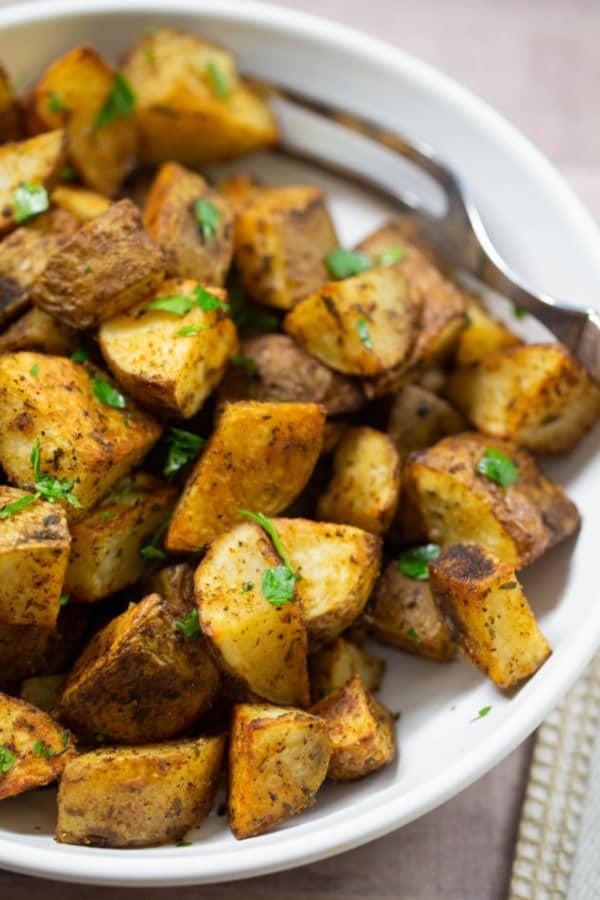 Enjoy these crispy roasted potatoes with a variety of recipes: 
Instant Pot Beer Braised Beef: The entire meal would be ready in less than an hour and so tasty.
Grilled Orange Teriyaki Pork Chops: These grilled chops would pair so well with these crispy potatoes.
Crispy Baked Drumsticks: Oven baked and super delicious chicken and potatoes, hello delish!
The following are affiliate links. We are a participant in the Amazon Services LLC Associates Program, an affiliate advertising program designed to provide a means for us to earn fees by linking to Amazon.com and affiliated sites.
Don't forget to shop the Everyday Eileen store on Amazon!
Thank you so very much for being apart of Everyday Eileen!
Tips to make awesome Crispy Roasted Potatoes:
Don't overuse the oil on the potatoes Potatoes won't be as crispy.
Use a roasting pan for the potatoes and don't overcrowd the pan. Overcrowding can cause the potatoes to not get crispy.
Peeling the potatoes is not necessary. Wash the skins well before cutting potatoes.
Evenly cut potatoes so they roast at the same rate.
Potatoes can be made ahead and reheated at 375 degrees wrapped in aluminum foil.
How to Make Roasted Potatoes:
Scrub potatoes and cut into cubes about 2 inches each. 
Sprinkle the potatoes with olive oil, smoked paprika, onion powder, garlic powder, salt, and pepper.
Stir to cover potatoes evenly.
Add potatoes to a baking pan sprayed with non-stick spray.
Roast at 425 for 20 minutes. Turn potatoes and roast another 10 minutes.
Pin for later here

: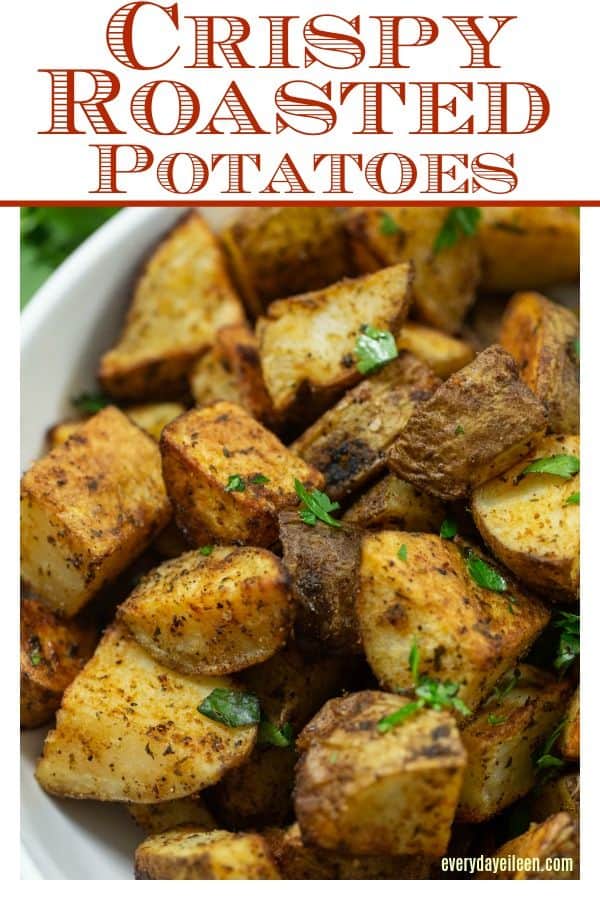 Tag me on Instagram with @everyday_eileen or #everydayeileen.
I love any comments or questions, please leave below!                               
 I HOPE YOU CONTINUE CONNECTING WITH ME!
Stay up to date on all recipes! Follow me on:
Love these Crispy Roasted Potatoes, I would very much appreciate it if you give it a 5-star rating and share any comments or questions below
Thanks go out to Ellen from Family Around the Table and Christie from A Kitchen Hoor's Adventures for hosting #OurFamilyTable.
We have a group of great bloggers who are gathering on Sunday's for amazing themed recipes! I am happy to be included in their fabulous group today! If you haven't guessed, today is "All about Potato"
This is a great group of creative recipe developers and I hope you check out all their amazing tasty potato recipes:
All About Potato Recipes
We share Recipes From Our Dinner Table! Join our group and share your recipes, too! While you're at it, join our Pinterest board, too!