These Instant Pot Mashed Potatoes are incredibly creamy and fluffy. Do you want the best side dish that screams comfort food? You came to the right place! Today, you are getting my Grannies pressure cooker mashed potatoes! The combo of buttermilk, sour cream, and butter make the most creamy and mouth watering taters.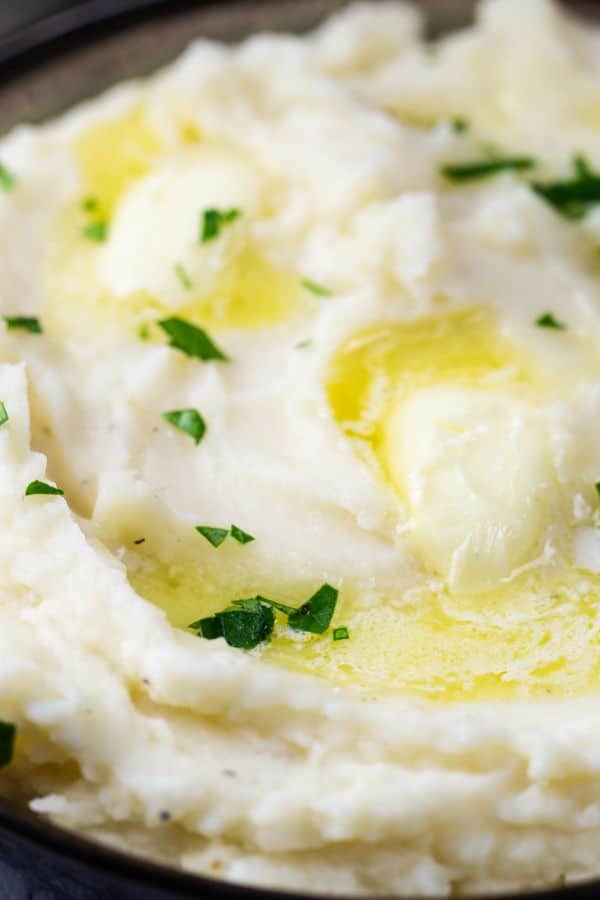 Mashed Potatoes that have been made in the Instant Pot!
If you are a regular, you know I grew up on potatoes, lots of them! My Granny used a pressure cooker all the time. I talk all about it in this pork tenderloin recipes. Granny made veggies in her pressure cooker. So, with it being Saint Patrick's Day weekend, these recipe is in honor of my most amazing Granny.
Who, by the way served the HOTTEST potatoes ever! Trust me on this on, hot is not an exaggeration! My Dad always said there was so much steam coming off them, no one could even see her face, haha!

Easy Instant Pot Mashed Potatoes
Instant Pot Mashed Potatoes (Pressure Cooker)
I am feeling a little sentimental this week and really missing my Granny! We always had so much fun celebrating Saint Patrick's Day!
I did Irish Dance as a child and my girls did too. Now my niece is also Irish Dancing. Always lots of events going on.
As I said my Granny's pressure cooker was not dangerous but she always scared the crap out of me. She'd say, with her Irish Brogue, if the top blows run away! Who says that, my Granny! It never blew up but she always had me with one eye on that darn pressure cooker!
Thank goodness, Instant pots are a lot easier to use and my Granny would love using it to make mashed potatoes.
Instant Pot Mashed Potatoes Ingredients:
Russet or Yukon potatoes – starchy potatoes which is great for mashed potatoes.
onion – adds flavor to the recipe
bay leaf –
buttermilk –
unsalted butter
sour cream – I use low-fat. Regular can be used. It adds creaminess to the mash.
salt and pepper
Feel free to add fresh herbs such as thyme or rosemary as a garnish

Instant Pot Mashed Potatoes FAQs:
What type of potatoes are best for making a good mash?
The best potatoes for mashing are higher in starch like Russet Potatoes or Yukon. I talk about this in my Classic Homemade Mashed Potato Recipe!
Can I make this recipe ahead of time?
The potatoes can be made early in the day and kept warm in the Instant Pot.
The recipe uses low-fat ingredients, can full-fat be used?
Sure, I tend to use low-fat ingredients when possible for my families personal preference. Full-fat buttermilk and sour cream can be used in these potatoes!
What goes well with Instant Pot Mashed Potatoes:
I don't have buttermilk, can I still make these mashed potatoes?
Absolutely, use regular milk and add 1 teaspoon of white vinegar to every cup of milk. For this recipe I use about 1/3 cup of milk so use about 1/4 -1/2 teaspoon of white vinegar to the milk. Let it sit for about 5 minutes before using in the potatoes. You can also use plain milk, a slightly different taste but still delicious!
The following are affiliate links. We are a participant in the Amazon Services LLC Associates Program, an affiliate advertising program designed to provide a means for us to earn fees by linking to Amazon.com and affiliated sites.
Thank you so very much for being apart of Everyday Eileen!
Shop this recipe:
8-Quart Instant Pot: This is the pot I use. Love it!
Potato Masher: Love this masher. Sturdy and easy to clean.
Don't forget to shop the Everyday Eileen store on Amazon!
Pro Tips to making mazing Instant Pot Mashed Potatoes:
As mentioned above, use starchy potatoes to have fluffy potatoes.
Cover the potatoes in the Instant Pot with enough water to cover all potatoes.
After much experimenting 5 minutes on high pressure works well.
Let the potatoes do a natural release for about 5-7 minutes. Then turn valve to quick release.
Use a hand potato masher for the best fluffy potatoes.
When you make this recipe, take a pic and tag me on Instagram @everyday_eileen or #everydayeileen.
I love any comments or questions, please feel free to leave them below!
Keep up to date with recipes by following me on:
FACEBOOK INSTAGRAM, PINTEREST, TWITTER
Love this recipe, it would be awesome if you give it a 5-star rating and share comments below!
Instant Pot Mashed Potatoes
Creamy mashed potatoes made in the Instant Pot. Total time is about 30 minutes to amazing mashed potatoes! Great for a side dish for any weeknight meal! A perfect side dish for any Holiday table.
Print
Pin
Rate
natural release:
6
minutes
Ingredients
Instructions
Into the vessel of the Instant Pot add the potatoes, onion, bay leaf, and water. Season with salt and pepper. Close lid and close valve. Set pressure to high and set timer for 5 minutes. Timer will go off when cooking is complete.

Let cooker natural release for 5 minutes. Then turn valve for auto release. Once complete, hit cancel, remove lid. Remove and discard the bay leaf. Drain water from the potatoes. Keep potatoes in the Instant Pot vessel.

Add to the vessel buttermilk, sour cream, and butter. Use hand masher to mash potatoes. Season with salt and pepper as needed. Keep warm until ready to serve.
Notes
Note 1: Russet or Yukon Potatoes or a mix of both make great mashed potatoes.
Note 2: Enough water to cover the potatoes.
Note 3: full-fat buttermilk or sour cream can be used.
I am not a registered dietician, I do my best to provide the most accurate nutritional values. Any nutritional data I provide is an approximation. Actual dietary information can vary based on ingredients and portion sizes
Nutrition
Serving:
1
serving
|
Calories:
288
kcal
|
Carbohydrates:
57
g
|
Protein:
7
g
|
Fat:
4
g
|
Saturated Fat:
2
g
|
Cholesterol:
11
mg
|
Sodium:
45
mg
|
Potassium:
1328
mg
|
Fiber:
4
g
|
Sugar:
3
g
|
Vitamin A:
115
IU
|
Vitamin C:
18.6
mg
|
Calcium:
78
mg
|
Iron:
2.6
mg