Bangers and Mash is a recipe I grew up eating about twice a week. A delicious blend of tender sausage, caramelized onion in a mouthwatering brown gravy made with Guinness beer. Oh, it's not over yet! Enjoy your Bangers (Irish Sausage) over creamy buttery mashed potatoes. Enjoy this festive recipe any time of year.
This is also a perfect way to celebrate Saint Patrick's Day!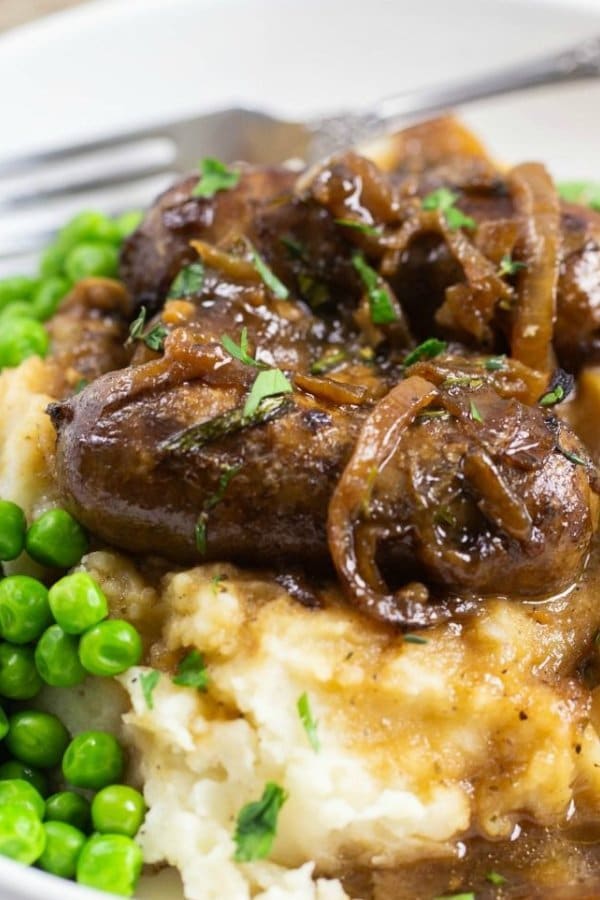 Bangers and Mash recipe
In Ireland, bangers and mash are part of traditional Irish food! My recipe is based on my Granny's recipe! You all know me, just like my Irish Soda Bread, I have made it my own!
Granny always made very traditional Bangers with onions, water, and a little broth. Bangers are the term used for sausage in Ireland and England. The "mash" is mashed potatoes. A very popular dish in Ireland and England.
My spin on bangers is a Guinness gravy with caramelized onions! Caramelizing the onions adds a sweetness to compliment the strong ale.  A few extra minutes to caramelize the onions adds amazing flavor to the entire meal.  That Guinness gravy, I can't even express how good it tastes.
My boys always say they can eat the gravy in a soup bowl! The hubs loves to dip a piece of brown bread into the gravy after he's done with the sausages and mash!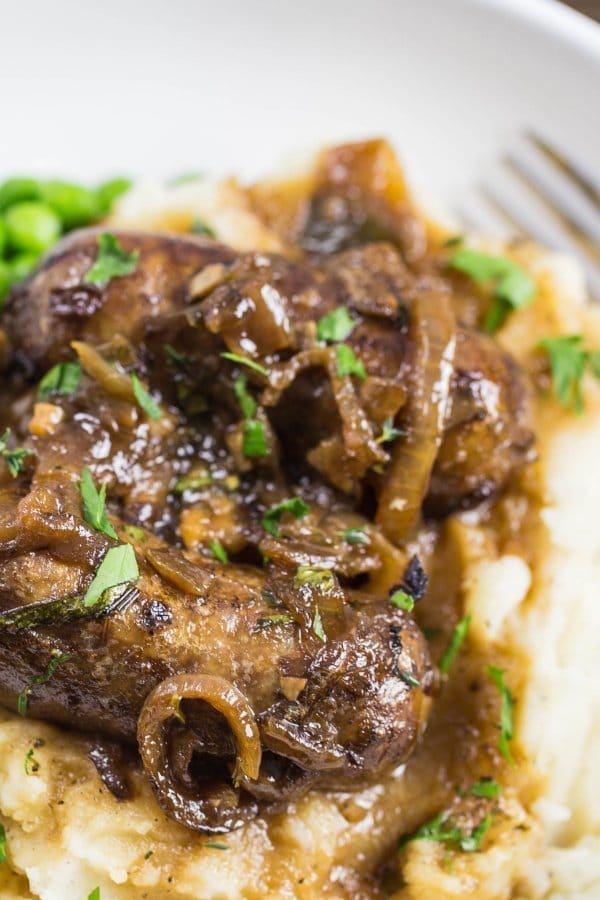 Why are the sausages called bangers? 
My Granny grew up on sausage with mash in Ireland. When WWII began, meat was scarce and sausages were being made with more water. When the sausage hit the pan, they would pop and split, thus bangers began.
I am lucky to live in an area where I can purchase Irish sausage. If you have an Irish shop in your area, they may sell Irish Sausage. You can always order through Amazon.
Irish sausage is usually pork-based. Some varieties include beef! When I don't have Irish sausage in the freezer, I use regular pork sausage and they are delicious.
I can't find bangers (Irish Sausage), what else can I use?
For years, we only used Irish sausage. After many delicious test recipes, pork sausage or bratwurst works really well. The big bonus, those sausages are in every market and way more cost-effective! For the past few years, I now use pork sausage unless I get a great deal on Irish sausage.
What is the "mash" in Bangers and Mash?
Mash is referring to mashed potatoes. No surprise that my Classic Mashed Potato recipe is AH-MAZING and my Granny's recipe. I wish I could have a dollar for every potato I've peeled to make mashed potatoes.
For anyone who follows a low-carb diet, use almond flour instead of all-purpose flour.  Instead of mashed potatoes, make low-carb cauliflower mash and enjoy with the bangers.
The following are affiliate links. We are a participant in the Amazon Services LLC Associates Program, an affiliate advertising program designed to provide a means for us to earn fees by linking to Amazon.com and affiliated sites.
Shop this Recipe:
A few of my Irish meal recipes I hope you try: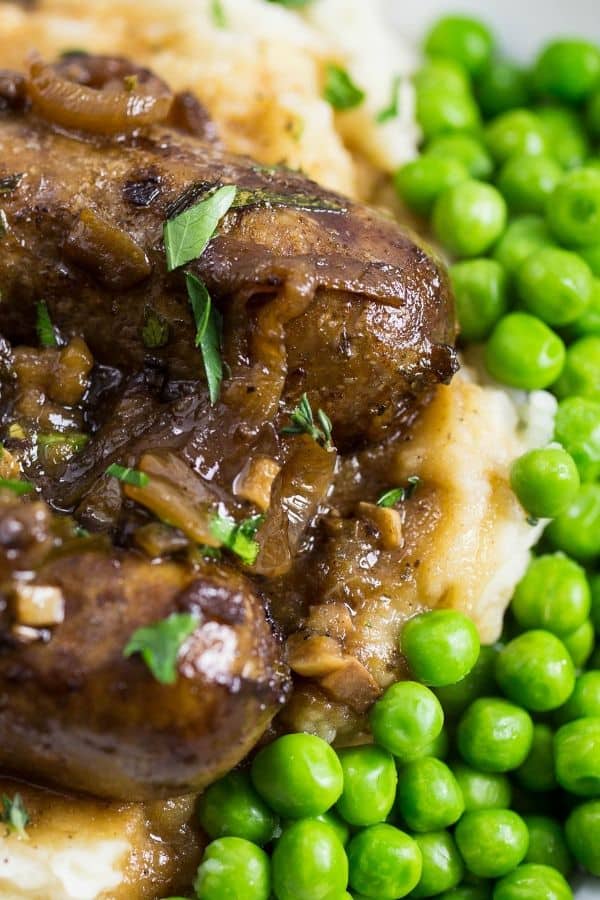 How to make a delicious bangers and mash recipe: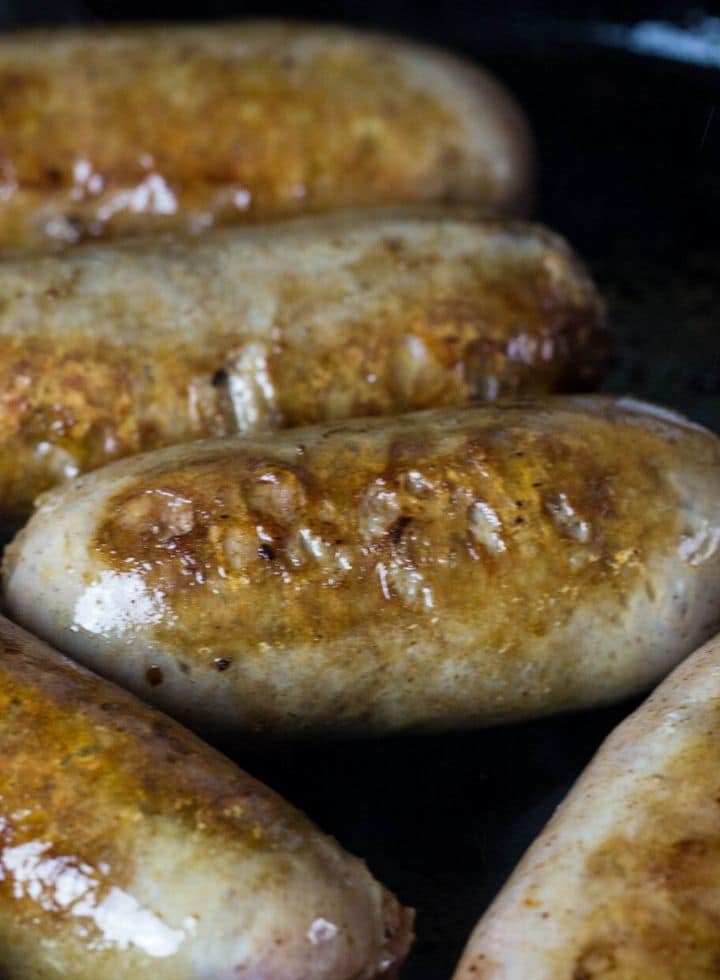 Brown bangers in a cast iron pan, once brown, remove set aside.
Add sliced onions to the pan, let them caramelize at least 15 minutes, stirring occasionally.
Caramelize Onions for Guinness Gravy
A. Slice onions very thin.
B. Saute onions over medium heat.
C. Continue to saute onions about 15-20 minutes.
D. Onions develop a great caramelized coating that adds amazing flavor to the Guinness gravy!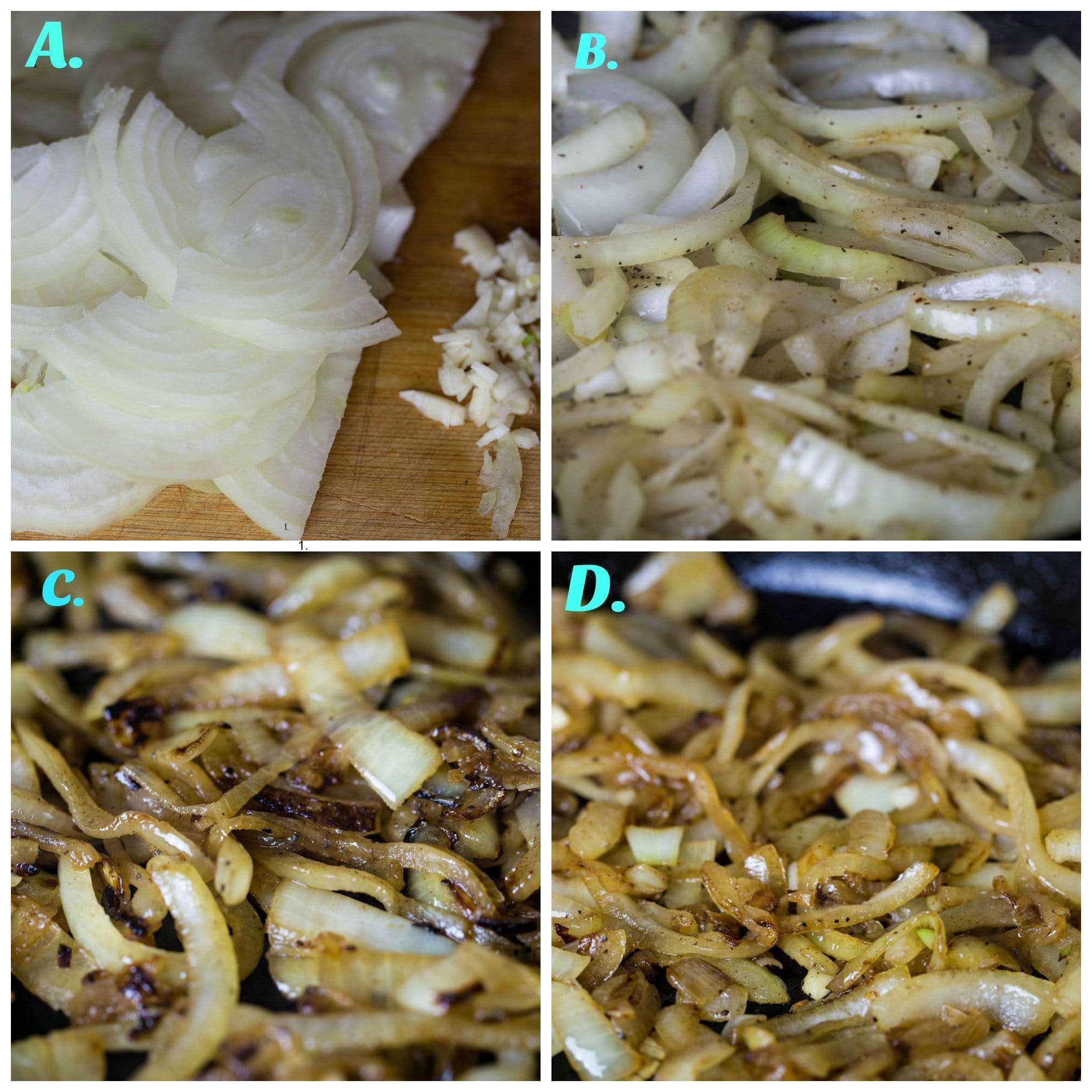 Pour in Guinness beer and stir up any brown bits in the pan. Add in beef broth, Worcheshire Sauce, Coleman mustard, thyme, parsley, and pepper.
After dinner, fire up your coffee pot and enjoy an Irish Coffee, my dad's recipe! Slainte!
You are going to absolutely love my Granny's bangers and mash.  When I was little, I'm not sure what was better, eating these bangers or being allowed to say Granny's bangers, too funny.
Don't miss an opportunity to make one of my family's favorite recipes! Whether it's Saint Patrick's Day or any day, I think you will love Bangers and Mash!
First Published: Febrary 20,2019... Last Updated: March 11,2020
I love any comments or questions, please feel free to leave them below!                               
            Be sure to follow me for recipes and tips:
        FACEBOOK  INSTAGRAM, PINTEREST, TWITTER
Love this recipe, it would be awesome if you give it a 5-star rating and share comments below!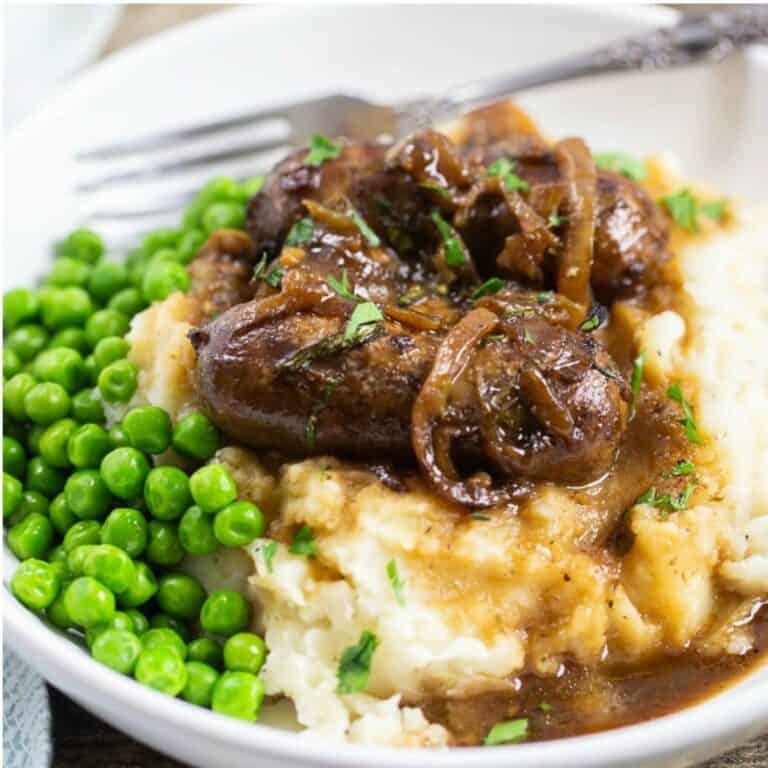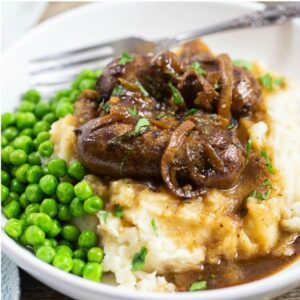 Granny's Bangers and Mash
Bangers and Mash with is sausage in a savory brown gravy over mashed potatoes! My Granny's traditional recipe with my twists making an amazing dish!
Print
Pin
Rate
Equipment Needed:
Ingredients
8

pork sausage links

Note 1

2

medium

yellow onions, peeled sliced thin

3

cloves

garlic, peeled and finely chopped

1

Tablespoon

unsalted butter

1

cup

Guinness Beer

Note 2

1

teaspoon

olive oil

Note 3

2

cups

beef broth

2

Tablespoons

all-purpose flour

2

Tablespoons

Worcestershire Sauce

½

teaspoon

Colman's Mustard

Note 4

½

teaspoon

dried parsley

½

teaspoon

ground thyme

salt and pepper, to taste

fresh chopped parsley, garnish
The Mash
Instructions
In a skillet, over medium heat add olive. Add in the sausages to brown, around 6 minutes. Remove sausage and set aside.

To the skillet, add in butter. Stir in onions, simmer about 15 minutes to soften and carmelize onion, stirring frequently. Mix in minced garlic, stir a few seconds.

Pour in Guinness and stir up and brown bits sticking to the bottom of the skillet. Remove a few Tablespoons of the warm Guinness and place in a small bowl. Whisk the flour into the small bowl with the Guinness until smooth, no lumps. Pour back into the pan and whisk all together.

To the skillet, add beef broth, Worcestershire sauce, mustard, parsley, and thyme. Stir together. Add bangers back into the skillet.

Reduce heat to a low simmer. Cover pot with lid and simmer for 20 minutes. Serve over mashed potatoes. 

Optional: garnish with fresh chopped parsley.
Notes
Note 1: Use Irish sausage, pork sausage, or beef sausage.
Note 2: If you don't cook with alcohol, increase beef broth.
Note 3: Non-stick cooking spray can be used in place of oil.
The nutritional values are based on bangers only. You will need to adjust calories based on what mash you use, potato or cauliflower.
I am not a registered dietician, I do my best to provide the most accurate nutritional values. Any nutritional data I provide is an approximation. Actual dietary information can vary based on ingredients and portion sizes
Nutrition
Serving:
2
sausages
|
Calories:
796
kcal
|
Carbohydrates:
12
g
|
Protein:
37
g
|
Fat:
64
g
|
Saturated Fat:
22
g
|
Cholesterol:
170
mg
|
Sodium:
1977
mg
|
Potassium:
783
mg
|
Fiber:
1
g
|
Sugar:
3
g
|
Vitamin A:
257
IU
|
Vitamin C:
7
mg
|
Calcium:
53
mg
|
Iron:
4
mg
Enjoy some of my favorite blogger's recipes for Saint Patrick's Day. Savory, desserts, and cocktails!
St. Patrick's Day Recipes:
Savory Saint Patricks Day Recipes:
Saint Patricks Day Dessert Recipes:
Cocktails to enjoy for Saint Patricks Day: