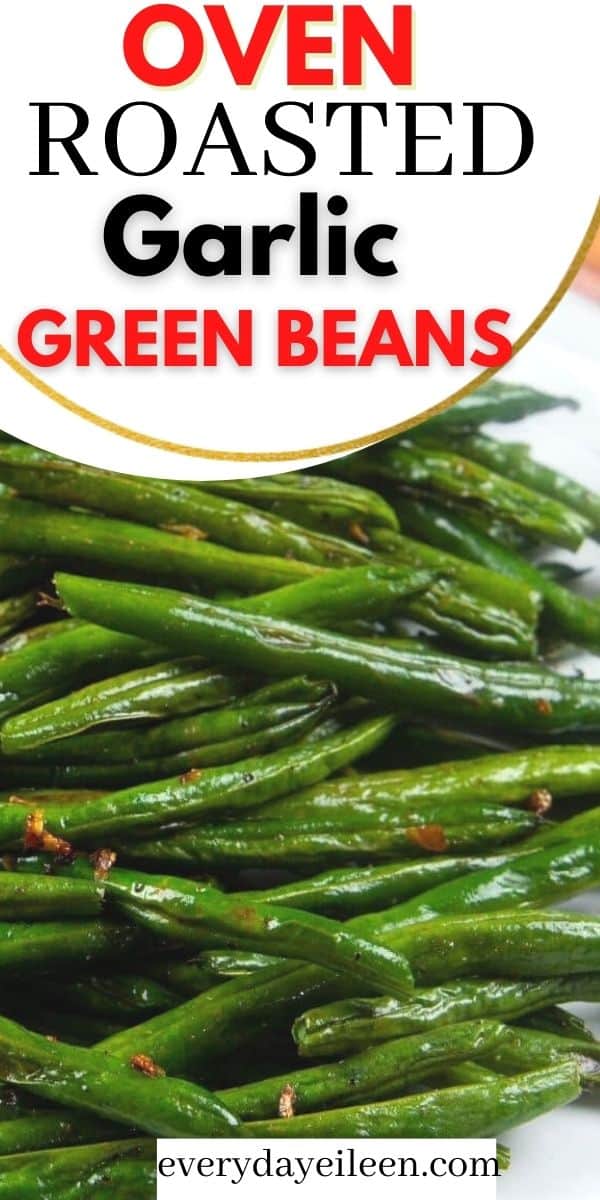 Fresh oven roasted green beans are super tender with a nice crunch. They're perfectly seasoned with simple seasoning and braised to perfection for an amazing side dish. They are so darn good. Besides being a great aside dish for any weeknight or Holiday meal, we often make them for an afternoon snack.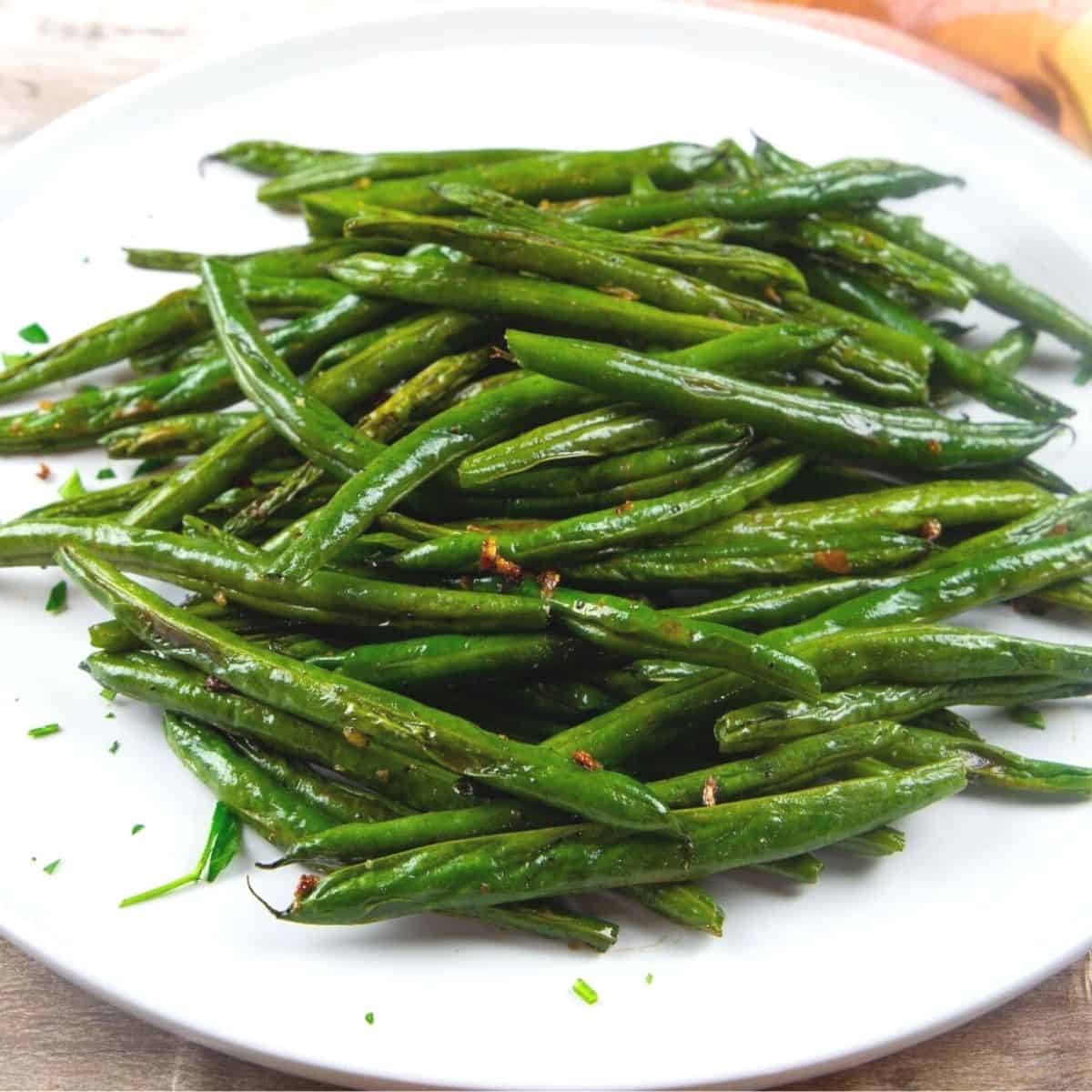 A no-brainer, easy, and splendid side dishes are these green beans. My green beans with mushrooms is a reader and family favorite. So sharing this super simple recipe is clearly needed so everyone can enjoy them.
Oven roasted green beans
My friends, whether you want an amazing tasting side, a healthy low carb treat, or just darn good food, these roasted green beans are for you. They are roasted with very simple ingredients with the most flavorful results.
Ingredients
Green beans: fresh green beans are the best to use for this recipe. Frozen green beans do work in this recipe. I freeze fresh green beans throughout the summer, instructions below.
Olive Oil: We use olive oil, however, you can use any of your favorite oils such as avocado and coconut oil.
Garlic: I prefer to use chopped fresh garlic, garlic powder can be used if fresh isn't available.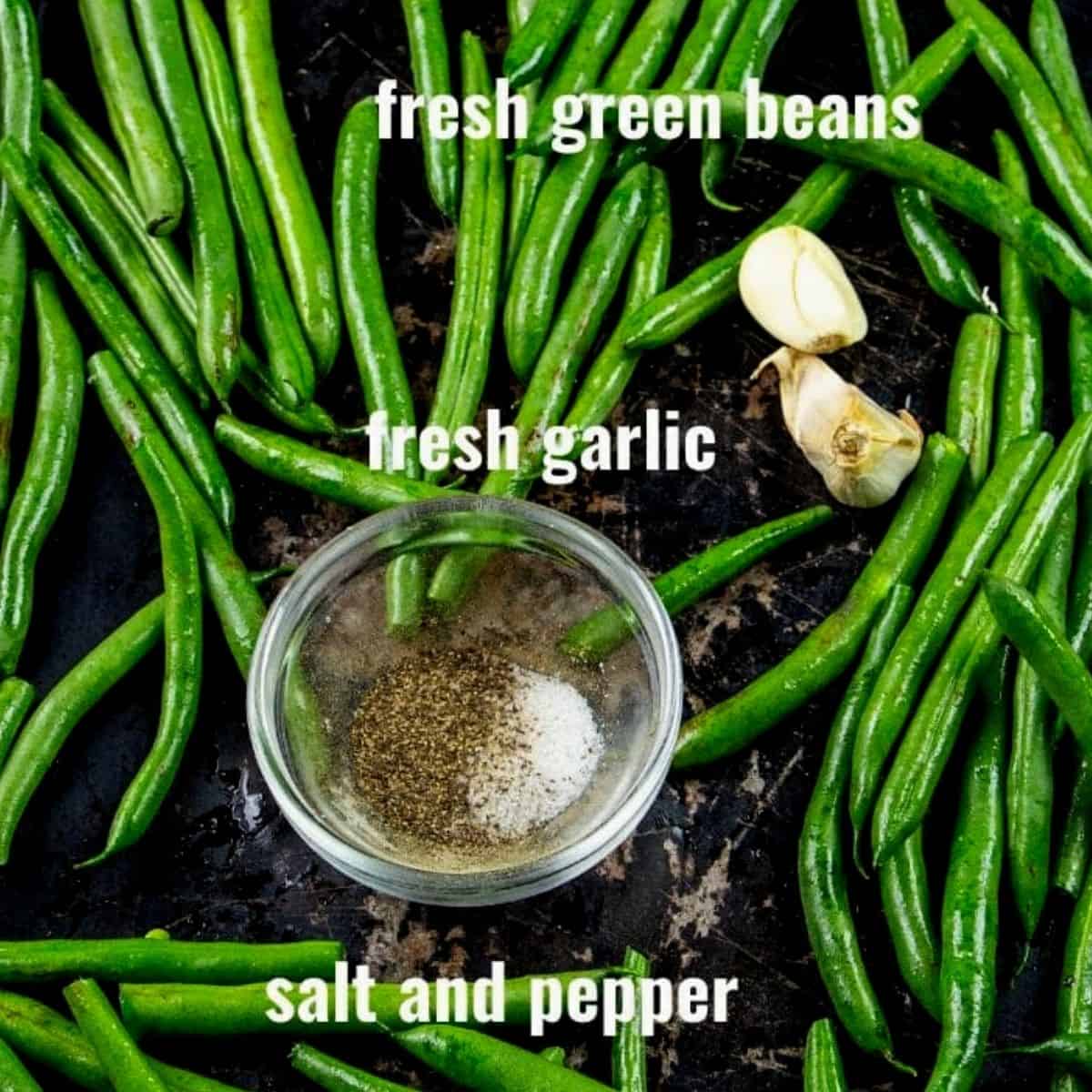 How to choose the best beans
Pick bright green colored beans that are smooth.
Don't pick beans that are very soft or with brown spots.
The beans should snap easily when broken in two.
If you have a garden, pick your beans in the morning for ultimate flavor.
Snap or Cut the Ends
I'm not sure how in-depth you get over your beans. Don't fret over whether the end and if they should be snapped or cut. For me, life is not too exciting so it's a big conversation piece, and I prefer to snap. My kids, cut the ends with a knife. End results, they are all delicious. So pick your favorite but you definitely want to trip the end piece that connects the bean to the vine. It won't harm you at all if you eat the end but it just tastes and looks better.
Storage Tips
Store them in plastic storage bags in the fridge for about 5 days.
Once cooked, keep well covered in the fridge for up to 2 days. Reheat in the oven wrapped in foil for about 5 minutes at 350°F. In the microwave, place the beans in a microwave-safe bowl and heat on high for about 6 seconds, until beans are warm.
To freeze, place beans on a large baking tray in the freezer for about an hour. Then place in freezer-safe bags or use a food saver to prevent freezer burn. They can be frozen for 3 to 4 months.
Recipe Tips:
Wash and dry the beans before adding the seasoning.
A baking sheet works best for roasting veggies. They are affordable and you will use them often.
Do not overcrowd your baking sheet with the beans. This will ensure they roast evenly.
I have updated this recipe to reflect the baking temperature should be 425°F.
Frozen Beans
If you must use frozen beans, defrost them and be sure to wipe the beans dry before roasting. Otherwise, you will have mushy veggies.
Recipe Variations
Add some crispy bacon to the beans. A perfect way to use leftovers too.
Thinly slice white button mushrooms to the pan before roasting.
For a nice change, season the beans with some seasoning salt or Cajun seasoning.
Looking for Greek flavors, add ½ teaspoon of dried oregano and marjoram to the veggies.
Sprinkle Parmesan cheese on the beans for the last 5 minutes of roasting.
Drizzle lemon juice on the beans and add the lemon wedges onto the roasting pan for added flavor during roasting.
Serving suggestions
Enjoy some other of my favorite veggie side dishes: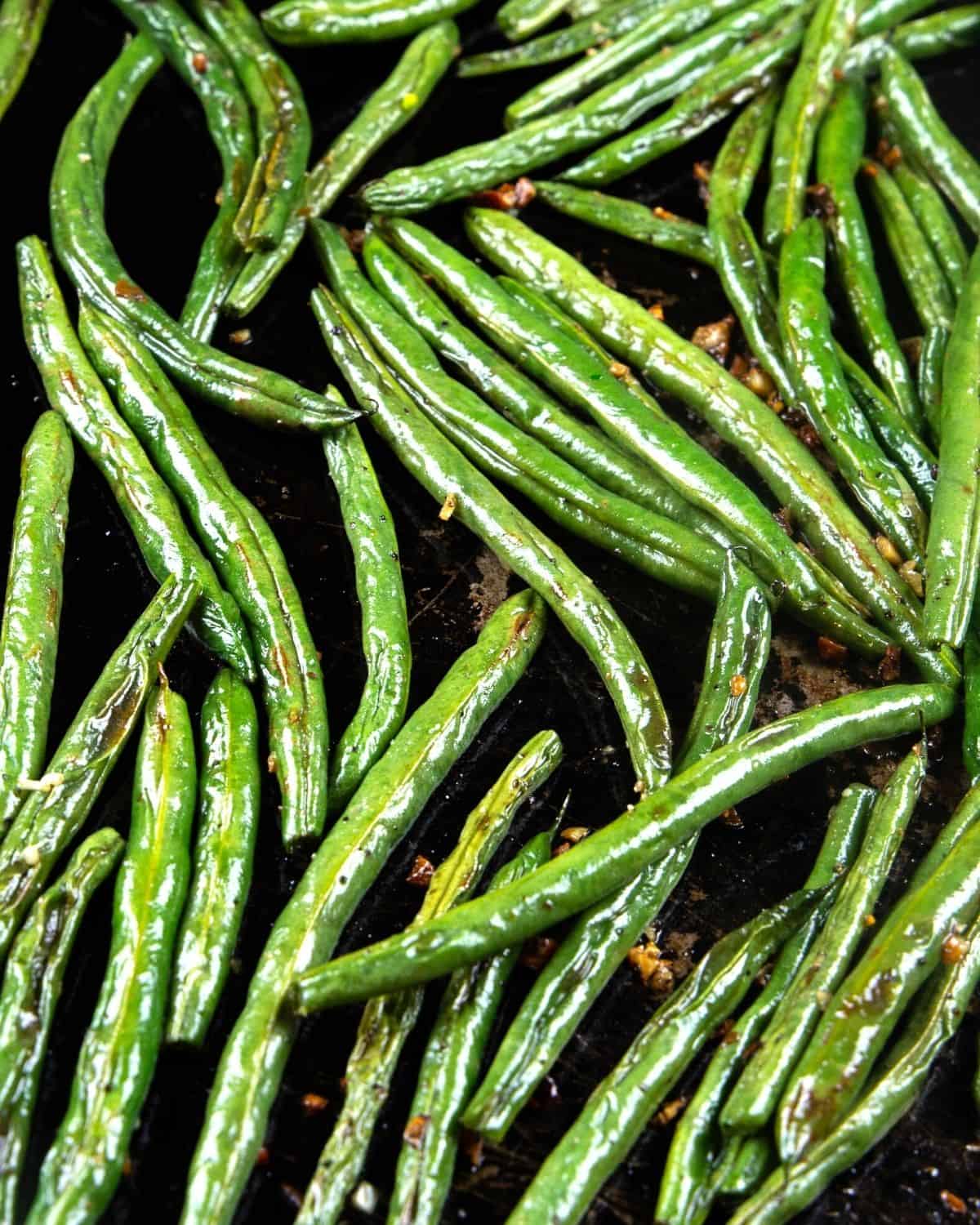 Originally published Mar 8, 2020. Updated Oct 17, 2020, Updated photos, oven temperature, and added in frozen bean instructions.
The following are affiliate links. We are a participant in the Amazon Services LLC Associates Program, an affiliate advertising program designed to provide a means for us to earn fees by linking to Amazon.com and affiliated sites.
Shop this Recipe:
Baking sheet with rack

: I love this pan and it comes with a rack for roasting.
Food Saver: For anyone who freezes food, this is for you. Prevents freezer burn and retain flavor.
Don't forget to shop at the Everyday Eileen store on Amazon!
When you make this recipe, take a pic and tag me on Instagram @everyday_eileen or #everydayeileen.
I love any comments or questions, please feel free to leave them below.
Keep up to date with recipes and posts by following me on:
FACEBOOK INSTAGRAM, PINTEREST, TWITTER
Love this recipe, it would be awesome if you give it a 5-star rating and share comments below.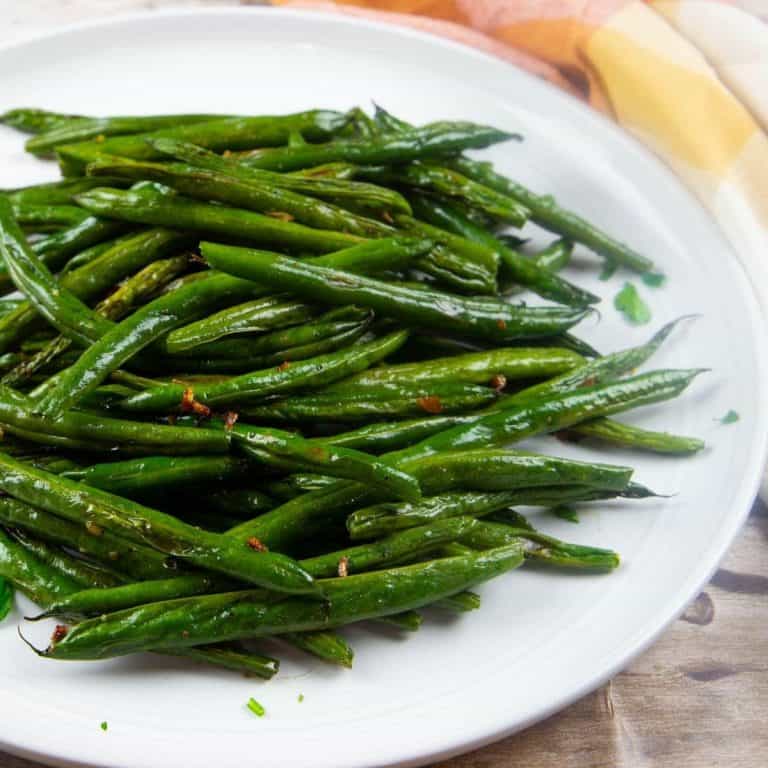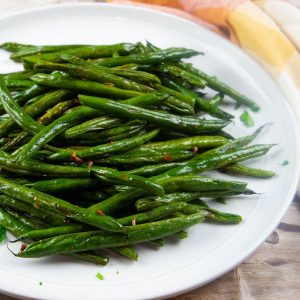 Oven Roasted Green Beans
Fresh green beans, oven roasted till tender with a drizzle of olive oil, fresh garlic, salt, and pepper. The beans are garden fresh. A fantastic with any meal.
Print
Pin
Rate
Equipment Needed:
Ingredients
1

pound

fresh green beans, trimmed

1

Tablespoon

olive oil

2

cloves

fresh garlic, peeled and minced

salt and pepper, to taste

Note 1
Instructions
Preheat the oven to 425°F.

Place beans on a baking tray. Drizzle with olive oil, minced garlic, salt, and pepper. Be sure to move beans around so they are well coated with the other ingredients.

Place the baking tray into the oven and bake for 12 to 15 minutes. Halfway through cooking time, move the green beans to ensure they brown on both sides.

Serve beans with your favorite main dish.
Notes
Note 1: I season the beans with ½ teaspoon each of salt and pepper. If needed, I adjust the seasoning once they are finished roasting. 
Note 2: Frozen Beans: If you must use frozen beans, defrost them and be sure to wipe the beans dry before roasting. Otherwise, you will have mushy veggies.
Storage Tips:
Store them in plastic storage bags in the fridge for about 5 days.
To freeze, place beans on a large baking tray in the freezer for about an hour. Then place in freezer-safe bags or use a food saver to prevent freezer burn. They can be frozen for 3 to 4 months.
Once cooked, keep well covered in the fridge for up to 2 days.
I'm not a registered dietician, I do my best to provide the most accurate nutritional values. Any nutritional data I provide is an approximation. Actual dietary information can vary based on ingredients and portion sizes
Nutrition
Serving:
0.25
pound
|
Calories:
68
kcal
|
Carbohydrates:
8
g
|
Protein:
2
g
|
Fat:
4
g
|
Saturated Fat:
1
g
|
Sodium:
7
mg
|
Potassium:
239
mg
|
Fiber:
3
g
|
Sugar:
4
g
|
Vitamin A:
782
IU
|
Vitamin C:
14
mg
|
Calcium:
45
mg
|
Iron:
1
mg