Marinated baked chicken drumsticks are a go-to easy recipe for an easy dinner and family gatherings! A flavorful marinade on chicken legs that are baked in the oven are crispy and juicy! When I am in a pinch for a great dinner without a lot of fuss, this chicken leg recipe is it!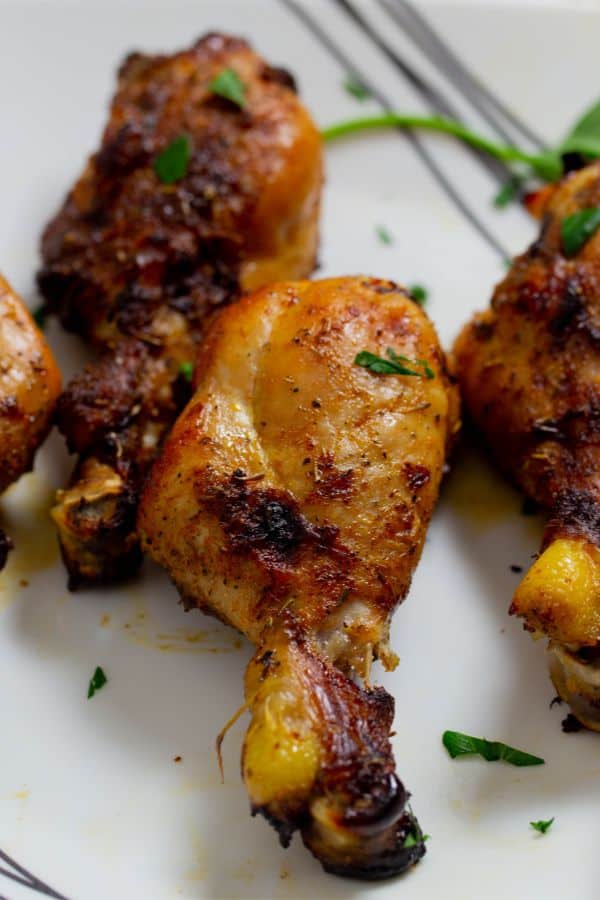 Easy and delicious marinated chicken legs!
The marinade for the chicken takes just a few minutes to put together. Even better, the ingredients are everyday spices so an extra shopping trip is rarely needed!
My Crispy Baked Chicken Drumsticks have been such a hit! I have gotten a lot of requests for some other chicken leg recipes! So, today I thought I'd share another easy recipe that my family has often! My family famous marinated chicken drumsticks!
Marinated Chicken Drumsticks
This recipe is a regular in my families meal rotation! It's also one of those recipes that everyone loves and I love it because it's so ridiculously easy!
I have to say, this is one of those recipes that works great for things like family gatherings, tailgating, celebrations because it's so easy to make and re-heats really well!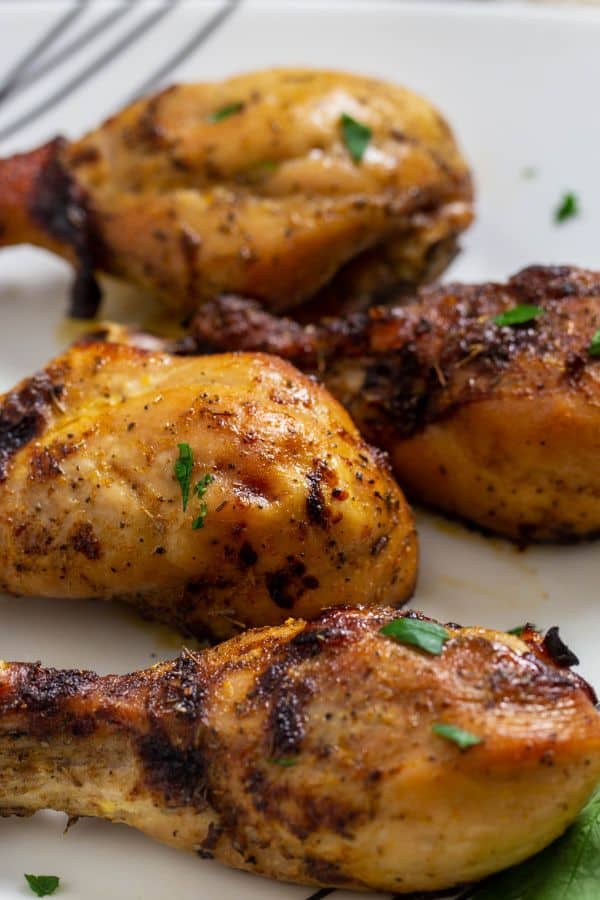 Baked chicken legs that have been marinated in an flavorful marinade!
Who doesn't love making an easy dinner? These chicken drumsticks are marinated in olive oil and spices then baked! The end result is the most tender and juicy chicken legs!
Baked Chicken Marinade Ingredients:
olive oil
lemon juice
Dijon mustard
honey
paprika
onion powder
garlic powder
dried thyme
salt and pepper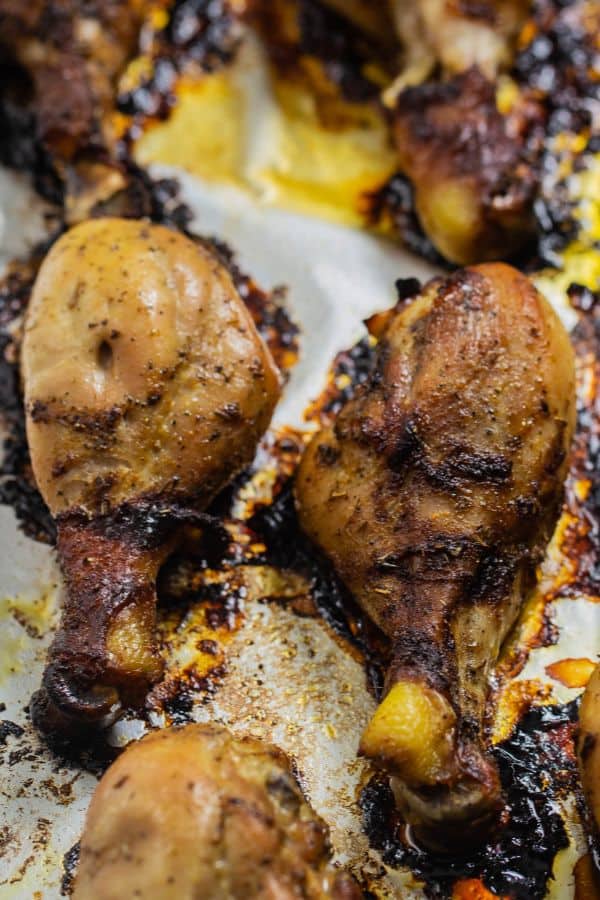 Baked marinated chicken legs are juicy and flavorful!
Marinated Chicken Drumsticks FAQs:
Why does you marinate the chicken?
Marinating adds flavor and makes the meat more juicy! Chicken can dry out when cooked and marinating enhances flavor!
Can baked chicken drumsticks be frozen?
Yes. You can freeze the raw drumsticks in the marinade. When chicken defrosts, the marinade will infuse flavor into the chicken. If you have already baked the chicken, they can be frozen for about 3 months.
Can you make baked marinated chicken ahead of time?
Yes. Especially great for a party or picnics. They can be made 2 days ahead. Reheat at 300 degrees.
What is the best temperature do you bake the chicken legs?
After a lot of testing, baking the chicken at 425 degrees. This helps give a great crispy crunch to the exterior of the chicken and keeps the interior juicy.
How can I tell when the chicken is finished baking?
The internal temperature of the chicken should be 165 degrees when baking is complete.
Can I remove the skin before marinating the chicken drumsticks?
Absolutely! I usually remove the skin before marinating. We do not miss the extra calories and fat in the skin.
What sides go well with marinated chicken?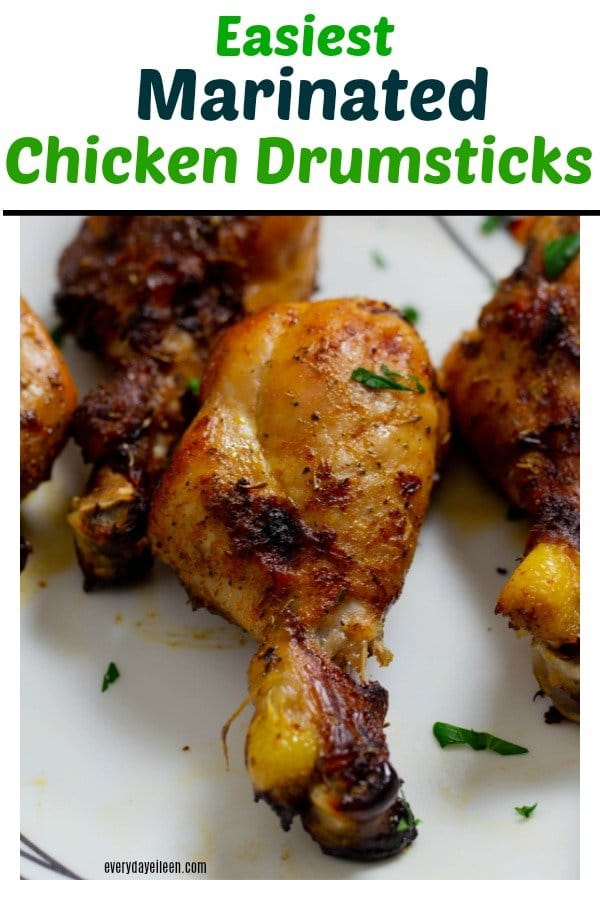 Pin marinated chicken drumsticks to make anytime!
The following are affiliate links. We are a participant in the Amazon Services LLC Associates Program, an affiliate advertising program designed to provide a means for us to earn fees by linking to Amazon.com and affiliated sites.
Thank you so very much for being apart of Everyday Eileen!
[dropshadowbox align="none" effect="lifted-both" width="auto" height="" background_color="#4ad1e8″ border_width="1″ border_color="#dddddd" ]Shop to Make Marinated Chicken Legs Here:
ThermoPro TP-16 Large LCD Digital Cooking Food Meat Thermometer
[/dropshadowbox]
Don't forget to shop the Everyday Eileen store on Amazon!
Tips to make baked chicken drumsticks:
Marinate the chicken for at least 30 minutes to overnight
When you finish marinating the chicken, discard the marinade.
Pat the chicken dry before placing in the baking dish, gives a crispier skin.
Bake at 425 degrees to ensure a nice crispy brown coating on the chicken.
Turn the chicken over after about 20 minutes in the oven to ensure even color on the exterior.
How to make Chicken Drumsticks Marinate:
In a bowl, whisk olive oil, lemon juice, Dijon mustard, onion powder, garlic powder, paprika, parsley, thyme, pepper, and salt.
Add and seal the drumsticks in a large plastic sealable bag with the marinade.
Place in the fridge for at least 30 minutes to overnight.
How to bake Chicken Drumsticks in the oven:
Remove chicken from marinade, pat chicken dry.
Bake in preheated oven on a baking sheet for 20 minutes. Flip chicken bake another 20-25 minutes.
Chicken legs are finished baking when their internal temp reaches 165 degrees.
I love any comments or questions, please feel free to leave them below!
Be sure to follow me:
FACEBOOK INSTAGRAM, PINTEREST, TWITTER
Love this recipe, it would be awesome if you give it a 5-star rating and share comments below!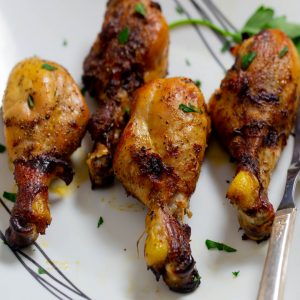 Easy Marinated Baked Chicken Drumsticks
A super easy marinade for chicken drumsticks. The chicken is crispy and juicy every time! A great recipe for any weeknight, family gathering, tailgating, etc!
Print
Pin
Rate
Ingredients
Chicken Marinade
1/3

cup

olive oil

1

medium

lemon, juiced

1

teaspoon

Dijon mustard

1

Tablespoon

honey

1

teaspoon

Worcestershire Sauce

1

teaspoon

paprika

1/2

teaspoon

dried thyme

1/2

teaspoon

black pepper

salt, to taste
Chicken Drumsticks
10

medium

chicken drumsticks, skin removed

Note 1

cooking spray
Instructions
How to make Chicken Drumstick Marinade
In a small bowl whisk together olive oil, lemon juice, Dijon mustard, honey, Worcestershire Sauce, paprika, thyme, oregano, and black pepper. Add salt to your preference.

Add the marinade to a large storage bag along with the drumsticks. Place in fridge for at least 30 minutes up to overnight.
How to bake chicken drumsticks
Preheat oven to 425 degrees. Line a baking tray with aluminum foil and spray with non-stick cooking spray.

Remove chicken from the marinade and pat dry. Place chicken on the prepared baking sheet. Bake in center rack of oven for 20 minutes. Turn chicken and bake another 20-25 minutes. Internal temperature of chicken should be 165 degrees.
Notes
Note 1: If you prefer to leave the skin on, it is a personal preference. The nutritional values do no include the skin on the chicken drumsticks. I am not a registered dietician, I do my best to provide the most accurate nutritional values. Any nutritional data I provide is an approximation. Actual dietary information can vary based on ingredients and portion sizes
Nutrition
Serving:
2
drumsticks
|
Calories:
201
kcal
|
Carbohydrates:
1
g
|
Protein:
11
g
|
Fat:
16
g
|
Saturated Fat:
2
g
|
Cholesterol:
54
mg
|
Sodium:
91
mg
|
Potassium:
163
mg
|
Fiber:
0
g
|
Sugar:
0
g
|
Vitamin A:
4.2
%
|
Vitamin C:
2.8
%
|
Calcium:
0.6
%
|
Iron:
4.2
%