Oven Roasted Corn on the Cob, one of the easiest and most tasty recipes ever! You are going to love how easy it is to make oven roasted corn. Make an herb butter to go on the corn and let the oven do the rest. Hello delicious!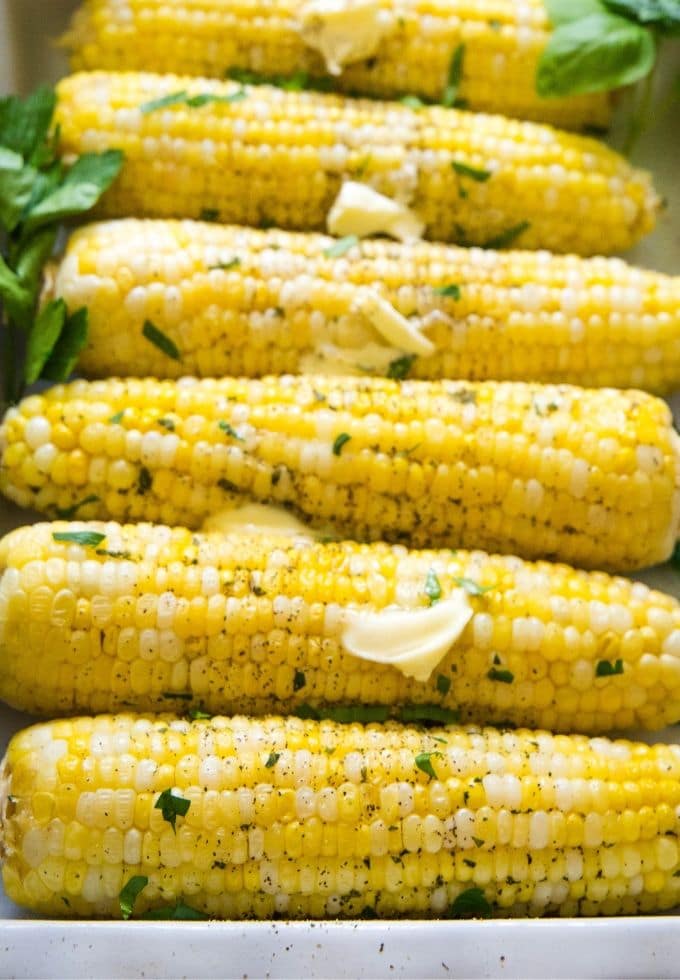 Oven roasted corn on the cob is one of the best things to enjoy. Especially in the fall, Long Island has the best pumpkin farms. The farms always offer oven roasted corn. Buttery goodness on the sweetest corn, oh my, it's just so mouth wateringly delicious!
Make your own amazing roasted corn at home any time with this fabulous recipe.
I love to cook for my family, which is usually cooking for a crowd! Whether it's grilled ribs, chicken wings, marinated drumsticks… I could keep going in my family's favorite recipes.
My family also loves corn on the cob. Making grilled corn on the cob is delicious and also one of my personal favorite recipes. Grilling corn get can get complicated when feeding a crowd.
Thus, the reason years ago I began to make roasted corn on the cob. The corn is tender and juicy and easy to make! A no-brainer recipe if you will and everyone loves this recipe.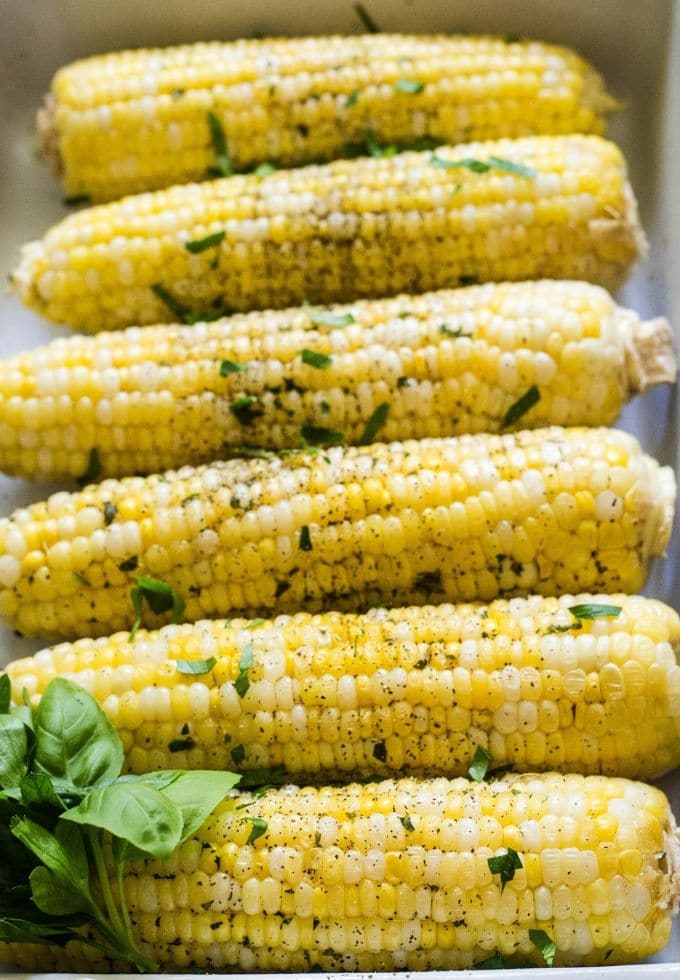 Roasted Corn on the Cob
I have experimented many times with making roasted corn on the cob. To have juicy corn, wrap each ear of corn with aluminum foil before baking.
My butter lovers, listen up, an herb butter goes on the corn before being wrapped in the foil. The herb butter flavor roasts into the corn and you are going to love the results!
Oven Roasted Corn on the Cob FAQS
Do I have to wash the corn before roasting?
One you remove the husks, give the corn a quick rinse.
Should I shuck the corn before storing?
Remove most leaves from the corn and leave in the fridge until ready to cook. For detailed corn information, this article from Pick Your Own is very helpful.
How long can I keep the corn in the fridge?
Uncooked corn can be kept in the fridge about 2 days. Once cooked, corn can be kept about 3-4 days in the fridge, well covered.
What can I put on corn on the cob before I roast it?
Herb butter is awesome. Chopped herbs like parsley and basil mixed with garlic salt and black pepper. (recipe below).
Parmesan Cheese and butter.
lime juice and butter is a great combo.
What can I pair with roasted corn on the cob?

SHOP THIS RECIPE:
This post contains affiliate links for your convenience. We are a participant in the Amazon Services LLC Associates Program, an affiliate advertising program designed to provide a means for us to earn fees by linking to Amazon.com.
Checkout my shop, Everyday Eileen I share all my favorite finds!
How to Make Roasted Corn on the Cob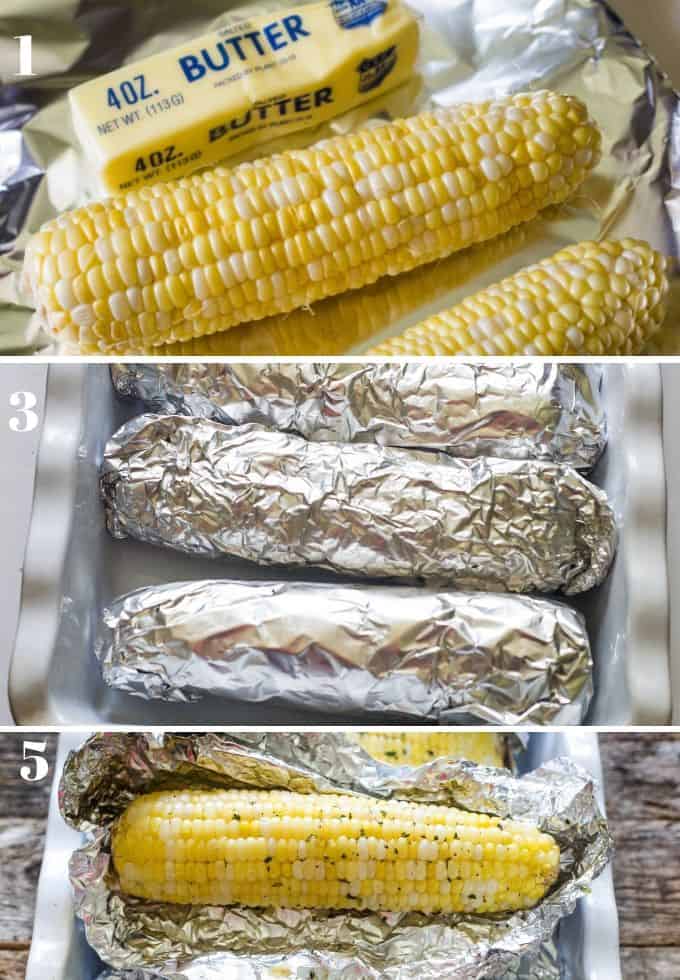 Remove the husks from corn. Rinse then dry corn.
Rub the herb butter on the corn.
Wrap corn in foil and place in large casserole or on a baking sheet.
Bake at 400 degrees for about 25 minutes.
Serve with more herb butter and enjoy!
How to Make Herb Butter for Roasted Corn on the Cob
Soften two Tablespoons of salted butter.
Add garlic salt and pepper to butter
Chop fresh basil and parsley and add to butter mixture.
Rub this mix on corn before wrapping in foil to bake!
Give us a like on FACEBOOK
For great recipes and tips, follow along on Pinterest
Thank you for always sharing my passion and love for food and family!
xo! Eileen
Are you loving this recipe, giving it a 5-star rating and any comments are super helpful for me and very much appreciated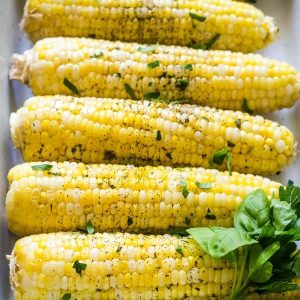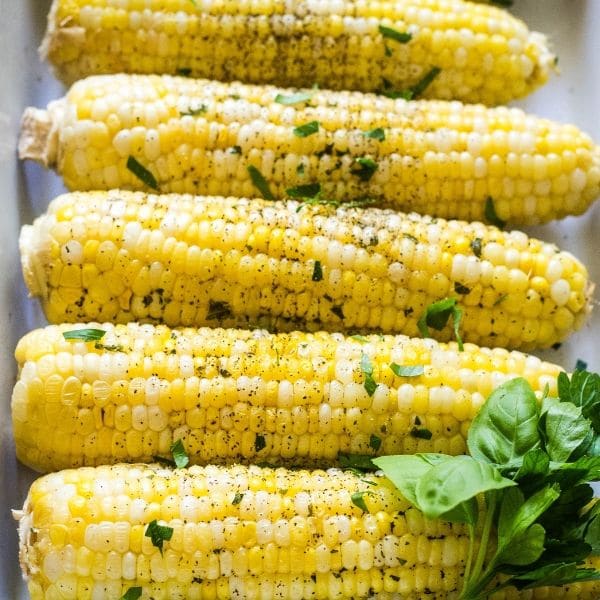 Roasted Corn on the Cob
Oven Roasted Corn on the Cob is a great recipe for any family meal and perfect for cooking for a crowd! Enjoy an herb butter on foil wrapped corn that is baked for tasty corn on the cob.
Print
Pin
Rate
Equipment Needed:
Ingredients
6

ears

fresh corn, husks removed
Herb Butter
3

Tablespoons

salted butter, softened

1

teaspoon

garlic salt

1

teaspoon

chopped parsley

note 1

1

teaspoon

chopped basil

note 1

1/2

teaspoon

black pepper
Instructions
Preheat oven to 400 degrees.

In a small bowl, mix together the softened butter, garlic salt, chopped parsley, and chopped basil.

Evenly divide and spread the herb butter on each ear of corn.

Place the corn in a casserole or large baking sheet.

Bake for about 25 minutes
Notes
Note 1: Feel free to use your favorite herbs with the this corn. 
Any nutritional data I provide is an approximation and actual dietary information can vary based on ingredients and proportion sizes.
Nutrition
Serving:
6
servings
|
Calories:
128
kcal
|
Carbohydrates:
17
g
|
Protein:
3
g
|
Fat:
7
g
|
Saturated Fat:
4
g
|
Cholesterol:
15
mg
|
Sodium:
451
mg
|
Potassium:
243
mg
|
Fiber:
2
g
|
Sugar:
6
g
|
Vitamin A:
343
IU
|
Vitamin C:
6
mg
|
Calcium:
3
mg
|
Iron:
1
mg