Are you ready to save some money and make your own seasoning? Homemade Seasoning Salt is a great way to make your own spice blend to enhance flavor which will also monitor the intake of sodium into your diet.
Save your money and make this ridiculously delicious DIY Salt to add flavor to just about any recipe.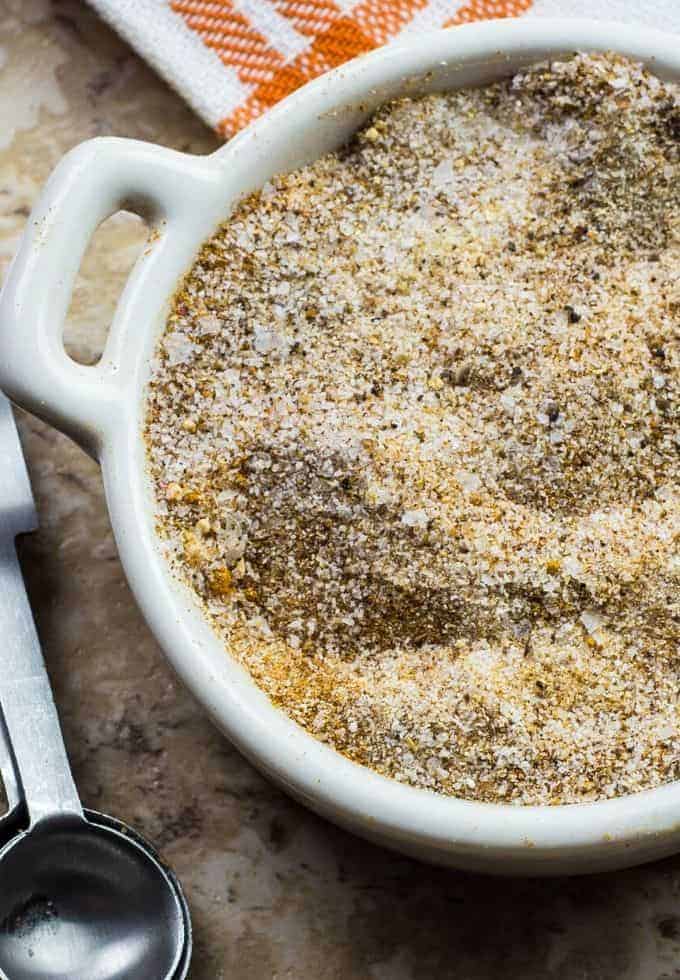 Food needs seasoning and this DIY blend of spices will be your go-to spice blend to add the perfect amount of pizzaz to any recipe. It's also a time saver because it combines aromatic spices to sprinkle over your favorite recipes.
From marinated chicken drumsticks to crispy roasted potatoes, use this salt blend for the most flavor-filled results.
Homemade Seasoning Salt
Foods are getting more bogged down with preservatives. It's both cost-effective and a great way to monitor the intake of preservatives and sodium to make DIY spice blends.
One of the things that many people don't realize is seasoning food is imperative to add flavor which means, deliciousness. This blend is a guarantee of added flavor.
Turmeric is added to this sesoning and besides bringing flavor it also adds health benefits. US Dept of Health and Science has a detailed article on its benefits.

What is Seasoned Salt?
Seasoning or Seasoned Salt is a blend of a few spices to add flavor to just about any recipe. The ingredients are usually salt, pepper, onion powder, garlic powder, and paprika. Optional additions would be adding turmeric for a little color and a blast of flavor.
Where do I store the spice blend?
Keep your spice blend in either a mason jar or a plastic container with a good seal. Keep it in your spice cabinet.
How long can I keep this Seasoning Salt?
The blend can keep for about 6 months in a covered container.
What ways can I use Homemade Seasoning Salt?
Use the salt blend on any of your favorite savory dishes like side dishes, chicken, beef, and pork recipes.
Can I add any other spices to Seasoning Salt?
When you season a recipe and want to add additional flavors, here are a few examples:
Mexican - add ½ teaspoon chili powder
Italian - add ½ dried basil
Indian - add ½ teaspoon curry powder
Herbs - add ¼ teaspoon each of dried parsley and oregano
This post contains affiliate links for your convenience. As an Amazon Associate, I earn from qualifying purchases.
Thank you so very much for being apart of Everyday Eileen!
Shop this Recipe
mason jars: These jars are the best for spices, canning, and homemade dressings.
Enjoy my store where I am always updating great finds for not just cooking, I hope you check it out here, Everyday Eileen I will continue to update it regularly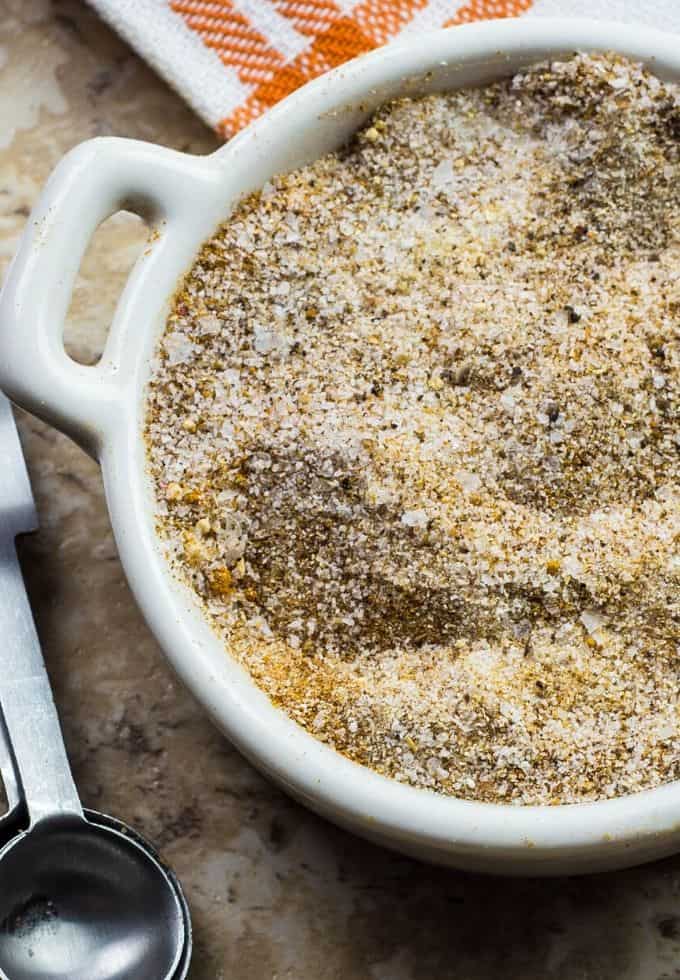 Give us a like on FACEBOOK
For great recipes and tips, follow along on Pinterest
Thank you for always sharing my passion and love for food and family!
xo! Eileen
Are you loving this recipe, giving it a 5-star rating and any comments are super helpful for me and very much appreciated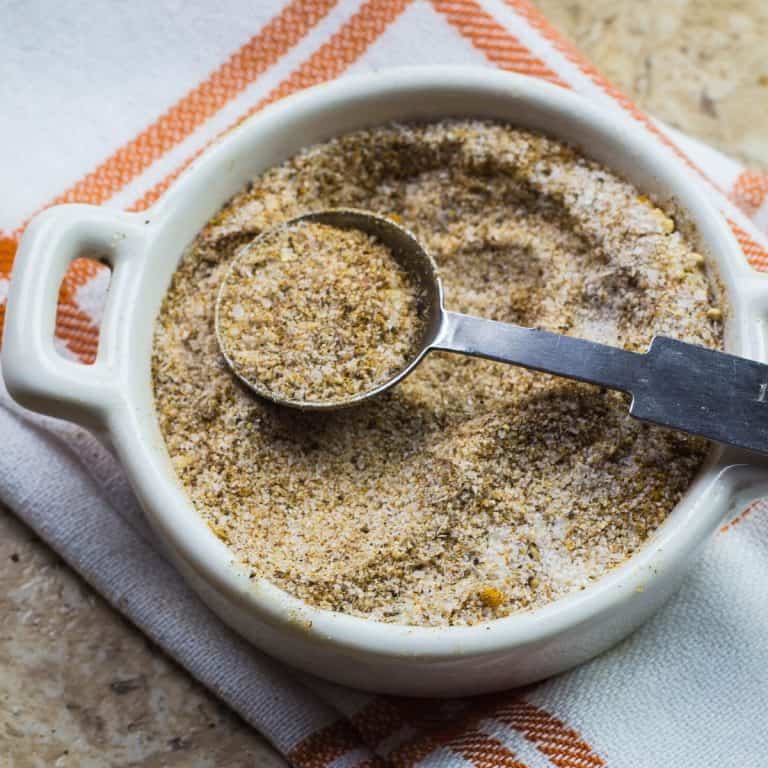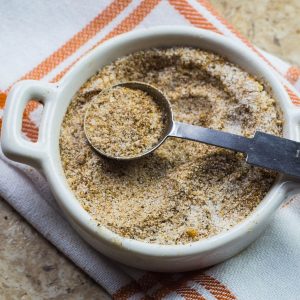 Homemade Seasoned Salt
Homemade Seasoned Salt is a perfect blend of kosher salt, garlic powder, and onion powder. The homemade seasoning is perfect on veggies, meats, chicken, adding to soups and sauces.
Print
Pin
Rate
Equipment Needed:
As an Amazon Associate I earn from qualifying purchases
Instructions
In a medium-size mixing bowl, whisk together kosher salt, black pepper, garlic powder, onion powder, paprika, and if adding, turmeric.

Pour seasoning salt into a mason jar or container that can be sealed tightly.

Use the seasoning for any sauces, to season poultry, add to salads.
Notes
Be sure to check Variations, Expert Tips, and FAQs above with important tips and questions that can help make a delicious recipe
Storage: The seasoning blend can keep in an airtight covered container for about 6 months.
Recipes written by Everyday Eileen are for information purposes. Eileen Kelly is not a registered dietician or nutritionist. Any nutritional data we provide is an approximation. Actual dietary information can vary based on ingredients and portion sizes
Nutrition
Serving:
-46.5
teaspoon
|
Calories:
3
kcal
|
Carbohydrates:
1
g
|
Protein:
1
g
|
Fat:
1
g
|
Saturated Fat:
1
g
|
Polyunsaturated Fat:
1
g
|
Monounsaturated Fat:
1
g
|
Sodium:
1163
mg
|
Potassium:
13
mg
|
Fiber:
1
g
|
Sugar:
1
g
|
Vitamin A:
83
IU
|
Vitamin C:
1
mg
|
Calcium:
3
mg
|
Iron:
1
mg