This shop has been compensated by Collective Bias, Inc. and its advertiser. All opinions are mine alone. #MarinadesWithMazola #MakeItWithHeart #CollectiveBias
Baja Shrimp Taco Bowls are going to be a part of your weekly meal rotation. The taco bowls are full of flavor from a spicy citrus marinade. I've lightened up the recipe, and my version is so full of flavor and delicious! You are going to love this shrimp bowl. We used Mazola® Corn Oil in the marinade and the cauliflower.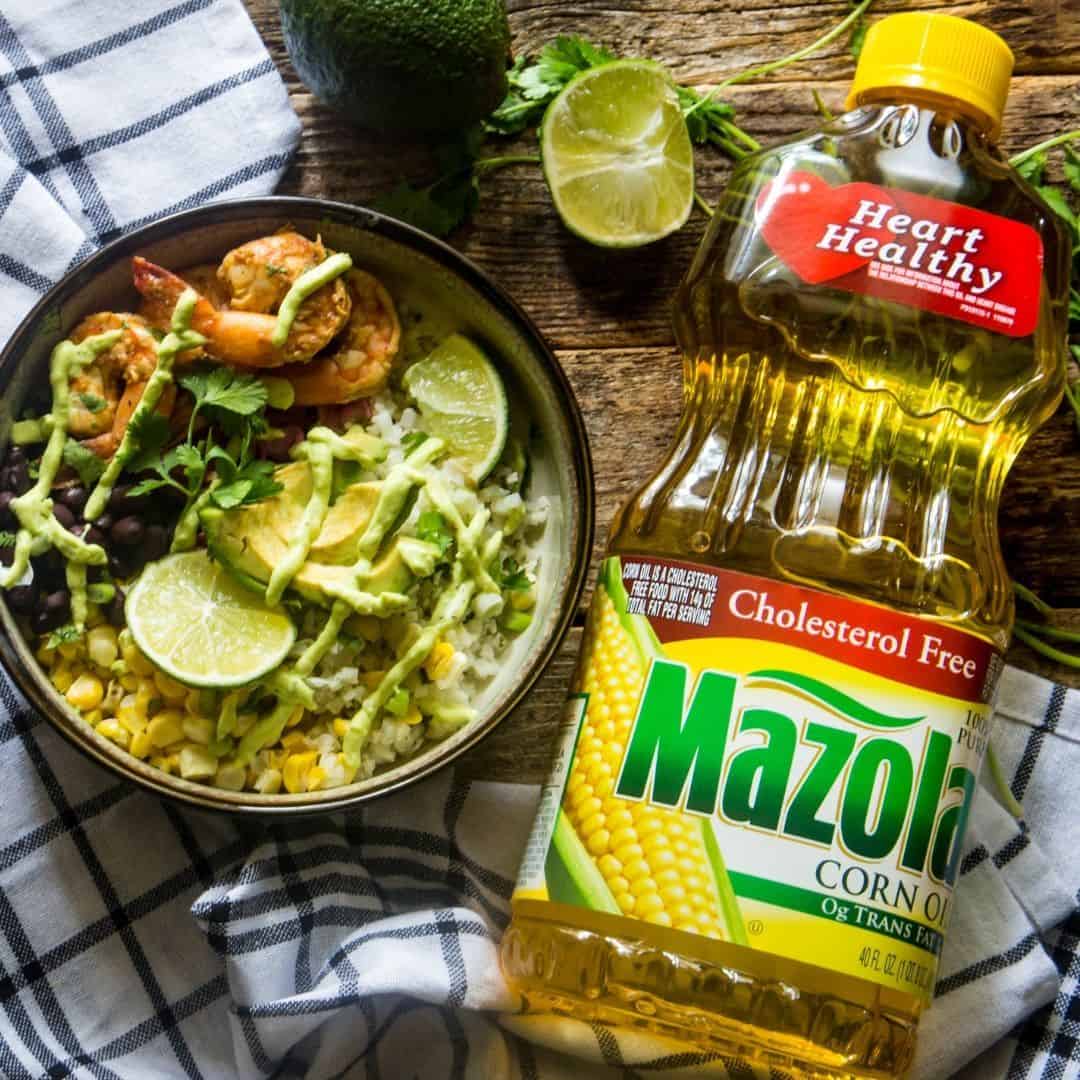 Baja Shrimp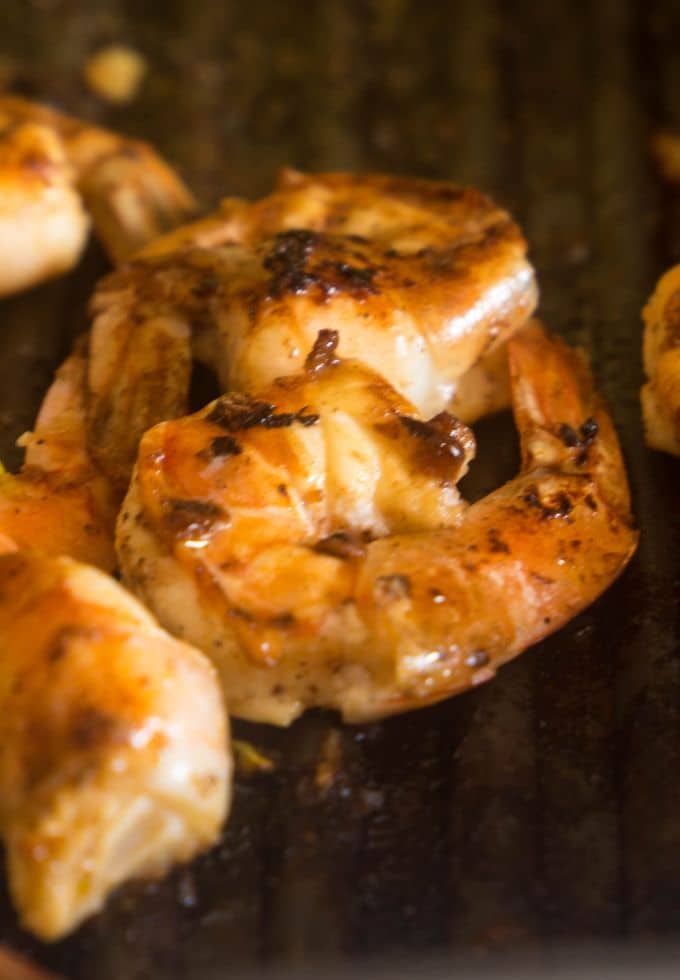 We swap out taco shells and make cauliflower rice. The creamy slaw is out and we use shredded cabbage, black beans and corn. You are going to love these shrimp bowls!
Baja Shrimp Taco Bowls
I get requests from you fantastic readers for various recipe ideas. There are lots of requests for shrimp and bowl recipes. A tasty Baja Shrimp Taco Bowl is a great way to answer both recipe requests. You are in for a treat today! This recipe is flavorful, easy to make, a great addition to your meal planning! The shrimp will marinate in a citrus spice made with Mazola Corn Oil, spices, fresh lime juice and herb. The combination makes the most delicious tasting shrimp. Grill the shrimp to add a nice smoky flavor and in about 5 minutes, the shrimp are ready to eat!
Baja Shrimp Taco Bowls Recipe
Baja Shrimp Tacos are a favorite of my family. My friends, the aromatics of the rice and the flavor is out of this world. A perfect pairing with the shrimp.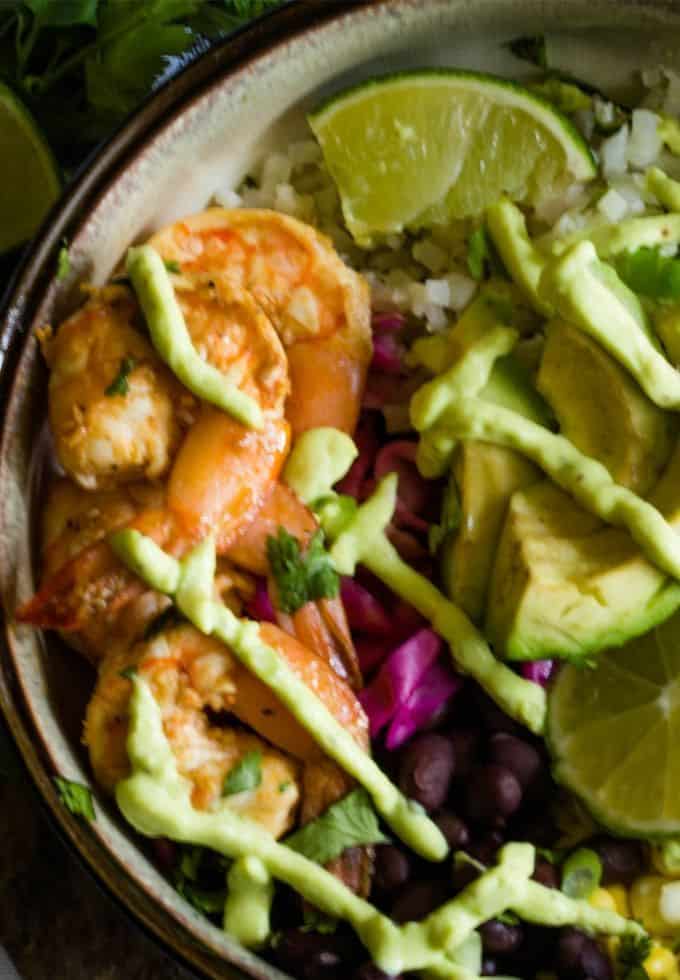 Baja Shrimp Taco Bowls vs. Baja Shrimp Tacos:
A few very simple adjustments to my original Baja Shrimp make this recipe better-for-you and tastes absolutely amazing!
Baja Shrimp Tacos are usually deep fried.
We love to make a flavorful marinade using Mazola corn oil, fresh lime juice and chipotle powder. Grill the shrimp for a light and tasty shrimp. With cholesterol-blocking plant sterols, Mazola Corn Oil is a heart-healthy choice for salad dressings, marinades and more.
2. For a lighter meal, use cauliflower rice in lieu of tortillas.
Sauté cauliflower in Mazola corn oil instead of butter. Reduce saturated fats and cholesterol in your meals easily with simple swaps, such as substituting butter with Mazola Corn Oil.
3. A heavy sauce made with cream is often used to top the tacos.
Use Greek yogurt and an avocado to make a great sauce for the shrimp taco bowls.
What does Baja style cooking mean?
The Baja taco originated in Baja, California. The taco consists of fried fish, cabbage, and a creamy topping.
Can I use other types of fish to make "Baja" fish taco bowls?
Absolutely, mahi mahi, halibut, and cod work well in this recipe.
How do I incorporate shrimp taco bowls into meal prep for the week?
Make Baja Shrimp up to 3 days ahead and keep well covered in the fridge. Store the cauliflower rice in an airtight container for up to 4 days. Feel free to freeze the cauliflower rice.
How long do I marinate the shrimp?
The shrimp do not need too long in the marinade, about 30 minutes.

Want a little variety on my Baja Shrimp Tacos? Feel free to add in any of these: Homemade Guacamole - easy and perfect with any taco. Pico De Gallo - a fresh tomato salsa that would be a great addition.Salsa Verde - one of my favorites, roasted tomatillo salsa. Sweet and Spicy Coleslaw from Love on a Plate has the perfect kick and would be an amazing topping to Shrimp Bowls. Some of my other recipes you may enjoy: Mexican Shredded Beef - a great recipe to make in the slow cooker. Slow Cooker Pork Carnitas - another tasty recipe with Mexican flavor.
Pro Tips for the best Baja Shrimp Taco Bowls:
Remove shells from shrimp before marinating. Makes for easy eating.
Feel free to rice your own cauliflower. For convenience, use store made cauliflower rice found in frozen food section or some grocers do fresh cauliflower rice.
Let the marinade sit on the shrimp for 30 minutes to give great flavor.
Canned black beans work well in this recipe. Rinse the beans before using.
For the corn, fresh or frozen both work. Depends on the season.

How to Make Baja Shrimp Taco Bowls:
Use medium size shrimp. Peel and devein. Set aside.
Make a marinade for the shrimp. Combine Mazola® Corn Oil, fresh lime juice, fresh minced garlic, chipotle in adobo sauce, ground cumin, chipotle powder, onion powder, and black pepper.
Let marinade for 30 minutes.
Grill over medium heat for about 2-3 minutes per side. Set aside. Assemble the remainder of Taco Bowl.
To make Cauliflower Cilantro Rice, use the instructions in my Cauliflower Tabbouleh Recipe.
How to Make Avocado Yogurt Dressing:
Add to a blender Greek Yogurt, avocado, apple cider vinegar, lime juice, water, garlic powder, onion powder, black pepper, and salt.
Give it a good blend.
Taste the dressing. If needed, adjust seasoning.
Serve over Baja Taco Bowl Recipe.
Any unused dressing store in fridge, well-covered, for 2 days.
For remaining ingredients, use black beans, pickled cabbage, and sliced avocado to serve with your Baja Shrimp. We hope you enjoy this yummy Baja Shrimp Taco Bowl Recipe. Thank you, Mazola® Corn Oil, for sponsoring today's recipe! Get yourself down to the grocery store to pick up some of their corn oil today and make yourself and family a shrimp taco bowl! When you make this recipe, take a pic and tag me on Instagram @everyday_eileen or #everydayeileen – It's always great seeing your creations.
CONTINUE CONNECTING WITH ME:
FACEBOOK,INSTAGRAM, PINTEREST, TWITTER
Love this recipe, please give them a 5-star rating! It is very much appreciated!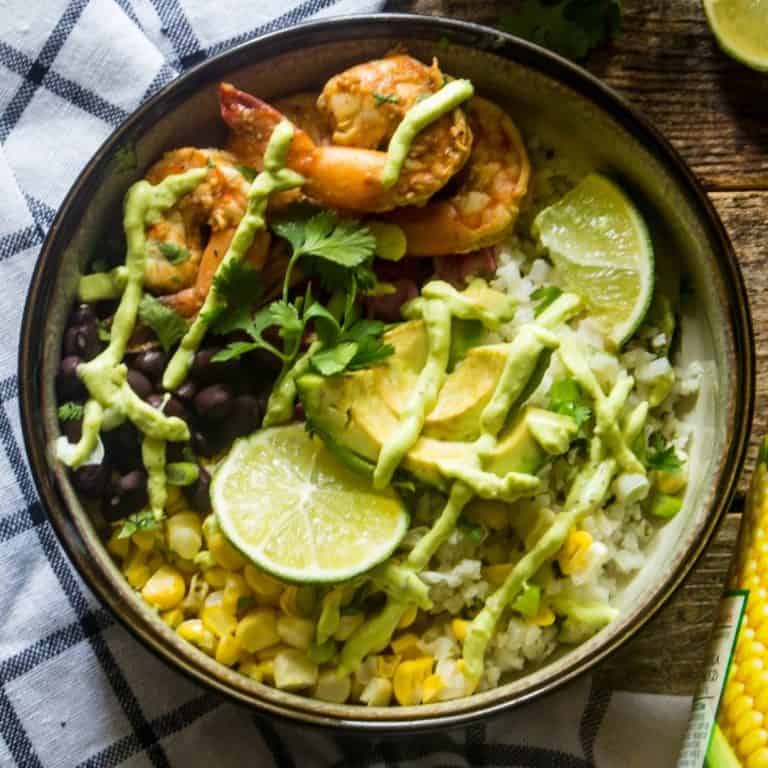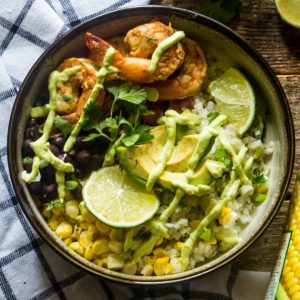 Baja Shrimp Taco Bowl Recipe
Baja Shrimp Tacos made with better for you ingredients for a flavorful dinner loaded with great flavor. Grilled Baja Shrimp served over cauliflower rice and topped with avocado yogurt sauce.
Print
Pin
Rate
Equipment Needed:
Ingredients
Baja Shrimp Marinade
1

pound

medium shrimp, peeled and deveined

2

Tablespoons

Mazola® Corn Oil

1

large

lime, juiced

2

cloves

minced garlic

1

Tablespoon

chili powder

1

teaspoon

ground cumin

½

teaspoon

onion powder

½

teaspoon

paprika

½

teaspoon

black pepper

½

teaspoon

salt
Avocado Yogurt Dressing
1

avocado, sliced

½

cup

Greek Yogurt

3

Tablespoons

fresh lime juice

2

Tablespoons

water

2

Tablespoon

Apple Cider Vinegar

black pepper and salt, to taste
How to make cauliflower rice
1

teaspoon

Mazola® Corn Oil

1

large

cauliflower or 4 cups store made cauliflower rice

2

Tablespoons

fresh cilantro, chopped

3-4

Tablespoons

fresh lime juice

salt and pepper, to taste
Taco Bowl
1

cup

shredded red and green cabbage

Note 1

1

teaspoon

Mazola® Corn Oil

2

cups

canned black beans, rinsed and drained

Note 2

2

cup

frozen corn

Note 3
Garnish
2

avocado, sliced

optional

¼

cup

fresh chopped cilantro

optional

2

stalks

chopped green onion

optional
Instructions
How to make Baja Shrimp Marinade
In a medium bowl, combine Mazola® Corn Oil, lime juice, minced garlic, chili powder, ground cumin, onion powder, paprika, black pepper, and salt.

Add the peeled shrimp to the marinade. Cover bowl with plastic wrap.

Place bowl in fridge for about 30 minutes to marinate the shrimp.
How to Grill Baja Shrimp
Heat a grill or grill pan to medium/high heat. Once hot, reduce heat to medium.

Remove shrimp from marinade. Pat dry.

Place on grill or grill pan for about 3 minutes.

Flip shrimp and cook another 2-3 minutes until shrimp cooked through.

Shrimp will be pink. Remove shrimp, set aside till ready to assemble shrimp taco boat.
How to make the Avocado Yogurt Dressing
In the base of a blender, add in avocado, Greek Yogurt, fresh lime juice, water, Apple Cider Vinegar, Mazola® Corn Oil, and black pepper and salt, to taste.

Blend until smooth. Taste the dressing. Adjust any seasoning, if necessary.
How to make Cauliflower Cilantro Rice
Follow instructions in Cauliflower Tabbouleh to make riced cauliflower or use store bought.

Over medium heat, add corn oil. Stir in cauliflower rice and stir for a few minutes. Add in lime juice and chopped cilantro. Season with salt and pepper. Cauliflower cooks in about 8 minutes
How to heat black beans and corn
Add corn oil to a saute pan and heat, add in the black beans and corn to warm through.

Remove, set aside until assembling the taco bowl.
How to assemble Baja Shrimp Taco Bowls
Divide cauliflower rice in 4 bowls.

Place the shredded cabbage in each bowl.

Add black beans to each bowl. Then the corn.

Divide the shrimp between the bowls.

Top each bowl with Avocado Yogurt Dressing. optional - sprinkle fresh cilantro and green onions on the Baja Shrimp Bowls
Notes
Note 1: Pickled cabbage can be used.
Note 2: Use your favorite canned bean. Always rinse and drain the beans before use.
Note 3: Defrost the frozen beans or use fresh or canned corn. If using canned corn, drain and rinse corn.
Nutritional facts do not include optional garnish for the taco bowls
Any nutritional data I provide is an approximation and actual dietary information can vary based on ingredients and proportion sizes.
Nutrition
Serving:
1
bowl
|
Calories:
636
kcal
|
Carbohydrates:
54
g
|
Protein:
38
g
|
Fat:
34
g
|
Saturated Fat:
4
g
|
Cholesterol:
287
mg
|
Sodium:
1567
mg
|
Potassium:
1493
mg
|
Fiber:
20
g
|
Sugar:
3
g
|
Vitamin A:
1185
IU
|
Vitamin C:
50.2
mg
|
Calcium:
267
mg
|
Iron:
6.4
mg