Homemade Pico De Gallo is a healthy salsa made with fresh tomatoes! It's so easy to prepare! Perfect as a dip for tortilla chips. Great on quesadillas, tacos, eggs, use your imagination and enjoy! Perfect for any party and gives a boost to your Cinco De Mayo feast!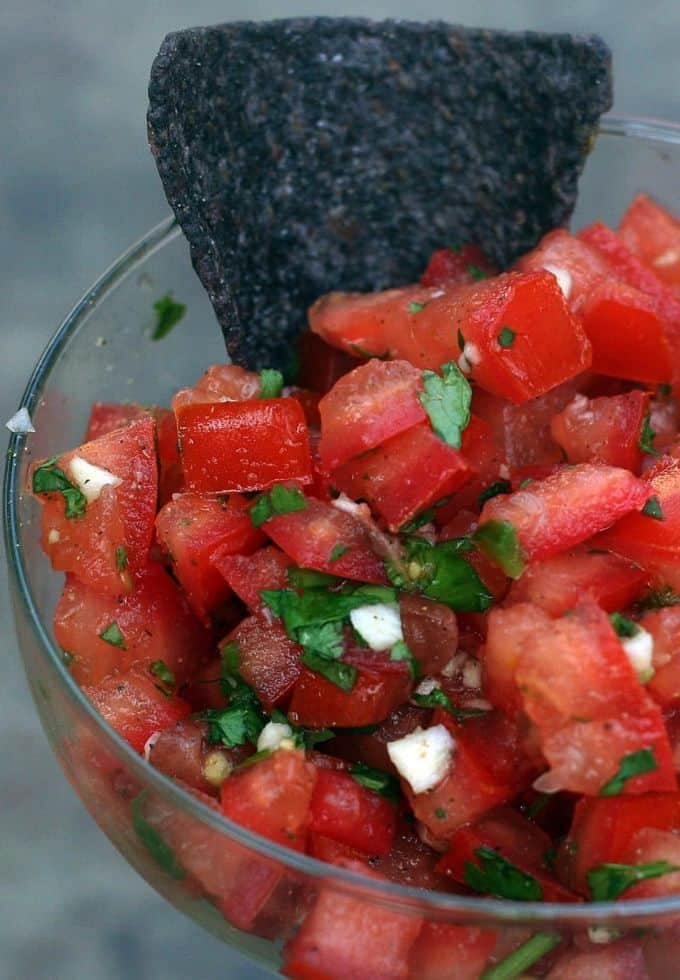 First Published: September 2,2015,... Last Updated: May 2,2019
A fresh tomato salsa is one of the greatest dips or toppings ever! During the summer months, I make Homemade Pico De Gallo a few times a week! This tomato salsa is is so delicious and easy to make! It is great with shredded beef tacos, grilled chicken, or Grilled Mexican Pork! Enjoy this pico with a big bowl of chips!
Use your imagination, Pico is awesome with so many recipes!
Authentic Pico De Gallo Ingredients:
fresh tomatoes
garlic
cilantro
jalapeno
lime juice
fresh diced onions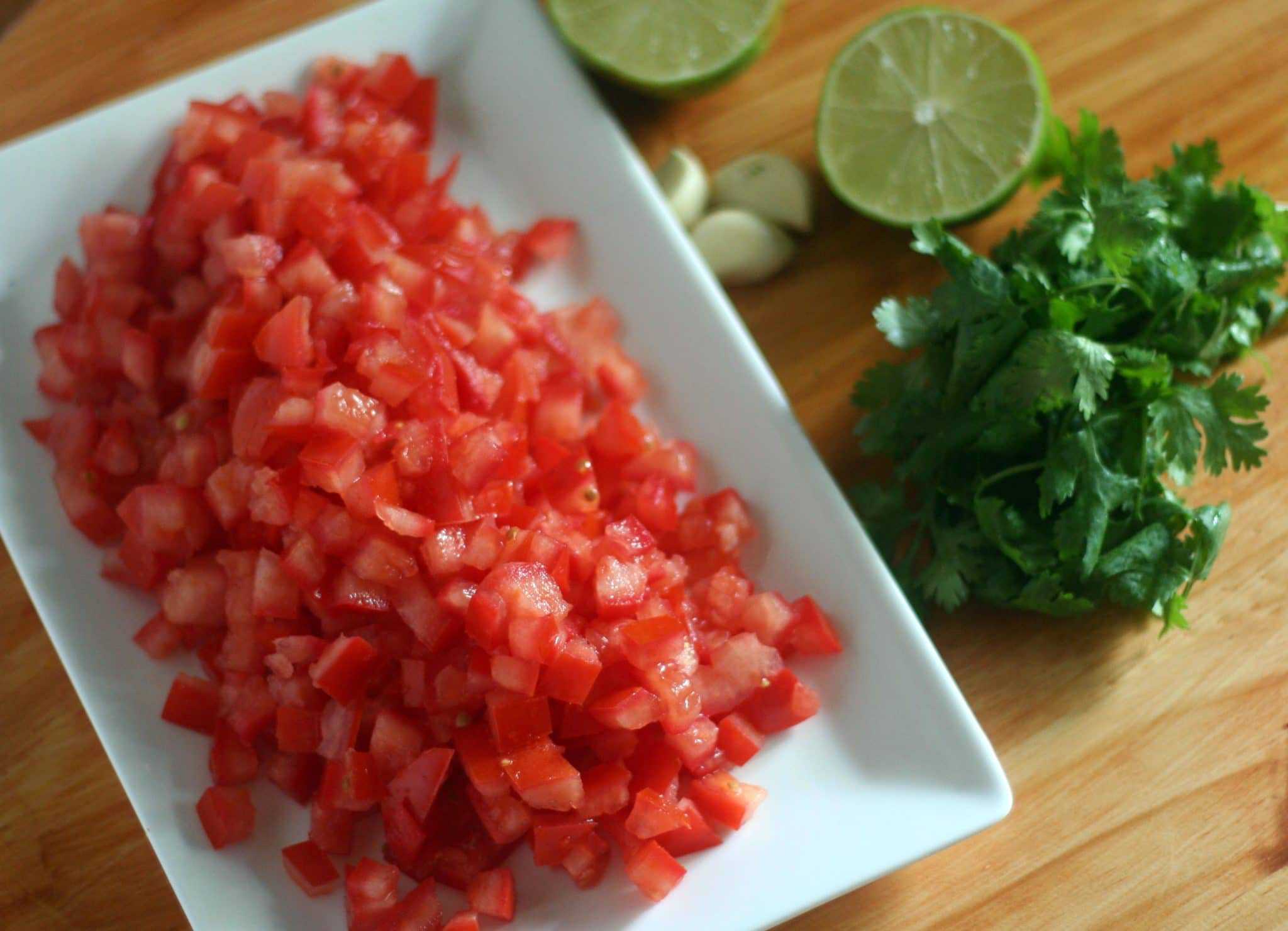 Pico is a really refreshing dip that works great with tortilla chips and many other things. Keep in mind, the possibilities are endless! I love pico de gallo as a topping for my eggs and feel free to add as a topping to steak, pico away to your heart's content!!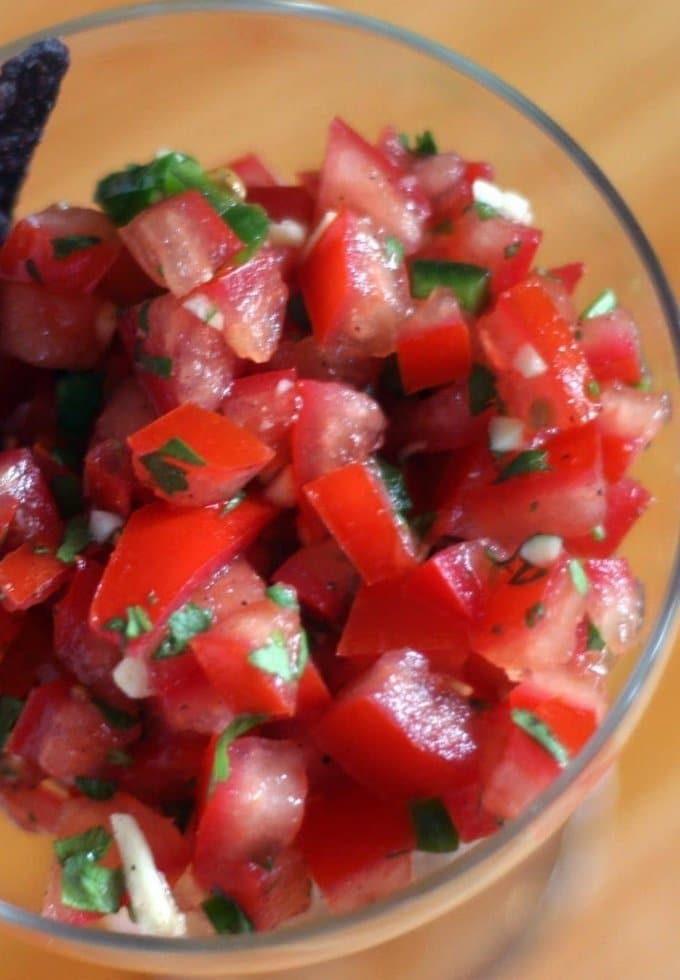 Homemade Pico De Gallo is perfect with:
Homemade Pico De Gallo
Want my secret for the best Homemade Pico De Gallo?
For me, the secret to a great pico de gallo is taking the base of garlic and the onions and letting them marinate in the lime juice for a few minutes. I usually do this while I am seeding and dicing the tomatoes.
What are the best tomatoes to use for Pico De Gallo?
I use fresh plum tomatoes for the best pico!
Can Pico De Gallo be made ahead of time!
I find making my pico in the morning and using that same day is best. However, well covered you can make pico de gallo a day ahead. Store in the fridge until ready to use.
What is the difference between Pico De Gallo and Salsa?
Pico is made using fresh tomatoes. Salsa is a more of a puree of tomato and spices.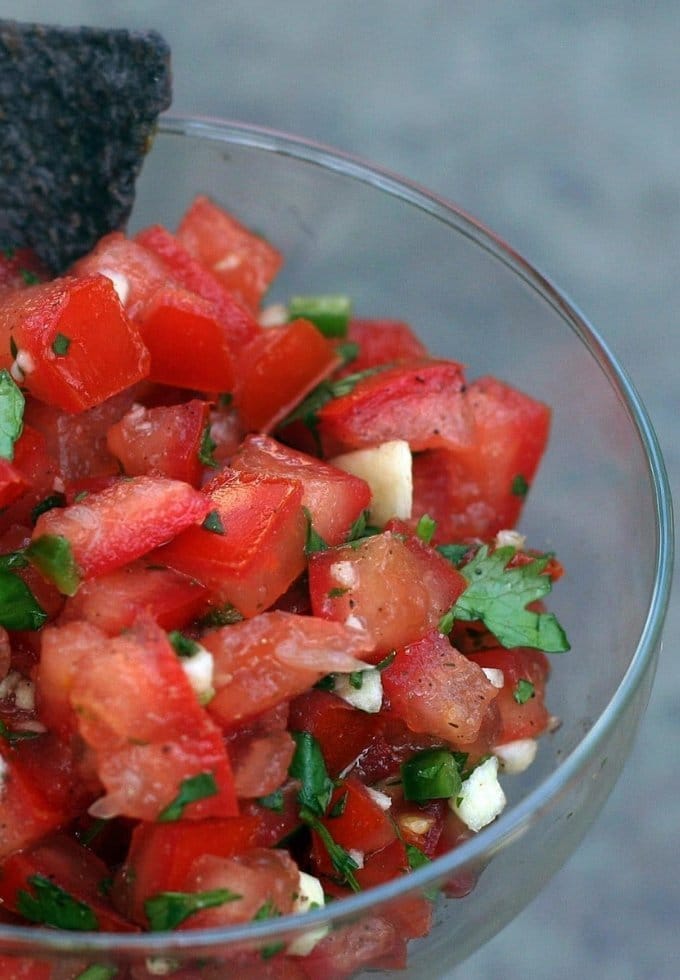 Pro Tips for Making Authentic Pico De Gallo:
Start with the onion, garlic, and jalapeno and let them sit in the lime juice while you dice the tomatoes to enhance the flavors.
Scoop out the seeds from the tomato and place them in freezer bags and store in the freezer.
Next time you are making tomato soup or Vegetable Stock, add in the tomato centers for flavor! No wasting food!
How to Make Homemade Pico De Gallo:
Dice onion, jalapeno, and garlic. Place in a bowl with the lime juice.
Slice tomatoes in half remove the seeds. I use a spoon to scoop the insides out. See pro tips for how to use the interior tomatoes.
Put the diced tomatoes into a bowl.
Add in the chopped cilantro. Season with salt and pepper.
Stir in the onion mixture. Check seasoning.
Reseason if needed.
Serve and enjoy!
The following are affiliate links. We are a participant in the Amazon Services LLC Associates Program, an affiliate advertising program designed to provide a means for us to earn fees by linking to Amazon.com and affiliated sites.
Shop this Recipe:
My favorite Salsa bowl: This is the cutest salsa and pico bowl. Perfect for a shower, teacher, or co-worker gift too!
DON'T FORGET TO SHOP THE EVERYDAY EILEEN STORE ON AMAZON!
I have a lot of my favorite items featured there!
I hope you enjoy this pico de gallo! Love to hear how it turns out for you!
Share your pictures of any of my recipes on Instagram! Use #everydayeileen and I love to see and share your photos on Instagram!!
Save this recipe to your FAVORITE PINTEREST BOARDS! Follow me on PINTEREST for amazing recipes ideas, travel, and more!
Feel free to leave me any comments or questions below!
I HOPE YOU CONTINUE CONNECTING WITH ME:
Love this easy Pico De Gallo, please give it a 5-star rating is super helpful for me and very much appreciated!
Thank you for the continued support! I am forever grateful!
Eileen xo
Pico De Gallo
A fresh blend of tomato, jalapeno, cilantro, onion, garlic and lime juice. Pico de gallo is great with tortilla chips, steaks, quesadillas, grilled chicken and even fish!
Print
Rate
Equipment Needed:
Ingredients
2

cloves

finely minced garlic

1

medium

onion, peeled and diced

1

large

lime, juiced

6

whole

plum tomatoes, seeded and diced

Note 1

3

Tablespoon

chopped cilantro

1

whole

jalapeno, seeded and chopped

salt and pepper, to taste
Instructions
In a bowl, combine the minced garlic and red onion in a bowl. Add the juice of the lime and let sit for about 5 minutes.

Add to the bowl, the tomatoes, cilantro, jalapeno,and salt and pepper.

The pico is best when the flavors marinate for about 30 minutes in the fridge.

Keeps in fridge for about 3 days..it never lasts past 2 in my house!
Notes
Note 1: Save the inside of the tomato to add into a homemade veggie stock. Store in a freezer bag with scraps till you have enough for veggie stock.
any nutritional data I provide is an approximation and actual dietary information can vary based on ingredients and proportion sizes.
Nutrition
Serving:
6
servings
|
Calories:
14
kcal
|
Carbohydrates:
2
g
|
Protein:
2
g
|
Sodium:
52
mg
|
Potassium:
162
mg
|
Fiber:
1
g
|
Sugar:
2
g
|
Vitamin A:
600
IU
|
Vitamin C:
14.9
mg
|
Calcium:
10
mg
|
Iron:
0.2
mg