Cauliflower Tabbouleh, a must make flavorful salad that is ready in minutes and there is no cooking involved. It's a vegan, low-carb, gluten-free delightful salad! An ideal make ahead salad to be enjoyed anytime. Cauliflower is a superb substitute for grain, especially when you are looking for lowering your carbs.
Always great at BBQ's, spring and summer celebrations, tailgating! This is a great potluck salad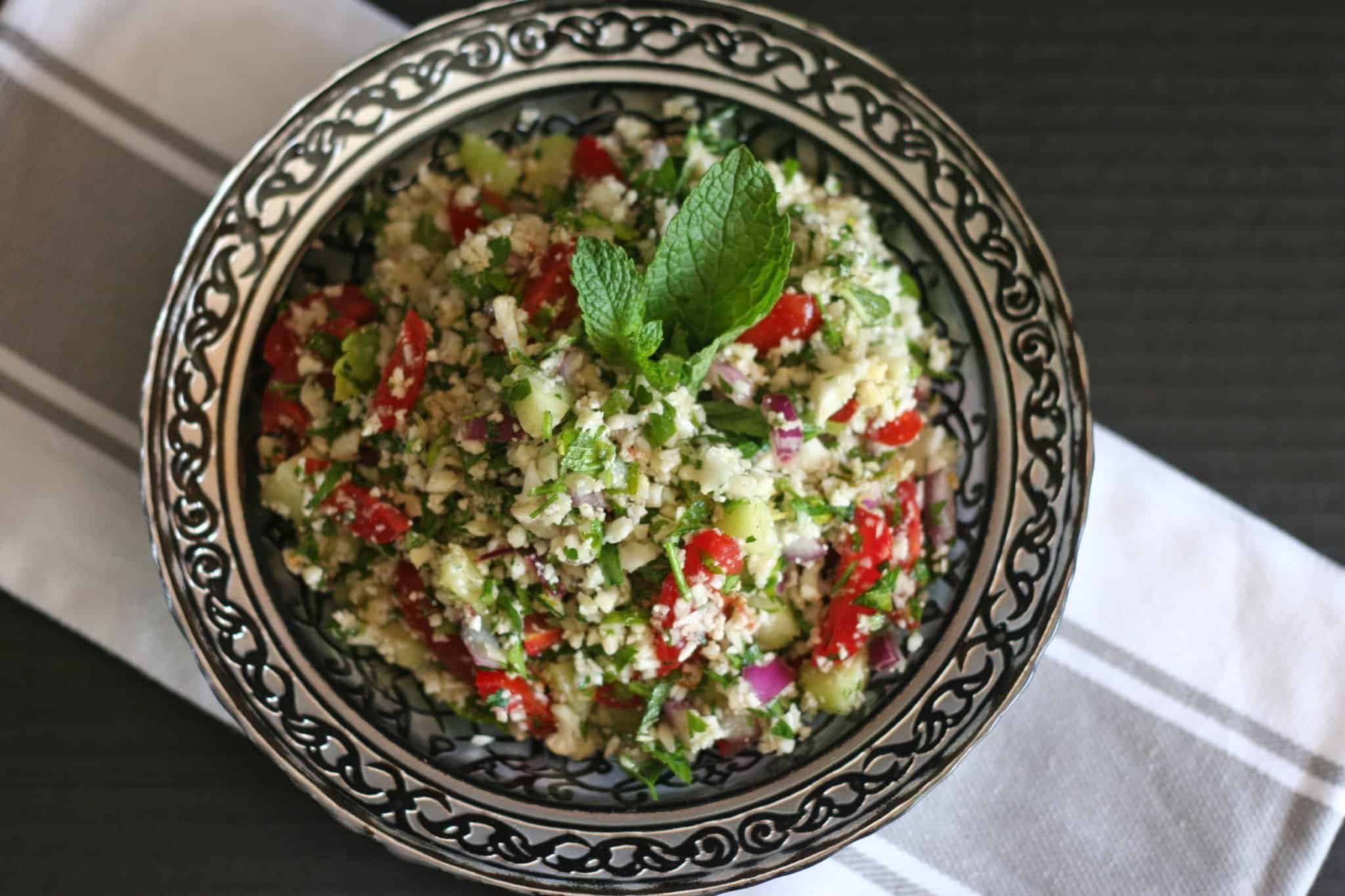 This amazing recipe for Cauliflower Tabbouleh comes from the wonderful cookbook You Have it Made, by Ellie Krieger, which focuses on healthy, make-ahead meals! This cookbook is part of the Cookbook Bundle giveaway that is sponsored by Houghton Mifflin Harcourt Publishing Company, who have extended the giveaway for a few more days until April 20th! Which is fabulous, because I want to share a few more delicious and healthy recipes from this cookbook that will make you do a happy dance, trust me!
When the wonderful folks at Houghton Mifflin Harcourt Publishing Company asked me to review 365 Slow Cooker Suppers, by Stephanie O'Dea You Have It Made, by Ellie Krieger, as well as Weight Watchers, Family Meals, I was super excited, because they contain awesome recipes!
Ms. Krieger is a registered dietitian and I appreciate and relate to her food philosophy and nutrition tips! I share Ms. Krieger's view of balance and moderation. In general, eating mostly whole foods that are not processed allows us to have a treat every now and again! It is a beautiful way to think and eat!
Okay, one more thing, there is a wonderful chapter called The 411 on storing, thawing, and reheating! A must read to get educated on food storage. Making meals ahead of time allows us to always have something ready to defrost or reheat. So your family is getting a delicious, healthy meal and you can save money by not having to order out! Hooray!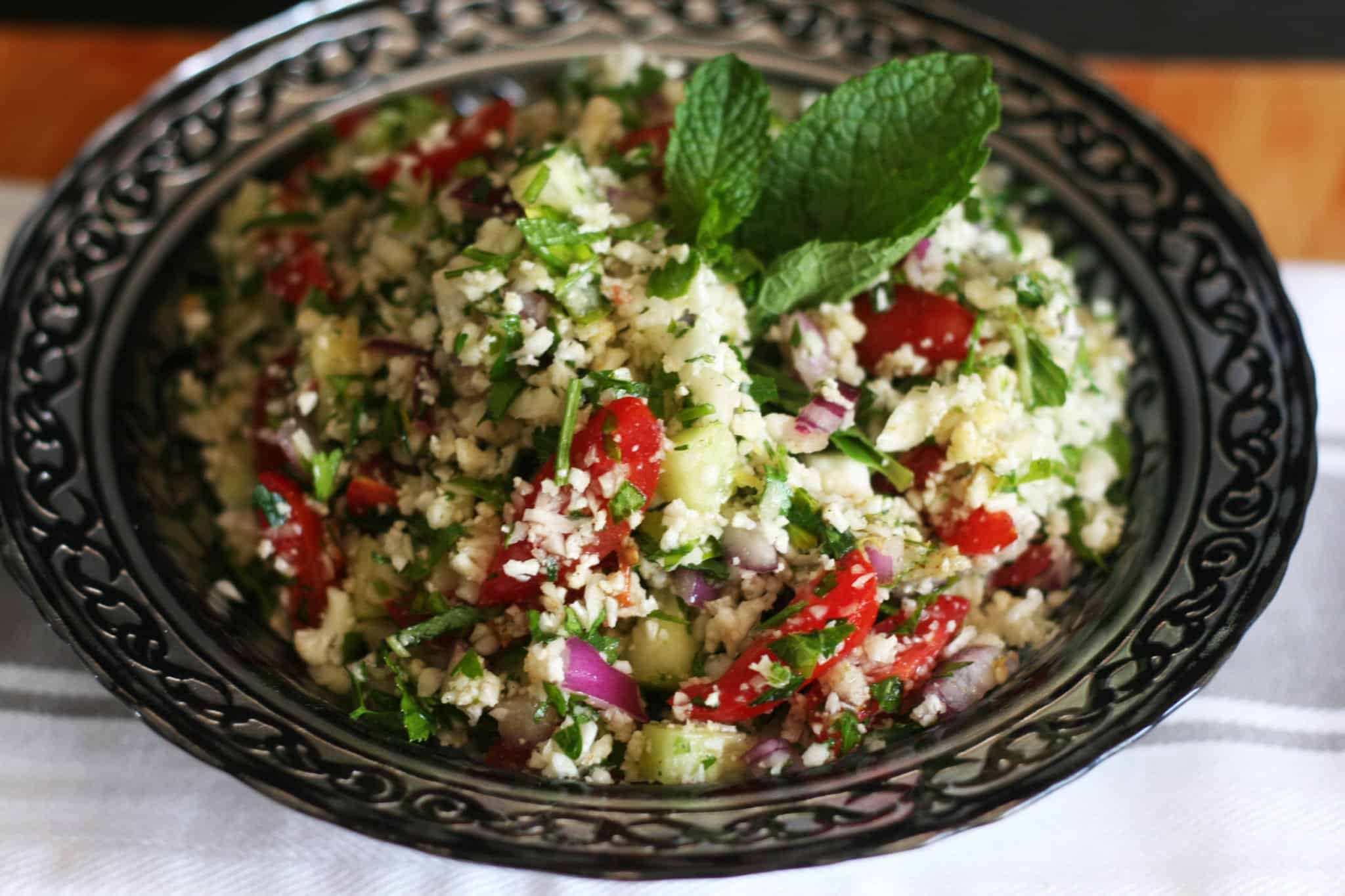 There is so much to love about this recipe! Cauliflower has become the new "it" girl, and it is well labeled! Cauliflower is a great substitute for mashed potatoes and makes a fabulous pizza crust so when I saw this recipe, I had to give it a go!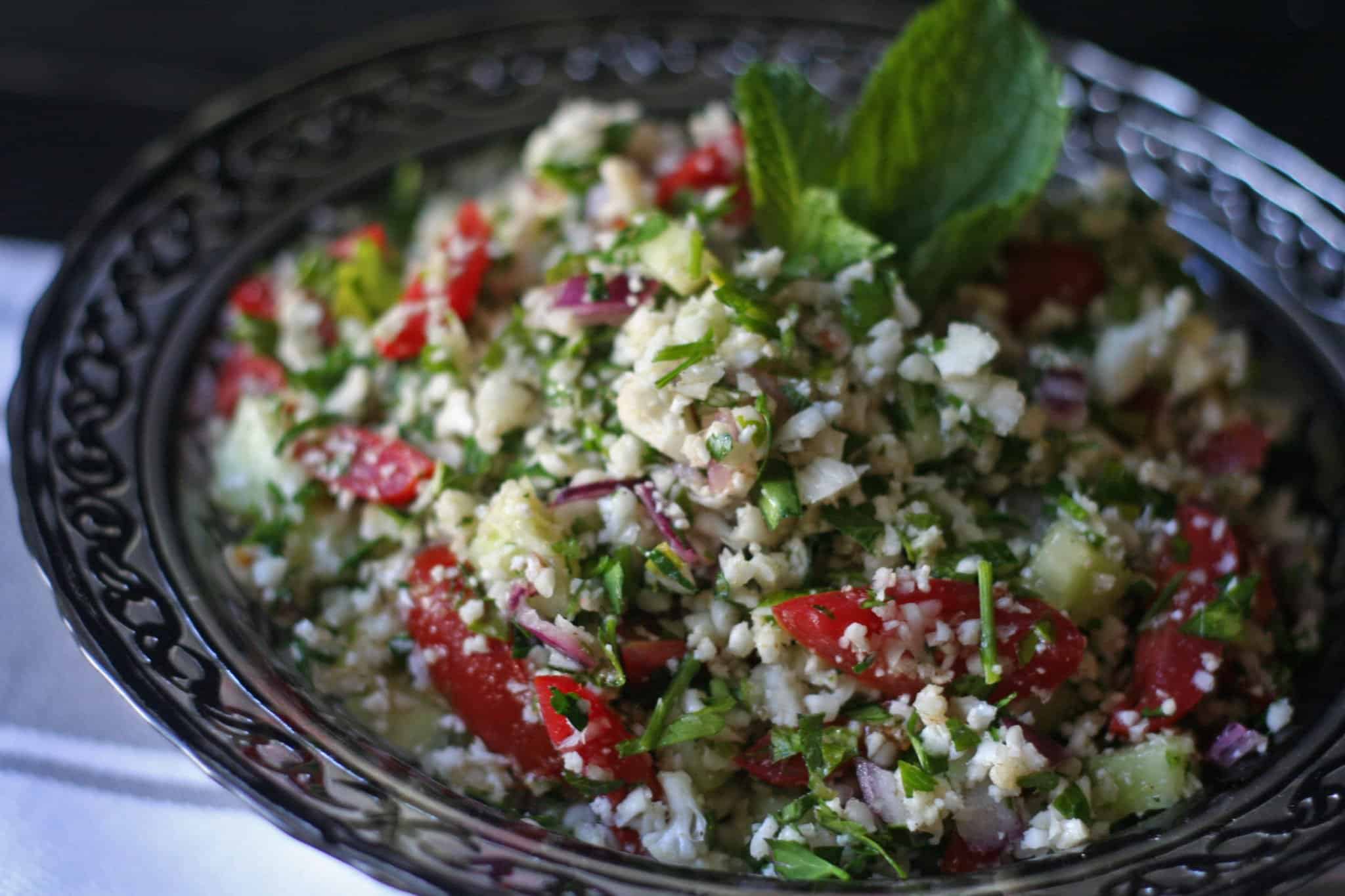 Tabbouleh is a Middle Eastern salad normally made with Bulgar, which is delicious. However, I like to limit my carbs so I am always looking for a swap for anything veggie! This my friends is it! I think I hear the choir singing, seriously!
Cauliflower does something amazing, when it is chopped up finely or grated, it takes on the texture of grain.
So between the grated cauliflower and the combination of cucumber, tomato, red onion, fresh mint and parsley, lemon, and ground cumin. I am thinking two words MAMMA DELISH!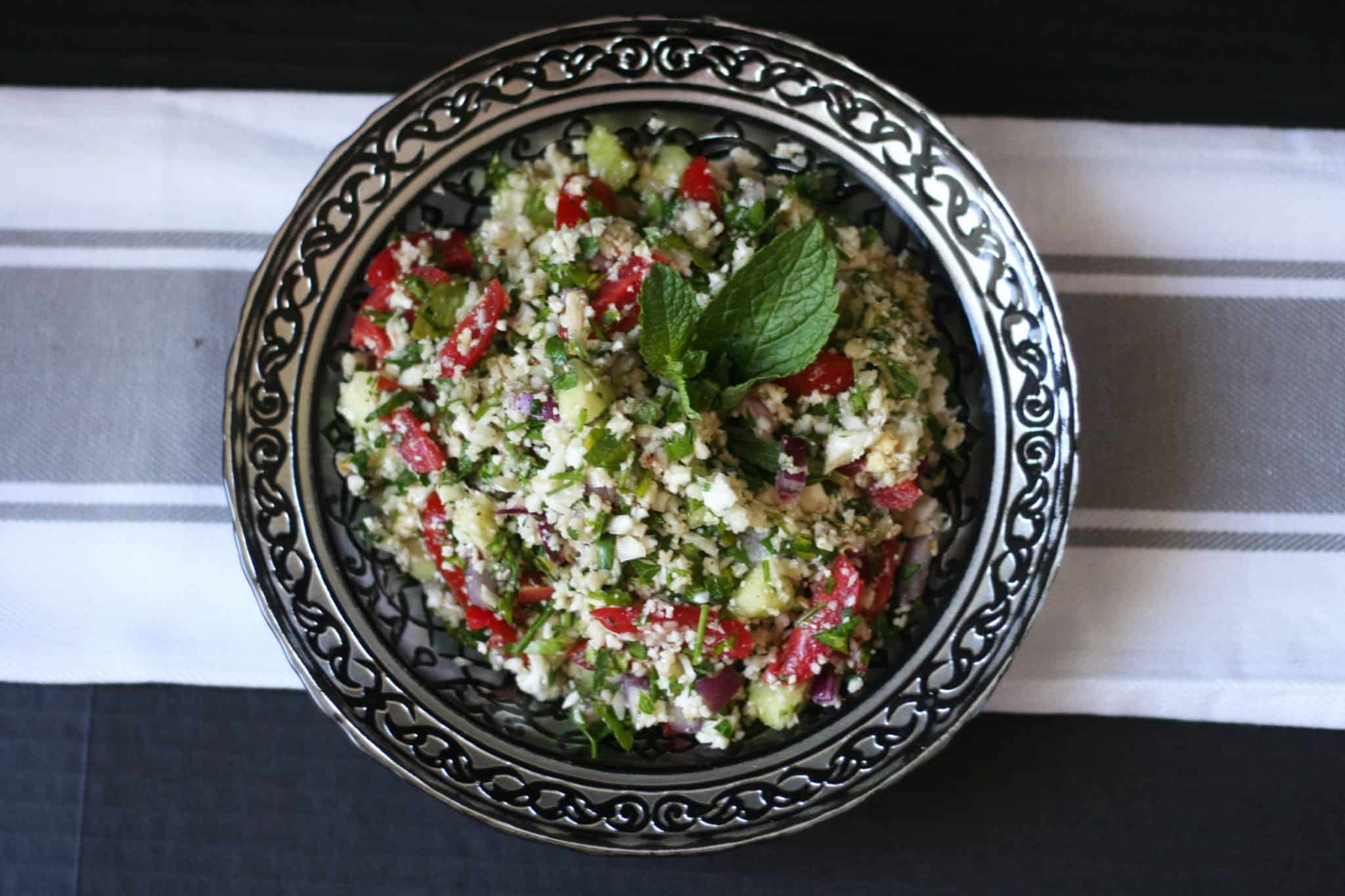 I really hope you pick up a head of cauliflower and make this fantastic Cauliflower Tabbouleh! Here is a sneak peek, this recipe calls for ½ head of cauliflower.
In the next few days, I am going to share Chicken Scarpariello with Cauliflower and Artichokes, also from this cookbook! So the entire head of cauliflower will be used in two incredible recipes. Hang on to your hats for some great meals to make and have at the ready for the family!
Everyday Tip - the excess stems of cauliflower, place in a freezer bag and reserve for vegetable stock! Waste not, want not!
Give us a like on FACEBOOK
For great recipes and tips, follow along on Pinterest
Thank you for always sharing my passion and love for food and family!
xo! Eileen
Are you loving this recipe, giving it a 5-star rating and any comments are super helpful for me and very much appreciated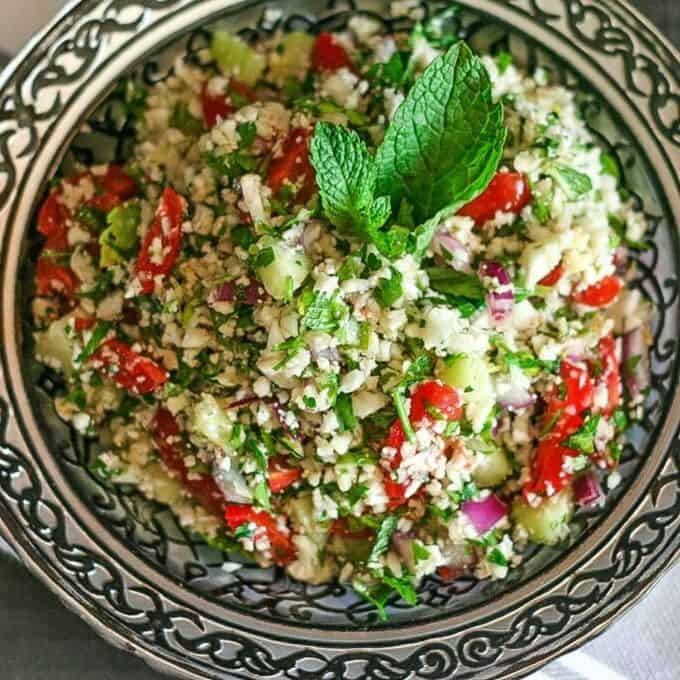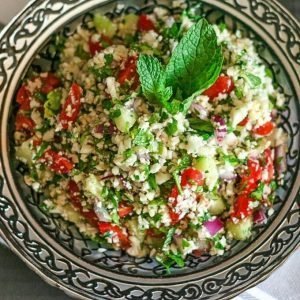 Cauliflower Tabbouleh
This is a delightful Middle Eastern salad made with cauliflower in lieu of bulgur. It's a wonderful blend of flavors that is ready in minutes with no cooking involved. An ideal make ahead recipe to use for lunch or on the go.
Print
Pin
Rate
Equipment Needed:
Ingredients
Cauliflower Tabbouleh Salad
½

head

fresh cauliflower

about 3 cups

1

pint

grape tomatoes, quartered

½

large

English cucumber, seeded and diced

about 2 cups

2

cups

fresh parsley, finely chopped

⅓

cup

fresh mint, finely chopped

½

cup

red onion, finely diced
Cauliflower Tabbouleh Vinaigrette
¼

cup

olive oil

¼

cup

lemon juice

1

teaspoon

ground cumin

¾

teaspoon

lemon zest, finely grated

¼

teaspoon

salt

¼

teaspoon

freshly ground pepper
Instructions
How to make cauliflower rice
Cut the cauliflower into 2 or 3 pieces.

If grating by hand, leave some stem on the cauliflower and grate the top part of the cauliflower.

I prefer to use the food processor, grate the cauliflower by using the grating blade.

In a large bowl, combine the grated cauliflower, grape tomatoes, diced cucumber, chopped parsley, chopped mint, and diced red onion.
How to make cauliflower tabbouleh vinaigrette
In a small bowl, whisk together olive oil, lemon juice, ground cumin, lemon zest, salt, and pepper.

Pour the whisked dressing over the grated cauliflower combination. Toss well.

Cover dish tightly and refrigerate for at least an hour.

Salad will keep up to 3 days, tightly covered.

Notes
Any nutritional data I provide is an approximation and actual dietary information can vary based on ingredients and proportion sizes.
Nutrition
Serving:
6
servings
|
Calories:
107
kcal
|
Carbohydrates:
5
g
|
Protein:
1
g
|
Fat:
9
g
|
Saturated Fat:
1
g
|
Polyunsaturated Fat:
1
g
|
Monounsaturated Fat:
7
g
|
Sodium:
111
mg
|
Potassium:
246
mg
|
Fiber:
1
g
|
Sugar:
1
g
|
Vitamin A:
1950
IU
|
Vitamin C:
54.5
mg
|
Calcium:
40
mg
|
Iron:
1.6
mg