Homemade Basil Pesto, is nut-free and perfect for so many recipes! Leaving out the pine nuts does not reduce the flavor of this basil pesto, it just reduces calories! woohoo!
This is a healthy pesto recipe with basil that can make so many recipes from basil pesto pasta, pesto zoodles to my very popular Healthy Tuscan Bean Salad!
A low-fat basil pesto because I make this without pignoli nuts. It's a perfect way to add flavor to so many meals and appetizers, without adding extra calories!
My garden is blooming and one of my favorite herbs is basil! I love basil because I can grow it year round. Basil is so versatile and I love that I can make a healthy pesto recipe using basil without using pine nuts.
I have a low-fat pesto that makes amazing pesto pasta, chicken pesto, shrimp pesto....endless possibilities.

Skinny Basil Pesto is so much better than any store-bought pesto recipe loaded with preservatives. Being homemade, this is a healthy pesto recipe using clean ingredients and to keep calories lower.
A nut-free pesto that everyone enjoys and perfect for those with a nut allergy.
Some other recipes you may want to add this homemade skinny basil pesto into would be Eggplant Caprese Salad or Mediterranean Veggie Flatbread Pizza!
FAQs about Basil Pesto
How much basil pesto do you put on pasta?
On one pound of pasta, I start with ½ cup. Check for seasoning and depends what else I am adding to the pasta.
Can you freeze fresh Healthy Basil Pesto?
Yes. To freeze, put 2 Tablespoons of the pesto into each bucket of an ice cube tray (seriously my favorite icecube tray ever - Check out the link below in Shop to make Skinny Basil Pesto) and then once frozen, place each cube into a freezer bags. Basil Pesto can be kept in the freezer for about 3 months.
How long can Healthy Pesto Recipe with Basil be kept in the fridge?
Low-fat basil pesto can keep in the fridge, well covered in a storage container for about 4-5 days. Basil Pesto can be kept in the freezer for about 3 months well wrapped.
What are the origins of basil pesto?
Pesto originated in the Liguria region of Northern Italy. I have read that basil was abundant in India and brought to Italy where it also abundantly grew.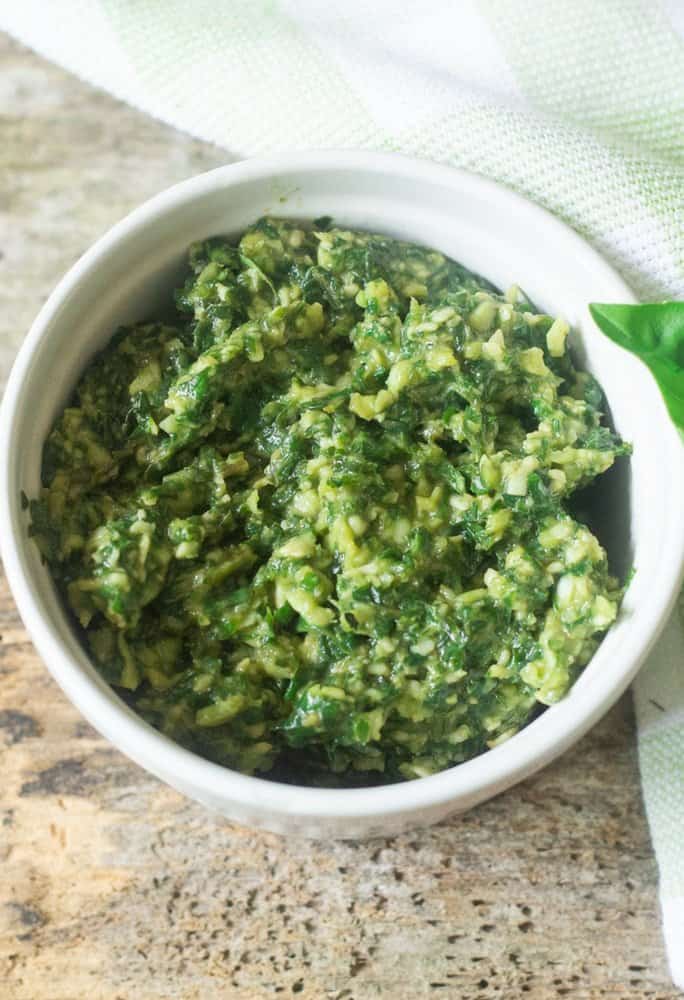 "As an Amazon Associate I earn from qualifying purchases."
Don't forget to shop the Everyday Eileen store on Amazon!
Thank you so very much for being apart of Everyday Eileen!
Tips for making great Basil Pesto:
Be sure to use fresh Basil with healthy green leaves.
If basil leaves are black, do not use. The basil has gone bad.
There are just a few ingredients in basil pesto, Use a good Pecorino Romano Cheese for the best flavor.
Always taste your basil pesto for seasoning. Re-season if needed.
How to Make Skinny Basil Pesto Recipe Without Pine Nuts:
1. Place fresh basil in the food processor.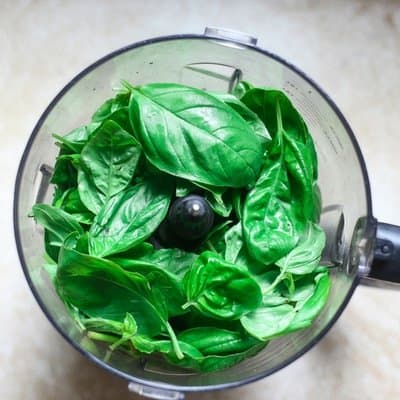 2. Add the Pecorino Romano, garlic cloves, pepper, and salt. Blend well.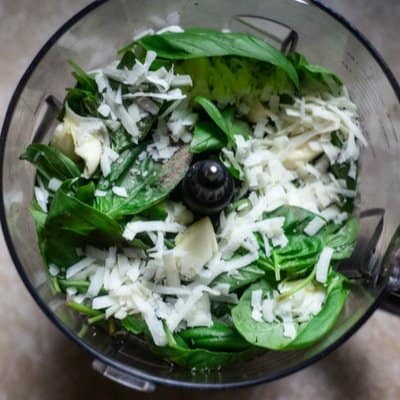 3. Process the food processor to blend the basil leaves and other ingredients, about 1 minute.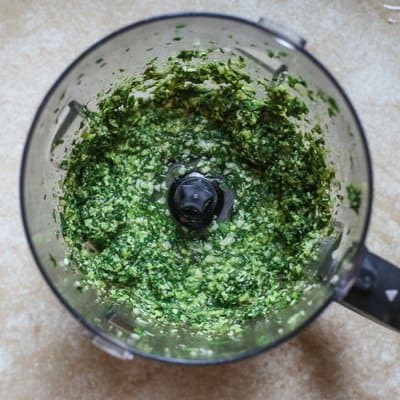 Serving ideas for your Basil Pesto Recipe:
great hostess gift. Present the basil pesto in a mason jar to your host.
serve on fish
poultry
pasta
zoodles
pizza, I can keep going with the possibilities.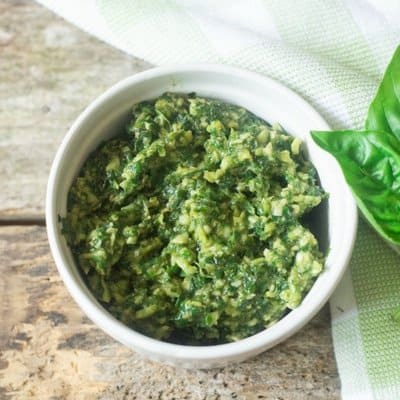 When you make Homemade Skinny Basil Pesto or add it to any recipes, take a pic and tag me on Instagram @everyday_eileen or #everydayeileen. We love seeing your recipes and I try to repost the pics.
I love any comments or questions below!
I HOPE YOU CONTINUE CONNECTING WITH ME:
FACEBOOK INSTAGRAM, PINTEREST, TWITTER
Are you loving this yummo Skinny Basil Pesto, giving it a 5-star rating and any comments are super helpful for me and very much appreciated!
📖 Recipe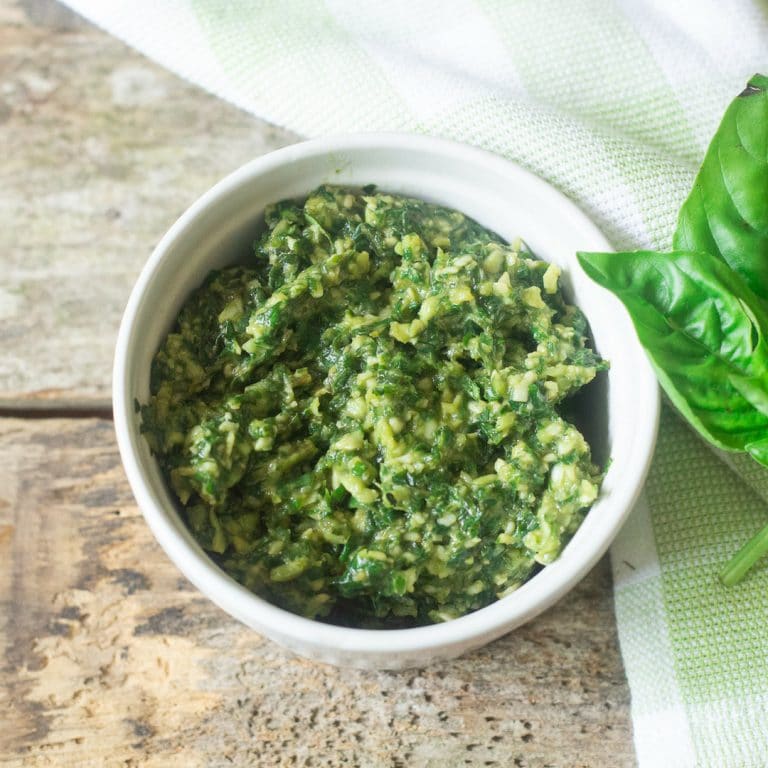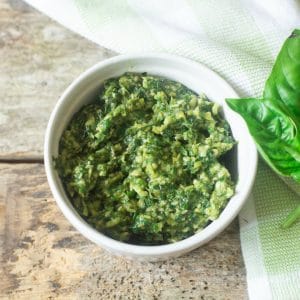 Skinny Basil Pesto
Skinny Basil Pesto is perfect over pasta or added into many dishes including frittatas, chicken, and shrimp. A perfect addition to any veggie dish. This easy low-calorie pesto is nut-free and freezes really well!
Print
Rate
Equipment Needed:
Ingredients
2

cups

packed basil leaves

½

cup

freshly grated Pecorino Romano cheese

2

cloves

garlic

chopped

¼

cup

olive oil

½

teaspoon

black pepper

salt, to taste

to taste
Instructions
In a food processor, combine fresh basil, Pecorino Romano cheese, and garlic. Pulse until coarsely chopped.

While running food processor on low, slowly add olive oil until mixture is well blended. Check the pesto mixture after adding the ¼ cup of olive oil. Depending on how well you packed your basil, you may need a bit more olive oil, no more than ⅓ of a cup of olive oil.

Season with the pepper and salt, to taste.

Adjust seasoning if needed.
Notes
Use right away or freeze in ice cube trays. 2 Tablespoons in each cube. Once frozen, place in freezer bags and use as needed. I use within 3 months.
The basil pesto keeps in the fridge, well covered for about 3-4days.
any nutritional data I provide is an approximation and actual dietary information can vary based on ingredients and proportion sizes.
Nutrition
Serving:
1
Tablespoon
|
Calories:
86
kcal
|
Carbohydrates:
0
g
|
Protein:
2
g
|
Fat:
8
g
|
Saturated Fat:
2
g
|
Cholesterol:
6
mg
|
Sodium:
75
mg
|
Potassium:
23
mg
|
Fiber:
0
g
|
Sugar:
0
g
|
Vitamin A:
340
IU
|
Vitamin C:
1.3
mg
|
Calcium:
78
mg
|
Iron:
0.3
mg
This recipe was originally published in October 2016. I have tweaked the recipe and updated the article posted today.
Pin Basil Pesto to make anytime: