Learn How to Roast Spaghetti Squash! One of the easiest veggies to make and super versatile. Spaghetti squash is an awesome low-carb, hearty vegetable. It's my go to, let's replace the carbs in regular spaghetti by using tasty spaghetti squash!
They are my squadoodle like a zoodle (zucchini noodles) without needing to zoodle. Perfect for Vegan, Paleo, Keto, gluten-free, and all around healthy eating.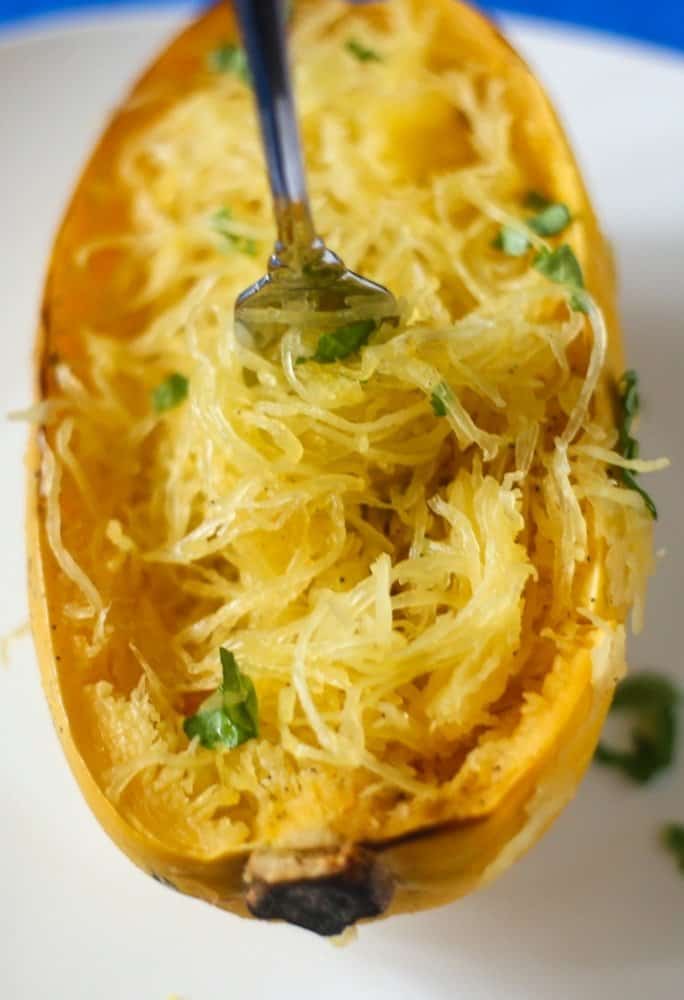 While there are carbs in spaghetti squash, the amount is far fewer than in pasta. When I am feeling a need to cut back on the carbs, spaghetti squash recipes are my favorite healthy replacement for pasta.
Even my Dad, the Pasta King of New York, on occasion will eat spaghetti squash in lieu of pasta. That my friends also is a miracle.
Besides tasting great and being healthy, baked spaghetti squash is a fix and forget the recipe. Once the squash is in the oven, there is nothing to do with it except wait to eat it. Hooray!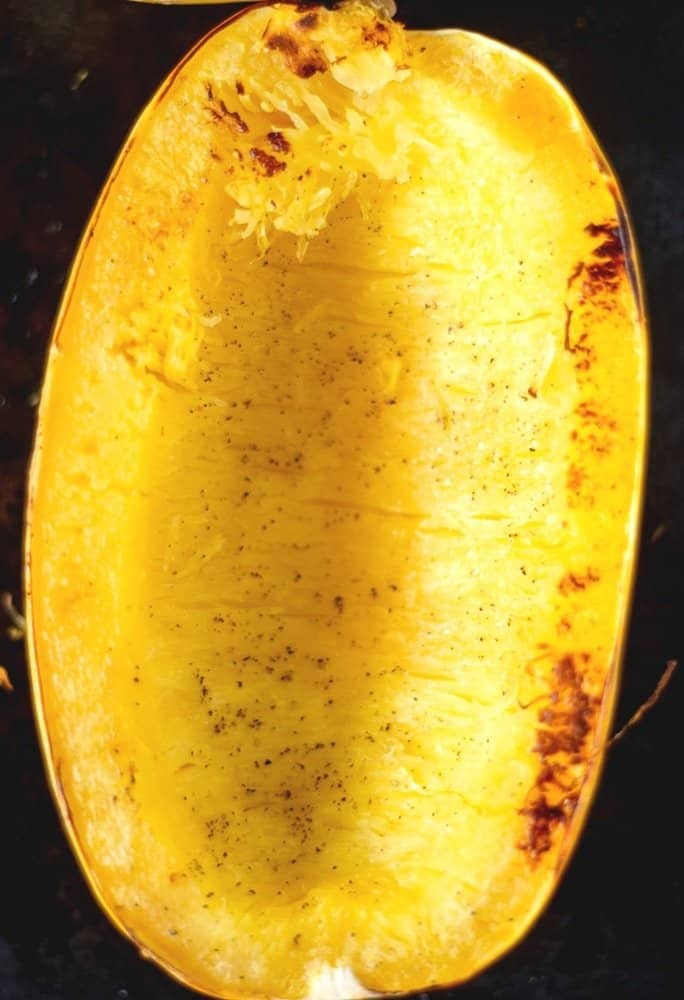 Roasted Spaghetti Squash
I have been writing and prepping recipes so much lately and one of my favorites is always a tasty roasted veggie. Today I want to share my easy recipe to Roasted Spaghetti Squash.
From this Roasted Spaghetti squash, the meal possibilities are endless. A few of my favorites recipes using baked squash or recipes that this healthy spaghetti squash recipe pairs well with are:
Sheet Pan Chicken Sausage, Peppers and Onion over Spaghetti Squash
Homemade Classic Marinara Sauce
Low Carb Lemon Chicken Piccata
Q & A: How to Roasted Spaghetti Squash:
Can spaghetti squash be frozen after being baked?
Yes, I roast spaghetti squash in bulk and freeze it in single serving portion freezer bags to use later. I generally use the frozen squash within 3 months. I place the squash in the fridge in the PM to defrost and use the following AM. Spaghetti squash can be reheated in the microwaved also.
How long does the baked spaghetti squash keep in the fridge?
The squash can keep fresh in the refrigerator for about 3 days.
Does spaghetti squash have carbs?
Spaghetti squash does contain carbs. That said, in my humble opinion, not all carbs are bad. I believe in a well-balanced diet and eating a balanced diet work. As for spaghetti squash, they have carbs but an all-around nutritious veggie.
What are the nutritional facts about roasted spaghetti squash?
As I said above, spaghetti squash does contain carbs. In 1 cup of baked spaghetti squash, which is very low-fat and about 42 calories and a high amount of dietary fiber. Like mushrooms, spaghetti squash has a lot of water which makes them an awesome veggie to eat to promote weight loss.
Are the seeds of a baked spaghetti squash edible?
The seeds of spaghetti squash are edible and delicious. Try my recipe for Roasted Seasoned Squash Seeds.
Do I roast Spaghetti Squash cut side up or down?
To roast spaghetti squash, the squash should roast flesh side down on the baking sheet.
The following are affiliate links. We are a participant in the Amazon Services LLC Associates Program, an affiliate advertising program designed to provide a means for us to earn fees by linking to Amazon.com and affiliated sites.
Thank you so very much for being apart of Everyday Eileen!
Tools you may need to Roasted Spaghetti Squash:
How to Roast Spaghetti Squash in the Oven:
Preheat the oven to 400 degrees.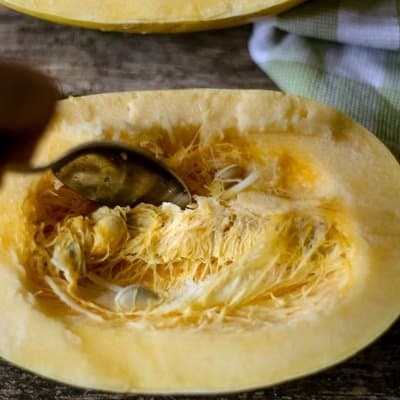 3. Once the seeds are removed, brush the cut side with olive oil and season the squash with salt and pepper.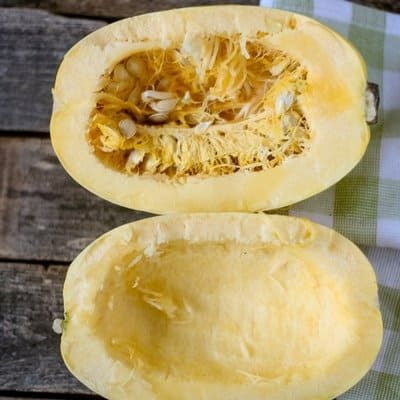 4. Place the spaghetti squash cut side down onto the baking sheet and roast for about 30-45 minutes.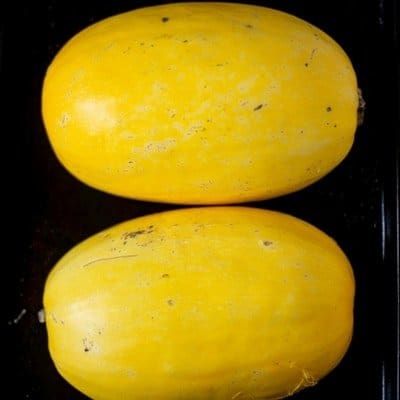 5. Depending on the size of the spaghetti squash. Start checking the squash at 30 minutes. The squash will be tender and pull away from the shell easily when done.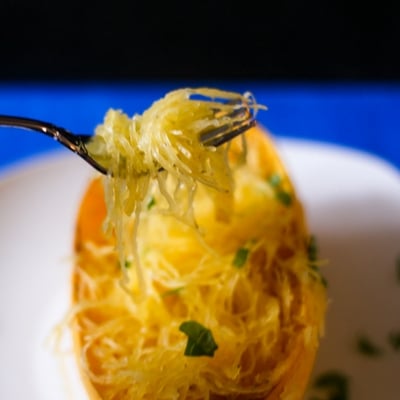 When you make this recipe for roasted spaghetti squash, take a pic and tag me on Instagram @everyday_eileen or #everydayeileen
I love any comments or questions below!
I HOPE YOU CONTINUE CONNECTING WITH ME:
This post has been updated from 2015 with new photos and additional facts.
Are you loving this recipe for Roasted Spaghetti Squash, giving it a 5-star rating is super helpful for me and very much appreciated!
📖 Recipe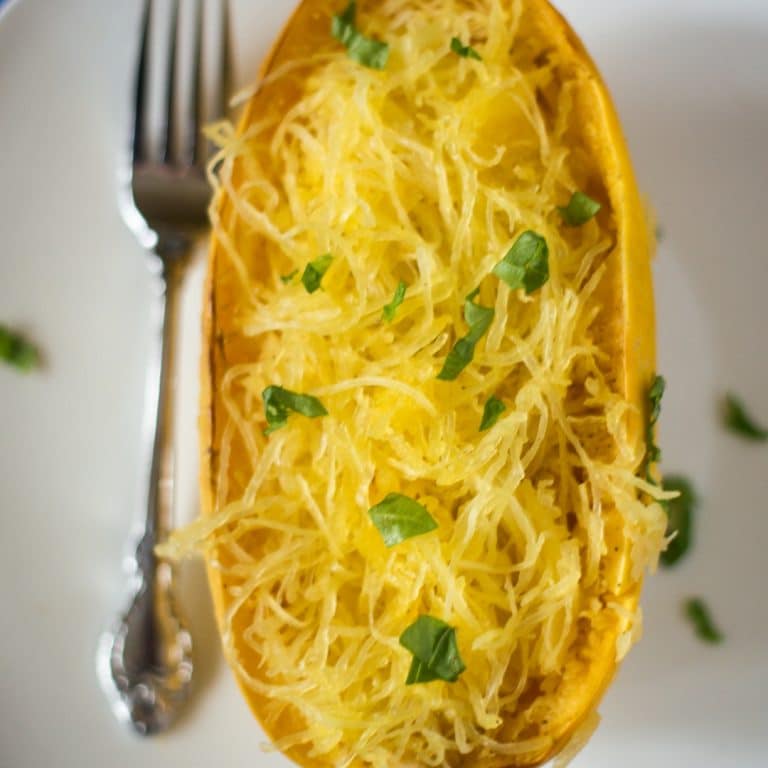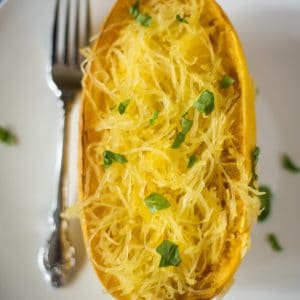 How to Roast Spaghetti Squash
A wonderful and easy roast spaghetti squash - great eaten as is and also is a great base for so many versatile recipes to add on to roast spaghetti squash. This recipe is a great replacement for any pasta recipe.
Print
Rate
Equipment Needed:
Ingredients
2

medium

spaghetti squash

1

teaspoon

olive oil

salt and pepper, to taste
Instructions
Preheat oven to 400 degrees.

Slice the spaghetti squash in half and using a spoon, scoop out all the seeds and fibers from the center of each squash.

Drizzle a teaspoon of olive oil between the 4 halves of spaghetti squash. Season all pieces of spaghetti squash with salt and pepper to your taste.

Place the spaghetti squash on a baking sheet, flesh side down on the baking sheet. Roast in the oven for 30 - 45 minutes. Check the meat of the spaghetti squash with a fork at 30 minutes for tenderness. If it is tender, the spaghetti squash is done. Depending on the size of the spaghetti squash, it can take up to 45 minutes for the squash to completely roast.
Notes
Roasted spaghetti squash can be kept in the fridge for about 3 days.
Spaghetti squash can be frozen in freezer bags for about 3 months.
Any nutritional data I provide is an approximation and actual dietary information can vary based on ingredients and proportion sizes.
Nutrition
Serving:
1
half squash
|
Calories:
22
kcal
|
Carbohydrates:
2
g
|
Protein:
0
g
|
Fat:
1
g
|
Saturated Fat:
0
g
|
Polyunsaturated Fat:
0
g
|
Monounsaturated Fat:
1
g
|
Trans Fat:
0
g
|
Cholesterol:
0
mg
|
Sodium:
83
mg
|
Potassium:
41
mg
|
Fiber:
1
g
|
Sugar:
1
g
|
Vitamin A:
50
IU
|
Vitamin C:
2.5
mg
|
Calcium:
10
mg
|
Iron:
0
mg
Pin to make any time:

Looking for a few more recipes that roasted spaghetti squash would be a great side with, check these recipes from a few of my favorites blogs:
Caramelized Chili White Bean Mushrooms from Trial and Eater, Easy Vegetarian Recipes
3 Bean Chicken Chili by We're Parents