Shrimp Scampi, easy and delicious! In 10 minutes, you have delicious shrimp that are full of flavor from garlic and white wine! Whether you are having a quick dinner, romantic dinner for two, or just plain want deliciousness, this recipe is for you!
Serve the shrimp on its own with some side veggies, zoodles or spaghetti squash to keep low-carb! Shrimp Scampi and Pasta is always awesome!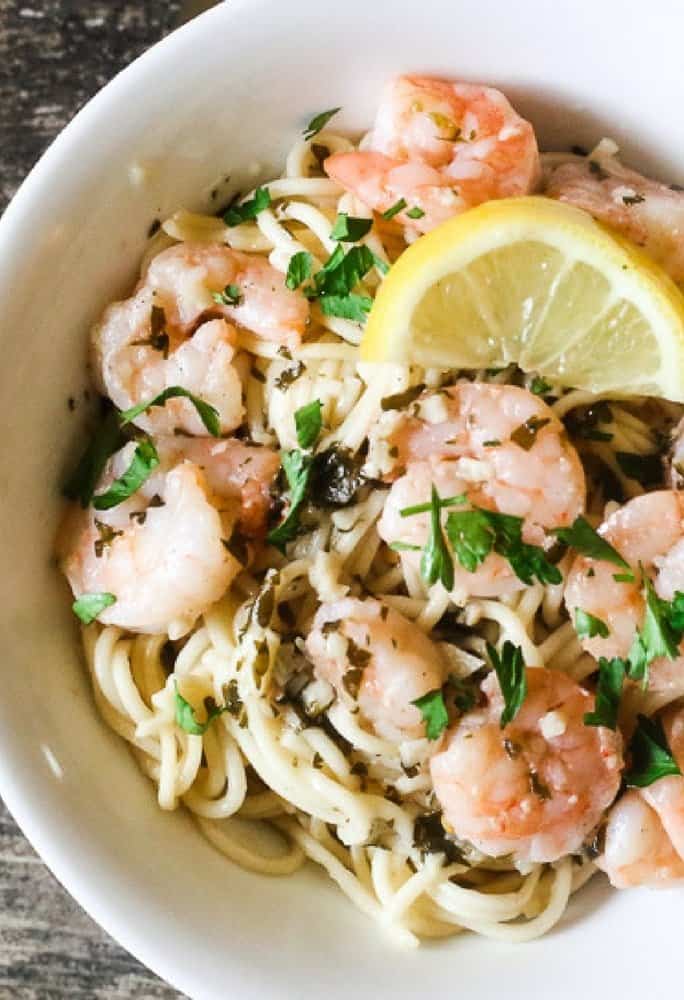 I love garlic and there's a lot in this scampi recipe! Limit the butter and use fat-free chicken broth, herbs, and red pepper flakes for a nice kick! The combo makes a low- calorie shrimp recipe that is super delicious! Serve over pasta, zoodles, or spaghetti squash!
Trust me you will not miss the added oil and butter! This shrimp scampi is Ah-mazing!
Shrimp is one of my families favorite foods and it is easy to cook and so versatile! This shrimp scampi recipe is so quick and easy to prepare and a long-time family favorite!
When I prep our weekly recipes, there is no doubt that we will have shrimp! Shrimp Scampi is one of the most versatile recipes because it falls under so many categories! Easy, great for any night of the week, date night, dinner with friends, endless possibilities.

This is one of those recipes that works for holidays like Christmas Eve, New Year's, and Valentine's Day! We make this shrimp for all of these holidays, our family tradition!
Shrimp Scampi Ingredients:
shrimp
unsalted butter
white wine
chicken broth
lemon
oregano, parsley, hot red pepper, salt, and pepper
Common questions about Shrimp Scampi:
What does scampi mean?
Scampi implies using large shrimp prepared in a garlic sauce.
Is shrimp scampi keto-friendly?
Absolutely! Shrimp have almost no carbs which make them keto-friendly. Of course, the recipe would have to be served with a low-carb side to remain keto.
Can the white wine be replaced with something else because I don't use wine?
Sure, if you do not cook with wine, use more chicken broth and lemon juice.
What pasta noodles are best paired with Shrimp Scampi?
My favorite pasta to use with Scampi Sauce are:
linguine
spaghetti
pappardelle
bucatini
Can Shrimp Scampi be reheated?
I find that shrimp get rubbery after being reheated. If you do reheat the shrimp, I suggest a quick saute in a pan. If you are a real facts enthusiast, this article from U.S. FDA on fresh and frozen seafood may be of interest for you!
[dropshadowbox align="none" effect="lifted-both" width="auto" height="" background_color="#ffffff" border_width="1" border_color="#4ad1e8" ]Shop the Recipe:
14-inch Cuisinart skillet: a fabulous skillet that is an asset in the kitchen. [/dropshadowbox]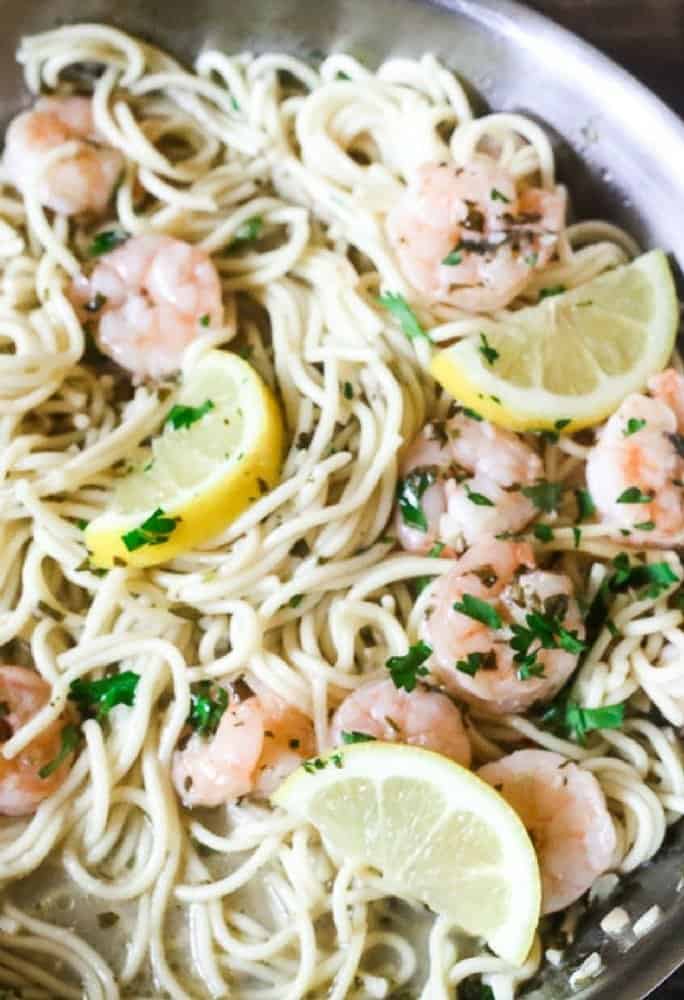 Tips to make the best Shrimp Scampi:
If making over pasta or zoodles, take the tails off the shrimp before cooking.
Use unsalted butter, and add salt as needed to reduce sodium.
Feel free to add a fresh veggie, ie spinach, kale, escarole for added protein.
The shrimp sautés quickly, the size of the shrimp will adjust the cooking time.
I use a Pinot Grigio or a Chardonnay for the wine.
Large shrimp are my favorite in scampi.
How to Make Shrimp Scampi:
Chop lots of fresh garlic.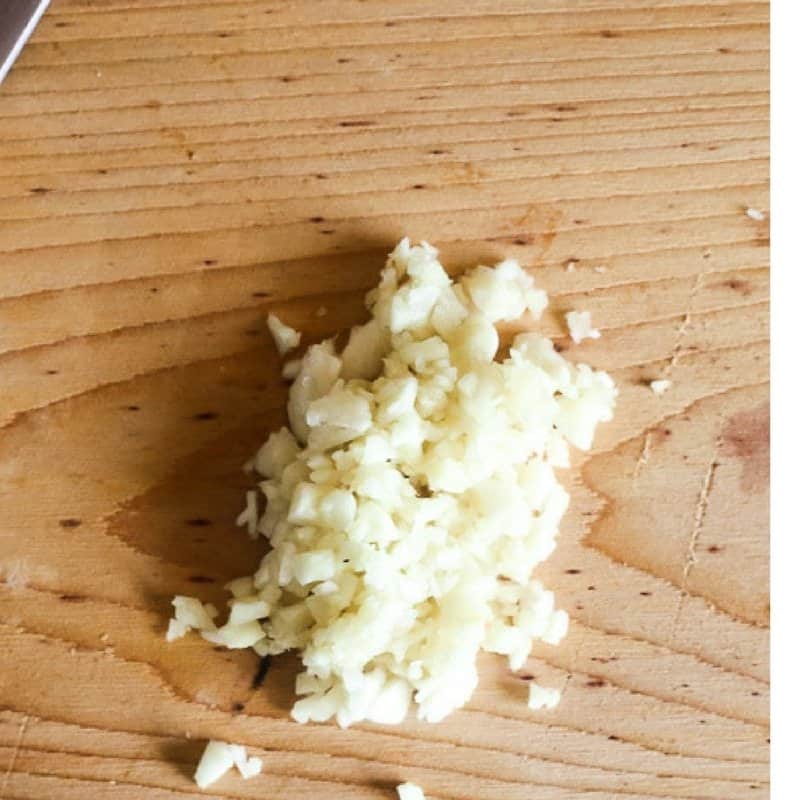 2. Heat saute pan over medium heat, melt unsalted butter.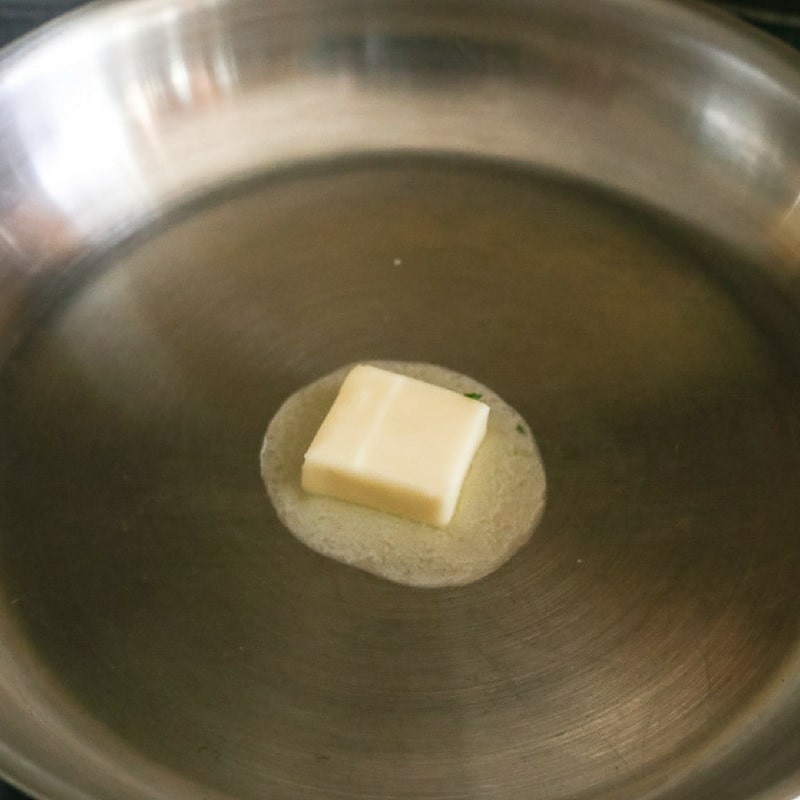 3. Saute the garlic. Then, add shrimp.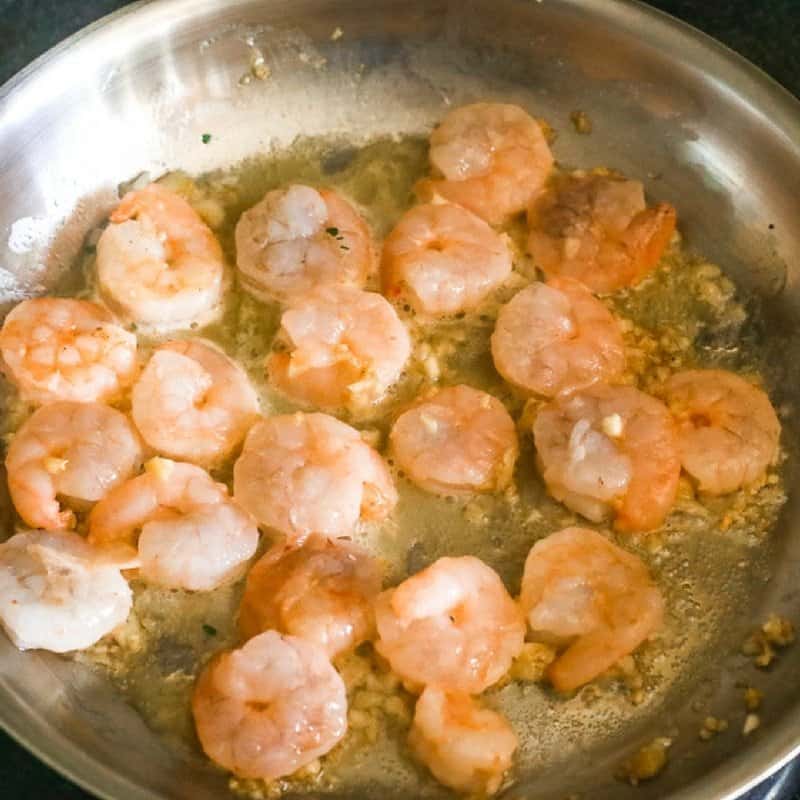 4. Once shrimp is cooked, about 4 minutes. Remove shrimp and set aside. Add white wine, lemon juice, chicken stock, herbs, red pepper flakes, salt and pepper to taste.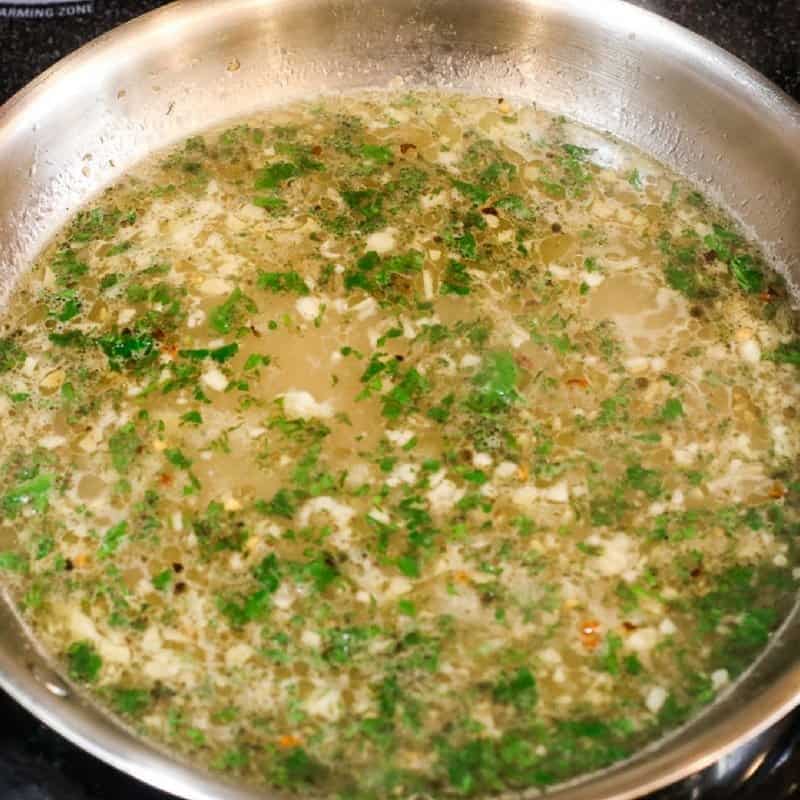 5. Bring to a boil and reduce by half. Add back in shrimp.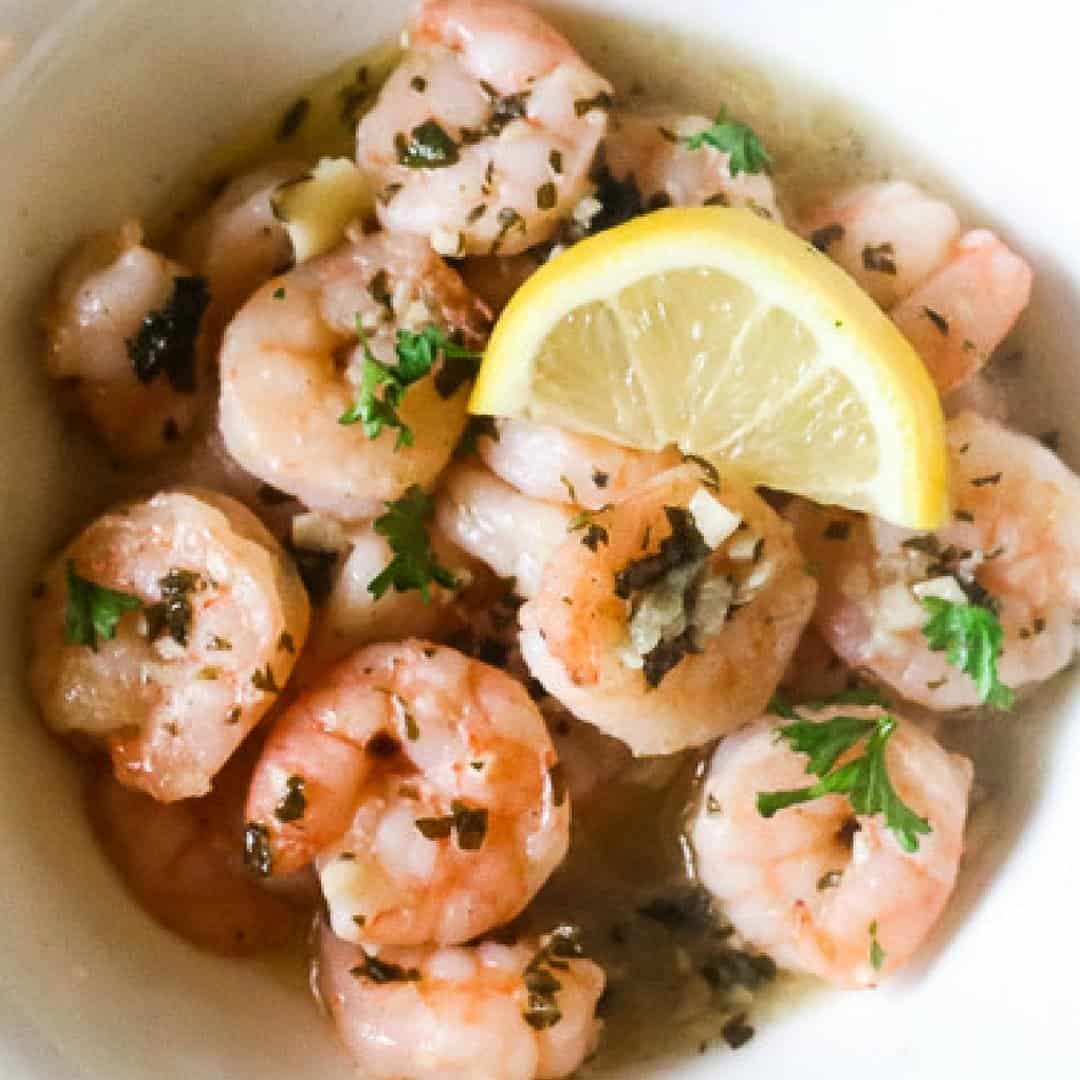 This is my skinny shrimp scampi! I love it for many reasons. Easy to prepare! Healthy, low-calorie, keto friendly and just delicious! Using fat-free chicken broth adds flavor and keeps the calories down.
This shrimp scampi in August of 2015. I have updated notes and tips.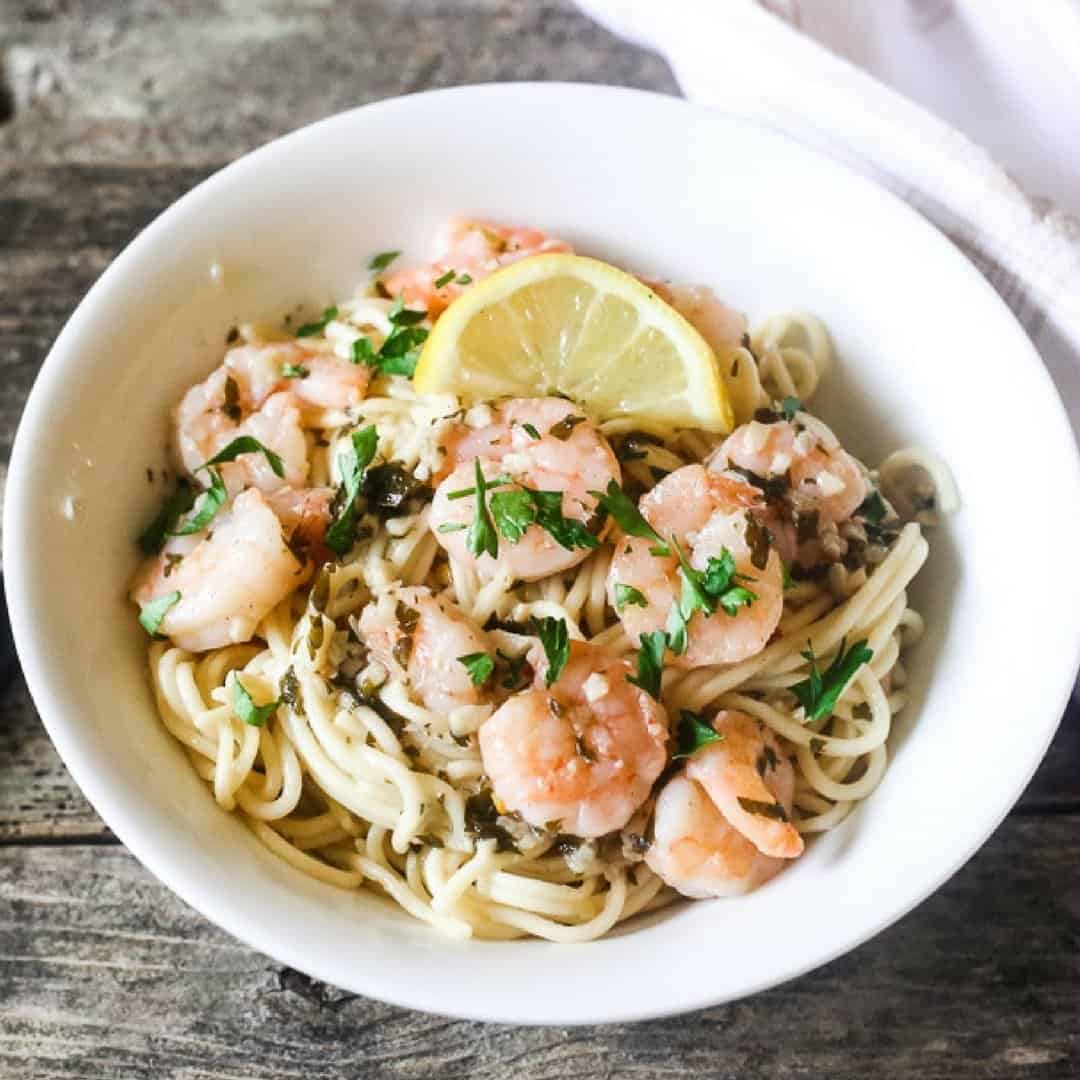 Some other easy dinner recipes you may enjoy are:
When you make this delicious shrimp scampi, take a pic and tag me on Instagram @everyday_eileen or #everydayeileen
I HOPE YOU CONTINUE CONNECTING WITH ME:
FACEBOOK INSTAGRAM, PINTEREST, TWITTER
Are you loving this recipe for Shrimp Scampi, giving it a 5-star rating is super helpful for me and very much appreciated!
Recipe instructions to make Shrimp Scampi: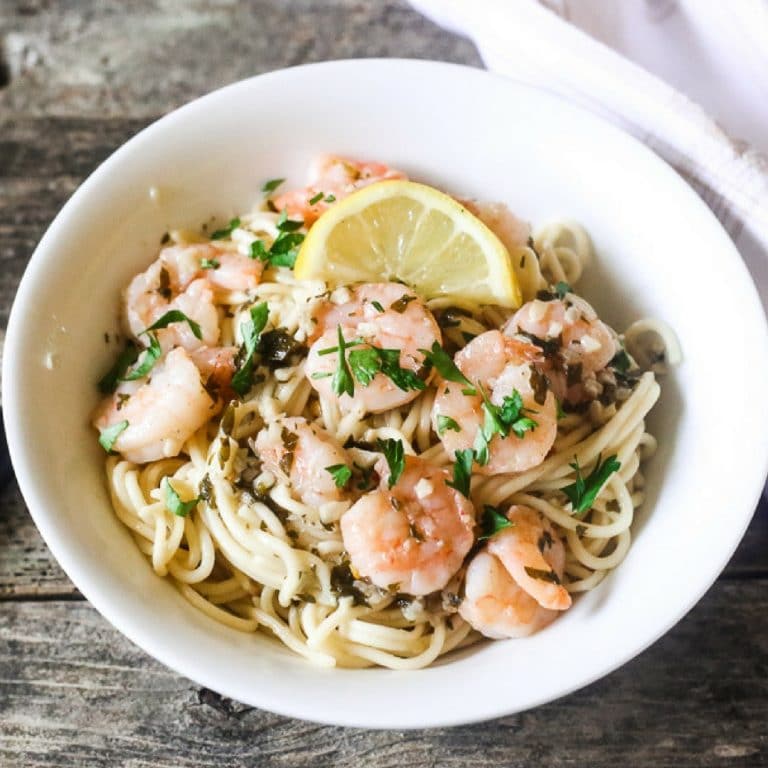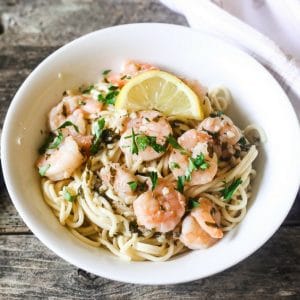 Shrimp Scampi
A quick shrimp recipe with lots of garlic, wine, lemon, and hot red pepper for heat! Shrimp scampi can be served with pasta. Keep it low-carb and serve with zoodles, cauliflower rice, or spaghetti squash!
Print
Rate
Equipment Needed:
Ingredients
6

cloves

garlic, finely minced

2

Tablespoon

unsalted butter

2

pounds

shrimp, cleaned and deveined

I remove the tails from the shrimp

1

teaspoon

red pepper flakes

½

cup

dry white wine

1

large

lemon, juiced

1 ½

cups

chicken stock, fat-free

½

cups

fresh parsley, chopped

1

teaspoon

fresh oregano, chopped

salt, to taste

½

teaspoon

ground black pepper
Instructions
In a large skillet, melt unsalted butter. Add minced garlic, saute for a minute. Be careful - garlic burns quickly!

Add the shrimp and saute until pink, about 3-4 minutes. Turn shrimp to cook both sides.

Once pink, remove shrimp to a plate.

Increase the heat to medium-high, add white wine! Cook about a minute, add lemon juice, chicken stock, red pepper flakes, and salt and pepper to taste. Reduce sauce to about half, about 2 minutes.

Once reduced, add back in the shrimp. Add fresh parsley and oregano. Check seasoning. Adjust if needed. Serve and enjoy!
Notes
Note 1: Serve with your favorite pasta, zoodles, riced cauliflower, spaghetti squash!
Note 2: A great appetizer with some warm Italian Bread to dip into the scampi sauce.
all nutritional value is estimated. This can fluctuate due to portion size and ingredients.
Nutrition
Serving:
1
serving
|
Calories:
220
kcal
|
Carbohydrates:
3
g
|
Protein:
32
g
|
Fat:
6
g
|
Saturated Fat:
2
g
|
Cholesterol:
391
mg
|
Sodium:
1202
mg
|
Potassium:
232
mg
|
Fiber:
0
g
|
Sugar:
0
g
|
Vitamin A:
635
IU
|
Vitamin C:
15.8
mg
|
Calcium:
241
mg
|
Iron:
3.9
mg
This shrimp scampi in August of 2015. I have updated the post.
Pin Easy Shrimp Scampi to make later here: