Learn how to make Poached Shrimp at home any day! You'll be making the most tender shrimp at ¼ of the price of those expensive shrimp rings at the grocery store. Don't forget to make a batch of cocktail sauce for dipping.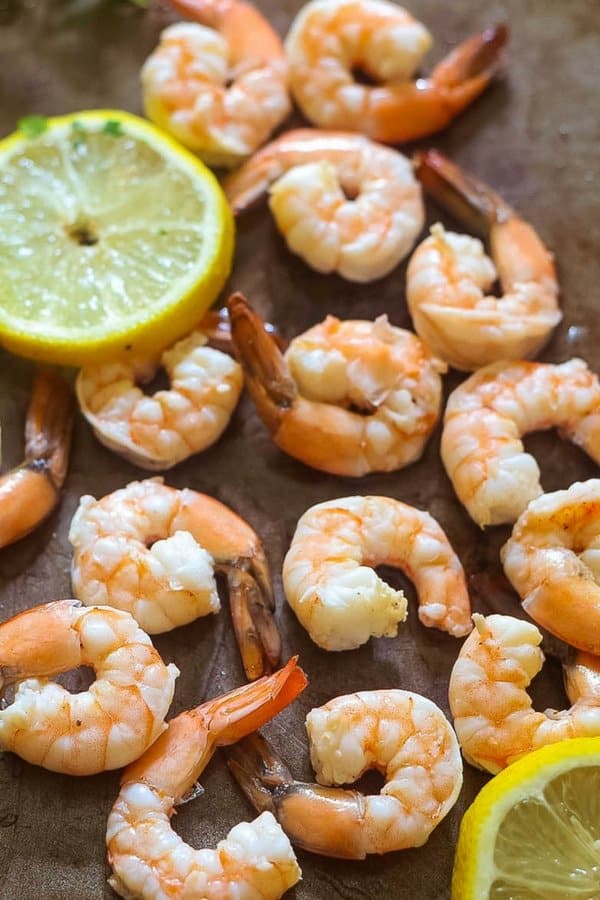 Want to serve an amazing homemade shrimp cocktail platter for your next party, date night, or like me - just love to eat shrimp.
Well, I have got the easiest recipe for you to learn how to make the best shrimp. You will never need to buy an overpriced seafood platter again.
Jump to:
❤️ Why you'll love this recipe
This is a great base recipe for shrimp to pair with amazing dipping sauces that are always a hit.
It's affordable to purchase fresh shrimp and make your own platters at home.
You'll be able to make about 3 pounds of shrimp for 1 pound of the store made platters!
Ingredients
Fresh raw shrimp, use either jumbo 21/25 or extra large shrimp 26/30 size
Fresh garlic cloves, parsley, lemons, black peppercorns, Kosher salt, and a bay leaf all add flavor to the stock.
Instructions
This is an overview of the recipe. The full instructions are below in the recipe card.
If the shrimp is not already cleaned and deveined, do so! Here is a great tutorial if you aren't sure how! I try to purchase already clean and deveined shrimp.
In a large saucepan or pot, add the cold water, lemon juice, lemon halves, bay leaf, salt, and black peppercorns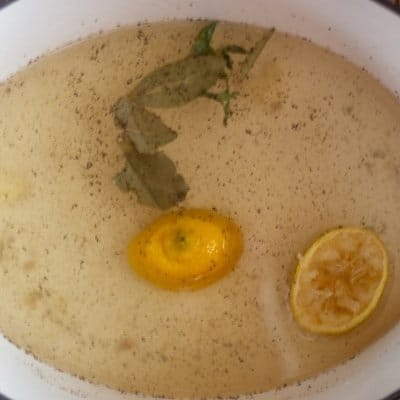 2. Bring the water to a rapid boil. Add the shrimp to the water. Remove the pot from the heat and cover the saucepan with a lid. Let the shrimp poach about 3 minutes. Once the shrimp turn pink, they are ready to eat.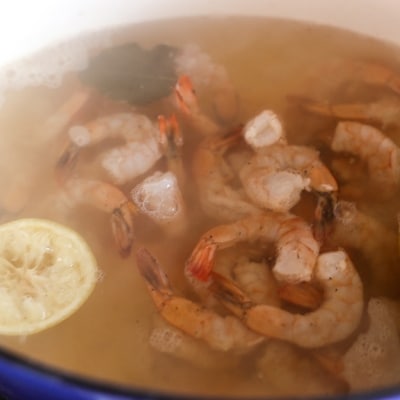 3. Move shrimp to an ice bath to cool about 10 minutes before serving. The shrimp in the refrigerator to cool.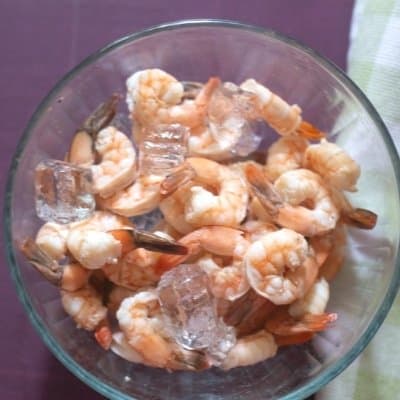 Equipment
Dutch Oven, I love and use this one often and it's quite affordable!
Platter:

Shrimp is an awesome treat and I love keeping it cold on this platter.
FAQS
How can I defrost shrimp quickly?
I always keep a bag of frozen shrimp in the freezer. To defrost quickly, in a large bowl, add the frozen shrimp and run cold water on the shrimp. Stir occasionally, after 5 - 8 minutes, drain the water and add more cold water. Stir shrimp, they should be defrosted in about 15-20 minutes.
What is the overnight method for defrosting shrimp?
On a rare occasion, I plan ahead, and I want to defrost frozen shrimp. Place the frozen shrimp in a bowl in the fridge. Cover bowl with plastic wrap. In the morning, shrimp are ready to cook.
What does the cooking term poaching mean?
In cooking, poaching always means the food will be quickly cooked in a liquid, such as water, milk, or wine that is flavored with spices or citrus. The food is generally used in various other recipes. It's very common poaching shrimp, chicken, salmon are all popular foods that can be poached for delicious results.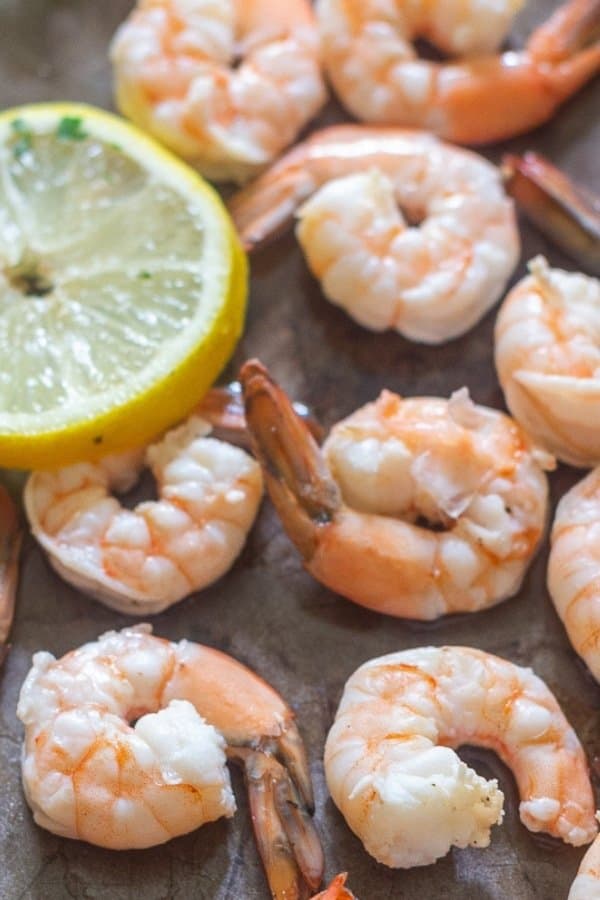 Expert Tips
Eileen's Tip: To avoid rubbery shrimp, remove the shrimp from the poaching water as soon as they turn pink.
For many shrimp recipes, such as our tasty Baja Taco Shrimp Bowls, remove the tails, however, for this recipe, leave the tails on for a gorgeous presentation.
Be sure to devein the shrimp before cooking. For a shortcut, purchase already cleaned shrimp.
Storage Tips
Whether you are defrosting shrimp or keeping fresh shrimp in the fridge, use within 1-2 days. In other words, once you have defrosted the shrimp, be ready to cook and enjoy.
Similar Recipes to Enjoy
Easy Shrimp Scampi and Spaghetti is a quick family dinner that everyone will enjoy!
A family favorite is this tasty Baked Coconut Shrimp with Spicy Orange Dipping Sauce
Lighter Linguine with Clam Sauce is another less than 30 minute dinner.
Love shrimp? Try our Low-CarbJambalaya is full of flavor without being full of calories.
Instant Pot Shrimp and Sausage Gumbo, another fabulous quick family dinner.
Serving Suggestions
Keep up to date with recipes by following me on:
FACEBOOKINSTAGRAM, PINTEREST, TWITTER
Thank you for the continued support. I am forever grateful.
Eileen xo
If you click on the number of servings in the recipe card you can adjust the measurements up or down for the exact number of servings you need.
If you love this recipe please give it 5 stars and we would appreciate it so much! ⭐️⭐️⭐️⭐️⭐️
xo! Eileen
First published Septemer 4, 2018. Last updated July 16, 2021 for a better reader experience.
📖 Recipe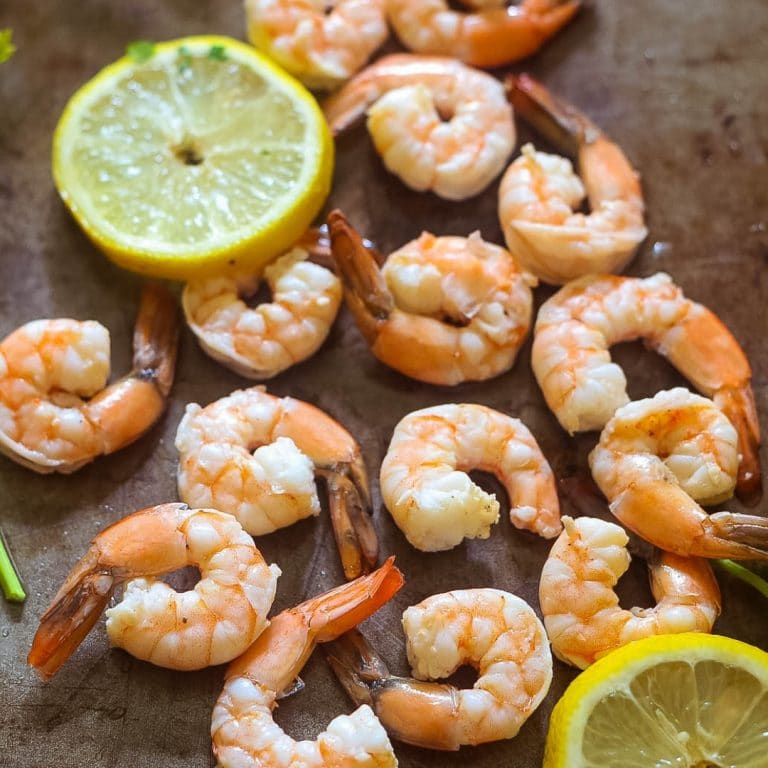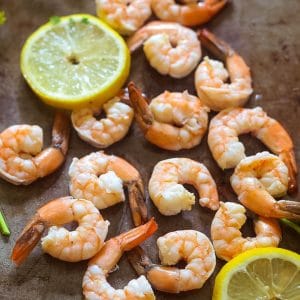 How to Make Poached Shrimp
Learn how to make the most tender poached shrimp every time. It is so easy to make poached shrimp at home with just a few easy steps. This is the perfect shrimp to make an amazing shrimp cocktail recipe.
Print
Pin
Rate
Equipment Needed:
As an Amazon Associate I earn from qualifying purchases
Ingredients
1

pound

extra large raw shrimp, peeled and deveined

see note 1

5

cups

cold water

10

whole

black peppercorns

see note 2

5

sprigs

fresh parsley

1

large

lemon, juiced

1

large

lemon, cut in half

1

teaspoon

Kosher salt

1

bay leaf
Instructions
In a large pot, over medium-high heat, add water, black peppercorns, fresh parsley, lemon juice, lemon halves, Kosher salt, and bay leaf.

Bring the water to a rapid boil.

Add the shrimp to the water. Remove the pot from the heat and cover with a lid.

Let the shrimp poach in the liquid about 5 minutes. Shrimp will be cooked through and pink in color.

While the shrimp poaches, prepare a large bowl of ice water. Set aside.

Use a wire mesh strainer or slotted spoon to remove the shrimp to the bowl of ice water.

Let shrimp cool for about 10 minutes before removing from the ice bath with a slotted spoon.

Serve shrimp with a dipping sauce such as cocktail sauce, make shrimp salad, add to pasta salads, etc.
Notes
Note 1: I use extra large shrimp 26/30 size, which averages about 26 shrimp per pound.
Note 2: If whole black peppercorns are not available, use 1 teaspoon black pepper.
Be sure to check Expert Tips and FAQs above with important tips and questions that can help make a delicious recipe.
Storage: Cooked shrimp can keep in the refrigerator in an air tight covered container for up to 2 days.
Any nutritional data I provide is an approximation and actual dietary information can vary based on ingredients and proportion sizes.

Weight Watchers 0 point
Nutrition
Serving:
8
shrimp
|
Calories:
121
kcal
|
Carbohydrates:
1
g
|
Protein:
23
g
|
Fat:
1
g
|
Saturated Fat:
0
g
|
Cholesterol:
285
mg
|
Sodium:
1479
mg
|
Potassium:
123
mg
|
Fiber:
0
g
|
Sugar:
0
g
|
Vitamin A:
120
IU
|
Vitamin C:
6.5
mg
|
Calcium:
185
mg
|
Iron:
2.7
mg