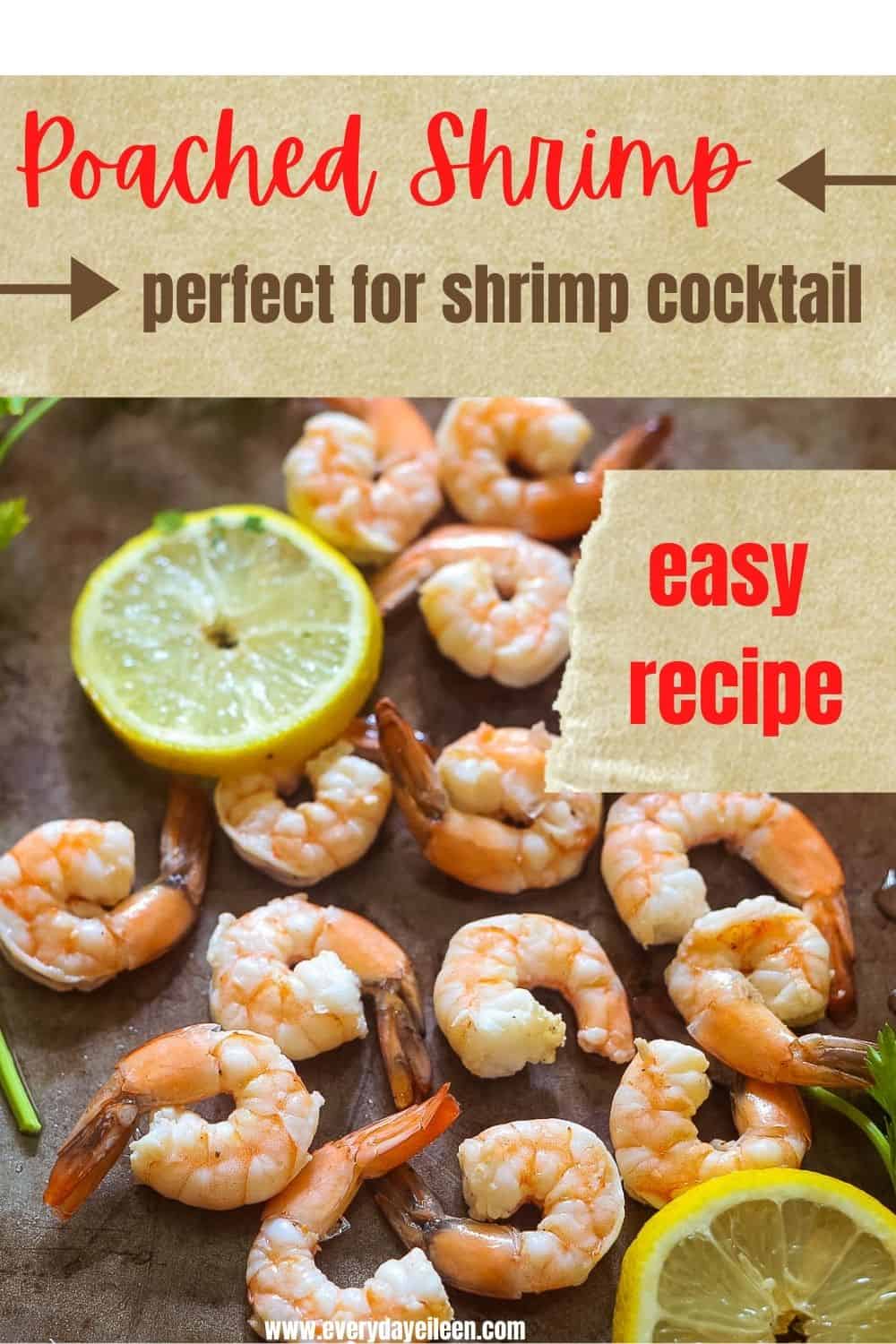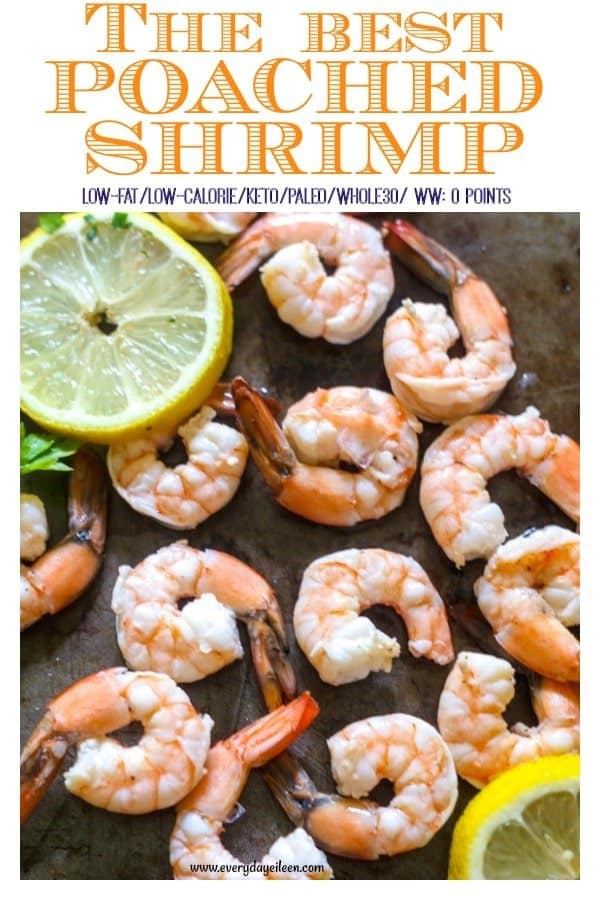 Want to serve an amazing homemade poached shrimp platter for your next party, date night, or like me – just love to eat shrimp. Well, I have got the easiest recipe for you to learn how to make the best shrimp! You will never need to buy an overpriced seafood platter again.
I cannot believe it has taken me so long to share my easiest appetizer, snack, tailgate winner, ever. This is a great base recipe for shrimp to pair with amazing dipping sauces that are always a hit.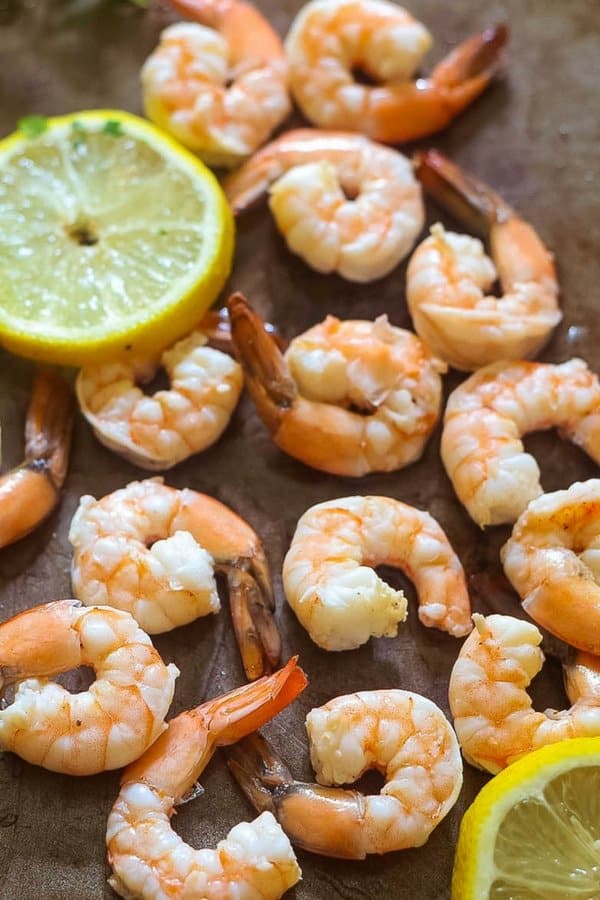 Every time I see a poached shrimp platter at the grocer, I look at the price and cringe. It is so much easier and affordable to purchase fresh shrimp from the market. Frozen shrimp will work too!
I am going to show how to make poached shrimp that is just delicious. You will not believe how easy poaching shrimp is and you won't be buying any pricey platters anymore.
Making your own poached shrimp makes great shrimp cocktail, pesto shrimp, or whatever dipping sauce you choose. Delicious! I can make about 3 pounds of shrimp for 1 pound of the store made platters!
Perfect Poached Shrimp
Now that my oldest daughter has moved out on her own, her lack of cooking skills is quite apparent. I love her to death, but she cannot cook! She always stayed in the kitchen and chatted with me, awesome a taste tester, but can't make a thing besides reservations.
My girl was going to buy one of those pricey shrimp platters for a party. She didn't know how to make it herself. This got me thinking. Learning how to poach shrimp is so easy, I mean it, so easy! Once you make poached shrimp the possibilities are endless.
My daughter can now poach the most delicious shrimp and so can you!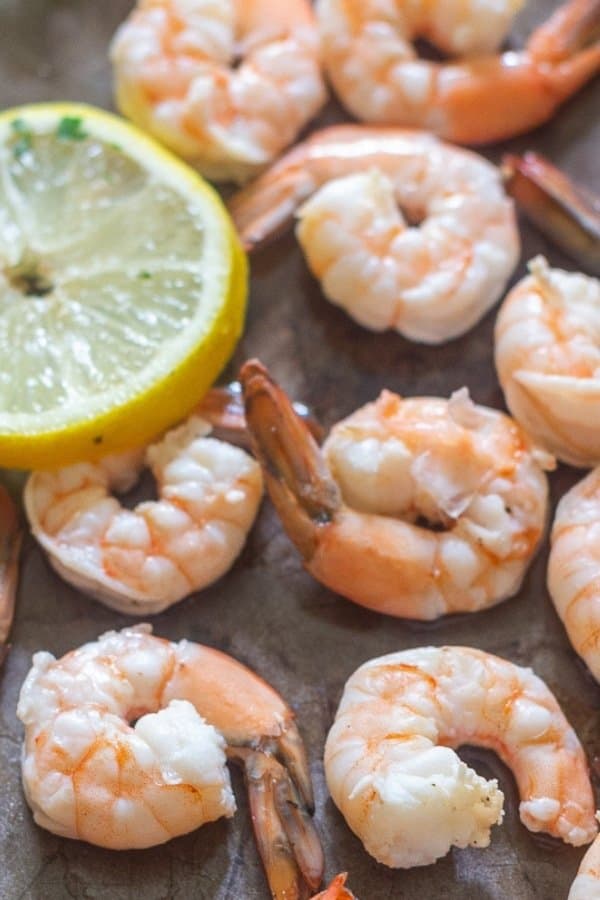 Poached Shrimp FAQs:
How can I defrost frozen shrimp quickly?
I always keep a bag of frozen shrimp in the freezer. To defrost quickly, in a large bowl, add the frozen shrimp and run cold water on the shrimp. Stir occasionally, after 5 – 8 minutes, drain the water and add more cold water. Stir shrimp, they should be defrosted in about 15-20 minutes.
What is the overnight method of defrosting shrimp?
On a rare occasion, I plan ahead, and I want to defrost frozen shrimp. Place the frozen shrimp in a bowl in the fridge. Cover bowl with plastic wrap. In the morning, shrimp are ready to cook.
What is poaching?
In cooking, poaching always means the food will be quickly cooked in a liquid, such as water, milk, or wine that is flavored with spices or citrus. The food is generally used in various other recipes. It's very common poaching shrimp, chicken, salmon are all popular poa food.
How long can shrimp be kept in the fridge before cooking?
Whether you are defrosting shrimp or keeping fresh shrimp in the fridge, use within 1-2 days. In other words, once you have defrosted the shrimp, be ready to cook and enjoy.
Can the tails be removed before poaching the shrimp?
Sure, depending on your recipe, the tails can be removed before poaching.
My family and I love shrimp and seafood recipes. If you enjoy this one you should also try:
Easy Shrimp Scampi and Spaghetti
Crispy Baked Coconut Shrimp with Spicy Orange Dipping Sauce
Lighter Linguine with Clam Sauce
This post contains affiliate links for your convenience (which means if you make a purchase after clicking a link I will earn a small commission which helps keep my blog up and running but it won't cost you a penny more!) We are a participant in the Amazon Services LLC Associates Program, an affiliate advertising program designed to provide a means for us to earn fees by linking to Amazon.com
Tools to make Poaching Shrimp easy:
Dutch Oven, I love and use this one often and it's quite affordable!
Salt and pepper combo is a favorite! I love using whole peppercorns and Himalayan salt
Platter: Shrimp is an awesome treat and I love keeping it cold on this platter.
Checkout my store. I am always updating great finds for not just cooking, I hope you check it out here, Everyday Eileen I will continue to update it regularly!
How to Poach Shrimp:
If the shrimp is not already cleaned and deveined, do so! Here is a great tutorial if you aren't sure how! I try to purchase already clean and deveined shrimp.
In a large pot, add water, lemon juice, toss the lemon in as well, bay leaf, black peppercorns.
Bring the water to a boil and add the shrimp.
Cover the pot with a lid and remove from heat. Let the shrimp poach in the hot water about 5 minutes.
Move shrimp to an ice bath or place shrimp in the refrigerator to cool.
How to serve the Best Poached Shrimp Recipe
Serve poached shrimp with dipping sauces like Homemade Cocktail Sauce.
Poached shrimp goes well in pasta salads.
Champagne Vinaigrette is a great topping for a shrimp salad!
Shrimp can be served as a light dinner or lunch over lettuce or in a hoagie bun.
Give us a like on FACEBOOK
For great recipes and tips, follow along on Pinterest.
Thank you for always sharing my passion and love for food and family!
xo! Eileen
Are you loving this recipe, giving it a 5-star rating and any comments are super helpful for me and very much appreciated.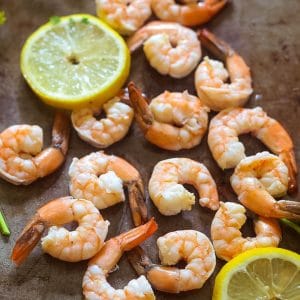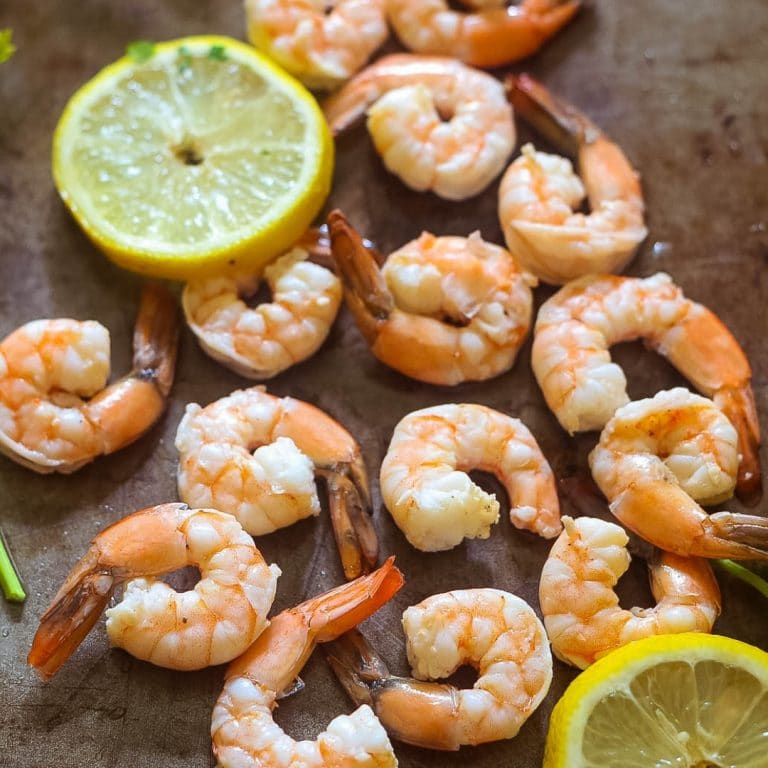 How to Make Poached Shrimp
Learn how to make perfect poached shrimp every time. This technique is easy and you will always have perfect shrimp. This is great for shrimp cocktail.
Print
Rate
Equipment Needed:
Ingredients
1

pound

raw shrimp, peeled and deveined

see note 1

5

cups

cold water

10

whole

black peppercorns

see note 2

5

sprigs

fresh parsley

1

cloves

garlic, peeled

1

large

lemon, juiced

1

large

lemon, halves (use the lemon that you juiced)

1

teaspoon

Kosher salt

1

bay leaf
Instructions
In a large pot, over medium-high heat, add water, black peppercorns, fresh parsley, garlic, lemon juice, Kosher salt, bay leaf. Bring the water to a boil Add the shrimp and remove the pot from the heat and cover with a lid.

Let the shrimp poach in the liquid about 5 minutes. Shrimp will be cooked through. The shrimp will be bright pink and they curl.

Remove the shrimp to a bowl filled with ice to cool. Or remove the shrimp to a bowl and place in the fridge to cool.

Serve shrimp with a dipping sauce such as cocktail sauce, make shrimp salad, add to pasta salads, etc.
Notes
Note 1: I use large shrimp 31 - 35 which averages about 33 shrimp per pound.
Note 2: If whole black peppercorns are not available, use 1 teaspoon black pepper.
Note 3: Keep the shrimp well covered in the fridge for up to 2 days.
Any nutritional data I provide is an approximation and actual dietary information can vary based on ingredients and proportion sizes.

Weight Watchers 0 point
Nutrition
Serving:
8
shrimp
|
Calories:
121
kcal
|
Carbohydrates:
1
g
|
Protein:
23
g
|
Fat:
1
g
|
Saturated Fat:
0
g
|
Cholesterol:
285
mg
|
Sodium:
1479
mg
|
Potassium:
123
mg
|
Fiber:
0
g
|
Sugar:
0
g
|
Vitamin A:
120
IU
|
Vitamin C:
6.5
mg
|
Calcium:
185
mg
|
Iron:
2.7
mg
Pin to make anytime