Crispy baked coconut shrimp with spicy orange dipping sauce is a delicious appetizer, game day deliciousness and it makes a great entrée! These are baked and not fried which makes them low-fat and low-calorie. The panko breadcrumbs, coconut flour, and coconut flakes give a crispy crunchy coating! Trust me, you will never fry again! #FootballFoods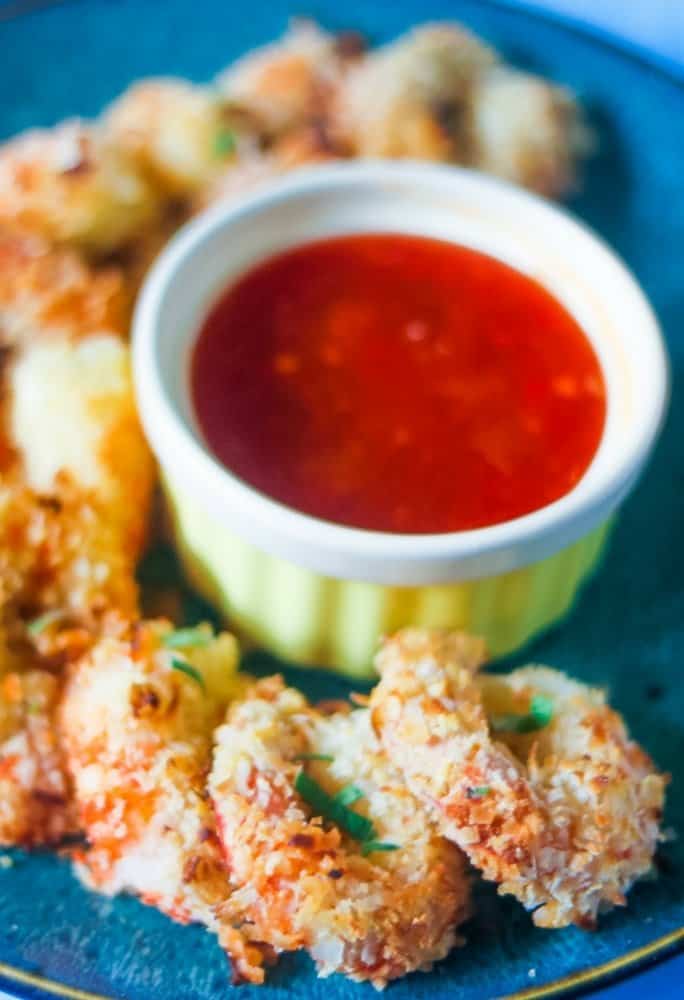 Today is all about Game Day foods! My family and I are sports fanatics and football is on from September to February! For my family, this means let's eat easy delicious fun food and watch the game! Sometimes there are foods you just have to eat and deal with the calories tomorrow. Then again, when I can make an amazing appetizer or meal and it's lower in fat, calories, carbs and tastes outrageous - well why would I do anything else! Hence, we have this amazing Crispy Baked Coconut Shrimp with a Spicy Orange Dipping Sauce!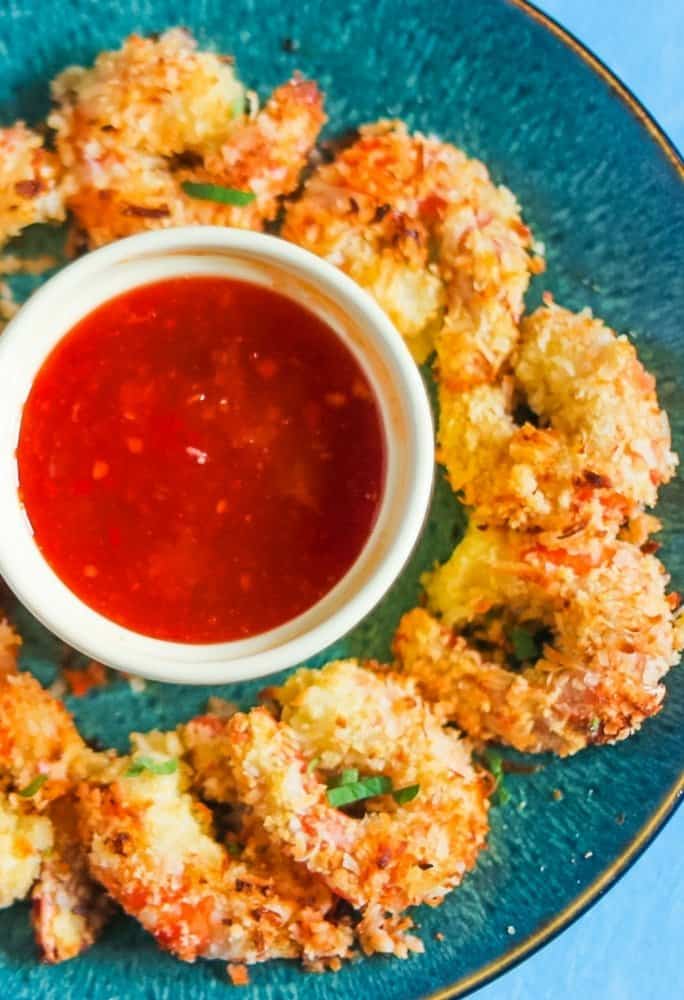 A few years ago, after becoming very sick I changed a lot of how I ate. I experimented with making many of my favorite dishes, healthier. These baked coconut shrimp were one of the first recipes I worked on.
These are my easy swaps to make these healthy baked shrimp:
Baking, not frying reduces the calories in this easy baked coconut shrimp recipe.
The coconut shrimp stays super crispy by using Panko breadcrumbs, coconut flour, and a coconut oil spray!
Using coconut flour keeps this low-carb too!
Use an egg white and coconut milk to make the egg wash again keeps calories down and coconut flavor strong.
I made these again this past weekend! The Hubs said these Crispy Baked Coconut Shrimp with Spicy Orange Dipping Sauce have moved to the top of his favorites list!
How to make Baked Coconut Shrimp?
Season, season, season! Don't skip seasoning the coconut flour for added flavor.
Dip shrimp in order of flour, egg wash then coconut to ensure crispy shrimp.
After dipping in egg wash, make sure to shake off any excess egg wash before placing in coconut, ensures a good coconut coating.
Spray baking sheet with non-stick coconut oil spray, any spray works great.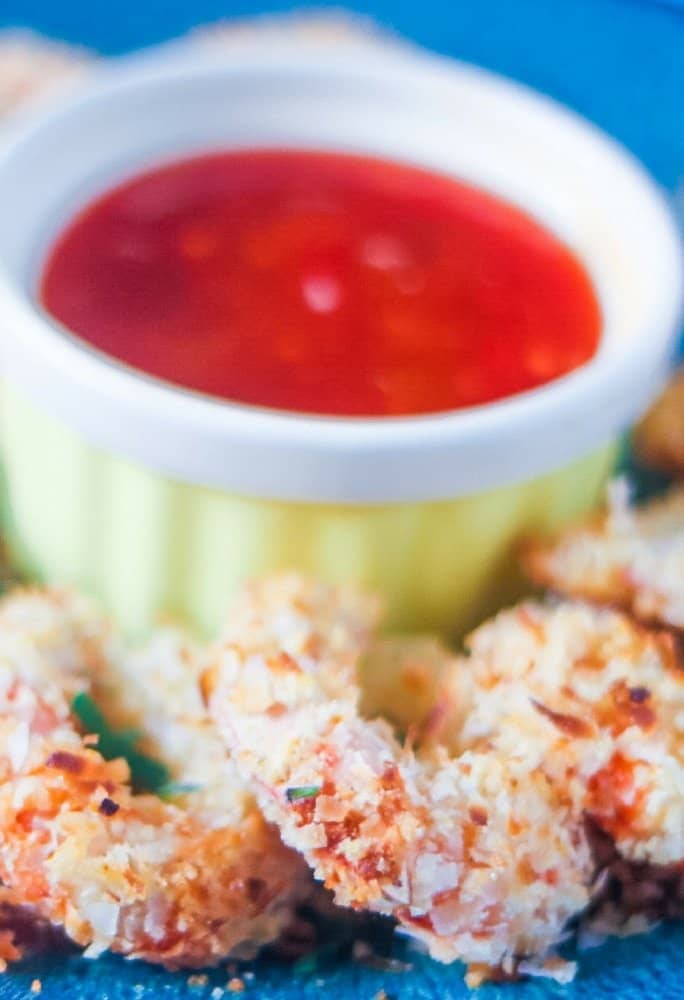 How to make Coconut Shrimp Dipping Sauce:
To make the coconut shrimp dipping sauce, in a small bowl, combine sweet chili sauce, orange marmalade, and sambal oelek. Refrigerate until ready to use.
What is Sambal oelek?
Sambal Oelek is used in the coconut shrimp dipping sauce. It is a chili paste that has a nice spice to it. I get it in the Asian section of my grocer. I am also lucky to have access to a lot of Asian grocers in NYC. You can also order from Amazon .
Today is Football Food day! A great event hosted by Wendy at A Day In The Life on the Farm! Thank's so much Wendy for hosting this awesome collection of #FootballFoods.
I am super excited to check out everyone's recipes today! They all sound absolutely delicious.! Looking forward to making these amazing food bloggers recipes! Enjoy clicking through to the recipes below:
Some other of my favorite Football Foods are:
Baked Pecan Crusted Chicken Tenders with Creole Sauce
Mediterranean Veggie Flatbread Pizza
Easy Crispy Baked Buffalo Chicken Wings
Easy Slow Cooker Mexican Shredded Beef Tacos
Chicken Satay with Spicy Peanut Dipping Sauce
Easy Grilled Truffle Oil Potato Wedges
Can these baked coconut shrimp be made gluten-free?
Sure. There are a few really good gluten-free panko bread crumbs out there easily found in grocery stores.
Can these be made without eggs?
I prefer using eggs because they help the coconut to stick to the shrimp. I've made it with just using coconut milk on the shrimp. In this case, I use extra coconut flakes and panko. Dip the shrimp twice. ie coconut milk, coconut/panko, coconut milk, coconut panko.
Can frozen shrimp be used for this recipe?
You can use frozen shrimp. Defrost the shrimp according to the manufacturer's instructions. Usually, it is in the fridge and they are defrosted in a few hours.
When you make this easy baked coconut shrimp recipe, take everyday_eileen or #everydayeileen with a pic! I love seeing your recipes.
Leave your comments and questions below! Any questions about the recipe, ask in the comments sections!
I HOPE YOU CONTINUE CONNECTING WITH ME
THANK YOU FOR ALWAYS SHARING MY PASSION AND LOVE FOR FOOD AND FAMILY!
It would be awesome if you could rate the recipe after you make it!
📖 Recipe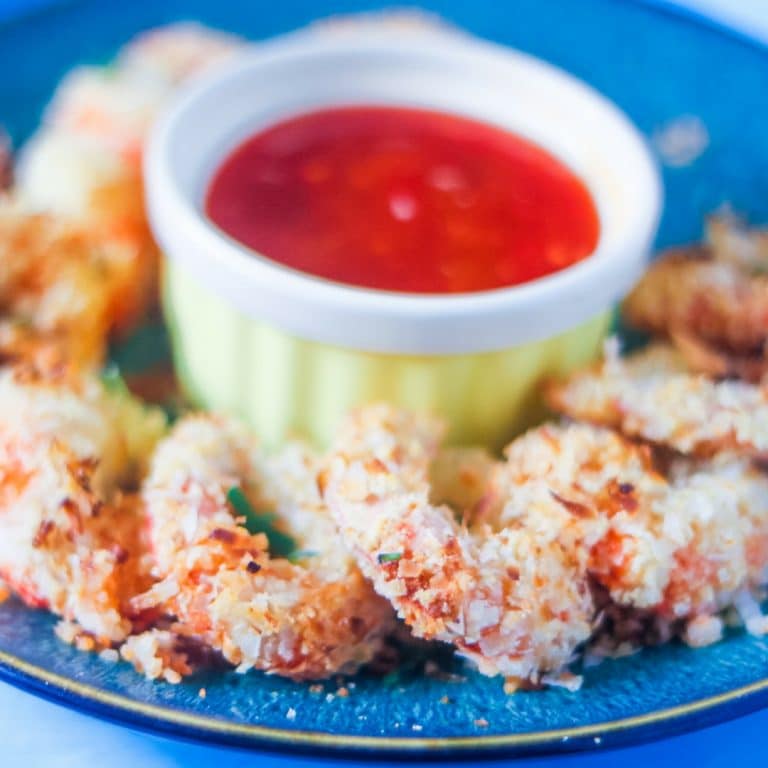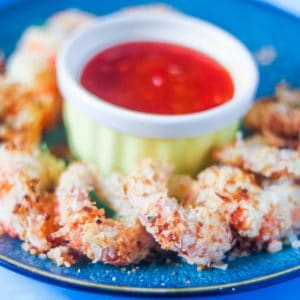 Crispy Baked Coconut Shrimp
Crispy Baked Coconut Shrimp served with Spicy Orange Dipping Sauce is always a favorite! A great recipe for a tasty appetizer or an easy dinner recipe.
Print
Rate
Equipment Needed:
As an Amazon Associate I earn from qualifying purchases
Ingredients
Baked Coconut Shrimp
1

pound

uncooked large shrimp, peeled and deveined

We prefer the tail-on for presentation.

½

cup

coconut flour

all-purpose flour can be used

½

teaspoon

garlic powder

½

teaspoon

onion powder

½

teaspoon

black pepper

¼

teaspoon

salt, or to your taste

1

large

egg

1

cup

coconut milk

or milk of choice

1

cup

sweetened coconut flakes

½

cup

Panko bread crumbs
Spicy Dipping Sauce
⅓

cup

Thai sweet chili sauce

¼

cup

orange or apricot marmalade

½

teaspoon

sambal oelek
Instructions
Prepare the Coconut Shrimp
Preheat the oven to 425°F/218.33°C. Place oven rack in center of oven.

Rinse the shrimp and pat dry, set aside.

In a medium-size mixing bowl, whisk together the coconut flour, garlic powder, onion powder, ground black peppe, and salt.

In a second medium-size mixing bowl, whisk together the egg and coconut milk, until well combined.

In a third mixing bowl, combine the Panko bread crumbs and sweetened coconut flakes to combine well.

Spray a baking rack with non-stick baking spray and place it on the baking sheet.

Dip each piece of shrimp, first in the flour mix, then egg wash, off excess egg wash. Then place the shrimp into the coconut mixture to coat well with the coconut/Panko mix. Then place the shrimp onto the coated cookie sheet.

Repeat the flour, egg wash, coconut mixture until all the shrimp are coated and on the baking rack.

Once all the shrimp are on the sheet pan, give the top of the shrimp a quick spray with the non-stick cooking spray. Place the cookie sheet on the center rack of oven and cook between 10 to 15 minutes, depending on the size of the shrimp and serve with dipping sauce below.
Spicy Orange Dipping Sauce
Combine and mix well the Thai Sweet Chili Sauce, marmalade of choice, and sambal oelek. Keep refrigerated until ready to use. Adjust spice to your liking
Notes
Using coconut flour is great for a low-carb diet. You can use all-purpose flour if you are not gluten-free or on a low-carb meal plan.
I prefer coconut milk to extend the coconut flavor. You can use low-fat milk or buttermilk with the eggs for the egg wash.
Any nutritional data I provide is an approximation and actual dietary information can vary based on ingredients and portion sizes
Nutrition
Serving:
5
shrimp
|
Calories:
431
kcal
|
Carbohydrates:
50
g
|
Protein:
28
g
|
Fat:
12
g
|
Saturated Fat:
9
g
|
Cholesterol:
332
mg
|
Sodium:
1400
mg
|
Potassium:
199
mg
|
Fiber:
8
g
|
Sugar:
32
g
|
Vitamin A:
70
IU
|
Vitamin C:
5.6
mg
|
Calcium:
217
mg
|
Iron:
3.7
mg