Cherry Coconut Granola is a delicious and easy recipe to prepare! Homemade granola is a also easy on the wallet and you can vary your ingredients to your favorite flavors!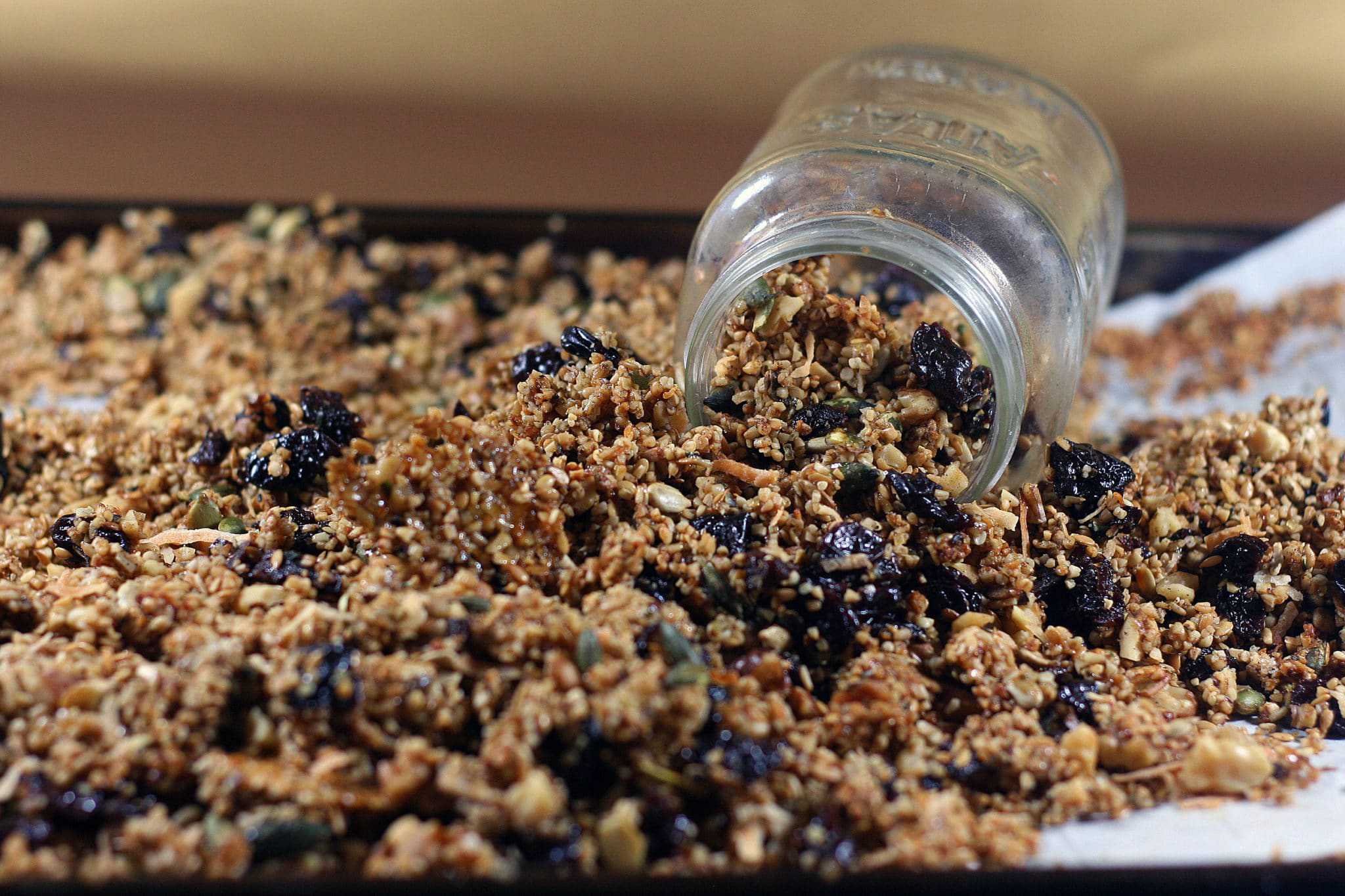 Welcome to 2016, albeit a little late for me! I hope everyone is having a great year so far! I have had an interesting few days! Half my family had the flu and we are down to my youngest having a respiratory infection and hoping she will be feeling better tomorrow! I have to share that you should be glad this is not YouTube because currently I am on a 24 hour EEG monitor. You are probably wondering what the heck and why? Yup, me too! If you were not aware, I had a stroke 2 years ago, so this is part of the resolution process for my doctor. Currently, I am wired up to probes on my head that are connected to a monitor until tomorrow! I look ridiculous! Well, enough of that now let's get on to a happy and healthy 2016! I certainly hope this is it for the year and we are on an upswing!
Have you made a New Year Resolution? I am hoping to be more organized! I have had my blog for just a few months and I want to thank everyone! I honestly am so thrilled to have made many new friends and I can't believe that in 5 months I have been so fortunate to have quadrupled my viewers. I know I still have a long way to go and so much to learn, but looking forward to the ride! I want to bring more recipes and some fun things to everyone!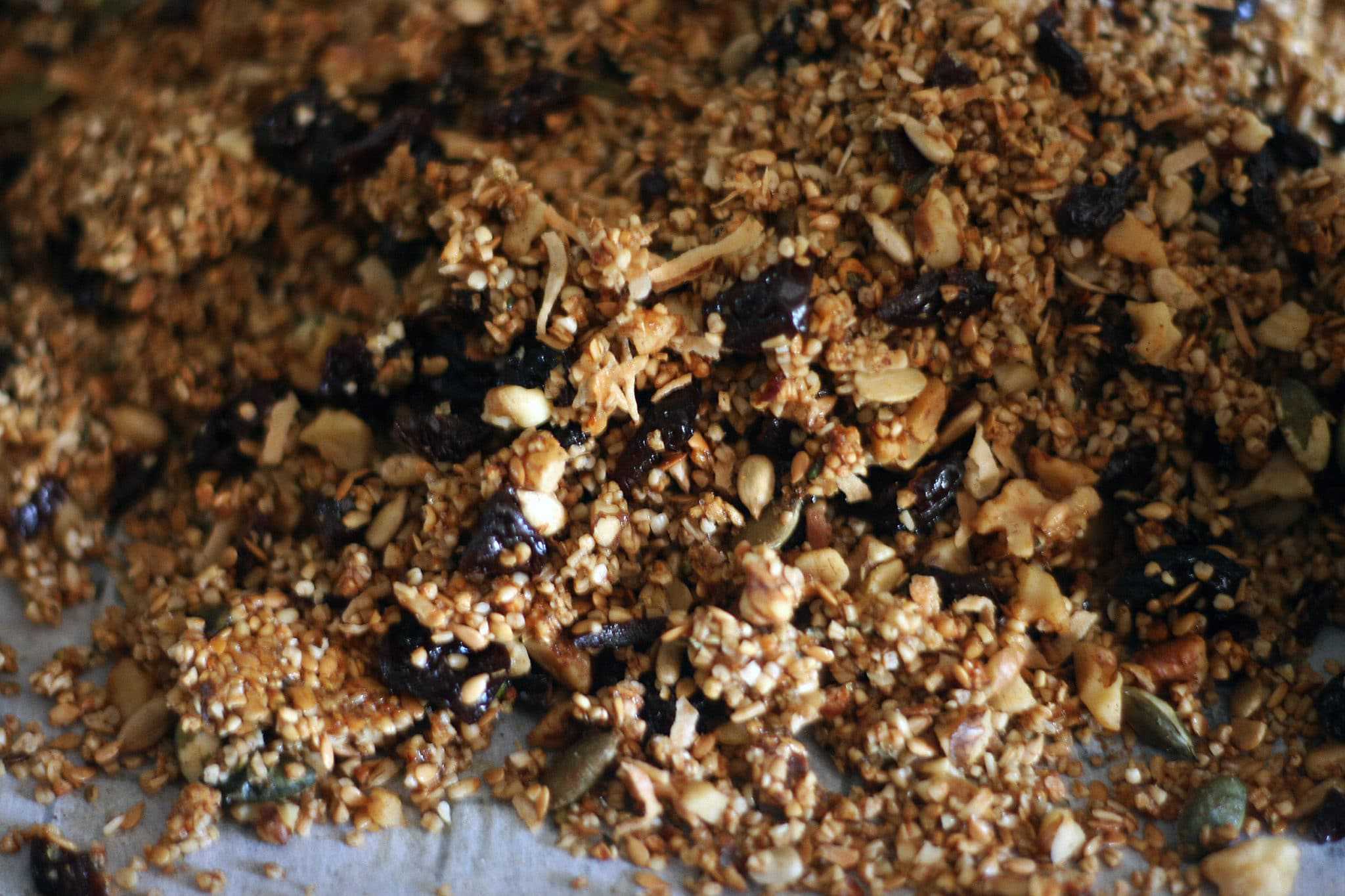 So here it is, a wee bit late, but my first recipe of 2016. If you haven't guessed already, it is Cherry Coconut Granola! I am not kidding, you will never buy an expensive box of granola again! Really, no joke, it is so easy and addicting and guess what, it is not full of extra preservatives and words with lots of vowels that I have no idea what they mean except that they can't be good for anyone's body!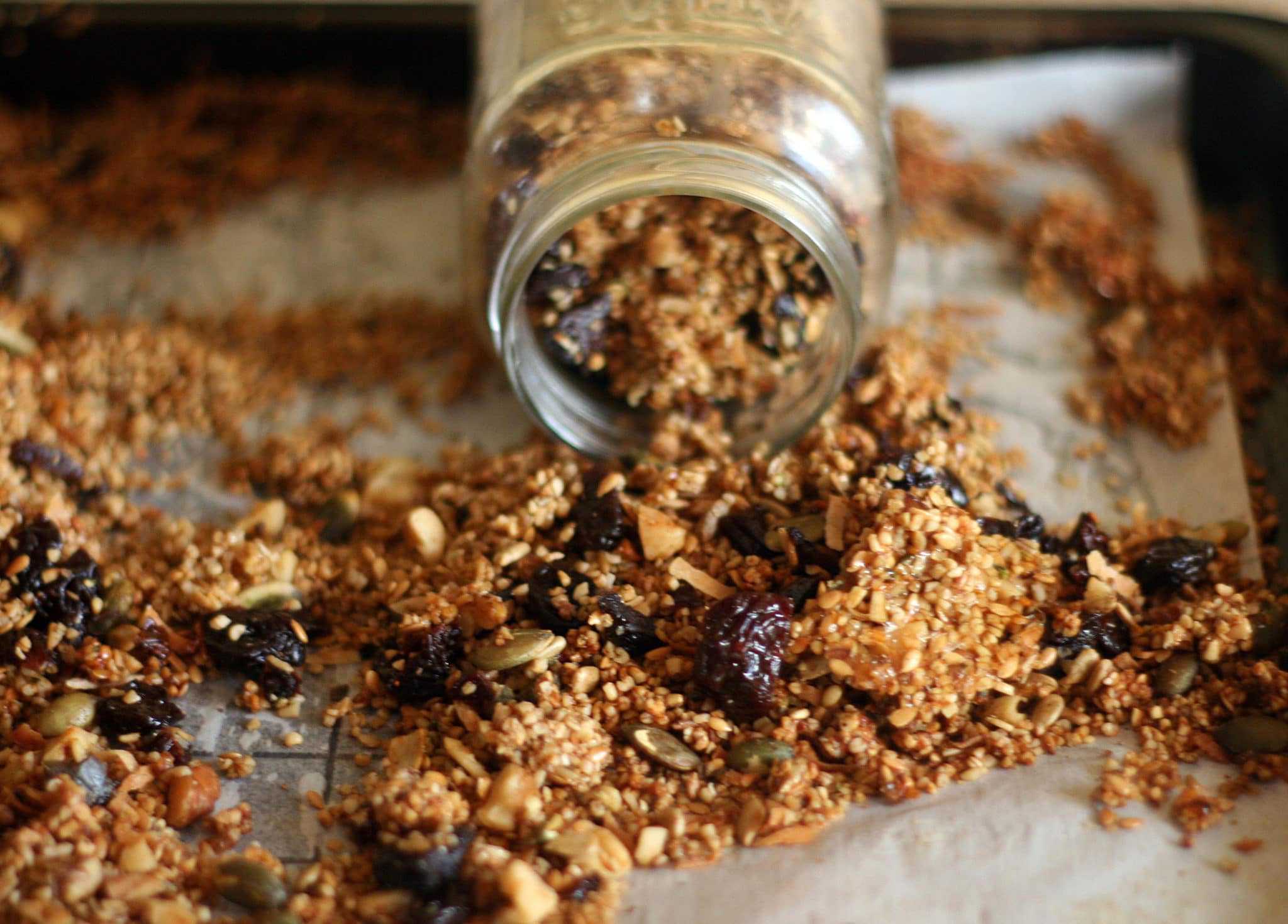 What I love with any homemade granola is the versatility! I recommend a few cooking tips based on many batches of granola!
Use steel-cut oats and not instant or quick cooking oats, that is just the way it is, quick cooking doesn't work as well
Mix the wet ingredients together and add them to the dry ingredients, granola will coat better
Use parchment paper on your cookie sheet for easy clean, quick and easy clean-up
Add a little salt, adds flavor
Add dried fruit after cooking, adds a nice texture balance
Use either Raw Honey, Pure Maple Syrup, or Agave - they are pure and super tasty
Finally, experiment with different oats, grains, nuts, fruits, and sweeteners - quinoa, chia seeds, pepitas, pecans, walnuts, coconut oil, you get the idea!
I prefer the oven temperature at 325 degrees, that is just what works for me
Well, now that I have gotten all my opinions out, I hope you love this recipe! Have your granola with almond milk, yogurt parfait, as a mid-morning snack, any way you like your granola! I bet you will become a homemade granola connoisseur after this batch. I would love to hear your combinations, keep me informed people!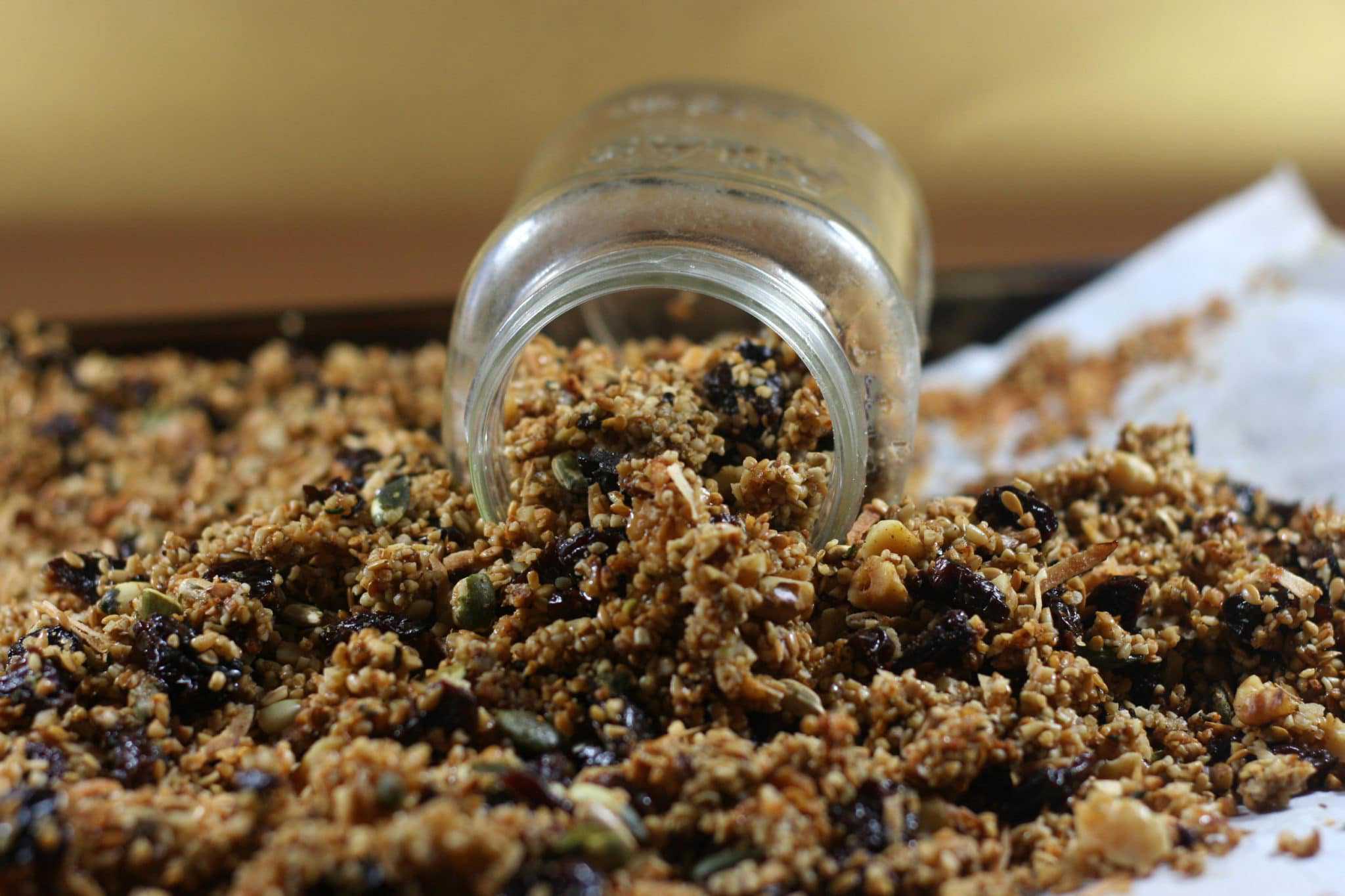 I hope you like this recipe as much as my family, and if so, please share the love on Facebook, Pinterest, or your favorite way of relating to your friends and family, and please continue connecting with me on Instagram, Pinterest, Twitter, Bloglovin, Google Plus ! Feel free to subscribe to my newsletter to never miss a recipe!
Thank you for always sharing my passion and love for food and family!
xo!
Cherry Coconut Granola
Homemade granola made with dried cherries, shredded unsweetened coconut, pepitas, hemp seeds, sunflower seeds and other deliciously healthy sweeteners and grains. Great for breakfast with Almond Milk, a topping for a yogurt parfait, or as a snack! You will never buy a store bought box of granola again!
Print
Rate
Equipment Needed:
Ingredients
3

cups

steel-cut oats

¾

cup

shredded unsweetened coconut

½

cup

hemp seeds

½

cup

flax seeds

¼

cup

sunflower seeds

¼

cup

pepitas, unsalted

½

cup

chopped walnuts

2

Tbs.

turbinado sugar

⅔

cup

raw honey

3

Tbls.

coconut oil

1

teaspoon

pure vanilla extract

1

tsp.

cinnamon

1

tsp.

nutmeg

⅓

cup

raisins

1

cup

dried cherries, chopped
Instructions
Preheat oven to 325 degrees.

Toss the steel-cut oats, shredded unsweetened coconut, hemp seeds, flax seeds, sunflower seeds, unsalted pepitas, chopped walnuts, turbinado sugar, cinnamon and nutmeg together.

In a separate bowl, combine the raw honey, coconut oil. ( Make sure the coconut oil is liquified - if solid, either microwave or heat in a pot on the stove to liquify), and vanilla extract.

Combine the wet ingredients into the dried granola mix and blend well.

Line a cookie sheet with parchment paper and add the blended granola mixture to the cookie sheet.

Bake in the oven for 20 minutes, stirring occasionally. After 25-30 minutes, granola should be golden. Let cool and add in the raisins and dried cherries. Store in an airtight container