This post is sponsored in conjunction with #BBQWeek. I received product samples from sponsors to use in creating #BBQWeek recipes. However, all opinions are mine alone.
Eggplant Caprese is my twist on the classic Tomato Caprese Salad. Laying grilled eggplant, fresh mozzarella, and fresh basil topped with either Skinny Basil Pesto or Balsamic Glaze makes this an epic appetizer or side dish. This grilled eggplant recipe is an easy one to prepare and can be served hot or at room temperature. #BBQWEEK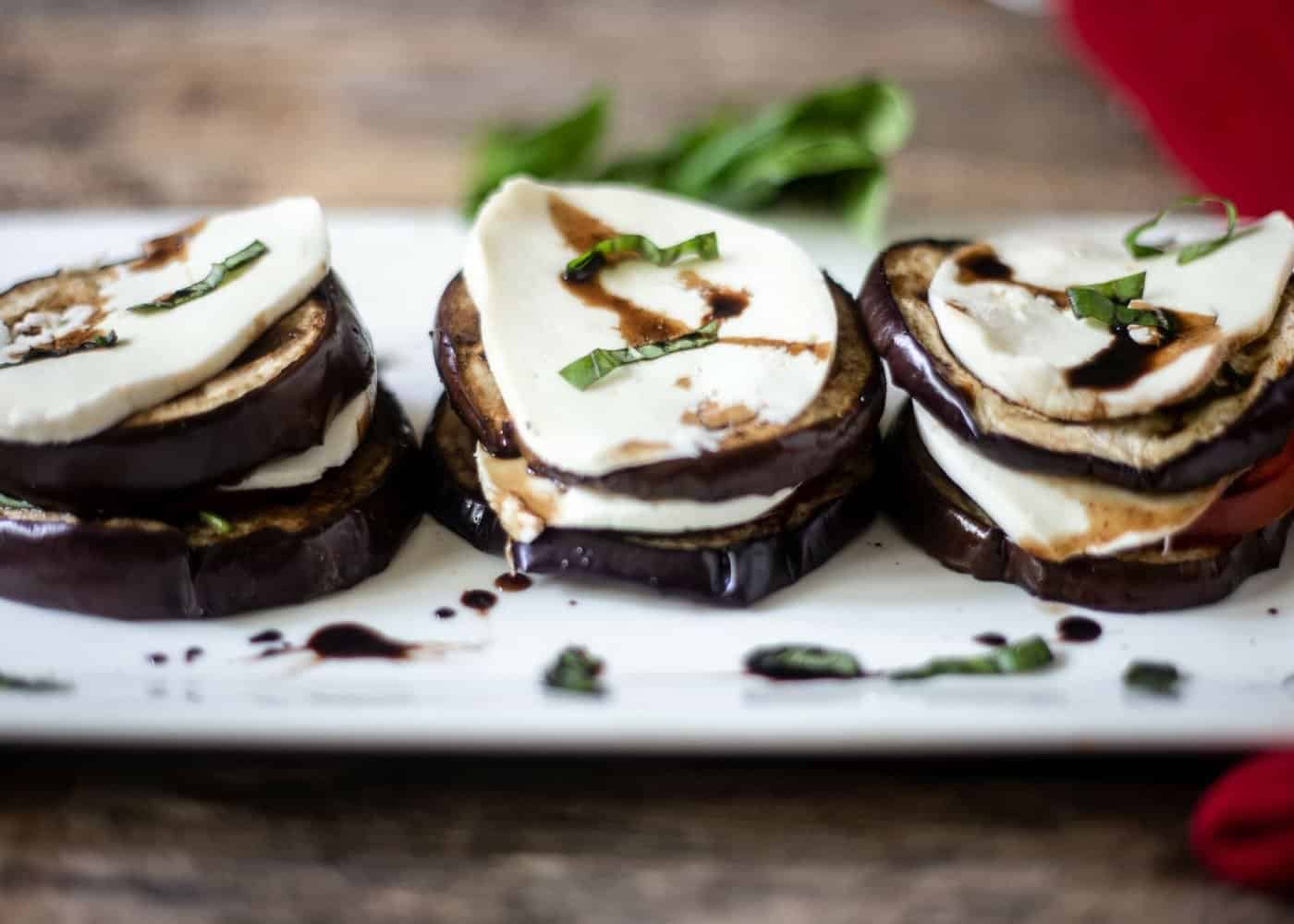 I am so excited for this week as I am celebrating BBQ week with some of my favorite sponsors. I knew immediately that I wanted to share this super Easy Grilled Eggplant Caprese Salad. I am a huge eggplant fan and grilling eggplant is easy and a great way to add more vegetables into my families diet.
Although my vegetable garden is not producing anything yet, I am getting fabulous eggplants and tomatoes from my local produce market. My Eggplant Caprese salad takes the Caprese Salad to the next level, an amazing blend of eggplant, tomato, and mozzarella = delicious!
Eggplant is a super healthy fruit, yes eggplant is a fruit, go figure! When I got sick a few years ago, in my research of foods to amp up in my diet, I was pleasantly surprised to know that one of my favorites foods was really healthy to eat.
A few healthy FAQ's to keep you making Grilled Eggplant Recipes:
Like mushrooms, Eggplants are 90% water which makes them a good weight loss food, feel full faster.
Eggplants contain polyphenols which can aid in cancer prevention.
These yummy eggplants are full of Vitamin K which improves bone density and prevents osteoporosis.
Dietary Fiber reduces risks of heart disease and bad LDL to reduce cholesterol and eggplant is loaded with fiber, 14% of your daily requirement.
Eggplants contain folates which are essential for everyone but especially pregnant woman, so enjoy your eggplant.
Then there is my favorite, eggplant has bioflavonoids, which helps reduce high blood pressure.
Let's not forget about the tomatoes in this Grilled Eggplant Salad! Tomatoes are also an awesome fruit that has many health benefits. I love this article about the benefits of tomatoes. My favorite benefit of tomatoes is that they contain lycopene, which aids in reducing the risk of strokes. Combing an eggplant, tomato, and mozzarella makes not only a delicious meal but it is super healthy. I can justify the mozzarella cheese because the eggplant and tomato are so healthy, moderation at its best!
So you can not only enjoy eating my Eggplant Caprese Salad, you are also eating a really healthy meal. A win-win for everyone.
When making Eggplant Caprese, do you need to salt the eggplant and why?
Salting eggplant before cooking or grilling helps to reduce the bitterness. I salt the eggplant for about 20minutes. Then I rinse and dry the eggplant before cooking or grilling.
Do you need to remove the skin before making any grilled eggplant recipes?
The skin on eggplant is full of vitamins and it can be eaten. Especially, in the Eggplant Caprese Salad, keep the skin on the eggplant to ensure the shape stays intact.
How do you store eggplant before using in any recipe?
Eggplant does not need to be refrigerated and it should be used within a few days of purchasing or taking off its vine. Keep the eggplant at room temperature.
Love eggplant and tomatoes as much as I do, check out these yummy recipes:
Slow Cooker Mediterranean Eggplant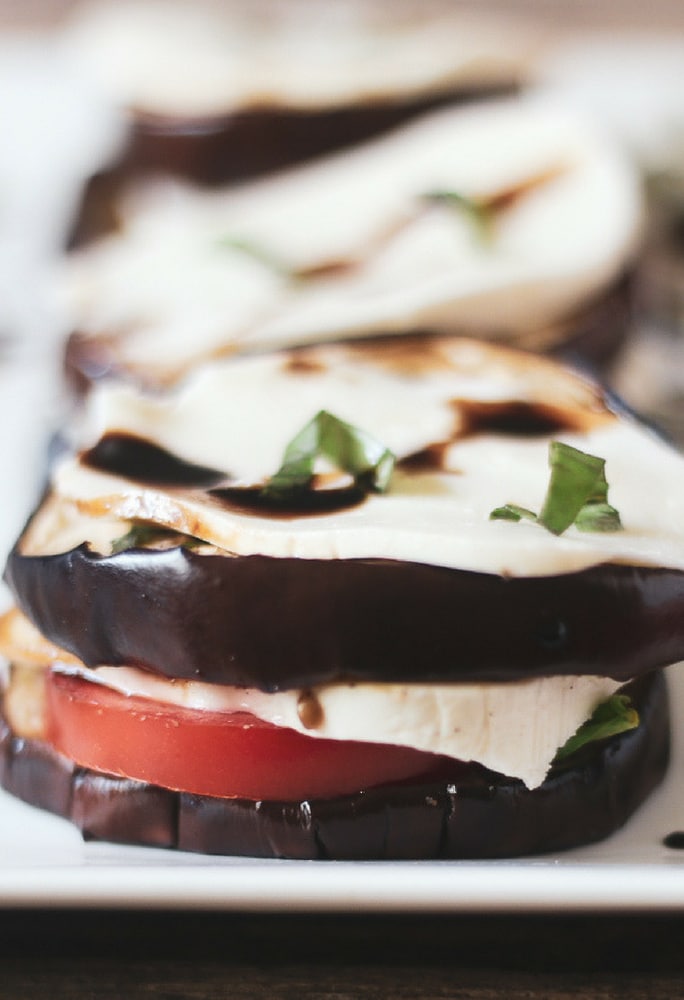 Welcome to #BBQWEEK! This week you'll enjoy more than 70 recipes from more than 20 bloggers. There is also the opportunity to win one of three great prizes from our sponsors. Thank you to Michigan Asparagus for providing bloggers with freshly harvested asparagus, to Adams Extract & Spice for wonderful rubs and spices for grilling and Not Ketchup for bloggers choice of sauce.
Prize Number 1: $100 Gift Card Courtesy of Michigan Asparagus (Value $100)
Michigan Asparagus is known for its hand snapped fresh asparagus. It is available May – June and grown mostly in Oceana County along the shores of Lake Michigan. Michigan Asparagus has excellent flavor and a long shelf life. It is a nutrient-dense, low-calorie vegetable with no fat, no cholesterol, and very little sodium. Approximately 120 local Michigan farmers produce approximately 20 million pounds of Michigan Asparagus during the state's 6-7 week harvest. Remember to buy U.S. for the freshest of the fresh.
Prize Number 2: Not Ketchup Sampler 5-Pack (Value $40)
Not Ketchup is a line of fruit gourmet grilling and dipping sauces with no added sugar, no corn syrup, and no artificial sweeteners. They are gluten-free, dairy-free, soy-free, paleo, vegan, low-carb and Whole30 friendly.
Flavors in the sampler pack:
Tangerine Hatch Chile Not Ketchup blends sweet-tart California tangerines with a touch of heat from authentic Hatch chiles from New Mexico. Favorite pairings: fish, chicken, turkey
Cherry Chipotle Not Ketchup combines ripe cherries with the subtle, smoky heat of chipotle pepper. Favorite pairings: burgers, steak, salmon, ribs, meatballs
Blueberry White Pepper Not Ketchup takes blueberries to the savory side with a touch of mustard and a little kick of white pepper. Favorite pairings: lamb chops, shrimp, scallops, pork tenderloin, goat cheese
Smoky Date Not Ketchup mixes the natural sweetness of sun-ripened California dates with aromatic smoked paprika. Favorite pairings: pork chops, roast turkey, rotisserie chicken, ham, sausages
Spiced Fig Not Ketchup blends rich California Mission figs with warm spices like cinnamon, anise and black pepper. Favorite pairings: Leg of lamb, steak, roast chicken, cheddar cheese

Prize Number 3: A bottle of vanilla and a selection of rubs from Adams Extract & Flavors (Value $30)
From humble beginnings in Battle Creek, Michigan, to a rooted history in Texas, one thing has stayed the same: a commitment and passion to provide only the highest quality and innovative products and services. For over 125 years it's really been that simple...make great food taste even better! Today, Adams proudly manufactures and markets under several Adams Brand banners, including Adams Best®, Adams Extract®, Adams® Seasoning & Spice, Adams Reserve®, Flavor King™, Pantry Basics™, Sear-n-Crust®, ClearVan™, Carniceria®, Cocina del Rey®, Naturals™, and Urban Canner™ along with the Adams Frozen Skillet Desserts and Adams Premium Ice Cream lines.
Such great prizes. Enter for a chance to win one of these great prizes:
Now check out the most delicious recipes from some of the best food bloggers out there celebrating #BBQWEEK:
See what the bloggers served up Monday for #BBQWeek
Asiago Garlic and Bacon Grilled Asparagus by Daily Dish Recipes
Asian Grilled Asparagus by Books n' Cooks
Blackened Chicken, Asparagus & Avocado Salad by Tip Garden
Chicken and Asparagus Grilled Pizza by Jolene's Recipe Journal
Chicken Souvlaki Kabobs by A Kitchen Hoor's Adventures
Double Blueberry Bison Burgers by Culinary Adventures with Camilla
Grilled Asparagus Summer Caprese Salad by Faith, Hope, Love, & Luck Survive Despite a Whiskered Accomplice
Grilled Blueberry and White Pepper Pork Chops by Corn, Beans, Pigs & Kids
Easy Lighter Grilled Buffalo Chicken by Jonesin' For Taste
Grilled Asparagus with Mustard Dill Sauce by Strawberry Blondie Kitchen
Grilled Caesar Asparagus by 4 Sons 'R' Us
Grilled Chicken with Pineapple Salsa and Asparagus by Simple and Savory
Grilled Eggplant Caprese Salad by Everyday Eileen
Grilled Fruit & Cake Kabobs by Red Cottage Chronicles
Grilled London Broil by Hezzi-D's Books and Cooks
Grilled London Broil with Chimichurri Sauce by Cookaholic Wife
Grilled Pork Burgers with Hawaiian-Style Buns by Karen's Kitchen Stories
Grilled Sweet and Spicy Mustard Pork Chops by Soulfully Made
Meat Lover's Kebabs by Cindy's Recipes and Writings
Southwestern 7 Layered Dips by The Freshman Cook
Tangerine Hatch Chile Grilled Chicken Fajitas by Family Around the Table
Tangerine Hatch Chile Honey Chicken Kebabs by Palatable Pastime
Disclaimer: Thank you to #BBQWeek Sponsors Adam's Extracts, Michigan Asparagus, and Not Ketchup for providing the prizes free of charge. These sponsors also provided bloggers with samples and product to use for creating #BBQWeek recipes. All opinions are my own.
The #BBQWeek giveaway is open to U.S. residents, age 18 & up. There will be three winning entries that will be verified. The prize packages will be sent directly from the giveaway sponsors. The #BBQWeek Bloggers are not responsible for the fulfillment or delivery of the prize package.
Participating bloggers and their immediate family members cannot enter or win the giveaway. No purchase necessary. Void where prohibited by law. This promotion is in no way sponsored, endorsed or administered by, or associated with social channels mentioned in the #BBQWeek posts or entry.

Tutorial to Learn How to Make Grilled Eggplant Caprese Salad:
Wash the eggplant and slice into ½ inch thick slices. Salt the eggplant on both sides and place in a colander to sweat the eggplant for 20 minutes.
Slice the tomatoes into ½ inch slices. set aside. Wash and dry the basil leaves. Slice the mozzarella into ¼ inch slices.
After the 20 minutes is up, rinse the eggplant and pat dry.
Preheat grill to 500 degrees.
Brush eggplant with olive oil and season with salt, pepper, and garlic powder.
Reduce heat to medium, around 400 degrees and place the eggplant on the warm grill. Eggplant should be cooked in about 10 minutes.
Flip the eggplant halfway through.
Remove from heat and layer eggplant, basil, tomato, mozzarella. Feel free to make a double stack.
If you prefer to melt the cheese, place the eggplant Caprese on a baking sheet on the grill, close cover and let cheese melt, about 1 minute.
Adding a chiffonade of basil to top. Roll the basil and chop the leaves.
When you make this yummy Grilled Eggplant Caprese Salad, take a pic and tag me on Instagram @everyday_eileen or #everydayeileen
I love any comments or questions below!
I HOPE YOU CONTINUE CONNECTING WITH ME:
Are you loving this Eggplant Caprese Salad, giving it a 5-star rating and any comments are super helpful for me and very much appreciated!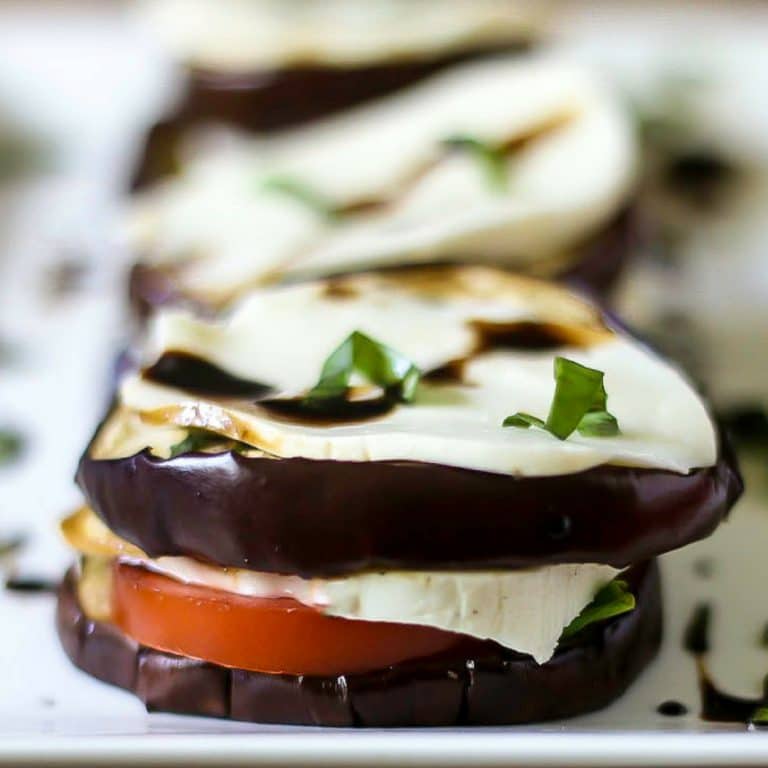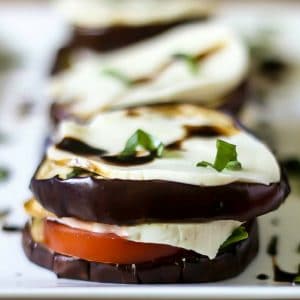 Grilled Eggplant Caprese Salad
A tasty twist on a Caprese Salad with the addition of grilled eggplant added to the salad. An easy salad to prepare as an appetizer or side dish. Great addition to a BBQ or pot-luck.
Print
Rate
Equipment Needed:
Ingredients
1

pound

eggplant, sliced ½ inch thick

4

large

vine ripe tomatoes, sliced ¼ inch thick

20

basil leaves

8

ounce

fresh mozzarella, sliced ¼ inch thick

1

teaspoon

salt, for the eggplant to sweat

4

Tablespoons

olive oil

1

teaspoon

black pepper

½

teaspoon

salt

½

teaspoon

garlic powder
Toppings for Eggplant Caprese
Instructions
Slice the eggplant ½ inch thick, salt the eggplant on both sides and place in a colander to sweat the eggplant and remove any bitterness. Keep in the colander for 20 minutes.

Slice the tomatoes ½ inch thick and the mozzarella cheese ¼ inch thick, set aside.

Clean grill grates and either brush olive oil on grates or use non-stick spray on the grates. Preheat grill to 400 degrees.

Wash the salt off the eggplant and pat dry.

Brush the eggplant slices with olive oil and sprinkle with black pepper, salt, and garlic powder.

Reduce heat to medium, 350 degrees, place the eggplants on the grill. Cook about 4-5 minutes per side. Remove eggplant from the grill.

Stack the eggplant as follows, eggplant, fresh basil. mozzarella. If you prefer melted mozzarella, place the eggplant stacks on a baking sheet and place the baking sheet on the grill. Close cover and let cheese melt.

I love to top my Eggplant Caprese Salad with either

Skinny Basil Pesto

or

a Balsamic Syrup and some fresh basil.
Notes
The nutritional value does not include the optional toppings. Calculate the toppings you have chosen.
Any nutritional data I provide is an approximation and actual dietary information can vary based on ingredients and proportion sizes.
Nutrition
Serving:
6
servings
|
Calories:
220
kcal
|
Carbohydrates:
6
g
|
Protein:
9
g
|
Fat:
17
g
|
Saturated Fat:
6
g
|
Cholesterol:
29
mg
|
Sodium:
433
mg
|
Potassium:
244
mg
|
Fiber:
2
g
|
Sugar:
3
g
|
Vitamin A:
495
IU
|
Vitamin C:
4.4
mg
|
Calcium:
202
mg
|
Iron:
0.5
mg
Pin the Grilled Eggplant Caprese Salad to make later: