Zucchini Tomato Eggplant Bake is a perfect recipe to use those amazing garden vegetables. A one-pot wonder eggplant zucchini bake that is perfect for a meatless meal. This is a favorite go-to, use up my favorite garden veggies and enjoy recipes! An awesome combination of diced eggplant topped with a fresh zucchini and tomato bake. The yummy veggies are topped with low-fat mozzarella and Parmesan-Reggiano and you have this amazing low-carb vegetarian meal.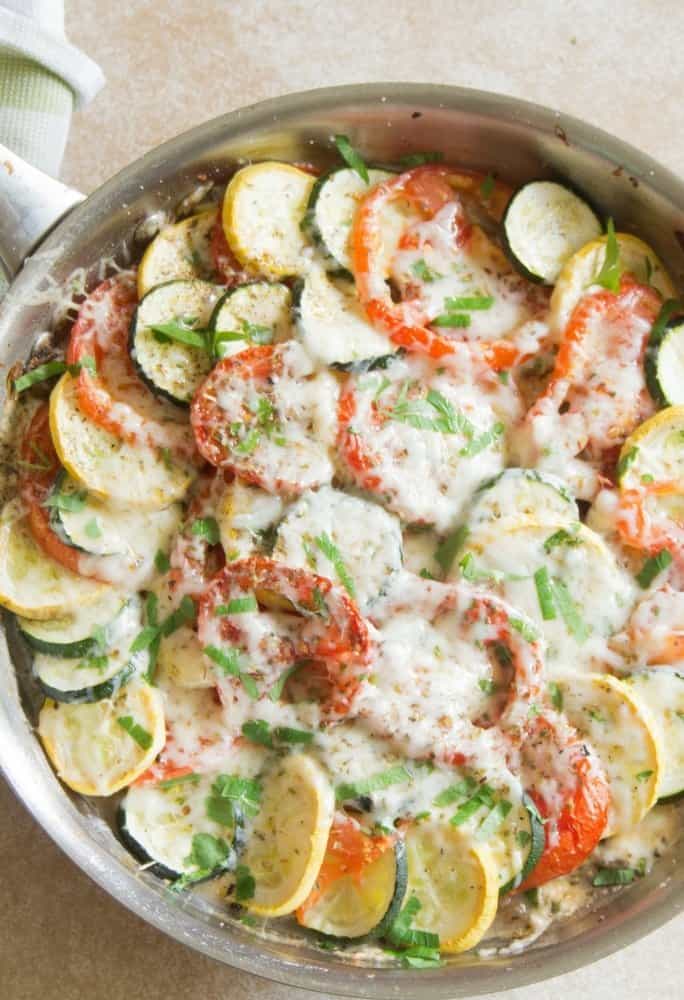 If I don't remind myself of moderation, I tend to gain a pound or two in the summer. Perhaps it's my love of ice cream, fun drinks by the pool, ice cream, and drinks by the pool, do you see why I could gain a pound or two, see my issue! The key to keeping the weight in check, besides daily exercise, is eating in moderation!
This low-carb Zucchini Tomato Eggplant Bake allows me to have that little extra treat every now and again! It is a veggie bake full of vitamins and antioxidants and so flavorful. Whether you grow your veggies, get them from a neighbor, CSA, or your local farmer's market, this is a perfect summer recipe. A very light recipe that will leave you full but not that bloated I need a nap now feeling. This eggplant zucchini tomato casserole is a great combo of veggies. This dish is just as delicious at room temperature so a great bring along for lunch, pot-luck, or a picnic! A great make ahead dish.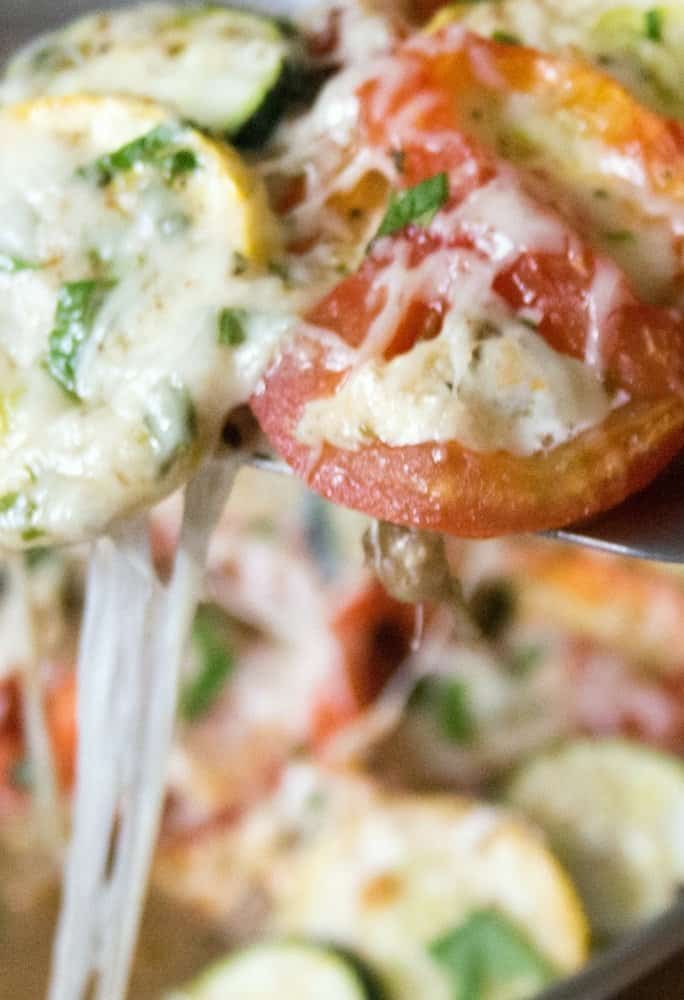 Being that this meal is so low in carbohydrates, feel free to enjoy the eggplant bake with a loaf of warm Italian bread. The bread is excellent to soak up the juices that come from the veggies!
For my boys, I make a batch of pasta and they top the pasta with these tasty veggies! They can eat 24/7, I am sure many of you can relate! For myself, when I am really watching the carbs, I love pairing this with Roasted Spaghetti Squash
Do I have to peel the vegetables before using in this eggplant zucchini bake?
I prefer to peel the eggplant, but if your family likes the skin on, well then leave it on! The zucchini, leaving the skin on makes an attractive presentation of the finished meal.
Can I change the type of tomatoes in this zucchini tomato bake?
Any tomatoes will work, feel free to use what is in the garden or what is fresh at your market. Feel free to also use yellow or orange tomatoes.
Are you vegan or dairy-free and do not eat cheese? What can be substituted for the low-fat mozzarella and Parmesan?
Use your favorite vegan cheese and also use coconut oil to saute the eggplant.
What can I substitute eggplant with, some family do not like the flavor?
I get this a lot, I love eggplant but not everyone does, I would suggest portobello mushrooms, butternut squash, or tofu.
Can I make Zucchini, Tomato, Eggplant Bake recipe in advance?
You can make the full recipe and either reheat it or eat at room temperature. This eggplant recipe can also be reheated. I often prep this up to getting ready for the oven the night before. I keep the dish in the fridge until ready to eat and add the cheese and heat to warm the veggies and melt the cheese.
You may enjoy these Vegetarian meals:
Vegetable Lasagna Stuffed Zucchini Boats
Easy Grilled Eggplant Caprese Salad
How do you make Zucchini, Tomato, Eggplant Bake?
In an oven-safe skillet, heat olive oil, saute diced onions.
Add eggplant and saute to soften about 5 minutes.
To the pan, add oregano, garlic, salt, and pepper. Saute 3 minutes. Spread the eggplant evenly in pan.
Remove from heat. Top with mozzarella.
Place the zucchini and tomato the eggplant mixture.
Bake 25 minutes.
Top eggplant, zucchini bake with Parmesan cheese and basil.
Place back in the oven to melt cheese.
Serve and enjoy!
I hope you make this one pan zucchini, tomato, eggplant bake, take a pic and tag me on Instagram @everyday_eileen or #everydayeileen
I HOPE YOU CONTINUE CONNECTING WITH ME:
I love any comments or questions below!
Originally published August 1, 2016. Recipe updated and video added September 2017 Hope you enjoy!
Are you loving my favorite one-pan wonder Zucchini, Tomato, Eggplant Bake, giving it a 5-star rating is super helpful for me and very much appreciated!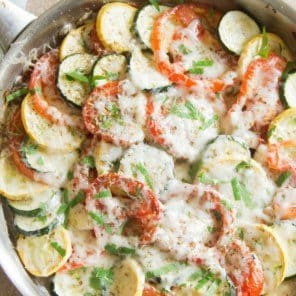 Zucchini Tomato Eggplant Bake
Super easy one pan vegetable bake with the addition of low-fat mozzarella and Parmesan Reggiano. Perfect on its own as an entree. Have this vegetable bake with a loaf of Italian bread to soak up the juices from the veggies. Perfect hot and at room temperature.
Print
Rate
Equipment Needed:
Ingredients
1

teaspoon

olive oil

1

onion, chopped

1

eggplant, large peeled and cubed into 1 -inch pieces

2

cloves

garlic, minced

1

teaspoon

fresh oregano, chopped

6-8

slices

low-fat fresh mozzarella cheese sliced ¼ inch

1

yellow zucchini, sliced, about ½ inch thick

1

green zucchini, sliced, about ½ inch thick

2

large beefsteak tomatoes, sliced about ½ inch thick

1

teaspoon

fresh basil, chopped

½

cup

Parmesan cheese, shredded

salt and pepper to taste
Instructions
Preheat oven to 425 degrees.

In a 10-inch round oven-safe pan, over medium heat, add olive oil.

Saute the onion about 1 -2 minutes to sweat the onions.

Add the cubed eggplant and stir frequently until they are soft about 8 minutes.

Stir in the minced garlic, fresh oregano, season to taste with salt and pepper, continue to stir about another 3 minutes.

Remove from the heat and top with the low-fat mozzarella cheese slices.

Top the eggplant/cheese mixture with the zucchini and tomatoes, alternate the veggies to cover the eggplant.

Bake for about 25 minutes.

Remove from oven. Top the vegetables with the Parmesan cheese, basil. If needed, season with salt and pepper.

Place back in the oven until cheese melts, about 2 minutes

Ready to serve. Can also be served at room temperature.
Notes
Use heirloom tomatoes or yellow tomatoes when in season.
Any nutritional data I provide is an approximation and actual dietary information can vary based on ingredients and proportion sizes.
Nutrition
Serving:
5
servings
|
Calories:
233
kcal
|
Carbohydrates:
11
g
|
Protein:
19
g
|
Fat:
13
g
|
Saturated Fat:
8
g
|
Polyunsaturated Fat:
4
g
|
Cholesterol:
32
mg
|
Sodium:
726
mg
|
Potassium:
323
mg
|
Fiber:
4
g
|
Sugar:
5
g
|
Vitamin A:
800
IU
|
Vitamin C:
21.5
mg
|
Calcium:
610
mg
|
Iron:
1.1
mg
Want to make this zucchini tomato bake to make later, save it on Pinterest HERE.