Homemade Peppermint Patties are absolutely delicious and full of chocolate and peppermint flavor. The tasty candies are affordable and so much better than store bought peppermint!
This post is sponsored in conjunction with #ChristmasSweetsWeek. I received product samples from sponsor companies to help in the creation of the ChristmasSweetsWeek recipes. All opinions are mine alone.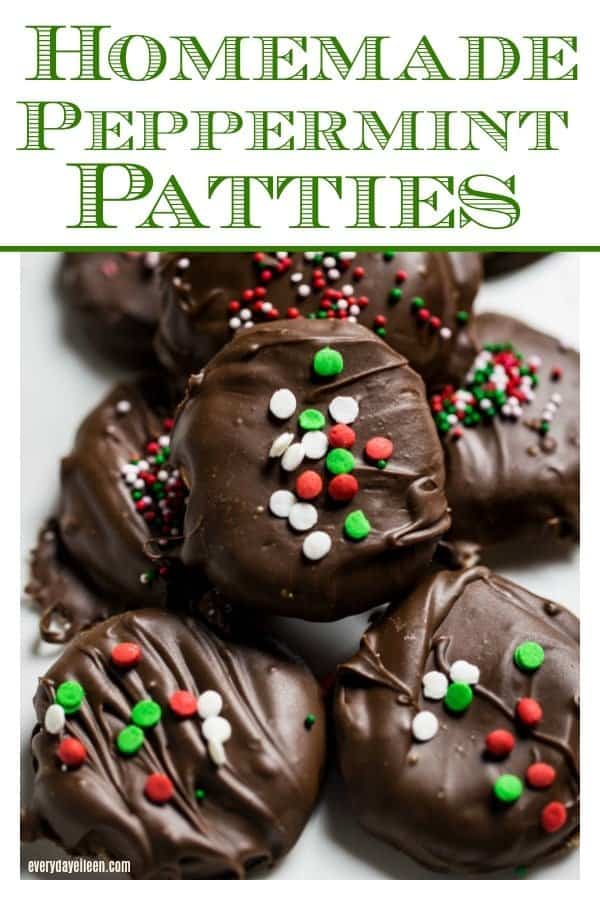 I love making sweet treats for my family! My Dad specifically has a sweet tooth! Boy does he love Peppermint Patties! There are a few of my Dad's favorite treats I began creating many years ago!
There is my Italian Rainbow Cookies, which is one of my most popular recipes. Rugelach Cookies, also a very popular recipe with my readers and my Dad! For Christmas Sweets Week, I knew I had to share another of my Dad's favorite recipes, my Homemade Peppermint Patties!
These delicious peppermint patty candies are just delicious! Peppermint patties make a great addition to your Holiday table!
These delicious peppermint patty candies are just delicious! Peppermint patties make a great addition to your Holiday table!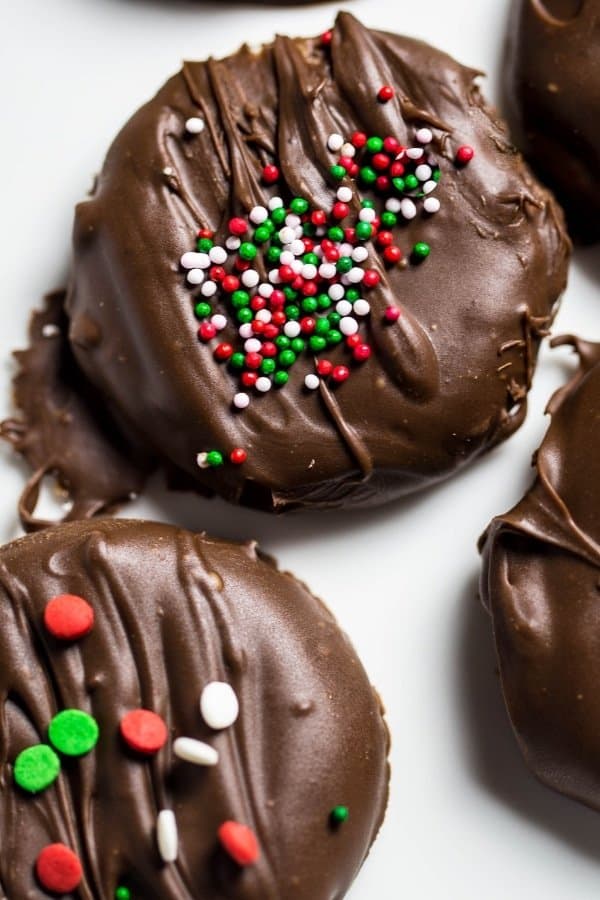 FAQs and Tips to Make Homemade Peppermint Patties
Homemade Peppermint Patties - Ingredients:
To make peppermint patties, you will need sweetened condensed milk, confectioners sugar, peppermint extract, semi-sweet or dark chocolate, coconut oil, sprinkles.
How long can Peppermint Patties keep?
Peppermint Patties can be kept in the fridge in a well-sealed tin for a few weeks.
Can Peppermint Patties be frozen?
Absolutely! Make these ahead of time. Once they are complete. Place the chocolates in the freezer on a tray for about 3 hours. Once they are frozen, the candies can be kept in a large freezer bag until ready to be eaten.
What if I want to use another chocolate to cover the peppermint candy interior?
Feel free to use whatever chocolate you prefer. Keep in mind chocolate chips should have a little vegetable or coconut oil to thin the chocolate. Makes it easier to coat the candies.
Tips to make amazing Peppermint Patties:
Add 1 teaspoon of Peppermint extract and do a taste test after adding the confectioner's sugar. I always use 2 teaspoons of peppermint extract. I love a strong flavor of peppermint
Slowly add in the confectioner's sugar, this ensures the ingredients blend well and the mixture is smooth and not sticky.
Before rolling the dough out, place confectioners sugar on the wax paper. Also, sprinkle confectioners sugar on top of the dough before rolling flat.
Place the rounded peppermint patties back in the fridge for about 30-45 minutes or even overnight before dipping into chocolate. Ensures the patties keep their shape.
Place dough in the freezer for about 15 minutes before cutting out the circles.
Before dipping the candies into the chocolate, make sure the chocolate mixture is not too hot or candies can lose shape and melt.
Sprinkle with toppings of choice once candies are covered with chocolate and on parchment lined baking sheet.
Once the chocolate on the peppermint patties has hardened, candies can be kept in a well-covered tin in the fridge for a few weeks. I doubt they will last too long, delicious!
I use Dixie Crystals® Confectioner's Sugar to make Homemade Peppermint Patties! Dixie Crystal has amazing products and I love using their sugars for all my baking needs.
When you make one of my recipes, I love seeing and sharing it on Instagram!
When you make this or any of my recipes, tag me with #everyday_eileen or @everyday_eileen! You would be making my day!
I love any comments or questions, please leave below! I really love hearing from you all!
I HOPE YOU CONTINUE CONNECTING WITH ME:
Love these Peppermint Patties, it would be awesome if you give it a 5-star rating and share comments below!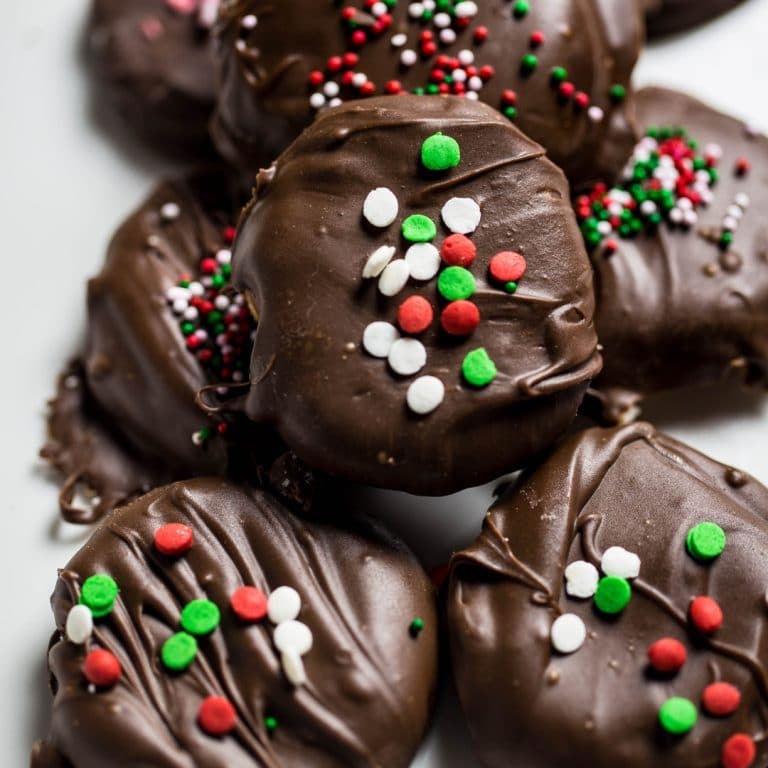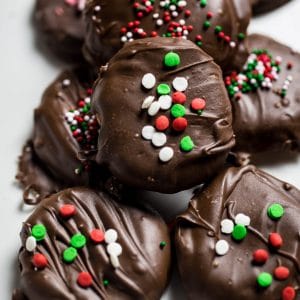 Homemade Peppermint Patties Recipe
Delicious Homemade Peppermint Patties are so much tastier than any store bought peppermint candy. Festive candy treats that are always a hit on the Holiday Sweets table! Make a batch for gifts to family, friends, Hostess gifts, and co-workers!
Print
Rate
Equipment Needed:
Instructions
Add to a stand mixer 1 cup of confectioner's sugar, condensed milk, and 1 teaspoon peppermint extract. Slowly mix in remaining confectioner's sugar. (Note 4) Once blended, check flavors. Add more peppermint extract if desired. The mixture should be well blended and not sticky. (Note 5) separate the dough into three pieces.

Place wax paper on a baking tray. Sprinkle some extra Confectioner's Sugar onto the tray. Place the first piece of candy dough onto the surface. Sprinkle with a bit more confectioner's sugar. Roll out dough to about ¼ inch thick. Place dough in the freezer for about 15-20 minutes. Do the same process with the other two pieces of peppermint patty candy dough.

Work with the first tray of candy dough, use a 1 inch round cookie cutter to cut the dough. Reroll and freeze and remaining extra pieces. Continue with the second and third pieces of candy dough. Do this until all dough is used.

Fill a small pot or double boiler with water. Place a heat safe bowl or double boiler pot over the water. Add the chocolate chips and coconut oil. Stir occasionally till chocolate is melted and smooth. Remove from heat.

Work with small batches of the cold candy dough. Have a wax paper lined baking tray ready. Dip the candy into the cooled melted chocolate using a fork (Note 6) Scrape the excess chocolate back into the pot.

Place the chocolate covered peppermint patties onto the lined baking tray. Decorate with desired sprinkles. Let candies set. Store the candies in a covered tin in the fridge. The candies can also be frozen until ready to use. (Note 7)
Notes
Note 1: For this recipe, Dixie Crystal Confectioner's sugar was used.
Note 2: Dark chocolate bars can be used to keep recipe traditional. It is not a preference for my family so I use semi-sweet chocolate chips. Can use a combination of chocolates. Whatever your taste buds prefer.
Note 3: Depending on what occasion you are making Peppermint Patties, adjust sprinkles to be festive. Crushed candy canes also work well for Christmas.
Note 4: Slowly adding confectioner's sugar allows the mixture to blend well and not be sticky.
Note 5: I have always used 4 cups of confectioners sugar. Be careful when measuring to ensure a good candy dough.
Note 6: Ensure chocolate is not hot when dipping candy dough. The dough should be cold and the chocolate room temperature. Otherwise, the candy dough may lose its round shape.
Note 7: If freezing the peppermint patties, place the candies on the baking tray, into the freezer for at least an hour before placing them into a freezer safe bag. The candies will not stick together if you follow this process.
any nutritional data I provide is an approximation and actual dietary information can vary based on ingredients and proportion sizes.
Recipe adapted from Epicurious.com
Nutrition
Serving:
1
candy
|
Calories:
140
kcal
|
Carbohydrates:
25
g
|
Protein:
1
g
|
Fat:
3
g
|
Saturated Fat:
2
g
|
Cholesterol:
4
mg
|
Sodium:
16
mg
|
Potassium:
86
mg
|
Fiber:
0
g
|
Sugar:
24
g
|
Vitamin A:
35
IU
|
Vitamin C:
0.3
mg
|
Calcium:
40
mg
|
Iron:
0.5
mg
SweetsWeek recipes:
Beverages:
Candy Cane Crunch Milkshake from The Redhead Baker
Salted Caramel Hot Chocolate Toddy from Strawberry Blondie Kitchen
Frozen Blue Hot Chocolate from For the Love of Food
Gingersnap Eggnog Shooter from Seduction In The Kitchen
Grumpy Grinch Punch from For the Love of Food
Merry Mistletoe Cocktail from Who Needs A Cape?
Raspberry Thyme Prosecco Punch from Take Two Tapas
Vanilla Milk Punch from Cooking with Carlee


Breakfast:
Cranberry Orange Make Ahead French Toast Bake from With Two Spoons
Candies:
Cookie Butter Balls from The Bitter Side of Sweet
Peppermint Patty Candy from Everyday Eileen
White Chocolate Bark from Family Around the Table


Desserts:
Apple Cheddar Hand Pies from A Kitchen Hoor's Adventures
Sparkling Wine, Cranberry, and White Chocolate Layer Cake from Cheese Curd in Paradise
Chocolate Orange Crinkle Cookies from Kate's Recipe Box
Chocolate Hazelnut Truffle Tart from Rants From My Crazy Kitchen
Cranberry Orange Crinkle Cookies from Love and Confections
Double Chocolate Mousse Cake from The Crumby Kitchen
Gingerbread Cookie Cups from Moore or Less Cooking
Gingerbread Sprinkle Cookies from Daily Dish Recipes
Grandma's Chocolate Pie from Tip Garden
Italian Butter Cookies from April Golightly
No Bake Eggnog Pie from Our Good Life
Orange Cranberry White Chocolate Bread from Sweet Beginnings