Our homemade mashed potato recipe uses simple ingredients yet provides light, fluffy, creamy, smooth, and buttery results. Whether it's a weeknight dinner or a holiday celebration, these potatoes deliver flavor.
Jump to:
❤️ Why you'll love this recipe
This mashed potato recipe has such a creamy texture and you won't be disappointed.
Simple ingredients with many variations to create recipes any night of the week as well as being on your Holiday table.
Ingredients
There are different types of potatoes to use depending on where you like. In North America, Yukon Gold or Russet Potatoes provide the best flavor. Yukons have a buttery texture. Russets contain a bit more starch. We love a combo of the two which produces the most amazing mash potatoes. In the UK, try starchy potatoes such as Maris Piper or King Edward. In Australia, look for Kiplfer or Desiree potatoes, both are starchy.
Warm Milk will help get fluffy smooth potatoes. Cold liquid will cook down the veggies too fast. Whole milk, 1 or 2% percent milk all work well. Also heavy cream can be used for a much richer flavor.
A simple seasoning of salt, pepper, and bay leaf are a must for a great mash.
Yellow onion or shallot, finely chopped add umami flavors to the dish.
Unsalted butter adds creaminess and allows control over the sodium.
As an Amazon Associate, I earn from qualifying purchases.
Equipment
Instructions
This is an overview of the recipe. The full instructions are below in the recipe card.
Step 1: Place cut potatoes, onion, bay leaf, salt, and pepper in a large pot of cold water.
Step 2: Bring to a boil over medium-high heat.
Step 3: Reduce heat to low. Simmer potatoes until fork-tender, about 20 -25 minutes.
Step 4: Drain the potatoes in a colander. Gently shake to remove as much water as possible. Discard the bay leaf.
Step 5: Return the potatoes back into the pot.
Step 6: Turn heat to low for about 30 seconds. Shake the pot to allow any excess water to fall to the bottom of the pot and absorb.
Step 7: Mix in warm milk and butter. Use a hand masher to mash potatoes. If needed add more milk and/or butter.
Taste, add additional salt and pepper, milk, and/or butter, to taste. Give another stir to the spuds.
Seasoning
Layering the flavors is key to the best, from scratch mashed potatoes. Seasoning the potato water with salt, pepper, bay leaf, and onion is very important to begin flavoring the veggies. When adding in the milk and butter, be sure and do a taste test and when needed, re-season.
Can be topped with more butter, chopped parsley, dill, or chives. (optional)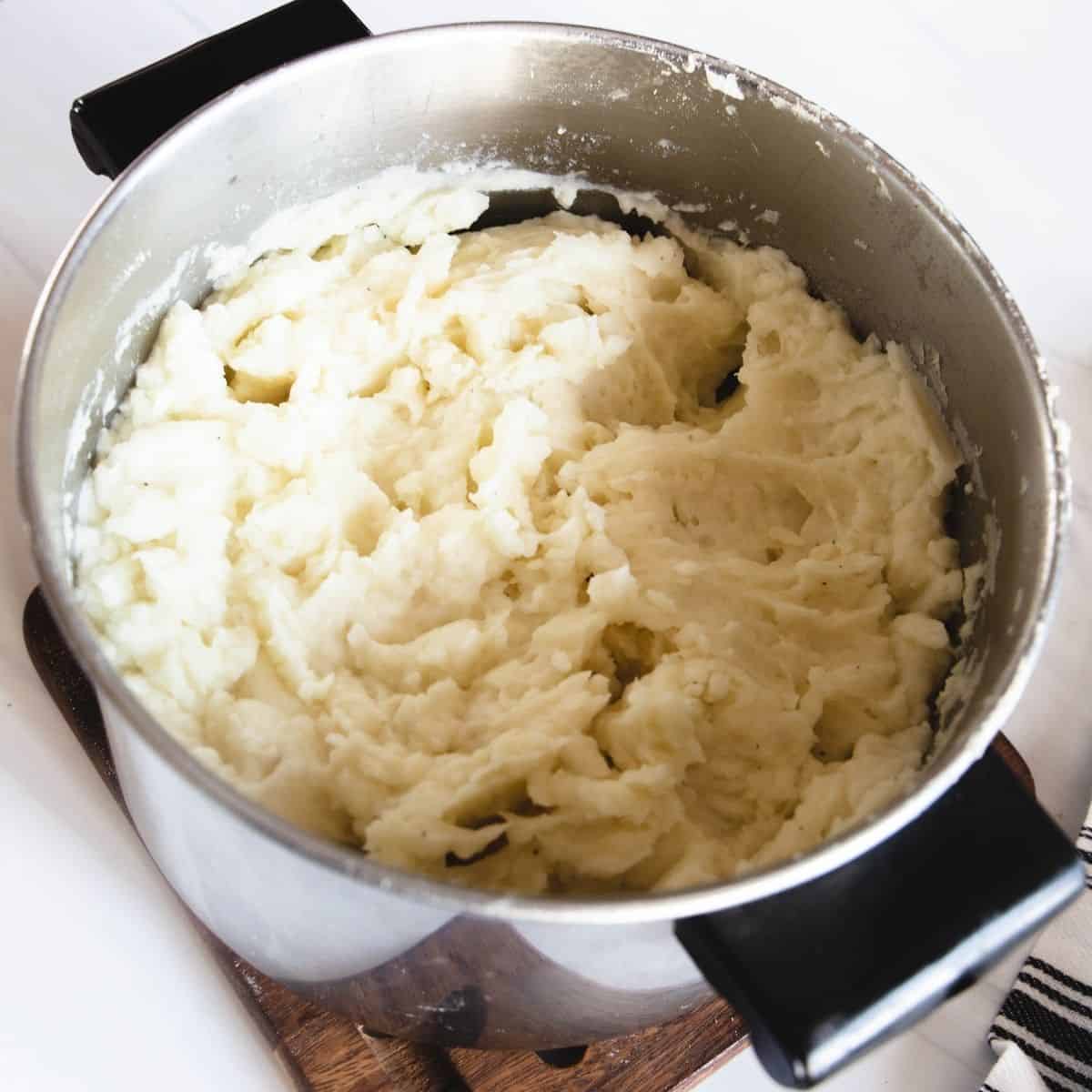 Storage
According to the USDA, store raw potatoes in a cool dark location with good ventilation.
Prepare Ahead
For a big celebration with lots of prep or a weeknight dinner, the potatoes can be scrubbed, peeled, placed in a large pot of cold water, and stored in the refrigerator until ready to cook. Be sure to drain the water and put the potatoes, onions, and seasoning in fresh cold water before cooking.
Keeping Warm
If you have to make mashed potatoes ahead of time, they can be stored in the fridge. Reheat in a slow cooker on warm for about 1 hour before needing to serve. The potatoes can be kept in a warm 175°F oven once they are hot to keep until being served.
They can also be heated in the microwave for about 1-2 minutes depending on the manufacturer's instructions.
Leftovers
Leftover potatoes can be kept in the refrigerator in an airtight-covered container for up to 3 days.
Potatoes can be frozen for up to 3 months in a well-sealed bag or container.
Reheat by defrosting overnight and or microwaving them. They can also be heated in a casserole dish in the oven at 350°F for about 20 minutes.
Expert Tips
Expert Tip: Hand-mashing the potatoes ensures light and fluffy spuds.
For the best flavor, use Yukon Gold or Russet Potatoes. Yukons have a buttery texture. Russets contain more starch. We love a combo of the two.
Scrub the spuds before peeling. They are a root veggie and should be thoroughly cleaned.
Cut the potatoes into the same size, about 1 ½ to 2-inch cubes for even cooking.
Be sure to dice the onion into very small pieces. They will be mashed in but you do not want large pieces.

If you are making gravy, when draining the potato water, save a cup of the water to add to the gravy. The starchy water adds amazing flavor to the gravy.
Frequently Asked Questions
Variations
Add roasted garlic into the drained potatoes for a nice kick.
Mix in cooked chopped bacon and green onions.
For additional creaminess, add ⅓ cup cream cheese or homemade Boursin cheese to the mash.
Serving Suggestions
A few favorites to serve with this homemade mashed potato recipe would be Salisbury Steak, a classic ground beef patty with a flavorful mushroom gravy that makes a delicious meal.
Instant Pot Lentil Stew topped with these amazing mashed potatoes is another comfort food meal you will enjoy.
Pork Chops, and Sauerkraut paired with these mashed potatoes, another hearty meal loaded with flavor. Air Fryer Fish Sticks are crispy and crunchy and a family favorite with these taters.
Cranberry Pot Roast is all my childhood favorites that my hubs and kids still enjoy
A perfect side dish for any night. Even better with your holiday dinner. Enjoy them with roasted turkey breast for a fabulous Holiday celebration. For smaller celebrations, enjoy Air Fryer Turkey breast alongside these creamy spuds.
Maple Glazed Ham, Honey Glazed Ham, and Bourbon Glazed Ham are all perfect main dishes to serve with these creamy mashed potatoes.
Don't forget to make my Instant Pot Beer Braised Short Ribs with these taters, you won't be disappointed!
Similar recipes
You may enjoy some of my other favorite potato recipes.
Instant Pot Mashed Potatoes have a buttermilk base and they're super creamy and always a hit.
Another favorite is Oven Roasted Potatoes, made on a sheet pan for the crispiest results. Roasted Red Potatoes with garlic and herbs, super simple with a creamy interior with a nice crispy exterior.
Foil Wrapped Cheesy Potatoes, baked or grilled, are so darn good.
Funeral Potato Recipe, is a flavorful traditional hash brown potato casserole that is perfect for pot lucks and family dinners.
Don't be quick to discard leftover potatoes. They make great fried potatoes and breakfast potatoes. Make a cottage pie with the leftovers for a meal full of comfort.
I love any comments or questions, please feel free to leave them below.
Keep up to date with recipes by following me on:
FACEBOOK INSTAGRAM, PINTEREST, TWITTER
Thank you for the continued support. I am forever grateful.
Eileen xo
If you click on the number of servings in the recipe card you can adjust the measurements up or down for the exact number of servings you need.
If you love this recipe please give it 5 stars! ⭐️⭐️⭐️⭐️⭐️
This recipe was originally published on March 28. 2018. It has been updated for reader experience.