Homemade Mashed Potatoes are classic and delicious! An easy side dish recipe for any night of the week! These mashed potatoes are my Grandma's recipe that we have made forever! A great recipe to learn how to make mashed potatoes!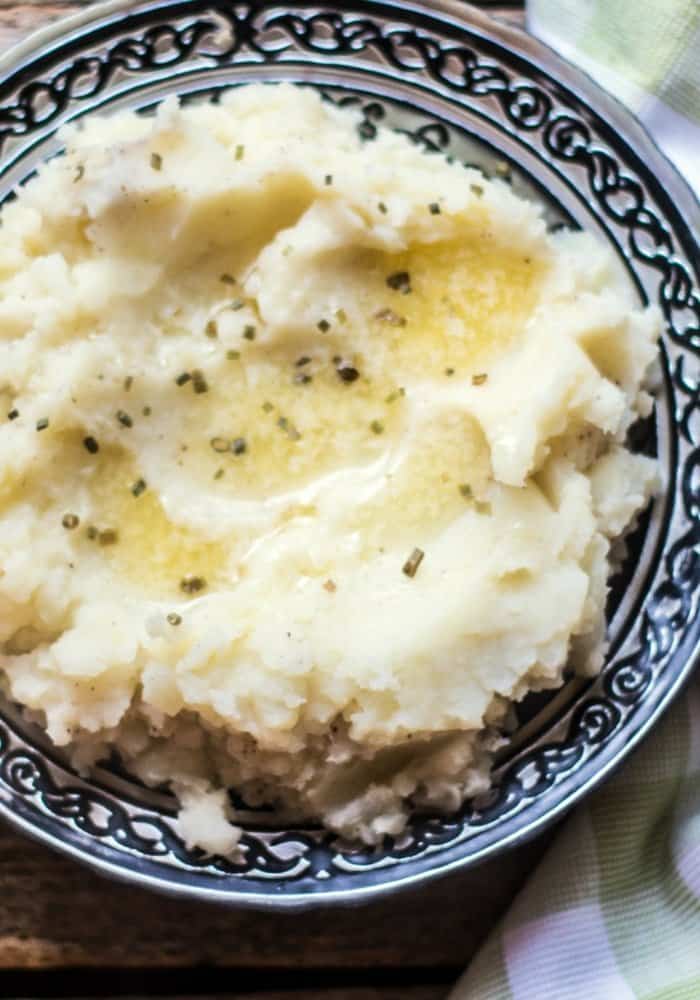 My Grandmother and Mom are awesome mashed potato makers, so I learned from the best! We ate these Homemade Mashed Potatoes at just about every dinner when I was a child! These are perfect Holiday Mashed Potatoes! My family loves mashed potatoes and I make them a lot of different ways. I will most definitely share more of my mashed potato recipe.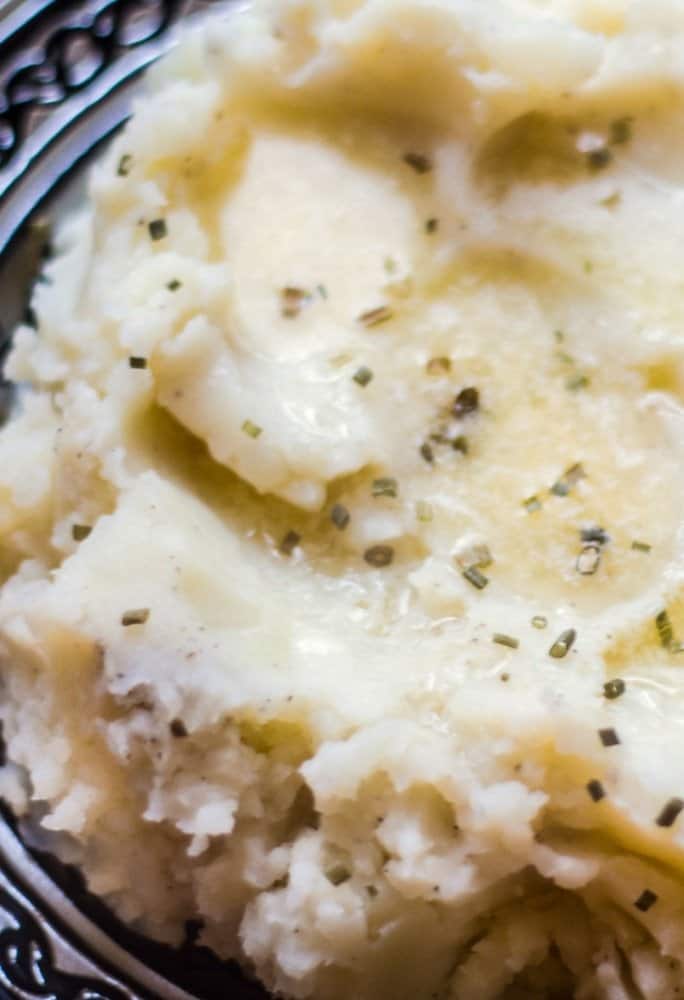 This recipe is a family favorite for Easy Classic Homemade Mashed Potatoes, I mean, easy! The potatoes are light, fluffy, and can easily be made ahead and just reheat when ready to eat. You can also make this Vegan potato by using Vegan butter and coconut milk. Especially good for those with a dairy issue.
How many potatoes per person to make mashed potatoes?
For my potato eating family, I make 1/2 pound per person. If you are having lots of side dishes 1/3 pound per person.
What are the best potatoes to use to make homemade mashed potatoes?
For the best flavor, you want high starch potatoes, Yukon and Russet Potatoes are the best! Using a combo of the two potatoes, even better!
How can I prevent the dreaded "Gluey Potatoes"?
Dreaded because "gluey potatoes" are hard to recover from. Use high starch potatoes, like Russet or Yukon. Red potatoes are best for smashed or roasted potatoes.
Can this Homemade Mashed Potatoes be made as a Vegan Mashed Potatoes?
Absolutely! Use vegan butter and almond milk to replace the dairy. I make this for my oldest daughter and it is just as delicious as the original recipe!
When do you season Mashed Potatoes?
Most meals need layers of flavor. Meaning as you cook, you should season your ingredients. For these mashed potatoes, season the water the potatoes cook in is very important to begin flavoring. Again, as you add other ingredients such as the milk and butter to mash, check flavors and season again if needed.
Can mashed potatoes be made ahead of time?
Yes. I have prepped the mashed potatoes ahead and reheated in the oven at 325 degrees for about 25 minutes in a covered casserole dish.
When making Homemade Mashed Potatoes, can they be prepped ahead of time?
Absolutely! My Grandma always peeled and cut the potatoes the evening before needing to cook them. She kept them in a pot filled with water with a lid in the fridge. Drained the water and put fresh water in when ready to cook the potatoes.
Tips to Make Easy Classic Homemade Mashed Potatoes:
Peel and cut the potatoes into the same size, about 2-inch pieces.

Put the peeled and sliced potatoes in cold water with a diced onion or shallot.

Season the water with salt, pepper and bay leaf. (bay leaf optional)

Bring the water to a boil and simmer for about 20-25 minutes. Potatoes should be fork tender.

If you are making a gravy. Drain and save the potato water for the gravy. Adds amazing flavor.

Can prep ahead of time, peel and cut the potatoes, place in a pot you will use to cook them in, filled with water, cover and refrigerate.
My family enjoys this recipe a lot. Since there are carbs involved, I try to minimize in other ways. Using low-fat milk and a lower amount of butter, there is a balance. As always, I'm a moderation person and I have to watch everything I eat for health reasons. These Easy Classic Homemade Mashed Potatoes are a perfect balance.
Pin these Mashed Potatoes to make later here: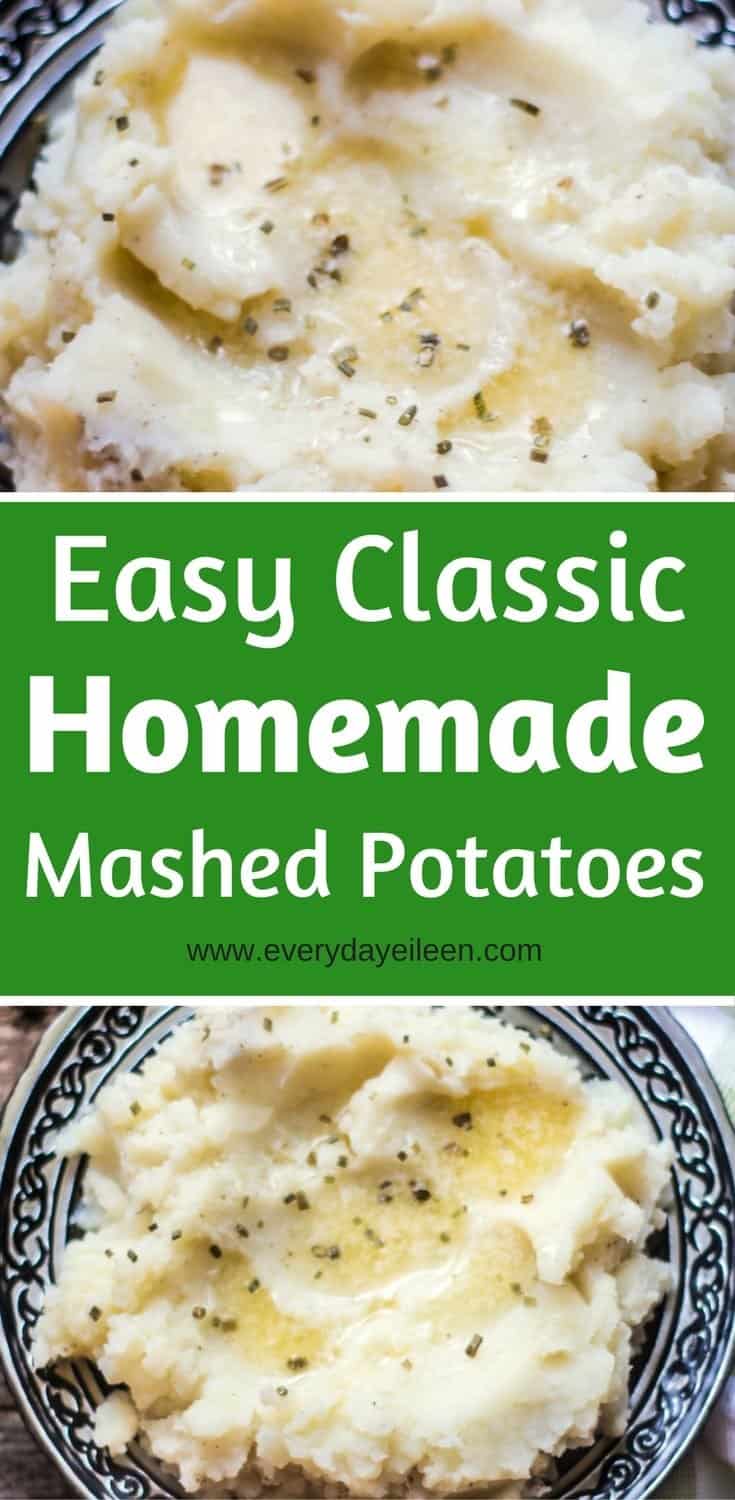 Easy Classic Homemade Mashed Potatoes
An easy and tasty classic homemade mashed potatoes. These potatoes are light and fluffy. A great side dish for meats and poultry. Can be made ahead and re-heated.
Print
Pin
Rate
Ingredients
4

pounds

Russet or Yukon potatoes

*see note

water, to cover potatoes while they cook

1

teaspoon

salt, additional if needed

*see note

1

teaspoon

pepper, additional if needed

*see note

1

bay leaf

1

white onion or shallot, peeled and diced

*see note

1

cup

low-fat milk

*see note

4

Tablespoons

unsalted butter, softened and sliced into pieces.

diced parsley, chives, salted butter

optional garnish
Instructions
Peel, wash, and cut the potatoes. I prefer 1 1/2 - 2-inch chunks. Place the potatoes into a large Dutch Oven or pot filled 1/2 way with water. Add the onion or shallot, salt, pepper, and bay leaf.

Place the pot over high heat and bring the water to a rolling boil. Reduce heat to low-medium to simmer. Place lid on the pot. Simmer about 20-25 minutes. The potatoes should be fork tender.

Remove pot from the heat. If making a gravy, see note below. Otherwise, drain the potatoes and onions in a colander. Discard the bay leaf.

Return the potato mixture to the original pot over medium-high heat. Shake the pot and stir potatoes to ensure water evaporates. About 15-20 seconds. Again, remove from heat. Give the potatoes a quick mash, slightly breaking up potatoes.

Add to the potatoes, butter and half the milk. Mash the potatoes for about 30 seconds. Add remainder of the milk to the potatoes. I generally continue to hand mash for about 2-3 minutes. The longer the better. Check the seasoning and re-season as needed.

These can be served immediately. Kept warm in the oven on lowest heat, covered. Transferred to a slow cooker for a larger party. Can be made ahead and reheated the second day at 350 for about 15 minutes, stirring occasionally.
Notes
When choosing potatoes, I prefer to use half Yukon and half Russet. I have used Long Island potatoes. I do not know the availability of those potatoes in other regions.
I also use red potatoes but they can get gummy if overcooked.
The potato water should be seasoned with the salt and pepper.   Additional salt and pepper can be used as the potatoes are mashed.  Always check seasoning and re-season if needed.
When dicing onion or shallot, remember they are going to be included      in the mashed potatoes so finely dice. They add great flavor.
If you are making a grave, keep the potato water to add into the gravy.    It adds amazing flavor to the gravy. My Mom's fantastic tip :).
For everyday mashed potatoes, I look to keep the calories down, therefore I use low-fat milk. 
I do not like the flavor of skim milk, again your preference.
Make these potatoes Vegan using vegan butter and coconut milk.
Nutrition
Serving:
1
serving
|
Calories:
247
kcal
|
Carbohydrates:
43
g
|
Protein:
5
g
|
Fat:
6
g
|
Saturated Fat:
4
g
|
Cholesterol:
17
mg
|
Sodium:
317
mg
|
Potassium:
997
mg
|
Fiber:
3
g
|
Sugar:
3
g
|
Vitamin A:
205
IU
|
Vitamin C:
13.2
mg
|
Calcium:
67
mg
|
Iron:
2
mg
These mashed potatoes are perfect with:
Some other potato recipes I hope you enjoy:
When you make these Mashed Potatoes, tag #everydayeileen
on Instagram
I love seeing and sharing your creations!
LEAVE A COMMENT BELOW, ANY QUESTIONS ABOUT THE RECIPE IN THE COMMENT SECTION BELOW!
I HOPE YOU CONTINUE CONNECTING WITH ME
Thank you for always sharing my passion and love for food and family!