Not only are they the most fluffy, creamy, dreamy buttery mashed potatoes you'll ever eat, theses spuds are pure comfort food. Perfectly seasoned right from the beginning, layered with flavors from the onion, butter, and milk. We've got the 411 on making the best side dish, every time.
First Published: December 11, 2017… Last Updated: August 25, 2019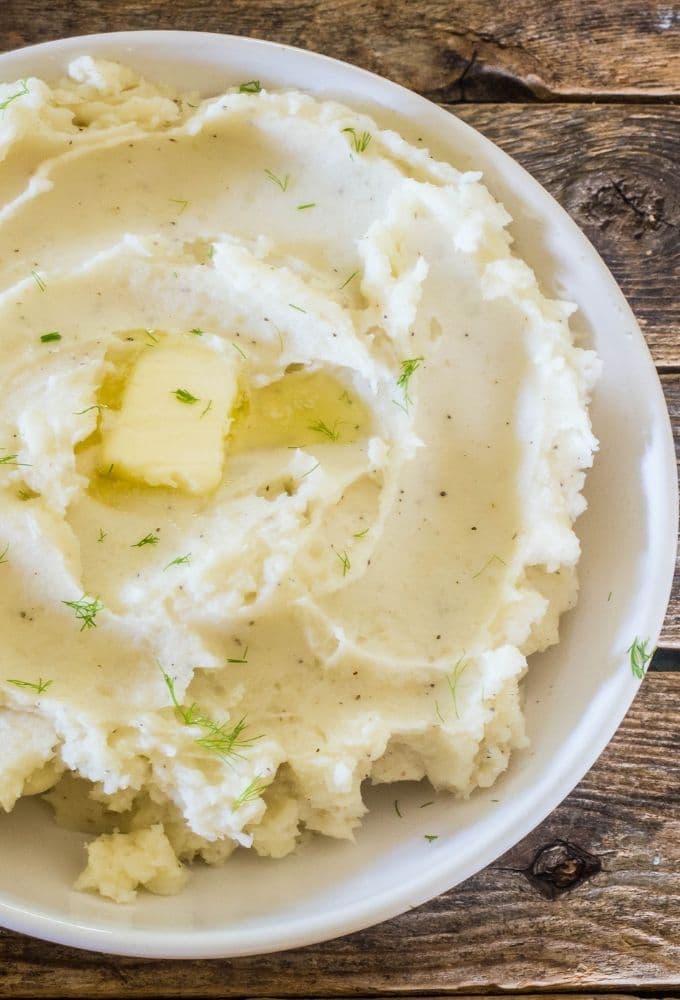 Homemade mashed potatoes, a classic side dish that is creamy and delicious!
My Granny taught me well! This is one of those recipes I could eat every day but I can make with my eyes closed. Granny knew her spuds and this recipe does not disappoint.
When I was a child, we ate potatoes with almost every dinner. Salisbury Steak, Pork Chops, and Sauerkraut, Cranberry Pot Roast are all my childhood favorites that my hubs and kids still enjoy!
I do not joke about my Granny's Mashed Potatoes, they're epic. A perfect side dish for any night. Even better with your holiday dinner. Enjoy them with your roasted turkey breast or honey glazed ham!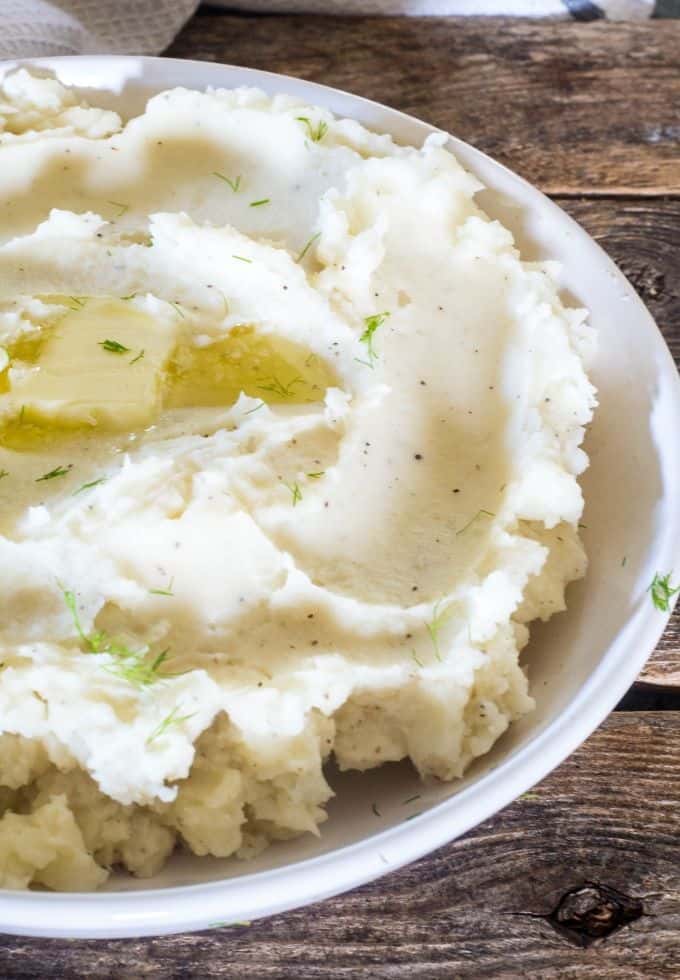 Homemade Mashed Potatoes FAQs
The potatoes are so light and fluffy. They can easily be made in advance. Just reheat when ready to eat.
How many potatoes per person to make this mashed potato recipe?
For my potato eating family, I make ½ pound per person. If you are having lots of side dishes ⅓ pound per person.
How do I store uncooked potatoes?
According to the USDA, store potatoes in a cool dark location with good ventilation.
What are the best potatoes to use to make a great mash?
For the best flavor, you want high starch potatoes, Yukon and Russet Potatoes are the best! Using a combo of the two potatoes, even better!
How can I prevent the dreaded "Gluey Potatoes"?
The best way to avoid "gluey potatoes" :
Gently hand mash the potatoes while they are still hot.
Never use a food processor to mix the potatoes. The food processor can also overwork the potatoes and they can be to mushy.
Use high starch potatoes, like Russet or Yukon. Red potatoes are best for smashed or roasted potatoes.
Can I make this recipe vegan?
Absolutely! Use vegan butter and almond milk to replace the dairy. I make this for my oldest daughter and it is just as delicious as the original recipe!
When do you season (salt and pepper) the potatoes?
Most meals need layers of flavor. Meaning as you cook, you should season your ingredients. For great tasting mashed potatoes, seasoning the potato water with salt, pepper, a bay leaf, and an onion is very important to begin flavoring. As you add other ingredients such as the milk and butter to mash, check flavors and season again if needed.
How do I keep the potatoes warm the day of serving?
When I have a dinner party or I'm making family dinner, I prefer to get whatever I can get cooked done early. I keep the oven on 200 degrees and keep the food warm in the oven.
Can I make these ahead of time?
Absolutely! My Grandma always peeled and cut the potatoes the evening before needing to cook them. She kept them in a pot filled with water with a lid in the fridge. Drained the water and put fresh water in when ready to cook the potatoes.
How to keep the mashed potatoes lighter in calories:
Use low-fat or 2% milk and unsalted butter. Add in salt as needed. As always, I'm a moderation person and I have to watch everything I eat for health reasons.
You will want to make my famous Bangers along with these potatoes. I love Alyssa from Everyday Maven's recipe for a delicious Cube Steak, what a great combo with these taters. Another great combo is Air Fryer Salmon from Natalya who writes Momsdish, yum!
Don't forget to make my Instant Pot Beer Braised Short Ribs with these taters, you won't be disappointed!

You may enjoy some of my other favorite potato recipes:
Shop this recipe:
This post contains affiliate links for your convenience. We are a participant in the Amazon Services LLC Associates Program, an affiliate advertising program designed to provide a means for us to earn fees by linking to Amazon.com.
Check out my store, Everyday Eileen I share all my favorite finds!
Variations to making mashed potatoes
Change up the recipe and add in roasted garlic.
Loaded mashed potatoes, add some chopped cooked bacon and green onions.

Grated horseradish

adds a zing to taters.
Tips to Make Easy Classic Homemade Mashed Potatoes:
Peel and cut the potatoes into the same size, about 2-inch pieces. Ensures the potatoes are cooked the same.

Put the peeled and sliced potatoes in cold water with a diced onion or shallot. Adds flavor.

Season the water with salt, pepper and bay leaf. (bay leaf optional) Again, adds flavor.

Bring the water to a boil and simmer for about 20-25 minutes. Potatoes should be fork tender.

If you are making a gravy. Drain and save the potato water for the gravy. Adds amazing flavor.

Can prep the potatoes ahead of time, peel and cut the potatoes, place in a pot you will use to cook them in, filled with water, cover and refrigerate.
How to make Homemade Mashed Potatoes
Peel and cut potatoes into 1 ½ inch chunks.
Fill a large pot, about 6-quart size with cold water.
Add in the potatoes. Season with salt, pepper, bay leaf, diced onion.
Bring potatoes to a quick boil.
Reduce heat to low and let potatoes simmer for about 15 minutes.
Potatoes should be fork tender. Do not overcook.
Drain potatoes very well in a colander. Discard the bay leaf.
Place potatoes back in the pot.
Add in milk and butter. Use a potato masher to mash potatoes.
Season with salt and pepper.
Check seasoning, if needed, add a bit more butter or salt and pepper to your taste.
Serve and enjoy.
Give us a like on FACEBOOK
For great recipes and tips, follow along on Pinterest
Thank you for always sharing my passion and love for food and family!
xo! Eileen
Are you loving this recipe, giving it a 5-star rating and any comments are super helpful for me and very much appreciated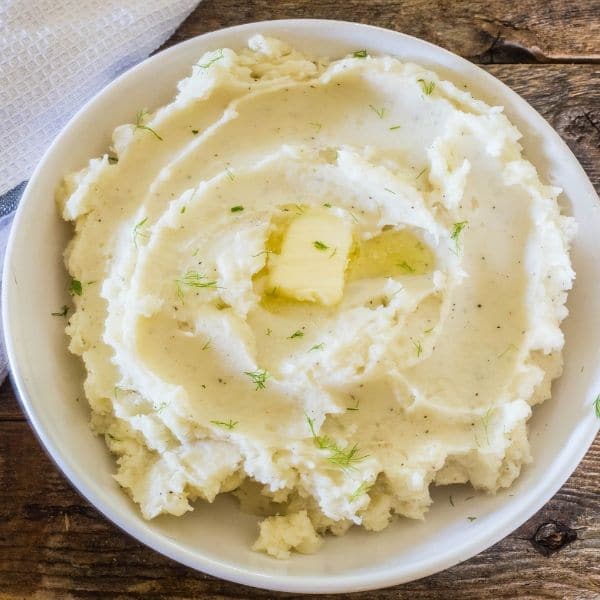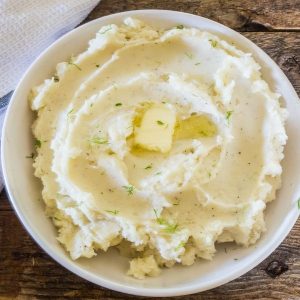 Easy Classic Homemade Mashed Potatoes
An easy and tasty classic homemade mashed potatoes. These potatoes are light and fluffy. A great side dish for meats and poultry. Can be made ahead and re-heated.
Print
Pin
Rate
Equipment Needed:
Ingredients
4

pounds

Russet or Yukon potatoes

*see note

water, to cover potatoes while they cook

1

teaspoon

salt, additional if needed

*see note

1

teaspoon

pepper, additional if needed

*see note

1

bay leaf

1

white onion or shallot, peeled and diced

*see note

1

cup

low-fat milk

*see note

4

Tablespoons

unsalted butter, softened and sliced into pieces.

diced parsley, chives, salted butter

optional garnish
Instructions
Peel, wash, and cut the potatoes. I prefer 1 ½ - 2-inch chunks.

Place the potatoes into a large Dutch Oven or pot filled ½ way with water. Add the onion or shallot, salt, pepper, and bay leaf.

Place the pot over medium heat. Simmer potatoes about 20-25 minutes. The potatoes should be fork tender. 

Remove pot from the heat. If making a gravy, see note below. Otherwise, drain the potatoes and onions in a colander. Discard the bay leaf.

Return the potato mixture to the original pot over medium-high heat. Shake the pot and stir potatoes to ensure water evaporates. About 15-20 seconds. Again, remove from heat. Give the potatoes a quick mash, slightly breaking up potatoes.

Add to the potatoes, butter and half the milk. Mash the potatoes for about 30 seconds. Add remainder of the milk to the potatoes.  I generally continue to hand mash for about 1-2 minutes. The longer the better. Check the seasoning and re-season as needed.

Feel free to garnish with your fresh dill or parsley, optional. Serve immediately or see notes.
Notes
Potatoes: When choosing potatoes, I prefer to use half Yukon and half Russet. I have used Long Island potatoes. I do not know the availability of those potatoes in other regions. 
Onions or Shallots: When dicing onion or shallot, remember they are going to be included  in the mashed potatoes so finely dice. They add great flavor.
Potato Water: The potato water should be seasoned with salt and pepper. Additional salt and pepper can be used as the potatoes are mashed.  Always check seasoning and reseason if needed.
Mashing Potatoes: for best results, I highly recommend a hand masher for great potatoes.  Hand mixer can be used. 
Milk: 2% is used in this recipe. Whole milk can be used. I don't recommend skim milk for this recipe. It makes the potatoes watery. 
Making Gravy: If you are making a gravy, keep the potato water to add into the gravy. It adds amazing flavor to the gravy. My Mom's fantastic tip :).
Vegan Potatoes: Make these potatoes Vegan using vegan butter and coconut milk. 
Variations to making mashed potatoes
Change up the recipe and add in roasted garlic.
Loaded mashed potatoes, add some chopped cooked bacon and green onions.

Grated horseradish

adds a zing to taters.
Serving suggestions:
serve immediately.
Kept warm in the oven on 170 degrees, covered.
Transferred to a slow cooker  on warm setting for a larger party. 
Can be made ahead and reheated the second day at 350 for about 15 minutes, stirring occasionally. 
Any nutritional data I provide is an approximation and actual dietary information can vary based on ingredients and proportion sizes.
Nutrition
Serving:
1
serving
|
Calories:
247
kcal
|
Carbohydrates:
43
g
|
Protein:
5
g
|
Fat:
6
g
|
Saturated Fat:
4
g
|
Cholesterol:
17
mg
|
Sodium:
317
mg
|
Potassium:
997
mg
|
Fiber:
3
g
|
Sugar:
3
g
|
Vitamin A:
205
IU
|
Vitamin C:
13.2
mg
|
Calcium:
67
mg
|
Iron:
2
mg