Honey Glazed Ham is one of my favorite recipes! It is not only easy to make but so delicious! Ham is one of those recipes that just makes everyone happy!! Save your money and make your own baked ham. The results are so much better than those store made honey glazed hams
This recipe works for either a smoked ham shank or a pre-cut spiral ham. The brown sugar and honey are delicious together and make the most flavorful glaze.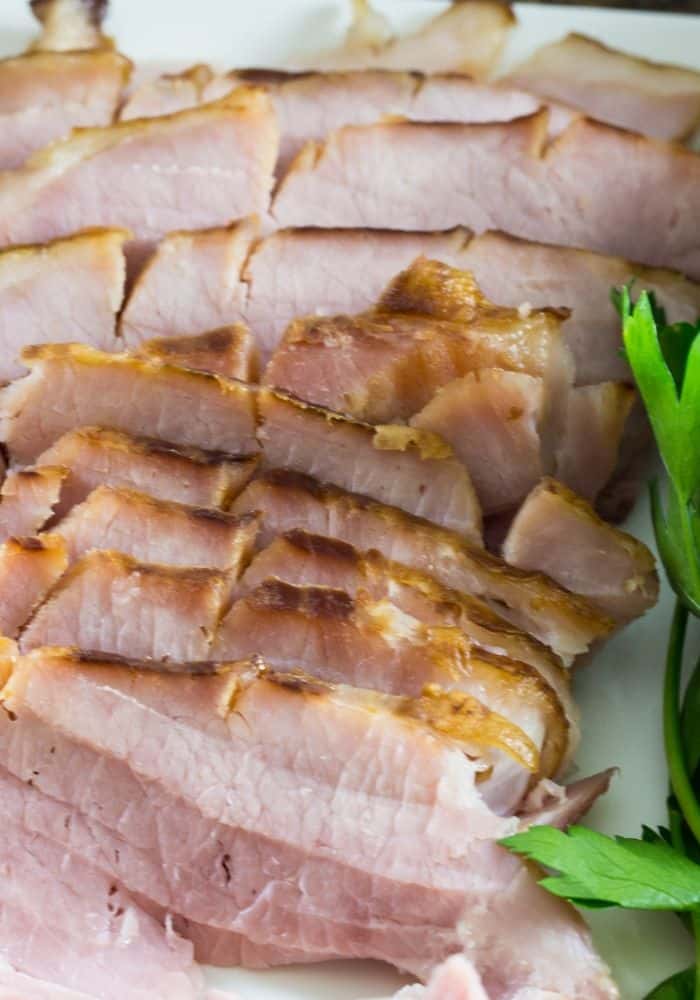 I don't know anyone who likes to waste money on food! So don't start now! The honey glaze for this ham is easy and so affordable to make! Purchase your ham either a shank or spiral! I go back and forth on what is my favorite! When I use unsliced ham it reminds me of my most prized memories spent in the South. I have had some amazing hams down South!
The Spiral ham is awesome as its already sliced and adding my honey glazed ham is my sort of copycat of that store made honey ham except mine tastes better, trust me! The money you save, go get a mani/pedi or play a round of golf with the savings!
Honey Glazed Ham Recipe
I remember the first time I made this recipe. My Mom was having a party and she priced out buying a ready made Spiral Ham! Good lord was it expensive! Flat out said, absolutely not Mom! You could have a spa day with that money! Thus my honey glazed ham recipe developed and we have never looked back!
The glaze is made from brown sugar and honey. Adding beer cuts the sweetness and balances out the flavors. As the glaze cooks down a bit the glaze thickens slightly and you have the perfect topping for your Holiday Ham!
You guys, this ham is moist and flavorful! We love it and enjoy it at Easter and many other times during the year! This is a great recipe for any family gathering! It makes a boatload of ham and even my Mairead loves this ham and she does not eat meat too often!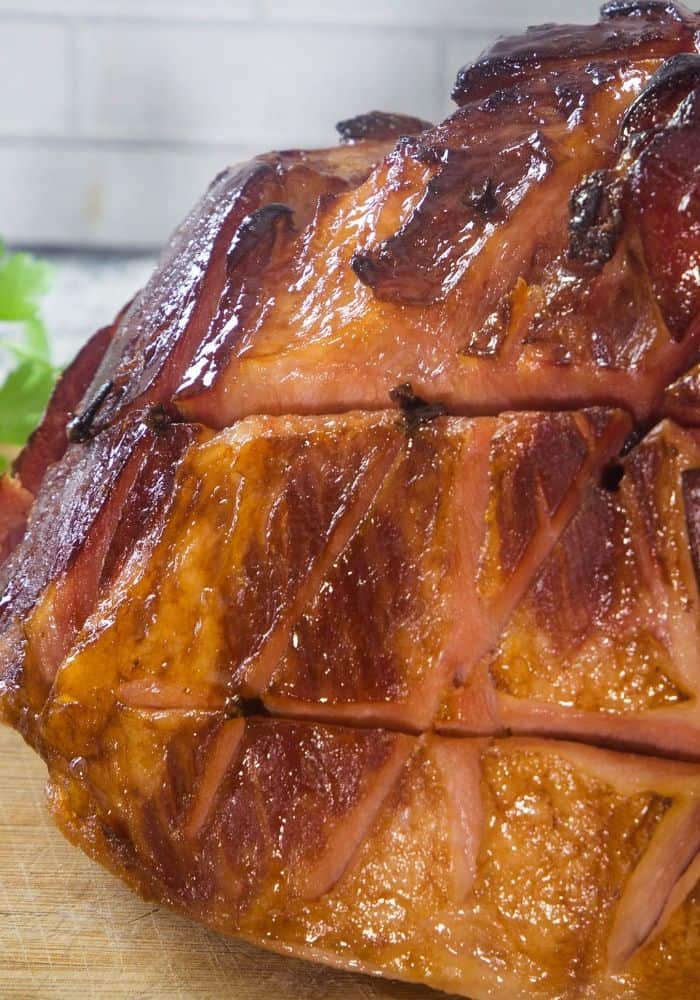 Why do you score the ham before baking?
Scoring the ham enables the glaze to enter further into the ham for added flavor. Scoring gives diamond cuts in the ham, as in the photo above. Lay the ham flat on a work surface and slice on the diagonal about ½ of an inch to make a diamond pattern. See photo under instruction number 2 below.
Why do you keep water in the bottom of the pan while baking the ham?
Even though the ham is wrapped in foil the liquid in the bottom of the pan ensures the ham stays moist.
Can this honey glazed ham be made ahead of time?
Sure! Make this a day ahead and slice up and serve at room temperature!
What can be served with honey glazed ham?
Can the baked ham be frozen?
You bet! A baked ham makes a lot and you can freeze some to use later.
What can you make with the ham leftovers?
The leftovers make a great ham salad! Make some buttermilk biscuits, recipe coming, and swoon! That sandwich is amazing! Split Pea Soup is a favorite of mine too.
For detailed info on cooking and storing Ham I suggest checking out USDA site!
How to Make Honey Glazed Ham
Preheat oven to 275 degrees.
Score the ham, ½ inch cut into the ham to form diamond.
Wrap ham completely in foil.
Lay ham on a wrap in large baking pan,place about ½ water in pan.
Bake about 15 minutes a pound. With 1 hour left glaze with honey glaze.
Make the glaze with beer, brown sugar, and honey.
With 1 hour left glaze with honey glaze.
Reclose foil. Repeat every 15 minutes for last hour.
When you make my Honey Baked Ham, please take a pic and tag me on Instagram @everyday_eileen or #everydayeileen
I love any comments or questions, please feel free to leave them below!
Keep up to date with recipes by following me on:
FACEBOOK INSTAGRAM, PINTEREST, TWITTER
Love this recipe, it would be awesome if you give it a 5-star rating and share comments below!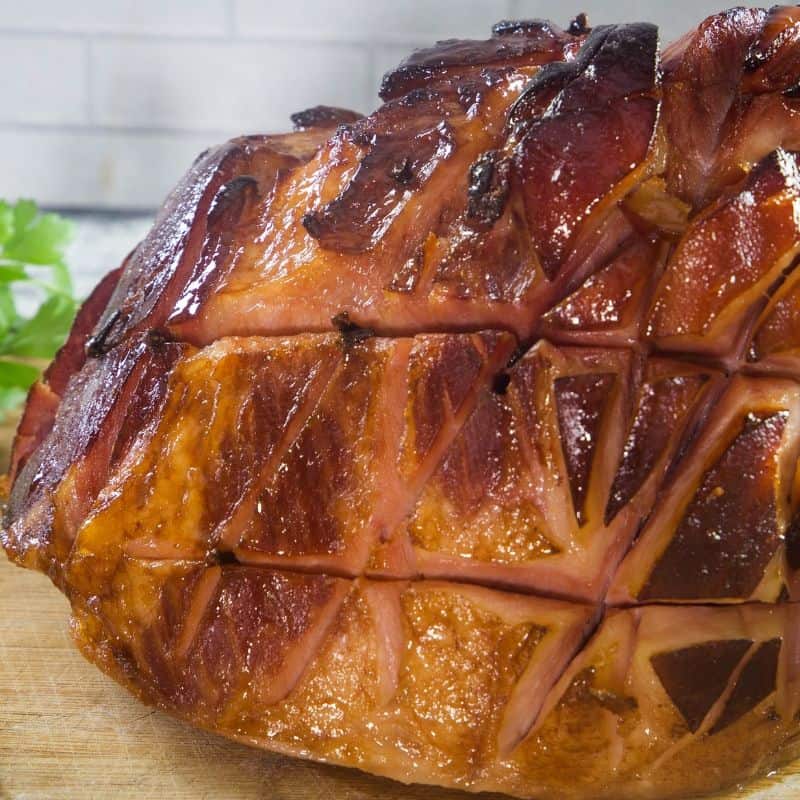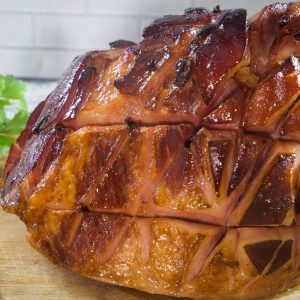 Honey Glazed Ham Recipe
Honey Glazed Ham is the perfect ham! The glaze is easy to prepare and adds amazing flavor to the ham.
Print
Rate
Equipment Needed:
Ingredients
8

pound

bone-in smoked ham

Note 1

10

whole

cloves

1

cup

beer

¼

cup

honey

¼

cup

brown sugar

3

Tablespoons

unsalted butter

1

teaspoon

Dijon mustard
Instructions
Preheat oven to 275 degrees.

Score the smoked ham making ⅓-inch cuts about ½-inch apart. The pattern will form diamond cuts on the ham.

Place whole cloves in various crevices of the diamond pattern. Wrap ham completely in foil. Place water in the bottom of a baking pan. Place the ham on a rack in the baking pan.

Bake in the oven 15 minutes. With one hour left to go brush glaze half the glaze over ham. Close foil, bake another 15 minutes. Brush remaining glaze on the ham. Brush glaze two more times with glaze.

Use either a gravy syringe or a large spoon to scoop the glaze from bottom of ham in the foil to reglaze ham. Cover with foil. The internal temperature should be 140 degrees when ham is complete.
How to Make Ham Glaze
In a small saucepan add beer, honey, brown sugar, unsalted butter, and Dijon mustard. Stir to dissolve sugar. Bring to a boil, turn heat down to simmer for about 15 minutes.Glaze should thicken slightly. Use to glaze ham.
Notes
Note 1: Use smoked ham or a spiral ham for this recipe.
Nutrition
Serving:
1
serving
|
Calories:
607
kcal
|
Carbohydrates:
8
g
|
Protein:
49
g
|
Fat:
40
g
|
Saturated Fat:
14
g
|
Cholesterol:
146
mg
|
Sodium:
2699
mg
|
Potassium:
666
mg
|
Fiber:
0
g
|
Sugar:
7
g
|
Vitamin A:
65
IU
|
Calcium:
23
mg
|
Iron:
2.1
mg