What am I going to do with leftover ham? No worries my friends, we've got you covered with amazing recipes for breakfast, soups, sandwiches, and dinner.
Whether it's Easter, Christmas, or any day, you serve a tasty ham, there will usually be leftovers. We got ideas for breakfast, lunch, and dinner to enjoy all our favorite leftover ham recipes.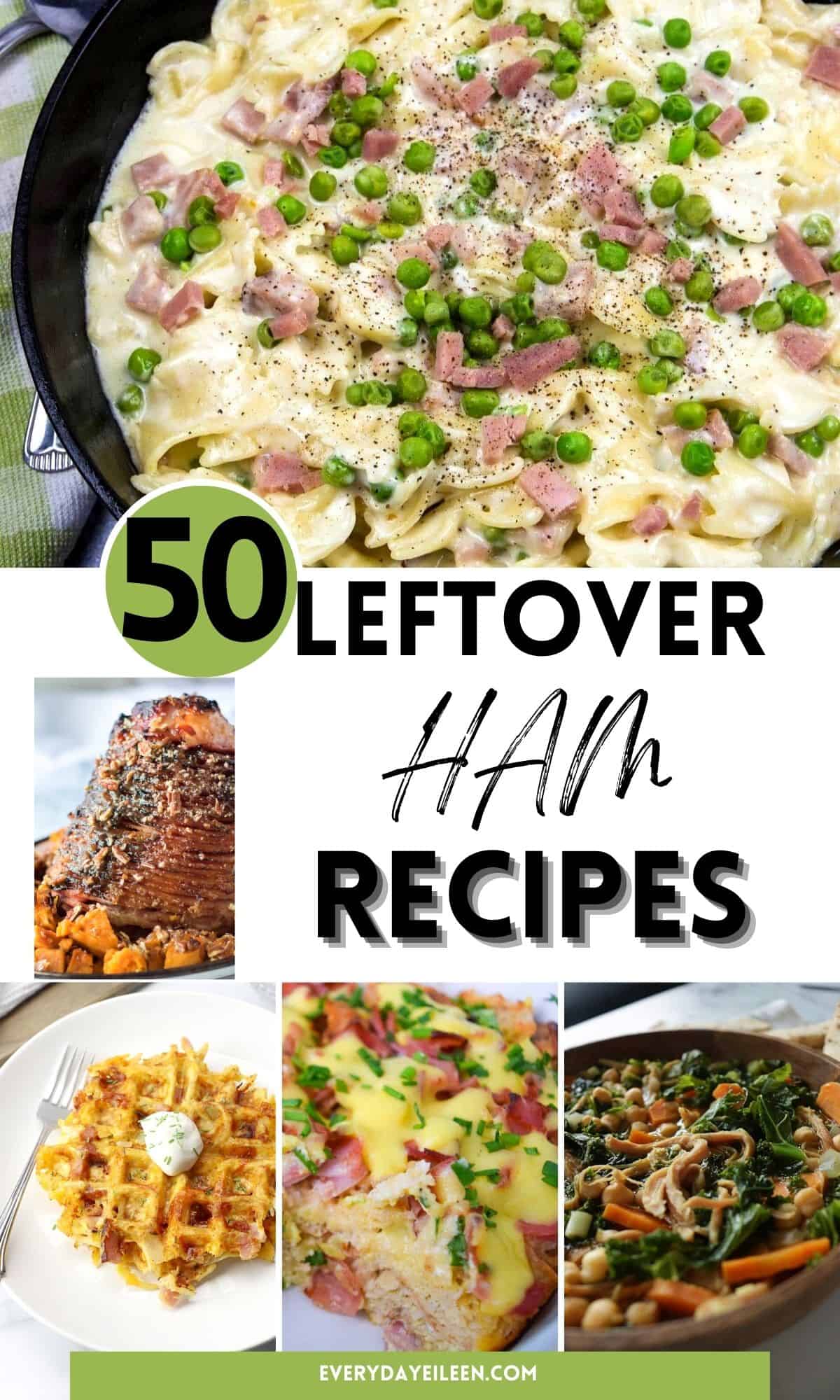 Jump to:
❤️ Why you'll love these recipes
These leftover ham recipes are all quick and easy recipe ideas.
Nothing is better than totally transforming leftovers into new recipe ideas from breakfast to dinner.
Many of these recipes can be frozen for later.
As an Amazon Associate, I earn from qualifying purchases.
Equipment
Food saver: A great investment for freezing foods to prevent freezer burn and ensure food quality.
Expert Tip: Be sure to bring any hot items to room temperature quickly before storing in the refrigerator for food safety.
Frequently Asked Questions
How long is leftover ham good for in the refrigerator?
Leftover ham can be kept in an airtight covered container for 3-4 days.
Can I freeze leftover ham?
Absolutely, leftover ham can be kept in the freezer in freezer-safe bags or containers. Use a food saver to prevent freezer burn. The ham can stay in the freezer for up to 3 months.
I don't want to use the ham bone right away, can I freeze the ham bone?
Absolutely, freeze the bone as you would the ham meat. You can defrost the bone overnight in the refrigerator and use it in your favorite soups such as split pea or ham bone soup.
Storage
Leftovers should be kept in the refrigerator in an airtight covered container for 3-4 days.
For longer storage, freeze leftover ham for up to 3 months. Use this chart from State Food Safety for specific food storage.
Breakfast Recipes
Reinvent your ham into delicious breakfast recipes. From burritos to casseroles, all of them are delectable and many are freezer friendly.
Breakfast Burrito: These are beyond delicious and so easy to prepare. Make a bunch and pop them in the freezer to reheat any time.
Ham and Goat Cheese Quiche: A marvelous brunch recipe.
Breakfast egg casserole: The original recipe uses sausage however this is a very versatile casserole and it can be varied to use leftover ham.
Ham and cheese croissant casserole: Enjoy a warm cheesy flavor-packed casserole with the option to prepare the casserole the night before.
Overnight Eggs Benedict: The deliciousness of eggs benny in one big casserole.
Chicken, Ham, and Swiss Keto Waffles: 5 ingredient tasty treats.
Breakfast biscuit ham sandwich: A delectable homemade breakfast biscuit. I'm ready to dig in, yummy!
Ham Hash, 3-Ways: I love hash and this one gives 3 variations!
Ham and Egg Hash Brown Waffles: A low-carb tasty breakfast choice.
Denver Omelet Pizza: What a great way to start the day.
Ham and Asparagus Quiche: A delightful addition to any brunch menu.

Soup recipes
The ham bone adds the most satisfying flavors to soups. Be sure to use it to make the base of any of these soups. A ham hock can also be used to make many of these soups that call for the ham bone.
Ham Bone Soup Recipe: Use the ham bone to make a delicious soup with ham and beans.
Slow Cooker Split Pea Soup: One of my favorite soups that screams comfort. This is made in the slow cooker and so easy and tastes amazing.
Creamy Slow Cooker Ham and Potato Soup: Hearty, creamy and full of flavor from veggies and ham.
Slow Cooker Lentil and Ham Soup: A budget-friendly robust soup. It requires little effort with outstanding results.
French Onion Soup: yes, that's right. The base of the soup is perfection.
Slow Cooker Leftover Ham and Shredded Potato Soup: The slow cooker does all the work and you enjoy a wonderful soup.
Ham and Cabbage Soup: A hearty soup to enjoy with lots of fresh flavors.
3 Cheese Tortellini Soup with Ham: Oh my, this is so good.
Kale and Chickpea Soup with Ham: A soup loaded with veggies and full of flavor.
Black Bean Soup with Ham: Enjoy a hearty soup with black beans.
Salads and sandwiches, and snack ideas
Ham Salad: Use your leftover ham to make the most delicious salad. It can be served on its own as a low-carb snack or on any of your favorite bread.
Ham and Cheese Buttermilk Biscuits: These tasty drop biscuit treats will be gobbled up quickly. Delish!
Chicken Cordon Bleu Sandwich: A delicious sandwich to enjoy for lunch.
Dill Pickle Pasta Salad with Ham: A hearty salad.
Baked Ham and Cheese Soft Pretzel Sliders: Who can resist a pretzel slider? Yummy.
Ham and Brie Grilled Cheese Sandwich: A cheesy sandwich to enjoy, yummo.
Pasta Salad with Ham: A great variation to a wonderful salad.
Monte Crisco Grilled Cheese Sandwich: Made with cinnamon butter and raspberry jam, a keeper.
Panini Style Ham and Cheese Sliders: The addition of artichokes to these yummy sliders catapults them to the top.
Hawaiian Pizza Pull-Apart Sliders: Quick and easy snack or lunch using leftover ham for a tasty treat.
Ham and Cheese Hashbrown Bake is a great way to use leftovers for a complete makeover that is ready in no time.

Leftover ham dinner ideas
From creamy pasta to robust rice recipes, to cheesy grits, we have great ideas to create new dinners with your holiday ham.
Creamy ham and peas pasta: A creamy cheesy sauce over pasta and ham for a less than 30-minute dinner.
Ham, Rice, and Beans: A weight watchers friendly recipe that delivers deliciousness.
Low-carb ham and broccoli casserole: This is one fantastic recipe and very easy to put together for a hearty meal.
Ham Tetrazzini: Enjoy a twist to a classic pasta.
Instant Pot Ham, Green Beans, and Potatoes: Quick, easy, and a big bowl of comfort.
Ham and Fried Rice: Quick, easy, and such a tasty dinner.
Scalloped Potatoes and Ham: A creamy combination of silky potatoes and ham for a winner dinner.
Italian Eggplant Pasticcio with Ham and Cheese: A fabulous Mediterranean casserole that is sure to be a family pleaser.
Ham and Cauliflower Rice Casserole with Spinach: A low-carb casserole to make a great tasting meal.
Crockpot Ham and Cheese Grits: Down home comfort food at its best.
Ham and Beans in the Instant Pot: A wonderful hearty blend of flavors for a great meal.
Cheesy Hot Ham and Broccoli Crescent Pockets: Flaky crescent pockets filled with yumminess.
No Soak Black Eyed Peas: Love how easy this is to prepare.
Ham, Pea, and Onion Risotto: A fantastic dinner.
I love any comments or questions, please feel free to leave them below.
Keep up to date with recipes by following me on:
FACEBOOK INSTAGRAM, PINTEREST, TWITTER
Thank you for your continued support. I am forever grateful.
Eileen xo