Brown Sugar Glazed Carrots, my Granny and my Momma Murphs recipe is old school and delicious! This is one of those side dishes that is so easy and flavorful! These carrots will become a family must have side dish for you too!
There is not much better than one of those family side dishes that is easy and has been in the family forever. These carrots are a fantastic side that my Grandma made and so does my Mom.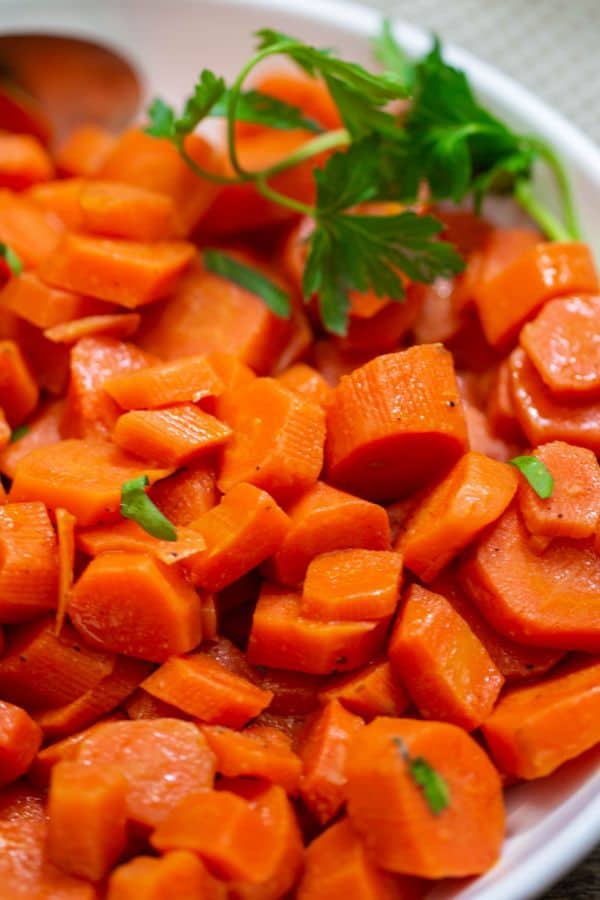 Glazed Carrots, an easy side dish that is awesome for any night and perfect for a great Holiday side dish!
Not much better than an easy side dish that is ready in less than 30 minutes. The carrots have a buttery brown sugar glaze that is beyond delicious! My kids can eat them as a snack! So yummy
One of my favorite childhood food memories was helping my Grandma make these glazed carrots. I remember when I was old enough to use a veggie peeler. When I was old enough to slice the carrots, I was over the moon! If only life was that simple now!
If you have not had brown sugar glazed carrots, my friends, please take a few minutes and make greatness! Seriously the easiest and most delicious carrot recipe!
You will not be disappointed!! Trust me! Yummy!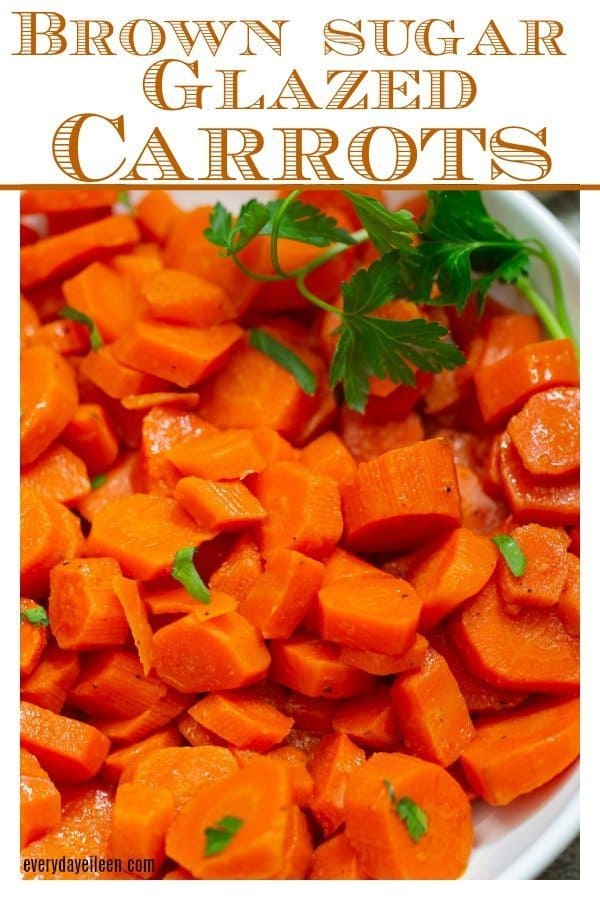 Whether it is Easter, Thanksgiving, Christmas, any family gathering, or a weeknight meal, my Granny's Brown Sugar Glazed Carrots should be included in your menu!
They are so good! Easy to prep ahead of time and take just a few minutes of prep! A no-brainer side dish full of flavor!
Nutritional FAQs on Carrots:
Carrots are loaded with beta-carotene, fiber, and Vitamin K.
The high water content in carrots, just like mushrooms, enable carrots to be filling which is great for moderating your food intake.
Carrots are high in soluble fiber which can lower blood sugar.
The amount of fat in a carrot is minimal.
Carrots are rich in Vitamin A which are awesome for the eyes.
You all know I love my facts on food! Carrots are no different! Want to read up on how beneficial carrots are for you, check out this article!
Do I have to peel the carrots?
Personal preference here, I always peel carrots! You can scrub the skin well and eat the carrot without peeling the skin.
Can glazed carrots be made ahead of time?
These brown sugar glazed carrots can be made 2 days ahead and just reheated when ready to serve! Especially helpful for Holidays like Easter, Thanksgiving, and Christmas! Prep the carrots – dice and place in water in a saucepan in the fridge and just cook when ready.
Can brown sugar glazed carrots be frozen for later?
These carrots are delicious but I do not freeze them after they are made. They tend to be mushy. I tried it and not-good! eat them and enjoy or use the leftovers in a Guinness Beef Pie or Chicken Pot Pie!
How long can glazed carrots be kept in the fridge once they are made?
I have made these carrots 2 days ahead, especially around the Holidays. These are one of my favorite make-ahead sides.
What is the best brown sugar to use for thes Glazed Carrots?
I prefer to use Truvia brown sugar to keep these low-carb. Coconut sugar or brown sugar also works well.
The following are affiliate links. We are a participant in the Amazon Services LLC Associates Program, an affiliate advertising program designed to provide a means for us to earn fees by linking to Amazon.com and affiliated sites.
Thank you so very much for being apart of Everyday Eileen!
[dropshadowbox align="none" effect="lifted-both" width="auto" height="" background_color="#ffffff" border_width="1″ border_color="#4ad1e8″ ]
Shop this recipe:
3 1/2 Quart Saute Pan: A great pan with a lid! It is one we use daily.
Truvia Brown Sugar: My choice when making these glazed carrots.
[/dropshadowbox]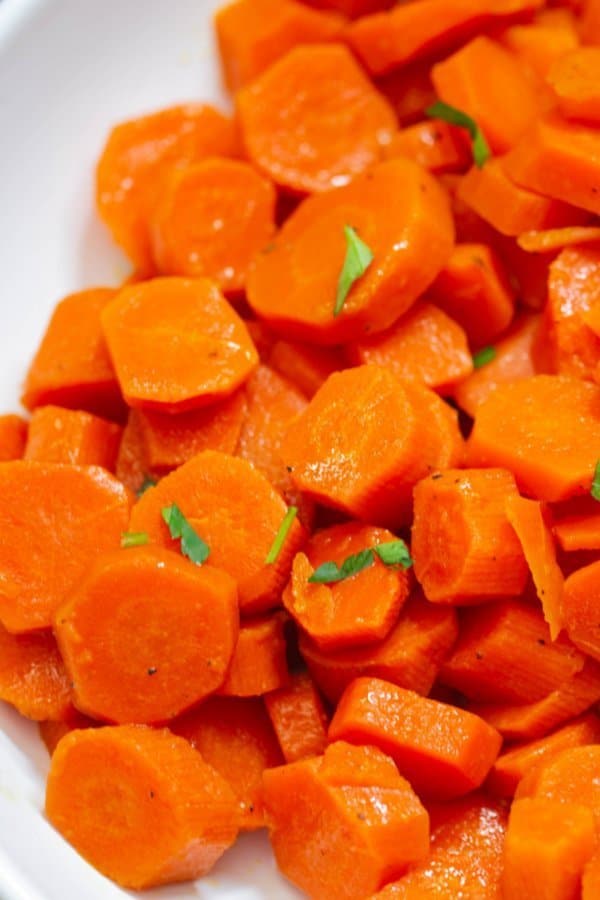 Tips

to make great Brown Sugar Glazed Carrots:
Slice the carrots evenly to ensure even cooking.
Use just enough water to cover carrots.
Boil the carrots until just soft, don't overcook.
If reheating carrots, warm over low heat or in the oven for just a few minutes to warm carrots.
Coconut Sugar or Turbinado Sugar can also be used to make these glazed carrots.
How to Make Brown Sugar Glazed Carrots:
Peel and slice carrots evenly, about 1-inch slices.
Place carrots in a saucepan covered with water.
Bring to a boil, reduce heat. Simmer 5 minutes
Add the brown sugar and butter, stir and enjoy!
We love seeing our recipes that you make! Share with us on Instagram and tag @every_dayeileen or #everydayeileen
I love any comments or questions, please leave below!
I HOPE YOU CONTINUE FOLLOWING ME:
FACEBOOK INSTAGRAM, PINTEREST, TWITTER
If you have enjoyed these delicious Brown Sugar Glazed Carrots, giving it a 5-star rating and share comments below would be super helpful!
brown
Granny's Brown Sugar Glazed Carrots
Not much better than a side dish that you have been enjoying since you were a child. These Glazed Carrots are a favorite of mine! My Granny's recipe and they are so delicious and in about 10 minutes you have the most delicious glazed carrots!
Print
Pin
Rate
Ingredients
Boil Carrots
1

pound

carrots, peeled and sliced 1 inch thick

2

cups

water, enough to cover carrots

1

bay leaf

1/2

teaspoon

salt
Brown Sugar Glaze
1/4

cup

light brown sugar or truvia light brown sugar

Note 1

2

Tablespoon

unsalted butter

salt and pepper to taste
Instructions
In a medium saucepan, over medium heat, add the diced carrots and enough water to cover the carrots. Add in a bay leaf, and salt.

Bring the pot to a boil, reduce heat to medium, cover with a lid and simmer about 5 minutes. Carrots should be fork tender.

Drain the carrots of excess water and discard the bay leaf. Stir in the light brown sugar and unsalted butter. Add the salt and pepper to taste. Taste for seasoning, re-season if needed. Serve and enjoy

1
Notes
Note 1: Truvia brown sugar is my choice.  I am currently having some issues with my auto-immune disease and being low-carb is best. Regular brown sugar works well! As always, us what works for your family. 
Any nutritional data I provide is an approximation and actual dietary information can vary based on ingredients and portion sizes.
Nutrition
Serving:
0.25
cup
|
Calories:
96
kcal
|
Carbohydrates:
10
g
|
Protein:
1
g
|
Fat:
5
g
|
Saturated Fat:
3
g
|
Cholesterol:
15
mg
|
Sodium:
369
mg
|
Potassium:
362
mg
|
Fiber:
3
g
|
Sugar:
5
g
|
Vitamin A:
19120
IU
|
Vitamin C:
6.7
mg
|
Calcium:
37
mg
|
Iron:
0.3
mg