Are you ready for sweet yet savory carrots that are like potato chips? Eat one and you will want the whole bowl! Well, my friends, you're in for a big treat today. Even my non-veggie loving family, yes, there are a few of them, love these delightfully glazed candied carrots recipe that is screaming with love from brown sugar and warm melted butter.
First Published: February 15, 2019… Last Updated: November 27, 2019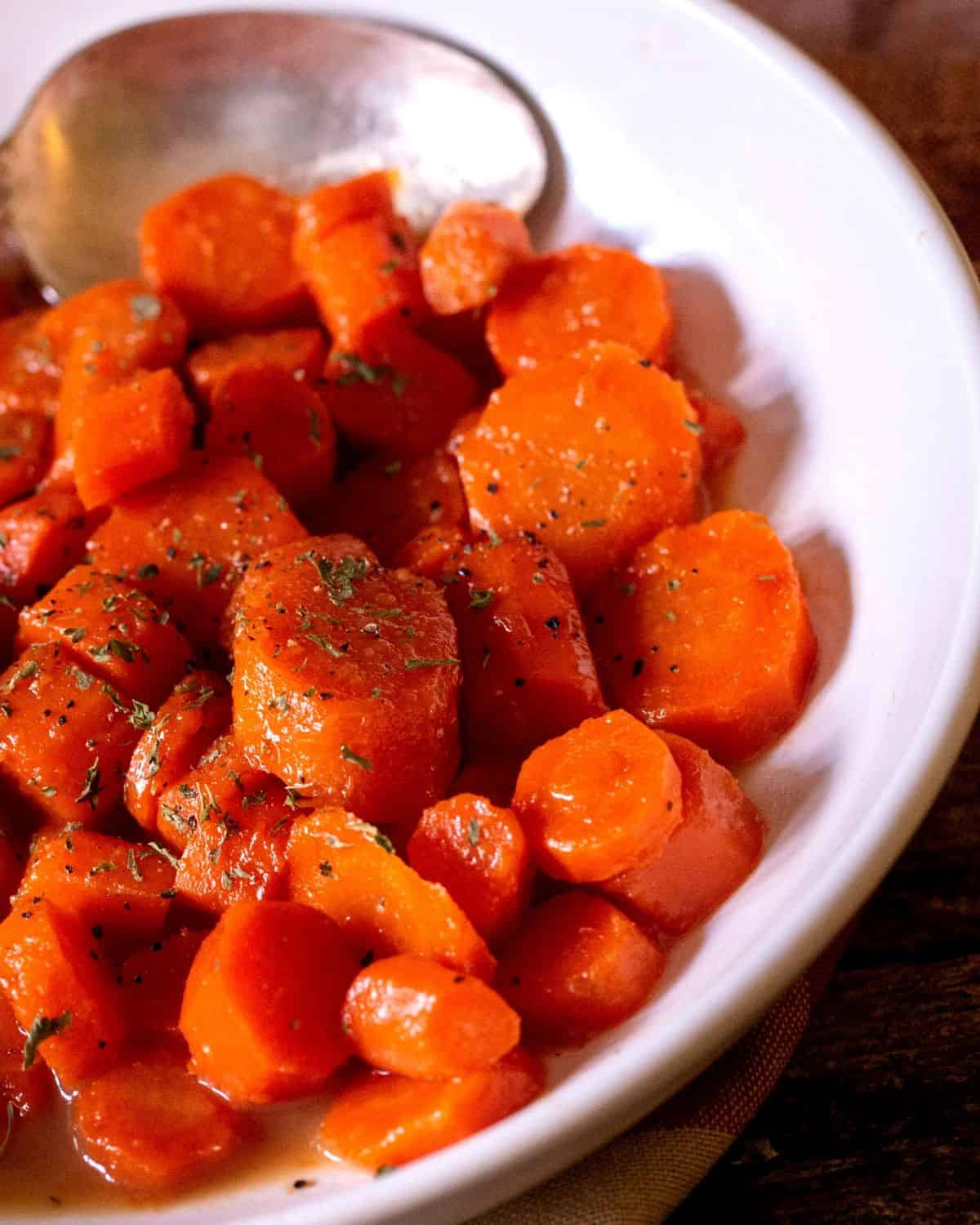 Glazed Carrots, an easy side dish that is awesome for any night and perfect for a great holiday side dish!
The classic recipes that catapult you back to great memories from your childhood are always the best. This candied carrot recipe is one of those that just brings sheer happiness to me. 
Candied Carrots Recipe
One of my favorite childhood food memories was helping my Grandma in the kitchen.  I remember when I was old enough to use a veggie peeler and my Granny let me peel the carrots and potatoes.
I thought "look at me now, everyone" It was the beginning of my love of cooking that has always stayed with me.
When I was old enough to use the knife,look-out, I was over the moon!  If only life could be that easy now!
Back to this amazing recipe. The glaze, brown sugar and butter is a marriage that is just meant to be. When you put the two on this carrots cooked fork-tender, there is nothing better.
My friends, please take a few minutes and make greatness! Seriously this candied carrot recipe is heaven on Earth deliciousness!
You will not be disappointed!! Trust me! Yummy!
Whether it is Easter, Thanksgiving, Christmas, any family gathering, or a weeknight meal, my Granny's Candied Carrots should be included in your menu!
They are so good! Easy to prep ahead of time and take just a few minutes of prep! A no-brainer side dish full of flavor!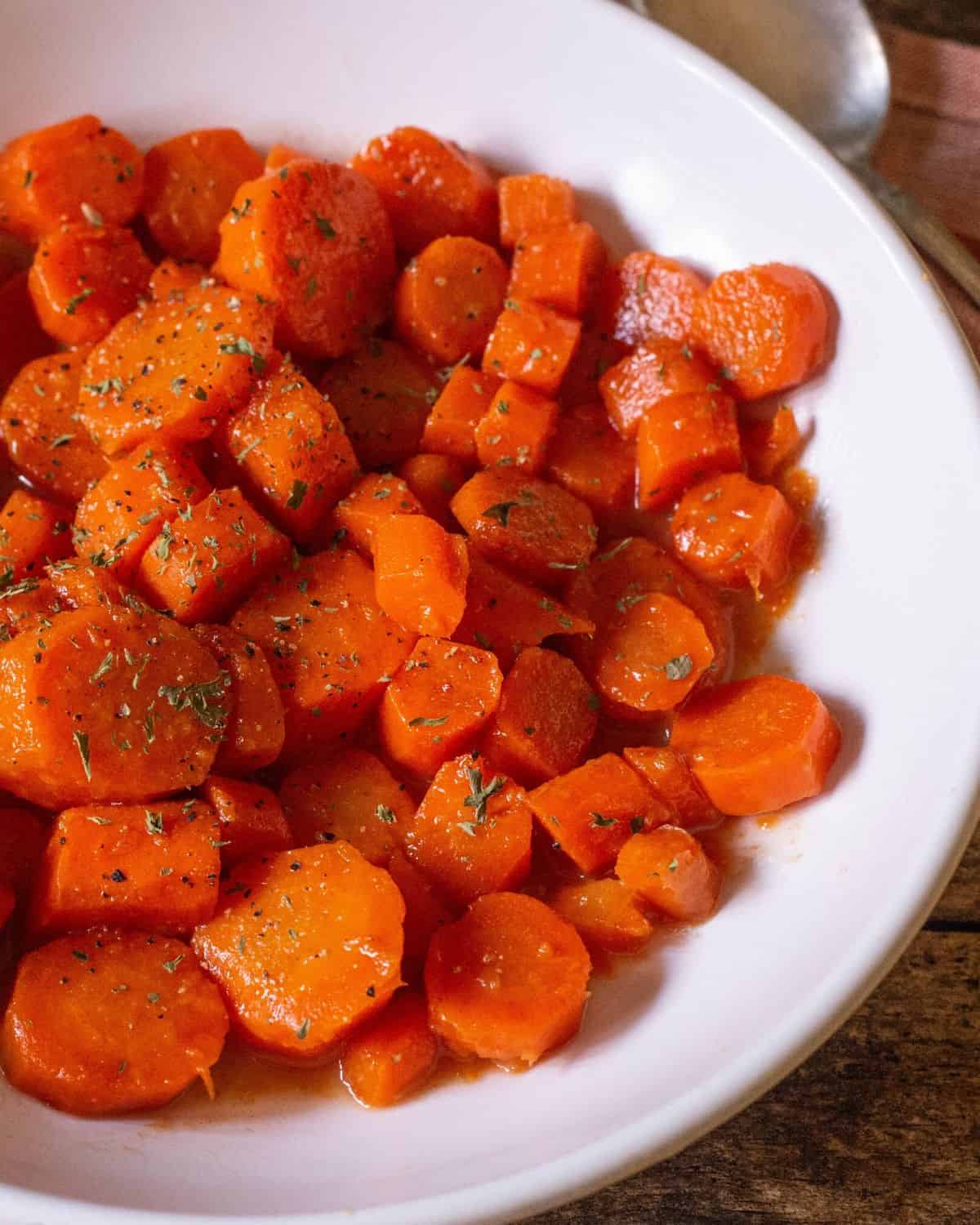 Nutritional FAQs on Carrots:
Carrots are loaded with beta-carotene, fiber, and Vitamin K.
The high water content in carrots, just like mushrooms, enable carrots to be filling which is great for moderating your food intake.
Carrots are high in soluble fiber which can lower blood sugar.
The amount of fat in a carrot is minimal.
Carrots are rich in Vitamin A which are awesome for the eyes.
You all know I love my facts on food! Carrots are no different! Want to read up on how beneficial carrots are for you, check out this article!
Do I have to peel the carrots?
Personal preference here, I always peel carrots! You can scrub the skin well and eat the carrot without peeling the skin.
Can candied carrots be made ahead of time?
These brown sugar-glazed carrots can be made 2 days ahead. Reheat when ready to serve! Especially helpful for Holidays like Easter, Thanksgiving, and Christmas! Prep the carrots – dice and place in water in a saucepan in the fridge. Cook tje carrots when ready.
Can I freeze the leftovers?
These carrots are delicious but I do not freeze them after they are made. They tend to be mushy. I tried it and not-good! Eat them and enjoy or use the leftovers in a Guinness Beef Pie or make a Coconut Carrot Soup!
How long can glazed carrots be kept in the fridge once they are made?
I have made these carrots 2 days ahead, especially around the Holidays. These are one of my favorite make-ahead sides.
What do I look for when choosing fresh carrots?
Look for firm carrots that have a bright orange color. You do not want black spots on your carrots. Also, choose carrots that are not too thick, they are not a sweet as thinner carrots.
Can I use another type of sugar be to make candied carrots?
Yes, coconut sugar, Truvia brown sugar, and turbinado all work with this recipe.
The recipe uses fresh carrots. Can I use frozen carrots?
Sure, frozen carrots will work here too.
The following are affiliate links. We are a participant in the Amazon Services LLC Associates Program, an affiliate advertising program designed to provide a means for us to earn fees by linking to Amazon.com and affiliated sites.
Thank you so very much for being apart of Everyday Eileen!
Shop this recipe:
Don't forget to shop Everyday Eileen store on Amazon!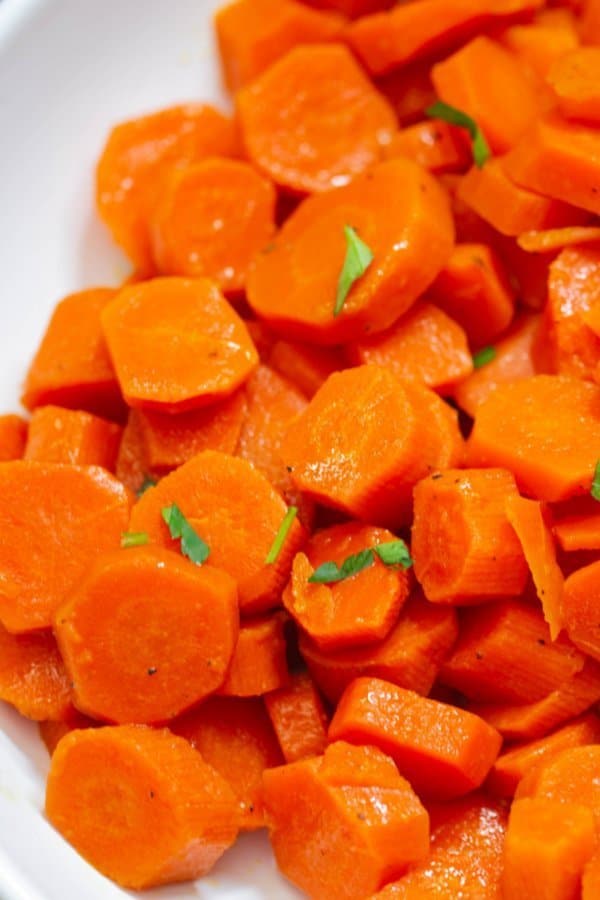 Tips to make great Candied Carrots:
Slice the carrots evenly to ensure even cooking.
Use just enough water to cover carrots. Add in a bay leaf, salt, and pepper.
Boil the carrots until just soft, don't overcook.
If reheating carrots, warm over low heat or in the oven for just a few minutes to warm carrots.
You can use Coconut Sugar or Turbinado Sugar to make these glazed carrots.
How to Make Candied Carrots Recipe:
Peel and slice carrots evenly, about 1-inch slices.
Place carrots in a saucepan covered with water.
Bring to a boil, reduce heat. Simmer 5 minutes
Add the brown sugar and butter, stir and enjoy!
Give us a like on FACEBOOK
For great recipes and tips, follow along on Pinterest.
Thank you for always sharing my passion and love for food and family!
xo! Eileen
Are you loving this recipe, comment and give it a 5-star rating would be awesome.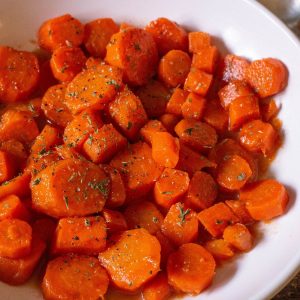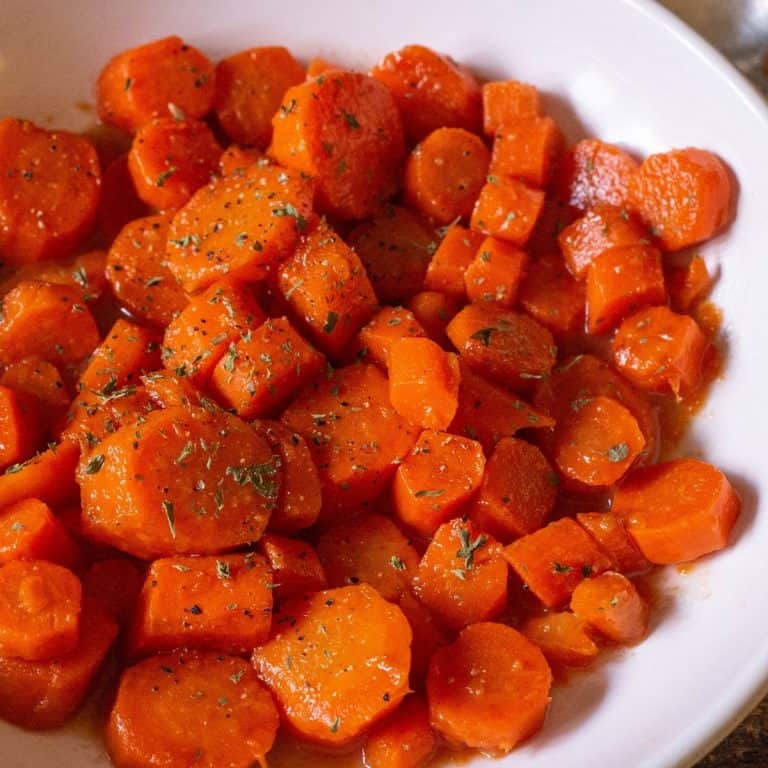 Granny's Candied Carrots Recipe
Not much better than a side dish that you have been enjoying since you were a child. These Candied Carrots are tender and filled with flavor from brown sugar and melted butter. A great side dish for any night. Perfect for Holidays.
Print
Pin
Rate
Ingredients
Boil Carrots
1

pound

carrots, peeled and sliced 1 inch thick

2

cups

water, enough to cover carrots

1

bay leaf

1/2

teaspoon

salt
Brown Sugar Glaze
1/4

cup

light brown sugar

2

Tablespoon

unsalted butter

salt and pepper to taste
Instructions
In a medium saucepan, over medium heat, add the sliced carrots and enough water to cover the carrots. Add in a bay leaf, and salt.

Bring the pot to a boil, reduce heat to medium, cover with a lid and simmer about 5 minutes. Carrots should be fork-tender.

Drain the carrots of excess water and discard the bay leaf.

Stir in the light brown sugar and unsalted butter. Add salt and pepper to taste. Taste for seasoning, re-season if needed. Serve and enjoy
Notes
Slice the carrots evenly to ensure even cooking. 
Use just enough water to cover carrots. 
Boil the carrots until just soft, don't overcook.
If reheating carrots, warm over low heat or in the oven for just a few minutes to warm carrots.
Coconut Sugar or Turbinado Sugar can also be used to make these glazed carrots.
Any nutritional data I provide is an approximation and actual dietary information can vary based on ingredients and portion sizes.
Nutrition
Serving:
0.25
cup
|
Calories:
96
kcal
|
Carbohydrates:
10
g
|
Protein:
1
g
|
Fat:
5
g
|
Saturated Fat:
3
g
|
Cholesterol:
15
mg
|
Sodium:
369
mg
|
Potassium:
362
mg
|
Fiber:
3
g
|
Sugar:
5
g
|
Vitamin A:
19120
IU
|
Vitamin C:
6.7
mg
|
Calcium:
37
mg
|
Iron:
0.3
mg