Slow cooker corned beef and cabbage is so easy to prepare and is mouthwatering! We use beer, whole cloves of garlic, and peppercorns with just a little prep work to create the most tender and juicy meat.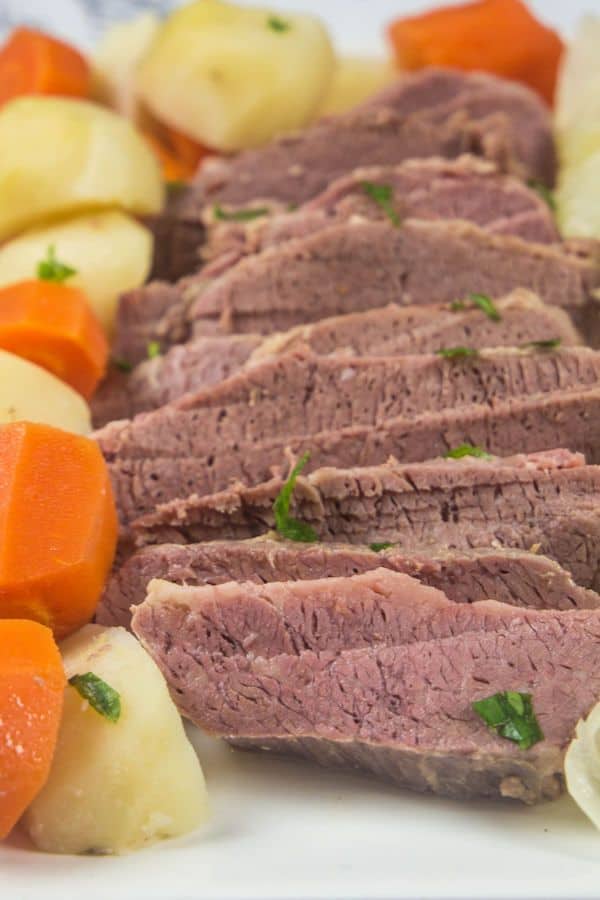 I have talked about corned beef not being a traditional meal in Ireland! That doesn't mean we can't enjoy it!A great recipe to celebrate Saint Patrick's Day in America! A true fix and forget a slow cooker meal!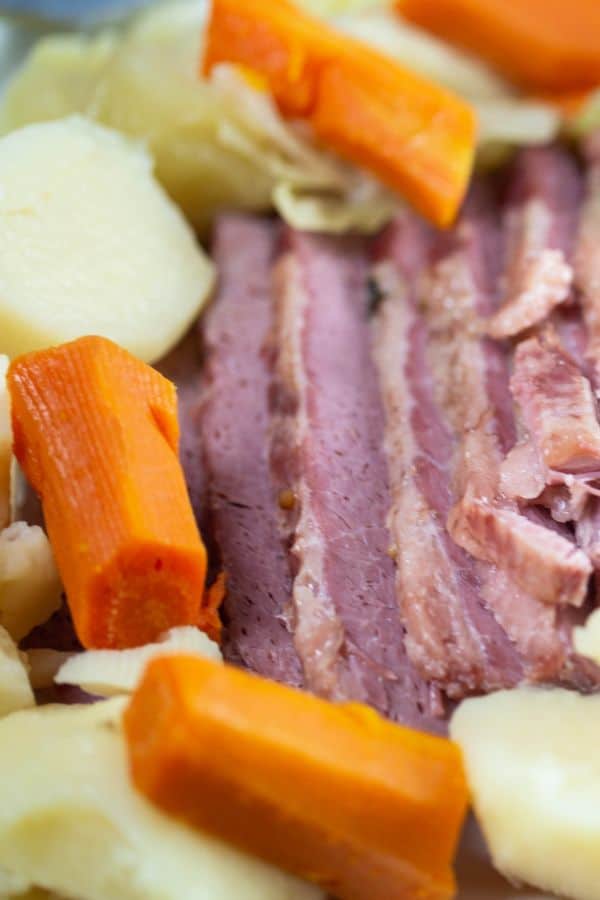 Why Slow Cooker Corned Beef and Cabbage is a great recipe:
A slow cooker is an amazing appliance and I love using it because it really makes a difference in making food taste good! When it comes to making this recipe, using the slow cooker is a great choice as this is a fix and forget meal.
The slow cooker uses a low temperature and slow cooking makes the most tender brisket.
When you have a busy day, the slow cooker does the work!
Enjoy this meal any time of year and you have a delicious dinner without a lot of fuss!
Slow Cooker Corned Beef and Cabbage Ingredients:
flat cut brisket – less fat than a thick-cut also trim excess fat.
1 bottle of your favorite ale or lager – gives amazing flavor to the liquid.
large onion – another layer of flavor.
10 black peppercorns -more flavor
5 cloves garlic – more flavor
bay leaf
fresh thyme
pickling spices
red potatoes
fresh carrots – to balance out veggies add carrots.
cabbage
How to make Slow Cooker Corned Beef and Cabbage
Place the meat, ale, onion, peppercorns, garlic, bay leaf, thyme, pickling spices, potatoes, carrots, and enough water to cover the meat.
Slowly cook the corned beef on low for 8-10 hours.
Add the cabbage with one hour left on the slow cooker.
Serve with

Irish Brown Bread

or Irish Soda Bread.
How did corned beef become a way to celebrate on Saint Patrick's Day?
When the Irish immigrated to America, they were accustomed to eating pork and bacon. Both were very expensive in America. This particular cut of meat was very affordable and soon became a meal that was regularly eaten due to its economic benefits.
What is the best cut of beef to use for this recipe?
I prefer using a brined flat cut. It is less fatty. I do always trim off any excess fat that I can before cooking the brisket. The pointcut is also popular but again, I find it a bit too tough for my liking and a bit fattier. It tends to be cheaper than the flat cut too. Pay a little more and use the flat cut.
Can I overcook my meat?
Yes, you do not want the meat to shred. For best results, cook the meat on low for 8 hours using a 4-5 pound cut of meat hours. The meat will be fork tender when completely cooked.
Should the meat be fat side up or down in the slow cooker?
Cook the brisket fat side up in the liquid.
The following are affiliate links. We are a participant in the Amazon Services LLC Associates Program, an affiliate advertising program designed to provide a means for us to earn fees by linking to Amazon.com and affiliated sites.
Shop This Recipe:
8-Quart Crock-pot: This is my Crock-Pot and I love it!
Pickling Spices: If your brisket does not come with a spice packet. Order your own.
Don't forget to shop at the Everyday Eileen store on Amazon!
Traditional Irish meals included beef pies and pork roast recipes. My Granny made pot roast a lot! Bangers and mash was another recipe I grew up eating! Another fun recipe for celebrating Saint Patrick's Day is a tasty Guinness Bacon Irish Cheddar Burgers from my talented friend Meaghan over at 4 Sons 'R' Us
Pro Tips to Make the best Corned Beef and Cabbage Recipe:
Trim excess fat from the brisket before cooking.
Cut veggies into larger chunks so they aren't too soft. Add Cabbage with 1 hour left.
Prefer veggies with a bite, add them halfway through cooking, hour 4.
Once the meat is cooked, remove, cover with foil and let rest for about 10-15 minutes. This sets the juices in the beef.
Cut the meat against the grain.
Feel free to remove and discard the film off the top of the water after the meat has slow-cooked for about 45 minutes.
When you make this recipe, take a pic and tag me on Instagram @everyday_eileen or #everydayeileen
I love any comments or questions, please feel free to leave them below!
Keep up to date with recipes by following me on:
FACEBOOK INSTAGRAM, PINTEREST, TWITTER
Love this recipe, it would be awesome if you give it a 5-star rating and share comments below!
First Published: Maarch 12,201… Last Updated: February 25, 2020
Slow Cooker Corned Beef and Cabbage
Slow-cooked corned beef, potatoes, cabbage, and carrots cooked with ale! Prep takes 10 minutes and the slow cooker does the rest! Enjoy for Saint Patrick's Day or any time of year.
Print
Pin
Rate
Equipment Needed:
Ingredients
4

pounds

brined flat cut corned beef

12

ounces

beer

Note 1

4-6

cups

water

Note 2

1

large

onion, peeled

5

cloves

garlic, peeled

10

whole

black peppercorns

Note 3

pickling spice

Note 4

1

bay leaf

2

pounds

red potatoes, peeled and cut into large chunks

Note 5

6

medium

carrots, peeled and cut into 3-inch chunks

Note 5

3

sprigs

fresh thyme

1

medium

cabbage, cut into thick wedges

Irish Soda Bread

optional side

Irish Brown Bread

optional side
Instructions
Into a slow cooker add corned beef, fat side up, beer, water, onion, garlic, black peppercorns, pickling spices, bay leaf, potatoes, carrots, and thyme.

Set the timer for 6 hours on low.

Then add the cabbage, carrots, and potatoes to the slow cooker. Set the slow cooker on low for an additional 2 hours.

Once the timer is up, beef should be fork tender. Remove corned beef and cover with foil. Let it rest for about 10-15 minutes. Cut corned beef against the grain.

Remove and discard the onion, bay leaf, and thyme. Strain the veggies.

Serve the corned beef and cabbage with brown mustard and enjoy!
Notes
Note 1: Use your ale of choice! Guinness, Smithwick's are two that I use.
Note 2: Be sure your meat and veggies are covered with the liquid. Use more water if needed.
Note 3: Use whole black peppercorns in addition to the pickling spice, adds great flavor.
Note 4: If your brisket does not come with pickling spice, you can purchase pickling spice.
Note 5: Cut veggies into larger chunks so vegetables aren't too soft.
Trim excess fat from the brisket before cooking.
Cut veggies into larger chunks so they aren't too soft. Add Cabbage with 1 hour left.
Prefer veggies with a bite, add them halfway through cooking, hour 4.
Once the beef is cooked, remove, cover with foil and let rest for about 10-15 minutes. This sets the juices in the beef.
Cut the beef against the grain.
Feel free to remove and discard the film off the top of the water after the beef has slow-cooked for about 45 minutes.
I'm not a registered dietician, I do my best to provide the most accurate nutritional values. Any nutritional data I provide is an approximation. Actual dietary information can vary based on ingredients and portion sizes
Nutrition
Serving:
4
slices
|
Calories:
581
kcal
|
Carbohydrates:
28
g
|
Protein:
37
g
|
Fat:
34
g
|
Saturated Fat:
10
g
|
Cholesterol:
122
mg
|
Sodium:
2810
mg
|
Potassium:
1418
mg
|
Fiber:
5
g
|
Sugar:
5
g
|
Vitamin A:
270
IU
|
Vitamin C:
113.7
mg
|
Calcium:
89
mg
|
Iron:
5.4
mg