My Irish Soda Bread recipe is absolutely delicious. A sweeter version of Irish Soda Bread because it has raisins and sugar. Very traditional soda bread is not as sweet as mine, no raisins or sugar.
I have made at least 1000 of these breads. The most requested recipe from everyone. Even traditional Irish Soda Bread lovers, give this recipe a go, you won't be disappointed!
This article was last updated March 15, 2019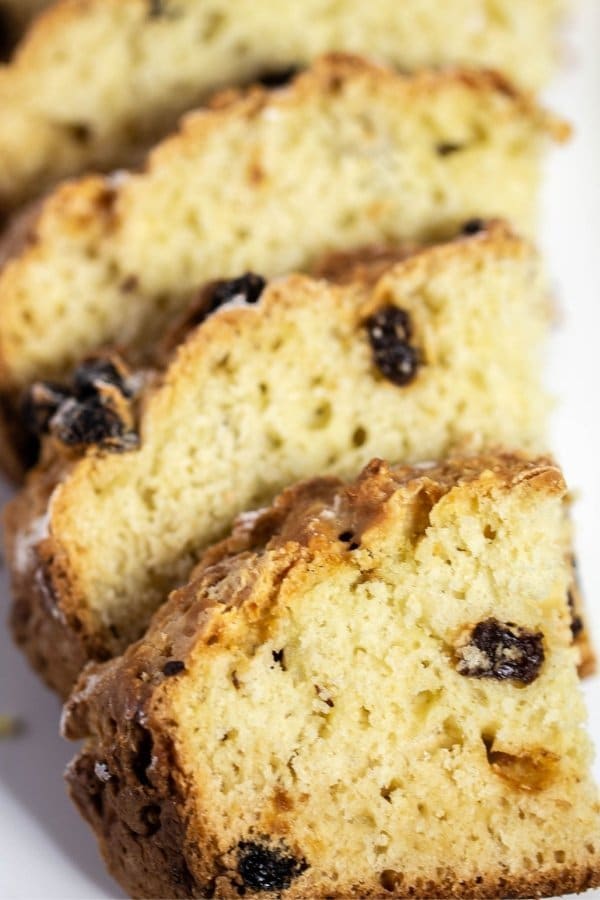 With my Granny's approval, I tweaked the recipe to be a little sweeter. For my family, this is our favorite recipe for Irish Soda Bread. Call it a quick bread, tea cake, modern soda bread, whatever you want, just make the bread and enjoy.
Irish Soda Bread Recipe:
One reason I have tweaked my Grandma's recipe for the bread is because of her instructions! What a spitfire she was too! She would tell me "throw a fistful of flour and a dollop of baking soda", as her recipe instructions!
Fistfulls, dollops, and a wee bit of whatever ingredient is how I learned to cook.
My Grandmother never used any measurements. I don't think she even had a measuring cup.
I am so proud that this bread has been titled the Best Irish Soda Bread at many baking contests.
Learning how to make Irish Soda Bread is easier than you think!
Irish Soda Bread is perfect paired with my easy Slow Cooker Corned Beef and Cabbage! We enjoy Bangers and Mash with Soda Bread as well! Delicious!
These are recipes that you can enjoy year round! Perfect for your Saint Patrick's Day Celebration!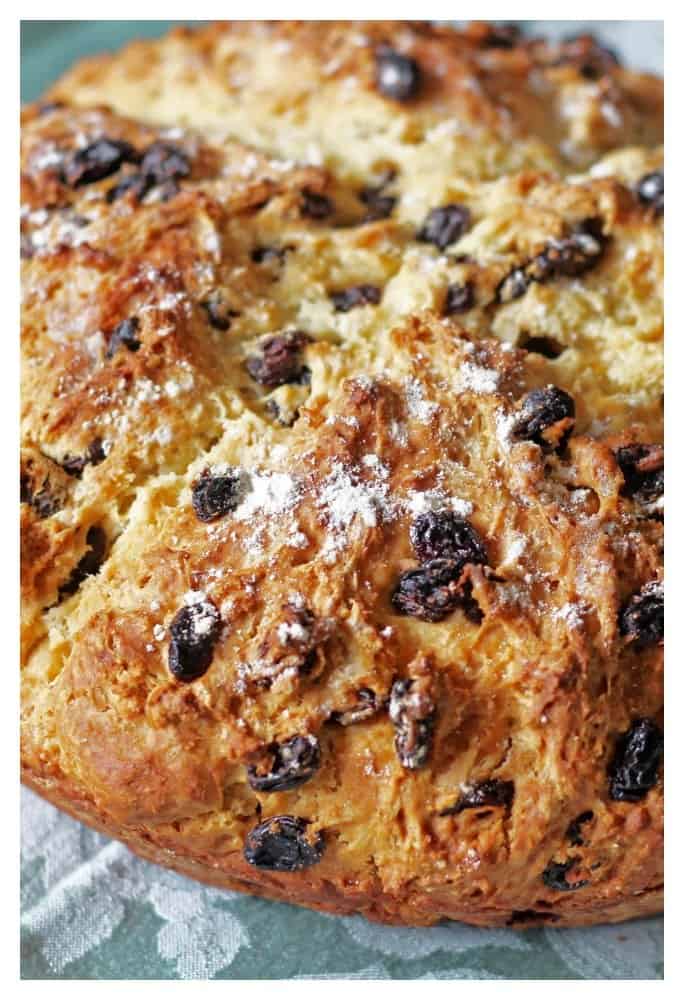 Tools to make Irish Soda Bread:
a bowl
wooden spoon
8 or 9 inch round cast iron pan or cake pan
Ingredients to make a delicious Irish Soda Bread:
flour
baking soda
baking powder
sugar
salt
unsalted butter
buttermilk
sour cream
egg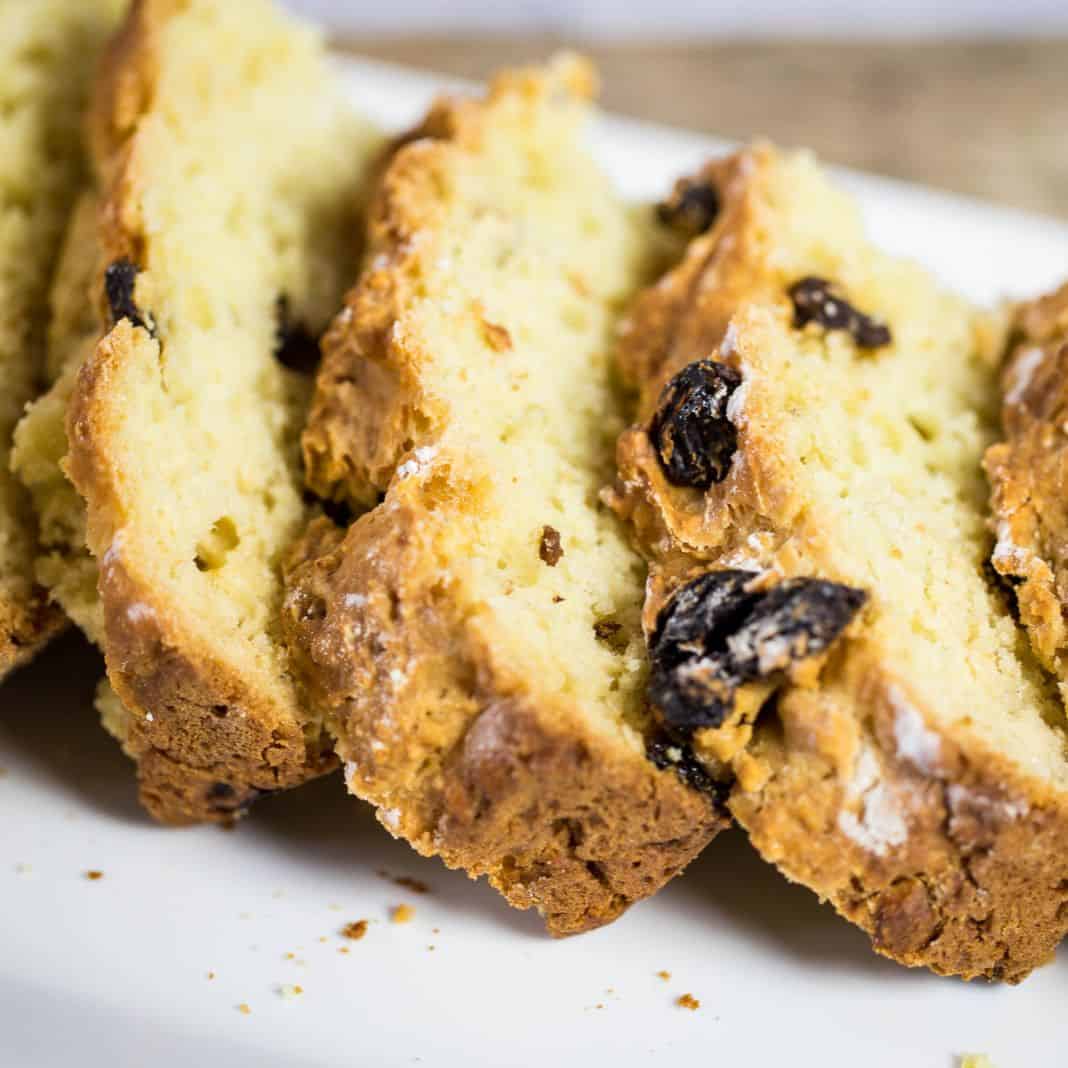 Irish Soda bread, a flavorful bread filled with raisins!
When buttermilk isn't available, is there a substitute?
To substitute buttermilk, for every cup of buttermilk use 1 cup of milk of choice and 1 Tablespoon of white vinegar. Blend and let it sit on the counter for about 5-10 minutes before adding to your recipe. Without getting into the science of baking, do not use plain regular milk, your soda bread will just not be good. The buttermilk has to work with the baking soda to make a great dough.
Some Irish Soda Bread recipes are sweeter than others, why?
I will say this about any recipe, If you like it, make and enjoy! My recipe for Irish Soda Bread has taken a bit of a twist on my Grandmothers bread. It is a bit sweeter and more moist. More importantly, I cannot keep it in the house.
This is a fun article that talks about sweet and savory Irish Soda Bread.
Can I use dried fruit other than raisings to make Irish Soda Bread?
Recipes are awesome but you can always modify for you and your family! At the Holidays, I use dried cranberries. Feel free to change up the dried fruit if raisins are not on your list of likes. I promise I won't be mad. #nojudging
Why is it called Irish Soda Bread?
Way back when ingredients were not easy to come by in Ireland. In the 1800s, baking soda was introduced to Ireland. As I mentioned, traditional soda bread had only a few ingredients including soured milk - we use buttermilk and baking soda. The baking soda is a leavener for the bread.
Will Irish Soda Bread freeze well?
Absolutely! I make this bread a few at a time because my boys eat this every day. I wrap well with plastic wrap and then place in a large freezer bag. You can cut it into quarters to reduce taking up space.
Can I send this Soda Bread to the family via mail?
Yes! This is a super popular family recipe and my kids move around the country. I send this to them to remind them of home. Wrap tightly in plastic wrap and then aluminum foil. Mail to your family and be the most popular relative.
Why do you make a cross in the bread before you bake the bread?
Ireland is a very Catholic country, the cross in the Irish Soda Bread wards off evil. My Granny always said that the Cross was also Blessing all those that ate the bread. That warms my heart as I miss my Granny every day.
The following are affiliate links. We are a participant in the Amazon Services LLC Associates Program, an affiliate advertising program designed to provide a means for us to earn fees by linking to Amazon.com and affiliated sites.
Thank you so very much for being apart of Everyday Eileen!
Shop to make this recipe:
Cast Iron Pans:Great pans to use to make soda bread.
Don't forget to shop the Everyday Eileen store on Amazon!
Pro Tips for making an amazing Irish Soda Bread:
Use softened unsalted butter.
Feel free to use your clean hands to blend the butter into the flour mixture.
Wrap the bread tightly with plastic wrap or store in large plastic sealable bag to keep bread moist.
Spray the bottom of cast iron or pie plate with non-stick spray. Bread will not stick.
Let the bread cool completely before slicing.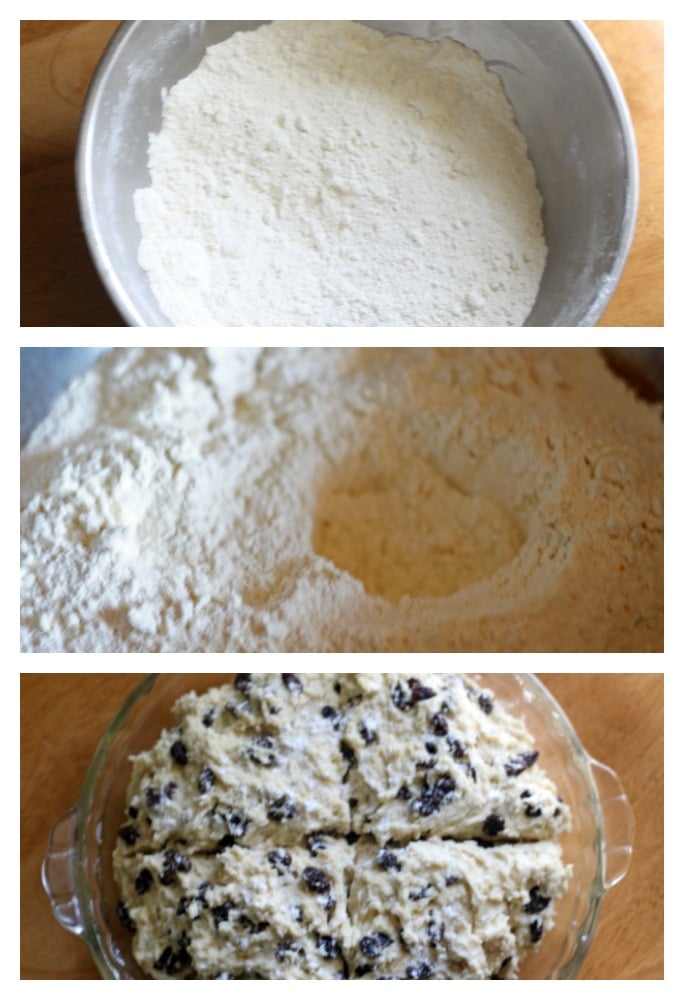 Step by Step instructions to make Irish Soda Bread
How to Make Irish Soda Bread:
Sift dry ingredients into a large bowl.
Blend the unsalted softened butter into the dry ingredients Blend into a fine crumble. (top pic)
Next, make a

well in the center

of the dry ingredients. Don't ask why this is just how my Granny taught me and it works! Trust me, make the well! (pic 2)
Add the beaten egg, buttermilk, and sour cream! Use a wooden spoon, yup, has to be a wooden spoon to gently mix the ingredients.
If needed add a wee bit more buttermilk and of course raisins.
Use a cast iron or a 9 inch round pie pan. I use my Granny Annie's cast iron.
Make a cross with a knife through the top of the bread! See the question above as to why you must do this!
To finish, sprinkle a dusting of flour on the uncooked bread before it goes into the oven.
This is such a versatile bread! A tasty Irish Soda Bread is delicious with marmalade, butter, or straight up!
A few other favorite baked recipes of my family:
Glazed Cranberry Orange Scones
Irish Soda Bread is a perfect dessert for:
The Best Beef, Mushroom Guinness Pie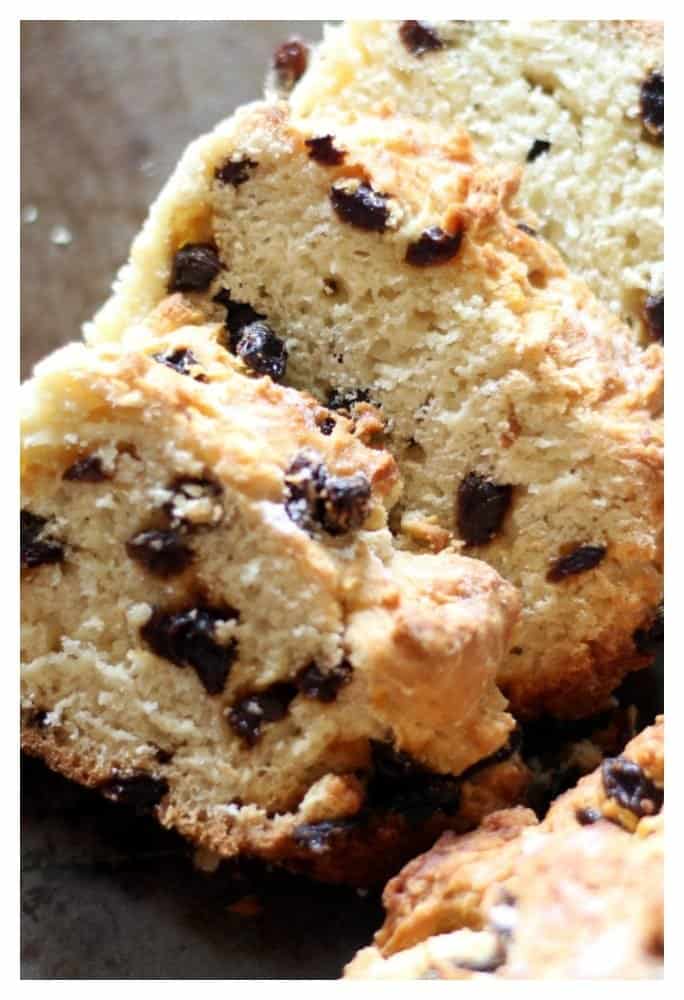 Looking for some more ethnic bread recipes. Try these from my favorite blogs:
Finnish Cardamom Pullapart Bread from Mildly Meandering
Russian Bread from Valentina's Corner
I absolutely love this bread! It is super moist and doesn't last a day in my house! It is one of those loaves of bread that I bring to my friends all the time. They are always asking me to make one for them!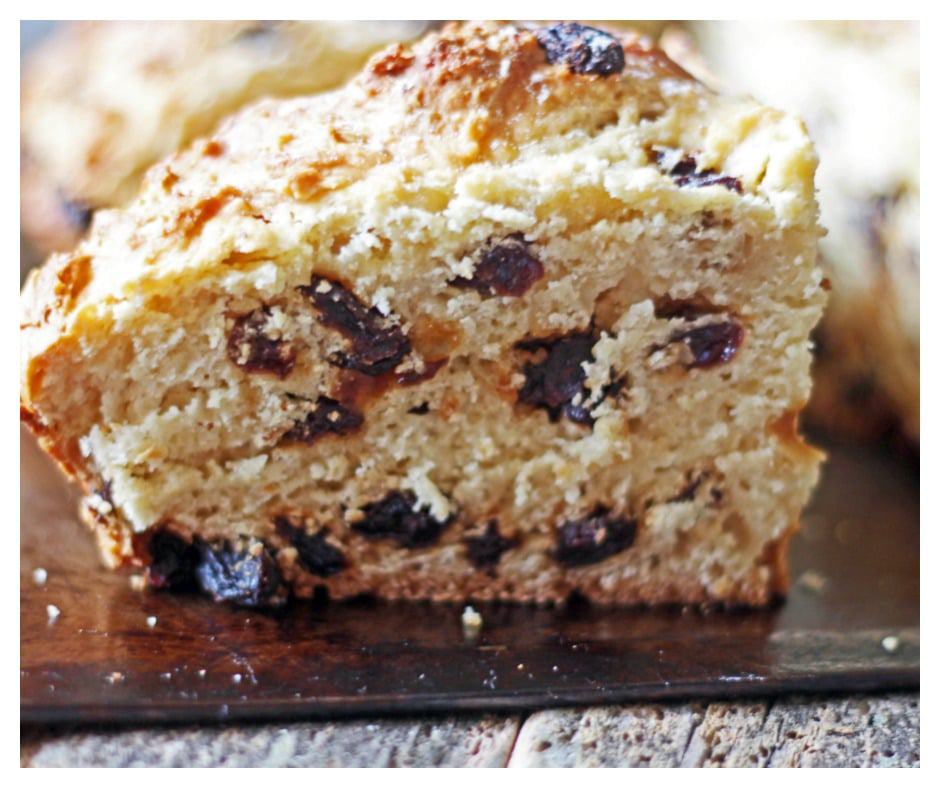 How to Make Irish Soda Bread video:
I love any comments or questions, please feel free to leave them below!
Keep up to date with recipes by following me on:
FACEBOOK INSTAGRAM, PINTEREST, TWITTER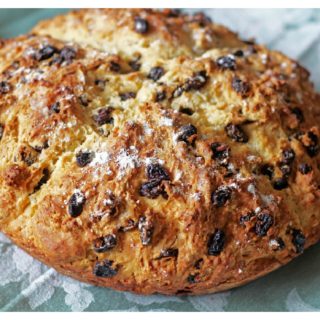 Blue Ribbon Irish Soda Bread Recipe
A family recipe that we make every week! This is a multiple blue ribbon baking contest winner, perfect for a breakfast bread. Great for any time of year. Of course, perfect for Saint Patrick's Day with your Irish breakfast, corned beef, or Guinness stew!

Print
Pin
Rate
Equipment Needed:
As an Amazon Associate I earn from qualifying purchases
Ingredients
4

cups + 1 teaspoon

all-purpose flour

(1 teaspoon for dusting top of the loaf before baking)

½

cup

sugar

1

teaspoon

salt

1

teaspoon

baking powder

1

teaspoon

baking soda

4

Tablespoons

unsalted butter, softened

1

large

egg

1 to 1 ½

cups

low-fat buttermilk

start with 1 cup buttermilk. Add a little more if needed.

1

cup

low-fat sour cream

½ to ¾

cup

raisins

love raisins add ¾ cup
Instructions
Preheat oven to 350°F. Spray a 9 inch cast iron skillet or glass pie pan with non-stick baking spray, set aside.

In a large mixing bowl, mix together the flour, sugar, salt, baking powder, and baking soda.

Add softened unsalted butter. Blend with your hands until mixture is a coarse crumble and there are no large clumps of butter. Make a well in the center of the ingredients. Set bowl aside.

In a medium size mixing bowl, whisk the egg well, color will be light yellow. Mix in 1 cup of low-fat buttermilk and low-fat sour cream. Blend well.

Add the wet ingredients into the well of the dry ingredients. Use a wooden spoon to gently fold all ingredients. When almost completely blended, add raisins. Add a little more buttermilk if mixture seems too dry.


Place dough into the prepared pan. Use a serrated knife to make a cross in the center of the dough. Sprinkle the 1 teaspoon of remaining flour over the top of dough.

Bake in the preheated oven on the center rack in center of the oven for about 60 minutes. Check if the bread is done by putting a toothpick through the center of bread. Toothpick should come out clean.  If the toothpick is not coming out clean, leave bread in the oven for an additional 5-minute intervals. Check for doneness after each 5 minutes. Toothpick should come out clean. 

Let the bread cool on a wire rack at least 20 minutes before slicing.

Enjoy the bread plain, with a bit of butter, jelly, or marmalade.
Notes
Be sure to check Expert Tips and FAQs above with important tips and questions that can help make a delicious recipe.
Make a well in the center of dry ingredients because that is how my Nana taught me.
Start with 1 cup of buttermilk. If the mixture is too dry, add a little more. 
Use a wooden spoon to stir, again that is how my Granny taught me.
Storage:

Bread can be wrapped in plastic wrap. It never lasts beyond 2 days in my home. Also, bread can be made ahead and frozen. Wrap tightly in plastic wrap and store in freezer bag. Defrost in the refrigerator. 
I am not a registered dietician, I do my best to provide the most accurate nutritional values. Any nutritional data I provide is an approximation. Actual dietary information can vary based on ingredients and portion sizes
Nutrition
Serving:
1
slice
|
Calories:
235
kcal
|
Carbohydrates:
52
g
|
Protein:
5
g
|
Fat:
2
g
|
Saturated Fat:
1
g
|
Monounsaturated Fat:
10
g
|
Cholesterol:
16
mg
|
Sodium:
234
mg
|
Potassium:
242
mg
|
Fiber:
2
g
|
Sugar:
23
g
|
Vitamin A:
50
IU
|
Vitamin C:
0.8
mg
|
Calcium:
20
mg
|
Iron:
2
mg
Pin my Irish Soda Bread to make any time here: