My Irish Brown Bread is a family recipe for authentic Irish bread with a hearty texture. It's made with whole wheat flour, rolled oats, and buttermilk.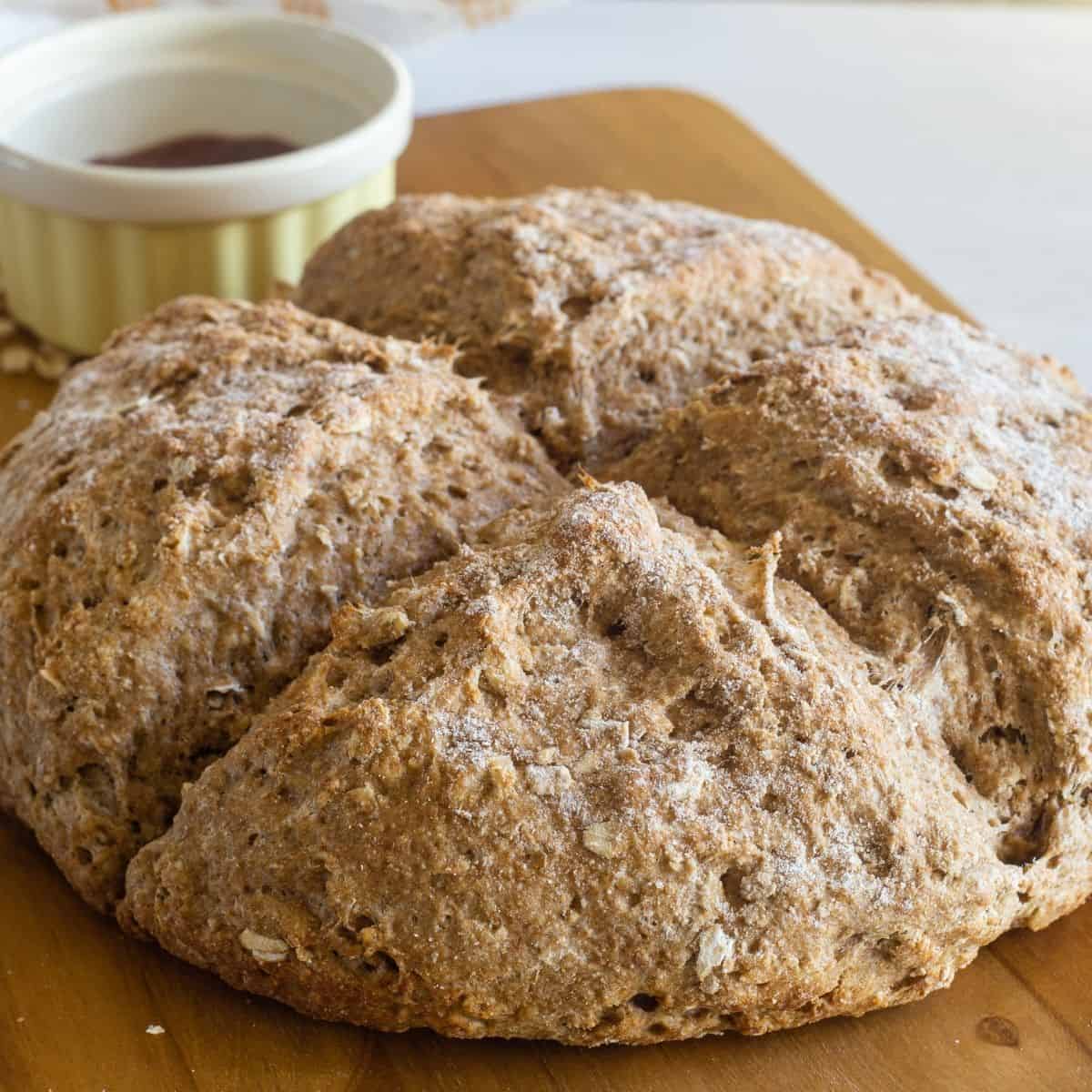 If you've been to Ireland and stayed at any B & B, the experience of enjoying a warm slice of brown bread with fresh creamy butter and marmalade will be a fond memory. If you haven't had the experience, don't worry, this is the bread to transport you to the Irish countryside.
This is a yeast-free bread that is rich and hearty in flavor from whole wheat flour and rolled oats.
Looking for specifics on the recipe? Use the table of contents to click on sections of the recipe.
Jump to:
❤️ Why this recipe works
This is another blue ribbon winner, just like our very popular Irish Soda Bread. This bread has also won many blue ribbons at baking contests.
This brown bread uses simple ingredients that are easy to find.
Our bread is yeast-free bread so there is no waiting for it to rise.
Irish brown bread recipe is not just for St. Patrick's Day. We make this about 2-3 times a week.
🔪 Ingredients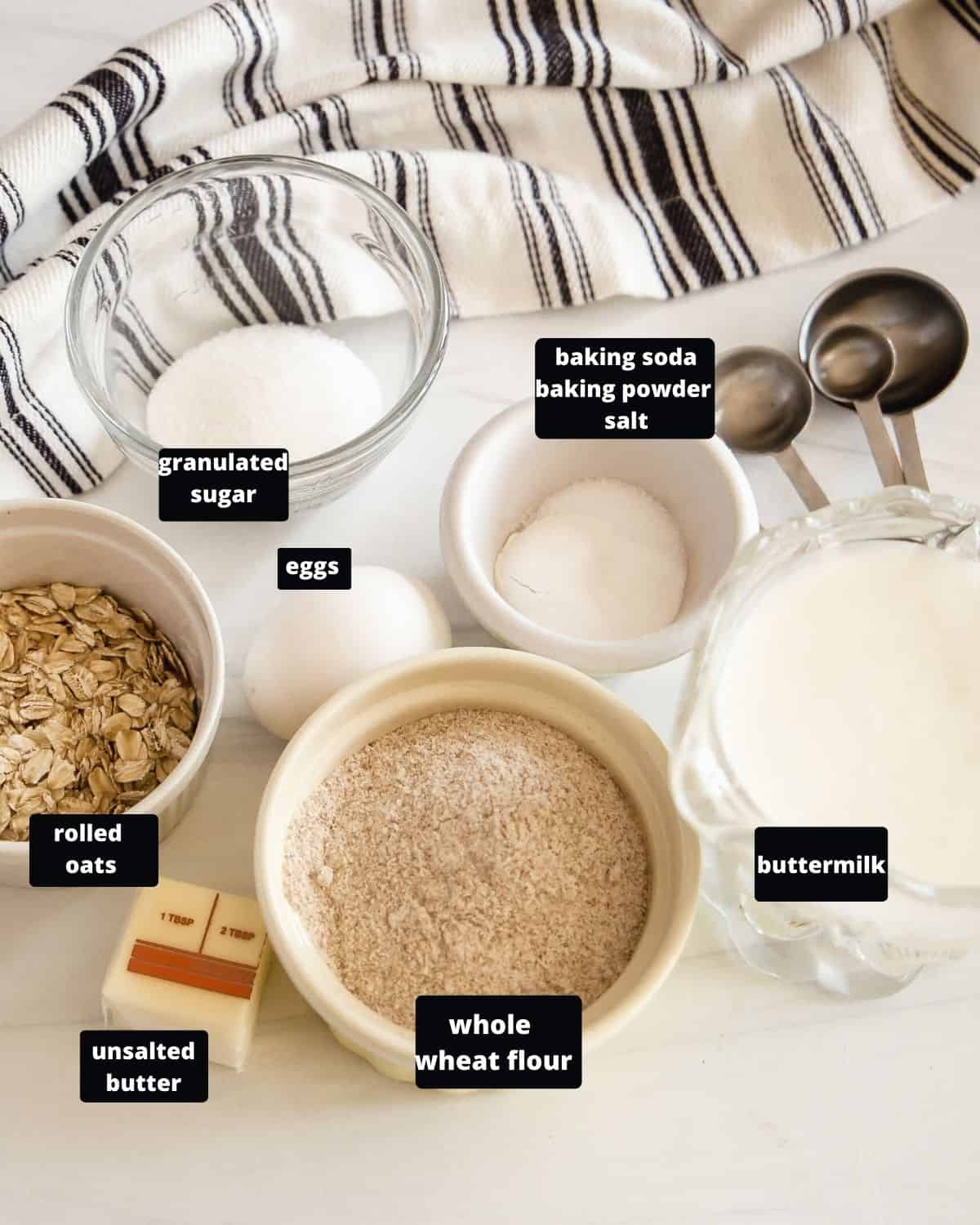 As an Amazon Associate, I earn from qualifying purchases.
whole wheat flour
white granulated sugar
baking powder
unsalted butter
buttermilk
eggs
🍲 Equipment
⭐ How to store, reheat, and freeze
Once baked, the bread can be kept on the counter,wrapped well in plastic wrap or in a covered airtight container in the refrigerator.
Freezer Instructions:
I bake the bread in bulk because it's is a perfect bread to make ahead and freeze for later. Wrap the bread very well in plastic wrap and then in aluminum foil. Or my preference is to use a food saver to freeze the bread.
The bread can be kept in the freezer for up to 4 months. Place in an airtight freezer safe bag. Defrost the bread, overnight in the refrigerator. Serve and enjoy.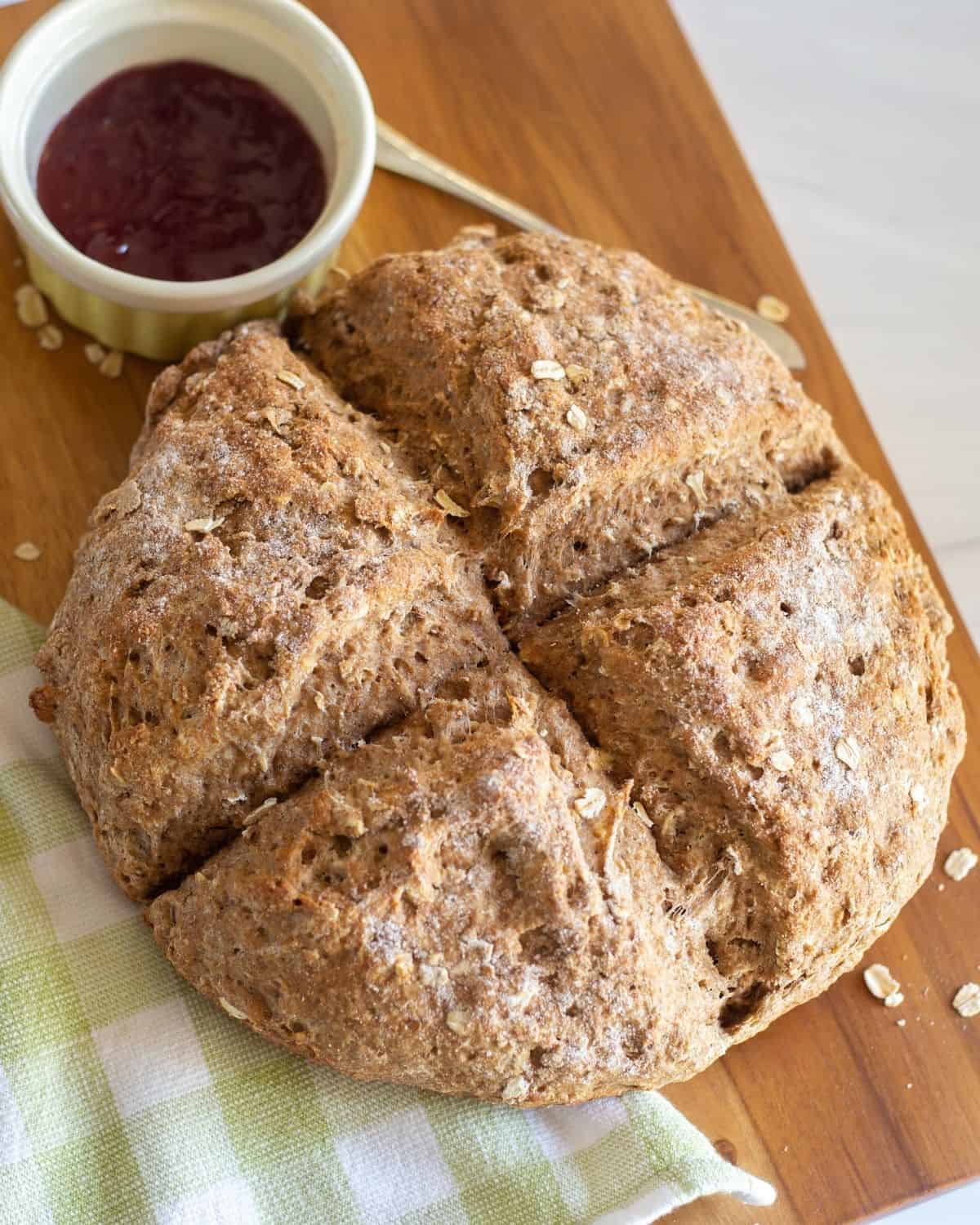 💭 Expert Tips
Expert Tip: For a long time I made this in a 9" x 5" loaf pan. You can make it in either pan for delicious results. Bake at 375°F/190°C for about 40-45 minutes. Begin checking the loaf at 40 minutes to see if baked through. Use a toothpick to insert it into the loaf, it will come out clean when done.
When available use a course whole wheat flour such as Odlums to give an authentic Irish brown bread. However, it is not always easy to find in the US, stone ground or regular whole what can be used.
Be sure to use measuring cups and spoons to measure ingredients as baking is a science and being exact gives best results.
Have the butter at room temperature so it blends easily into the flour mix.
The bread can be made in either a 9" x 5" inch loaf pan or a 8" to 9" round pan.
📋 Frequently Asked Questions
How do I know the bread is finished baking?
Insert a toothpick into the center of the bread. If it comes out clean, the bread is done.
Also, if you give a tap on the bottom of the bread it will feel hollow.
Can I use intant oats to make the bread?
After so many readers wrote to me saying they used quick cooking oats, I tried it and it was delicious.
I prefer to use regular oats because that is what I keep in the house and it has always been my go to, however, quick cooking oats will work too.
Can I use a buttermilk subtitute?
When you do not have buttermilk available, you can use regular or low-fat milk and add 1 Tablespoon of white vinegar for every cup of milk.
Let it rest on the counter for about 5 minutes to combine flavors before adding to your recipe.
📖 Variations
Do you want to change up this recipe? Here are some ways that you increase the flavor of this dish.
Use half whole wheat flour and half all-purpose flour in the recipe.
A mix of light brown sugar and white granulated sugar can be used to make a deeper sweet flavor of the bread.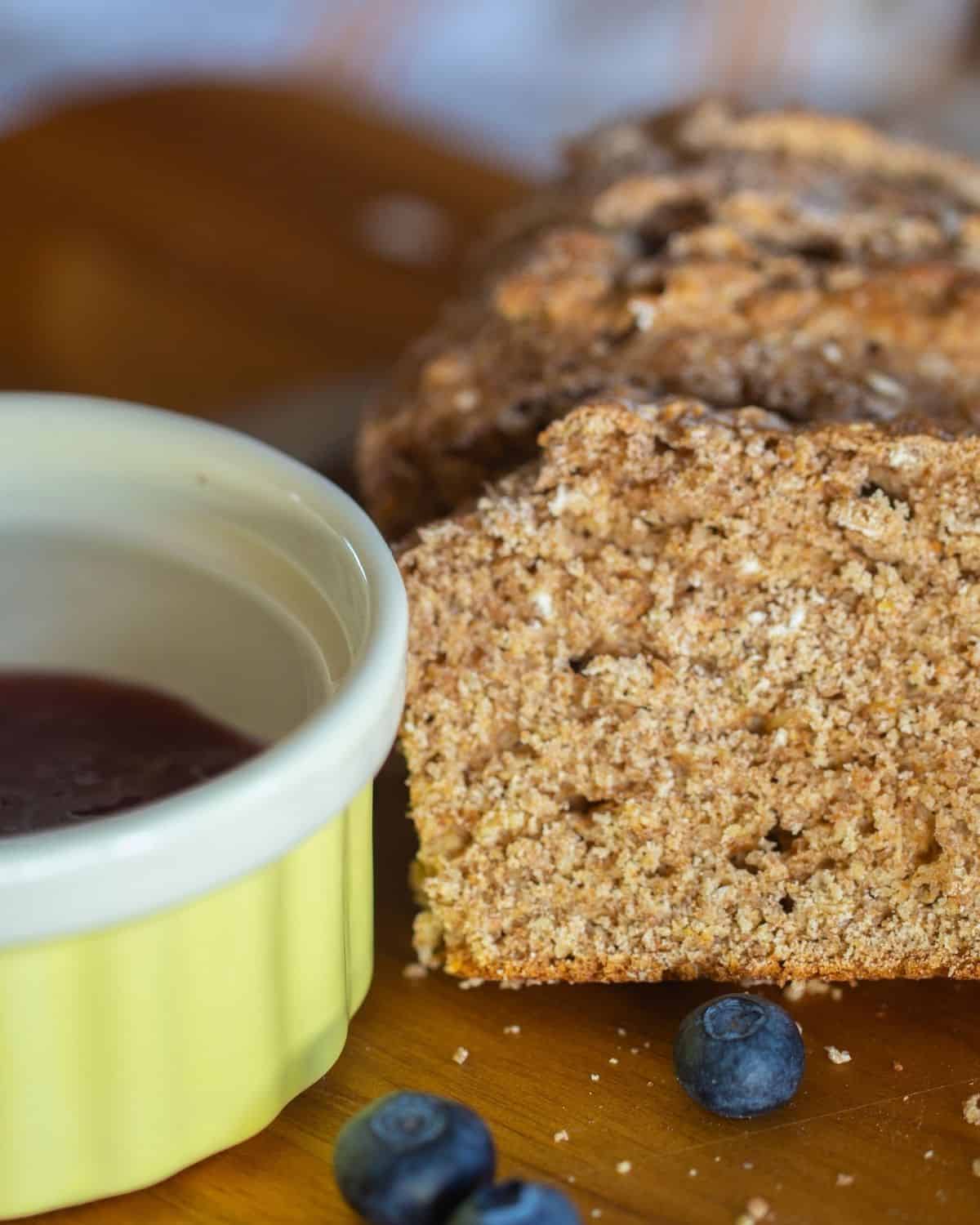 🥗 Serving Suggestions
🍽 Similar recipes
My family and friends famout Irish Soda Bread is a must make for all. Trust me, it has gotten so many 5 star reviews. I am so proud of this recipe and it tastes amazing.
Cranberry Orange Scones are another tasty quick bread recipe to enjoy.
🔪 Instructions
This is an overview of the recipe. The full instructions are below in the recipe card.
In a large bowl, add dry ingredients.
Add in softened, unsalted butter.
Use either a pastry cutter or clean hands to blend the butter into the flour mixture.
Once combined, the flour/butter mixture will look like sand. Make a well in the center of the ingredients.

5. Add buttermilk to whisked eggs.
6. Add the wet ingredients to the dry ingredients.
7. Mix to combine ingredients.
8. The mixture will be well combined and stick together.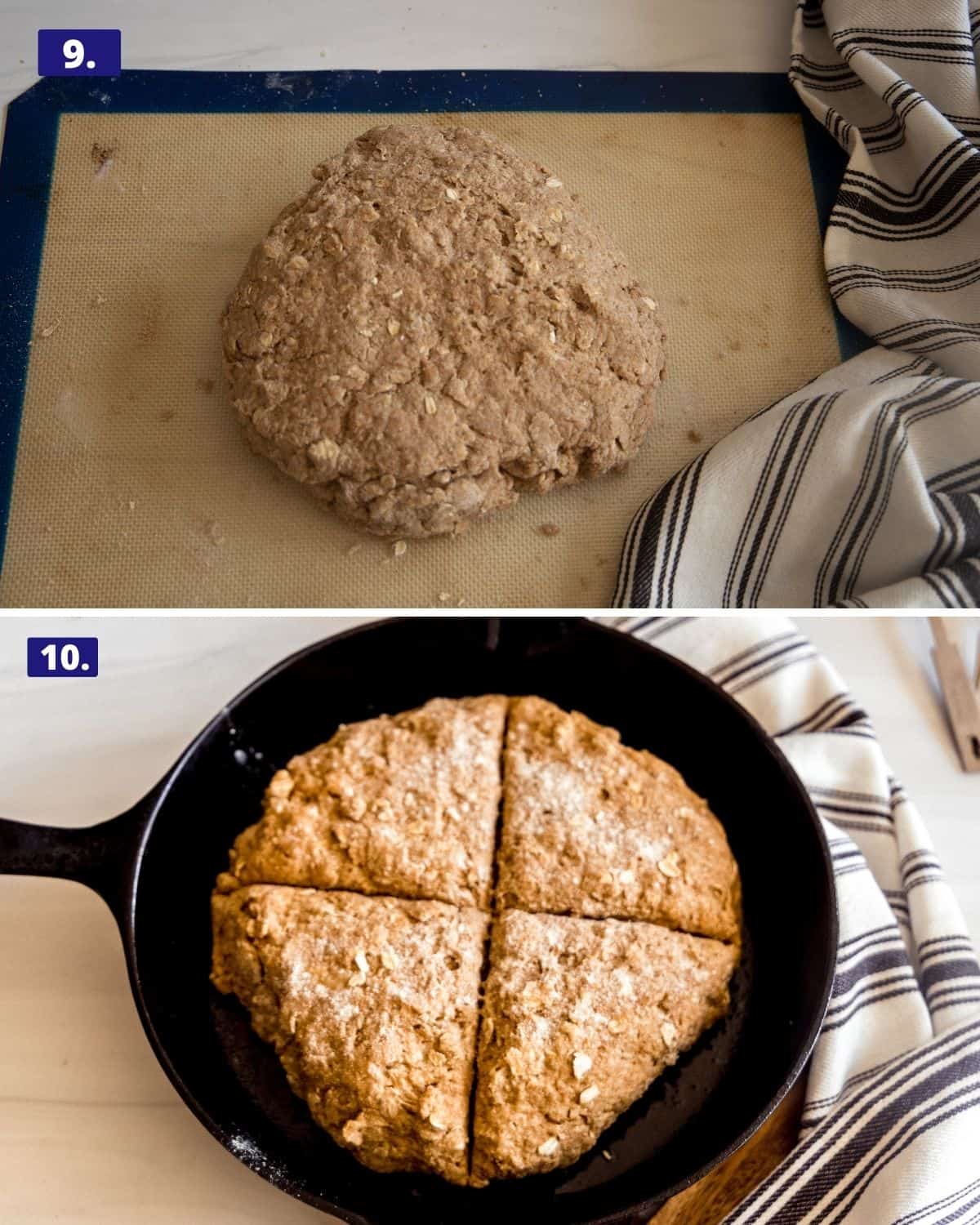 9. Roll out the dough onto a floured surface. Knead a few times to combine the ingredients and be able to form a round dough.
10. Form the dough a round, about 8 inches in diameter and about 1 ½ inches high. Use a sharp knife to slice a cross into the top of the dough. I continue this tradition with my brown bread as I do with my soda bread.
I also like a rustic look to my bread and sprinkle some all purpose flour on the top of the bread right before baking.
Let the bread cool in a wire rack for at least ½ hour, once it is cool, slice and enjoy.
I love any comments or questions, please feel free to leave them below.
Keep up to date with recipes by following me on:
FACEBOOK INSTAGRAM, PINTEREST, TWITTER
Thank you for your continued support. I am forever grateful.
Eileen xo
If you click on the number of servings in the recipe card you can adjust the measurements up or down for the exact number of servings you need.
If you love this recipe please give it 5 stars! ⭐️⭐️⭐️⭐️⭐️
📖 Recipe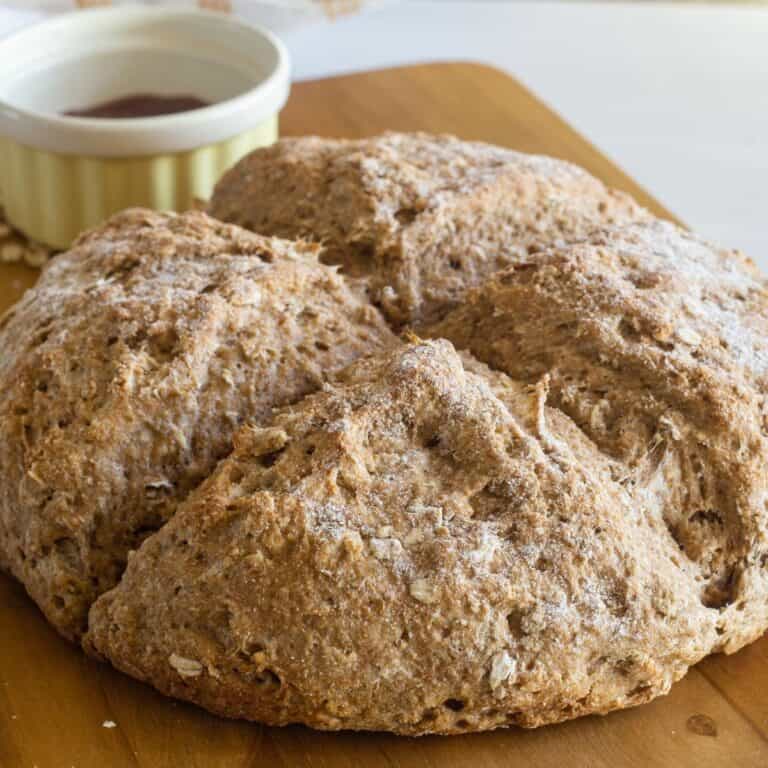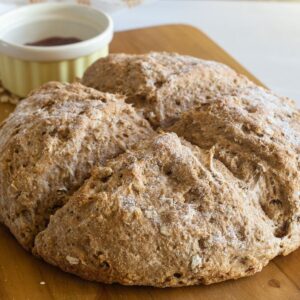 Irish Brown Bread
An authentic Irish Brown Bread. This bread is so quick and easy to prepare. This is a versatile bread that is wonderful in the morning with marmalade or jelly. Fantastic paired with a stew, soup, or a corned beef dinner. This bread freezes very well
Print
Pin
Rate
Equipment Needed:
As an Amazon Associate I earn from qualifying purchases
Instructions
Preheat oven to 375°F/191°C, spray a 9-inch round cast iron or pie dish.

In a large mixing bowl, add dry ingredients, whole wheat flour, oats, sugar, salt, baking soda, and baking powder.

Cut in the butter and blend well into the flour. Make a well in the center of the dry ingredients. Set aside.

In another small bowl, whisk the eggs and add the buttermilk to combine.

Add the egg mixture into the well of the dry ingredients. Stir to combine the ingredients.

Gently roll out the dough onto a floured surface and knead the dough gently for a few minutes.

Shape into a round loaf and place in the cast iron skillet. Slash the top into the shape of a cross. Sprinkle top with a bit of flour.

Bake for 40-45 minutes. Check to see if the bread is done by placing a skewer into the center of the loaf. If it comes out clean, your bread is done. Let cool for about 10 minutes on a wire rack. Remove from the loaf pan and let the bread cool completely for at least ½ hour before slicing.
Notes
Be sure to check the Expert Tips and FAQs above with important tips and questions that can help make a delicious recipe.
Note 1: The whole wheat flour I prefer to use is Odlums, which is made in Ireland. However, using any whole wheat flour can be used for delicious results.
Note 2: After so many readers have said they used quick oats, I made a loaf of Irish Brown bread with quick oats and the results were delicious.
Note 3: I have changed the recipe over the years and now bake this bread in a round cast iron skillet. A 9-inch round pie baking dish can also be used.
Insert a toothpick into the center of the bread. If it comes out clean, the bread is done.
Leftovers can be wrapped in plastic wrap and kept for about 3 days.
You can freeze Brown Bread. Use freezer-friendly storage bags for the bread. They can be frozen for up to 4 months.
The nutritional data I provide is an approximation and actual dietary information can vary based on ingredients and proportion sizes.
Nutrition
Serving:
1
slice
|
Calories:
201
kcal
|
Carbohydrates:
40
g
|
Protein:
7
g
|
Fat:
2
g
|
Saturated Fat:
0
g
|
Cholesterol:
28
mg
|
Sodium:
332
mg
|
Potassium:
204
mg
|
Fiber:
4
g
|
Sugar:
9
g
|
Vitamin A:
135
IU
|
Vitamin C:
0.2
mg
|
Calcium:
62
mg
|
Iron:
2.7
mg