This is my go-to detox lemon ginger tea! I call it my detox lemon ginger cleanse! It's filled with antioxidants, makes me feel ready for the day, plus there's also cayenne pepper!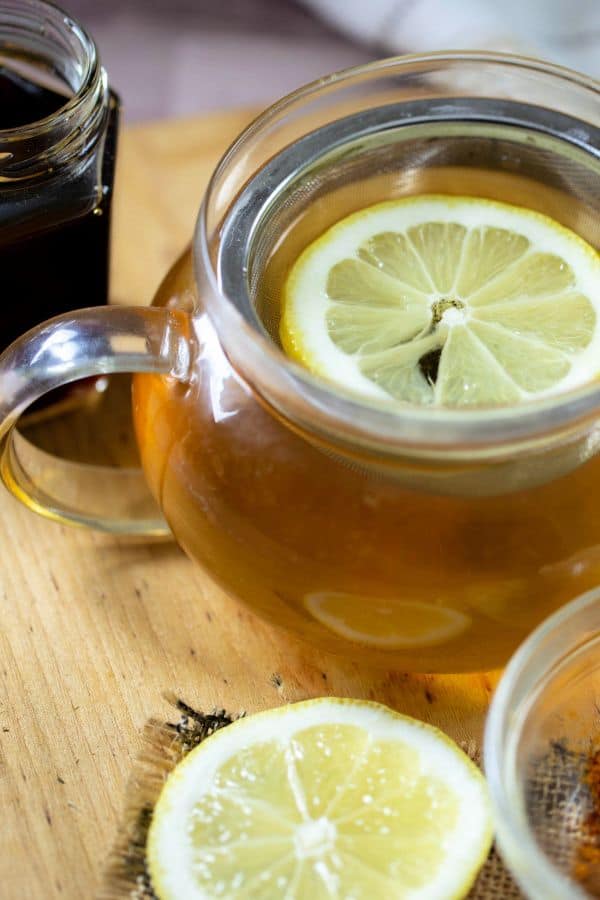 The lemon ginger tea is a fantastic recipe and the health benefits to this tea are great! This tea is super refreshing and it great either hot or cold! It is a great way to jump-start the day!
As many of you regulars know, I had a stroke a few years ago. That has led to also being diagnosed with a myriad of things, including an autoimmune disease. I decided to focus on the positive! Making small changes in my diet has really helped me!
I cut out a lot of sugar and I use natural sweeteners. Rarely will I use white flour in cooking. Most importantly, I eat in moderation, exercise regularly, lost 40 pounds and continue to focus on the positive things in my life!
I have to thank the hubs for the addition of ginger and cayenne to this detox tea! He tried different spices to flavor the tea and made me this Detox Lemon Ginger Green Tea while I was recuperating.
Considering his entire recipe index consists of making English Muffin pizza ....the Hubs created greatness! This is now my favorite way to start the day!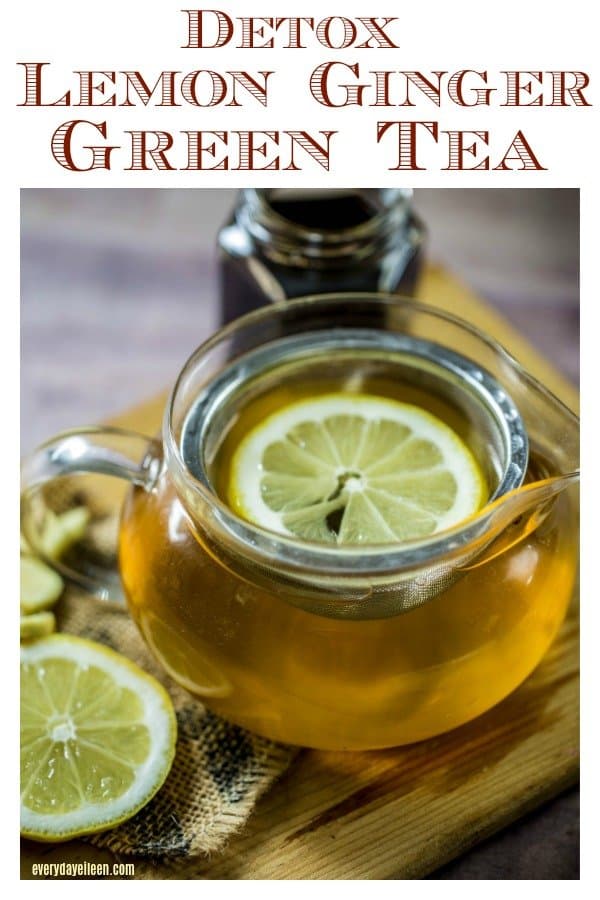 One of the things I talk to my wonderful doctors about is the foods, spices, and herbs that really add a nutritional benefit to our daily living.
Benefits of Drinking Detox Lemon Ginger Green Tea:
Green Tea increases your metabolism, which helps with weight loss.
For people with high blood pressure and cholesterol, green tea can aid in reducing both ailments.
I have even heard its great for your skin.
My doctors and the Hubs turned me onto cayenne pepper, a great detox. It makes you sweat and gets all the yuck out of your system. Also great for congestion so I go a little heavier with it when I feel a cold coming on! Win-win!
Ginger is medicinal and is just amazing for the body! Anything I can add it to makes me happy!
Combining these ingredients gives us this amazing detox tea!
Can l drink ginger tea cold?
Absolutely! Lemon Ginger Green Tea is awesome either hot or cold! We have it both ways all the time. I keep a cold pitcher in the fridge and we always have hot tea in the morning. I prefer decaffeinated tea as I cannot have too much caffeine in my diet.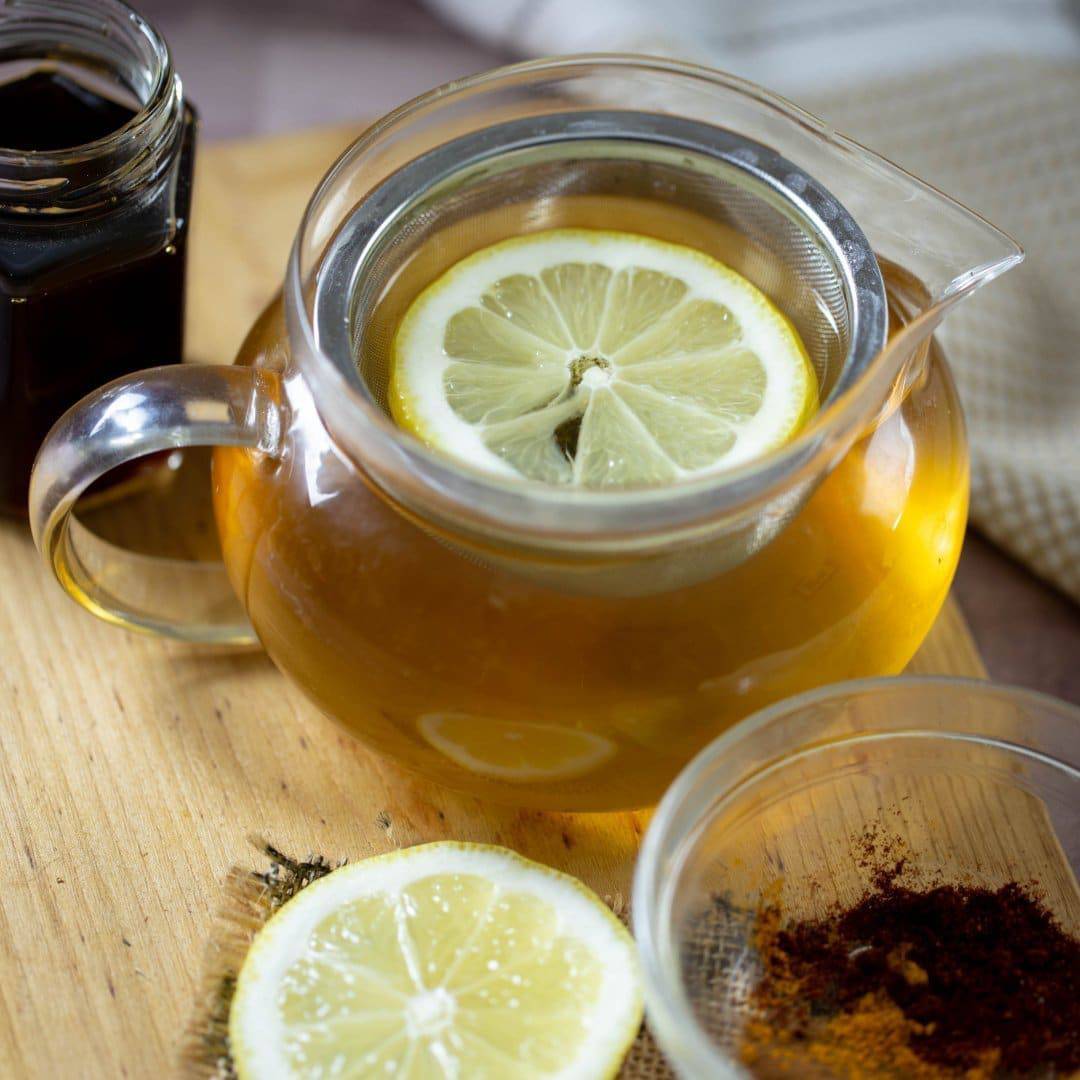 This post contains some affiliate links for your convenience (which means if you make a purchase after clicking a link I will earn a small commission which helps keep my blog up and running but it won't cost you a penny more!) Click here to read my full disclosure policy.
Thank you so very much for being apart of Everyday Eileen!
Tools to make Lemon Ginger Green Tea:
This is a great recipe because you can adjust according to your likes and needs. I don't add honey to mine. The hubs loves a little more cayenne! Feel free to play around with the ingredients!
Enjoy this fantastic tea, how about trying:
Detox Blueberry Lemon Ginger Iced Tea
Vegan Chocolate Avocado Smoothie
How to make Ginger Tea:
If making in a saucepan, use medium heat on the stovetop, add water, green tea, lemon juice, chopped ginger, cayenne pepper, cinnamon, turmeric to the saucepan.
Bring to a boil, reduce and let simmer for 5 minutes.
Strain into a large measuring cup.
Pour into tea mugs.
Check for sweetness and add sweetness if needed.
If making in a teapot, with loose tea, add to the tea ball the same ingredients from step 1, close the ball, and place in the teapot.
Bring the water to a boil, reduce heat and simmer for 5 minutes.
Pour tea into teacups!
Everyday Tip - When purchasing fresh ginger, I buy it in bulk. you can easily peel the ginger, mince, grate, or chop the ginger. Place the ginger in ice-cube trays. Once frozen put into a freezer safe bag for future use!
LOVE SEEING AND SHARING YOUR CREATIONS! WHEN YOU MAKE THIS RECIPE, I'D LOVE TO SEE IT.
TAG @EVERYDAY_EILEEN OR #EVERYDAY_EILEEN
I love any comments or questions, please leave below!
I HOPE YOU CONTINUE CONNECTING WITH ME
FACEBOOK INSTAGRAM, PINTEREST, TWITTER
Enjoy the recipe, please give it a 5-star rating and share comments below would be super helpful!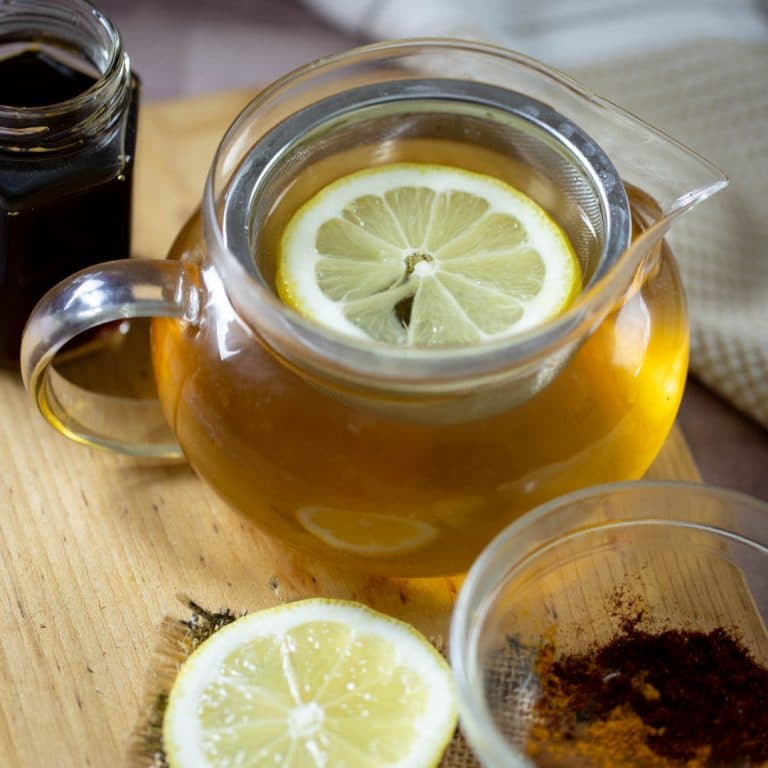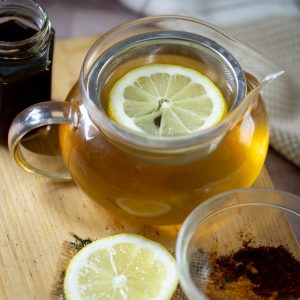 Detox Lemon Ginger Green Tea
A tasty green tea that has so many health benefits! Filled with antioxidants from the green tea, ginger, and cayenne pepper
Print
Rate
Equipment Needed:
Ingredients
2

cups

water

2

tea bags

green tea

1

large

lemon, juiced

1

teaspoon

fresh ginger, peeled and chopped

⅛ - ¼

teaspoon

ground cayenne pepper

⅛

teaspoon

cinnamon

⅛

teaspoon

ground turmeric

¼

teaspoon

raw honey

note 1
Instructions
In a teapot or saucepan, over medium heat combine the water, green tea bags, lemon juice, chopped ginger, ground cayenne pepper, cinnamon, turmeric, and honey or agave.

Bring to a boil, turn heat down to simmer so flavors blend, about 5 minutes.

Pour into mugs. Can drink hot or refrigerated for later.
Notes
Note 1: Use sweetener of choice or none as I do!
This is our go-to tea! I tend to use loose tea or dried flowers to make my tea. I use a tea ball to hold the herb. Regular green tea bags will work also!
Keep it Vegan by either using Agave. Test the tea, you may not need a sweetener. Lately, I don't sweeten at all.
Any nutritional data I provide is an approximation and actual dietary information can vary based on ingredients and portion sizes.
Nutrition
Serving:
1
cup
|
Calories:
1
kcal
|
Sodium:
12
mg
|
Calcium:
8
mg