Ginger Lemonade is an outstanding refreshing summer drink! It is easy to prepare and always a hit! What takes this homemade ginger lemonade recipe up a notch is the addition of a fresh ginger and mint simple syrup.  Enjoy this thirst quenching mint ginger lemonade recipe all summer long!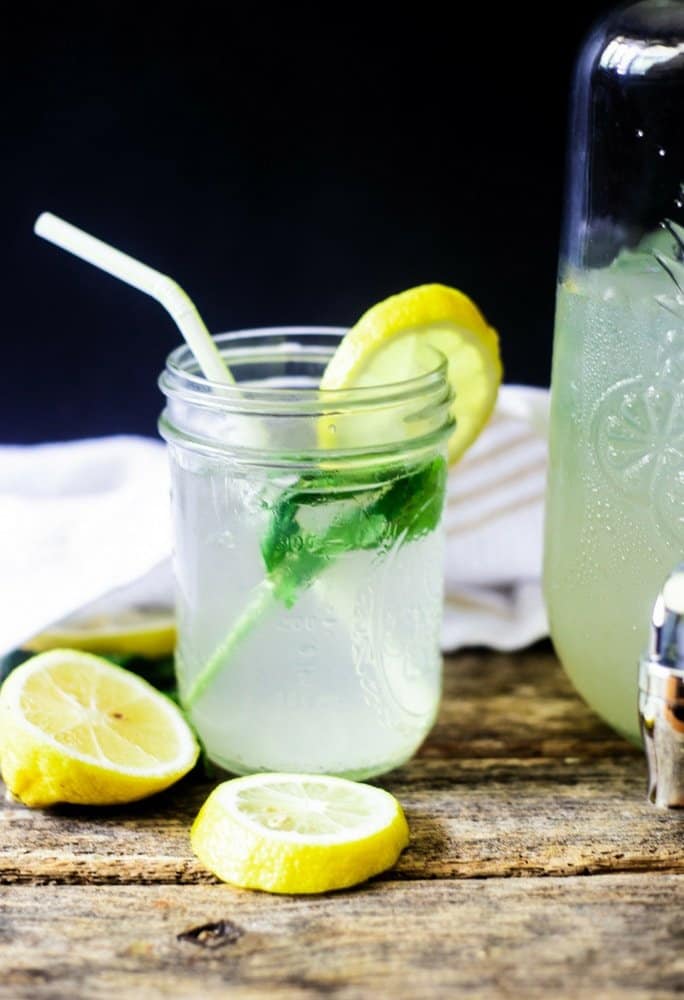 You will love homemade ginger lemonade. It's easy and so much tastier than any type of powder to mix, yuck! Those are all full of preservatives and a crazy amount of sugar.
Fresh mint ginger lemonade is full of antioxidants and so good for the body. My ginger lemonade is made with fresh lemon juice, mint, ginger and sugar.
For those following a keto or low-carb diet, use stevia for the sweetener.
My family are huge fans of ginger. Many of you are too as Detox Lemon Ginger Tea is one of my most popular recipes! Ginger has many health benefits. Check out this article from the National Library of Medicine on ginger and some of its health benefits.
How does ginger benefit us in Mint Ginger Lemonade?
Ginger is full of antioxidants and aids in blood circulation which helps the skin. Ginger is an anti-inflammatory, aids in digestion...I could go on and on! This article from Healthline has more specific health benefits.
What are the benefits of adding mint to Ginger Lemonade?
Mint can help with an upset stomach and the digestive system. It is also good to aid in naturally balancing cholesterol so through it into your cooking whenever you can. one of my favorite recipes using mint is Cauliflower Tabbouleh!
Can you make Ginger Lemonade or Homemade Lemonade with honey?
Yes, you can use honey to make lemonade. I generally start with ¼ cup of pure honey with this recipe. I taste and adjust honey if needed.
How do you make Homemade Lemonade without sugar?
When I want a sugar-free alternative to Homemade Lemonade, I use stevia. This is a great alternative to sugar and for those who are low-carb or practice a Keto lifestyle, this is perfect.
Can bottled lemon juice be used to make ginger lemonade?
Here is the thing with bottled juice, you have to check the labels. You would want to use bottled pure lemon juice, without added sugars. I prefer using fresh lemon juice. Below is an easy way to always keep lemon juice in the freezer.
How do you freeze fresh lemon juice?
To ensure you always have lemon juice or when the price is very low for lemons.
Juice your lemons into a bowl.
Use an ice-cube tray and place the juice in each cube, about 2 Tablespoons each.
Freeze the juice until frozen.
Place the cubes into a freezer bag and use as needed for fresh lemon juice.
Use the juice cubes within 6 months.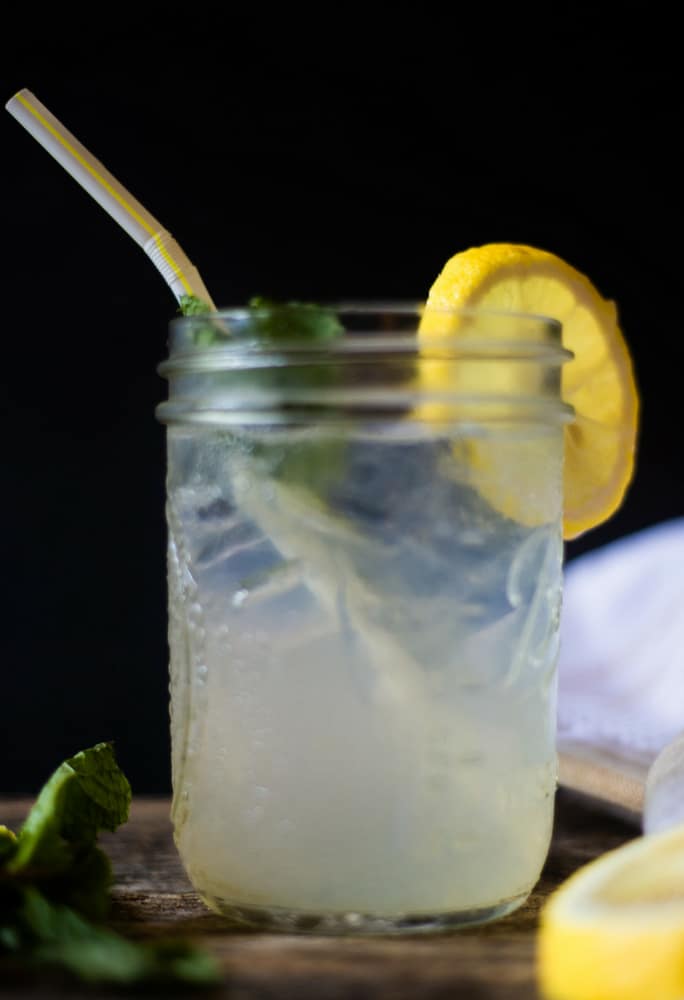 This post contains affiliate links for your convenience. We are a participant in the Amazon Services LLC Associates Program, an affiliate advertising program designed to provide a means for us to earn fees by linking to Amazon.com
Shop this recipe:
Paper Straws: My daughter wants to save the turtles - no more plastic straws! These are affordable and adorable for every occasion.
Mason Jar Glasses: Perfect for lemonade or any favorite beverage.
Checkout my store. I'm always updating it with great finds, I hope you check it out here, Everyday Eileen.
How To Make Homemade Mint Ginger Lemonade:
Make the mint ginger simple syrup first:
Pour 1 cup of water into a small saucepan.
Chop the ginger into thin slices. Its not necessary to peel the ginger.
Place the ginger into the saucepan.
Place ½ of one of the squeezed lemons into the saucepan.
Add ¼ cup of sugar or stevia into the saucepan.
Put ¼ cup of mint leaves into the saucepan.
Bring ginger lemonade mixture to a boil.
Remove the pan from heat.
Cover the saucepan with a lid and let flavors blend for 30 minutes to 1 hour.
Then strain the liquid and discard the mint, ginger, and lemon half.
Set mint ginger syrup aside.
Completing the Mint Ginger Lemonade:
Squeeze the lemons to make 1 cup of lemon juice, 4-5 lemons.
In a large pitcher, pour the mint lemon syrup into the pitcher and add in the lemon juice.
Stir to combine.
Top with 4 cups of water and 2 cups of ice
Serve with fresh mint and lemon wedges, enjoy!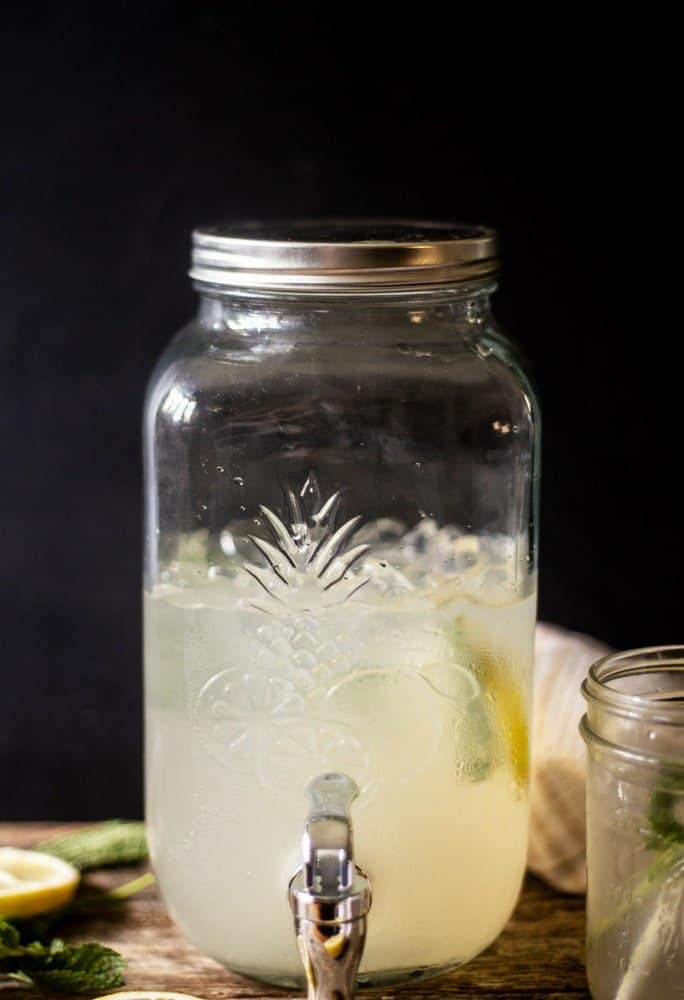 LOVE SEEING AND SHARING YOUR CREATIONS! WHEN YOU MAKE THIS RECIPE, I'D LOVE TO SEE IT.
  TAG @EVERYDAY_EILEEN OR #EVERYDAY_EILEEN
                                 I love any comments or questions, please leave below!                               
                            I HOPE YOU CONTINUE CONNECTING WITH ME                       FACEBOOK  INSTAGRAM, PINTEREST, TWITTER
 Enjoy the recipe, giving it a 5-star rating and share comments below would be super helpful!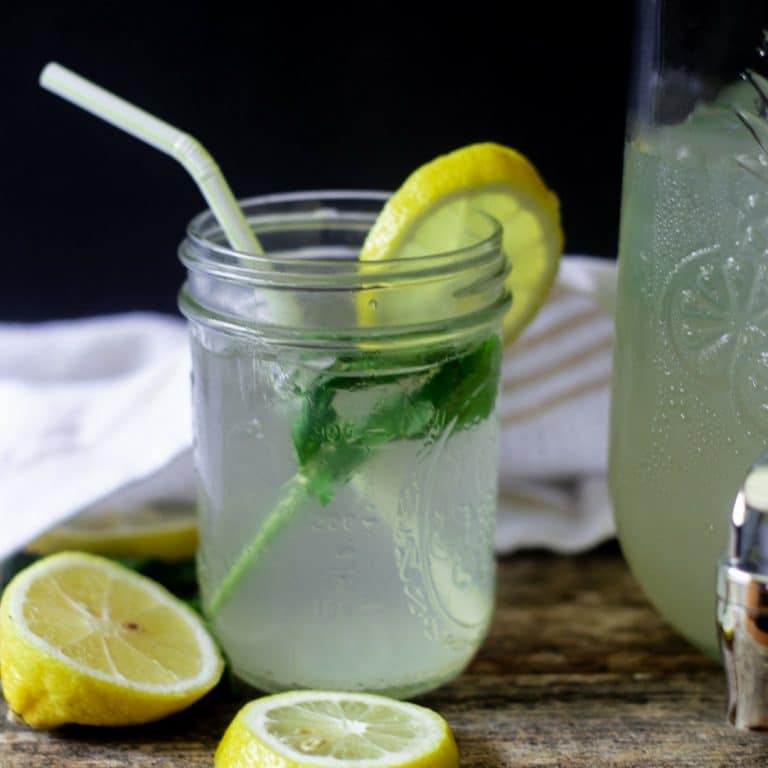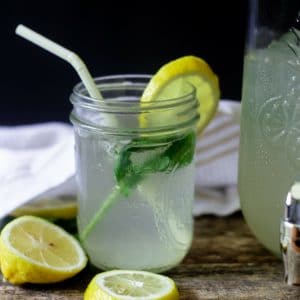 Homemade Mint Ginger Lemonade
Homemade ginger lemonade is a fantastic thirst quencher drink. The mint ginger syrup puts this over the top delicious!
Print
Pin
Rate
Equipment Needed:
Ingredients
Mint Ginger Syrup
1

cup

water

2-3

ounces

fresh ginger, sliced thin

* see note 2

¼

cup

sugar

* see note 1

¼

cup

chopped fresh mint

½

lemon shell, use the juice in the lemon juice.
Homemade Mint Ginger Lemonade
1

recipe

Mint Ginger Syrup

* recipe above

4

cups

water

1

cup

fresh lemon juice, strained of pulp and pits

The lemon skin should be placed in the pan to make the Mint Ginger Syrup

2

cups

ice

8

slices

lemon, thin slices

garnish, optional

8

sprigs

fresh mint

garnish, optional
Instructions
How to Make Mint Ginger Simple Syrup
In a small saucepan, over medium heat, add the water, sliced ginger, sugar, mint, and lemon shell.

Bring the mixture to a boil, remove from heat

Cover with a lid and let steep at least ½ hour.  Set aside.
How to Make Mint Ginger Lemonade
In a large pitcher, combine the ginger mint syrup and lemon juice. Mix well.

Add in the water and mix well. Add in the ice. Serve with fresh mint and lemon wedges.
Notes
Note 1: Stevia can be used to make the ginger lemonade.
Note 1A: I do not love overly sweet beverages. You can add more if needed. Please remember to adjust calories to reflect any adjustments
Note 2: No need to peel the ginger. Just slice it thin and I even break those in half to release the ginger flavor.
Note 2A: I love ginger so I tend to add 3-4 ounces. Start with the lower amount and you can always add more ginger. 
any nutritional data I provide is an approximation and any actual dietary information can vary based on ingredients and proportion sizes.

 

 
Nutrition
Serving:
1
cup
|
Calories:
38
kcal
|
Carbohydrates:
9
g
|
Protein:
0
g
|
Fat:
0
g
|
Saturated Fat:
0
g
|
Cholesterol:
0
mg
|
Sodium:
10
mg
|
Potassium:
74
mg
|
Fiber:
0
g
|
Sugar:
7
g
|
Vitamin A:
100
IU
|
Vitamin C:
13
mg
|
Calcium:
11
mg
|
Iron:
0.2
mg
Make Homemade Mint Ginger Lemonade any time, pin here: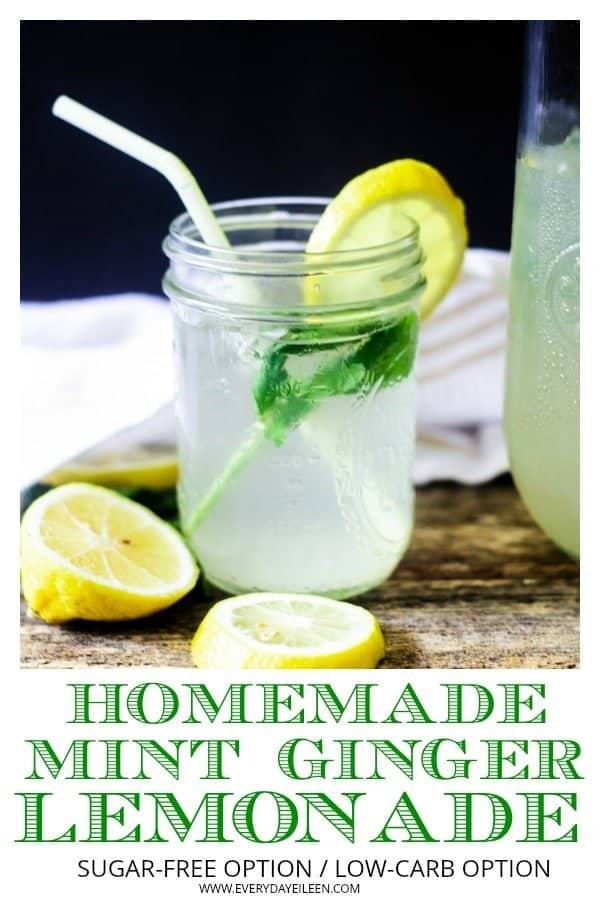 We are finishing up #FarmersMarketWeek and I have really enjoyed my fellow food bloggers recipes. I want to thank Ellen from Family Around the Table for hosting this event this year!
You can check my other Farmers Market Week recipes: Vegetable Lasagna Stuffed Zucchini Boats and Easy Gazpacho Soup Recipe .
Friday #FarmersMarketWeek Recipes
Farmers Market Salads and Side Dish Recipes:
Farmers Market Savory Recipes:
Farmers Market Fruit Desserts:
Farmers Market Fruit Drinks and Cocktails: