Strawberry Iced Tea, a homemade fruity tea that's a real thirst quencher. It is full of freshness from the strawberries.
Everyone loves the combination of the berry syrup mixed with the sweet tea and lemon flavors.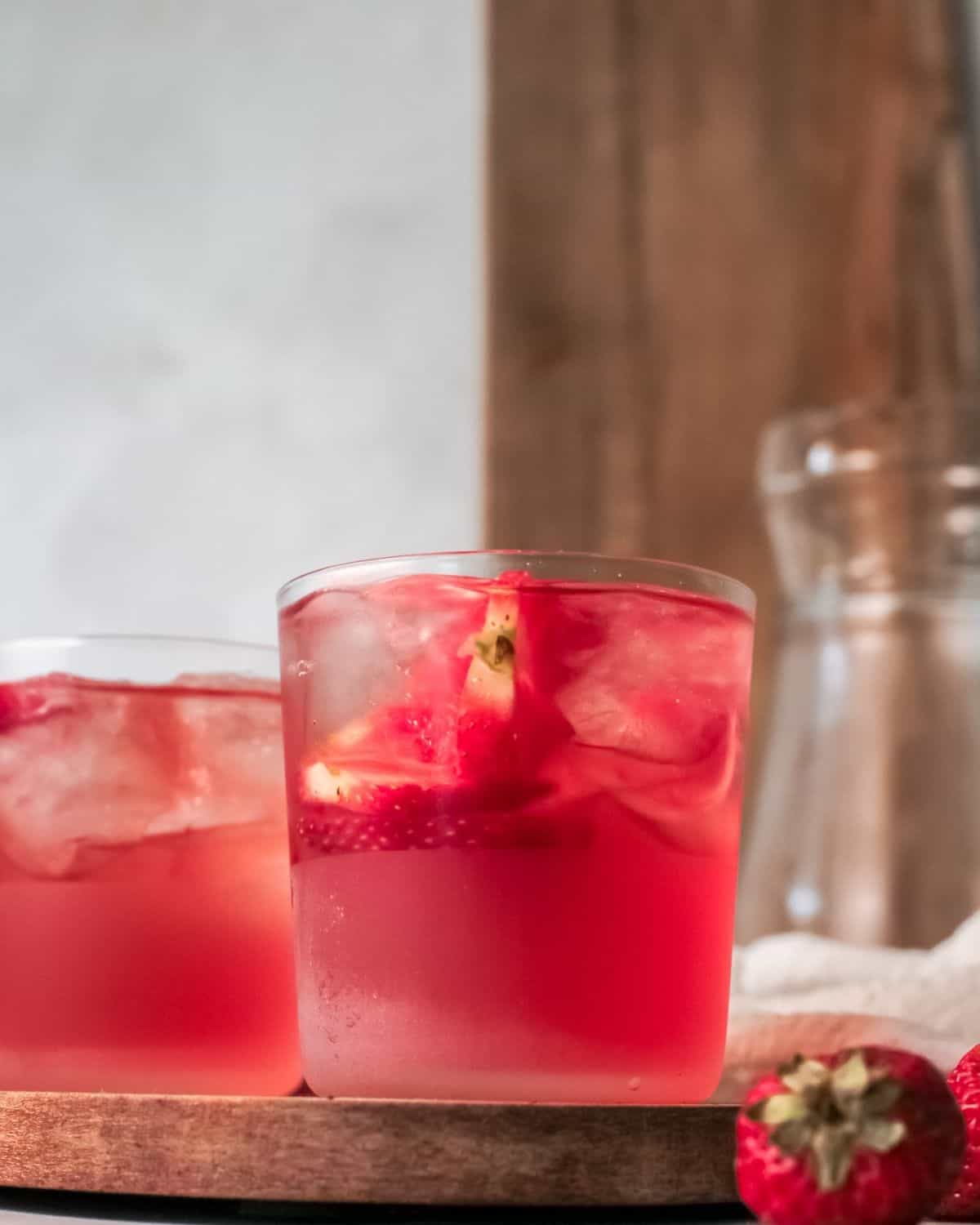 Why you'll love this recipe
Fruit enhanced iced tea is so refreshing and easy to prepare.
Fresh fruit and simple syrup makes the best homemade iced tea.
Ingredients
Strawberry simple syrup ingredients
When picking the strawberries, the brighter the fruit the riper the berry which means juicier.
Granulated sugar adds sweetness to the syrup.
Iced Tea Ingredients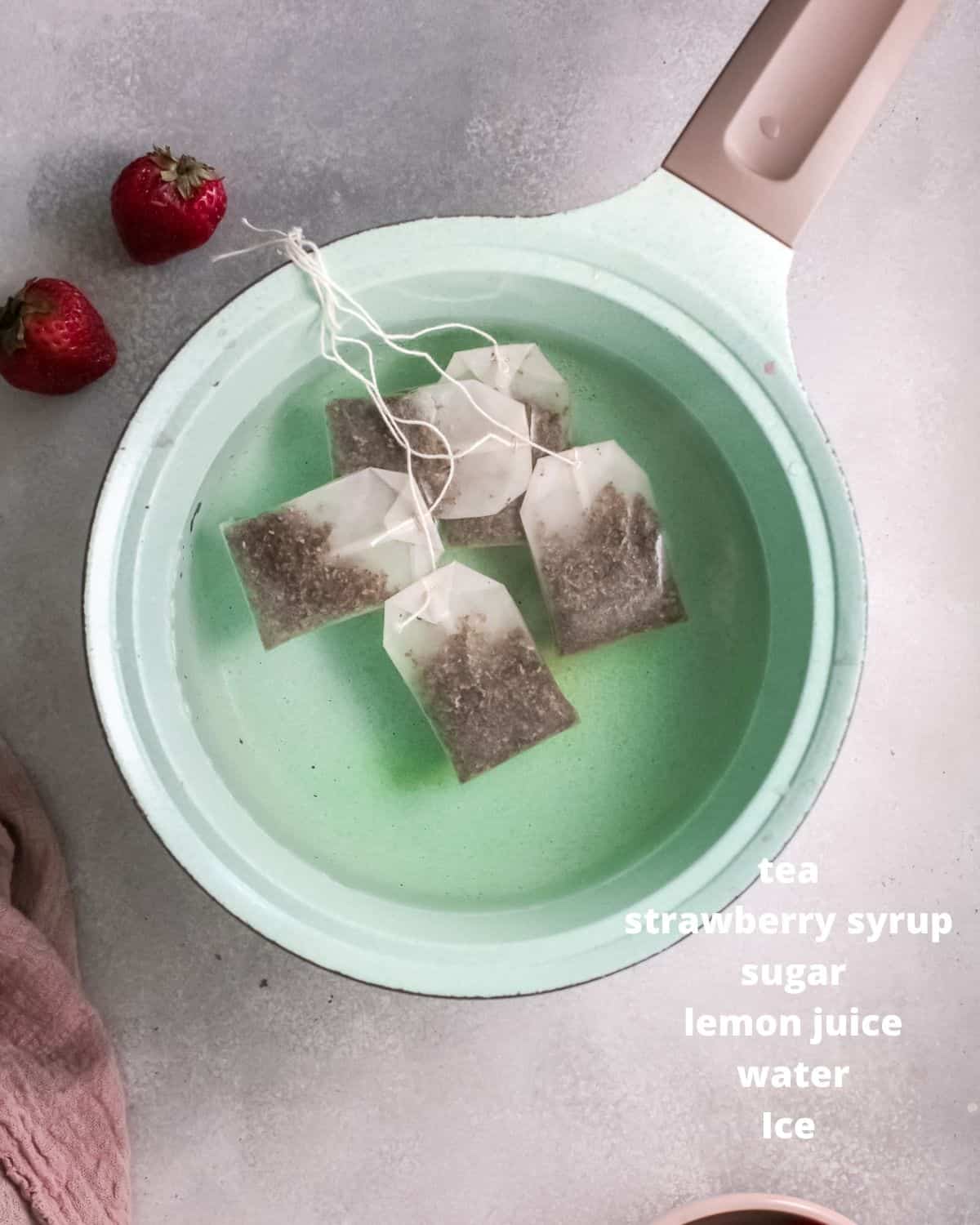 We use orange pekoe black tea but any of your favorites can be used.
The strawberry syrup is in the recipe card below.
Instructions
How to make the strawberry simple syrup
Place ingredients in a small pot over medium heat and simmer. Cook, stirring occasionally for around 30 minutes or until the strawberries are soft.
Remove from heat and strain into a container. Set aside to cool down.
Step by step recipe instructions
Heat the water over medium heat until it's about to boil. Turn off heat and add the tea bags.
Steep for 5 minutes and discard the tea bags. Add the sugar and stir to combine.
Pour the strawberry syrup into a pitcher, add the tea and the remaining 5 cups of water. Finish by pouring the lemon juice and stirring once more.
Fill with ice and serve immediately.
Equipment
Storage
Keep leftovers in the refrigerator in a pitcher or an air tight container for up to 24 hours.
We do recommend drinking this tasty iced tea within 24 hours after preparing for best results.
Serving Ideas
Strawberry Sweet Tea is so refreshing. It's such a versatile beverage that can be served with both sweet and savory recipes. Add this thirst quencher to your Easter, Mother's Day, and any Brunch menu.
We love this tasty strawberry sweet tea along with a great scrambled egg breakfast.
When I'm lunching, this Southern sweet tea is awesome alongside a Rachel Sandwich or Vegan Burrito Wrap.
A fabulous drink to add to make along with your summer grilling recipes.
Related Recipes
Blueberry Iced Tea is another favorite to make and enjoy.
Lemon Ginger Tea is another recipe that uses green tea and can be hot or cold.
Mint Ginger Lemonade, very refreshing.
Variations
I used orange pekoe for this recipe but you can also use green tea.
Decaffeinated tea works well too.
Raspberries, blackberries, or blueberries can be used in lieu of the strawberries.
For my low-carb, keto friends - use stevia or monkfruit sweetener instead of sugar
Recipe Notes
Who doesn't love a great sweet tea? I love to up the flavor game by adding fruit and making a great iced tea concoction.
Everyone loves the combination of the berry syrup mixed with the sweet tea and lemon flavors.
Our Blueberry Iced Tea has always been a popular recipe. So, today is a perfect time to share our Strawberry Sweet Tea.
When you make this recipe, take a pic and tag me on Instagram with @everyday_eileen or #everydayeileen.
Keep up to date with recipes and posts by following me on:
FACEBOOK INSTAGRAM, PINTEREST, TWITTER
Love this recipe, it would be awesome if you give it a 5-star rating and share comments below