My Tzatziki Sauce Recipe is super easy to make and a delicious Greek Gyros sauce or as a dip for veggies. This easy recipe is ready in no time and always a hit! Made with Greek yogurt and a few other ingredients and a beautiful dip is ready to enjoy! Learn how to make Greek Tzatziki Sauce that is healthier and so easy to make today!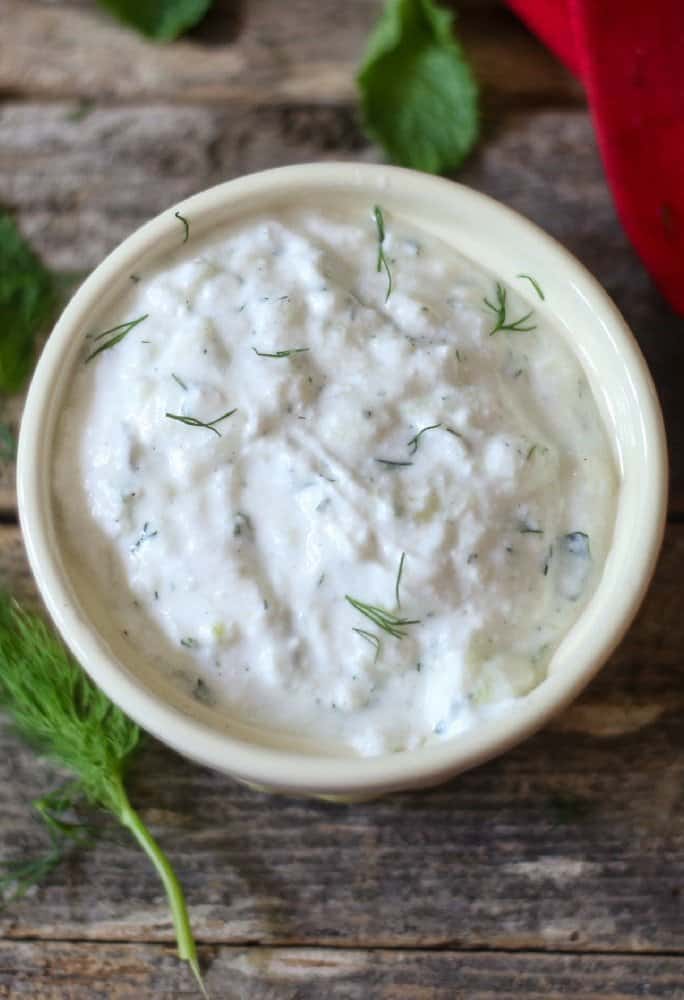 I am a huge fan of Greek food and I have yet to share any of my favorites with you all! That changes today! My Homemade Tzatziki Sauce Recipe is super flavorful and easy to prepare. I love it with Chicken Gyros, recipe coming later this month! Holy deliciousness!
I love Homemade Tzatziki Sauce because it is low-calorie, gluten-free and so easy to make and just a few ingredients. For those on keto use full-fat yogurt. Being homemade, you control the ingredients and as always, we can pronounce all the ingredients. No dextro -sucro - what in the world is that kind of ingredients.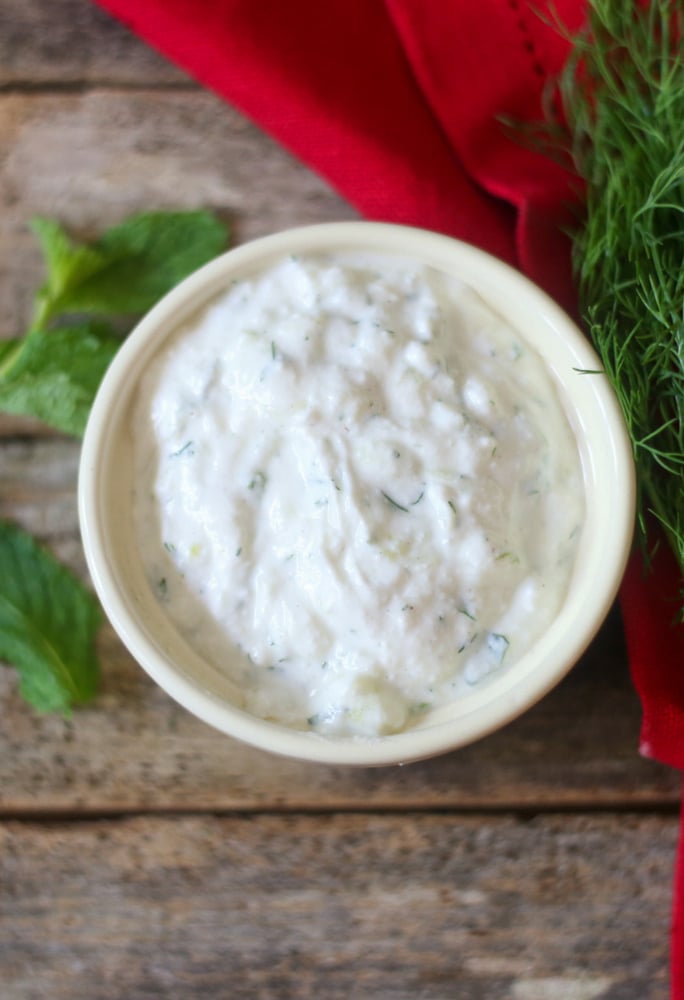 What is in Tzatziki Sauce Recipe?
Tzatziki Sauce is made with Greek yogurt that is packed with protein. Protein is great for your skin, helps your bones stay strong and its an immune booster. I use fat-free yogurt. If you are on a Keto Diet, use full-fat yogurt.
What other foods pair Greek Tzatziki Sauce?
Tzatziki Sauce is awesome with and veggies or chips. I love it with Gyros and Souvlaki. They go great with any grilled meats. I love it with Grilled Citrus Chicken Kabobs
Homemade Skinny Basil Pesto (without nuts)
How to Make Tzatziki Sauce Recipe:
It is very important to drain the yogurt to make the excess water drains before adding the other ingredients. Use a piece of cheesecloth and let the yogurt drain in a colander for about 1 hour.
Squeeze the excess water out of the cucumbers before using in the recipe. Place the cucumbers on a piece of cheesecloth and squeeze the cucumbers to drain the water.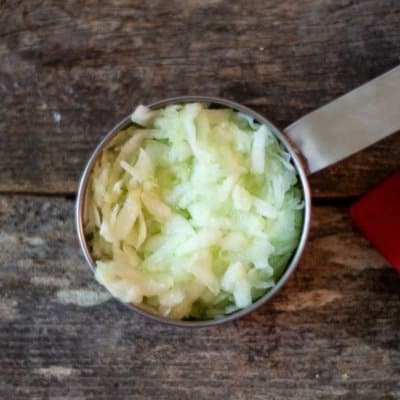 In a bowl, combine well the Greek yogurt, drained cucumber, vinegar, minced garlic, lemon juice, salt, black pepper.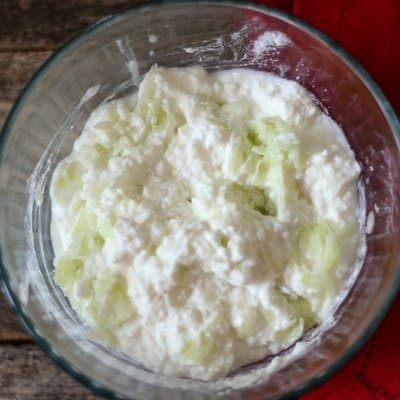 It's best to let the flavors combine in the fridge for a few hours. Serve with warm pita bread, gyros, souvlaki, grilled meats, and veggies.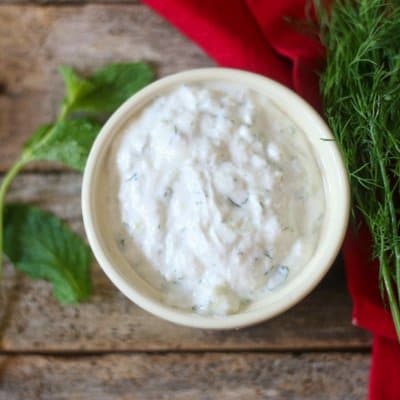 LOVE SEEING AND SHARING YOUR CREATIONS! WHEN YOU MAKE THIS RECIPE, I'D LOVE TO SEE IT. TAG @EVERYDAY_EILEEN OR #EVERYDAY_EILEEN
I love any comments or questions, please leave below!
I HOPE YOU CONTINUE CONNECTING WITH ME
Love this recipe, it would be awesome if you give it a 5-star rating and share comments below!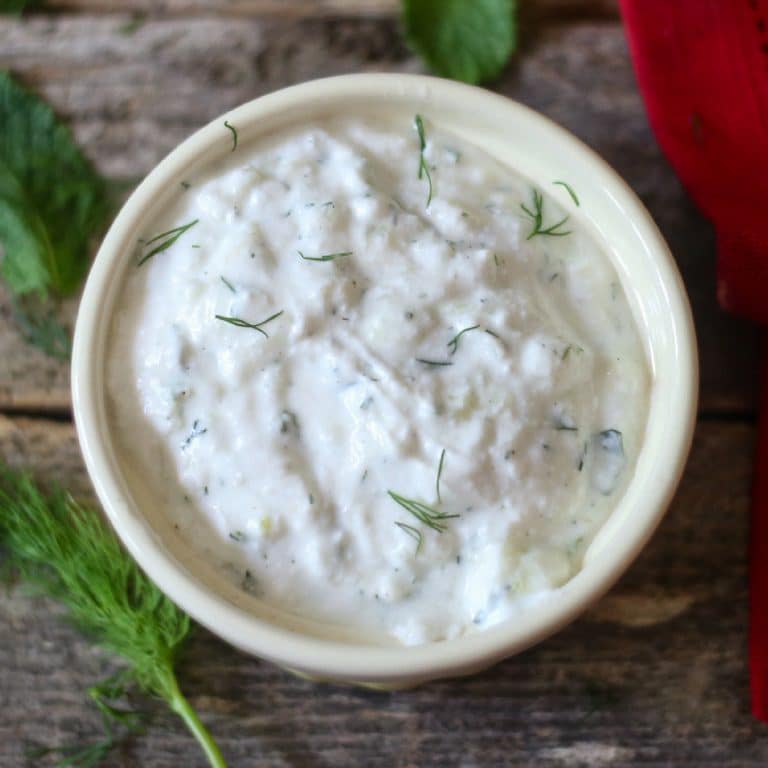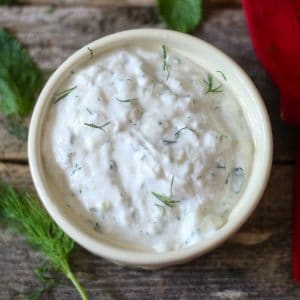 Easy Tzatziki Sauce
Delicious homemade tzatziki sauce made with fat-free Greek yogurt (full-fat for Keto followers), mint, dill, lemon juice, and fresh garlic. Such a flavorful sauce that is awesome with pita chips, fresh veggies, grilled veggies, Chicken Gyros, and Souvlaki. low-carb
Print
Rate
Equipment Needed:
Ingredients
2

cups

Greek non-fat yogurt

Keto followers, use full-fat

1

large

cucumber

¼

teaspoon

Himalayan salt

Kosher salt can be used

2

Tablespoons

lemon juice

2

Tablespoons

fresh dill, minced

1

Tablespoon

fresh mint, minced

2

cloves

garlic, peeled and minced

salt and pepper, to taste
Instructions
In a large bowl, place a colander with a large piece of cheesecloth in the colander. Add the greek yogurt and let the excess water drain through the cheesecloth into the bowl. Let sit at least 30 minutes. If you have more time, another 30 minutes.

Peel the cucumber and using a box grater, shred the cucumber and sprinkle with the ¼ teaspoon of Himalayan salt(or regular salt). Place the shredded cucumber in another piece of cheesecloth. Wring the cucumber over the sink to drain off any excess water from the cucumber. Set aside.

Once the yogurt has drained, remove from the cheesecloth and colander. Discard drained liquid. Place yogurt into a medium bowl. Add in the drained shredded cucumber, lemon juice, fresh dill, fresh mint, garlic, and season with salt and pepper. Mix well. Test for flavor. Reseason if needed. Refrigerate until ready to serve.

Tzatziki Sauce is best wrapped well in the fridge and can last about 4-5 days well covered in the fridge. Serve with Chicken Gyros, Souvlaki, Greek Salads, pita bread, pita chips, grilled veggies, and fresh veggies

Notes
I prefer using Himalayan salt, any salt can be used.
Fage Greek yogurt was used in this recipe. Any Greek yogurt is fine. I have used plain yogurt but prefer using Greek yogurt for flavor in this Tzatziki Sauce.
Many ask is it necessary to drain the Greek yogurt and cucumber. I prefer a thicker dip and I do not enjoy watery dips so for me, yes it is necessary for the best flavor to drain the yogurt and cucumber to have the best Greek Tzatziki Sauce.
Any nutritional data I provide is an approximation and actual dietary information can vary based on ingredients and proportion sizes.
Nutrition
Serving:
2
Tablespoons
|
Calories:
17
kcal
|
Carbohydrates:
1
g
|
Protein:
2
g
|
Fat:
0
g
|
Saturated Fat:
0
g
|
Cholesterol:
1
mg
|
Sodium:
45
mg
|
Potassium:
59
mg
|
Fiber:
0
g
|
Sugar:
1
g
|
Vitamin A:
15
IU
|
Vitamin C:
1.4
mg
|
Calcium:
31
mg
|
Iron:
0.1
mg
Pin Homemade Greek Tzatziki Sauce Recipe to make any time: