Pork chops and sauerkraut full of tender juicy pork that melts in your mouth. Added in is tangy sauerkraut that gets a balance from apple cider. A dinner that screams comfort food for all.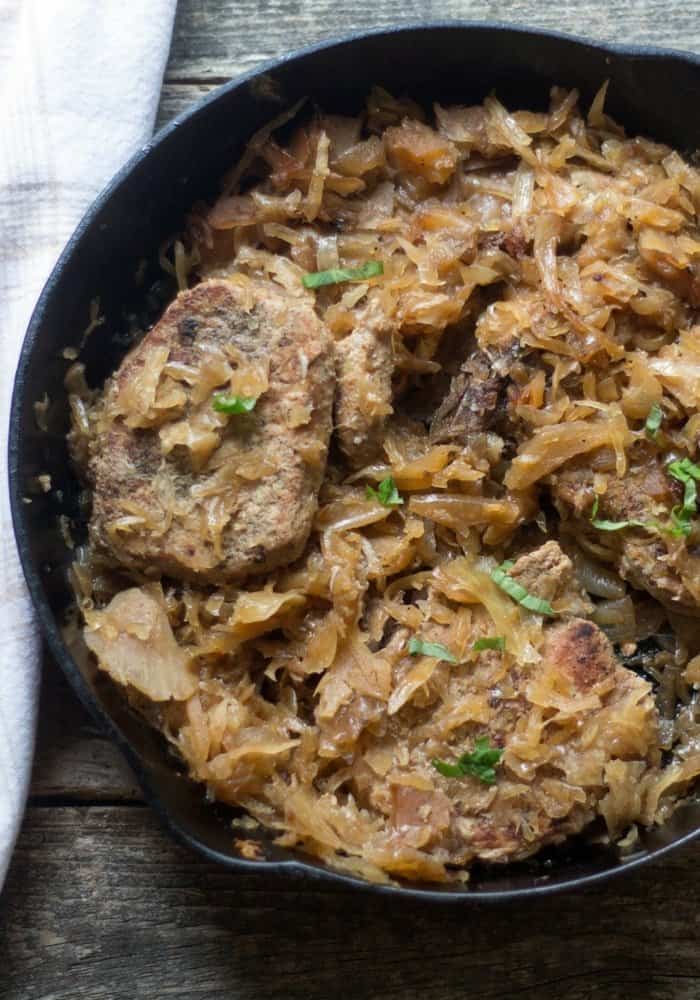 My favorite childhood dish is simply this recipe for Baked Pork Chops and Sauerkraut! My Mom would switch it up for my birthday dinner and prepare a pork loin with sauerkraut!
I'm a cheap date, pork chops, sauerkraut, throw in onions and an apple, equals one happy girl.
Okay enough of me already, back to this yummy recipe.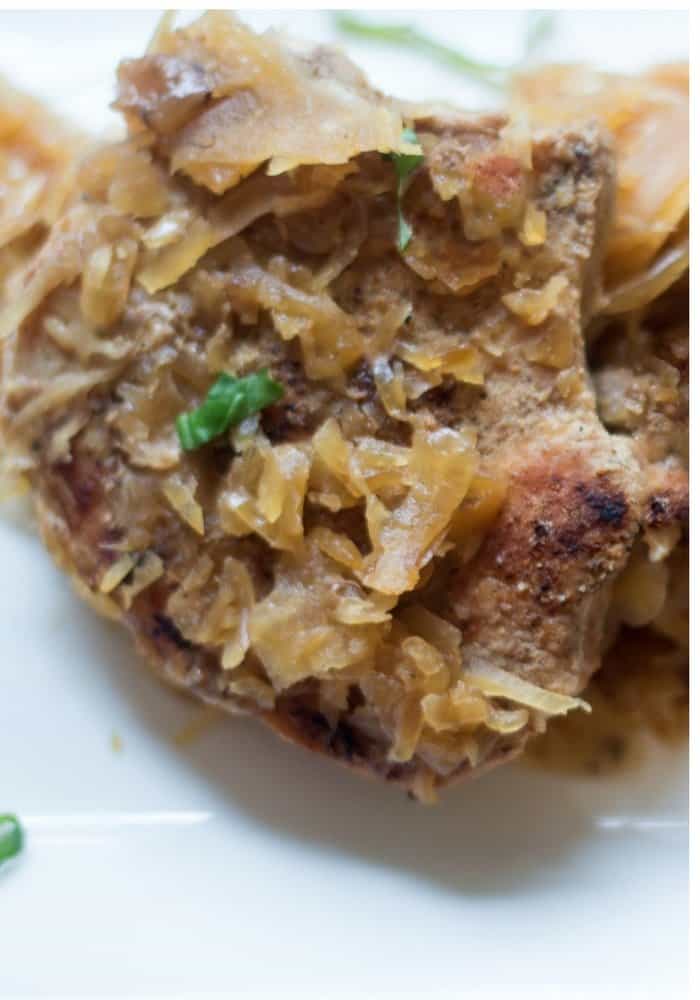 Low calorie, low-carb gluten-free and one pan! Make ahead and re-heated! Perfect for a crowd-pleasing meal too!
Did you know Pork and Sauerkraut are considered a meal to eat on New Year's Day for many with Eastern European heritage?
Pork and Sauerkraut are considered a meal to eat on New Year's Day that will bring health and prosperity for the year ahead. Cabbage is a fall harvested veggie, usually in October. Homemade sauerkraut takes about 6 weeks to brine. Thus, homemade sauerkraut would be ready end of December. It coincides with the time of year that the pigs were prepared to be food for the families. Therefore, New Year's Day became a popular day to enjoy pork and sauerkraut together and it signified good luck for the year.
Can I freeze this meal?
I have made this meal and placed in a freezer-safe bag. The pork and sauerkraut reheat very well. I reheat in the oven at 300 degrees for about ½ hour.
What other cuts of pork can be used to make this pork chop sauerkraut casserole?
Make this recipe using any cut of pork. You will need to adjust cooking times, depending on the cut of pork. I love this with a boneless pork loin.
What should the internal temperature be when pork is cooked?
To make the best pork chops that are not dry, the internal temperature should be 145 degrees.
What sides go well with Pork and Sauerkraut?
Green Beans with Mushrooms and Shallots
Roasted Asparagus with Lemon and Garlic
Easy Classic Homemade Mashed Potatoes
- yummy! I just need my fuzzy pj's and slippers and I am set for the evening!
How to make Slow Cooker Pork and Sauerkraut:
Season the pork chops or pork with black pepper and garlic powder. Heat a large skillet over medium heat add oil to the pan.
Brown pork chops or pork loin in a saute pan.
Place the pork, apples, and sauerkraut in the slow cooker, low 6-7 hours high for 3-4 hours
Tips on Making Baked Pork Chops and Sauerkraut in the Oven:
Use either boneless or bone-in chops or pork, loin of pork also works - no effect on flavor. I shop by store sales.
Brown the pork before finishing the pork chops in the oven. The browning adds amazing flavor and you always have tender pork chops.
Use either homemade or store bought apple cider, or apple juice. Do not use apple cider vinegar which is completely different.
An easy made ahead meal! Simply place the cooked pork chops to bake in the oven to reheat at 300 degrees for about 10 minutes when ready to eat.
Light brown sugar is my favorite sweetener for this recipe. Can use another sweetener such as Turbinado sugar. Add the sweetener in increments and check sweetness.
SHOP THIS RECIPE
This post contains affiliate links for your convenience. As an Amazon Associate, I earn from qualifying purchases.
Thank you so very much for being apart of Everyday Eileen!
Enjoy my store where I am always updating great finds for not just cooking, I hope you check it out here, Everyday Eileen I will continue to update it regularly
Some other pork recipes you may enjoy:
Pork and Sun-Dried Tomato Sandwich: a quick and easy meal for lunch or dinner.
Grilled Mexican Pork Chops: pork chops with a kick and topped with tomatillo salsa, so delish.
Instant Pot Pork and Veggies: A fabulous tasting one pot dinner ready in no time.
Foil Baked Ribs in Peach BBQ Sauce: Super easy to make and the peach BBQ Sauce is ah-mazing.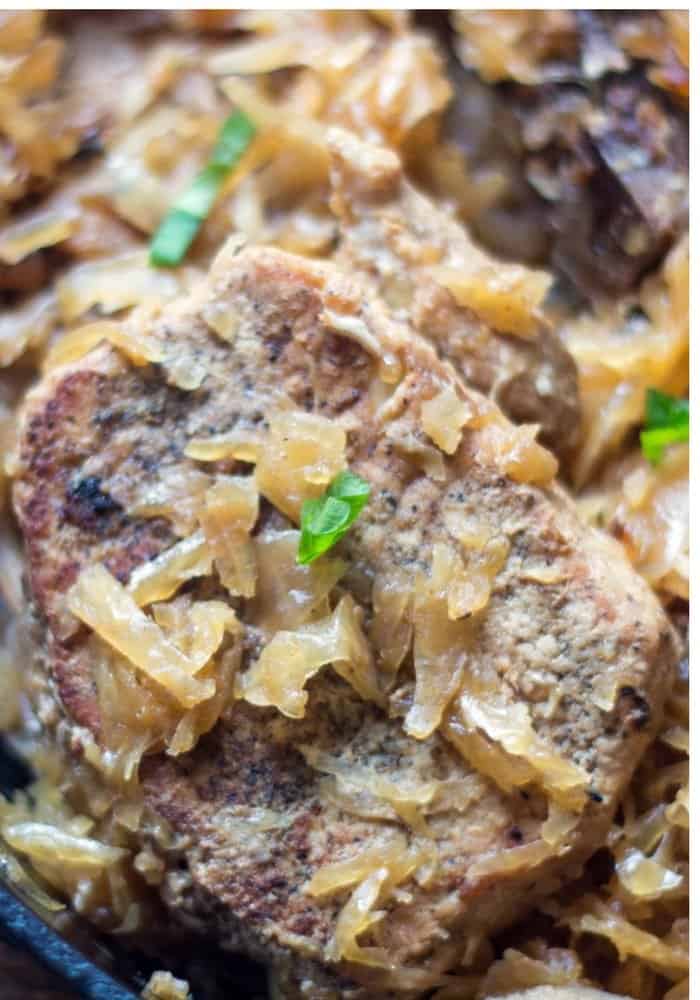 How to Make Baked Pork Chops and Sauerkraut:
Preheat oven to 350 degrees.
Season pork with pepper and garlic powder. I use about 1 ½ inch thick pork chops.
Heat a cast-iron or oven-safe casserole pan over medium heat, add olive oil.
Sear pork chops to brown on both sides. Remove set aside until all chops browned.
Add onion and apple to the pan and brown slightly 1-2 minutes.
Add the apple cider and brown sugar. Use a wooden spoon to bring up any brown bits at bottom of the pan.
Add back the pork chops and sauerkraut. Move around sauerkraut to ensure covered by the juices.
Place either the lid or aluminum foil on pan or casserole. Bake for about 35-45 minutes. Boneless chops are quicker cooking. The internal temperature of cooked pork should be 145 degrees.
Give us a like on FACEBOOK
For great recipes and tips, follow along on Pinterest
When you make this recipe, take a pic and tag me on Instagram @everyday_eileen or #everydayeileen
I love any comments or questions, please feel free to leave them below!
Keep up to date with recipes by following me on:
FACEBOOK INSTAGRAM, PINTEREST, TWITTER
First Published: July 04, 2017… Last Updated: March 06, 2020
Love this recipe, it would be awesome if you give it a 5-star rating and share comments below!
Thank you for always sharing my passion and love for food and family!
xo! Eileen
Are you loving this recipe, giving it a 5-star rating and any comments are super helpful for me and I appreciate it very much.
Originally published Nov 1, 2015. Updated Nov 29,2017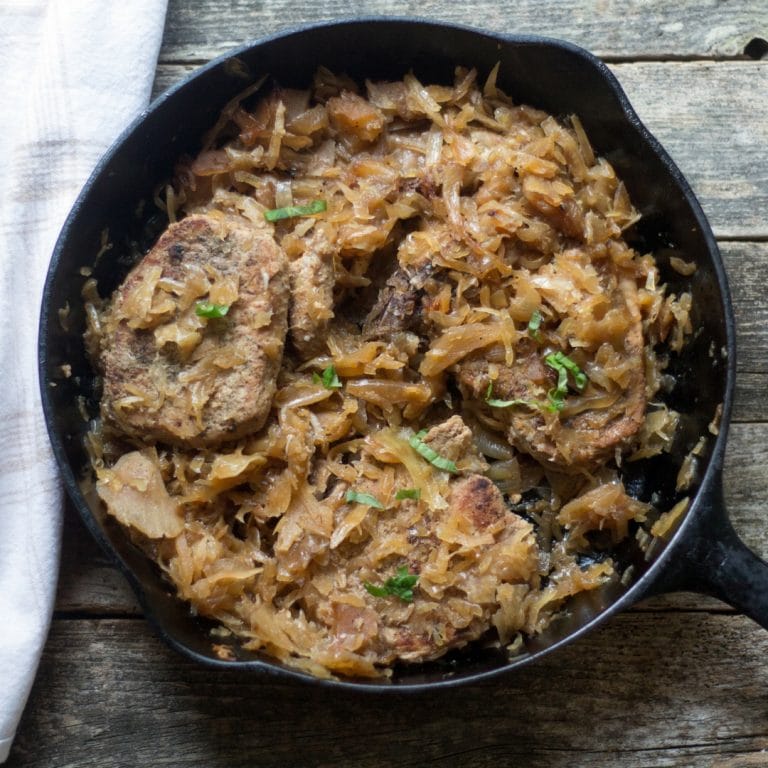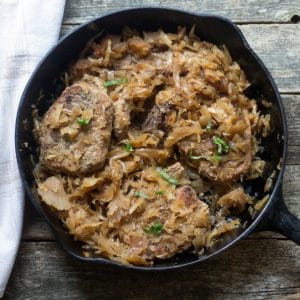 Baked Pork Chops and Sauerkraut
Baked pork chops and sauerkraut in apple cider paired with apples and sauerkraut make for a delicious meal! Perfect over mashed cauliflower or mashed potatoes.
Print
Pin
Rate
Equipment Needed:
Ingredients
1

Tablespoon

avocado oil or olive oil

4

5 ounce

pork chops, trim fat from chop

about 1 ½ inch thick

½

teaspoon

pepper to taste

¼

teaspoon

garlic powder

1

onion, peeled and sliced thin

1

apple, cored, peeled, and chopped

granny smith or Gala are awesome

1

cup

homemade apple cider juice

or store-bought apple cider Note 2

2

Tablespoons

brown sugar

keto, use coconut palm sugar

2

pounds

sauerkraut, in a bag and drained

Note 1
Instructions
Baked Pork Chops and Sauerkraut
Preheat oven to 350 degrees.

Season both sides of pork chops with black pepper and garlic powder.

In an oven-safe skillet, over medium heat, add the avocado oil. Brown the pork chops on both sides, about 4 minutes per side. Set aside.

To the skillet, add and combine sliced onion, chopped apple, brown sugar, apple juice, and drained sauerkraut.

Add the brown pork chops and combine so that the pork chops are covered with the sauerkraut and juices.

Cover the skillet with lid or foil and bake at least 45-60 minutes. Pork chops should be tender and no longer pink. Pork temperature should be 165 degrees. Serve immediately or cool and refrigerate and reheat when ready to eat.
Slow Cooker Pork Chops and Sauerkraut
Slow-cooker instructions, after browning the pork chops in the skillet, add all ingredients to the slow-cooker. Slow cook low- 6-8 hours or high for 4 hours. Serve with your favorite sides.

Video
Notes
Note 1: I prefer sauerkraut in a bag. Canned sauerkraut has a tinny taste that we do not care for.
Note 2: Please note this recipe uses either apple cider or apple juice. Do not use apple cider vinegar. They are very different ingredients.
Don't have an ovenproof skillet, after browning the pork chops. Combine all ingredients in a casserole dish, cover, and bake.
I am not a registered dietician but I try to give the most accurate nutritional information as possible. Any nutritional data I provide is an approximation and actual dietary information can vary based on ingredients and portion sizes.
Nutrition
Serving:
1
chop
|
Calories:
212
kcal
|
Carbohydrates:
20
g
|
Protein:
15
g
|
Fat:
8
g
|
Saturated Fat:
3
g
|
Polyunsaturated Fat:
1
g
|
Monounsaturated Fat:
2
g
|
Cholesterol:
39
mg
|
Sodium:
372
mg
|
Potassium:
333
mg
|
Fiber:
2
g
|
Sugar:
18
g
|
Vitamin A:
50
IU
|
Vitamin C:
33.8
mg
|
Calcium:
40
mg
|
Iron:
0.7
mg
Originally published Nov 1, 2015. Updated Nov 29,2017