My Easy Salisbury Steak Recipe are a quick and easy meal for your family any night of the week! Make your Salisbury Steaks with lean sirloin beef to keep the recipe healthier and they taste so good! Enjoy a hearty dinner with lots of flavors while keeping your healthy diet in check!
First Published: January 19,2017... Last Updated: July 27, 2019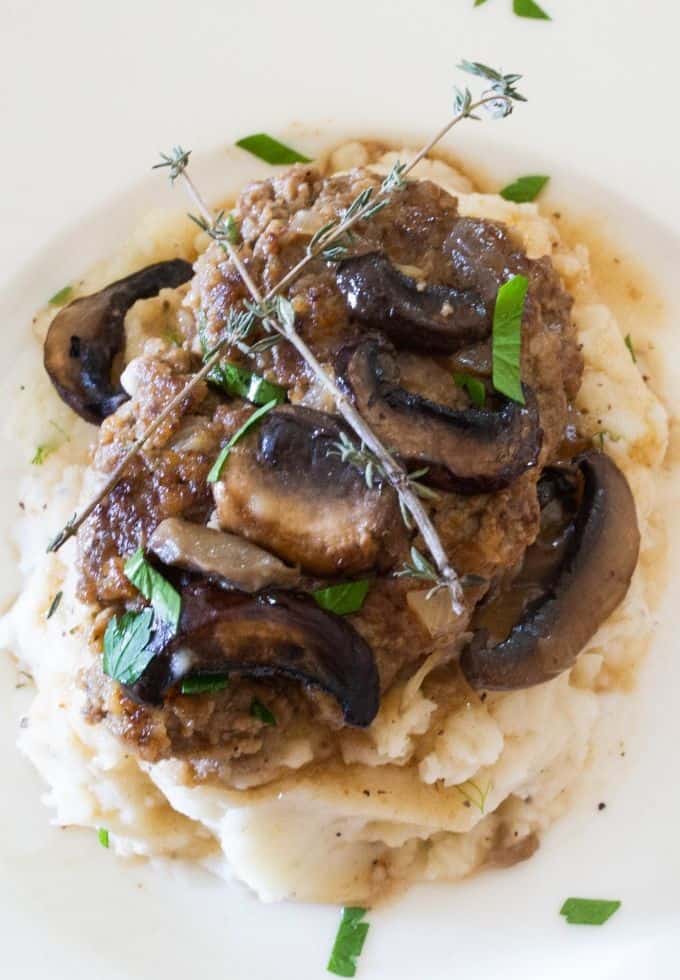 I can't believe I have not shared my easy salisbury steak recipe with you already! It's super easy, quick, and a very kid-friendly recipe!
My family requests I make this recipe all the time! To keep the it low-fat, use 90% lean ground sirloin, low-sodium, and fat-free beef broth!
These are healthier homemade Salisbury steaks and everyone will enjoy them.
My easy Salisbury Steak Recipe is a definite homemade comfort food meal. The ground beef steaks aren't riddled with ingredients we cannot pronounce and the results are mouthwatering!
This tasty recipe delivers it all! We love it because it's delish, easy, fills us up, freezes well, the reason why they never move out! We are really fine with that, they are awesome!
Enjoy these delicious salisbury steaks over classic mashed potatoes or mashed cauliflower. Another great option for an easy side is my Instant Pot Mashed Potatoes. Egg noodles are another great choice to serve with the salisbury steaks.

Easy Salisbury Steak Recipe FAQs
What is the difference between salisbury steak and meatloaf?
Meatloaf recipes will bake in the oven with various toppings. Salisbury steaks are made in a skillet with a brown mushroom gravy.
How far ahead can I make the steaks?
Feel free to make Salisbury Steak one to two days ahead and keep in the fridge until ready to eat! Freezing instructions below.
Is there a difference between a Salisbury Steak and a Hamburger Steak?
Technically, a hamburger steak is chop meat and seasoning while a salisbury steak has added bread crumb and eggs.
Can I freeze the steaks with mushroom gravy?
Freeze Salisbury steaks while they are raw or after they are finished cooking.
To freeze uncooked Salisbury Steaks, place the uncooked steaks on a large baking sheet in the freezer for about 1 hour. The steaks can then be stacked with wax paper in between each steak. Place in a freezer bag until ready to cook. Make the gravy at this point too.
To freeze prepared steaks and mushroom gravy, place the steaks in a freezer bag with gravy in a single layer. Freeze until ready to reheat.
What mushrooms do I use to make Salisbury Steak?
White button mushrooms and baby portobello mushrooms are awesome in these easy Salisbury Steaks. Use either mushroom or a mix for a great mushroom gravy.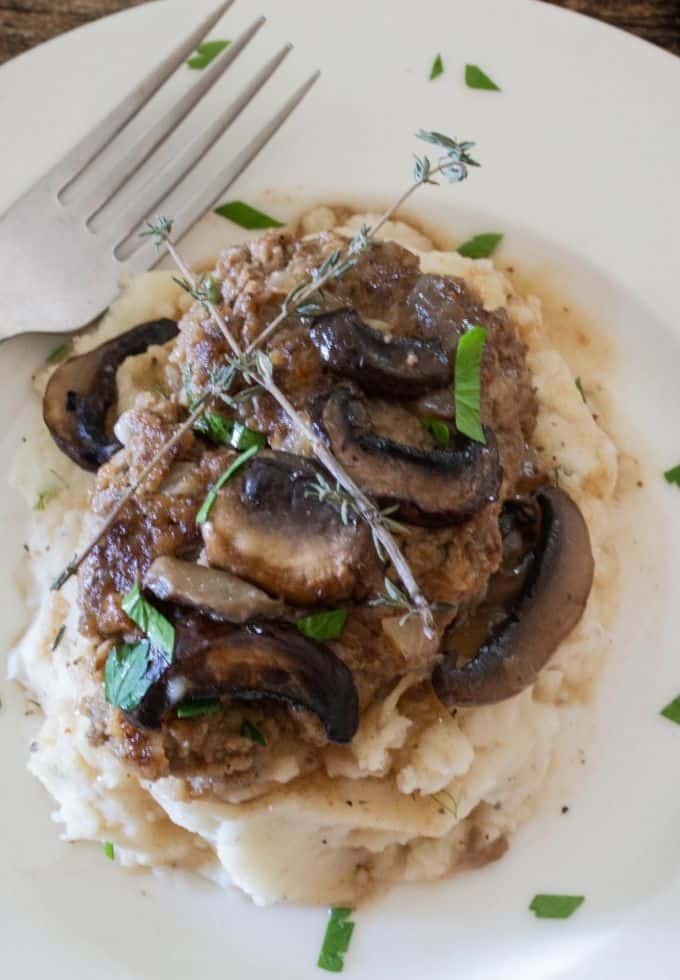 For a tasty side dish, roasted asparagus is easy and tasty! My Granny's Brown Sugar Carrots are also a delish side dish to the steaks. My kids love roasted broccoli with garlic as a side too!
Another great option is Italian Green Beans from Julie at A Taste of Lizzie, these beans are a perfect pairing with the beef patties. Alyssa from Everyday Maven has a delicious recipe for Garlic Rubbed Roasted Cabbage Steaks that are just delicious with salisbury steaks and mushroom gravy!
This post contains affiliate links for your convenience. We are a participant in the Amazon Services LLC Associates Program, an affiliate advertising program designed to provide a means for us to earn fees by linking to Amazon.com
Shop this Recipe:
12 inch stainless steel saute pan - everyone needs a good saute pan. This one has served me well. Big bonus, cleans very easily too!

Checkout my store. I am always updating great finds for not just cooking, I hope you check it out here, Everyday Eileen I update it regularly!
Pro Tips to make Salisbury Steaks
Saute the onion before adding to the raw meat. This adds a nice flavor to the beef patties.
If you choose to use raw onion, that is fine too, but it's a slightly more onion flavor.
Don't overwork the meat when forming the patties. This ensures tender meat.
Be sure to mix the cornstarch with warm broth to smooth out the cornstarch to thicken the gravy.
Lean meat is our first choice for tasty Salisbury Steaks.
Using a fattier cut will add a greasy texture to the gravy which is why lean ground beef is best.
How to make a delicious Easy Salisbury Steak Recipe:
In a large saute pan, saute diced onion golden in olive oil, about 4-5 minutes. Remove, set aside.
In a large bowl combine ground beef, ½ of the cooked onions, bread crumbs, egg, ketchup, Dijon mustard, Worcestershire Sauce, salt, and pepper.
Gently mix the ingredients. Don't overmix.
Shape into 6 oval patties, set aside.
Add a little olive oil or use cooking spray into the pan and sear the beef patties on both sides.
Remove the seared beef patties and set aside.
Brown the mushrooms and add in the minced garlic and return the minced onions into the pan.
Add in the beef broth, ketchup, Dijon, Worcestershire Sauce, salt, and black pepper.
Whisk broth and cornstarch until smooth.
Stir broth/cornstarch back into the pan.
Add the salisbury steaks back in to pan.
Let simmer about 10 minutes.
Check seasoning. Reseason salt and pepper if needed.
Serve with your favorite potatoes or egg noodles, enjoy!
When you make one of my recipes,
tag @everyday_eileen or #everydayeileen your photo on on Instagram! I would love to share your pics!
I love any comments or questions below!
Give us a like on FACEBOOK
For great recipes and tips, follow along on Pinterest
Are you loving this recipe, giving it a 5-star rating and any comments are super helpful for me and very much appreciated!
Thank you for always sharing my passion and love for food and family!
xo! Eileen
📖 Recipe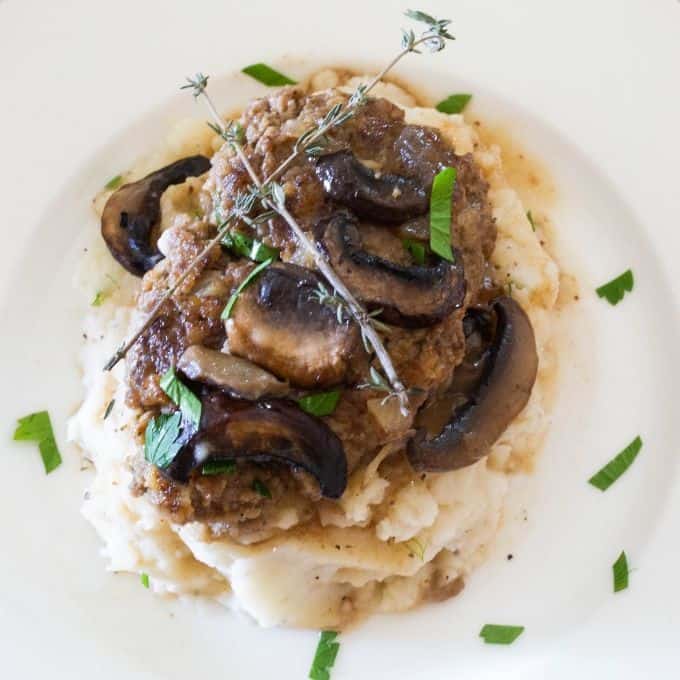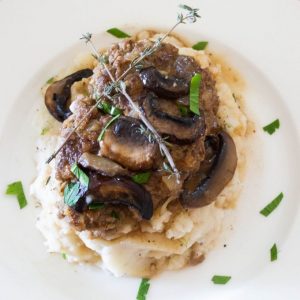 Easy Salisbury Steak Recipe
A light version of a family favorite! Using 90% lean sirloin meat makes for a delicious dinner while maintaining your healthy diet!
Print
Pin
Rate
Servings:
6
salisbury steaks
Equipment Needed:
Ingredients
Salisbury Steak
1

teaspoon

olive oil

½

whole

onion, diced

the entire onion will be used. 2nd half will be in gravy.

1 ½

pounds

ground sirloin beef

½

cup

whole wheat bread seasoned bread crumbs

1

large

egg

1

Tablespoon

low-sodium ketchup

½

teaspoon

Dijon mustard

2-3

dashes

Worcestershirehe sauce

salt and pepper, to taste
Gravy
1

teaspoon

olive oil

½

whole

onion, diced

2nd half of onion sauteed above.

8

ounce

sliced mushroom

2

cloves

garlic, minced

2

cups

low-sodium, fat-free beef broth

1

Tablespoon

low-sodium ketchup

1

teaspoon

Dijon mustard

3

dashes

Worcestershire sauce

1

Tablespoon

corn starch

salt and pepper, to taste
Instructions
Salisbury Steaks
In a large skillet, over medium heat, add the diced onions and saute until golden, about 4 minutes. Remove onions and set aside. Remove pan from heat.

In a large bowl, combine the ground sirloin, sauteed onion, whole wheat bread crumbs, egg, low-sodium ketchup, Dijon mustard, Worcestershire sauce, salt and pepper.

Form the beef mixture into oval shaped loaves. Set aside.

Reheat the large skillet over medium heat, spray with cooking spray. Sear the salisbury steaks on both sides, interior will no longer be pink. Remove from the heat and set steaks aside.
To make the Gravy
In a large skillet, over medium heat, add 1 teaspoon olive oil. Saute diced onion until golden brown, about 3 minutes. Add in minced garlic and saute another minute.

Add in the beef stock, low-sodium ketchup, Dijon mustard, Worcestershire sauce, salt and pepper, to taste.

In a small bowl, combine the cornstarch with some of the beef broth mixture until smooth and no clumps of cornstarch. Add back into the beef stock mixture.

Raise the heat on the pan to medium high and bring the gravy to a low boil.

Place the salisbury steaks into the skillet. Let simmer about 5-10 minutes.

Check seasoning and adjust salt and pepper if needed. Serve over mashed potatoes, mashed cauliflower or egg noodles.
Notes
The salisbury steaks are between 3-4 ounces before being cooked.
Low-sodium ingredients are what we use but regular ketchup and beef broth can be used.
Be sure not to overwork the meat when forming patties.
Any nutritional value used is an estimate. These figures can change based on ingredients and portion size
Nutrition
Serving:
6
servings
|
Calories:
235
kcal
|
Carbohydrates:
12
g
|
Protein:
29
g
|
Fat:
8
g
|
Saturated Fat:
3
g
|
Cholesterol:
105
mg
|
Sodium:
353
mg
|
Potassium:
701
mg
|
Fiber:
1
g
|
Sugar:
2
g
|
Vitamin A:
77
IU
|
Vitamin C:
3
mg
|
Calcium:
17
mg
|
Iron:
4
mg