Mashed Cauliflower has been a favorite dish for my family! This cauliflower recipe is a low-carb recipe and a healthy side dish. Whether you want a mashed or creamy cauliflower, this is an easy delicious recipe. This garlic cauliflower mash is a perfect addition for any Holiday buffet too!
Low-Carb Garlic Mashed Cauliflower is a great way to bring a Keto side dish to your family and friends!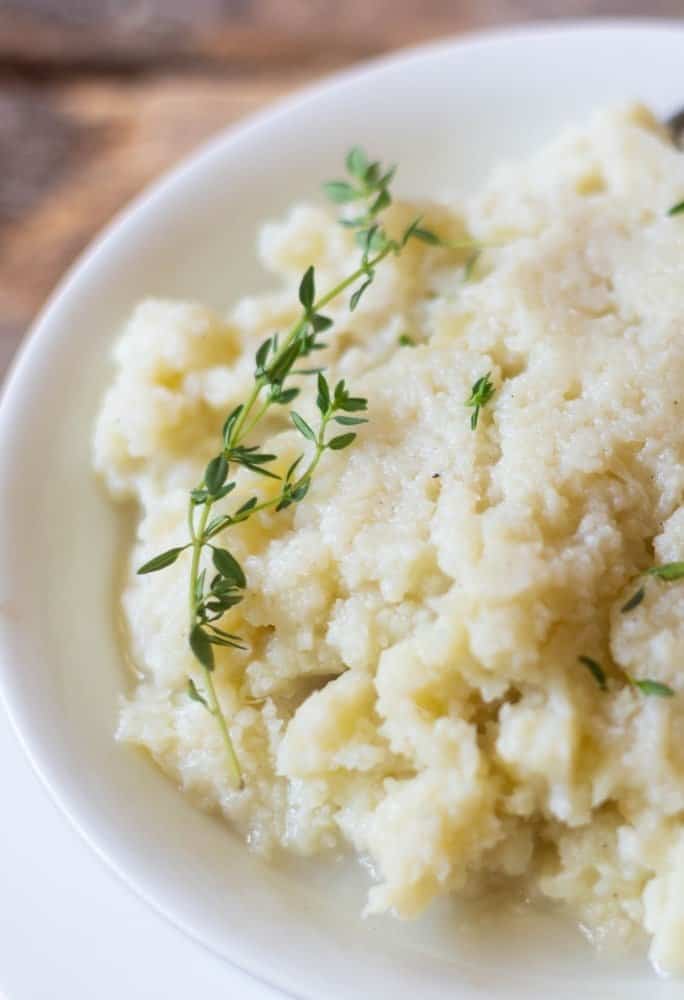 Want to cut down on carbs with a side dish that's full of flavor and tastes amazing, try mashed cauliflower!
Does mashed cauliflower taste exactly like mashed potatoes, no! However, mashed cauliflower is absolutely delicious! The texture of both mashed potatoes and cauliflower are similar. Mashed cauliflower is a perfect healthier choice, especially if you are focusing on lowering carbs!
I make a lot of veggie purees and this cauliflower mash was one that my family loves. Veggie purees are a great way to incorporate veggies into any low-carb diet. The combinations are also endless!  I have a few more coming up on the blog.
Can you eat Cauliflower on a Keto diet?
Absolutely, cauliflower has become the solution for meals that are normally high in carbs. Cauliflower Tabbouleh is a great example of using cauliflower for a low-carb option.
How many carbs does 1 cup of cauliflower contain?
Cauliflower is very low in carbohydrates. A person can enjoy 1 cup of raw or cooked cauliflower.  Cauliflower contains about 5 grams of carbs.
Approximately how long can mashed cauliflower be kept in the fridge?
Garlic Mashed Cauliflower can be kept well covered in the fridge for about 3 days.
Can garlic mashed cauliflower be frozen?
Absolutely, this garlic cauliflower recipe can be made ahead and frozen to use at a later date. I use my food saver to preserve the flavors of the cauliflower. Buy cauliflower when it is on sale.  Make cauliflower rice and mashed cauliflower, freeze for later. Also, freeze raw cauliflower to use later, a money saver.
Variations on mashed cauliflower:
When making mashed cauliflower, you can adjust ingredients. Feel free to experiment with low-fat milk, sour cream, cream cheese, or add herbs. Recipes are a base and you can always change up ingredients for different flavors.
What goes well with mashed cauliflower?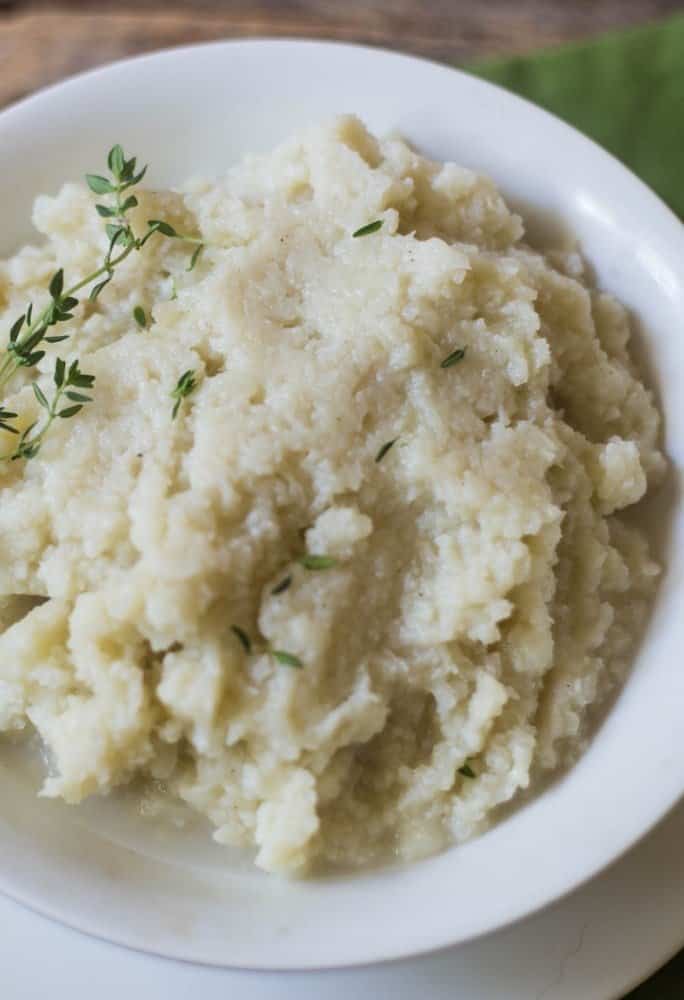 As a stroke survivor, I really push eating and enjoying cauliflower. Cauliflower has a lot of health benefits. It is an anti-inflammatory and Inflammation is associated with strokes, diabetes, and heart disease.
Health Benefits of  Cauliflower:
Cauliflower is low-calorie, low-fat, low-sugar which makes it a great food choice.
Being anti-oxidant rich, cauliflower is awesome for those with auto-immune disease.
Eating cauliflower is also good for anyone with chronic fatigue, and many other ailments.
Cauliflower is rich in selenium, which aids in keeping the immune system up and running.
Vitamin K is abundant in cauliflower which aids in bone health, osteoporosis, and a great coagulator for blood.
How to Make Mashed Cauliflower:
Cut up cauliflower into florets and place in a saucepan. Cover with water about 1 inch above florets.
Add in 2 cloves garlic, season water with pepper.
Bring cauliflower to a boil. Reduce heat, simmer to soften cauliflower, about 10 minutes.
Drain cauliflower in a colander. Return to saucepan. 
Heat saucepan with cauliflower over medium heat, stirring constantly to drain any excess water.
Add in buttermilk, butter, and season to taste with salt and pepper. Mash cauliflower. 
Serve cauliflower mash with your favorite meals. 
How to Make Creamy Mashed Cauliflower?
Follow steps 1 – 5 from How to Make Mashed Cauliflower above.
Transfer the cauliflower to a food processor.
Add buttermilk and butter. Add in salt and pepper, to taste.
Next, puree cauliflower mash ingredients until smooth.
Check the seasoning, reseason if needed.
It's always awesome seeing your recreations of my recipes! When you make any of my recipes, tag me on Instagram #everydayeileen or @everyday_eileen
I love any comments or questions, please feel free to leave them below!                               
                         I HOPE YOU CONTINUE CONNECTING WITH ME
            FACEBOOK  INSTAGRAM, PINTEREST, TWITTER, BLOGLOVIN, GOOGLE 
Love this recipe, it would be awesome if you give it a 5-star rating and share comments below!
Low-Carb Garlic Cauliflower Mash
Enjoy a low-carb substitute for mashed potatoes with delicious Cauliflower Mash! The flavors are amazing. Great for Keto diets and for days you want to limit carbs and not flavor!
Print
Pin
Rate
Ingredients
To Cook Cauliflower
1

large

cauliflower, cut into florets

water, enough to cover the cauliflower

2

cloves

garlic, peeled and chopped

1

bay leaf

1/4

teaspoon

ground black pepper

1/8

teaspoon

salt
To Make Garlic Cauliflower Mash
4-5 1/2

Tablespoons

buttermilk

1

Tablespoon

unsalted butter

salt and pepper, to taste

1

teaspoon

fresh chopped thyme or chives

garnish
Instructions
To Make Cauliflower
In a medium saucepan, over medium heat, add the cauliflower florets. Cover with enough water to cover florets by about 1/2 inch. Add garlic, bay leaf, black pepper, and salt. Bring to a boil, reduce heat to simmer. Let cauliflower simmer about 6-7 minutes. Cauliflower should be fork tender.

Drain cauliflower and remove and discard bay leaf. Return cauliflower back to saucepan over medium heat for about one minute to remove excess water. Remove cauliflower from heat.
To Make Garlic Mashed Cauliflower
Add to the cauliflower, 4 Tablespoons of buttermilk and butter. Season with salt and black pepper to taste. Use a potato masher and mash ingredients together. If you find you need more liquid, add a bit more buttermilk. Mash for about 1 to 2 minutes. Check your seasoning. Adjust seasoning, if needed. Cauliflower mash will be smooth with some texture.

Place cauliflower in a bowl, sprinkle with chopped chives or thyme. Serve.
To Make Creamy Garlic Mashed Cauliflower
Follow the steps To Make Cauliflower.

Place the cauliflower to a food processor. Add in 4 Tablespoons buttermilk and unsalted butter. Season with salt and pepper. Puree until smooth. Check seasoning, adjust seasoning if needed.

Serve in a bowl, sprinkle with fresh chopped chives or thyme.
Notes
Garlic Mashed Cauliflower keeps in the fridge, well covered for about 3 days.
Mashed Cauliflower can be frozen in a sealed freezer safe bag for about 3-4 months. Defrost overnight in the fridge and reheat in a saucepan.
I am not a registered dietician, I do my best to provide the most accurate nutritional values. Any nutritional data I provide is an approximation. Actual dietary information can vary based on ingredients and portion sizes
Nutrition
Serving:
1
serving
|
Calories:
90
kcal
|
Carbohydrates:
11
g
|
Protein:
4
g
|
Fat:
4
g
|
Saturated Fat:
2
g
|
Cholesterol:
9
mg
|
Sodium:
154
mg
|
Potassium:
650
mg
|
Fiber:
4
g
|
Sugar:
4
g
|
Vitamin A:
115
IU
|
Vitamin C:
101.7
mg
|
Calcium:
68
mg
|
Iron:
0.9
mg
Pin Garlic Cauliflower Mash to Make Any Time: