Chicken Zoodle Soup is the epitome of comfort food, seriously addictive, and better for you. It's full of antioxidant and delicious! To top it all off, this yummy soup is low-fat, Paleo and gluten-free! Have a cold? In less than 30 minutes, zoodle soup is ready and it will be a bowl of comfort! You are in for a treat with this feel-good soup!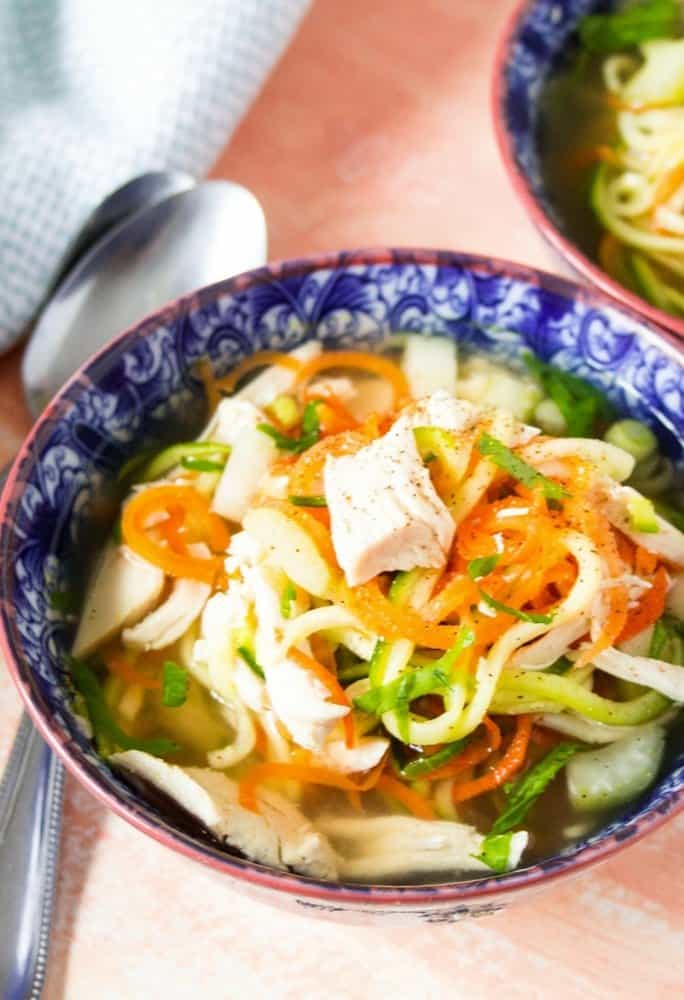 This unbelievably easy Detox Chicken Zoodle Soup is full of flavor from chicken, zucchini, carrots, and parsnips. Add in ginger and some herbs and this soup is year-round comfort food filled with antioxidants!
Chicken Zoodle Soup
My Healthy Detox Chicken Zoodle Soup is a big bowl of comfort! The soup is full of spiralized veggies: zoodles, coodles, and poodles, (spiralized zucchini, carrots, and parsnips.) Spiralizing veggie names is fun!
My sons are traditional Chicken Noodle Soup guys and they request this version all the time! The ginger and veggies are so good for helping to feel better when the flu is in the house! Ginger, is my go-to when anyone is feeling they need a detox. Thus, my very popular Detox Lemon Ginger Green Tea and Detox Blueberry Lemon Ginger Iced Tea!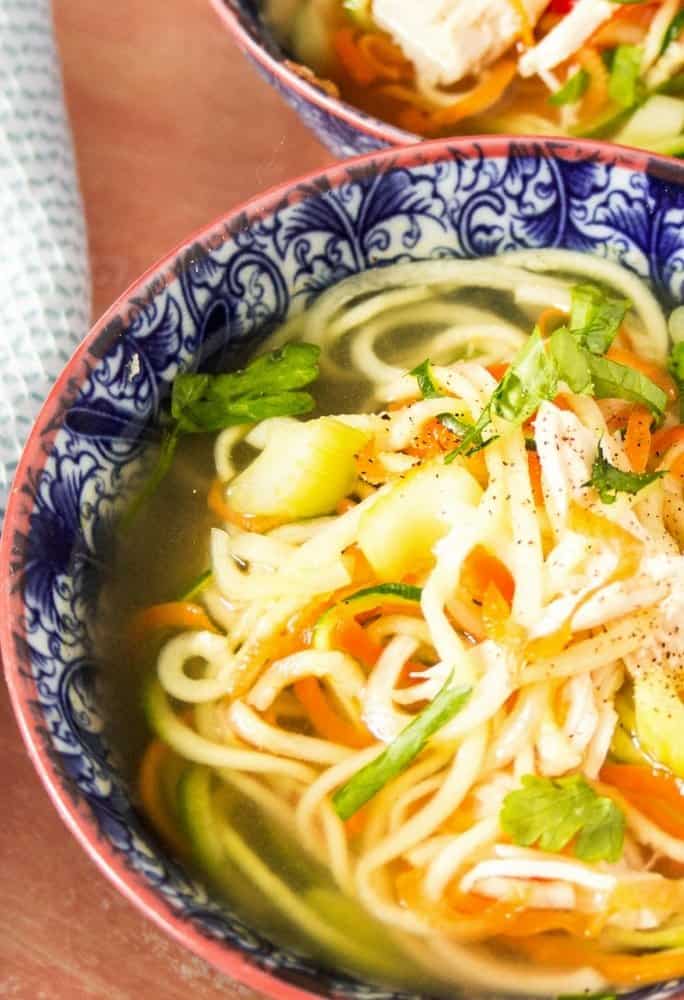 Chicken Zoodle Soup Nutritional Facts:
Chicken is low in both cholesterol and saturated fats. High in protein and Vitamin B3 which converts carbs to energy!
Zucchini is loaded with antioxidants which can deter cancer, diabetes, cardiovascular disease. A great anti-inflammatory!
I must add, zucchini is high in water so you can feel fuller after eating, which aids in weight loss.
Parsnips are another awesome weight reducer veggie that is full of nutrients!
Carrots reduce the risk of strokes, cleanses the body and of course vision
Ginger, fixes everything, lol! Fights colds, detox the body, strengthen bones, reduce cramping...I could go on and on!
Check out USDA Food and Nutrition Center for detailed info.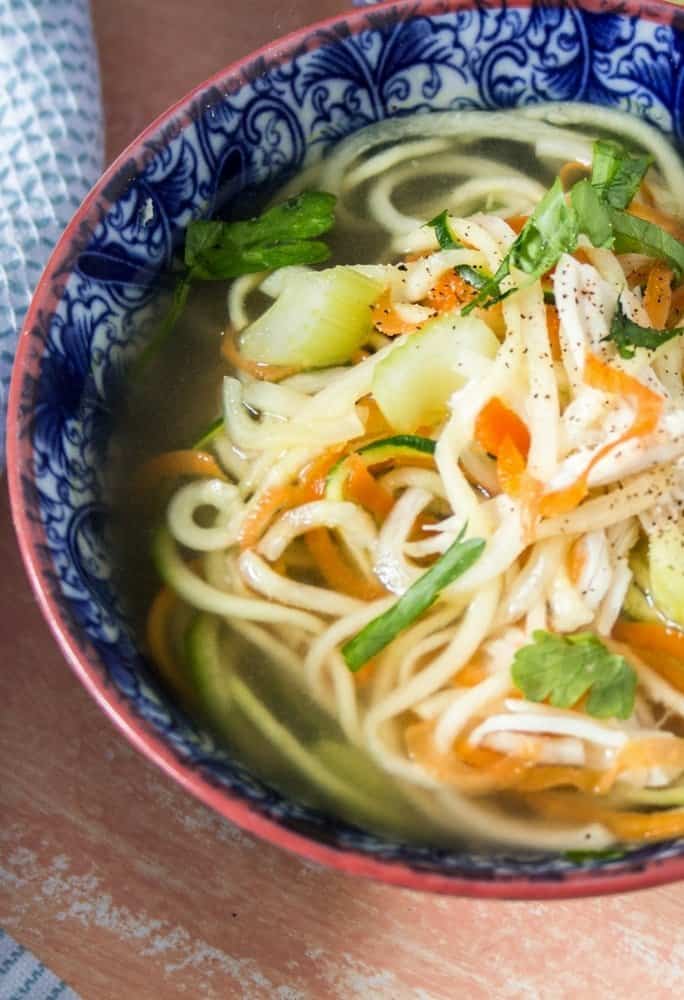 Chicken Zoodle Soup FAQs
Can I freeze chicken zoodle soup?
Zucchini retains a lot of water. It is best to not freeze this soup. It is a quick and easy soup to prepare.
What is the best way to cook the chicken for this soup?
Instant Pot Shredded Chicken works well. Leftover roasted chicken works too.
Can leftover chicken and turkey work in this zoodle soup?
Absolutely, use your leftover poultry and turkey in this for amazing soup.
Can I add egg noodles to chicken zoodle soup?
This is your soup. Add any of your favorite veggies, noodles if you choose, and herbs.
How do I spiralize my vegetable?
Use a spiralizer, my favorite is listed below.
Pro Tips to Make Chicken Zoodle Soup
The recipe calls for fat-free stock. Full-fat stock will work too.
Peel carrots and parsnips before spiralizing.
If the veggies are too long, cut them in half.
Since zucchini retains a lot of water, it's best not to freeze this soup.
Feel free to add other favorite veggies such as mushrooms, kale, and spinach. Be aware of cooking times of other veggies that may take longer to cook.
Use leftover roasted chicken in this soup.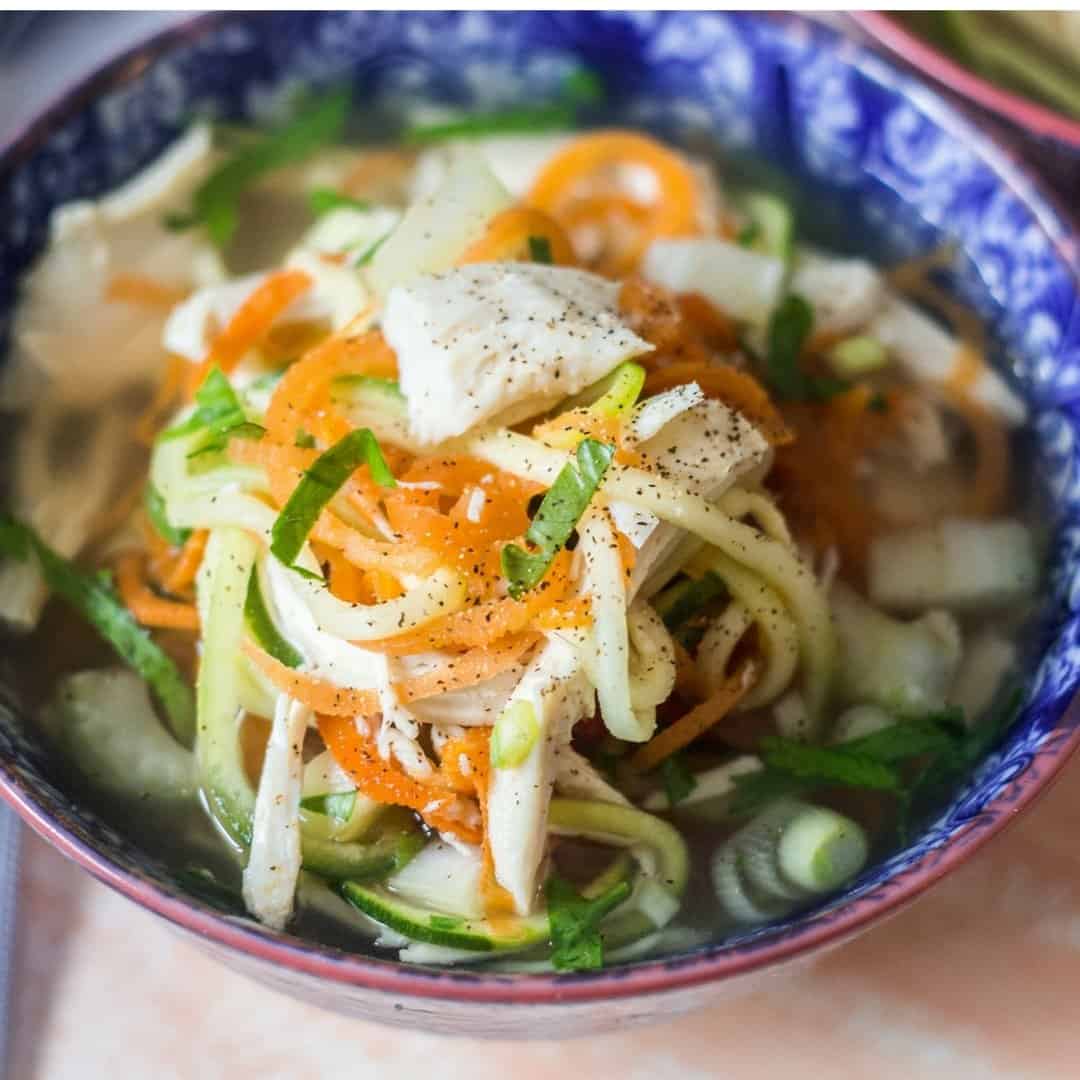 SHOP THIS RECIPE:
This post contains affiliate links for your convenience. As an Amazon Associate I earn from qualifying purchases.
Spiralizer: This is the one I use and it's sturdy and does a great job.
Blue Porcelain Bowls: I get a lot of requests as to where I found these bowls, enjoy! Aren't they pretty!
Checkout my store, Everyday Eileen I share all my favorite finds!
You may enjoy these chicken recipes:
Chicken Piccata - low-carb and delicious! One of my most popular recipes.
Veal Cutlets with Mediterranean veggies - this is a gluten-free recipe and the veal is tender with the flavorful veggies, yum.
Instant Pot Chicken Cacciatore: easy and so tasty all in one pot meal.
Enjoy these spiralizer dinners:
15 minutes Shrimp Fra Diavolo from Sandi at Fearless Dining. So delicious. Spicy shrimp over spiralized zucchini.
Sweet Potato Noodles with Alfredo Sauce from Rosa at This Healthy Kitchen
How to Make Chicken Zoodle Soup
Peel the carrots and parsnips.
Spiralize your carrots, parsnips, and zucchini.
Cut the veggies in half if they are too long.
Dice the green onion.
Heat the chicken stock up.
Add in the spiralized veggies, green onion, spices, and herbs.
Season with salt, pepper and add a bay leaf.
Simmer about 15 minutes.
Add in the cooked chicken.
Let chicken heat. Veggies should be soft.
Add in fresh parsley.
Ladle veggies and chicken into bowls and top with broth.
Enjoy.
Give us a like on FACEBOOK
For great recipes and tips, follow along on Pinterest
Thank you for always sharing my passion and love for food and family!
xo! Eileen
Are you loving this recipe, giving it a 5-star rating and any comments are super helpful for me and very much appreciated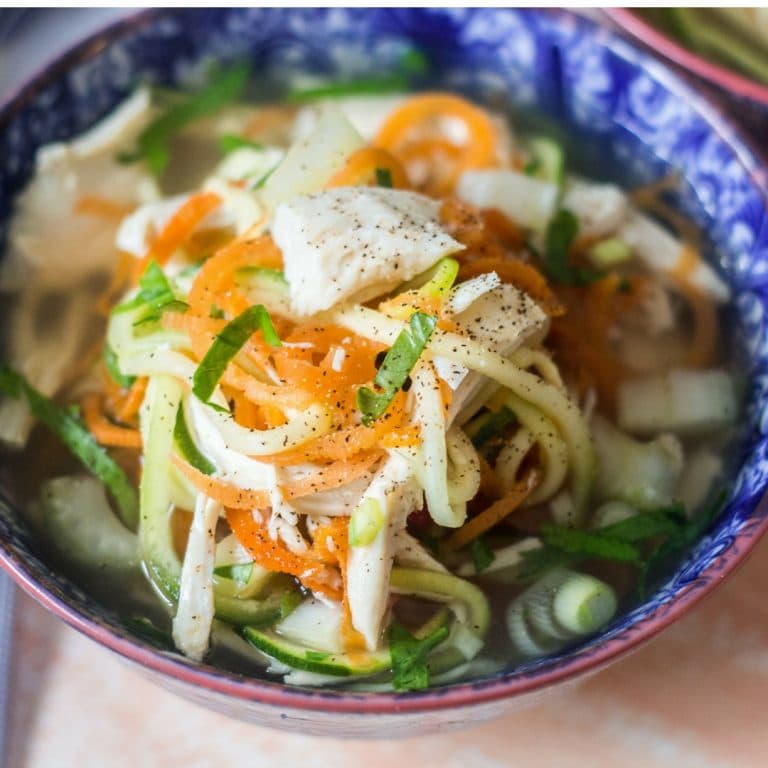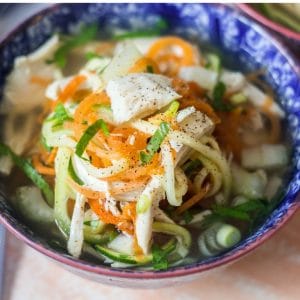 Healthy Detox Chicken Zoodle Soup
The best Chicken Zoodle Soup to eat any day! Perfect for those days when you are feeling a cold/flu coming on. Great when you just want a bowl of comfort! Full of chicken and spiralized zucchini, parsnips and carrots! Ginger adds even more antioxidants! Enjoy! A quick and easy meal to cure-all!
Print
Pin
Rate
Equipment Needed:
Ingredients
1

large

green zucchini

1

medium

yellow zucchini

1

large

carrot

Note 1

1

large

parsnip

3

green onions, diced

6

cups

fat-free chicken stock or homemade

2

cups

cooked shredded chicken breasts

½

teaspoon

ground ginger

½

teaspoon

dried basil

½

teaspoon

dried oregano

½

teaspoon

dried thyme

½

teaspoon

black pepper

1

bay leaf

salt, to taste

2

Tablespoons

fresh parsley, optional garnish
Instructions
Wash the zucchini, parsnips, and carrots.

Cut the tops off the veggies and discard(see notes). Peel the carrots and parsnips (discard the skin -see note).

Spiralize the zucchinis, parsnip, and carrots.

Feel free to cut the spiralized veggies in half if they are too long. Set aside.

Cut the end off the green onion, discard the end piece or save for vegetable broth. Dice the green onion.

In a large Dutch Oven or soup pot over medium heat add the fat-free chicken stock bring to a boil.

Add in the spiralized veggies, green onion, ground ginger, basil, oregano, thyme, black pepper, and bay leaf. Add salt and pepper to your taste.

Cover pot and let simmer about 12 minutes.

Add the shredded chicken into the soup. Cook another 5 minutes.

If you like very soft veggies, let them simmer another 5 minutes.

Discard the bay leaf. I prefer to distribute the veggies and chicken into the bowls and add the broth. Enjoy.

Distribute the veggies and chicken into the bowls. Add the broth.

Sprinkle with fresh chopped parsley.

Check the seasoning and adjust if needed.
Notes
Note 1: Keto friends, leave out the carrots
Any veggie extras, gather in a freezer bag and keep in the freezer until you have enough to make homemade vegetable or chicken stock.


Tips to Make Chicken Zoodle Soup

The recipe calls for fat-free stock. Full-fat stock will work too.
Peel carrots and parsnips before spiralizing.
If the veggies are too long, cut them in half.
Since zucchini retains a lot of water, it's best not to freeze this soup.
Feel free to add other favorite veggies such as mushrooms, kale, and spinach. Be aware of cooking times of other veggies that may take longer to cook.
Use leftover roasted chicken in this soup.
A great soup for leftover chicken and turkey.
Any veggie extras, gather in a freezer bag and keep in the freezer until you have enough to make homemade vegetable or chicken stock.

Any nutritional data I provide is an approximation and actual dietary information can vary based on ingredients and portion sizes
Nutrition
Serving:
1
cup
|
Calories:
89
kcal
|
Carbohydrates:
5
g
|
Protein:
13
g
|
Fat:
2
g
|
Cholesterol:
32
mg
|
Sodium:
1003
mg
|
Potassium:
541
mg
|
Fiber:
1
g
|
Sugar:
3
g
|
Vitamin A:
2365
IU
|
Vitamin C:
19.7
mg
|
Calcium:
40
mg
|
Iron:
1.3
mg