Baked Parmesan Chicken Tenders are just plain healthy and delicious!! My family loves chicken tenders but I don't want everyone taking  on the extra calories of frying the chicken tenders.  These little babies are baked at a pretty high heat of 400 degrees and I use olive oil spray to coat the chicken tenderloins.  This makes them crispy on the outside and really moist and tender on the inside!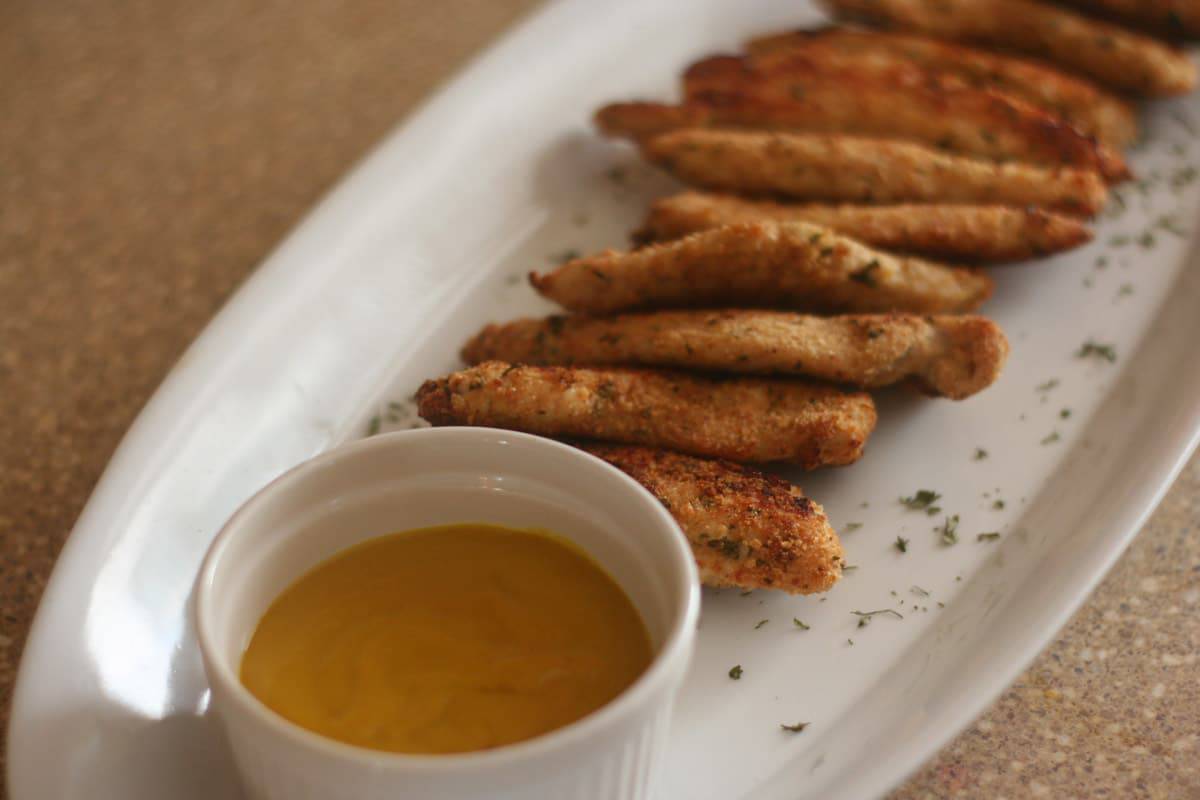 I love this dish because it is just so easy and one of my favorite things to make for the family, Everyday Eileen tip – I can make a huge amount of these chicken tenders at one time and freeze extras for future meals and snacks!  These chicken tenders reheat really well, either in the oven or if you prefer the microwave! In the oven, if they are frozen, about 30-40 minutes.  I usually take a freezer bag out in the morning if I know that is what the kids want for an afternoon snack or dinner, they defrost  and then its back to 15-20 minutes.  If you are microwaving, depending on how defrosted the chicken tenders are, you will need to adjust the microwave time to heat up the chicken tenders – check the microwave cooking guide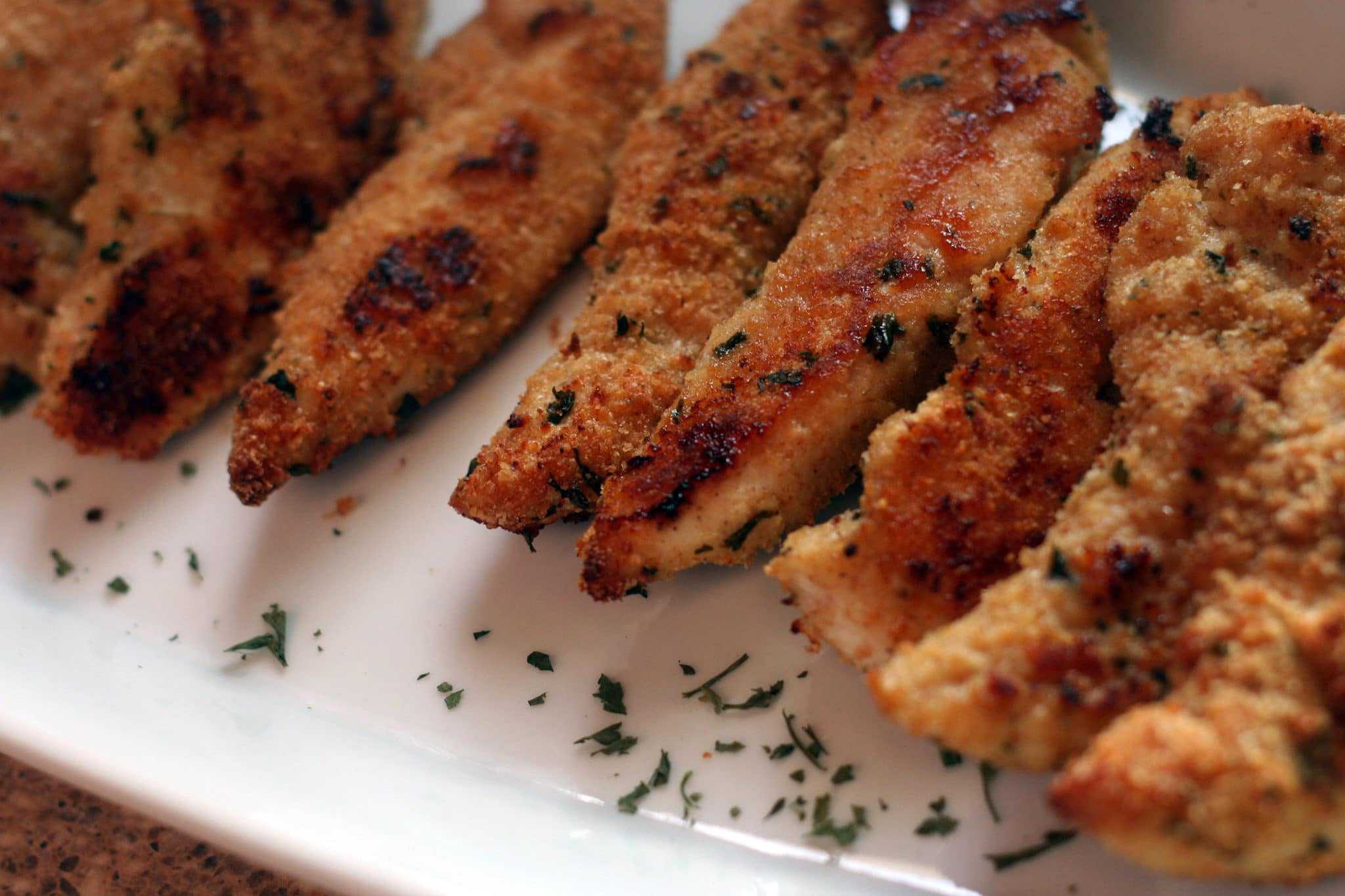 I use chicken tenderloin, they were on sale and then reduced again! I just couldn't pass up this sale!  We have 6 people in our house , but it honestly feels like I am feeding 12!  They enjoy food! So if I can get a sale, I am on it!  That being said, I have no problem using boneless chicken breasts and I slice them down to make tenders, trust me no difference in taste, and they are all delish! This of course has to be served with my Honey Mustard Sauce!  Its another easy recipe and tastes great with these chicken tenders!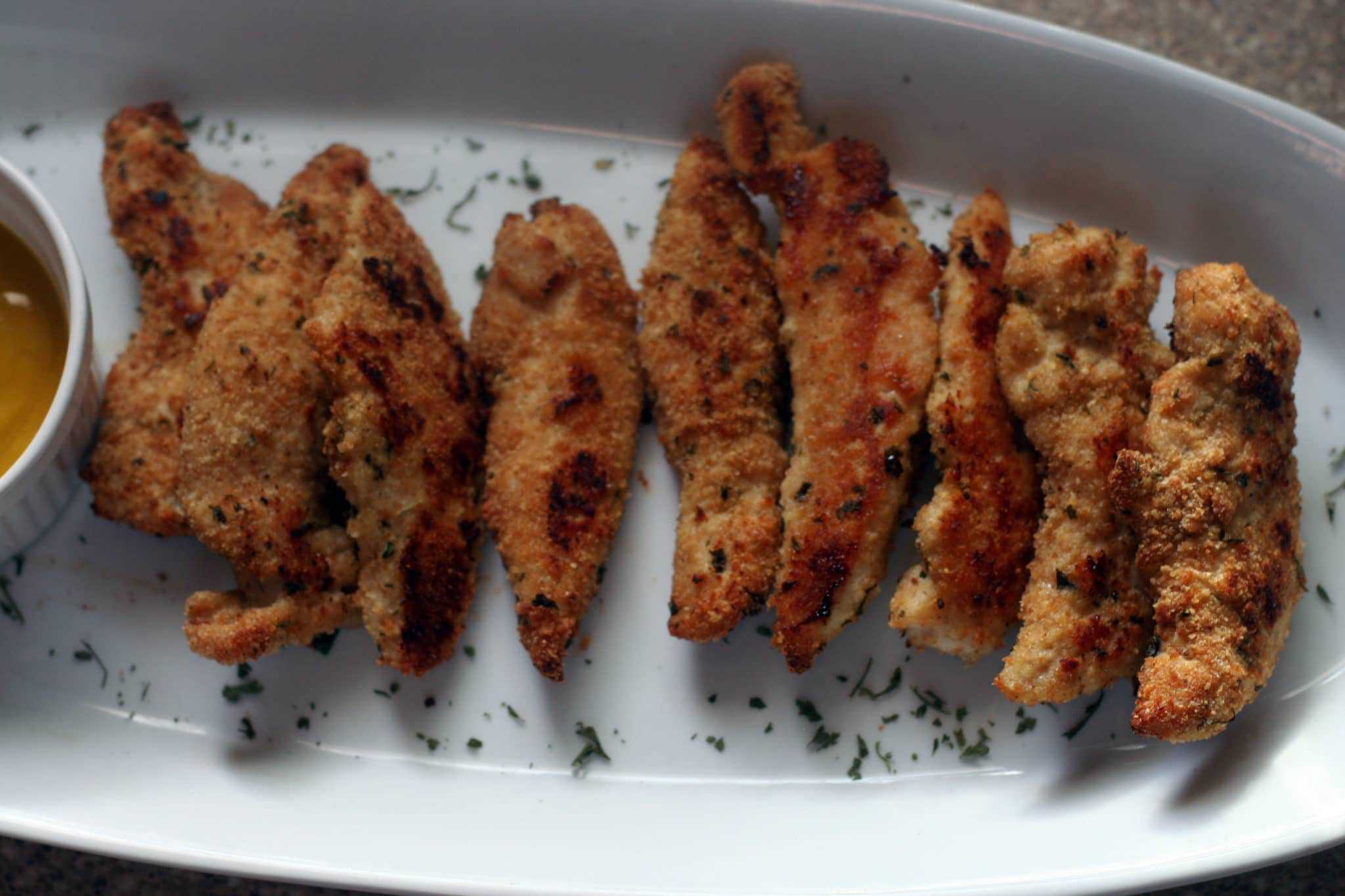 I have a few different  chicken tender recipes but this was my first chicken tender recipe I made for my children. I started making this for my oldest son when he was just a little one and starting to eat " people food, as we called it!  I made all of my children their baby food so I had no choice but to make their chicken tenders and it was really easy and so much better for them and the cost was so much less than buying processed chicken tenders!   So this is one of my favorite recipes because it reminds me of when my babies were actually babies!  What is so comforting to me is that they are all, except for our wee Deirdre, who isn't so wee, I am getting way of the topic of Parmesan chicken tenders! They are adults and they get so excited every time I prepare these chicken tenders and they still love them!  Just makes me smile knowing they still love these! Okay, now I am sounding corny!! Back to the recipe, it is low-calorie because it is baked and I only use egg whites.  I buy egg white in the carton at Costco, easy and cost effective! Whole wheat bread crumbs and Parmesan cheese, bake for about 20 minutes  and serve with Honey Mustard Sauce and a salad!  I try to get one or two before the kids eat them all! These are also great over a bed of greens at work or school for lunch or dinner!
I hope you like this recipe, and if so, please share the love on Facebook, Pinterest, or your favorite way of relating to your friends and family, and please continue connecting with me on Instagram, Pinterest, Twitter, Bloglovin, Google Plus !
Thank you for always sharing my passion and love for food and family!
xo!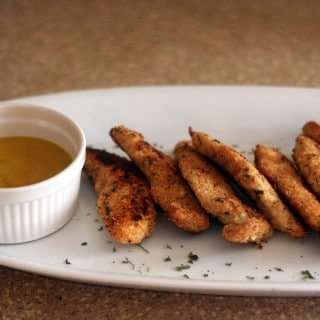 Baked Parmesan Chicken Tenders
Baked parmesan chicken tenders have a crunchy flaky crust and moist tender interior. Low fat as they are baked and not fried and they use egg whites as the egg wash. a high heat ensures the crsoy crunch of a fried chicken tender without all the fat
Print
Pin
Rate
Ingredients
2 1/2

pds

boneless chicken tenderloins

1

cup

whole wheat seasoned breadcrumbs

1/2

cup

Parmesan cheese

1/2

cup

egg whites

about 4 egg whites, I use the carton whites

salt and pepper to taste

olive oil spray
Instructions
Preheat oven to 400 degrees.

Spray the cookie sheet with non-stick olive oil spray. Set aside the seasoned cookie sheet until ready to place parmesan chicken tenders on the cookie sheet

In a seperate bowl, whisk the egg whites and salt and pepper to you taste

In a seperate bowl, combine the whole wheat seasoned Italian bread crumbs and the parmesan cheese together until blended

Dredge the chicken tenderloins into the egg white mixture.

Then dredge the chicken tenderloins into the Italian seasoned whole wheat bread crumbs.

Place the breaded chicken on the seasoned cookie sheet, continue until all chicken is breaded and on the cookie sheet.

Spray the top of al the breaded chicken with the olive oil spray. For not so crispy tops, just cook for aboout 20 minutes, If you want to have crispy chicken tenders on both sides, after about 15 minutes, turn the chicken tenderloins over and cook for about another 5 minutes to crisp both sides ! Serve with my Honey Mustard Sauce and enjoy!