Green Beans and Mushrooms with Shallots,  a delicious and healthy low carb side dish that's ready in about 20 minutes! These healthy green beans are also a great make-ahead side dish too! Just warm them up when ready to eat!
Great for Thanksgiving, Christmas any Holiday or family celebration! Easy enough for a healthy low-carb side dish for weeknight meals!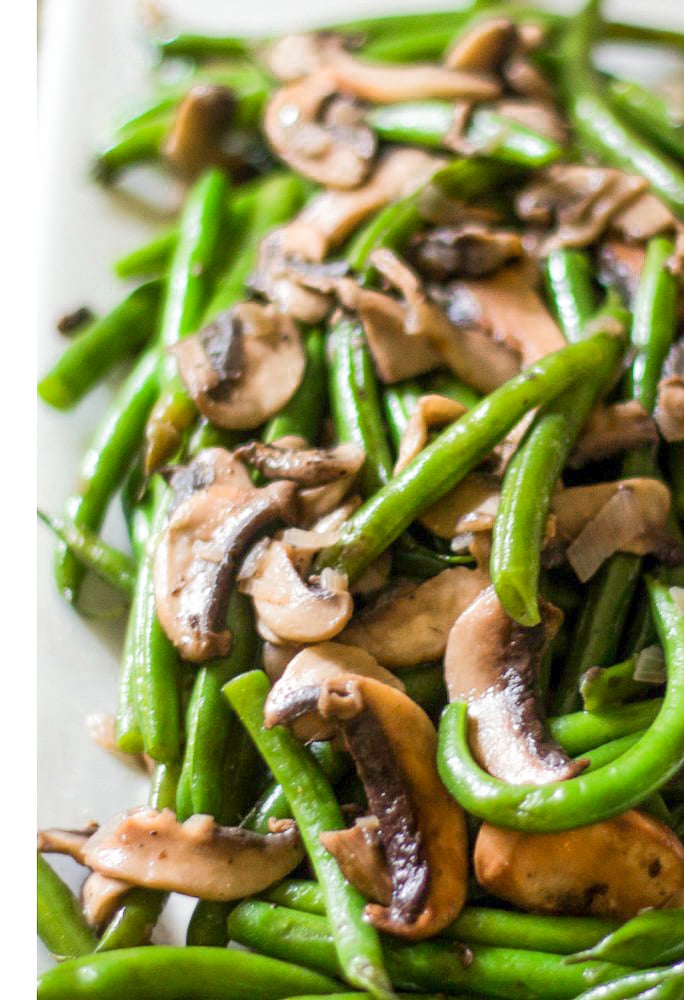 Green Beans and Mushrooms are low-carb, low-fat and ready in 20 minutes! 
Thanksgiving is one of my most favorite Holidays! Why? You ask? I am sure you are at the edge of your seats with curiosity!:)  Thanksgiving is a wonderful day because it's a family Holiday where sharing food and family time is most important.
The anticipation of receiving and giving gifts is not pressuring us! I love cooking a great Turkey on Thanksgiving and a delicious healthy green bean recipe is a must make. These green beans and mushrooms are always a hit!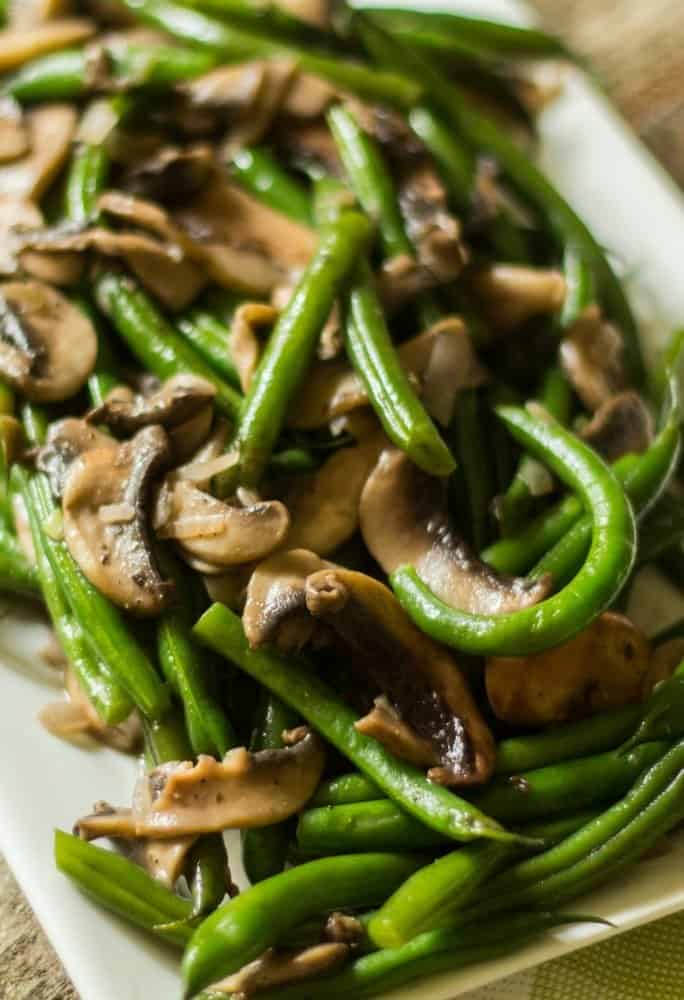 The classic green bean casserole is great, but I really have to watch what I eat and enjoy a slice of something for dessert. So these green beans with mushrooms and shallots are a great way of slimming down the green bean casserole and keeping it really tasty and guess what, so easy and quick to prepare!
The shallots caramelize and the mushrooms add the perfect amount of added flavor to make a healthy green bean recipe.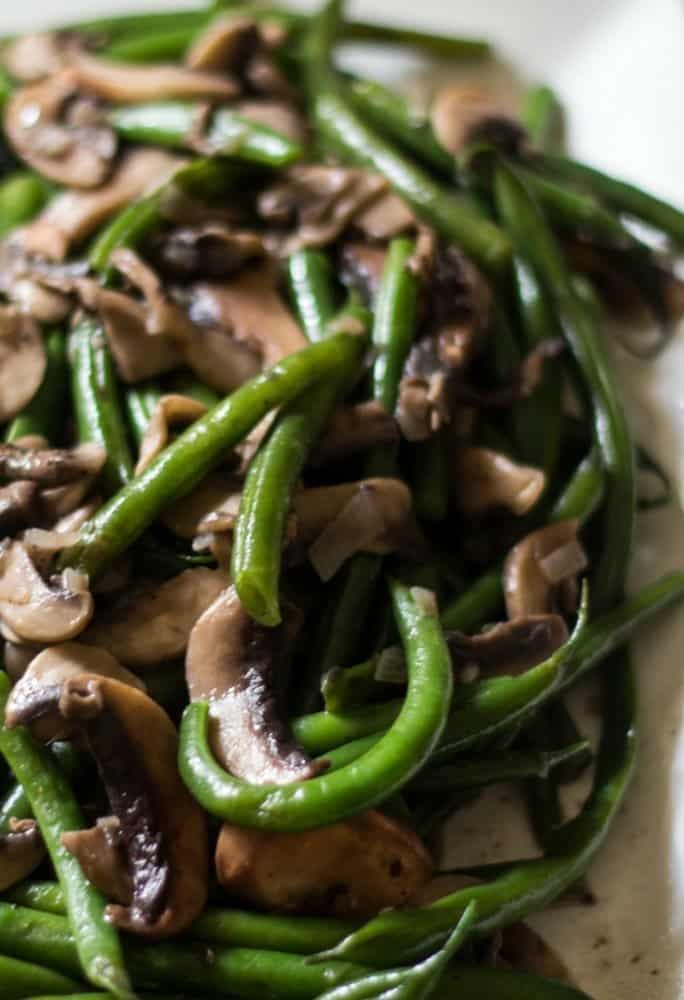 Below are some questions I have been asked about this recipe. I hope these help you and please enjoy the recipe!
How to store fresh green beans?
I pick fresh green beans at the grocer or farmers market that are green, no brown spots and firm. I do not watch them until ready to use. I store them in a plastic bag in the fridge until ready to use. Then I wash the green beans and snip the ends. They can keep about 4 days in the fridge.
Can frozen green beans be used in this recipe?
I really prefer fresh green beans with this recipe. Frozen beans will produce a lot of excess water and the flavors will not be as fresh. I have used them in a pinch but again, fresh beans my first choice.
What about using canned beans in this recipe?
 I have never used canned green beans so I cannot give advice on using them with any recipe. I do not use canned green beans because of the added sodium and preservatives. 
Are Green Beans and String Beans the same thing?
Yes. Green beans and string beans are the same vegetables.
Health benefits of Green Beans:
Green Beans are healthy, low-carb and low-fat. A great choice for Diabetics because it has a low glycemic index. Great source of fiber and green beans are full of vitamins 
How do you Blanch Green Beans?
This recipe calls for blanching the green beans. Blanching is a fancy term for cooking a vegetable till just cooked through.
Bring a pot of water to boil, season with salt.
Drop the fresh green beans into the boiling water and let cook about 3-5 minutes, depending on the size of the beans. When beans are cooked, drain in a colander. Immediately drop into ice water. This will ensure the beans stop cooking and maintain their green color.
Preparing Green Beans and Mushrooms with Shallots:
Blanch the green beans in boiling salted water, for about 4 minutes.
Strain the beans and quickly placing beans in ice water to maintain their bright green color. Set aside.
In a saute pan, add the unsalted butter to melt, add the mushrooms and shallots. Stir for 3 minutes. Add back in the green beans to make a healthy green bean recipe.
These green beans can be made ahead and reheated when ready to serve.
My family loves these green beans and they can be prepared the day before Thanksgiving or whenever you are going to be eating them. They are an easy make-ahead side dish!  I hope you give these a go for this Thanksgiving! They are absolutely yummy!

I love these Green Beans, Mushrooms, and Shallots. A few of my other favorites side dishes are:
Garlic Herb Roasted Red Potatoes
Healthy Sweet Potato Casserole
Roasted Asparagus with Lemon and Garlic
These are a few recipes that pair well with this tasty fresh green bean recipe:
Low Carb Lemon Chicken Piccata
Slow Cooker Cranberry Pot Roast
Homemade Lighter Salisbury Steaks
Roasted Bourbon Maple Turkey Breast
I hope you add these Green Beans and Mushrooms to your favorite PINTEREST BOARDS! I'd love for you to follow me on PINTEREST! I'm always pinning from talented and amazing bloggers!
When you make this recipe, take a pic and tag me on Instagram @everyday_eileen or #everydayeileen
I love any comments or questions below!
                                        I HOPE YOU CONTINUE CONNECTING WITH ME:
This recipe was originally published Nov 2015.  The post, Video, and photos have been updated!
Enjoy these Green Beans and Mushrooms with Shallots!
Love these easy green bean side dish, giving it a 5-star rating is super helpful for me and very much appreciated!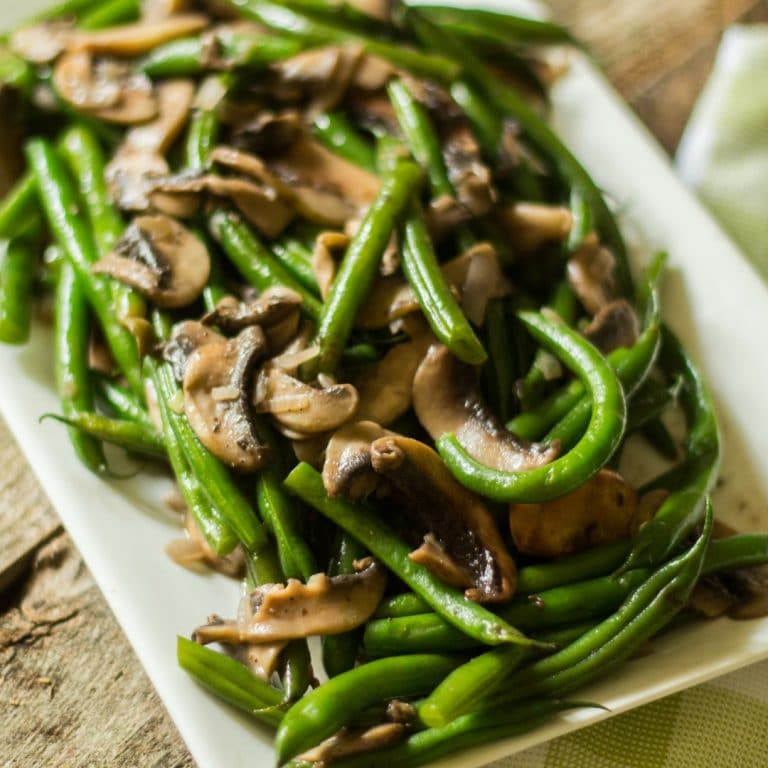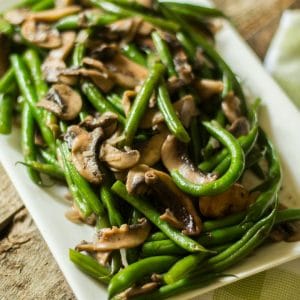 Green Beans with Mushrooms and Shallots
Tender, blanched string beans with sauteed sliced mushrooms and shallots, Low-fat,low-calorie, low-carb. Great side dish that can be prepared ahead of time and reheated when ready to serve! Perfect for a Holiday side dish!
Print
Pin
Rate
Equipment Needed:
Ingredients
1

pound

fresh string beans, ends trimmed

2

Tablespoon

unsalted butter

*see notes

1

small

shallot, peeled and finely minced

10

ounces

mushrooms, thinly sliced

salt and pepper to taste
Instructions
Blanch string beans in large saute pan of boiling salted water for about 4 minutes. Strain string beans and place them in ice water to maintain the bright green color.

In same saute pan, over medium heat, melt the butter and saute the shallots for about 2 minutes, until translucent. Add in the mushrooms and cook for another 2 to 3 minutes.

Add in the string beans to heat through. Season with salt and pepper to taste. Serve immediately or refrigerate, covered and reheat the next day.
Video
Notes
Feel free to swap butter flavored coconut oil or vegan butter in lieu of unsalted butter to keep this Vegan.
Any nutritional data I provide is an approximation and actual dietary information can vary based on ingredients and portion sizes.
Nutrition
Serving:
6
servings
|
Calories:
73
kcal
|
Carbohydrates:
4
g
|
Protein:
1
g
|
Fat:
4
g
|
Saturated Fat:
2
g
|
Monounsaturated Fat:
1
g
|
Cholesterol:
10
mg
|
Sodium:
54
mg
|
Potassium:
168
mg
|
Fiber:
2
g
|
Vitamin A:
150
IU
|
Vitamin C:
7.4
mg
|
Calcium:
10
mg
|
Iron:
0.4
mg
Pin these Green Beans and Mushrooms with Shallots to make anytime here: