Enjoy a homemade baked or air fryer version of a Chick Fil A Chicken Sandwich. Don't forget to make Copycat Chik-fil-A Sauce and slather it on the hamburger buns.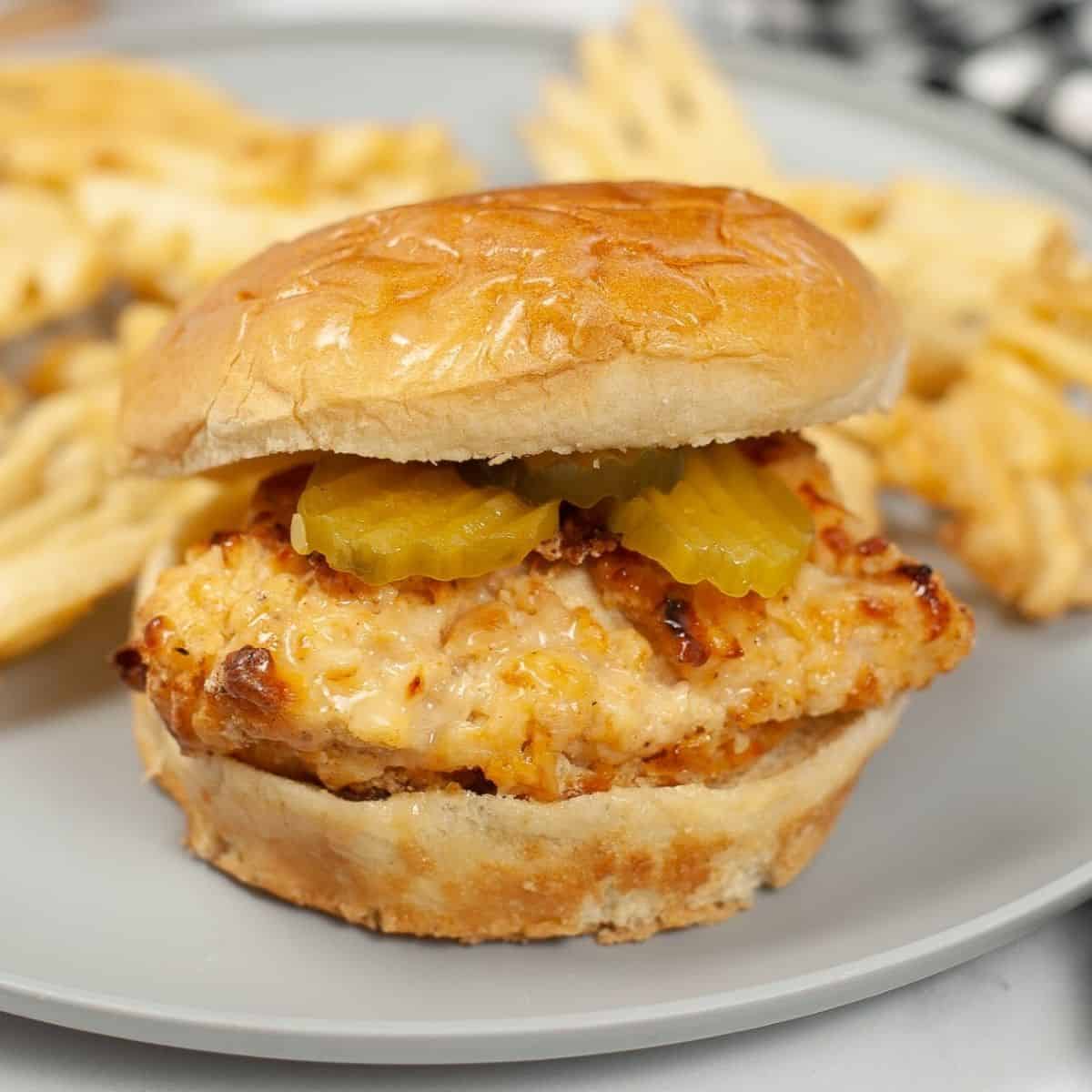 We make this in the air fryer but I include a baked chicken sandwich as well.
Jump to:
❤️ Why you'll love this recipe
Enjoy a juicy Copycat Chick-fil-A Chicken Sandwich at home using your oven or air fryer.
A delicious sandwich that is made with fresh ingredients that will blow away any drive-thru version.
Placing the chicken breasts in a pickle brine adds flavor and ensures tender poultry.
Use either an air fryer or bake in the oven. Both methods are fabulous.
Ingredients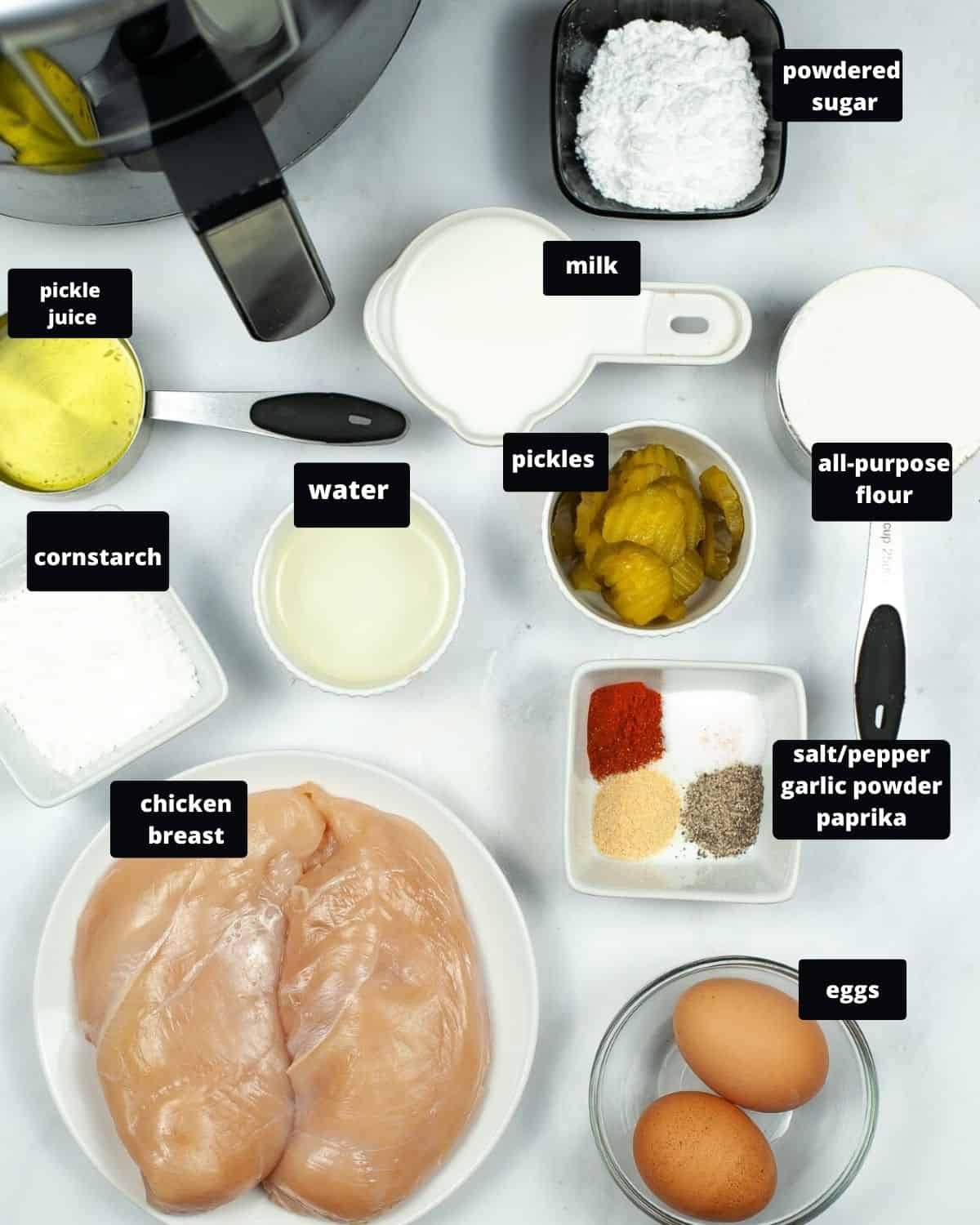 As an Amazon Associate, I earn from qualifying purchases.
boneless chicken breasts
eggs
all-purpose flour
pickle juice
milk
cornstarch
powdered sugar, also known as confectioners sugar
garlic powder
onion powder
paprika
salt
black pepper
Equipment
Instructions
This is an overview of the recipe. The full instructions are below in the recipe card.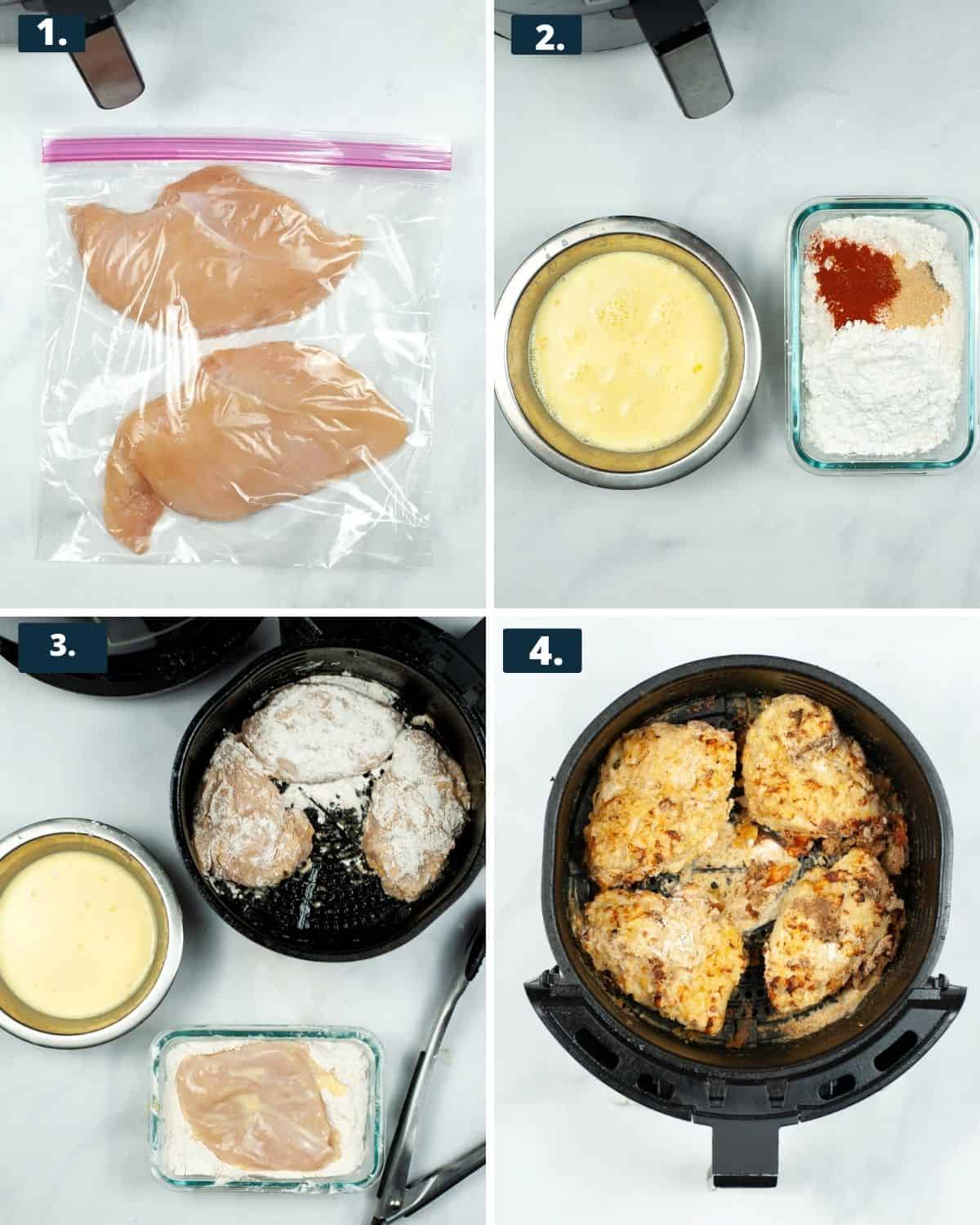 While the chicken is marinating in the dill pickle juice, get the egg wash done. Keep it in the fridge until ready to use. Then mix your dry ingredients so you'll be ready to cook after the 30-minute brine is complete. I don't vary from these ingredients because they are just perfect together.
Place the chicken breasts in a large plastic storage bag. Pound the chicken till they are about ½ inch thick. Then cut each breast in half so you have 4 pieces. The chicken will go back in the storage back along with the pickle juice to brine for 30 minutes.
Prep your egg wash. Also add confectioners sugar, cornstarch, paprika, salt, black pepper, garlic powder.to your flour.
Coat the chicken in the egg wash and then into the seasoned flour. Place the chicken into the air fryer. Cook 6 minutes at 340°F
Flip the poultry, raise the temperature to 400°F and cook another 6 minutes. The breasts are cooked through when the internal temperature reaches 165°F
Place 2 pieces of chicken on each bun and top with 3 pickle slices and the bun. Don't forget to top the chicken off with Chik-Fil-A Sauce. Serve with waffle fries to keep the theme going, enjoy.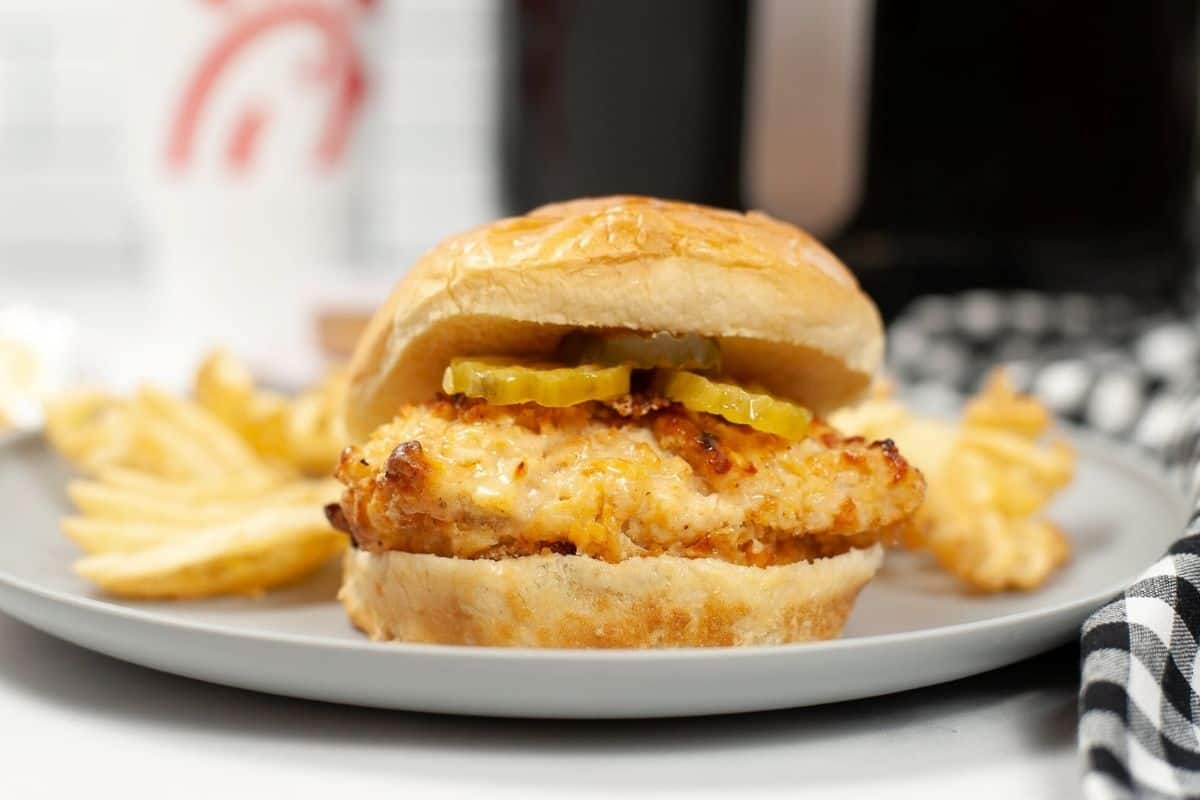 Storage
Leftovers can be stored in a covered airtight container in the refrigerator for about 2-3 days.
Expert Tips
Expert Tip: For the most favorable results, be sure to allow the chicken to brine in the pickle juice for at least 30 minutes.
Frequently Asked Questions
How does Chik Fil A make their sandwiches?
The food chain actually deep fries their sandwiches which is delicious . However, using the air fryer or baking the chicken gives both mouthwatering results as well as better for you cooking technique.
Can I make this a spicy chicken sandwich?
Absolutely, start with ½ teaspoon of cayene pepper to the flour mixture. If that works great, if you want it spicier, next time add 1 teaspoon of cayene pepper.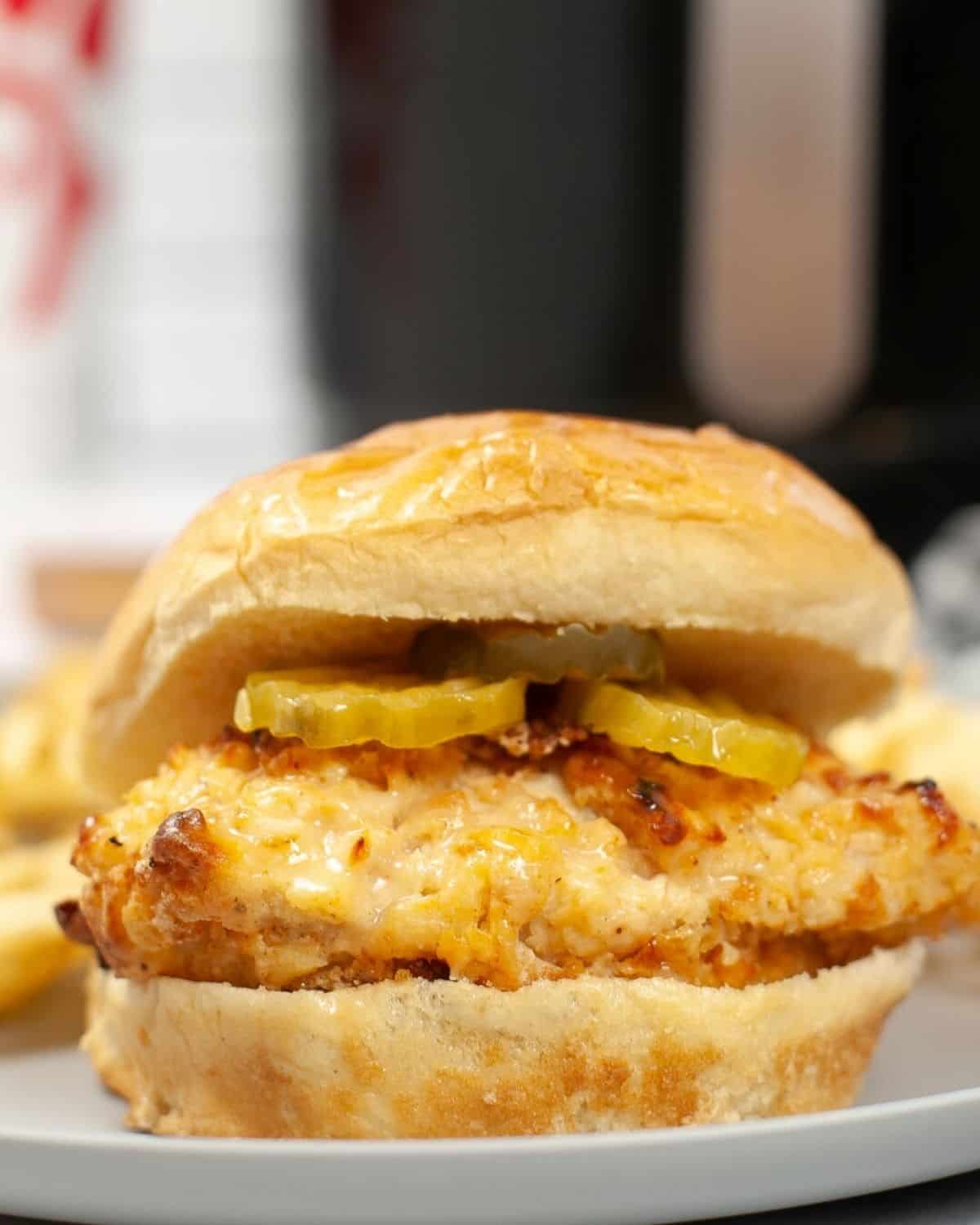 Serving Suggestions
Waffle fries or tater tots are a great side dish
Another great side is roasted potatoes, they are delicious and would be such a great recipe to pair with the chicken sandwiches.
Looking to up your veggie intake, my family loves these roasted green beans, another very easy dish that is very kid-friendly too.
Some green veggie favorites to try are roasted broccoli with garlic, roasted asparagus, or these tasty Brussels sprouts.
Macaroni Salad is a personal favorite because can make this the evening before since it is a great make-ahead recipe.
Bacon Ranch Potato Salad is another keeper that would be delicious with the sandwiches.
Pea Salad with Bacon is another delicious salad that my family loves with any dinner.
Similar recipes
Some other sandwich or burger recipes you should try, Chicken Parm Burger, oh it is a good one. Greek Chicken Gyros, are also quick and so darn delish! Juicy Lucy's, I just love these cheesy burgers. Let's not forget Taco Burgers. this is my son's favorite burger.
Another great recipe is our Air Fryer Turkey Burgers, juicy and so easy to prepare.
Love your air fryer, try this delicious Air Fryer Pork Chops, a family favorite. Looking for a cheesy appetizer, our Air Fryer Mozzarella Medallions are always a hit.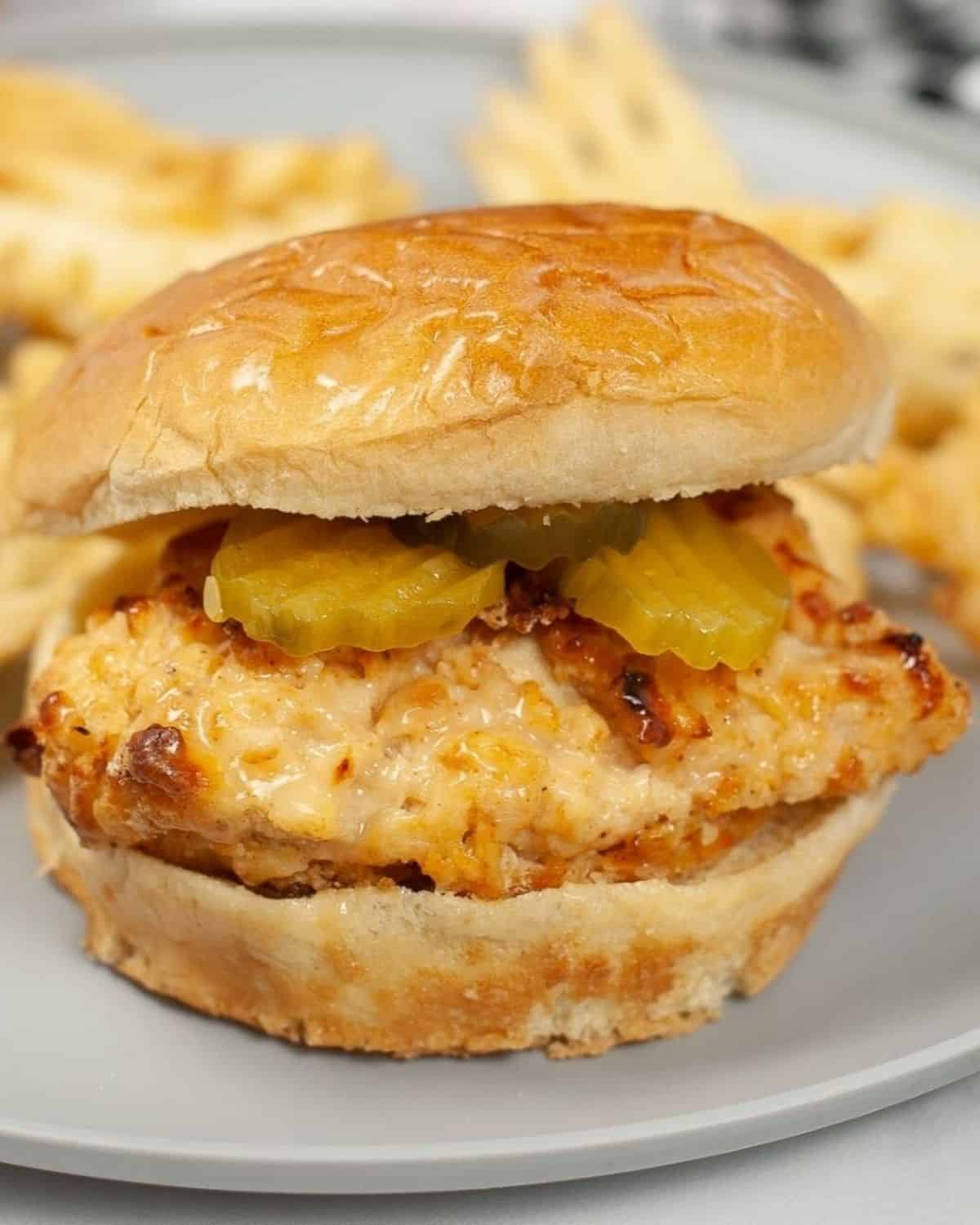 I love any comments or questions, please feel free to leave them below.
Keep up to date with recipes by following me on:
FACEBOOK INSTAGRAM, PINTEREST, TWITTER
Thank you for the continued support. I am forever grateful.
Eileen xo
If you click on the number of servings in the recipe card you can adjust the measurements up or down for the exact number of servings you need.
If you love this recipe please give it 5 stars! ⭐️⭐️⭐️⭐️⭐️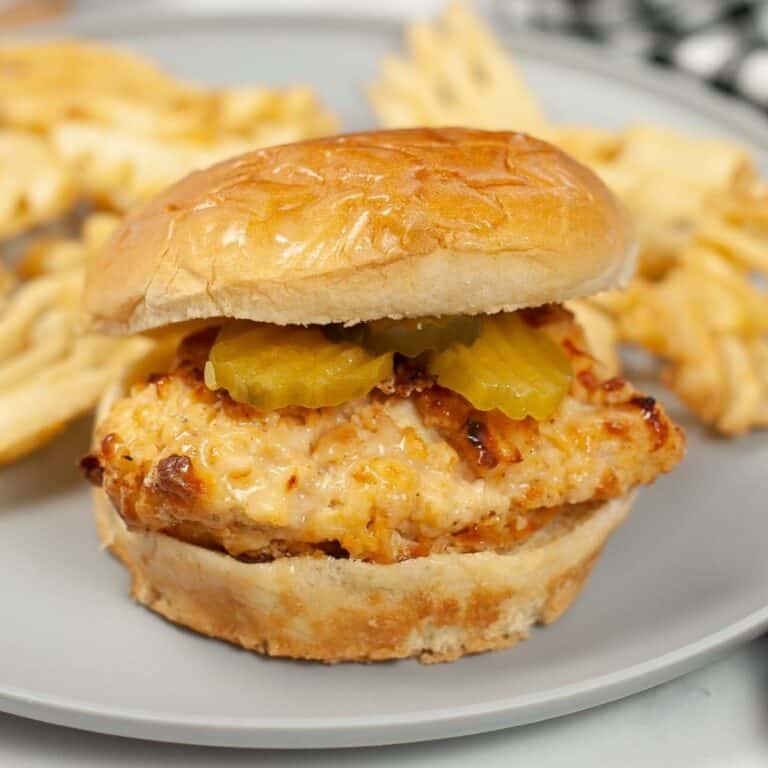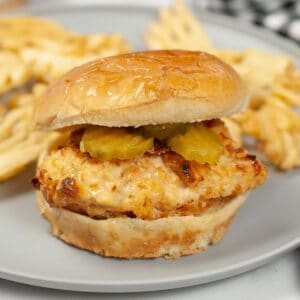 Chick-fil-A Chicken Sandwich (Air Fryer or Baked)
Enjoy a delicious Chik-fil-A chicken sandwich at home any time of day. We give you the choice of either using your air fryer or baking these delicious crispy, crunchy chicken sandwich. The sandwich blows away the chain version with its fresh flavors.
Print
Pin
Rate
Equipment Needed:
As an Amazon Associate I earn from qualifying purchases
Instructions
Air Fryer Chik-fil-A Chicken Sandwich
Spray the air fryer basket with cooking oil. Set aside.

Place the chicken breasts in a large plastic storage bag. Pound the chicken till they are about ½ inch thick. Then cut each breast in half so you have 4 pieces. The chicken will go back into the storage back along with the pickle juice to brine for 30 minutes.

Cut the breast into 4 pieces about 3 inches each.

Place the chicken back in a plastic storage bag. To the bag, add the pickle juice and water. Seal the bag and place in the refrigerator to marinate about 30 minutes.

In a medium-size mixing bowl, add eggs and milk, whisk until well combined, about 1 minute.

In a separate bowl, mix together the dry ingredients: flour, confectioners sugar, cornstarch, paprika, salt, black pepper, and garlic powder.

Coat the chicken in the egg mixture, then the flour mixture.

Place coated chicken in the prepared air fryer basket. Spray the chicken with a quick spritz of non-stick cooking spray.

Cook the chicken for 6 minutes at 340°F/170.°C. Flip the chicken and cook for an additional 6 minutes at 400°F/204.444°C. The chicken will be cooked and the internal temperature should be 165°F/74°C. Use a meat thermometer to verify chicken is completely cooked.

Place the chicken on the hamburger bun with three slices of dill pickles. Add favorite toppings such as lettuce, tomato, and chick-fil a sauce. Enjoy!
Baked Chik-fil-A Chicken Sandwich
Preheat oven to 450°F/232°C. Place a wire rack on a baking sheet. Spray with non-stick spray. Set aside.

Spray the coated chicken with the oil or non-stick spray and place on the wired wrack.

Bake in the preheated oven about 12 minutes, flip the chicken and bake another 12-15 minutes. Internal temperature of the chicken will be165°F when cooked through. (Use an internal meat thermometer to ensure the chicken is cooked through)

Serve with pickles and Chick-fil-a sauce on hamburger buns.
Notes
Be sure to check Expert Tips and FAQs above with important tips and questions that can help make a delicious recipe.
Note 1: The sugar can also be called powdered sugar or 10X sugar.
Note 2: I prefer putting my cooking oil in a spray bottle for food use. A non-stick cooking spray works too. It is your choice. A link to the bottles I use is in my equipment section.
I'm not a registered dietician, I do my best to provide the most accurate nutritional values. Any nutritional data I provide is an approximation. Actual dietary information can vary based on ingredients and portion sizes.
Nutrition
Serving:
1
sandwich
|
Calories:
742
kcal
|
Carbohydrates:
96
g
|
Protein:
43
g
|
Fat:
19
g
|
Saturated Fat:
6
g
|
Trans Fat:
1
g
|
Cholesterol:
242
mg
|
Sodium:
3692
mg
|
Potassium:
730
mg
|
Fiber:
5
g
|
Sugar:
17
g
|
Vitamin A:
1283
IU
|
Vitamin C:
2
mg
|
Calcium:
279
mg
|
Iron:
7
mg