Taco Burgers are a tasty twist on a beef burger! They are full of flavor from fresh spices! Top with your favorite toppings and you have amazing Mexican Burgers! If you love a good taco, you are going to flip for these Taco Burgers! For those who enjoyed the flip pun, you are welcome! 🙂
This post is part of an amazing burger grill giveaway hosted by GirlCarnivore but this burger is all my own! #ad #CabotUpYourBurger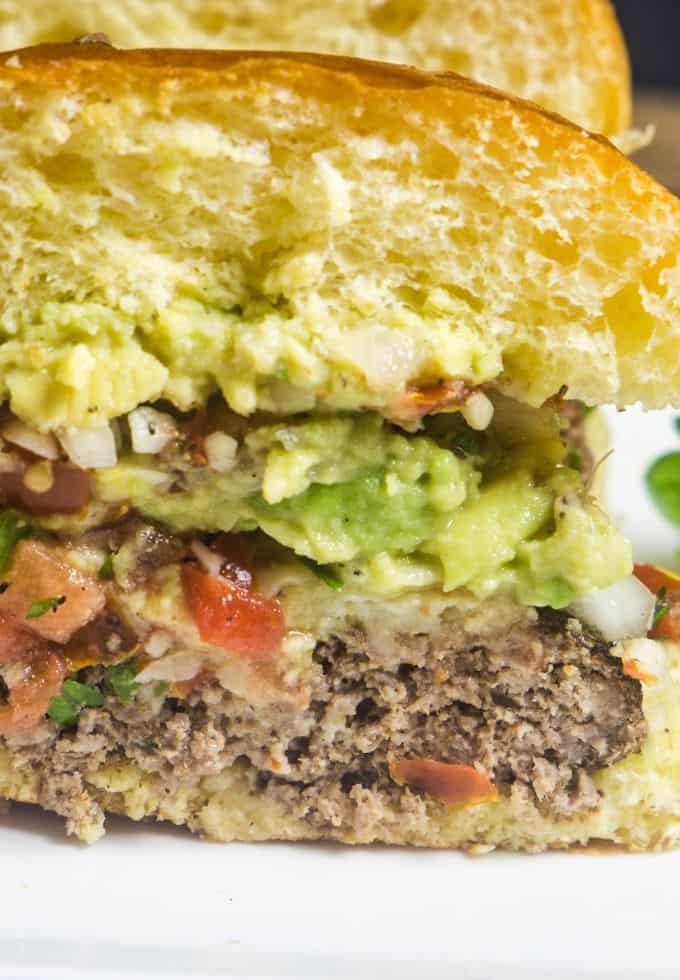 Delicious Taco Burgers that have been grilled and topped with Pico De Gallo and Guacamole!
My family loves burgers! I love kicking my burgers up a notch with different flavors! These burgers were my son Aidan's idea! He loves tacos and asked me if I could work on a burger with Mexican flavors! These are
That boy can eat tacos breakfast, lunch, and dinner! Tacos, enchiladas, quesadillas, any Mexican meal is always at the top of his list!
We are so happy with this taco burger recipe! The flavors are simple. Pretty much the flavors in a taco add into your chop meat! Grill it and top with your favorite toppings! Ah-mazing!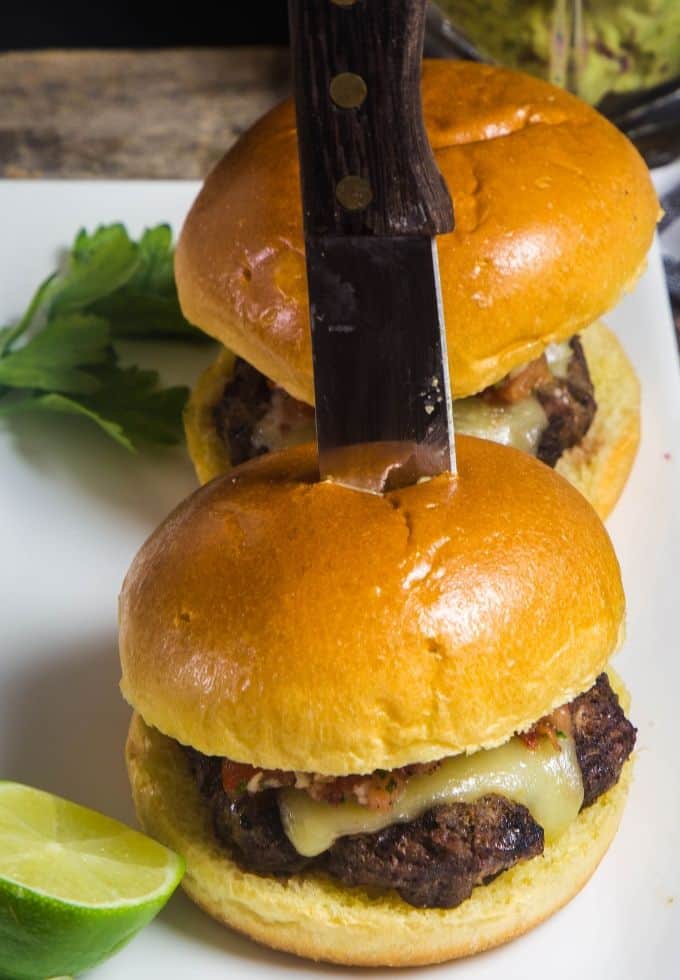 Don't forget the cheese my friends! Cabot Cheese is the family's favorite for these burgers! They have a pepper jack cheese and oh wow, you are going to love this burger and cheese combo.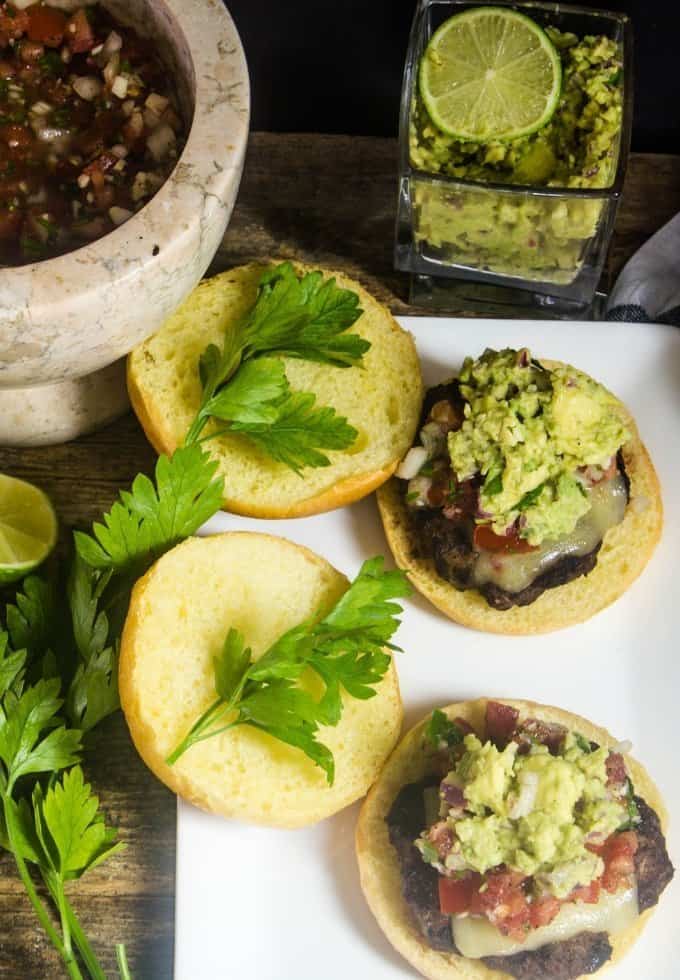 Taco Burger Seasoning
Garlic Powder
Onion Powder
Chili Powder
Paprika
Oregano
Salt
Pepper
Taco Burger FAQ's
What is the best meat for making a great Taco Burger?
These taco burgers are great using 85/20 ground beef. The perfect ratio for a great burger. Ground Turkey and chicken are also great options for these burgers.
Can these burgers be made ahead of time?
For a great burger, my recommendation is to make these right when you want to enjoy a good juicy burger. Reheating a burger can cause it to dry out and the flavors won't be as delicious!
Can the taco burgers be frozen for a make ahead burger?
Absolutely! Form the burgers into patties! Use a Foodsaver or freezer bags. Place wax paper between each burger before freezing. Burgers can be stored 3-4 months in the freezer.
How do I store burger meat before cooking?
Keep beef wrapped well and refrigerated until ready to cook! I recommend using the USDA tips for burgers! Here's the link!
How long does it take to grill burgers?
Medium-rare: Grill the burger for three minutes then flip them over and grill another four minutes.
Medium: Grill the burger for three minutes then flip and grill another five minutes.
Medium well: Grill the burger for four minutes then flip and grill for another five minutes.
Well done: Grill the burger for four minutes then flip and grill for an another six minutes.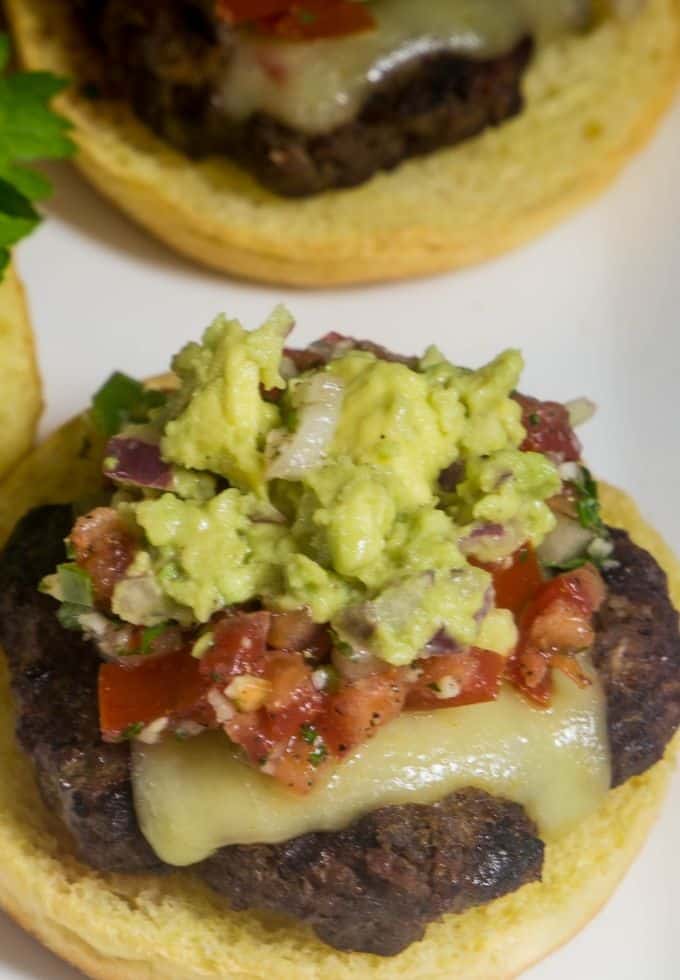 What are the best toppings for these Taco Burgers?
My favorites and what I used for these photos are:
Other great toppings are:
Salsa
Diced olives
Refried beans
Want to keep this a low-carb recipe?
Serve your taco burger in a lettuce wrap or with a low-carb tortilla for a low-carb alternative.

This post contains affiliate links for your convenience. We are a participant in the Amazon Services LLC Associates Program, an affiliate advertising program designed to provide a means for us to earn fees by linking to Amazon.com
Shop this Recipe:
FoodSaver: I use mine all the time to make ahead meals. The Foodsaver is amazing at keeping food free of freezer burn.

Grilling Utensils: These are great grilling utensils! A great gift for house parties too!
DON'T FORGET TO SHOP THE EVERYDAY EILEEN STORE ON AMAZON!
How to make a great Taco Burger:
Preheat grill to 425 degrees.
Season ground beef with your taco seasonings and gently blend meat.
Make beef patties.
Reduce grill to 375 to 400 degrees.
Grill burgers about 4-5 minutes per side. Top with cheese.
Serve with your favorite toppings.
WE HOPE YOU ENJOY THESE TACO BURGERS! I'D LOVE TO HEAR HOW THEY TURN OUT FOR YOU!
Share your pictures of any of my recipes on Instagram! Use #everydayeileen OR @everyday_eileen, I love to see your photos on Instagram!!
Save this recipe to your FAVORITE PINTEREST BOARDS! Follow me on PINTEREST for amazing recipes ideas, travel, and more!
Feel free to leave me any comments or questions below!
I HOPE YOU CONTINUE CONNECTING WITH ME:
Love these Taco Burgers, please give them a 5-star rating! It is super helpful for me and very much appreciated!
Thank you for the continued support! I am forever grateful!
Eileen xo
📖 Recipe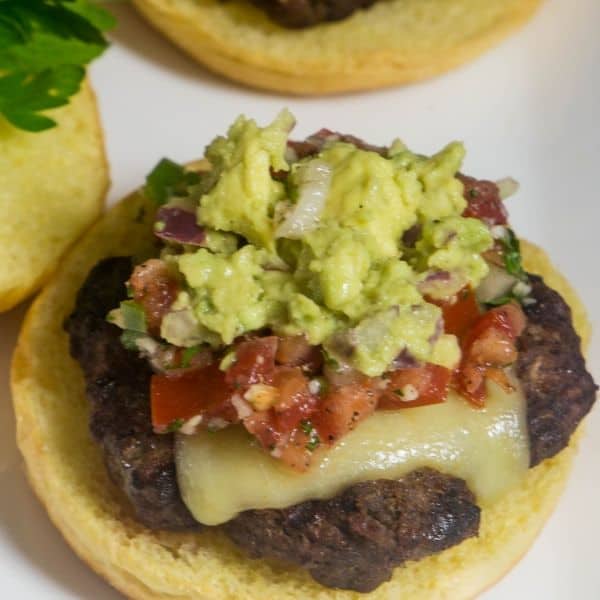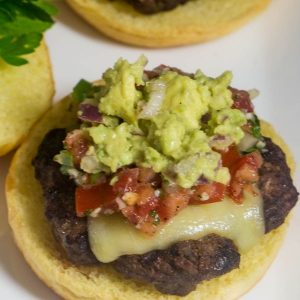 Taco Burgers
Delicious Taco Burgers are a great way to enjoy a burger with a kick! These burgers are seasoned with a homemade blend of taco seasonings! Top with homemade guacamole and pico de gallo for the most amazing burger
Print
Rate
Equipment Needed:
Ingredients
Taco Burger Toppings
Homemade Pico De Gallo

Note 1

Guacamole, homemade or store bought

Note 2

4

slices

Cabot pepper jack Cheese

Note 3

4

Brioche Hamburger Rolls

Note 4
Instructions
Preheat the grill to high, about 425 to 450 degrees.
How to Make Taco Burgers
In a large bowl add the meat, oregano, cumin, chili powder, paprika, garlic powder, onion powder, salt, and pepper. Gently mix the meat and seasonings to combine.

Form the burgers into .25 pound patties.

Reduce heat on the grill to medium, abou 375 degrees. Place your burgers on the grill and cook each side about 3-4 minutes. Flip and cook another 4 minutes. With 1-2 minutes left in cooking, add the cheese.

Once cooked to your liking, remove the burgers. Let rest and begin to assemble the buns and toppings.

To the buns add the pico de gallo and guacamole. Add your burgers to the buns! Eat and enjoy.
Notes
Note 1: my pico de gallo takes just a few minutes to make and my family will highly suggest you make it as a topping for a great taco burger.
Note 2: my Guacamole recipe is on its way! Another must have topping. A store bought guacamole is also fine as a topping!
Note 3: Cabot Cheese is my personal favorite. The cheese melts perfectly on the burger.
Note 4: A personal choice on the brioche roll We just love the flavor with the taco burgers. Use your personal favorite bun!
Note 5: The nutritional value is strictly calculating the burger. Does not include the bun, pico, or guacamole. Those values will have to be added as you use them.
any nutritional data I provide is an approximation and actual dietary information can vary based on ingredients and proportion sizes.
Nutrition
Serving:
1
burger
|
Calories:
162
kcal
|
Carbohydrates:
1
g
|
Protein:
24
g
|
Fat:
5
g
|
Saturated Fat:
2
g
|
Cholesterol:
70
mg
|
Sodium:
371
mg
|
Potassium:
401
mg
|
Fiber:
0
g
|
Sugar:
0
g
|
Vitamin A:
195
IU
|
Calcium:
23
mg
|
Iron:
3.3
mg
Burger Month is brought to all of us by the creative genius Kita, who runs Girl Carnivore! I hope you check out her blog and amazing recipes!
A huge thanks to the #BurgerMonth sponsors for the Ultimate Burger Grilling Giveaway: Cabot Cheese, Char-Griller Grills, Crow Canyon Home, Porter Road, Melissas Produce, Red Duck, Spiceology, & Western BBQ
This is the complete list of Food Bloggers participating in #Burgermonth! Whether it is a burger day or another recipe, these are top of the line amazing food bloggers! Check them all out and enjoy their recipes!
? Girl Carnivore ? A Kitchen Hoor's Adventures ? A Simple Pantry ? Abra's Kitchen ? AcadiaTwo's Kitchen Antics ? An Affair from the Heart ? Bakersbeans ? Betsi's World ?Caroline's Cooking ? Cindy's Recipes and Writings ? City Living Boston ? Cluttercafe ? Cooking With Carlee ? Convos with Karen ?Daily Dish Recipes ? Dance Around The Kitchen ? Dixie Chik Cooks ? Dizzy Busy and Hungry ? Doodlecraft ? Everyday Eileen ? Family Around the Table ? Family Food on the Table ? Family Spice ?Farmwife Feeds ?Food Above Gold ? For the Love of Food ? Grillax.com ? Grilling Montana ? Grumpy's Honeybunch ? Hezzi-D's Books and Cooks ? Honeybunch Hunts ? HORNS BBQ ? Intelligent Domestications ? It Is a Keeper ? Jolene's Recipe Journal ? Jonesin For Taste ? Juggling Act Mama ? Karen's Kitchen Stories ? Kate's Recipe Box ? Krazy Kitchen Mom ? Life Anchored ? Life of a Ginger ? Mildly Meandering ? Miss in the KItchen ? Palatable Pastime ? Pastry Chef Online ? Perspective Portions ? Plowing Through Life ? PNW Eats ? Pook's Pantry ? Real Life With Dad ? Sarah's Cucina Bella ? Seduction In The Kitchen ? Simple and Savory ? Souffle Bombay ? Spiced ? Spoonabilities ? Strawberry Blondie Kitchen ? SueBee Homemaker ? Sumptuous Spoonfuls ? Sweet ReciPeas ? Swirls of Flavor ? Take Two Tapas ? Tampa Cake Girl ? Taste And See ? The Baking Fairy ? The Beard and The Baker ? The Complete Savorist ? The Crumby Kitchen ? The Heritage Cookbook Project ? The Keto Guy ? The Redhead Baker ? The Rowdy Baker ? The Schmidty Wife ? The Shirley Journey ? The Spiffy Cookie ? This Farm Girl Cooks ? Thyme for Cocktails ? We are not Martha ? Well Fed Baker ? West Via Midwest ? Who Needs A Cape? ? Wildflour's Cottage Kitchen ? Wok & Skillet ? Zest & Simmer ?