Quick & Easy Homemade Refrigerator Pickles are a super easy recipe. No canning equipment is needed. Just a quick combination of ingredients and the pickles are put into mason jars and ready in 2-3 days! Although the hubs said they are perfect to eat the first day!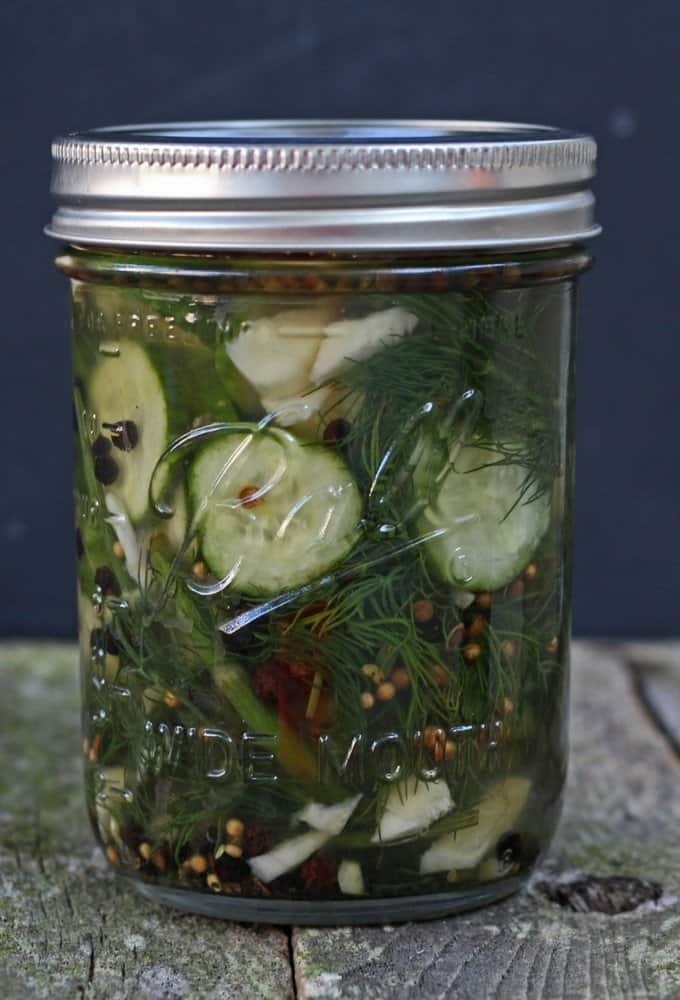 Not sure about everyone else, but my garden is busting! I have Kirby cucumbers from the garden just raring to be introduced to some vinegar and make pickles! While I love canning, right now, the weather is so hot and it is exhausting and I love easy recipes! These refrigerator pickles are just the easiest way to have homemade tasty pickles without a fuss!
What I love about these refrigerator pickles, besides being quick and easy, you can use any flavor of vinegar and change up your ingredients! I usually use white vinegar, but cider vinegar is just as tasty! The hubs loves spicy food so I add in jalapeno or any hot pepper for him. If you don't have Kirby cucumbers, hit the farmers market or your grocery store because these are so easy to make and so delicious! Feel free to try pickling other vegetables! I have lots of green beans and peppers in the garden, so I always use this recipe to pickle them.

My family loves this recipe and I hope you enjoy it as much as we do! Just a quick combination of vinegar, water, salt, and sugar gets warmed to melt the salt and sugar. Then just cut your cucumbers and chop your garlic, onion, and herbs! Put in your mason jars and try and wait to eat these delicious treats! My family starts stealing them on day 1! These are fabulous to bring to a BBQ or a hostess gift! Trust me, they will want you back often as long as you bring these along!
Have you made refrigerator pickles before? I'd love to hear how you make yours and I hope you try my recipe!
When you make one of my recipes, tag me with #everydayeileen so I can see what you are making I will share it too!
I hope you like this recipe, and if so, please share the love on Facebook, Pinterest, or your favorite way of relating to your friends and family, and please continue connecting with me on Instagram, Pinterest, Twitter, Bloglovin, Google Plus !
Thank you for always sharing my passion and love for food and family!
xo! Eileen
📖 Recipe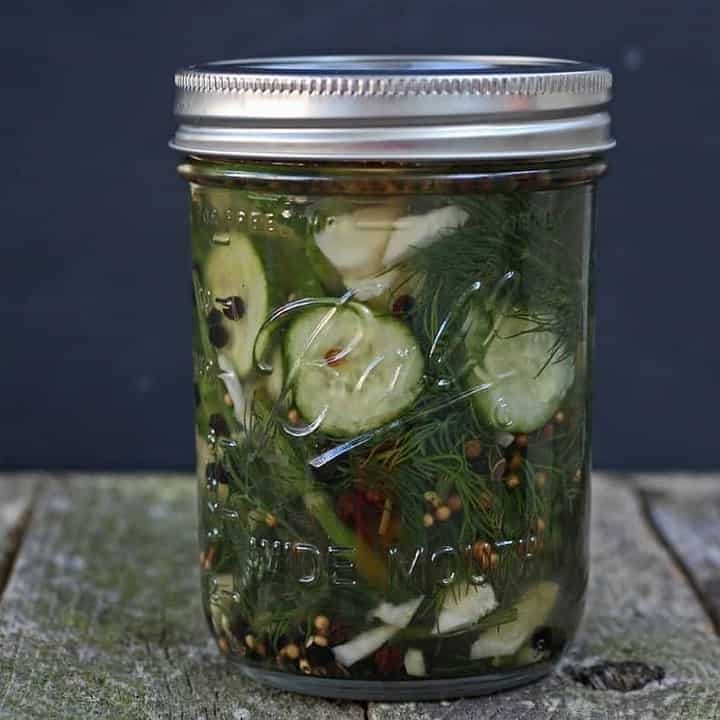 Quick & Easy Homemade Refrigerator Pickles
A quick easy recipe for making homemade pickles without canning. A blend of vinegar and a few ingredients make the most delicious pickles. This is great with other vegetables like beans and peppers. Fabulous way to use your summer garden vegetables.
Print
Pin
Rate
Equipment Needed:
Ingredients
2

cups

white vinegar

2

cups

water

2

Tablespoons

Kosher salt

1 ½

Tablespoons

granulated white sugar

6

Kirby cucumbers, sliced thin or quartered

4

cloves

garlic, chopped

2

green onions, chopped

2

Tablespoons

black peppercorns

2

Tablespoons

pickling spice

5-6

sprigs fresh dill

½ - 1

teaspoon

red pepper flakes

, optional
Instructions
In a saucepan, over medium heat, add the vinegar, water, Kosher salt, and sugar. heat to melt salt and sugar, about 5 minutes. Remove from heat and set aside.

Use either four 1 pint mason jars or two 1 quart mason jars.

Divide the chopped garlic, green onion, whole black peppercorns, pickling spices, and dill between the jars. If adding red pepper flakes, add now.

Divide the sliced or quartered cucumbers between the jars. Pack the jars full with the cucumbers

Divide the vinegar brine mixture between the jars. Make sure the cucumbers are completely covered with the brine. Let mixture cool.

Cover with mason jar tops. Keep in fridge until ready to eat

Ready to eat in 2 days.
Notes
Feel free to use other vinegar, such as cider, rice, white balsamic. Also feel free to experiment with vegetables and additions like beans,zucchini, peppers, jalapeno, Spanish onions.
These rarely last a few days in my house but they can keep for about a month in fridge.