The Best Chicken Parm Burger recipe takes the fabulous flavors of Chicken Parmesan and puts them into an amazing burger. These grilled chicken burgers are always a hit at our family BBQ's! The ground chicken has fresh Parmesan cheese added as well as aromatic herbs to make a perfectly seasoned juicy burger! Top these Parmesan Chicken Burgers with fresh basil, marinara sauce, and fresh mozzarella! These grilled chicken burgers bring the taste to the next level! Keto-friendly – to keep keto, use a lettuce or collard wrap in lieu of a ciabatta roll.
This burger has been created by me as part of an amazing #BurgerMonth event hosted by the amazing #GirlCarnivore, all opinions are my own.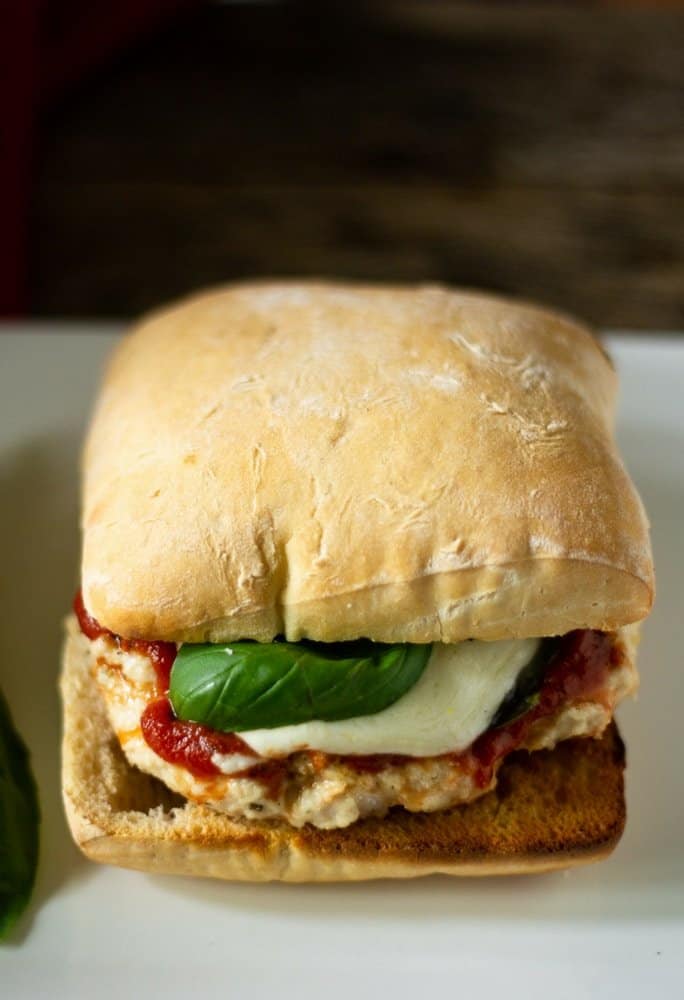 The fam loves chicken parmesan. I bake, not fry the chicken when I make chicken parm! When summer hits, I'm a griller! I love grilled chicken burgers because they are healthy, low-calorie, and low-fat. These chicken parm burgers are flavored with parmesan cheese, spices, and Italian seasoning and they are super juicy! Top with marinara sauce, fresh basil, and melted mozzarella! everyone will come back for the recipe!
Ground chicken burgers are not difficult to work with but you need to know they need added flavor. Just like a marinated chicken breast is flavorful, adding seasoning to a chicken burger makes it much more flavorful. These Chicken Parm burgers freeze really well. I recommend making a triple batch and freeze some for later.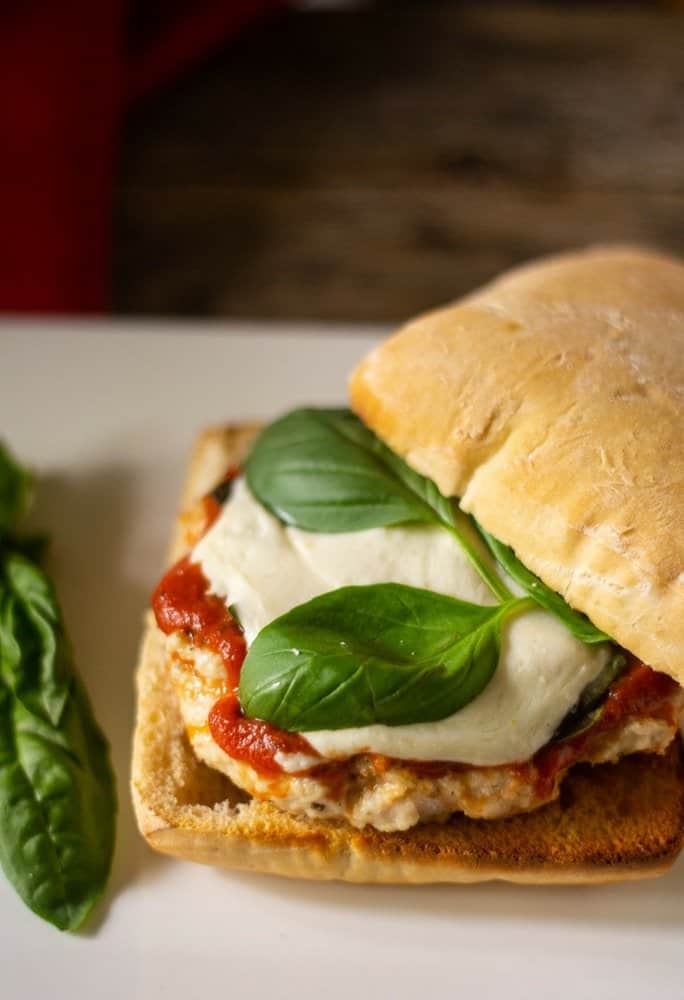 For these parmesan chicken burgers, I added freshly grated parmesan Italian seasoning, and a few other seasonings to make a great Italian burger. Fresh Basil adds freshness and is just a must with these burgers
FAQs and questions about Grilled Chicken Parm Burgers:
What are the origins of Chicken Parmesan?
Growing up in a predominantly Italian neighborhood in New York, I have gotten to learn a lot of amazing Italian recipes. Chicken Parm is actually not Italian based. A dish from Middlesbrough, England called Parmo, fried chicken with a bechamel sauce is where it originated. I know, shocker right!
What type of chicken is used to make these Chicken Parm burgers?
I only use chicken breasts but you can use thighs if you prefer dark meat. However, I buy boneless chicken breast and ground the meat in the food processor. Huge financial savings because boneless breasts are so much cheaper than buying ground chicken meat.
Can fresh ground chicken burgers be frozen for future use?
Absolutely! I always make a triple batch or so when I am making chicken burgers.
What side dishes pair well with these Chicken Parm burgers?
Weight Watchers Caesar Salad with Poblano Dressing
Roasted Asparagus with Lemon and Garlic
Looking for even more sides to go with these yummy Chicken Parm Burgers, here are a few more from my favorite food bloggers:
Pesto Broccoli Rice from My Sequined Life
Kale and Brussels Sprouts Salad from Pinch and Swirl
How do you freeze ground chicken burgers?
Once you have formed the chicken patties place them on a baking sheet lined with wax paper.
Place the tray in the freezer for about 15-20 minutes so the chicken burgers get firm.
Remove the tray from the freezer.
The chicken burgers can be stacked with wax paper in between each patty and placed in a freezer-safe bag. The bag should be labeled with the date and identifying that chicken parm burgers are in the freezer bag.
When ready to cook the burgers. Remove from freezer.
I have cooked them from the frozen state and also after defrosting the burgers.
Personally, whatever is easier for you at the time of cooking will work.
The internal temperature of the parmesan chicken burger should be 170 degrees.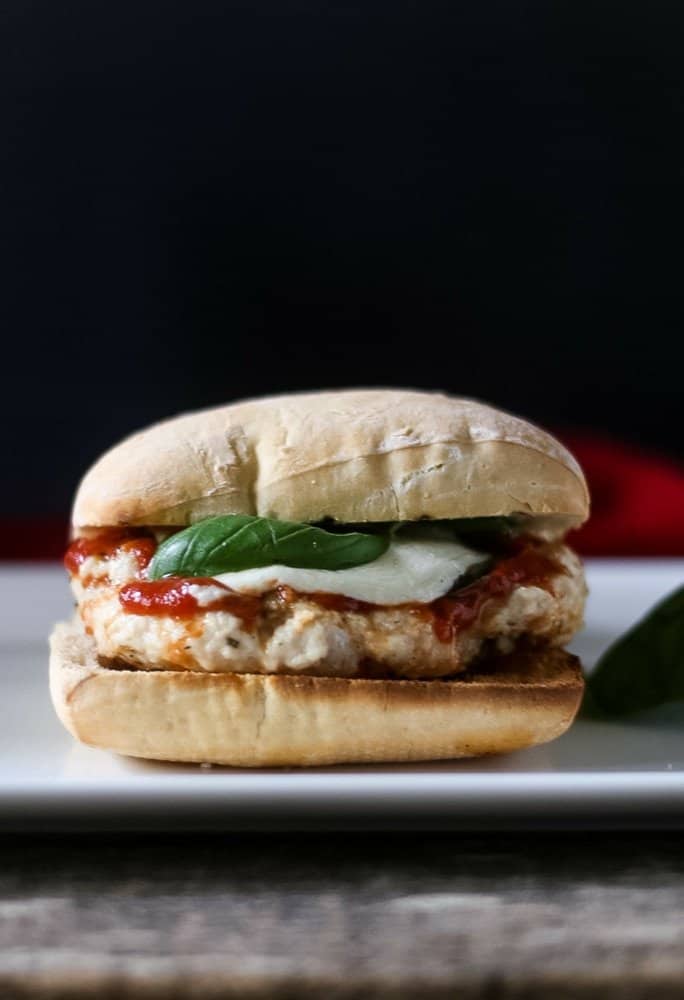 How to Make The Best Grilled Chicken Parm Burger:
Please save your money and buy boneless chicken breasts when they are on sale. So much more affordable than store-bought ground chicken.
Using a food processor, chop the chicken into chunks and add to the processor. Pulse 4-5 times to break down the chicken.
 Remove the chicken to a bowl and add the seasonings and freshly shredded Parmesan cheese. Form into burgers and place the ground chicken burgers in the fridge for at least 30 minutes to firm up the burgers before grilling.
Use either non-stick barbecue spray or olive oil to place on the grill grates. Pre-heat the grill to 400 degrees. Place the chicken parm burgers on the grill and reduce heat to medium, about 350 degrees. Cook the burgers for about 4 minutes, grill cover closed. Flip the burgers.
Flip the ground chicken breast burgers. Add the marinara sauce and basil leaf.
Top with fresh mozzarella. Grill another 4 minutes. The ciabatta roll can also be grilled at this time.
Place the chicken parm burgers on the ciabatta bread and serve immediately. Enjoy!
A huge thanks to the #BurgerMonth sponsors,  American Lamb Board, Anolon,
Cabot Cheese, Crow Canyon Home, Melissa's Produce, Microplane, New York Beef Council, Red Duck, Spiceologist,
Veal Made Easy, and Weber Grills.
When you make this juice chicken parmesan burgers, take a pic and tag me on Instagram @everyday_eileen or #everydayeileen
I love any comments or questions below!
                                                                  I HOPE YOU CONTINUE CONNECTING WITH ME:
Are you loving these juice chicken parm burgers, giving it a 5-star rating and any comments are super helpful for me and very much appreciated!
The Best Chicken Parm Burger
All the flavors of chicken parmesan in a juicy burger. Seasoned Ground Chicken grilled and topped with your marinara sauce, fresh basil, homemade mozzarella on a grilled ciabatta bread seasoned with olive oil and garlic.
Print
Pin
Rate
Ingredients
How to Prepare Chicken Parm Burger
1

pound

boneless chicken breast

1/4

cup

grated Parmesan Cheese

1

teaspoon

Italian Seasoning

1

teaspoon

ground black pepper

1

teaspoon

garlic powder

1

teaspoon

onion powder

1/2

teaspoon

ground fennel

1/2

teaspoon

salt
Toppings
1

cup

homemade marinara

Store-bought can be used

12

fresh

basil leaves

8

ounces

sliced fresh mozzarella
Ciabatta Rolls
4

ciabatta rolls

2

teaspoons

olive oil

1

garlic clove, peeled and sliced in half
Instructions
How to Make the Chicken Parm Burger
Cut the chicken breasts into 2-3 inch chunks. If any visible fat, remove and discard. Place the chicken in the base of a food processor with grating blade. Pulse to break up and grind chicken. As seen in photo #2 above.

Remove chicken from processor and place in a medium bowl. Add the parmesan cheese, Italian seasonings, black pepper, garlic powder, onion powder, ground fennel, and salt. Gently mix ingredients together.

Place a piece of wax paper on a baking sheet. Using 4 ounces of chicken per patty, Form into round patties. Place the patties on the baking sheet and refrigerate for about 20 minutes.
To Grill the Chicken Parm Burgers
Make sure grill grates are clean. Either spray with non-stick spray or brush olive oil on grates. Preheat grill to 400 degrees.

Place the chicken parm burgers on the heated grill. Reduce heat to 350 degrees medium. Close grill. Let cook about 2 minutes. If desired open grill and move chicken to form crisscross grill marks, close grill and cook for another 2 minutes. (4 minutes total).

Flip burgers and place 2 Tablespoons of Marinara Sauce on each Chicken Burger. Add a basil leaf or two and top with fresh mozzarella. Close grill cover and let cook another 4 minutes. The internal temperature of the chicken should be 165 degrees. Remove from grill.
To Prepare the Ciabatta Rolls
Place 1/2 teaspoon of olive oil on the inside sliced dough of the rolls. Rub with the garlic clove. With 2 minutes left of cooking the chicken, place the rolls, dough side down on the second shelf of the grill. Let toast to your desired doneness.

Serve the chicken parm burger on the toasted Ciabatta Roll. Enjoy!
Notes
To keep this chicken parm burger keto, either without the bun or in a lettuce wrap.
Note - the burger is gluten-free. The ciabatta bread I used is not, please read labels if a gluten-free roll is needed.
This recipe is for the chicken parm burger only, add in your calories for your roll.
I find it necessary to refrigerate the chicken parm patties to make them easier to handle. 
These ground chicken burgers freeze really well. I place the patties on wax paper on baking sheet. Making sure the chicken patties do not touch. Place in the freezer for about 1 hour so they can solidify. I then place together, with wax paper separating each patty in a freezer bag. Dated and labeled with Chicken Parm burgers. I cook these within 3 months of freezing. 
These can also be pan-fried.  I spray non-stick oil in the pan and the cooking process is the same, 4 minutes per side usually does the trick.
Any nutritional data I provide is an approximation and actual dietary information can vary based on ingredients and proportion sizes.
Nutrition
Serving:
1
burger
|
Calories:
340
kcal
|
Carbohydrates:
6
g
|
Protein:
41
g
|
Fat:
15
g
|
Saturated Fat:
7
g
|
Cholesterol:
114
mg
|
Sodium:
1191
mg
|
Potassium:
687
mg
|
Fiber:
1
g
|
Sugar:
3
g
|
Vitamin A:
15.7
%
|
Vitamin C:
7.5
%
|
Calcium:
54.3
%
|
Iron:
8.9
%
Pin these Tasty Grilled Chicken Parm Burgers to make any time: