This shop has been compensated by Collective Bias, Inc. and its advertiser. All opinions are mine alone. #HoopsWithCrunch #CollectiveBias
Baked Spicy French Fries are a delicious snack made by coating the fries with Spicy Cheez-Its and panko bread crumbs and baking until crispy and crunchy! Perfect for any party or game day snack!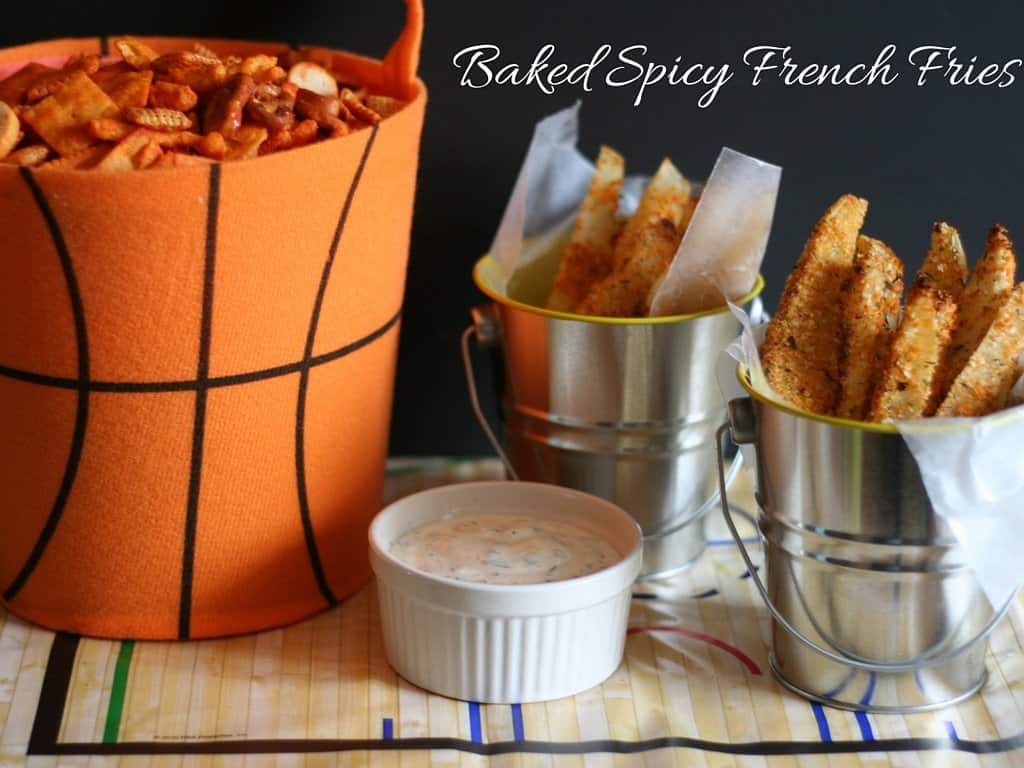 There is one theme in my house right now, Basketball! The college basketball series is in just about every conversation between my family and friends and there is always a game or highlights of one of the games on the television! This is how it will be for the next few weeks and I wouldn't change a thing! ! My family has their brackets set up and there is always a crowd here watching one of the basketball games. I love having family and friends to the house, enjoying good basketball! Nothing goes better with watching great college basketball than great game day food! We have a set routine in my home. Right before the series of games begin, my son comes grocery shopping with me so we can stock up on all our favorite game day foods. One of my family's favorite snacks are Cheez-It crackers, so that is always the first aisle we hit! What we discovered is a delicious new flavor, Cheez-It Hot & Spicy Grooves! Since we love spicy foods, we could not wait to try these crackers! They are so good and we stocked up for the season!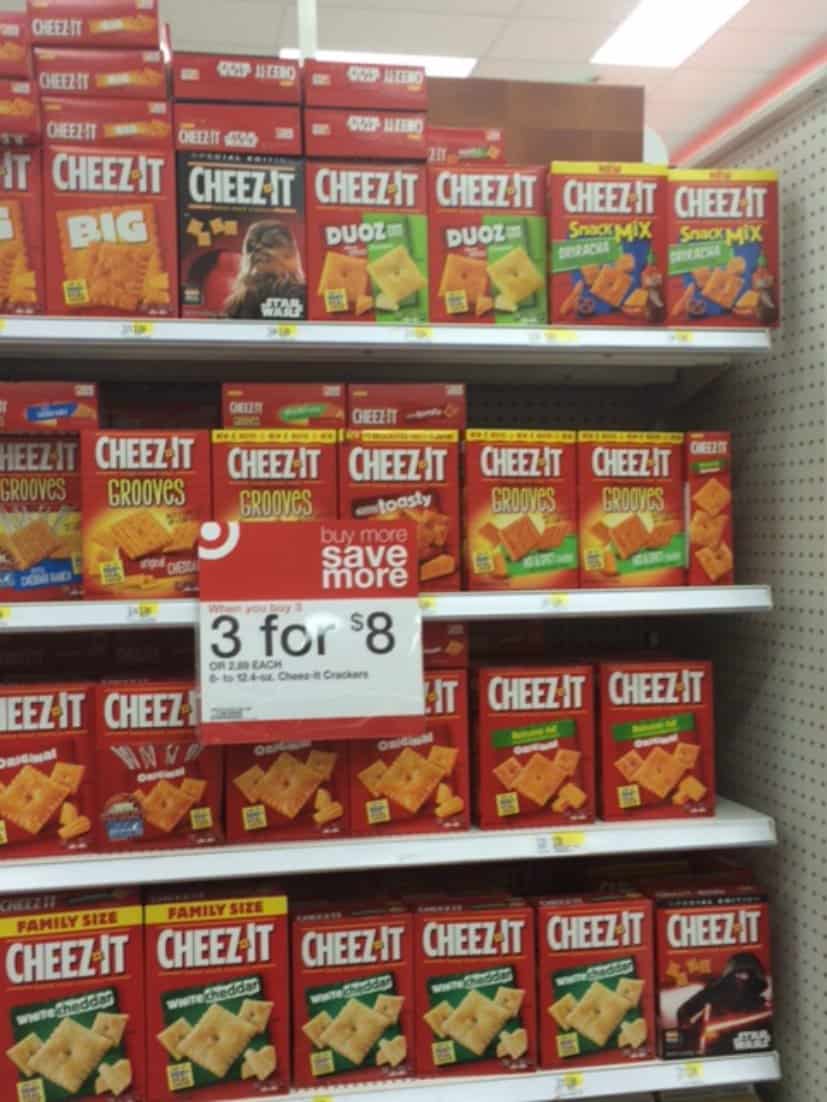 What's even better, right now at Target, large boxes of Cheez-It Crackers are on sale for 3 for $8 until the first week in April! They are the perfect snack for the college basketball series games! On your next trip to Target, you can generally find these crackers located in the Signal the Seasons Savor Spot or near the Check Lane.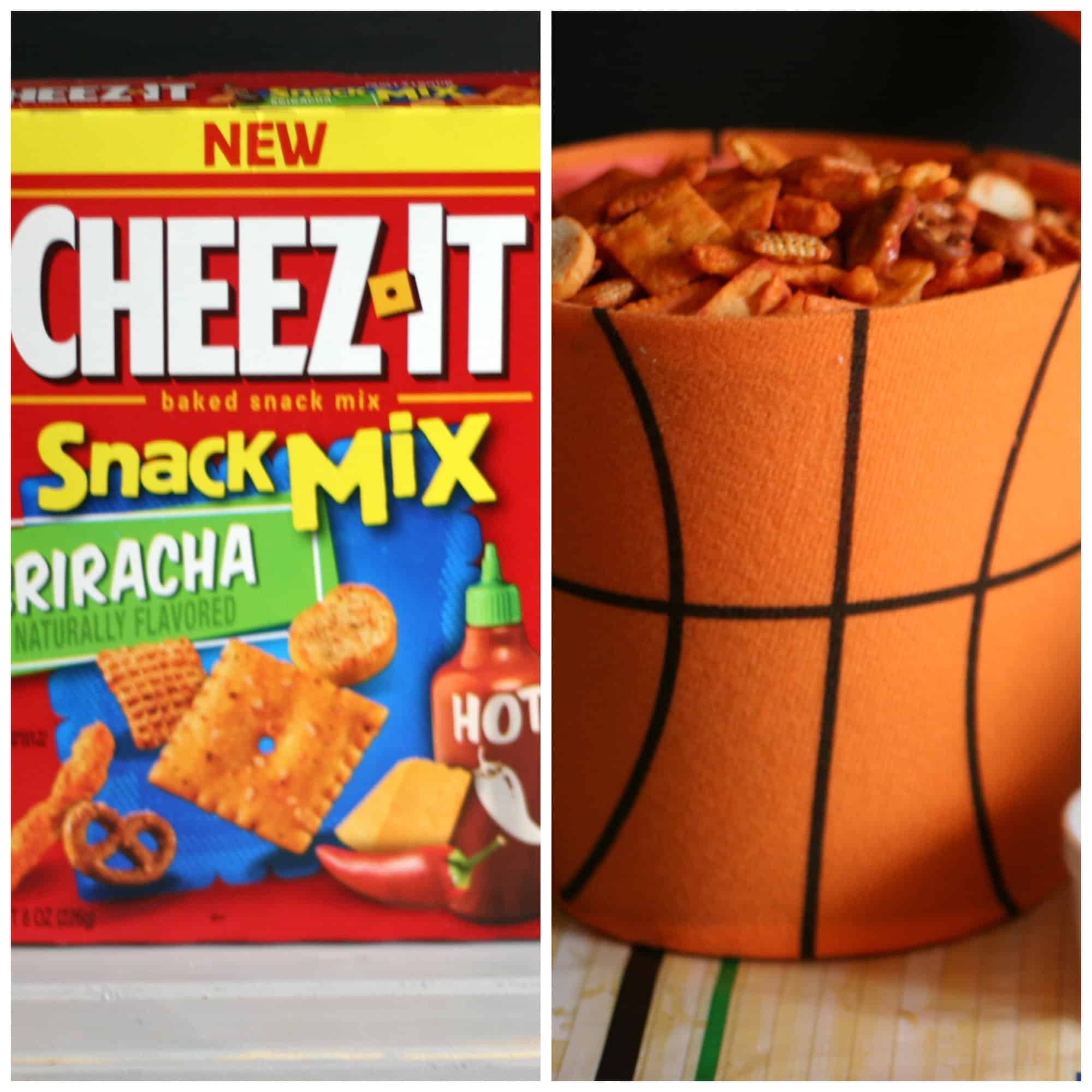 We also found another new delicious snack mix, Cheez-It Sriracha Snack Mix! Let's just say the bowl of Sriracha Snack Mix is refilled quite often! The snack mix has the right balance of spicy Sriracha flavors that everyone loves!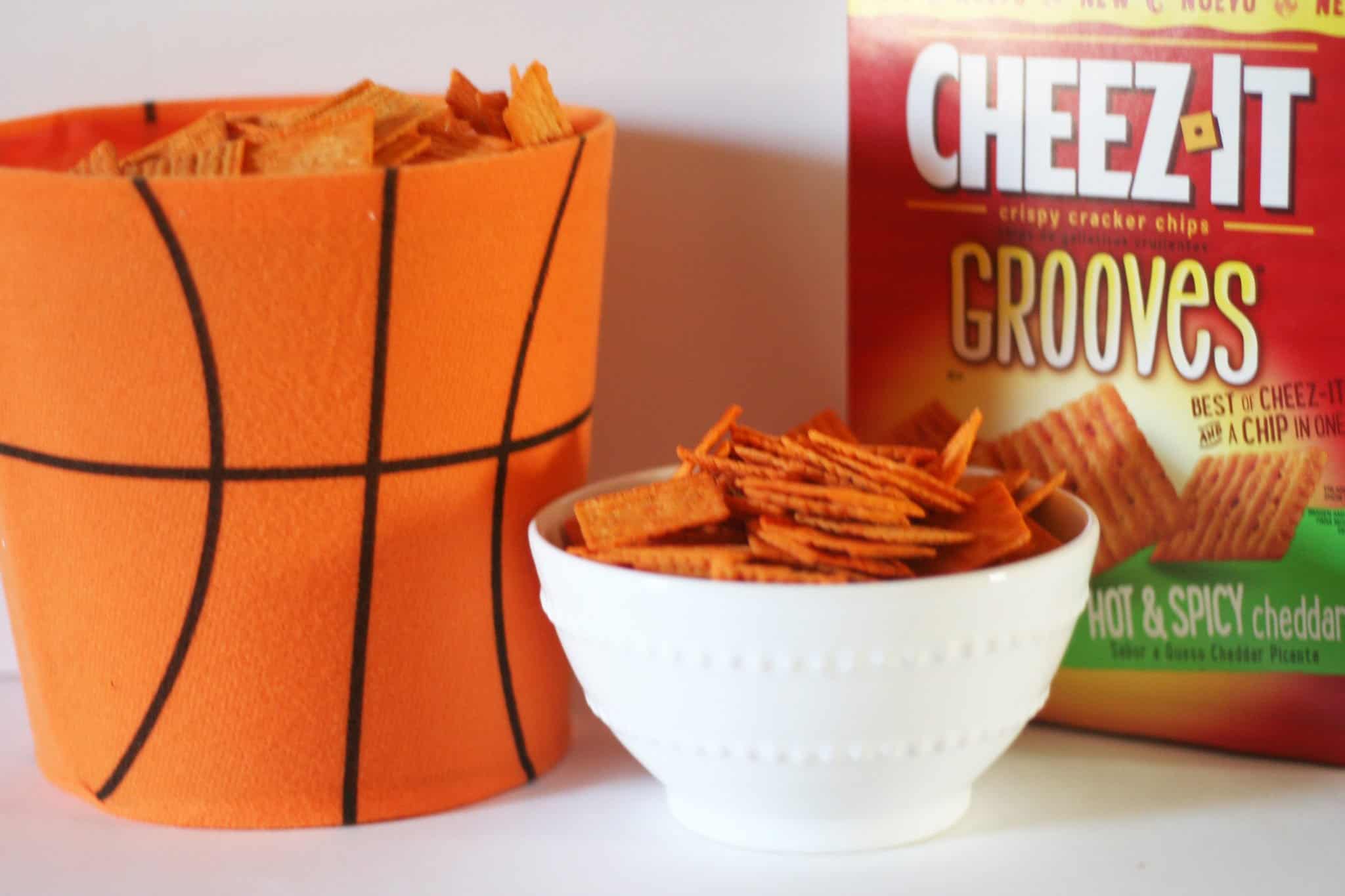 We love the flavor of Cheez-It Grooves so much because there is just the right amount of spice and we can taste the difference that real cheese adds to our baked snacks! We decided to make French fries coated with the Cheez-It Grooves crackers to enjoy during our games! Let me tell you, they are absolutely delicious! In fact, we were able to get all our ingredients for our Baked Spicy French fries right in Target. I needed Panko bread crumbs, 100% liquid egg whites, and Parmesan Cheese and Target's Market Pantry brand had them all. I even got my Idaho potatoes at Target, one stop shopping!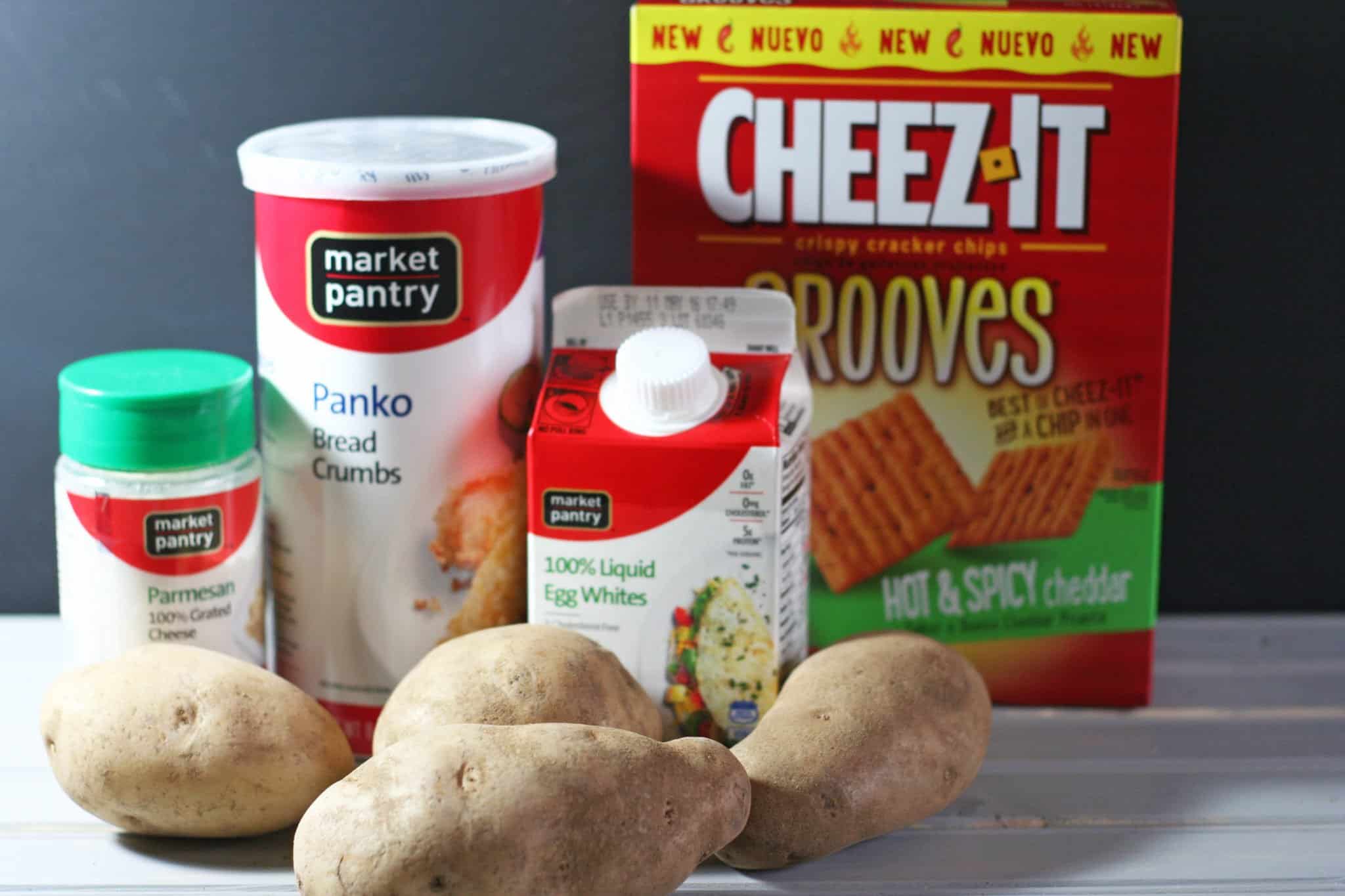 How to prepare and bake Spicy Baked Fries:
These were super easy to prepare. I simply peeled and sliced the potatoes into ½ inch thick matchsticks. I like to soak the potato matchsticks in water because that gets out any extra starch and when the potatoes bake, they get nice and crispy. (second photo)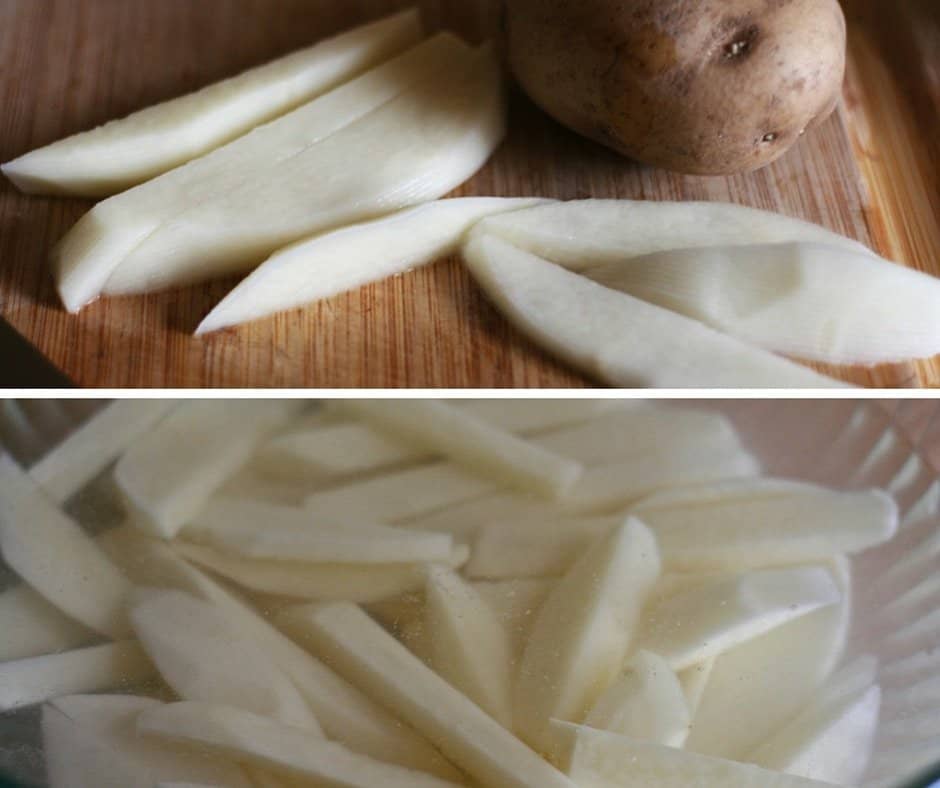 Measure 2 cups of Cheez-It Grooves crackers to use for the french fries. Make sure the chef has one or two, okay maybe three, for a snack! 🙂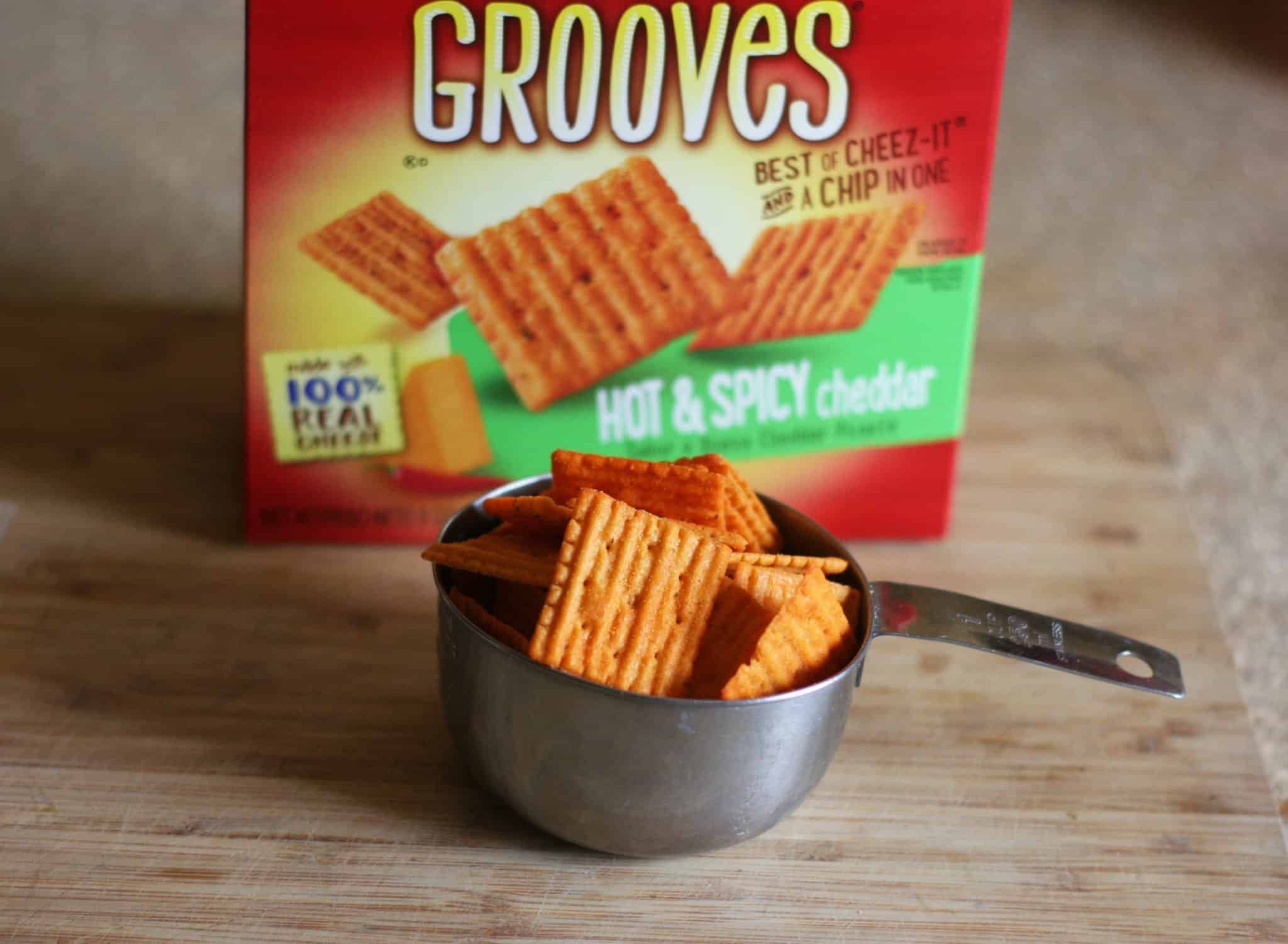 Place 2 cups of Cheez-It Grooves crackers into a plastic zipper seal bag. Use a rolling pin to crush the crackers into a fine crumble. Place the finely crumbled crackers, Panko bread crumbs, Parmesan Cheese, and dried parsley into a bowl. In a separate bowl, pour in ⅓ cup of egg whites, which will coat the fries and allow the cracker crumble to stick to the matchstick potatoes. Drain and dry the potatoes and simply dip them into the egg wash, then into the cracker crumbs and place on the baking sheet.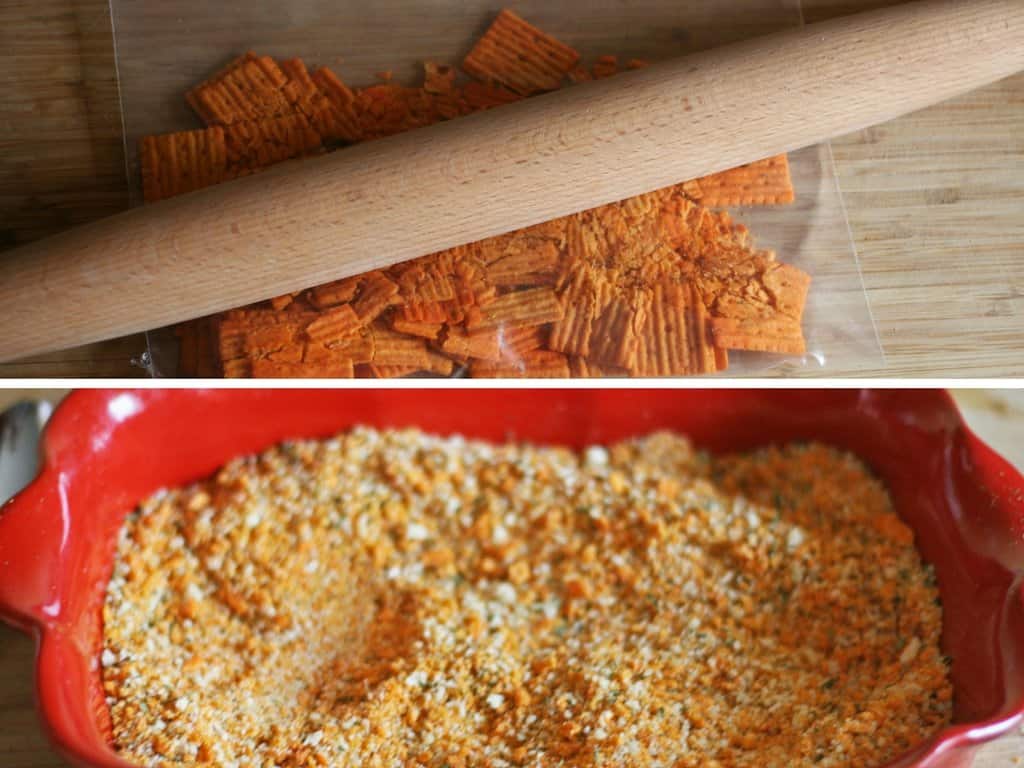 Once these bake, which is about 20-30 minutes you have a delicious snack! We serve this with a low-calorie Ranch dip! Yummy!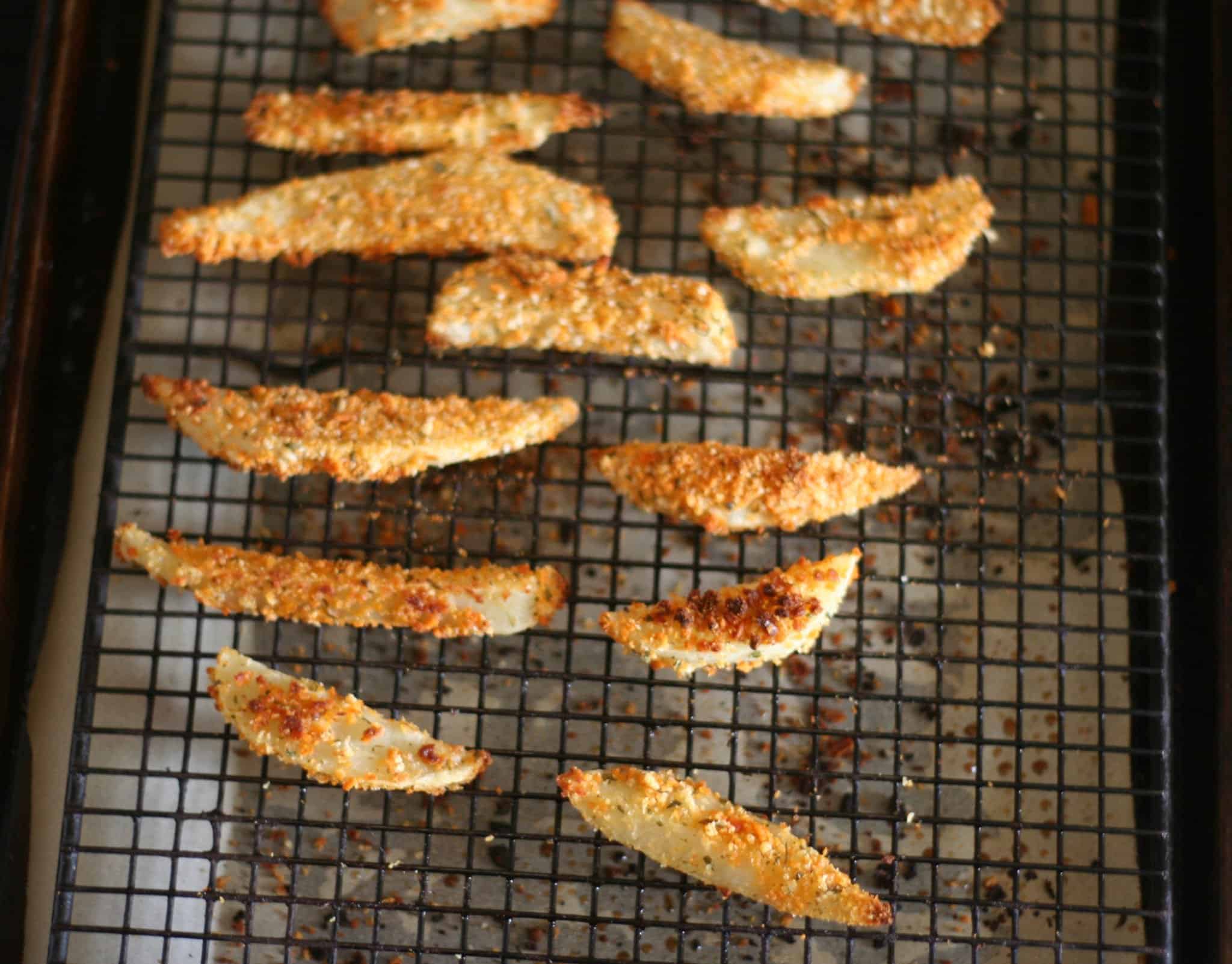 Tips on what to serve and prep for parties with thes baked spicy fries
Prepare make ahead snacks and meals, like these French fries, cut up veggies, dips, or chili. These Cheez-It Grooves would dip nicely into chili.
When I'm making snacks to freeze items, it is best to place the food on large baking sheets in the freezer for about an hour, then place the frozen food items into labeled freezer bags. The food will not freeze together, making it easy to take out a few pieces, as needed of the frozen food for defrosting.
Have a variety of food to meet dietary needs such as meatless appetizers ad main dishes, fresh veggies, low-calorie dips, and gluten-free options.
I stock up on paper good, cases of water, and juice.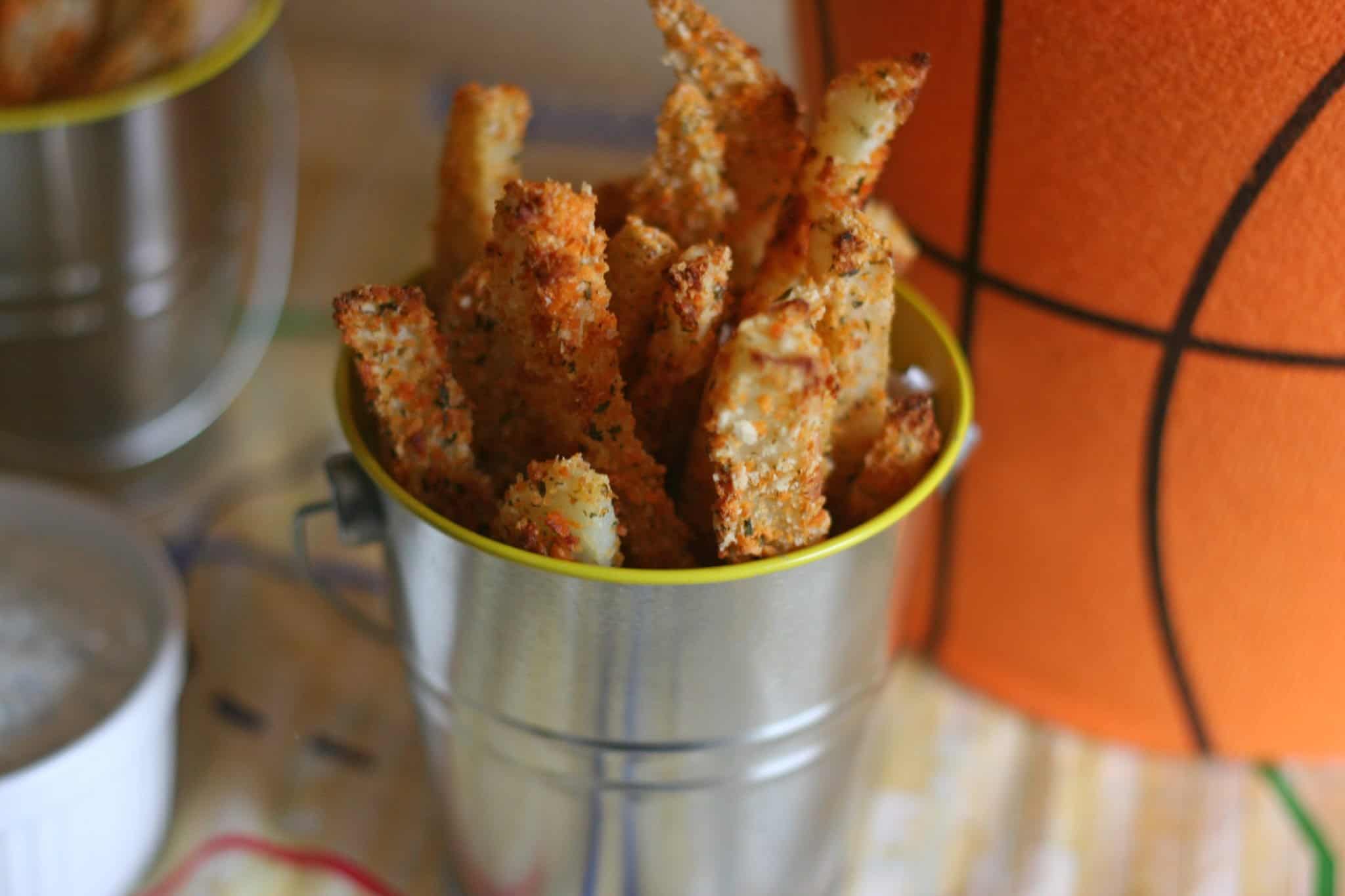 I hope everyone is enjoying this college basketball series as much as we are in my home, it is really exciting! Enjoy these easy baked spicy fries! am so glad we found these Cheez-It Grooves crackers and you can also find Cheez-It on Facebook and Twitter @CheezIt !
What are your family traditions's when entertaining and watching the college basketball series?
When you make this recipe, take a pic and tag me on Instagram @everyday_eileen or #everydayeileen
I love any comments or questions below!
I HOPE YOU CONTINUE CONNECTING WITH ME:
Love these easy Baked Spicy Fries, giving them a 5 star rating is super helpful for me and very much appreciated!
📖 Recipe
Spicy Baked French Fries
Cheez-It Grooves Hot and Spicy cheddar crackers are crushed and combined with Panko bread crumbs and Parmesan cheese to make delicious, crispy and spicy baked French fries.
Print
Rate
Equipment Needed:
Ingredients
4

medium

Idaho potatoes, peeled and cut into ½ inch thick matchsticks

2

cups

Cheese-It Grooves Hot & Spicy crackers

½

cup

panko bread crumbs

2

Tablespoons

Parmesan cheese

1

Tablespoon

dried parsley

⅓

cup

egg whites , I use container egg whites

olive oil spray
Instructions
Preheat oven to 425 degrees. Prepare a large baking sheet with a wired rack and spray with olive oil cooking spray.

In a large bowl, add the cut matchstick potatoes and cover with cold water. Soak the potatoes for at least 10 minutes and up to 30 minutes to absorb the starch from the matchstick potatoes.

While the potatoes soak, in a large plastic zipper seal bag, place the Cheez-It Grooves Hot & Spicy crackers. Lay the plastic bag on the counter. Use a rolling pin to crush the crackers into a fine crumble.

Transfer the crumbled Cheez-It Groove crackers to a shallow bowl, add the Panko bread crumbs, Parmesan Cheese, and dried parsley. Combine the flavors.

In a separate bowl, add the egg whites.

Drain and dry the potatoes on a paper towel.

Coat the matchstick potatoes in the egg whites and then into the Cheez-It Grooves crumble. Place crumble coated potatoes onto the prepared baking rack. Continue until all the matchstick potatoes are coated with the Cheez-It crumble. Spray the matchstick potatoes with the olive oil cooking spray.

Place the baking sheet into heated oven. Check the French fries after 20 minutes. They should be crispy and should not need more than 30 minutes in oven, depending how thick you cut your matchsticks.

Serve immediately. Delicious with low-fat ranch dressing
Notes
Any nutritional value used is an estimate. These figures can change based on ingredients and portion size
Nutrition
Serving:
4
fries
|
Calories:
771
kcal
|
Carbohydrates:
123
g
|
Protein:
20
g
|
Fat:
20
g
|
Saturated Fat:
4
g
|
Cholesterol:
41
mg
|
Sodium:
1130
mg
|
Potassium:
916
mg
|
Fiber:
7
g
|
Sugar:
1
g
|
Vitamin A:
185
IU
|
Vitamin C:
12.8
mg
|
Calcium:
234
mg
|
Iron:
2.6
mg
Pin to make these yummy Baked Spicy Fries anytime here: