Coffee Rubbed Brisket is smoky, spicy and ever so tender flavor filled recipe. It's a beyond mouthwatering meal filled with aromatics from the dry rub. The zesty rub enhances the flavors in the beef. Make this in your slow cooker and it's also a set and forget amazing meal.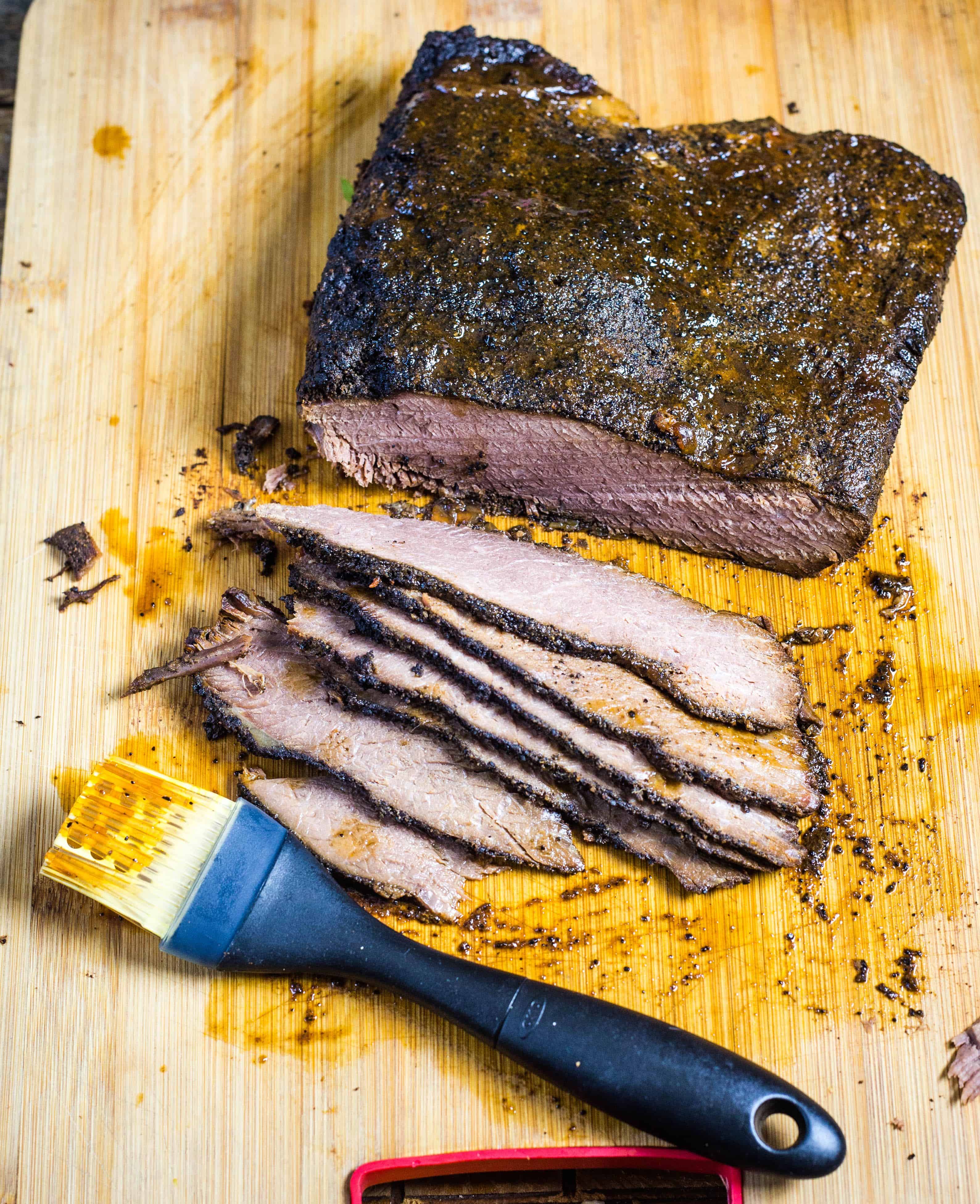 You are in for a big treat with this beef brisket. The coffee spice rub is smoky and spicy. Let it marinate overnight on the meat to add tons of flavor.
Coffee Rubbed Ingredients
ground coffee – tenderizes the meat.
chili powder – adds fantastic spice.
cumin – another level of spice.
smoked paprika – give both smoke and sweetness to the rub.
ground black pepper – just about everything needs pepper.
garlic powder -a must for any dry rub, great flavor.
onion powder – another must for flavor.
Kosher salt – gives another depth of seasoning.
ground dry mustard – gives a little tang to balance the smoky and sweet flavors in the rub.
Other Ingredients needed
beef brisket - there is no meal without this ingredient J.
coffee – layers the coffee flavor into the beef.
beef broth – balances the coffee flavor.
onion - more flavors to make well balanced flavors.
garlic - garlic makes everything taste amazing.
liquid smoke - gives a smoky flavor to enhance the spices.
Worcheshire sauce - a great addition to any beef recipe.

Slow Cooker Coffee Rub Brisket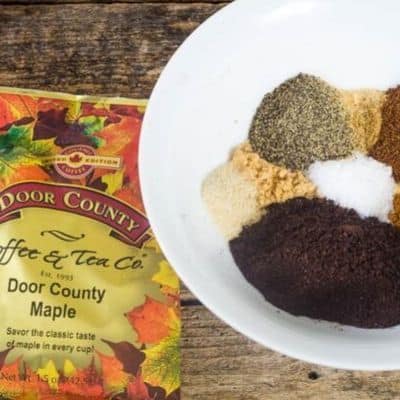 If you haven't had a recipe that uses coffee, you have been missing out. Coffee is like fruit and acts as a tenderizer. For this recipe, the ground coffee I use is Door County Coffee.
Their maple flavor coffee is an awesome addition to the coffee rub.
I had an amazing brisket sandwich many years go in Austin, Texas. It was a little BBQ place right next to my hotel. The clerk at the hotel told me it was the best place for great food. He was not fooling around!
The place had tons of great food on their menu. The restaurant is gone but I have the recipe in my head.
I was so intrigued by the flavors in their coffee brined brisket sandwich. I figured coffee on brisket in Texas, they know what they're doing, I'm ordering this bad boy. The best choice ever!
There are times I dream of that sandwich. It was so dang delicious. The beef was juicy and so tender from the coffee rub. It was also full of spicy smoky flavors from the seasonings.
Ever since having that sandwich, I have been recreating that amazing brisket at home.
Coffee Rub Brisket FAQs
How can I serve the brisket?
The brisket is amazing on its own as a meal, make it a sandwich. Pair it with macaroni salad and you are all set for a blast of good food.
Enjoy it with buttered egg noodles or mashed potatoes.
Looking for a low-carb meal, make some mashed cauliflower with the brisket, such a delicious duo.
This is a slow cooker brisket. Can I make it in the oven?
Yes, I will include the instructions for making the brisket in the oven.
How long should I keep the coffee rubbed meat in the fridge before cooking?
For the most flavorful results, marinate overnight in the fridge works the best for amazing tasting beef.
Can I make the coffee rub in advance?
You can make the coffee rub in advance and keep it in a mason jar until ready to use. The rub can keep in the jar about 6 months.
How long can I keep the brisket in the fridge after it is cooked?
According to the USDA Food Safety website, the brisket can be kept in the fridge for about 3-4 days after being cooked.
What is the appropriate temperature for a brisket when it is completely cooked?
Brisket is ready at 165 degrees. Again, you can refer to the USDA website above for detailed information.
What can I use the coffee rub on besides brisket?
The coffee rub is awesome on any cuts of beef including steaks and burgers. Try it on pork or poultry too.
Enjoy beef recipes, you will enjoy these:
Pro Tips for a great Slow Cooker Beef Brisket
Trim some unnecessary fat before seasoning.
Be sure to use a brisket that is at least 4 pounds before cooking. Anything smaller, the meat will be tough.
Rub the beef with the rub and keep well covered in the fridge overnight.
My crock pot cooks very fast. The brisket is ready on low settings in 5 hours.
The internal temperature of the meat should be 165 degrees when cooking is complete.
SHOP THIS RECIPE
This post contains affiliate links for your convenience. As an Amazon Associate I earn from qualifying purchases.
Checkout my store, Everyday Eileen I share all my favorite finds!
How to Make a Slow Cooker Coffee Rub Brisket
Mix all your spices for the coffee rub in a small bowl.
Massage the rub all over the brisket.
Wrap the brisket with plastic and place in the fridge for at least 8 hours up to overnight. We recommend an overnight marinade.
Once the brisket has sat in the fridge, remove the plastic and place the brisket in the slow cooker.
Top the brisket with sliced onions and some garlic cloves.
Add the beef stock and coffee.
Cook the brisket on low for 5-8 hours until the internal temperature of brisket is 165 degrees.
Remove from the slow cooker.
Let it rest for about 15 minutes. Slice and serve.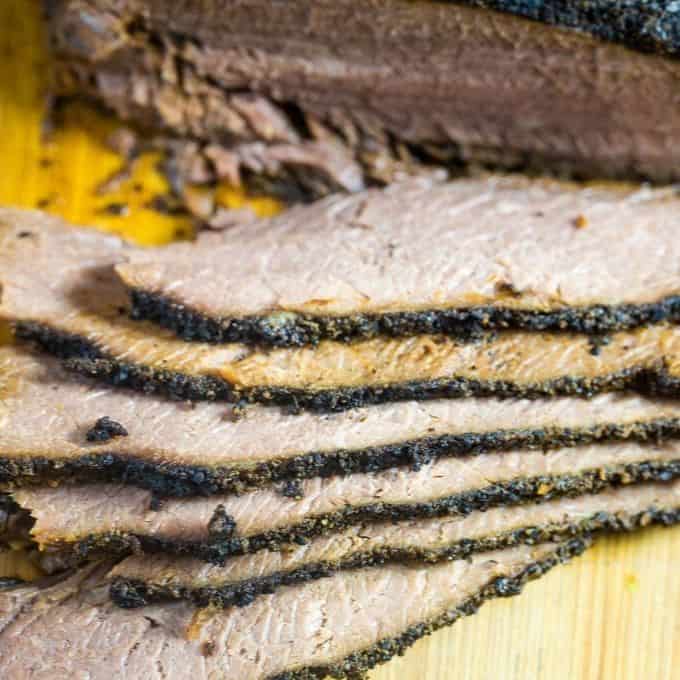 Give us a like on FACEBOOK
For great recipes and tips, follow along on Pinterest.
Thank you for always sharing my passion and love for food and family!
xo! Eileen
Are you loving this recipe, giving it a 5-star rating and any comments are super helpful for me and very much appreciated.
📖 Recipe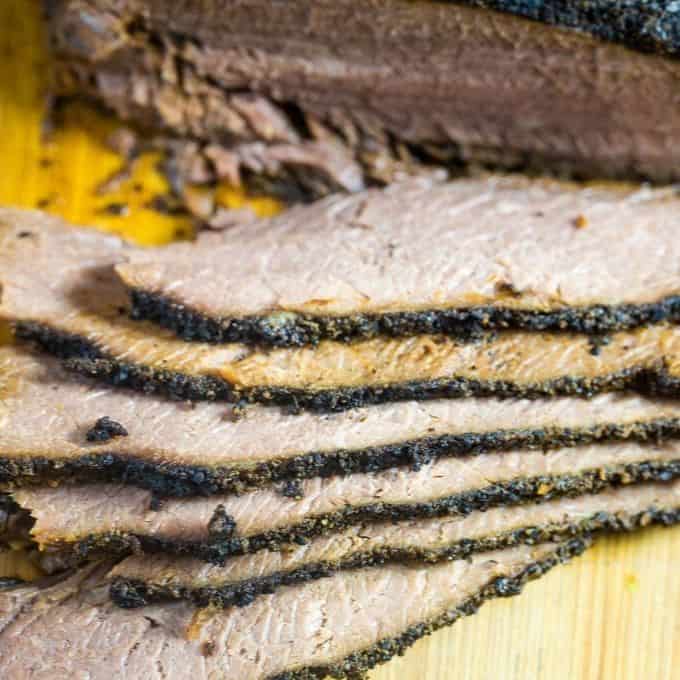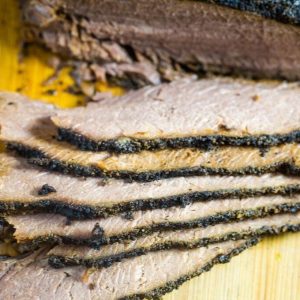 Slow Cooker Coffee Rub Brisket Recipe
Smoky and spicy Slow Cooker Coffee Rub Brisket is a fantastic recipe that takes minutes to prepare. The slow cooker does the rest. Enjoy delicious tender brisket. Perfect for family dinner. feeding a crowd, and tailgating.
Print
Pin
Rate
Equipment Needed:
Ingredients
Slow Cooker Beef Brisket
4

pound

beef brisket

1

large

onion, peeled and sliced thin

3

cloves

garlic, peeled and chopped

14.5

ounce

can of fat-free beef stock

Note 1

1

cup

black coffee

Note 2

2-3

drops

liquid smoke

2-3

drops

Worcestershire sauce
Coffee Rub Brisket in Oven
1

Tablespoon

olive oil

This is the only addition ingredient needed besides all the above for making this brisket in the oven.
Instructions
How to Make a Coffee Rub
In a small bowl combine ground coffee, chili powder, garlic powder, ground black pepper, onion powder, smoked paprika, Kosher salt, cumin, ground dry mustard. Set aside.
How to prepare the Coffee Rub Brisket
Trim excess fat from brisket.

Rub the coffee rub over the entire brisket.

Wrap the brisket in plastic or foil.

Place brisket in the fridge to let flavors marinate the brisket at least 8 hours to overnight. (for best flavor, overnight)
How to Make Slow Cooker Coffee Rub Brisket
Remove brisket from fridge.

Place in Slow Cooker Vessel.

Add sliced onion and garlic to the vessel.

Pour in beef stock, coffee, liquid smoke, and Worcestershire sauce.

Set slow cooker to low 5-8 hours. Brisket is cooked when its temperature is 165 degrees.

Brisket can also cook on high for 3-4 hours.
How to Cook Coffee Rub Brisket in the Oven
Follow instructions to make the coffee dry rub.

Remove slow cooker from fridge.

Preheat oven to 325 degrees.

Over medium high heat in a Dutch oven, add olive oil.

Sear the brisket to brown on all sides. Remove and set aside.

Add into the pot the onions and brown for about 3-4 minutes.

Stir in the garlic, stir for another minute.

Add the browned brisket back into the pot.

Pour in the beef stock, black coffee, liquid smoke, and Worcestershire sauce.

Place lid on the pot. Put the Dutch oven in the oven, center rack.

Bake for about 3 hours. Brisket is cooked when it reaches internal temperature of 165 degrees.
How to Slice and Serve Coffee Rub Brisket
Once beef is cooked. Remove from the cooking vessel and let rest for about 15 minutes.

Slice beef against the grain. Serve and enjoy.
Notes
Note 1: Full fat stock can be used.
Note 2: A cup of black coffee. I generally use the same coffee type that is in the dry rub.
Note 3: Trim your brisket of unnecessary fat before seasoning.
Note 4: Be sure to use a brisket that is at least 4 pounds before cooking. Anything smaller, the meat will be tough.
Note 5: Rub the entire brisket with the rub and keep well covered in the fridge least 8 hours, preferably overnight.
Note 6: My crock pot cooks very fast. My brisket is ready on low settings in 5 hours.
Note 7: A cooked brisket internal temperature should be 165 degrees.
Nutrition
Serving:
6
servings
|
Calories:
529
kcal
|
Carbohydrates:
7
g
|
Protein:
65
g
|
Fat:
25
g
|
Saturated Fat:
8
g
|
Cholesterol:
187
mg
|
Sodium:
814
mg
|
Potassium:
1275
mg
|
Fiber:
2
g
|
Sugar:
2
g
|
Vitamin A:
955
IU
|
Vitamin C:
2
mg
|
Calcium:
42
mg
|
Iron:
7
mg
Beverage
DIY Pumpkin Spice Vanilla Latte by Our Good Life
Pecan Spice Latte by Hezzi-D's Books and Cooks
Pumpkin Spice Caramel Mocha by Family Around the Table
Breakfast
Cranberry Apple Quick Bread with Coffee Glaze by Jolene's Recipe Journal
Pumpkin Spice Glazed Scones by Blogghetti
Savory
Cinnamon Coffee Rubbed Pork Chops by Simple and Savory
Mom's Roasted Brown Sugar & Butter Butternut Squash by Books n' Cooks
Sheet Pan Pecan Maple Pork Tenderloin by Cheese Curd In Paradise
Sweet Potato Cornbread by Palatable Pastime
The Best Slow Cooker Coffee Rub Brisket by Everyday Eileen
Turkey Pecan Cranberry Sliders by Tip Garden
Dessert
Apple Crisp Hand Pies by The Freshman Cook
Brownies with Coffee Buttercream by Sweet Beginnings
Caramel Apple Tiramisu by The Redhead Baker
Maple Butter Pecan Rice Krispie Treats by A Kitchen Hoor's Adventures
Pumpkin Spice Latte Chia Pudding by Love and Confections
Make sure you like Fall Flavors on Facebook and follow the Fall Flavors on Pinterest, too!