A great pork dry rub takes your baby back ribs from good to epic. My dry rub is super easy and enhances the flavor to so many recipes. This dry rub uses common kitchen spices that really spice up your ribs to epic proportions.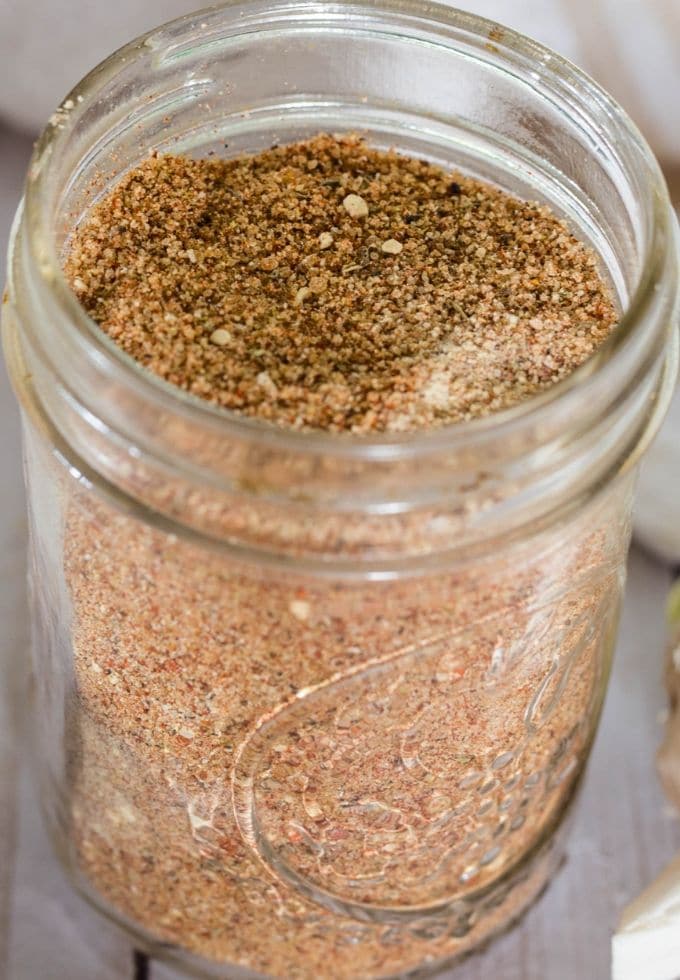 If you want to have the most flavorful pork, take a few minutes to prepare this incredible dry rub. Add this spice rub to your meat before grilling, smoking, cooking in the instant pot, or baking in the oven. You will love the enhanced flavor the rub adds to the meat.
Over the years, I have really come to love grilling and smoking meats. There has been a lot of experimenting and my family  and friends are the lucky taste testers. Without a doubt, a good rub is imperative to the most flavorful meat.
Making your own dry rub is not only very economical, but a great way to control ingredients. Homemade dry rubs are using natural ingredients without preservatives and a control over the salt.
Dry Rub for Pork
My friends, a good rub for a human being makes for one happy person. Same goes for your ribs.  Give them a good and flavorful rub and those ribs will give you a  memorable meal.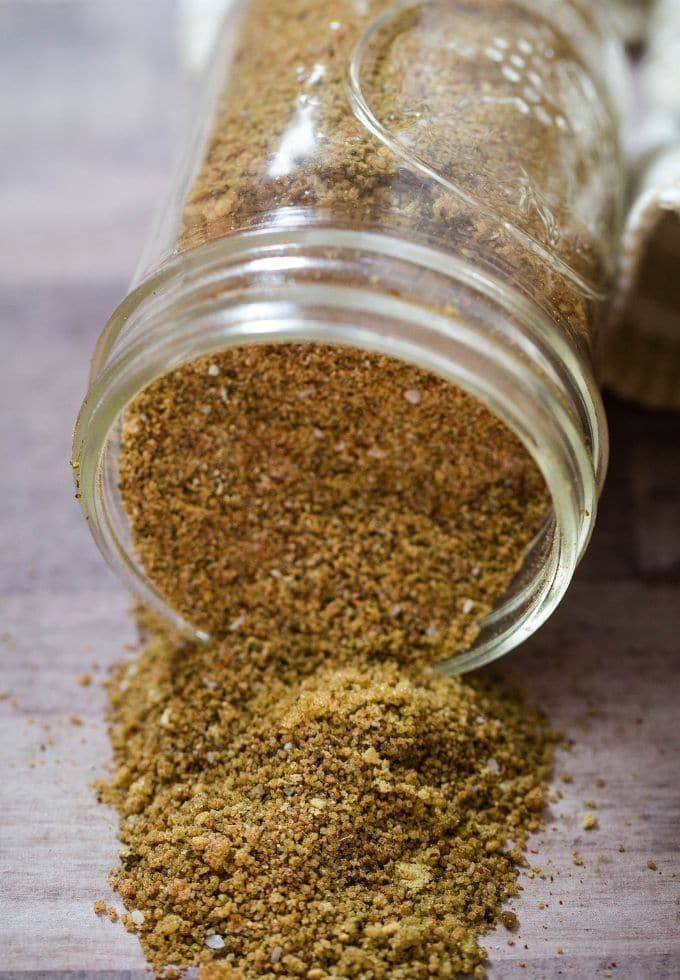 How long should a dry rub be left on the pork before grilling?
At least 30 minutes to a few hours is always best for flavor.
Can the meat be marinated overnight in the dry rub?
Absolutely! The pork ribs will be well seasoned and you are in for a treat! Marinate overnight and enjoy.
Should mustard go on the ribs before adding the dry rub?
Sure. A coat of mustard on the ribs will add an additional layer of flavor to the ribs before adding the dry rub. Mustard will help the dry rub to adhere to the pork.
Can a bbq sauce be added to the ribs?
Yes. Feel free to use a homemade bbq sauce to the ribs towards the end of cooking.
Have any questions about specific food safety with raw meat, USDA grilling and safety page is very informative.
How do I make great ribs?
This is a great tutorial to make great BBQ Pork Ribs over charcoal.
Some more pork recipes you can enjoy:
Blueberry BBQ Baby Back Ribs,  these are so tasty and the blueberry bbq sauce is amazing.
Foil Wrapped Pork Ribs with Peach BBQ Sauce, easy and delicious. Foil wrapped ribs are a great way to grill ribs, especially for the beginner griller. The ribs are always tender and juicy.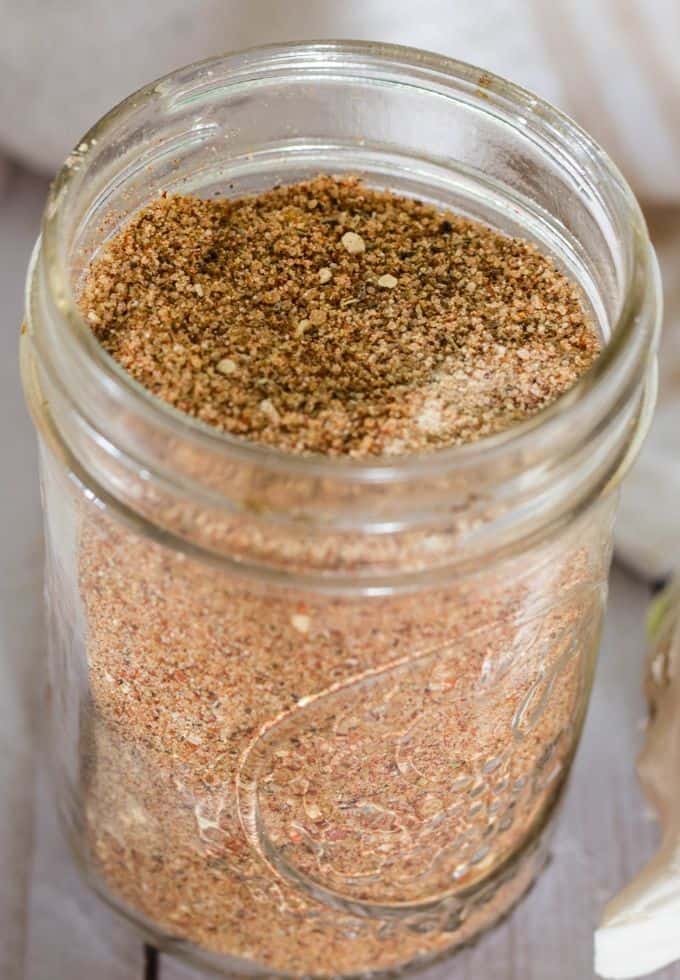 Pro Tips to Make a Great Pork Rub:
Use fresh spices. Spices have expiration dates, check them regularly.
Pat the meat dry with a paper towel before applying the dry rub.
The pork dry rub will keep in a sealed container for about 6 months.
Keep the pork with the dry rub covered with foil or plastic wrap in the fridge until ready to cook.
Side dishes that pair well with dry rubbed ribs are:
Roasted Green Beans, super easy and trust me, you'll be eating these all the time.
Homemade Mashed Potatoes, my Granny's recipe that will make your day better!
Air Fryer Twice Baked Potatoes, these are requested every week from my family
Grilled Asparagus: so easy and absolutely delicious.
Homemade Macaroni Salad: what can I say, not much can beat a tasty homemade pasta salad.
Oven Roasted Corn on the Cob or Grilled Corn are two of my most requested recipes for tender and juicy corn.
White Bean Salad: Easy and no cooking involved, yum.
You should check out these pork recipes:
Mexican Grilled Pork, a quick cooking pork chop that is so tender. We top it with Roasted Tomatillo Salsa. 
Air Fryer Pork Chops are a personal favorite and the dry rub would be a fabulous addition.
Change up the flavors on this pork, spinach, and sun-dried tomato sandwich and use the rub on the cutlets, yum.
The pork spice rub would be fabulous on these Carnitas too.
Love making spice blends, try our Homemade Seasoning Salt which enhances the flavor of anything from side dishes, to beef recipes, poultry and turkey dishes, to pork recipes. Our Cajun Seasoning, is easy to prepare and adds flavor to any recipe.
 I HOPE YOU CONTINUE FOLLOWING ME:
FACEBOOK  INSTAGRAM, PINTEREST, TWITTER
Enjoy this recipe, giving it a 5-star rating and share comments below would be super helpful!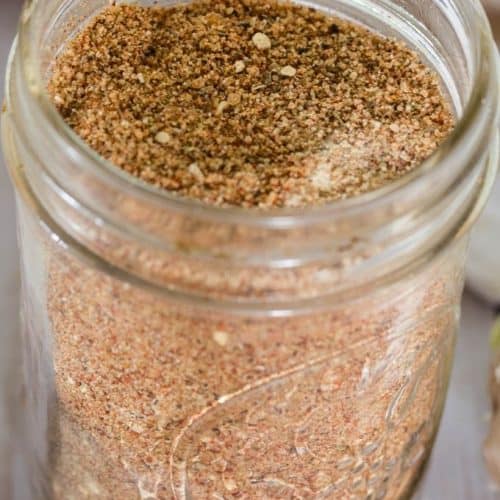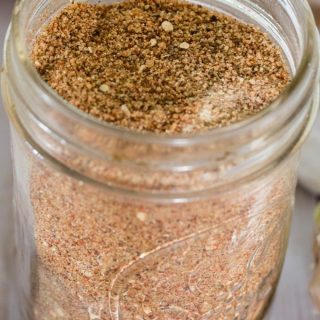 Sweet and Smoky Pork Dry Rub
A delicious dry rub that is easy to prepare and perfect on pork ribs. The smoky paprika combines with the other flavors makes a delicious rub. These make great gifts too!
Print
Pin
Rate
Equipment Needed:
As an Amazon Associate I earn from qualifying purchases
Instructions
In a small mason jar combine the brown sugar, granulated garlic, onion powder, ground smoked paprika, chili powder, ground cumin, ground black pepper, Kosher salt, ground dry mustard, ground cinnamon.

Place top on jar and shake.

Keep in a cool dry place.

Use generously on pork ribs or any cut of pork as a dry rub.

Place dry rub on meat at least 30 minutes to overnight before grilling or roasting.
Notes
Any nutritional data I provide is an approximation and actual dietary information can vary based on ingredients and proportion sizes.
Nutrition
Serving:
1
Tablespoon
|
Calories:
31
kcal
|
Carbohydrates:
8
g
|
Protein:
1
g
|
Fat:
1
g
|
Saturated Fat:
1
g
|
Sodium:
150
mg
|
Potassium:
30
mg
|
Fiber:
1
g
|
Sugar:
7
g
|
Vitamin A:
160
IU
|
Vitamin C:
0.1
mg
|
Calcium:
10
mg
|
Iron:
0.3
mg