You are in for a real treat with my favorite superfood detox salad! This is a great way to get all your favorite superfoods in one tasty salad! Perfect for lunch or dinner!
Jump to Recipe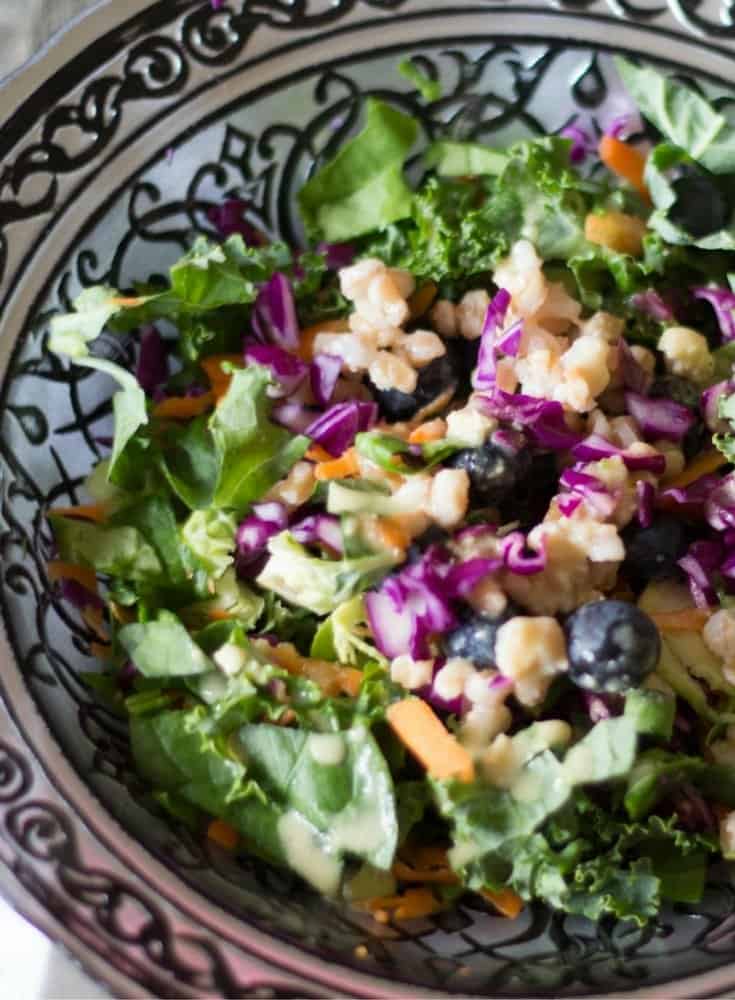 My family had a bit of a rough 2016, and I could not have the best focus on my blog and didn't give the amount I wanted to towards my blog! This year, my goal is to keep up my momentum and give you lots of great recipes! This superfood detox salad got me through many a tough day in 2016! So I am happy to finally be able to share this recipe with everyone!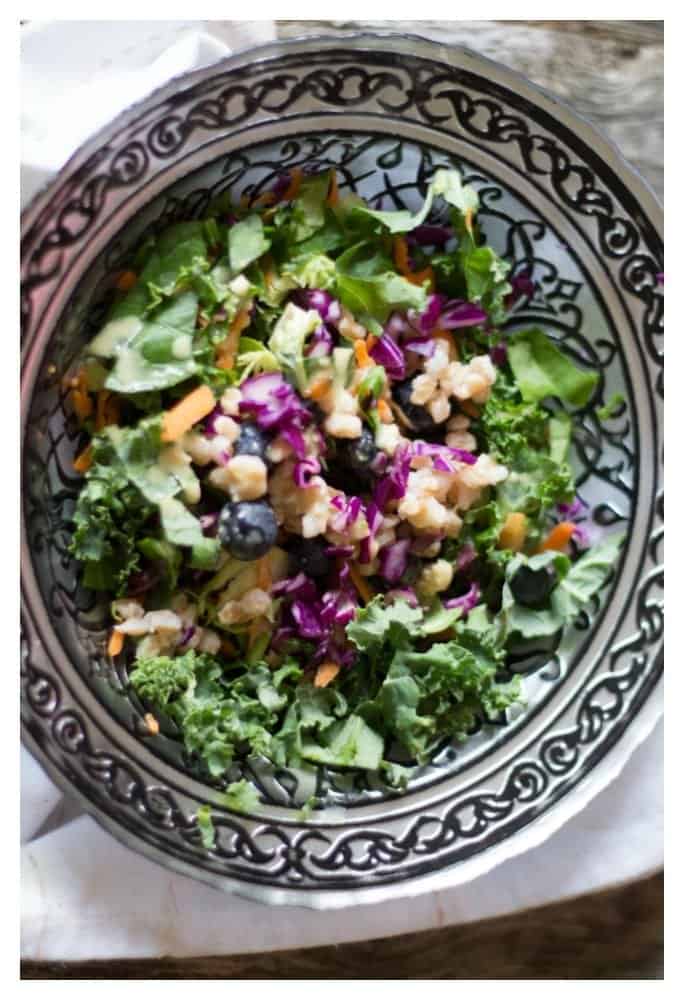 It is the New Year and everyone is focusing on eating healthy! This is the salad for you! I love to get a bang for my buck! I love putting all the things that make me happy into one dish! This salad delivers with kale, spinach, brussel sprouts, and red cabbage! I top each salad with the wonderful grain farro! Farro is not used enough, its easy to prepare and delicious! If you are either vegan or gluten-free, swap out to quinoa! As always, cooking is all about flexibility to use your favorite ingredients! The beauty of cooking! Okay, back to the salad! Along with the farro, add in blueberries, avocado, and walnuts! Finish this yummy salad with my lemon vinaigrette that I make with lemon, tahini paste, tamari and agave! This dressing makes me happy and blends perfectly with all the lettuce, veggies, and fruit!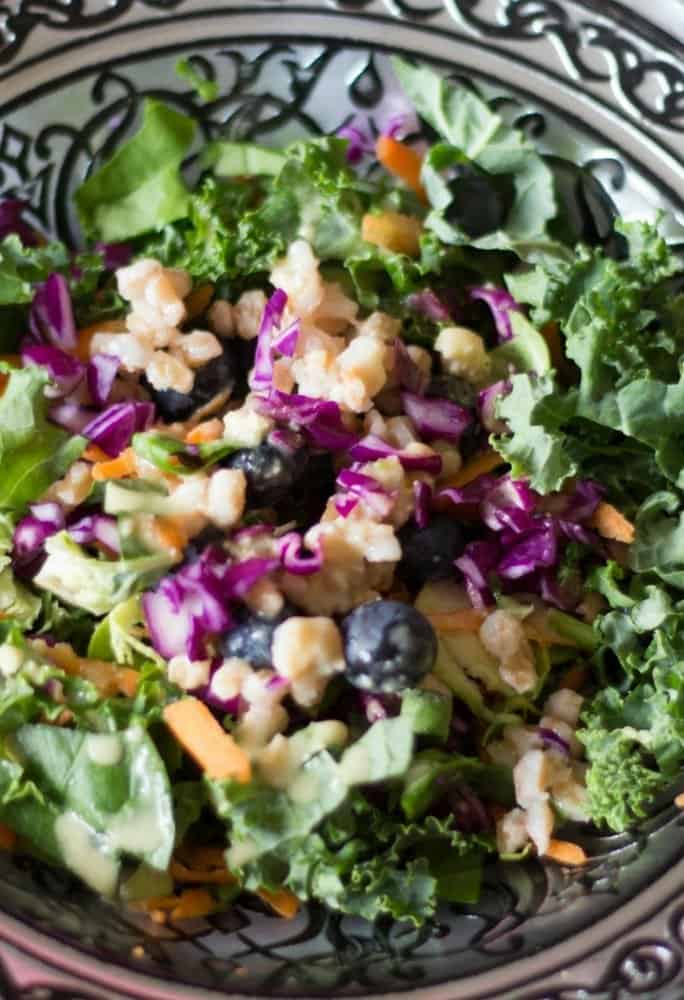 I make this superfood detox salad a lot! We love eating this detox superfood salad as our main meal! This salad is packed with ingredients that are so healthy and awesome for your body! It is also super versatile and adding in protein like chicken and shrimp are fabulous! If I am adding chicken or shrimp, I double the lemon vinaigrette to marinate the protein! This salad is perfect as a side to any meal or soup! Make a double amount of the salad on a Sunday night and use throughout the week. I keep the farro, blueberries, and red onions separately in ziplock bags and combine ingredients throughout the week. Of course, I add avocado when I am ready to eat my salad!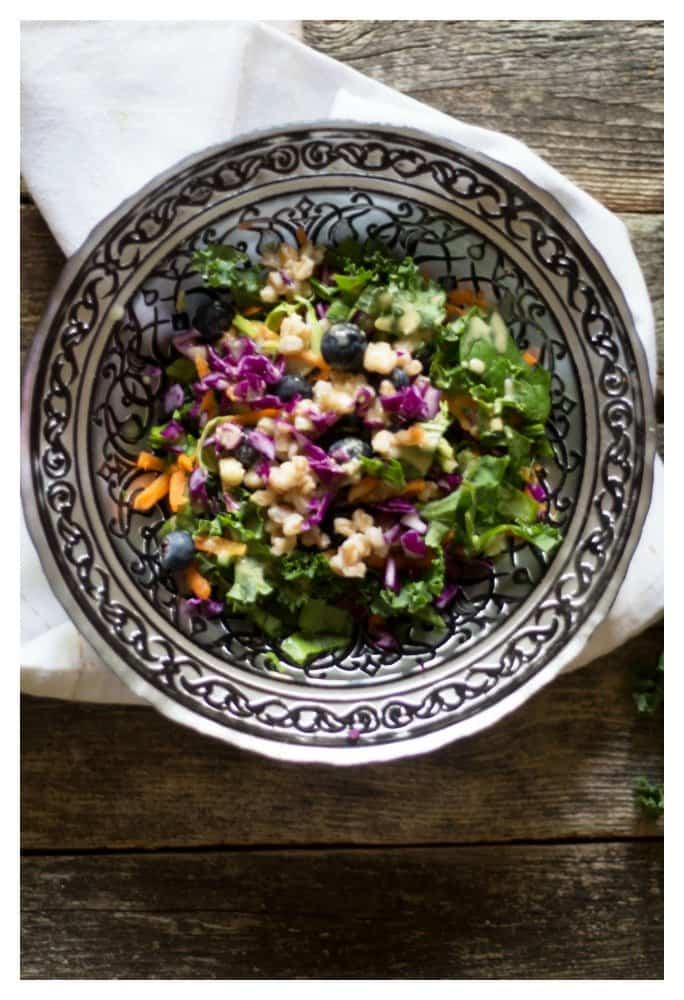 I hope you like this recipe as much as my family!
Please share the love on Facebook, Pinterest, or your favorite way of relating to your friends and family! Please continue connecting with me on Twitter, Bloglovin, Google Plus ! Feel free to subscribe to my newsletter to never miss a recipe!
Follow me on Pinterest for more yummy recipes! Don't forget to Pin this Superfood Detox Salad!
When you make one of my recipes, tag #everydayeileen on Instagram, so I can share with others!
Thank you for always sharing my passion and love for food and family!
xo! Eileen
My Favorite Superfood Detox Salad
A salad filled with kale, spinach, brussels sprouts, shredded carrots, farro, and walnuts! Topped with a homemade lemon vinaigrette! The possibilities are endless with this salad! This is great as a main meal or a side salad! I have also doubled the vinaigrette and marinated either chicken or shrimp to add into the salad
Print
Rate
Equipment Needed:
Ingredients
4

cups

baby spinach, chopped

4

cups

kale, chopped

2

cups

brussels sprouts, shredded

1

cup

red cabbage, shredded

1

cup

carrots, shredded

¼

cup

red onion, diced

1

cup

farro, cooked

cooked according to package

1

cup

blueberries

2

whole

avocado, pitted and sliced

garnish for salad

¼

cup

chopped walnuts

garnish for salad
Lemon Vinaigrette
2

cloves

garlic, minced

1

teaspoon

dijon mustard

1

teaspoon

agave

¼

cup

tahini paste

¼

cup

water

¼

cup

lemon juice

2

Tablespoon

apple cider vinegar

1

teaspoon

tamari or light soy sauce

salt and pepper, to taste

zest from 1 lemon, chopped
Instructions
Cook the farro according to the instructions on the box. Set aside.

To assemble the salad, combine the baby spinach, kale, brussels sprouts, red cabbage, carrots, and red onions. Set aside

Place the greens, red cabbage, carrots, and red onions into individual salad bowls. Top each salad with the cooked farro, blueberries, avocado,and walnuts

Top each salad with the Lemon Vinaigrette, recipe below.
Lemon Vinaigrette
To make the vinaigrette, combine in a mason jar( or a bowl that has a lid) minced garlic, dijon mustard, agave, tahini paste, water, lemon juice, apple cider vinegar, tamari, salt, pepper, and lemon zest.

Place top on jar and shake well to combine all ingredients. Check seasoning and adjust if needed. Set aside
Notes
When I make the salad in advance for the week.  I combine the greens, brussels sprouts, red cabbage, and carrots.
 I keep the red onions, farro, blueberries,avocado, and walnuts separate.  I add these as needed for individual salads during the week.
The cook time represents approximate time how the farro will need to cook.
Any nutritional data I provide is an approximation and actually dietary information can vary based on ingredients and proportion sizes.
Nutrition
Serving:
6
servings
|
Calories:
326
kcal
|
Carbohydrates:
44
g
|
Protein:
12
g
|
Fat:
14
g
|
Saturated Fat:
2
g
|
Polyunsaturated Fat:
1
g
|
Monounsaturated Fat:
5
g
|
Trans Fat:
0
g
|
Cholesterol:
0
mg
|
Sodium:
238
mg
|
Potassium:
863
mg
|
Fiber:
11
g
|
Sugar:
6
g
|
Vitamin A:
10450
IU
|
Vitamin C:
104.8
mg
|
Calcium:
120
mg
|
Iron:
3.2
mg